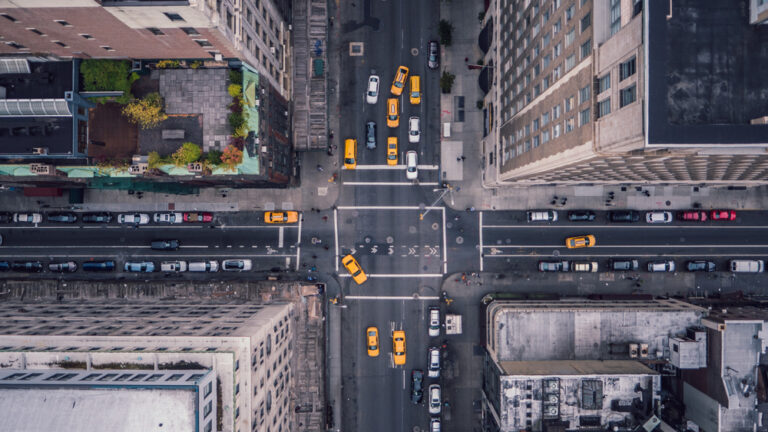 It's no secret that New York City is generally considered the most expensive place to live in America. A teeteringly high cost of living is a barrier for most people to live there, but what about visiting? The cost of eating out at restaurants and visiting bars — let alone a couple of nights in a hotel — might have you second-guessing a visit. Read on for a few ideas about what to see and where to go for a memorable trip to New York City without breaking your bank. You might be surprised what you find.
Top Free Activities & Things to Do in NYC
Start spreading the news: a trip to New York doesn't have to cost a fortune. In fact, it's possible to experience all the cultures, history, bars, eateries, and sightseeing for roughly $100 or less. If you're in the market for free and low-cost things to do in the Big Apple, you're in luck.
Walk Across the Brooklyn Bridge
At just over a mile long, a walk over the East River courtesy of the Brooklyn Bridge takes an average of 25 minutes for a New Yorker. Along the way, walkers can expect to enjoy breathtaking views of the city on both the Manhattan and Brooklyn sides of the river, as well as the busy harbor, which plays home to watercraft of all kinds. On a clear afternoon, schlepping from Brooklyn to Manhattan is guaranteed to provide a lovely sunset view, but foot travelers can pretty much expect a satisfying view 24/7. While adventuring between the two boroughs, be sure to spend some time at the Brooklyn Bridge Park. Take in all the incredible sights from the bridge and the park. Just don't forget to bring your camera to snap a few photos of the iconic city skyline!
Ride the Staten Island Ferry
Located at the southernmost tip of Manhattan, the Staten Island Ferry is one freebie that visitors shouldn't miss. Running 24 hours a day with rush hour and off-peak schedules, the ferry takes passengers five miles from Manhattan to Staten Island. Passengers can expect a 25-minute ride that brings them past the Statue of Liberty and Ellis Island, as well as giving them views of Lower Manhattan's skyline, including One World Trade Center (more on that below).
Go Skating in Bryant Park
During New York's crisp, chilly fall days, Bryant Park, (also known as Manhattan's Town Square), offers up the city's only free admission ice skating rink at its Winter Village. The Rink is open daily, including holidays, through the season, weather and events permitting. Skaters are allowed to stake for up to 90 minutes and can get warm afterward at The Lodge, which offers food and drink options like Pierogi Boys and The Stackery.
Stroll through Central Park
At 843 acres and 1.317 square foot miles, this famous public park packs a ton of free options within its gates. Whether it's walking the trails, finding a spot for a picnic, watching the sailboats, or taking in a show at Shakespeare in the Park, these freebies are sure to please. The park is also home to dozens of free concerts and independent entertainers.
If you happen to get hungry while you're there and haven't packed a picnic, not to worry. There are low-cost vendors selling items like hot pretzels, hot dogs, and ice cream around each corner, in addition to several spots within the park to sit and dine in style (for a fee, of course).
New York Attractions Under $50:
Tour the Intrepid Sea, Air & Space Museum
From 10 AM to 5 PM each day, visitors to the aircraft-carrier-turned-museum docked at West 46th Street's Pier 86 can expect a serious show alongside an informative tour about air and space that does not disappoint. Whether it is a guided tour, educational demonstration, or taking a trip courtesy of its simulator, visitors can get into the spirit of the USS Intrepid which fought in WWII, surviving a handful of kamikaze attacks and a torpedo strike. On weekends, the museum also offers programs for children. Plus, there's an opportunity for visitors to take a tour of a spacecraft, the Enterprise. Expect tickets to cost around $33 for adults and $24 for children.
Looking for some free museums instead? Check out the American Folk Art Museum for art history and outsider art. Learn about the history of the Brooklyn Navy Yard at BLDG 92. And finally, check out the Bronx Museum of the Arts for a massive, multicultural collection of art.
Climb Aboard the W.O. Decker

If you've ever wanted to experience life on a tugboat, the W.O. Decker, located at the South Street Seaport is a definite must-see. The old-fashioned, well-preserved tugboat offers 60-minute rides that take everyone onboard out into the harbor for views of three different boroughs. While onboard, visitors can also take a tour and learn more about its history.
While its not free, the tickets — $30 for adults, $15 for kids — are tough to beat. Keep in mind that W.O. Decker requires climbing angled gangways and a step up and over her side from a floating deck, so participants must be age 10 or older. Advance reservations are recommended, and guests must check in 15 minutes before the scheduled tour at the red tent on Pier 16 (Fulton and South Streets).
Visit One World Trade Center
For those who want to know what it feels like to stand on top of the world, One World Trade Center, also known as the Freedom Tower has got you covered. At 104-floors high — or 1776 feet, in honor of America's founding — this marvel towers over the surrounding skyscrapers. Opened in 2014, the vibrant building and its amenities offer plenty of dining, fun, and shopping opportunities, while from the 100th to 102nd floors, guests have the opportunity to gaze out across the city from a high vantage point. The Observatory also offers dining and exhibits. Tickets start at $32 and go up from there. If you're feeling like you can splurge a bit at this spot, it's worth taking the 60-minute tour. You'll also get $15 to spend at the restaurant. It's basically the tour, all the sights, and a cocktail for $68. We'd suggest going for it.
Other Activities Under $100
Catch a Discounted Broadway Show
If there's one thing New York is known for, it's the bright lights of Broadway. But at upwards of $140 a pop, catching a musical can really put a dent in your vacation budget. Enter the various entities selling tickets, but at a discount. Check out the TKTS website, which offers up same-day discounted tickets for popular shows like Chicago and Frozen starting at $70 to $80 for top-notch seats. Be sure to get in line early, as there can sometimes be mobs of people waiting to snag tickets to the same show.
Some Broadway shows offer cheap day-of tickets through a lottery system. You can look up whichever show you're interested in and try that way, or you can give TodayTix a shot. TodayTix shows exactly the percentage you'll be saving on the tickets, and gives a range of shows currently in production.
Enjoy a Chinatown Gourmet Food and Walking Tour
With a reputation for being America's largest Chinatown, this iconic neighborhood thrives on its spices, wares, and palate pleasers. With a fee of $79 a person, the three-hour food and culture tour involves walking the many blocks and enjoying three sit-down tastings. Past trekkers have enjoyed dumplings, custard, and freshly carved Peking duck. In addition to all the tasty food you'll get to chow down on, you'll also learn plenty about the history of the neighborhood. The tour will take you down some winding, hidden streets and is known for being pretty exciting.
Where to Stay on a Budget
Look for a chic apartment in Yorkville, an Upper East Side spot within Manhattan. You can also find some good deals on a rental over in Hamilton Heights. This gorgeous neighborhood is dripping with history and offers beautiful homes and apartments. You'll also find great deals over in East Harlem: restaurants, boutiques, and coffee shops are abundant in this area.
Get Ready for Your Affordable Adventure!
For a long-winded list of the best tourist spots in the city, check out this guide and learn about the dos and don'ts of the city. With so much to offer, it's worth doing a little investigating before your trip to NYC.