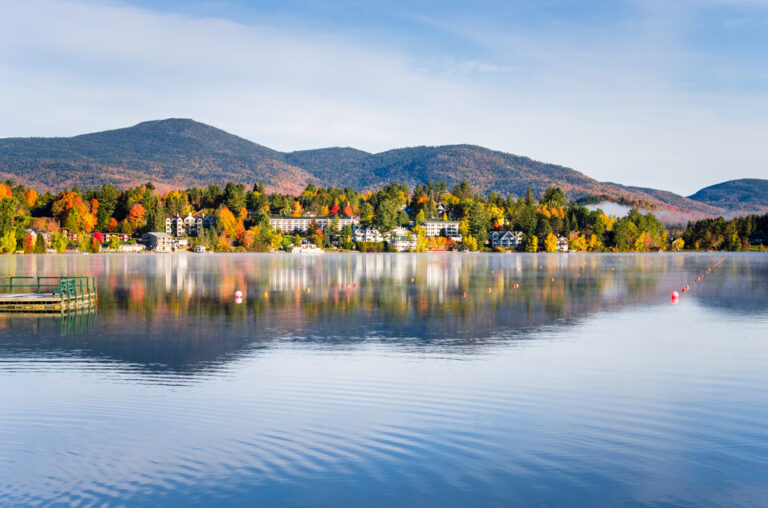 The state of New York is a jewel in the crown of the U.S. The Empire State, as it's known, is the fourth most populous state in the country after California, Texas, and Florida. The state's largest city by population — New York City — is the most populated city in the United States, with over 8 million inhabitants. This makes it more populous than countries like Norway, Finland, and Denmark.
New York is also a popular holiday destination due to its breathtaking natural beauty and diverse landscape. Tourists and locals alike can enjoy sweeping hills, verdant valleys, luscious forests, and beautiful lakes.
Lake holidays in particular are a major state attraction with many magnificent destinations to choose from. In this guide, we're going to focus on seven of New York State's finest lake spots: Keuka Lake, Oneida Lake, Chautauqua Lake, Conesus Lake, Lake George, Saranac Lake, and Lake Placid.
Read on to discover all you'll need to know to arrange an unforgettable lake holiday in the state of New York.
Keuka Lake
Keuka Lake is one of the major Finger Lakes — a group of eleven lakes located in the northwest of New York. It is noteworthy for its peculiar "Y" shape and stunning surrounding landscape. Keuka means "lake with an elbow" in the language of the Seneca people, one of the Native American groups originating from the region.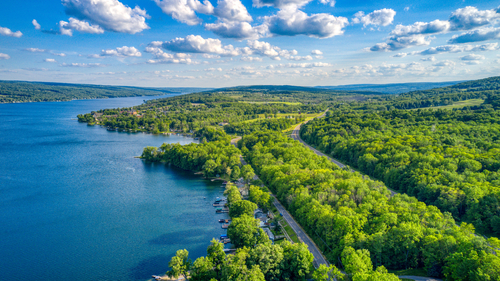 The nearest city to Keuka Lake is Elmira, which is where the Elmira-Corning Regional Airport is located. The drive from the airport to the lake takes about 45 minutes. There are also a number of picturesque smaller towns and villages around the Lake, such as Hammondsport, Branchport, and Penn Yan.
For on-the-water fun, places to rent boating and water sports equipment are aplenty. Keuka Watersports is one example, offering a range of recreational and sporting boats, jet skis, paddleboards, and canoes for rent.
If you're a keen fisher, Keuka Lake is the perfect place for you. Its waters are home to a rich assortment of fish, including brown and lake trout, smallmouth bass, and yellow perch. If you feel the need to cool-off, you can put down your fishing rods and take a dip in the lake's crystal-clear waters. Not only is it safe and great fun, but it's also completely free!
For even more exhilarating fun, you can take a ride in a seaplane. Finger Lakes Seaplanes offers many different tours in their seaplane from the dock at the Harbor Lights Marina. You can enjoy magnificent views of the beautiful Finger Lakes region and capture some stunning pictures to set your remarkable memories in stone.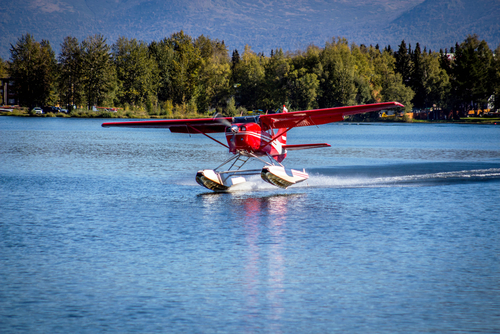 The dining options in this area are also first class: Restaurant Sapalta at Plum Point Lodge offers a premium lakefront dining experience. Their menu consists of classic dishes like burgers and seafood. Moreover, all of their ingredients are sourced from local farms in the Finger Lakes and delivered at the pinnacle of their ripeness. Another great dining option is The Lakeside Restaurant & Tavern. A local legend, The Lakeside offers an eclectic mix of delicious Asian, seafood, and classic American dishes. This can all be enjoyed inside their beautiful building, or outside where you can fully soak in the incredible views while eating.
Keuka Lake is known as an ideal holiday destination for wine enthusiasts. The Fingers Lake region is the most celebrated wine-producing region in the Eastern United States, and Keuka Lake is the heart of this. The Keuka Wine Trail includes a number of premium wineries and only takes about an hour to traverse by car. That leaves plenty of time for wine tasting and exploring the awe-inspiring beauty of the region — but be sure to have a designated driver to lead the way!
Find your lakeside getaway in Keuka Lake on VacationRenter.
Oneida Lake
Oneida Lake is situated in the northwest of New York State — just south of the Great Lakes. Another perfect example of natural beauty, it is a tributary of the Oswego River and feeds the Oneida River. Syracuse is the nearest major metropolitan area with the airport a mere 25-minute drive away.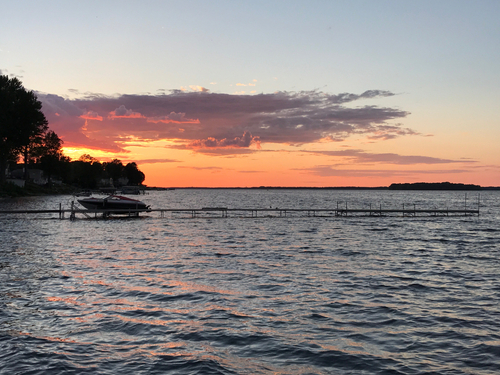 Spending your vacation at Oneida Lake provides access to an exciting range of activities. For a lovely family day out, you can pay a visit to the nearby Chittenango Falls State Park. While there, you can have a socially distanced picnic amongst the natural splendor of the countryside and witness a 167-foot waterfall. If you have animals, you're also in luck! Visitors are allowed to bring up to two pets with them. There are also fishing and hiking amenities, as well as pavilions available for hire.
Groups with children will be sure to have a delightful day out at the Wild Park Zoo. This popular attraction allows you to get up close and personal with a menagerie of exotic wild animals. Creatures like bears, lions, and giraffes are just a few of the crowd favorites.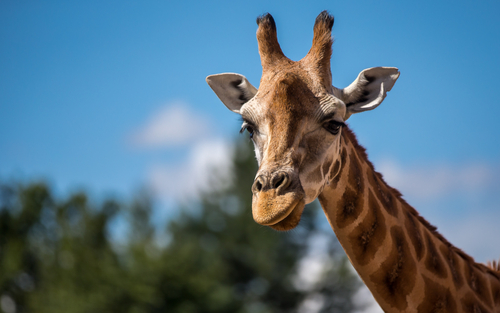 Additionally, kids and grownups alike can have a great time at the Sylvan Beach Amusement Park. It has now reopened after a period of closure in line with New York State's COVID regulations. Here you can revel in rides, games, and other fun activities.
Eating out at Oneida Lake is a similarly enjoyable experience. Among the many fantastic dining establishments is the historical Borio's Restaurant. Not only does their menu offer a wide selection of delectable meals, including seafood, Mexican, and BBQ dishes, but they also put on great entertainment in the form of events and live music.
Elsewhere, the Fisher Bay Restaurant offers a selection of enticing seafood options. Treat yourself to their New England clam chowder or their spicy steamed shrimp. They even have an open fireplace, making your lakeside dining experience extra cozy.
Oneida Lake also has much to offer beer and real ale aficionados. There are numerous up-and-coming microbreweries with open tap rooms to visit. At Hot House Brewing, they have a range of tasty, full-bodied ales and beers on tap, as well as a bistro for light refreshments. Similarly, the nearby Erie Canal Brewing Company offers all of their Erie Canal Flagship beers, each made with hops grown from their own farm.
Spend your weekend by the water in Oneida Lake!
Chautauqua Lake
Chautauqua Lake is nestled in the beautiful countryside within Chautauqua County, in the southeast corner of New York. The 17-mile-long lake is an incredibly scenic locale that's jam-packed with things to do. Erie, Pennsylvania — the nearest city with an airport — is only a 45-minute drive away.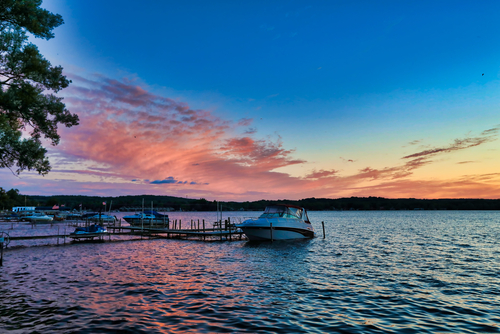 For an unforgettable trip, you can take a journey across the lake on a steamboat. The Chautauqua Belle offers customers the chance to experience this luxury mode of transportation from over a century ago. While on the steamboat, a guide will share the fascinating history of Chautauqua Lake with you. Once you've taken in all this information, you'll have the chance to indulge in a few cocktails from their on-board bar to unwind. For the safety of fellow guests, people who are unvaccinated will need to wear a mask.
If you'd like to experience nature up close, you can make the most of numerous hiking trails around Chautauqua Lake. Whether you explore the abandoned rail corridors of the Alison Wells Ney Trail, traverse the rugged terrain of Boutwell Hill State Forest, or opt for one of the many other trails — you're bound to have a memorable adventure.
When hunger strikes, you can treat yourself to a meal from one of the region's quality restaurants. At Andriaccio's Restaurant, you can order exquisite Italian dishes, fresh seafood, and mouth-watering steaks. Divine meals like cavatappi alfredo, spaghetti & meatballs, and vegan bruschetta pasta are some of the customer favorites.
Another fine dining establishment in the Chautauqua Lake region is the Lakehouse Tap and Grille. This historic lakeside restaurant offers premium American Cuisine. Their first-rate menu includes dishes such as reuben paninis, grilled ribeye steak, and chicken milanese.
There is also a rich community of craft breweries and distilleries offering delightful locally brewed beers and ales. At Mazza Chautauqua Cellars — which doubles as Five & 20 Spirits & Brewery — you can drink a range of craft ales, spirits, and high-end New York wines in a vibrant outdoor seating area.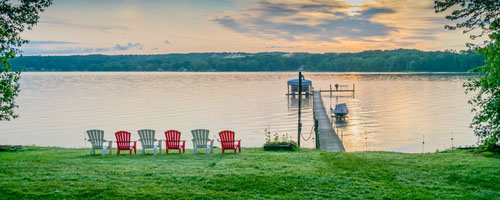 Another great local microbrewery is Big Inlet Brewing, Inc. Not only does it have an impressive range of drinks on tap, such as their Perseverance IPA and Rebellion Stout, but the brewery also frequently puts on live shows. As a result of COVID restrictions, however, unvaccinated guests are still required to wear a mask.
Book a vacation rental in Chautauqua Lake on VacationRenter today!
Conesus Lake
Conesus Lake — located in Livingston County — is the westernmost of the Finger Lakes. Offering panoramic views of its serene waters and lush countryside, it's the ideal location for a relaxing getaway. You can drive to Conesus Lake from nearby Greater Rochester International Airport in around 35 minutes.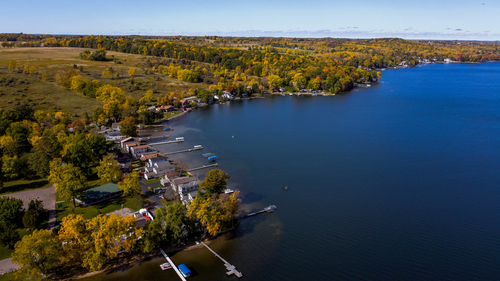 Keen golfers will love a day at the Conesus Golf Club. This premium resort offers stunning landscapes, reasonable prices, and well-maintained courses. If you need a bit more adrenaline, you can also rent a boat for the day. Businesses such as Tropical Creations Boat Tours & Rentals offer kayaks, stand up paddle boards, pontoon rentals, canoes and more.
If you fancy something a little more retro, you can check out the Vintage Drive-In Theatre. This ultra-cool spot has four screens, reserved parking, and offers food and refreshments. They play all the most recent releases, which you can enjoy from the comfort of your own car.
The Conesus Lake area is also a haven for foodies! The selection of exciting establishments includes a local favorite: The Beachcomber. This fine lakeside establishment predominantly sells seafood dishes, but there are a number of great BBQ and Mexican options too. Their fried clam strips with fries, peel 'n' eat shrimp, and Philly steak hoagie are all to die for.
If you need a more meat-heavy menu, you can't go wrong with the Ember Wood Fire Grill. This beautiful restaurant is set in a historic train station not far from Conesus Lake. The BBQ menu has many flavorsome options, including their 18-day dry aged steak burger and the one-pound prime grade New York strip steak.
For an adults' day out, you can visit one of the many vineyards or wineries in the area. The Deer Run Winery, the oldest operating ​winery on beautiful Conesus Lake, offers delectable wine in a beautiful rural location. You can also visit OSB Ciderworks, where they offer a broad mix of high-end wines and hard ciders to try.
This summer, plan a trip to Conesus Lake using VacationRenter.
Lake George
Lake George is often referred to as the Queen of American Lakes, and with good reason. Situated at the base of the Adirondack Mountains in the northeastern part of the state, Lake George offers grand sweeping vistas and incredible views. The nearest airport — Floyd Bennett Memorial Airport in the city of Glens Falls — is a mere 25 minute drive away.
While staying at Lake George, you'll be able to partake in a dizzying array of activities. One of the best ways to explore the beautiful scenery is on horseback, which can be accomplished at one of the many stables in the region. Saddle Up Stables, for example, offers a range of trips on horse or pony.
If you're looking for a more relaxed day's activities, then why not pay a visit to one of the many beaches along Lake George? Locations like Rogers Memorial Park Beach and Lake George Beach are both beautiful spots that are free to access. You can have a picnic, enjoy a swim, and also watch music concerts or partake in any events held there.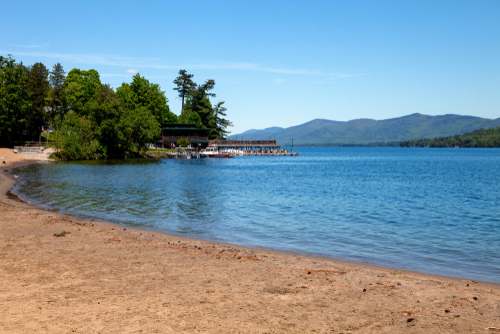 Plus, the region is home to some fantastic diners and restaurants. At Pizza Jerks, you can choose from an appetizing range of New York-style pizzas, subs, wraps, and salads. Their meat pizza is one of the local favorites, served with nine different types of meat.
Another local legend is the award-winning Morgan & Co. Restaurant. Their expansive menu includes Indian dishes, gourmet sandwiches, and classic dishes like pork chops. People travel far and wide for their pulled short rib grilled cheese and morgan prime burger sandwiches in particular.
The Lake George area is child-friendly, with many attractions for entire families to enjoy. For instance, at the award winning Pirate Cove's Adventure Golf, you can play a few rounds amongst the sunken ships, waterfalls, and dungeons dotting the course.
At Freedom Park, you can enjoy a whole range of playground toys and equipment. This attraction is designed to be all-inclusive, with features catering to people of all physical abilities.
Head to Lake George to enjoy a weekend under the sun!
Saranac Lake
Saranac Lake is an idyllic village near the Upper, Middle, and Lower Saranac Lakes. This region is easily accessed from the Adirondack Regional Airport, which is only a ten-minute drive away.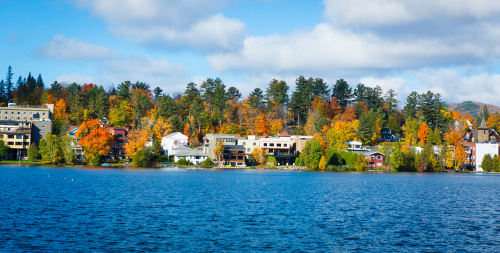 The rugged terrain and arresting countryside make for perfect hiking and biking conditions. There are numerous hiking trails to explore — all offering scenic views of the majestic landscapes. For something slightly more up-tempo, there are various well-travelled biking trails to try out as well.
If you'd rather spend some time by the water, you're also in luck. In addition to swimming and fishing, there are many boat rental options. For an adventure like this, you needn't look any further than Saint Regis Canoe Area. It is the only designated canoeing area in New York State and has a number of exhilarating canoeing routes.
For something more leisurely, there are several scenic parks to enjoy. Pocket Park, Riverside Park, and the Riverwalk are all easily accessible while staying at Saranac Lake. They offer perfect spots to sit and have a family picnic, play sports, or take a relaxing stroll.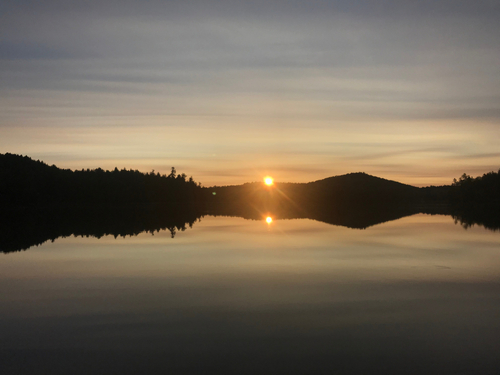 Saranac Lake is also filled with inviting eateries. The Lakeview Deli has a delicious selection of Italian dishes, steaks, sandwiches, soups, and salads. You won't regret treating yourself to their baked ziti with meatballs and sausage or their spinach salad with bacon, mushrooms, and hard-boiled egg.
If you're keen to take your dog on vacation, Saranac Lake is the place for you. Many hotels and lodging providers — such as the Best Western Saranac Lake — are dog-friendly. You will also find much to do with your four-legged friend thanks to the numerous hiking trails and establishments like St. Regis Canoe Outfitters that allow you to take your fur baby on a fun boat ride!
Lake Placid
As the name suggests, Lake Placid is a tranquil and picturesque site along the Adirondack Mountains. The surrounding highlands will make for a dramatic and scenic backdrop to your holiday adventures. With its own town and airport, accessing Lake Placid is extremely easy.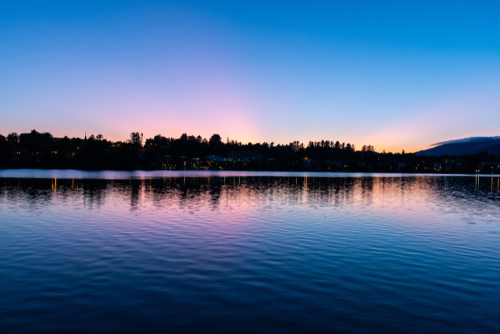 While staying here in the winter months, you can treat yourself to a Lake Placid Toboggan Chute visit. This invigorating pastime allows you to hurtle down ice-covered chutes onto the frozen lake below. In the right conditions, toboggans have been known to then travel up to 1,000 feet across the lake.
There's plenty on offer during the summer months! At ADK Aquatics, you can engage in a host of boating and water sports. If you're a novice, they offer wakeboard, water-ski, and wake-surf lessons to get you up to speed. If you're more experienced, simply book yourself on a water-ski or wakeboard run and have some fun! Private guided boat tours of Lake Placid are also on offer for people who prefer something more mellow.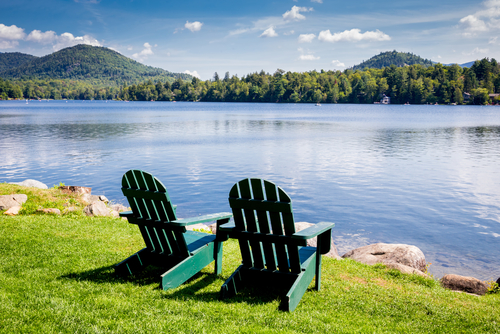 If you'd rather stay on land, you'll still find much to do. For the more adventurous, Experience Outdoors offers a tour of Adirondack Park that includes their Zip Line Tour, consisting of six zip lines. A guide will take you through the park and provide detailed information on the location while you're there.
An abundance of top-tier restaurants makes dining in Lake Placid a similarly enjoyable experience. The KANU Dining Room in the Whiteface Lodge is a palatial venue with equally impressive food. The gourmet menu offers mouth-watering options such as wood-fired chicken linguini and grilled New York strip steak.
If you're looking for somewhere to take your kids as a treat, Emma's Lake Placid Creamery is a great place to try. This delightful café offers ice-cream cones, sundaes, old fashioned milkshakes, and ice-cream cakes. If you brought your canine pal with you, they'll even offer a special doggy treat!
Lake Placid is also home to an exciting selection of microbreweries. You can start with the Wood Boat Brewery, which has now opened its Craft Beverage Tasting Room. Here, visitors can taste a selection of the brewery's own craft beverages as well as beverages from other popular local sources like Saint Lawrence Spirits, Northern Flow Winery, and Grindstone Winery.
Ready for an adventure in Lake Placid? We've got you covered.
Mentioned In This Article