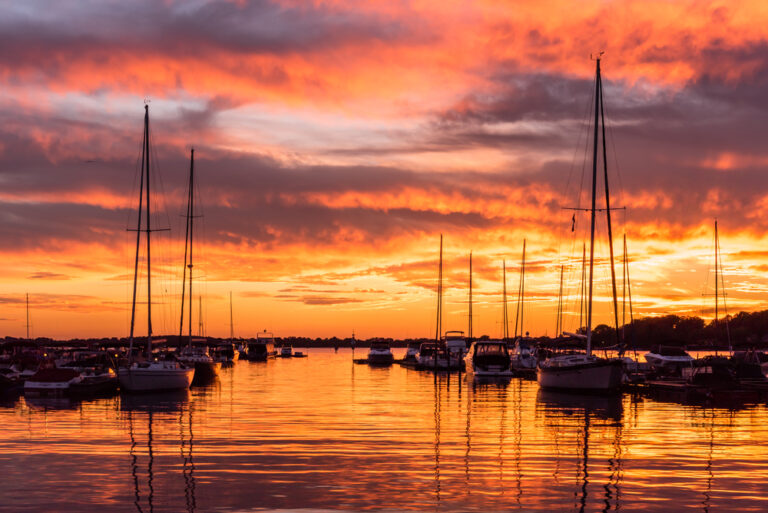 North Carolina's expansive countryside was the site of the Wright Brothers' first ever manned, powered-airplane flight. Visitors to Tar Heel State — as it's commonly known — have the option of staying at one of its many breathtaking lakes. These tranquil, awe-inspiring locations are the perfect destination to kick back, relax, and recharge.
If you're undecided on where to take your next vacation, this guide focuses on five of the most popular lakes you can visit in North Carolina.
Lake Tillery
Lake Tillery is a reservoir straddling the counties of Stanly and Montgomery in the south of North Carolina. Surrounded by rolling hills and the lush foliage of dense woodland, this is a picture-perfect location. It is approximately an hour's drive from Charlotte: the most populous city in the state. The city's major airport makes Lake Tillery an easily accessible holiday location.
This region is a true haven for anyone who loves to play golf — with multiple courses in close proximity. Piney Point Golf Club, Red Bridge Golf Club, and the Tillery Tradition Golf Club are all located either right on or very close to the lake. Additionally, the warm climate and striking countryside make for a perfect setting to enjoy a challenging round or two. 
To experience nature of a more exotic kind, the North Carolina Zoo is close by. This massive wildlife park is full of beautiful animals that you won't usually find roaming around the U.S. such as gazelles, elephants, lions, and giraffes. You can also take part in other exciting activities like the Air Hikes Ropes Course, African Wildlife Zoofari Adventure, or Garden Friends Playground.
If you love dining out, you will not be disappointed by Lake Tillery. Among the many quality eateries in the region is the River Wild Restaurant. This picturesque venue provides a full range of seafood and BBQ dishes. Their ground bison steak or shrimp and grits are two particularly popular dishes.
The Five Points Public House is another great dining establishment. This high-end restaurant offers premium dishes like filet mignon and sirloin steaks in addition to burgers, salads, and a selection of appetizers. You can't go wrong with their acclaimed Philly cheesesteak egg rolls either.
While staying at Lake Tillery, you can take an invigorating hike through the nearby Morrow Mountain State Park. In addition to the breathtaking vistas along your walk, you can also go rock climbing, swimming, or fishing.
If you're keen to indulge your love of fine wines, you're in for a treat. There are several vineyards with many excellent wines to sample during your visit. One such place is Stony Mountain Vineyards, a boutique winery very close to the lake. Here, you can enjoy a glass or two on the deck while soaking in the panoramic views of the Uwharrie Mountains and the lower Yadkin Valley.
Lake Norman
With 520 miles of shoreline and more than 50 square miles of surface area, Lake Norman is North Carolina's largest man-made lake. A spectacular countryside and verdant forests surround the vast expanse of water. Located just 20 miles north of Charlotte, it's only a 45-minute drive from Charlotte Douglas International Airport.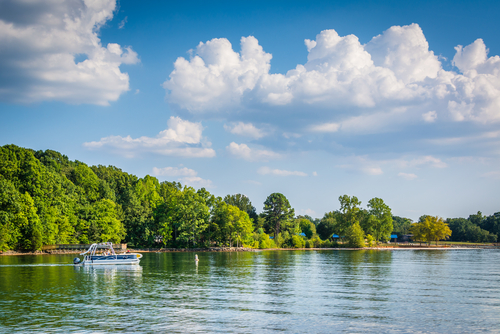 While staying here, you can learn how to wakeboard and wake-surf on the inviting lake's waters. At RIDELKN Wake Surf & School, you can receive lessons and access all the equipment you'll need to get started. If you'd like something a little less raging, the school also offers tubing and cruising. What better way to enjoy all the beauty that Lake Norman has to offer?
Due to Lake Norman's sheer size, it's easy to find an ideal fishing spot. All the equipment and supplies you'll need can be purchased from shops like Dick's Sporting Goods. Once you're fully provisioned, you have the option of fishing on one of the many piers or renting a boat for the day from providers like Where-Rena. It's important to note, however, that you'll have to purchase a license to fish in North Carolina. You can easily do this by calling (888) 248-6834 or by visiting a Wildlife Service Agent.
Lake Norman is also home to many enticing restaurants and diners. The Lost Cajun is a wildly popular local venue, which cooks top-notch seafood. The fried catfish platter and chicken & sausage gumbo dishes are tired-and-tested favorites for regulars.
If you want both fine dining and exotic drinks, Alton's Kitchen & Cocktails is a place to try. They offer an interesting range of delicious local recipes such as west coast grilled fish tacos and shrimp louie salad. They also have a selection of indulgent cocktails — and on Sundays, guests can enjoy bottomless mimosas!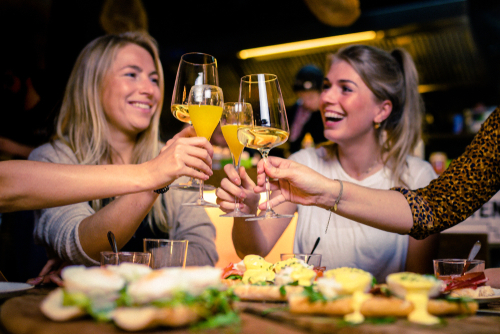 Will the kids be with you on vacation? No problem! There's a lot to keep them entertained at Lake Norman. The Schiele Museum of Natural History is an attraction that will have any dinosaur or science lovers enthralled for hours. Parks and adventure playgrounds — such as the Big Rock Nature Preserve — that children just can't get enough of are also available.
Badin Lake
The crystal-clear waters of Badin Lake and the beauty of the surrounding leafy countryside, make this vacation destination very popular amongst campers, hikers, sailors, and anglers. Located in the heart of North Carolina, the nearest major city with an airport is Charlotte, a little over an hour's drive away.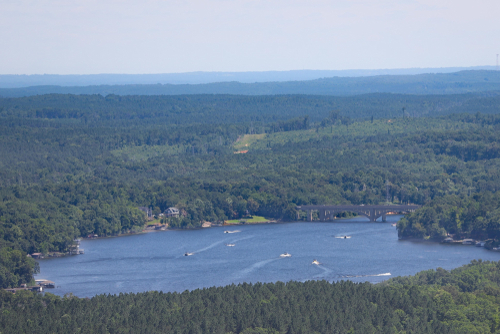 Does a spooky yet unimaginably scenic hike sound appealing to you? You'll get all that and more when you go for a trek on Graveyard Island. With over 300 bodies believed to be buried where Badin Lake now lies, this will be one walk to remember.
After the rush of Graveyard Island, you can let your guard down again with a socially distanced picnic at King's Mountain Point. This lakeside area has a picnic pavilion and bathroom facilities. Effortlessly put yourself at ease by taking in wonderful views of the surrounding natural beauty while eating al fresco.
There are also numerous top-notch restaurants providing a range of cuisines around Lake Badin. If you're a fan of fresh seafood, you'll love a trip to Scallywag's Bar & Grill. Their shrimp and grits or crab cake dinner always put a smile on the faces of patrons. The additional outdoor-canopied decking area is extremely spacious, so you can both dine and dance the night away to their regular live shows.
Off The Square Restaurant is another great local place to eat out. The menu features a wide selection of dishes covering everything from seafood and burgers to pasta and salads. They also have an array of local and imported wines, in addition to a wide variety of craft beer choices.
In fact, if you're passionate about craft beers, you're in luck! The region is home to multiple fantastic microbreweries. The Four Saints Brewing Company, for example, sells a magnificent range of IPAs, stouts, hard ciders, and more. They also have an inviting taproom for guests to enjoy a cold beverage and mingle while hit songs play in the background.
Fontana Lake
Fontana Lake forms part of the Great Smoky Mountains National Park's southern border. As such, the lake offers grand, sweeping views of breathtaking vistas with dramatic mountains and natural green forests. The nearest airport is McGhee Tyson Airport, about an hour and a half's drive away. Nearby cities include Bryson City and Robbinsville.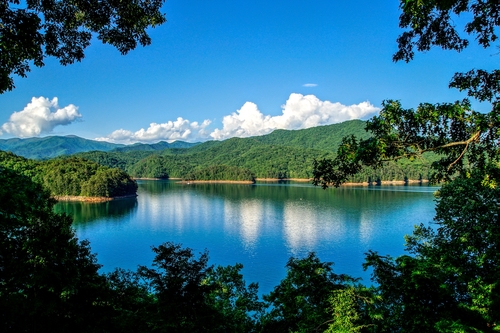 If you're after low-octane experiences, there's still plenty to do. With the Smoky Mountains located right next to Fontana Lake, you can spend the day hiking or head out for a scenic picnic. There are even providers like The Wildland Trekking Company offering guided trekking tours so you can safely experience the grandeur of the wilderness.
While staying at Fontana Lake, you can spend a fun day out white water rafting with the Rolling Thunder River Company. This adrenaline-filled (yet safe) adventure sees you rafting down eight miles of the Nantahala River. Everyone between the ages of seven years old right up to senior citizens is welcome.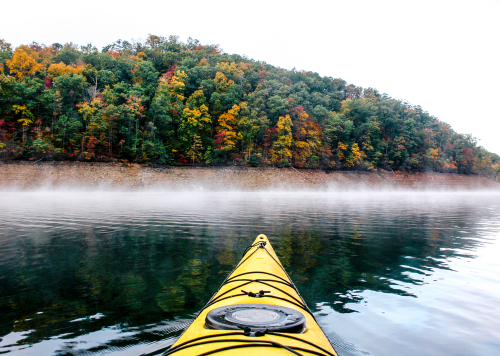 A vacation at Fontana Lake also gives you easy access to some of the finest eateries around. The River's End Restaurant is a large charming wooden cabin offering views that are almost as spectacular as the food. You can pick from a variety of classic dishes like burgers, salads, pizzas, and sandwiches — accompanied by your choice of delicious cocktails.
Another popular dining spot is the Tapoco Tavern. Located on the banks of the Cheoah River, this is another place to tantalize your taste buds while reveling in the spectacular complementary views. On their menu, you'll find mouthwatering BBQ and seafood dishes, as well as burgers, stone-oven pizzas, and salads.
The region is also home to an assortment of vineyards and wineries. At the Blue Goose Vineyard, guests are invited to take a stroll around the beautiful countryside and enjoy a captivating panorama of the nearby mountains. Thereafter, you can sample some of the exceptional wine produced at the premium winery.
Lake Gaston
Lake Gaston is a large hydroelectric reservoir located in both the north of South Carolina and the south of neighboring state, Virginia. Its serene waters and spectacular surrounding woodland make it an idyllic holiday location. Nearby cities include Conway, Garysburg, and Gaston. The nearest airport is Raleigh-Durham International Airport, about an hour and a half drive away.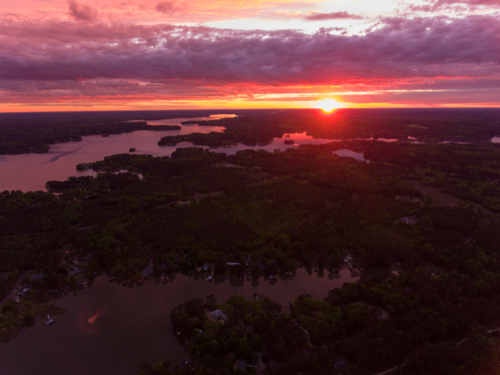 While at Lake Gaston, you can take part in the many water-based activities. Visit AF Wake — an establishment providing both classes and equipment — and try your hand at wakeboarding. Jet-skiing is another thrill-ride to try on the lake. Conveniently rent yours from a place like Lake Gaston Summer Rentals. If you're in the mood for a more leisurely activity, pontoon boats are also available to rent.
For a unique adventure that you'll never forget, you can visit the Cryptozoology & Paranormal Museum. Here, you can explore the museum's exhibits of paranormal creatures such as Bigfoot. They also arrange exciting local ghost tours with Haunted Littleton. After all the paranormal activity, you can bring your heart rate back down by playing a round of golf at the charming Lake Gaston Golf Club. With 18 holes set amongst the stunning North Carolina countryside, this is a course that'll quickly bring you back to the light.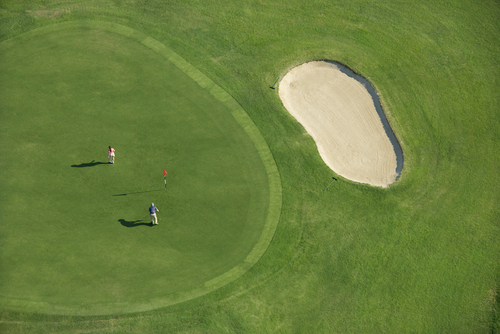 Lake Gaston is also home to many quality restaurants. At Lake Gaston Pizza, you can indulge in some of the tastiest pies in the state. Aside from pizza, they serve a range of delicious sides, salads, and sandwiches.
At Kennon House Restaurant, you can choose from a rich assortment of premium dishes while enjoying their beautiful building and grounds. Their menu contains a range of classic dishes such as crab and corn chowder, and cajun fried catfish. Their signature dish is the fried chicken, which never disappoints!
For the alcohol aficionados, there are also many breweries and vineyards to visit. The Rosemont Vineyards & Winery is particularly popular locally. Tours of the gorgeous vineyards, wine-tasting sessions, and a number of events are all on offer at this celebrated venue. 
Mentioned In This Article