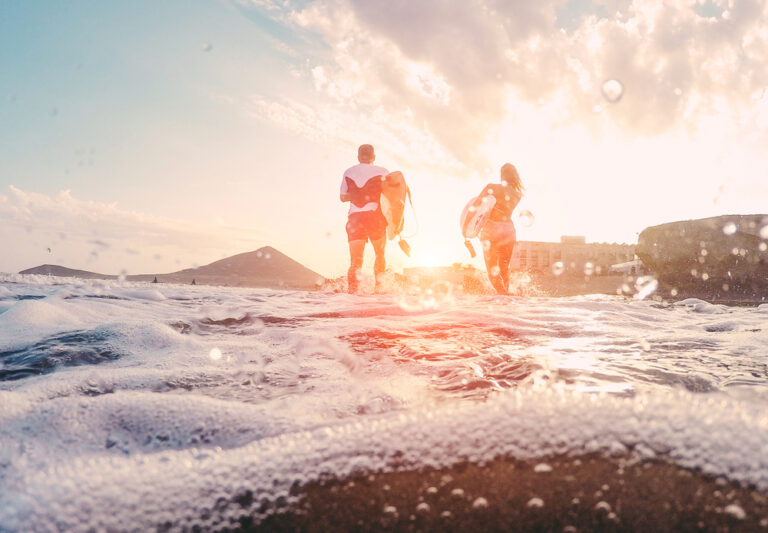 If you're looking for a fun and relaxing beach destination, look no further than Ocean Beach, San Diego. This laid-back neighborhood is perfect for visitors who want to enjoy the sun and sand, as well as plenty of activities and attractions. Ocean Beach, also known as 1502 or simply OB, was one of the last developed towns in San Diego and is known for its ultra-bohemian vibe.
This coastal town stretches from the end of Interstate 8 (or I-8) into its neighboring community of Point Loma. With year-round sunshine, phenomenal food, and awesome nightlife, visitors flock to OB during all seasons. In this guide, we will review some of our favorite things to do and places to stay in one of Southern California's last true beach towns.
Fun Things to Do in Ocean Beach
There is seriously no shortage of things to do in this little hippy enclave located on the Pacific Ocean. And it should come as no surprise that many, if not all, of these 14 suggestions below take place outside. Because when you're visiting a warm, mild climate such that Ocean Beach has, the last thing you're going to want to do is to stay inside.
1. Try Surfing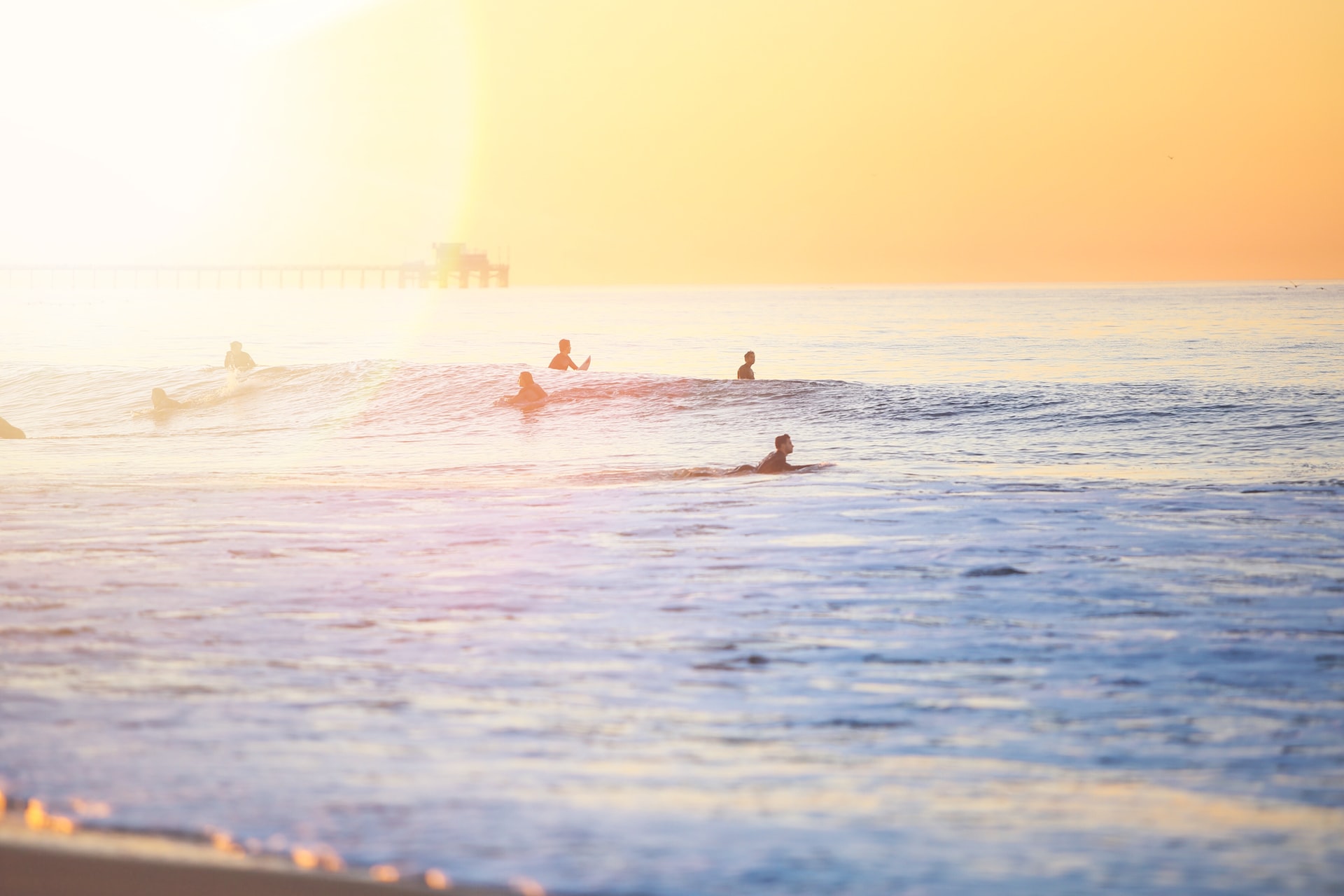 Surfing is one of the most popular activities in the area. If you want to get the full Ocean Beach experience, rent a board and take a lesson. With multiple breaks, folks who want to enjoy this thrilling activity can pick the right spot for their skill level. For easy and calm breaks, try surfing by the OB pier, and for a more challenging right-hand break, hop over to the Jetty, which is located by Dog Beach.
2. Take a Walk on the Pier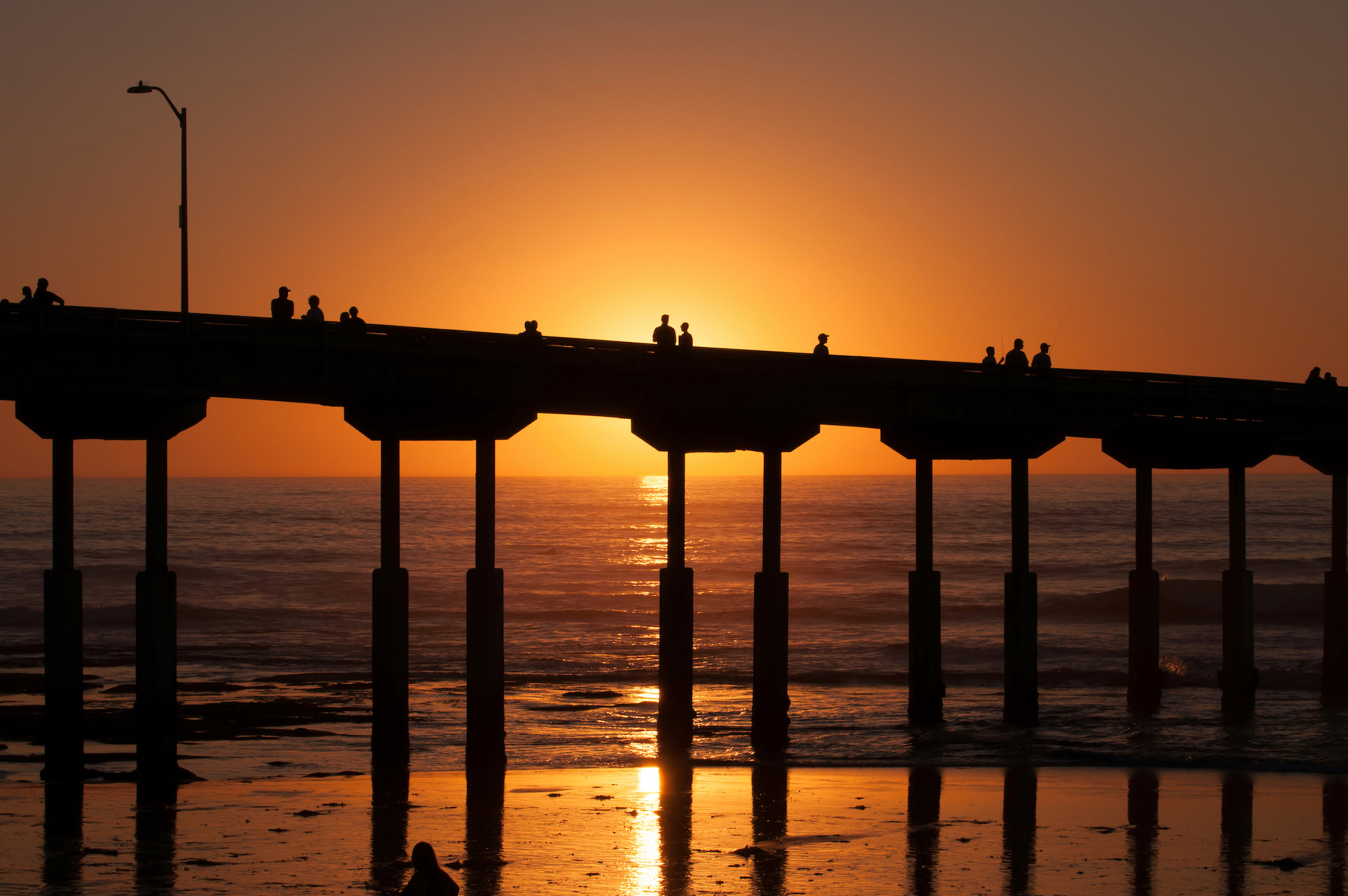 Another quintessential OB experience is a peaceful walk on the pier. This historic landmark was completed in 1925 and is a favorite spot for locals and tourists alike to hang out. The pier juts out about a half-mile from the base of Niagara Avenue and is a great spot to catch frolicking dolphins and divebombing pelicans. With stunning ocean views no matter where you look, you can take a stroll, snap some photos, and people-watch on this classic landmark.
Ocean Beach's pier is one of the longest on the West Coast. Be sure to stroll its entire length and treat yourself to a bite to eat when you get to the end at the Walking on Water Cafe. You can also catch your dinner by spending the day fishing if you so choose!
3. Check Out the Farmers' Market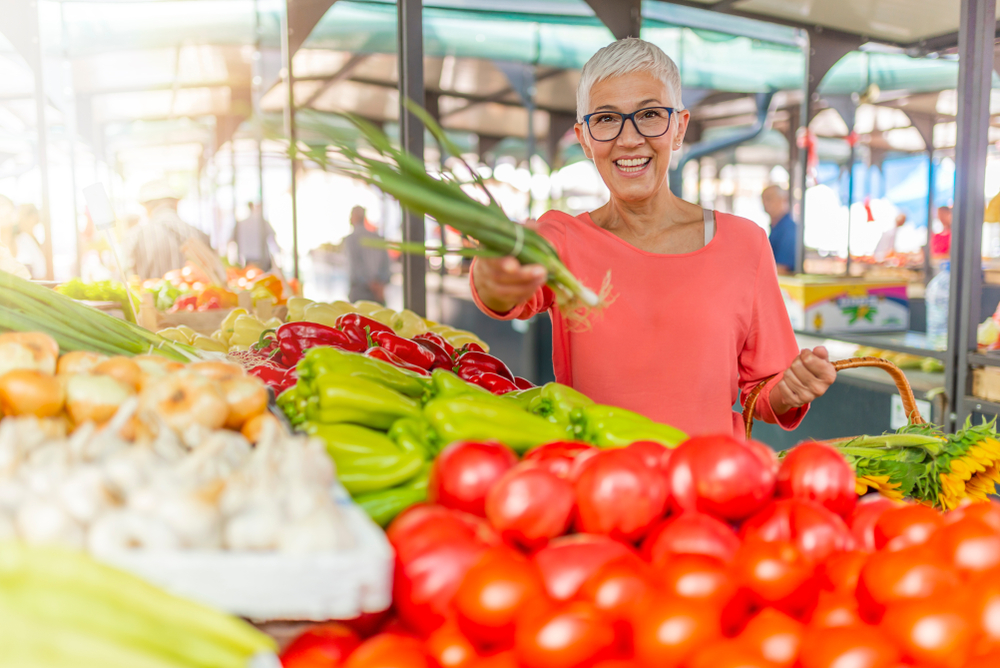 Ocean Beach has a farmers' market each Wednesday. There, locals and visitors can purchase fresh produce from local farms. You can also browse a variety of other food options that look just as tasty! Enjoy some live music and head to the beach for sunset. On the beach, you can find all types of gatherings, from yoga classes to and drum circles, depending on the time of day. This is a great opportunity to see OB in full swing — sunsets, music, food, surf, and natural SoCal beauty.
4. Search for Marine Life in the Tide Pools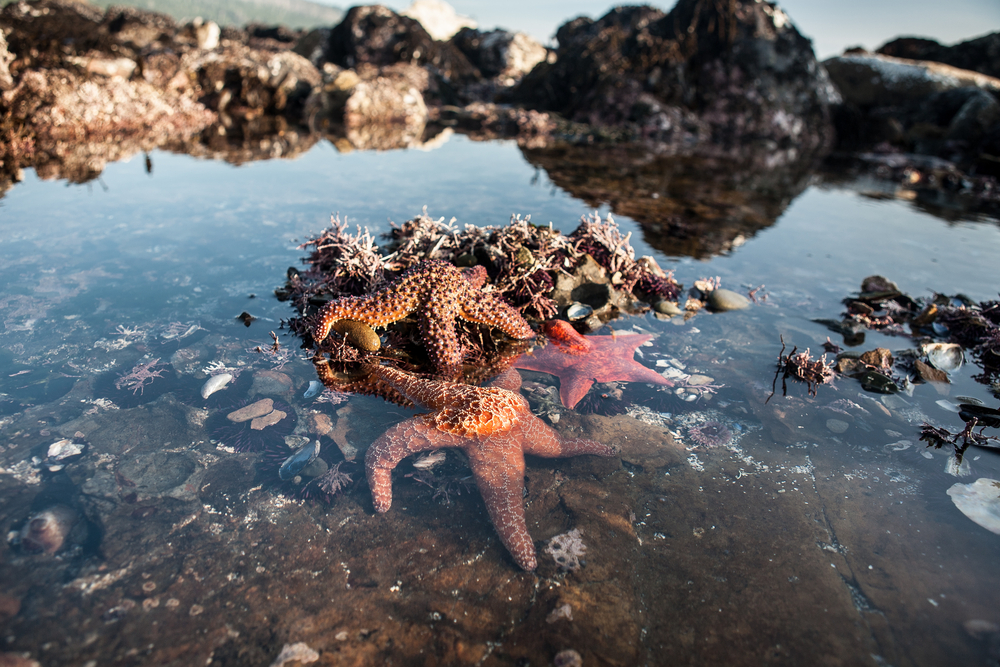 The ocean tide pools are rich in sea life and exploring them is one of the best things to do in Ocean Beach, California. Tide pooling is a very popular tourist activity that can be enjoyed throughout the year. The best time to tide pool is on an incoming low tide when the pools are full of water. Heading out on a sunny day will give you ample opportunities to explore the various critters that reside here. Keep your eyes peeled for craggy rocks, hiding crabs, fan worms, sea stars, urchins, and sometimes even harbor seals if you're lucky!
5. Hike Around Sunset Cliffs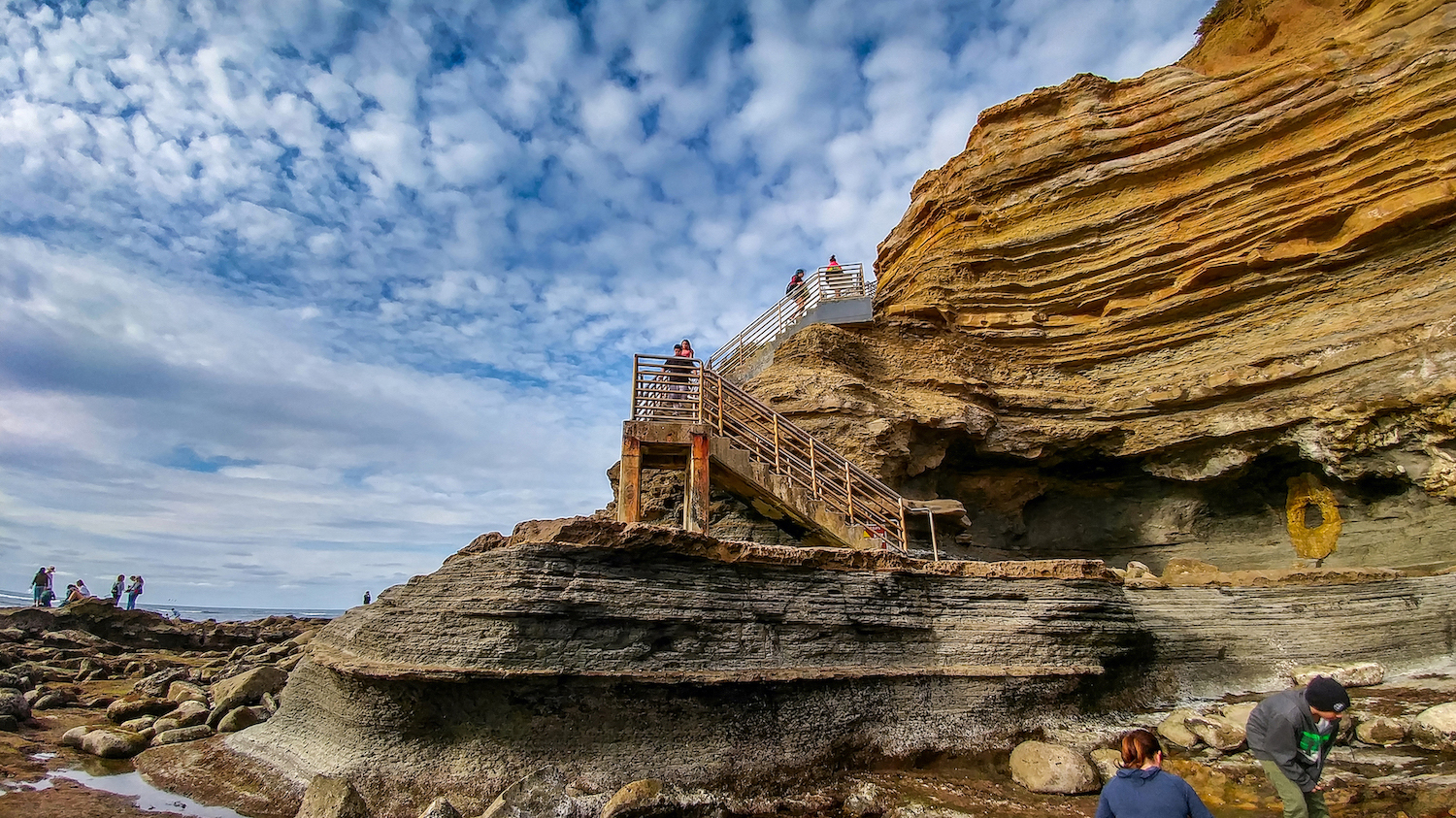 Sunset Cliffs Natural Park is located in Point Loma, south of Ocean Beach, and is a nice little day trek from OB. These rocky cliffs provide views of the Pacific Ocean, making them an ideal place for photo ops. The 68-acre park has spectacular ocean vistas, a wide variety of plant life, and is a popular spot for watching the sunset, hence its name. The best way to explore this park is by foot, and there are many different trails to choose from. Some of the most popular hiking trails include O'Sullivan Ridge Trail, Point Loma Cliffs Trail, and Razor Point Trail. Visitors can easily walk or bike to Sunset Cliffs from the Ocean Beach main drag.
6. Visit the Iconic Newport Avenue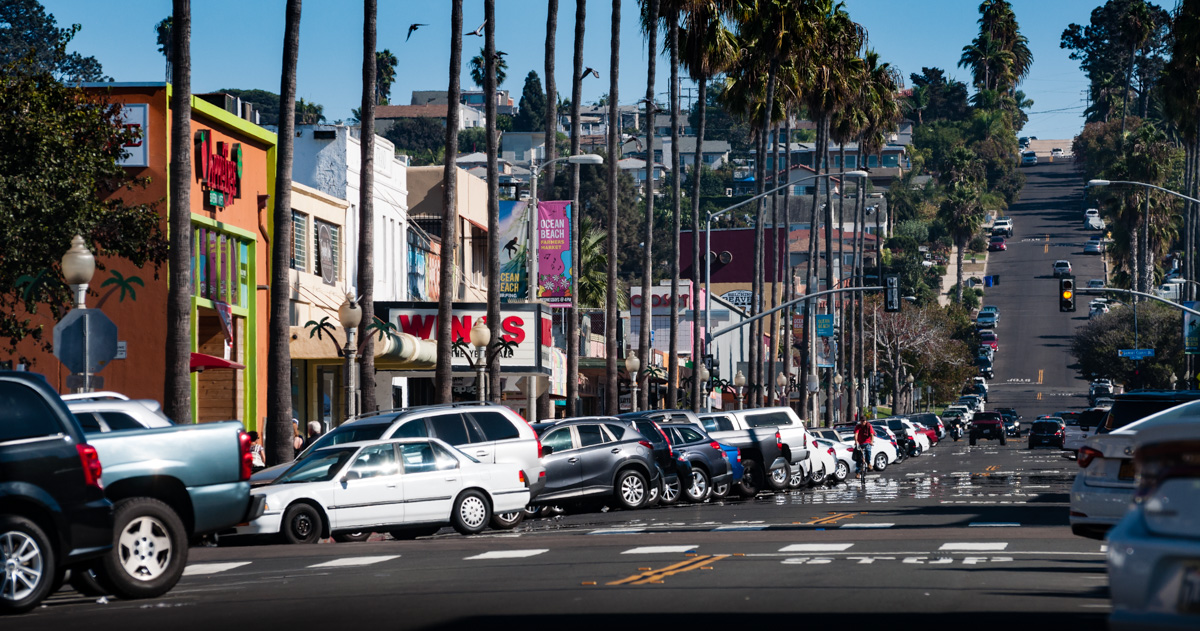 When you think of Ocean Beach, the first thing that might come to mind is Newport Ave. That's because this palm tree-lined main drag of Ocean Beach is well known for its hippy vibe, surf culture, and even the occasional celebrity sighting. Located on Newport Ave are restaurants, cafes, surf shops, tattoo parlors, clothing boutiques, antique shops, and bookstores perfect for browsing. Stop by the Ocean Beach Antique Center to see a plethora of vintage items from clothing to furniture. If you're looking to satisfy your shopping fix, you can't go wrong here.
7. Have a Beach Day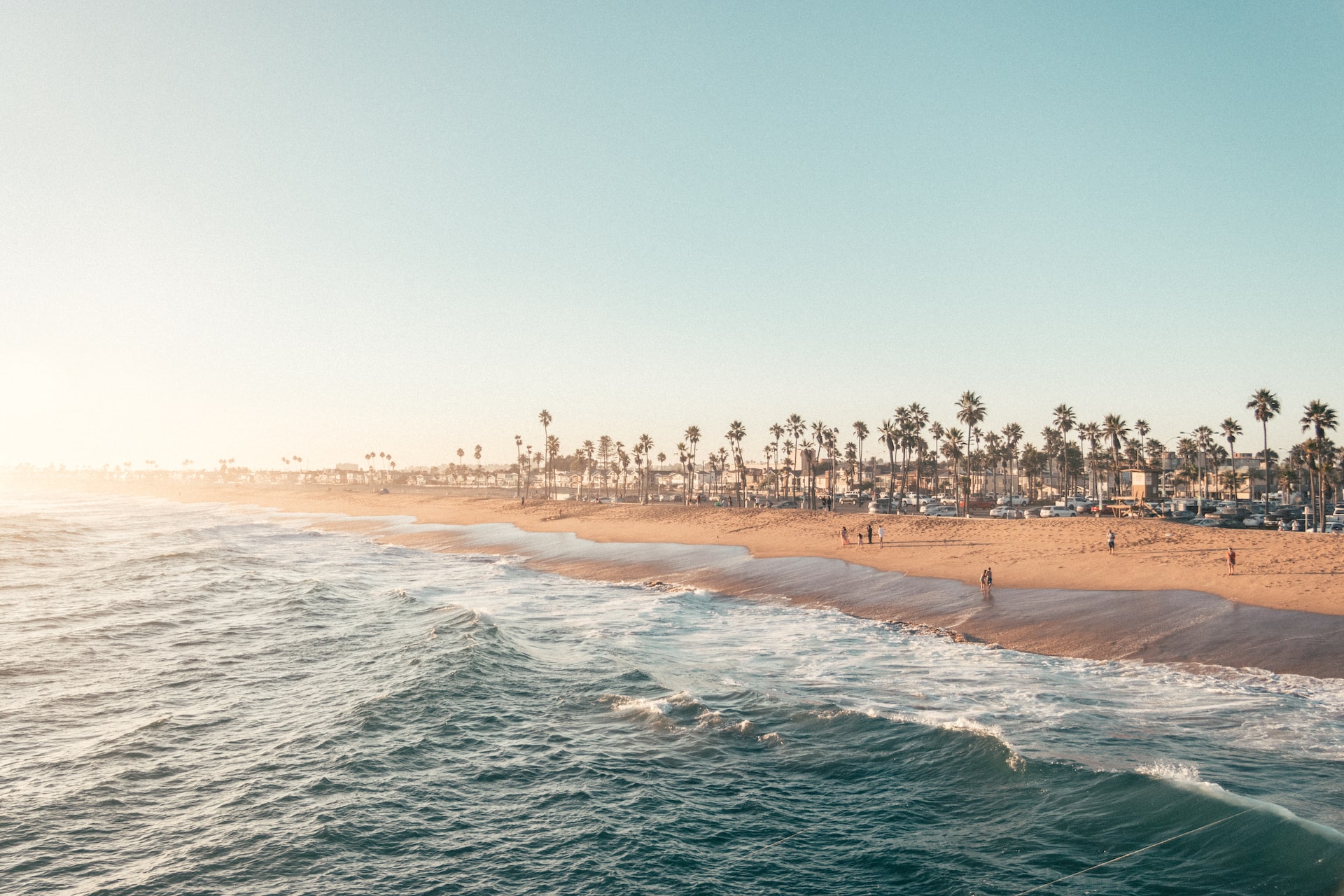 This one might be obvious, but it's absolutely worthwhile. Ocean Beach offers long stretches of sand, making it a great place to set up a chair or towel and relax for a full day or an afternoon. After busy days of sightseeing, you should treat yourself to some rest during your San Diego trip. Swim in the ocean, play some volleyball, or curl up under an umbrella with a book. There's no better way to soak up a sunny day than a day at the beach.
8. Check out the Live Music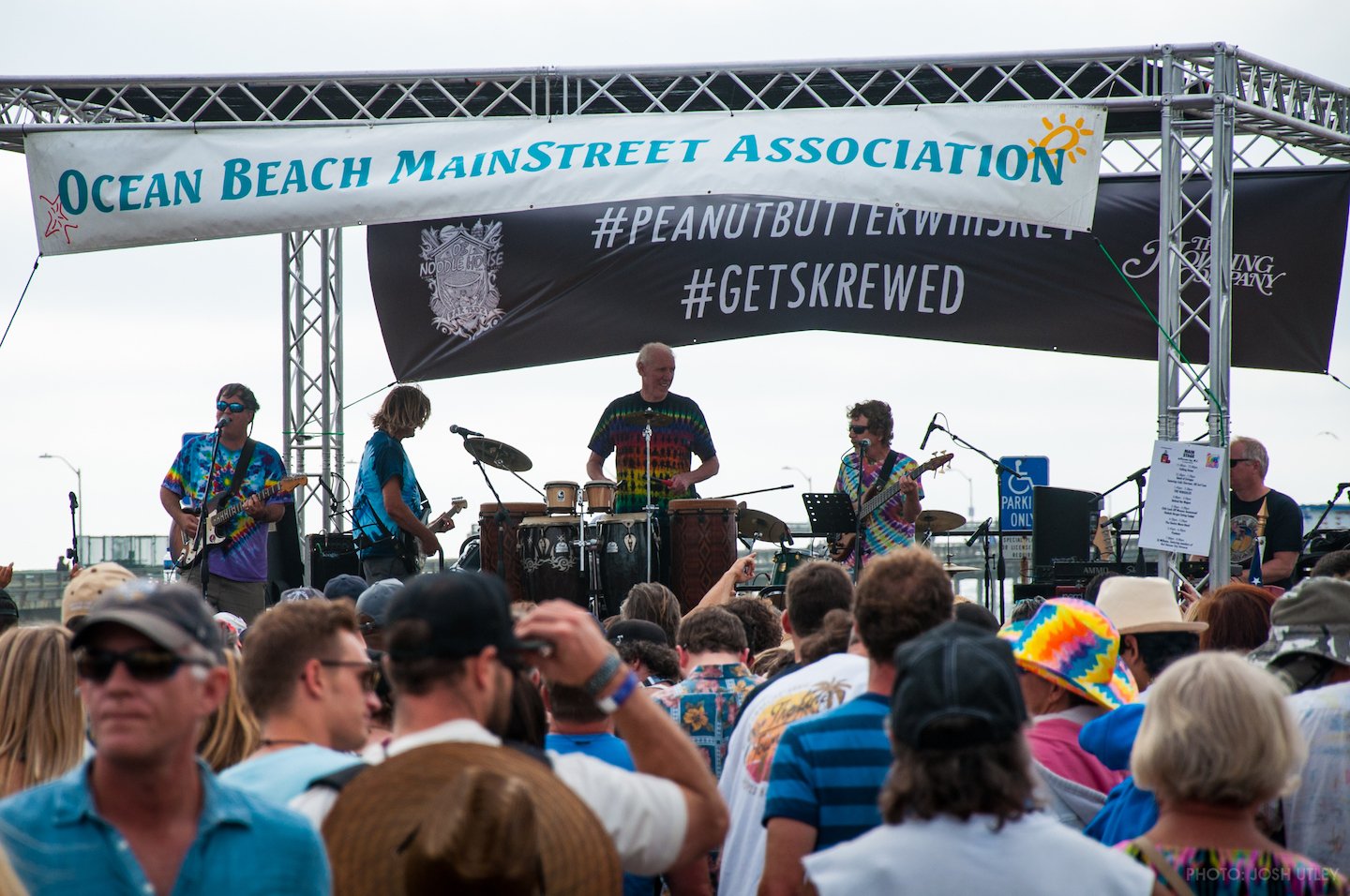 Ocean Beach was a big draw during the counterculture movement of the 1960s, and it still maintains a lot of its bohemian flair. Several bars and clubs in town have live music, including Winstons Beach Club. For only $7, catch some amazing Grateful Dead cover bands every Monday night at this historic music venue and meet friendly locals!
There's always something going on in Ocean Beach. To get a feel of upcoming festivals, farmers' markets, and events, visit the Ocean Beach Mainstreet Association website for a calendar of events.
9. Eat a California Burrito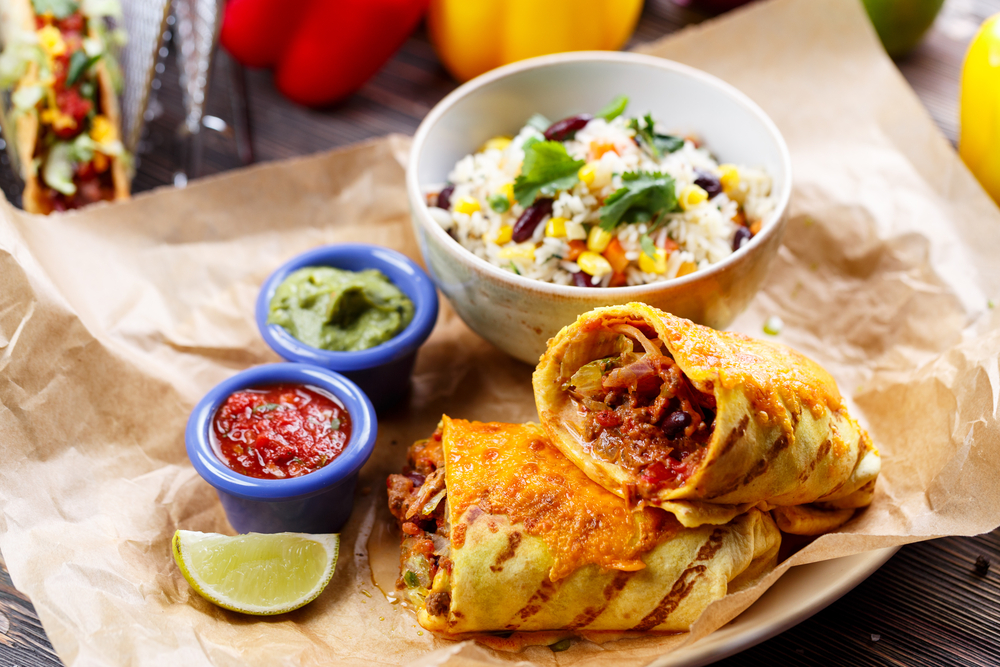 California burritos are a delicious fusion of two different cultures. It's both Mexican and American, making it an interesting way to try something new. You'll find carne asada, french fries, cheese, guacamole, pico de gallo, salsa verde or red sauce, and sour cream wrapped in a massive flour tortilla. Our favorite Cali burritos are found at Nicos and Mike's Taco Club, both on Newport Ave.
10. Peruse the Antique Stores and Boho Shops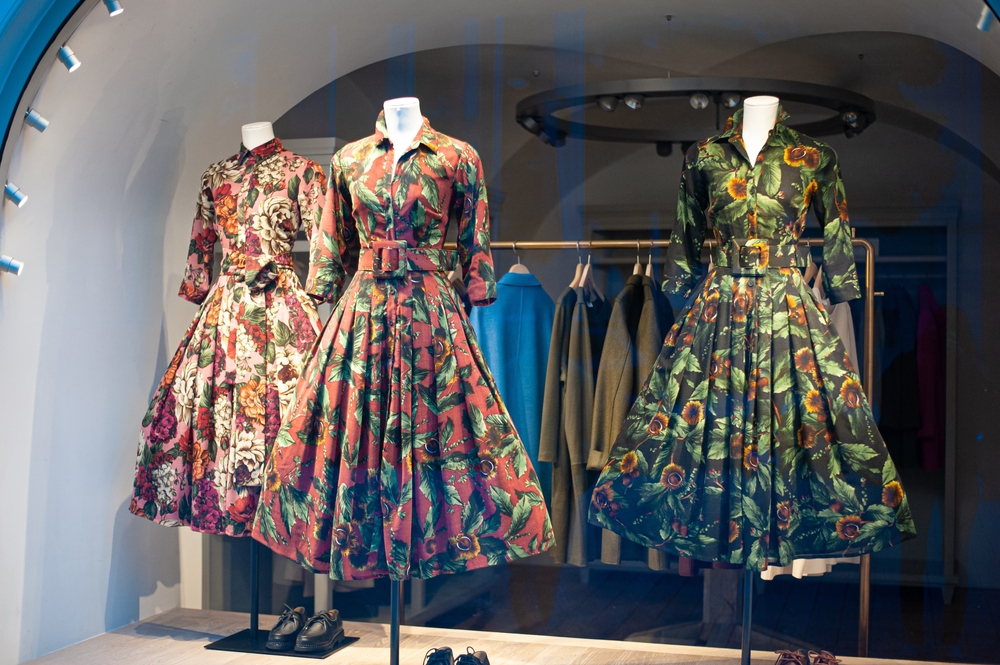 Ocean Beach has a nice collection of antique stores along Newport Avenue, where you can find everything from chairs and lamps to garden statues. Many of these boutiques have a distinct 1960s and 1970s feel, and feature glass beads, handmade clothing, woven items, records, and smoke shops. Stop by the Black to pick up some of the best souvenirs and gifts money can buy.
11. Make Some Friends at the Dog Beach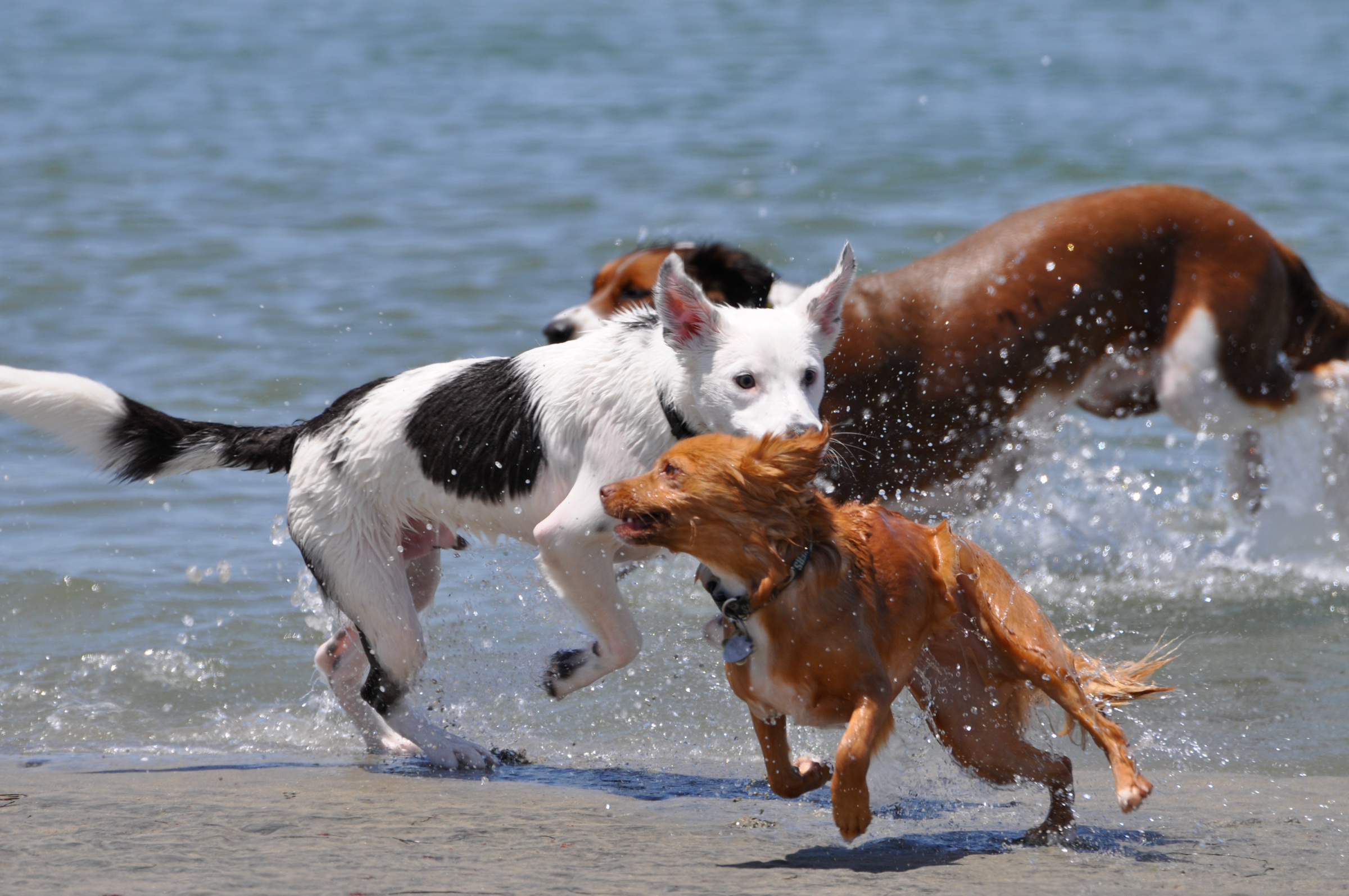 Traveling with a four-legged friend? Ocean Beach and San Diego proper are some of the most dog-friendly places in the U.S. This is evinced by the original Dog Beach, a nationally famous, sandy bacchanalia for dogs and a landmark of the community of Ocean Beach. Even if you don't have a dog with you, you should absolutely still head to the end of I-8 at the mouth of the San Diego River to see some happy puppers frolicking together leash-free in waves and sand.
12. Explore the Ocean Beach Murals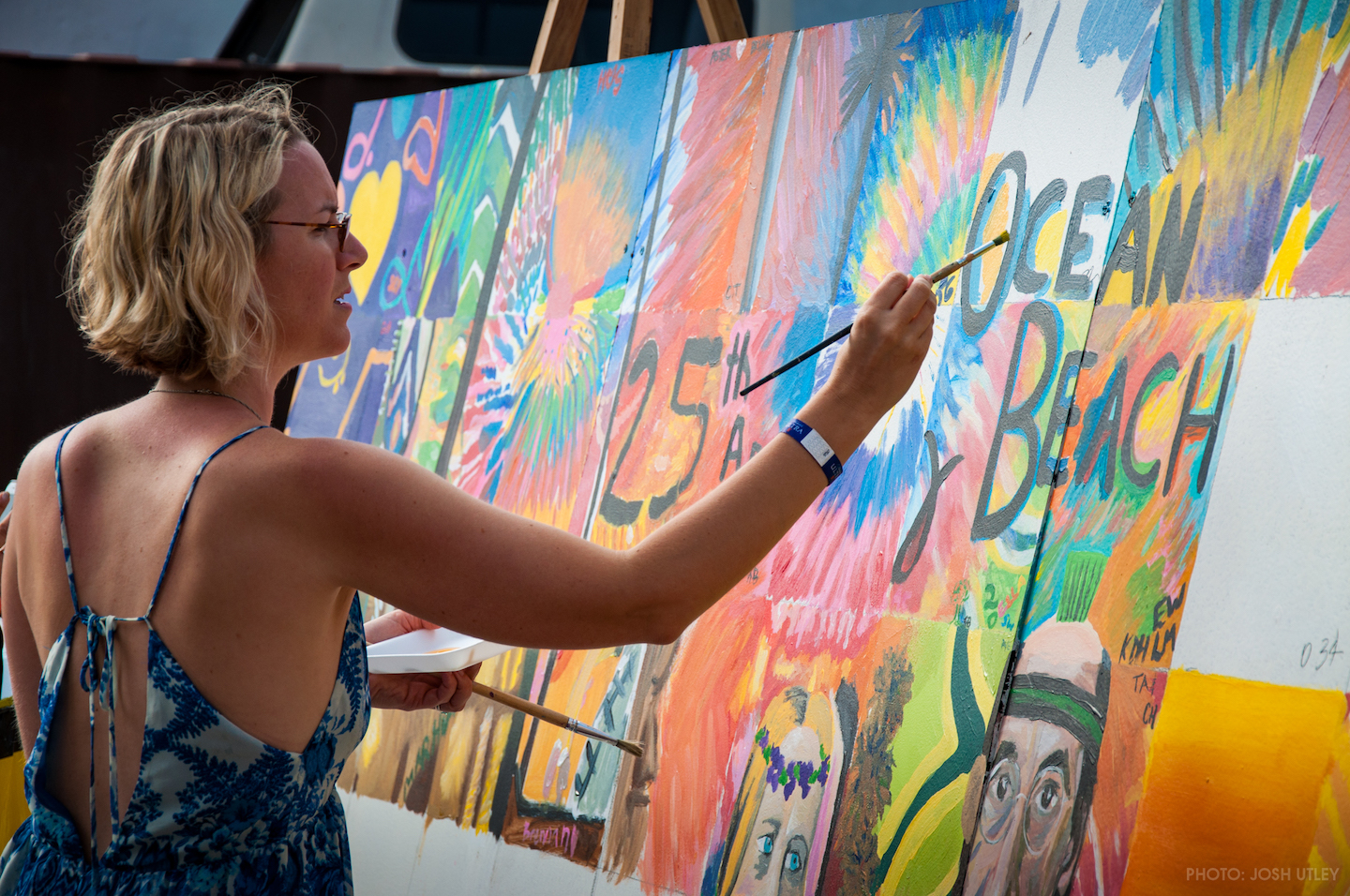 In Ocean Beach, community-painted murals located on buildings around the neighborhood capture the essence of the seaside town. Their themes incorporate everything from surfing to cars and flag-waiving Americana. The project was begun by local artist and activist Rich James in 1999 as a way to beautify OB and instill a sense of community pride. Since then, the murals have popped up all over town and become a fixture of the local landscape.
13. Hit the Local Bars & Restaurants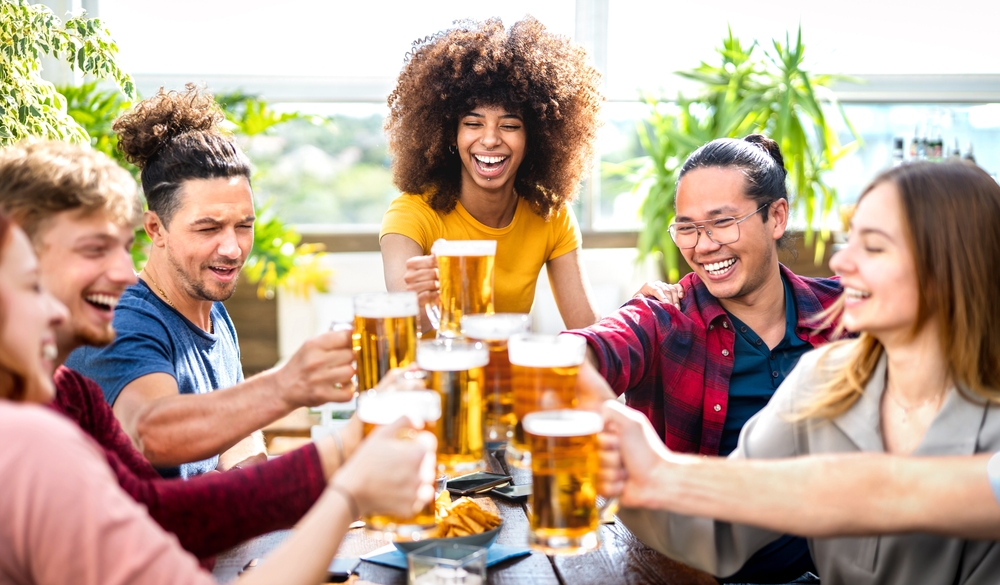 Ocean Beach has a tremendous sense of municipal pride and neighborly spirit, which is absolutely on display at the local bars and restaurants. While we already covered Mike's Taco Club as an excellent place to enjoy some Spanish bites, there's a wide range of establishments that will satisfy your tastebuds and make you feel at home. For coffee, head to Jungle Java. In the mood for sushi? You'll want to make your way to Sapporo Japanese Restaurant. And the BBQ House Bar & Grill is your place if you have a hankering for barbecue and American fare. Ocean Beach Brewery is also worth your attention, as this microbrew is right on the beach with a dog-friendly rooftop patio!
14. Rent a Bike and Explore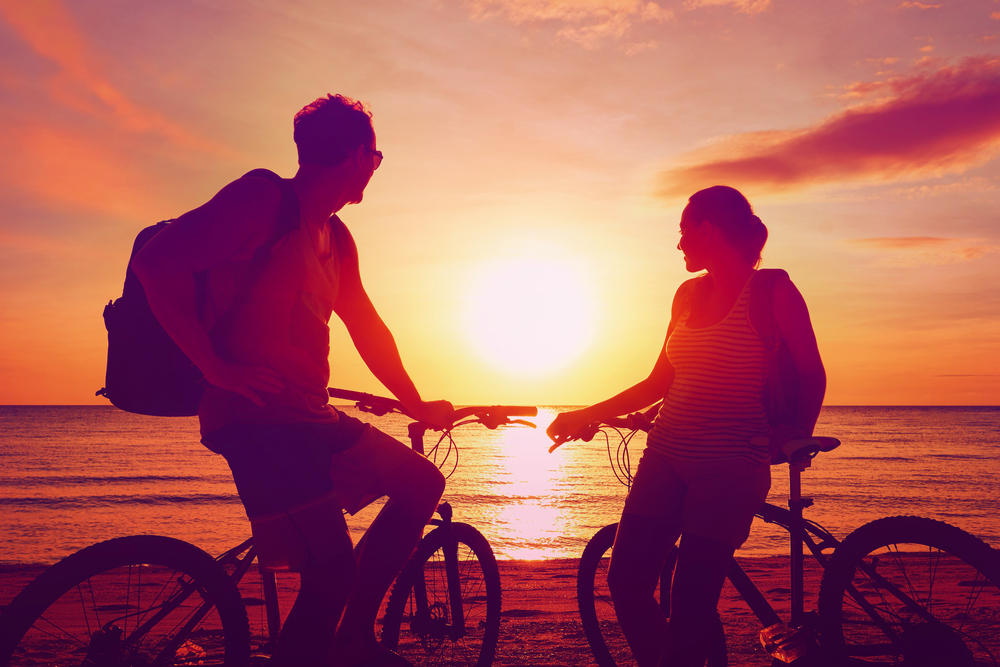 Renting a car might be a necessity in such a sprawling beach environment like OB. But renting bicycles for the day or the entire duration of your stay is also an enjoyable way to see this beachside community. In fact, Ocean Beach and San Diego are bike-friendly communities with miles of trails and great weather for biking year-round. There are myriad rental shops in and around Ocean Beach to choose from, or you can bring your own.
Where to Stay in Ocean Beach
Whether you are looking for a cozy bed and breakfast or a nice hotel, OB has plenty of options. A popular style of accommodations is grabbing a nice vacation rental. With tons of options, travelers can easily find a place that suits their needs, whether they are looking for a kitchen, something spacious, dog-friendly, or economical. While looking, make sure to keep in mind that OB is a small place, and most things are easily accessible by a short walk or drive.
Check Out the Neighboring Areas
To the north of Ocean Beach is Mission Beach, a popular spot for swimming, surfing, and sunbathing. If you'd like more info on Mission Beach, check out our ultimate guide. Further up the coast is Pacific Beach, which has a lively atmosphere with bars and restaurants lining its boardwalk. Out-of-towners may think that all SoCal beach communities are the same. The truth is, there is nothing like OB. To experience the difference between the areas, you'll just have to see it for yourself.
Enjoy Your Ocean Beach Getaway
If you're looking for a fun destination with lots of things to do, Ocean Beach is the perfect spot. With its iconic surf culture and laid-back vibe, this beach town offers an eclectic mix of shops and restaurants that will satisfy all visitors. Whether you want to try some burritos or enjoy live music at Winstons Beach Club, the opportunities are endless here!