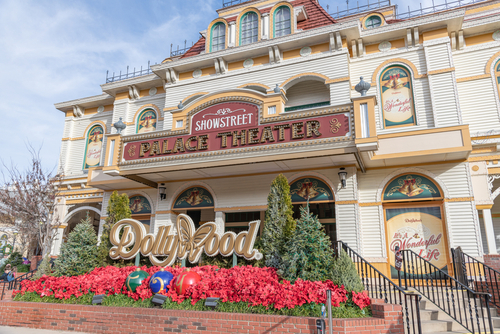 The holiday season becomes even more magical at Dollywood during Christmas. See the shows, relax in Pigeon Forge and enjoy the cool Smoky Mountain air that might bring snow on your visit. Live your adventurous spirit and "love every moment" at this Tennessee amusement park.
What is Dollywood?
Fans of Dolly Parton and residents of Tennessee likely know about this popular theme park but out-of-state visitors may not yet have had the chance of visiting yet. The park is located next to the Great Smoky Mountains and sits on over 150 acres of land. Visitors can enjoy classic amusement park rides, a water park, and a themed spa! The park originally opened in 1961 and was founded as Rebel Railroad. For the next 15 years, the park transferred ownership several times until in 1986, the local Dolly Parton rebranded the park to Dollywood, a theme park with inspiration from her music. It was stated that she got involved with the park in order to help the economy in the local community. Today, the park is still thriving and annually hosts approximately three million guests!
When is the best time to visit?
Since its opening, the word spread that Christmas at Dollywood is a special experience. The park adds a complete make-over of detail across the board with festive trees, lights, and ornaments creating a magical vibe. Visitors can be lucky to run into Dolly Parton herself as it's been stated that she frequently visits the park around this time of year. During such a special time of year, we love recommending folks take a holiday vacation to Dollywood to experience Christmas in an exciting way. While the park is closed on Christmas eve and day, the establishment features fireworks, daily entertainment, enhanced shopping, Festivus dining, and more. After being known as such a special setting to spend the holidays, a Hollywood film titled Christmas in Dollywood was inspired.
Tips for visiting Dollywood during Christmas
Make Dollywood Reservations Early
Dollywood is popular at Christmastime with visitors from all over the country. To ensure you have a spot at the shows, make your reservations early. Review the list of shows that range from kid-friendly performances to concerts and musicals. Check showtimes and ticket prices and reserve your spot. Dollywood season passes can be purchased at various levels with different benefits. Benefits can include special ride times or discounts on lodging, food and merchandise. Use a 2-Park Pass at Christmas so you can make return visits to Dollywood Splash Country in the summer.
Prepare for Cold Weather in the Smokies
Wintertime can be like a wonderland in the Smoky Mountains. The mornings will likely be cool with frost on the ground. Afternoons will warm slightly, but you'll still need a jacket and gloves. It's very possible that snow will fall while you're there, so you might want to bring snow boots and hats. A vacation home with laundry facilities can be ideal to get clothes dry after sledding and building a snowman.
Where to Stay?
With a resort and a local community with many great rental options, finding accommodations that fit your family's budget will be easy. We just recommend to plan early as this attraction draws many people every year. To make your rental feel more like home, bring some Christmas decorations to decorate your rental cabin. Or, you might choose to chop down a tree at a tree farm in the mountains. Decorate with your family or friends, sing Christmas carols and hopefully watch some snowfall. This is a fabulous place to spend Christmas time. Some rentals have outdoor fire pits or fireplaces for burning a fire outside. If yours has one, be sure to pick up some marshmallows to roast and stock up on hot cocoa.
Be Ready for the Crowds
Because of the theme park's popularity, crowds might gather on any day during the holidays. The earlier in the season, the less crowded it typically gets, so make your plans accordingly. Dollywood is covered in lights, so you'll want to see it at night. There are nearly four million lights throughout with strands hanging on buildings, in trees and just about everywhere. Get there before dark to beat the rush.
Plan Food and Beverages
Outside food, coolers and beverages are not allowed in the park. Numerous restaurants are available to purchase food and drinks. However, if you prefer to go elsewhere for meals, be sure to get your hand stamped so you can return as the park allows re-entry. Water fountains are located throughout Dollywood, so you can hydrate at one of them or purchase bottled water.