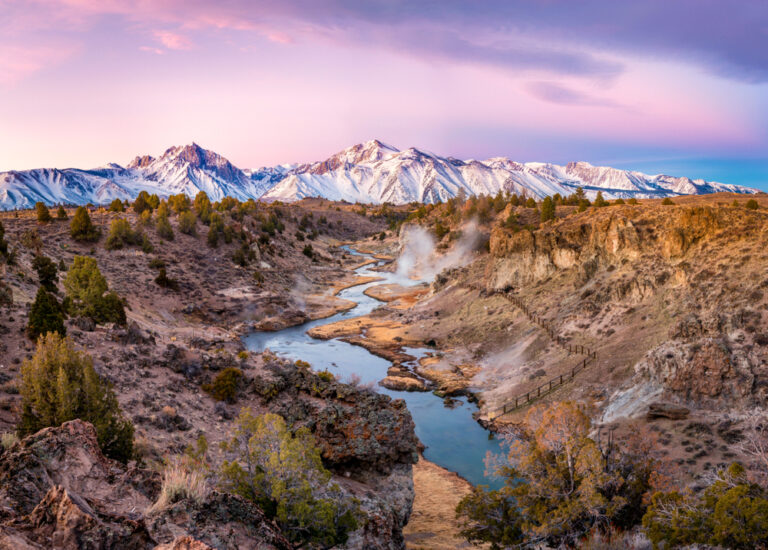 Mammoth Lakes, California is a great budget-friendly outdoor destination, roughly 40 miles from Yosemite National Park. It's a growing ski-resort city, yet the summer season is the best time to visit since it's quieter and less crowded from June to September.
With access to many alpine lakes, reservoirs, and creeks, Mammoth Lakes offers some of the best fishing and swimming in the state of California. You'll also find biking and hiking trails, golf courses, and amazing scenery. Plus, this area offers an abundance of opportunities to go mountaineering and rock climbing. Not to mention that during the winter months you can slide right into town from the nearby Mammoth Mountain Ski Area. Lastly, Mammoth Lakes is known for its outdoor restaurants where you can eat a great meal while enjoying the stunning views.
Some notable places to check out include June Lake, Rock Creek Lake, Convict Lake (which has its own campground), Devils Postpile National Monument, Inyo Craters, and Mono Lake — one of the saltiest bodies of water in the world. Mammoth Lakes is also home to the 101-foot Rainbow Falls and is located just a 45-minute drive away from Yosemite.
One of our team members at VacationRenter recently visited Mammoth Lakes and calculated the actual cost of the entire weekend road trip from San Francisco. We found that the total cost for a long weekend trip for four people comes out to $318.88 per person. This includes a three-night vacation rental, groceries, gas, a drive-thru meal on the way there, and a dine-in meal on the way back. Bonus tip: you can also save about $50 if you don't stop for food, and if you want to spend even less, just make a campsite reservation in the area!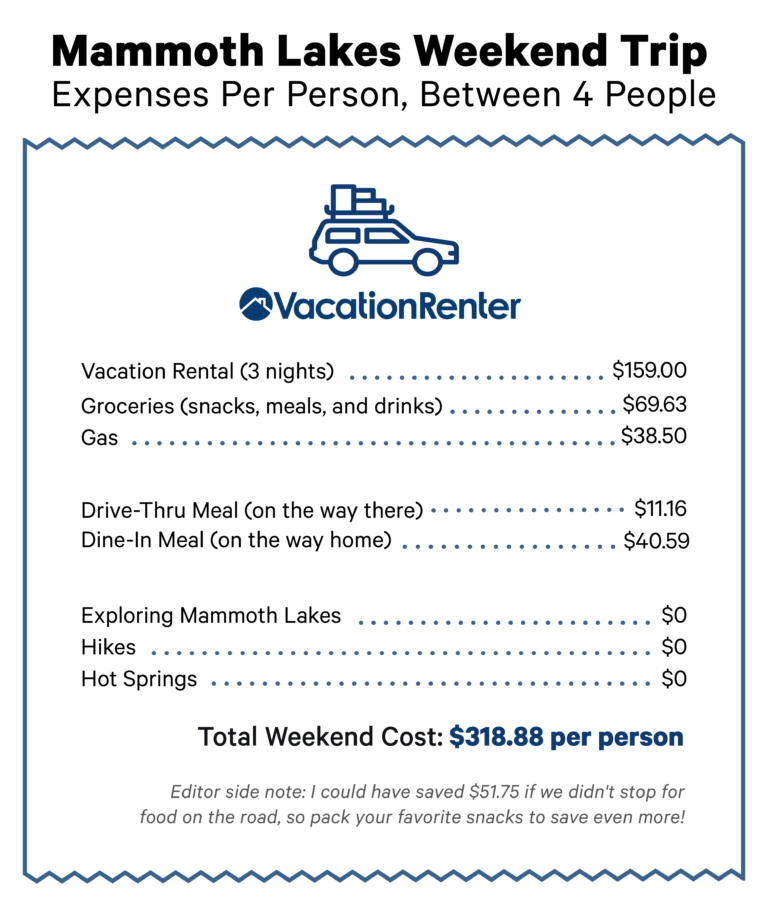 We've also compiled a list of budget-friendly activities below for you to do during your mini-vacation to Mammoth Lakes.
Explore the Inyo Craters
Underground steam explosions created the Inyo Craters over 600 years ago. You can access these unique canyons with a short mile and a half hike through a massive Jeffrey Pine forest, which happens to be the largest in the world. Once you reach the craters, you'll discover amazing aquamarine pools from hundreds of years of rainwater and snowmelt. It can take a couple of hours of exploring to see and appreciate everything in the area, so be sure to budget plenty of time. If you're a fan of wildlife and bird-watching, you'll love this experience as the region is teeming with woodpeckers, mountain chickadees, and even dark-eyed juncos.
Hike to Crystal Lake
One of the most popular hikes in the region is the Crystal Lake Trail, which takes you through divine alpine terrain and provides breathtaking views of the Mammoth Lakes Basin. It's a relatively easy three-mile hike that takes 90 minutes to complete round-trip, with only 800 feet of total elevation gain. Additionally, the Lake George Campground is located near the trailhead, so you can spend a night camping in the area or simply enjoy a relaxing afternoon lakeside after your hike. Any way you slice it, it's certainly an amazing area to appreciate the stunning natural environment surrounding Mammoth Lakes!
Devils Postpile National Monument
A day trip to the Devils Postpile National Monument is highly recommended by visitors and locals alike because this incredible natural formation is truly a behemoth to behold. The basalt columns were created by cooling lava around 100,000 years ago, and they're considered to be one of few natural wonders in the region, with some columns standing over 55 feet tall. This iconic landmark is only accessible by car during July, August, and September, so make sure to plan your trip to Mammoth Lakes accordingly if you want to visit this amazing monument to Mother Nature.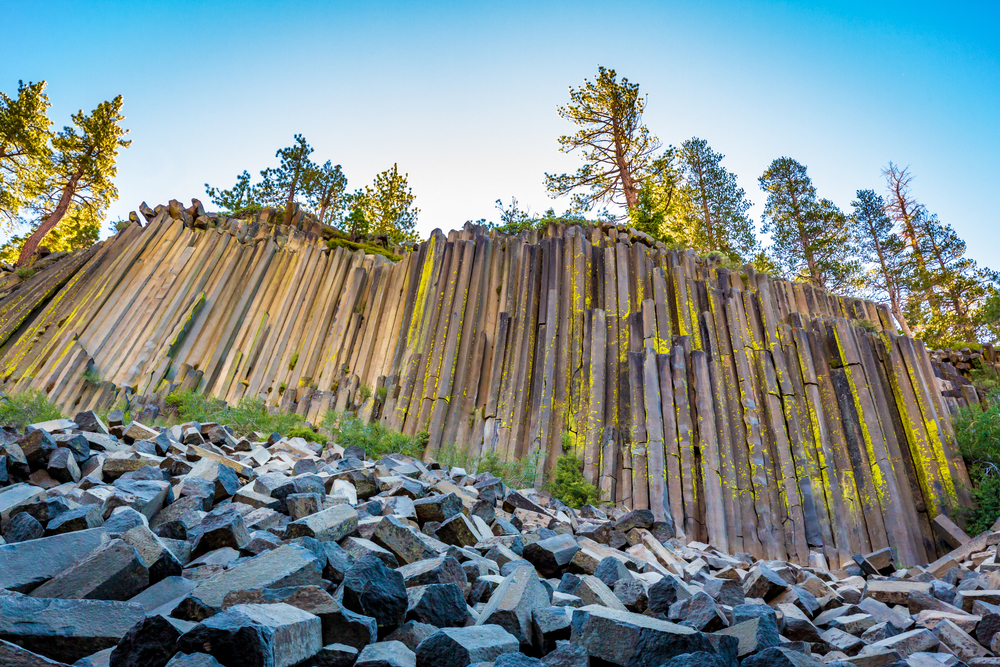 Ride the Gondola on Mammoth Mountain
One of the most thrilling and scenic activities you can participate in during your time in town is a ride on the Mammoth Mountain gondola. It offers you a jaw-dropping, 360-degree view of the gorgeous natural landscape in the high alpine tundra that resides 11,000+ feet above sea level. Once you reach the summit, you'll find a friendly cafe called Eleven53, where you can take stunning selfies with a wonderful backdrop and enjoy a hot cup of brew at high elevation. If you want a more active and more intimate experience, consider walking back down the mountain instead of downloading on the gondola.
The Village at Mammoth Lakes
If you're looking for a bite to eat or perhaps a night out on the town while you're in Mammoth Lakes, head up to The Village. It's a magical mountain retreat with boutique shops, excellent eateries, and cute cafes. At night, the lights around The Village make the whole place glow like some sort of fictional town from a Tim Burton movie. You'll encounter budget-friendly restaurants all over town, but our top recommendation is Campo Mammoth, which serves mouth-watering Italian cuisine like wood-fired pizzas and hand-made pasta.
Catch a Fish with Your Friends
The Mammoth Lakes region is home to a vast network of lakes, streams, and reservoirs, so it's full of fantastic fishing grounds with an abundance of brown trout, brookies, and rainbow trout. It's a great way to spend the day with your travel companions as you cast your lines and compete to see who can reel in the biggest fish. You can set up shop on the shore of a lake or stroll upstream in search of the perfect honey-hole, all the while accompanied by the fresh mountain air and breathtaking scenery. It's easily one of the best budget-friendly activities that you can do in the area!
Sunset at Minaret Vista
Nestled between two pristine valleys in the Ritter Range of Minaret Vista, you'll find a rocky ridge that provides the perfect vantage point for watching the sun drop below the horizon at the end of the day. The area is home to 10 iconic peaks like Mount Ritter at an elevation of over 13,000 feet. The views alone are a sight to see, but if you visit the area around sunset, you're in for a real treat to wrap up your budget-friendly day. You'll be mesmerized by the fiery brilliance of yellows, purples, and reds from the setting sun as they dance through the sky and across the high mountain peaks. As the light begins to fade, linger just a little longer to enjoy the alpenglow.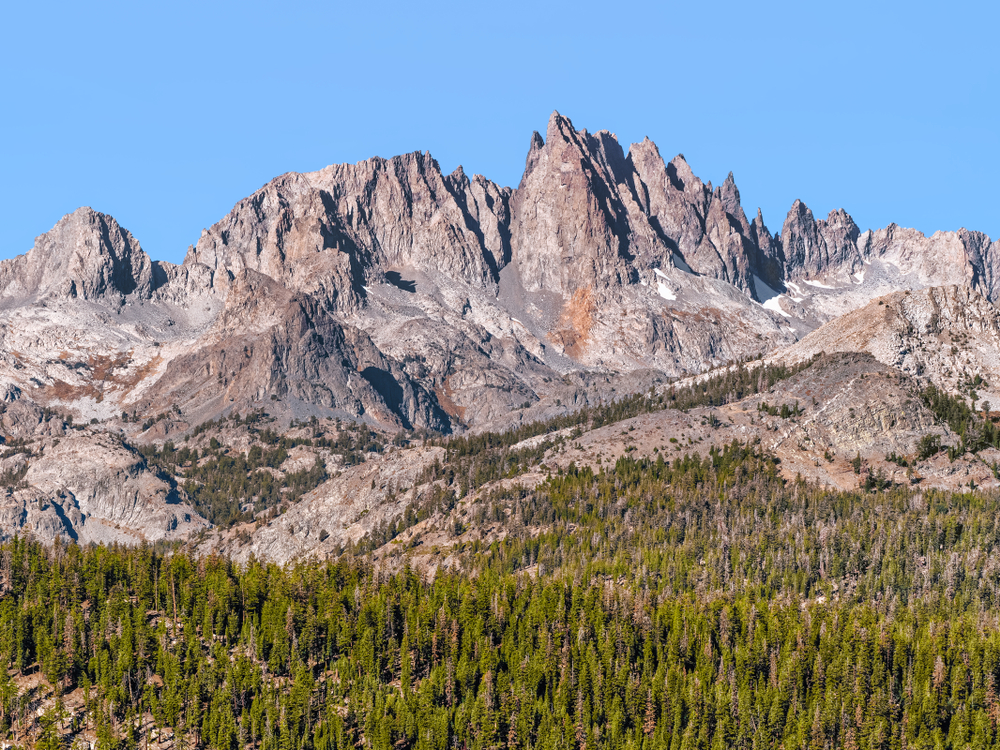 Final Thoughts
You could say Mammoth Lakes is in a league of its own. As an area that's home to an unlimited number of massive mountains, pristine lakes, and picturesque views, your choices for budget-friendly outdoor activities are endless. From camping in the wild and enjoying lakeside picnics to hiking in nature and exploring local landmarks, Mammoth Lakes is a wonderful vacation destination that has something for everyone.
Start planning your budget-friendly trip to Mammoth Lakes today, and find your accommodations quickly and easily at VacationRenter.
Mentioned In This Article