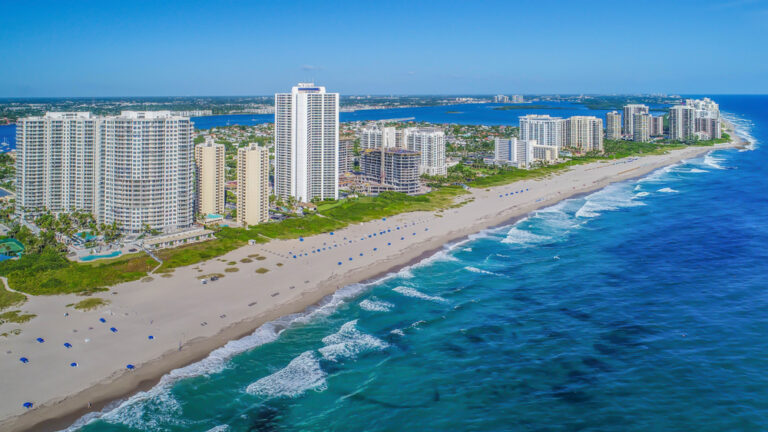 This route would be a fantastic idea for a romantic tropical getaway, or for BFFs who just want to hop from one beach view to another. Consider this entire road trip route as the epitome of cruising. To make the most out of Florida's sunshine, the best time to go would be between January and April, before the rain and humidity take over.
Starting point: Jacksonville
Closest airport to starting point: Jacksonville International Airport (JAX)
Ending point: Key West
Closest airport to ending point: Key West International Airport (EYW)
Driving distance: roughly 560 miles
Duration of the trip: 1 week
Day 1: Jacksonville to St. Augustine – 50 miles
The first stop on this coastal journey is St. Augustine, famously known for being the oldest city in the United States. In order to fully appreciate this historic city, it would be advisable to spend at least one night to bask in its old-school charm. Take a moment to appreciate the city's European-styled architectural masterpieces, or find the perfect chill spot along the city's 42-mile stretch of beaches.
Day 2: St. Augustine to Orlando – 110 miles
After a relaxing first day in St. Augustine, you can make your way down to Orlando. On your way there, feel free to make a small detour to Daytona Beach and have a leisurely stroll down the boardwalk, a classic if you were to ask us. Once you get to Orlando, you'll have some downtime to get comfortable in a vacation rental of your choosing!
Day 3: Orlando
Dedicate an entire day to exploring one of Orlando's many famed theme parks including Disneyworld or Universal Studios. If you consider yourself a theme park thrill seeker, then you're more than welcome to tack on a couple of extra days in this fun-filled city. Might as well since you're already there, right?
Day 4: Orlando to Miami – 240 miles
From Orlando, set your GPS navigation to Palm Beach. If you're in the mood to get cultured, you can make a pit stop visit at Flagler Museum, Norton Museum of Art, or The Society of the Four Arts upon arrival. If you just want to be on your way, then from Palm Beach onwards will be the start of a 70 mile drive through beach towns all along Interstate 95 — including Boca Raton, Pompano Beach and Fort Lauderdale — all the way until you hit Miami.
Day 5: Miami
There's so much life flowing through the city of Miami, you'll constantly have something to do, so the length of your stay is totally up to you. Take a walk through the Wynwood Arts District, where they showcase local creative talent in the form of street art, exciting events, trendy restaurants and lively bars.
Day 6: Miami to Key West – 160 miles
Would it be a true tropical road trip in Florida if you didn't make it all the way to the Florida Keys? The answer is no! This final lap is going to be a rewarding one. Once you hit North Key Largo, you'll begin your hundred-mile journey to the edge of paradise. Key West is the furthest and most secluded point of Florida, surrounded by white sand beaches and crystal clear blue waters. Stay for at least a night and enjoy the remainder of your vacation.
Day 7: Key West
Spend the morning near the ocean, treating yourself to a waterfront massage or taking advantage of all the outdoor activities by the beach. When you're finally ready to return back to the daily grind, you can fly right out of this slice of heaven and make your way home.