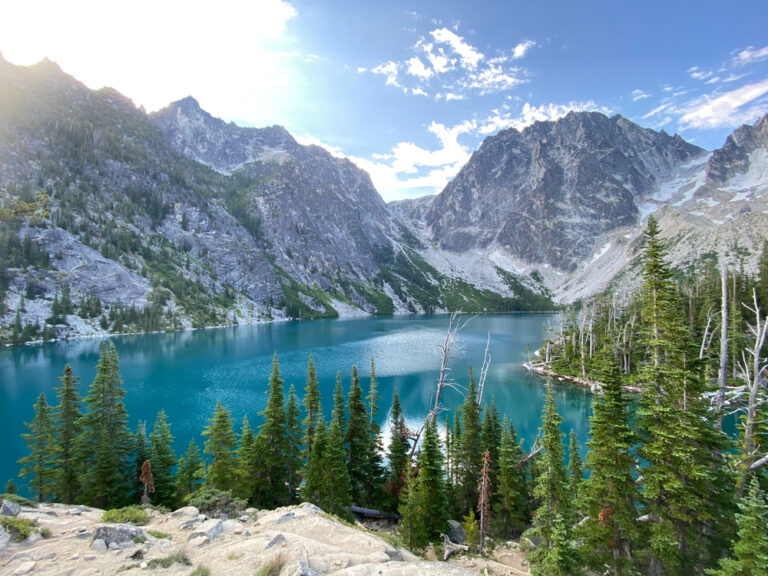 If you've been keeping up with our road trip series, then you probably already read about the gorgeous route scaling the southern half of the West Coast, so it's time to find out what's on the north end. We know what you're thinking and yes — the West Coast is so beautiful that its entire landscape is road-trip-worthy, except this time you'll be greeted by mountains, forests, greenery, and a few other surprises along the way.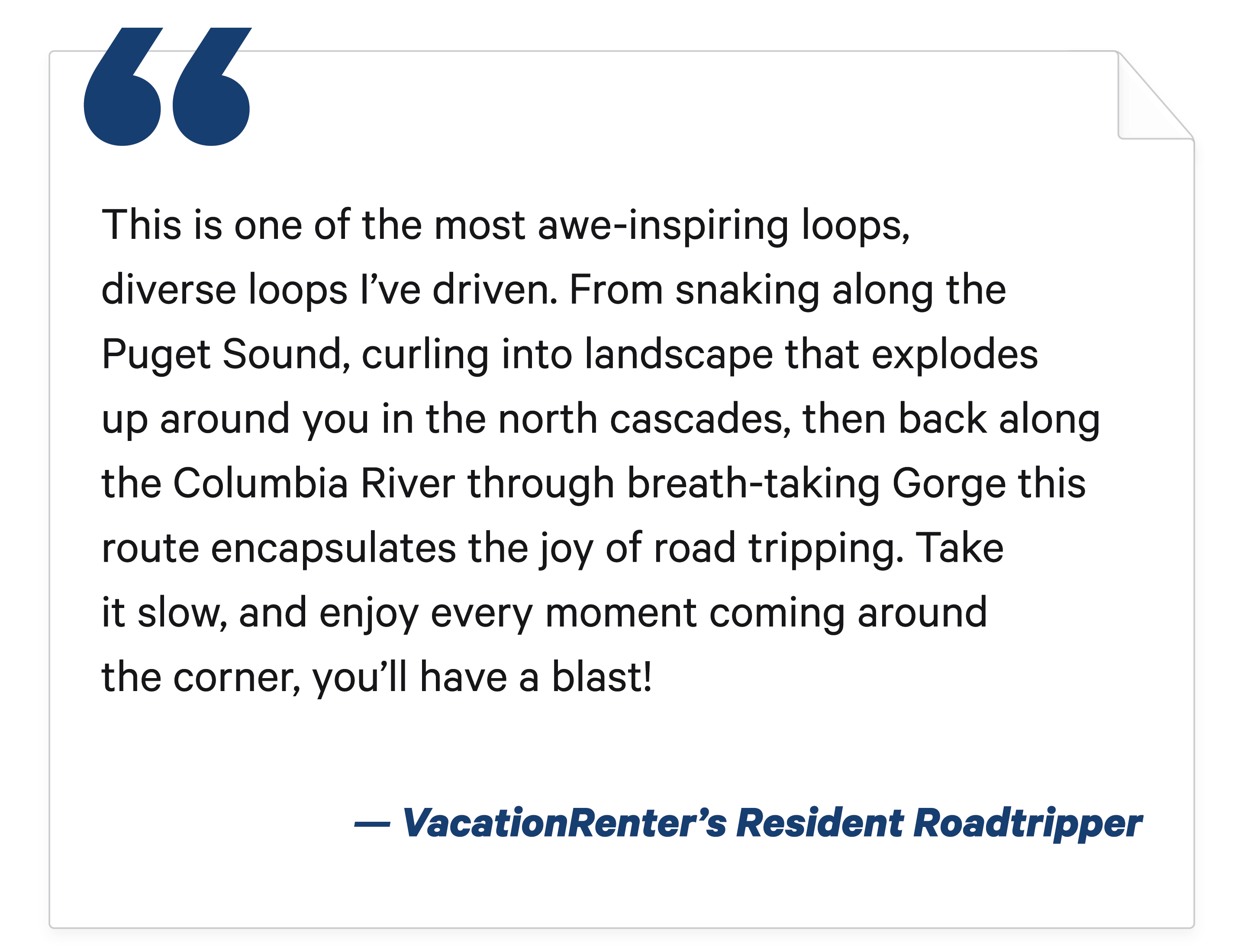 Starting point: Portland
Closest airport to starting point: Portland International Airport (PDX)
Ending point: loops back to Portland
Driving distance: about 1,160 miles
Duration of trip: 2 weeks
Day 1: Portland to Astoria – 95 miles
Portland is filled with loads of amazing eateries, so if you're not from the area, your first stop will want to be a restaurant of your choosing, depending on your favorite cuisine. A few suggestions are Screen Door for brunch or Canard PDX — a restaurant that crafts delicious dishes inspired by cuisines from all over the world. You can save your Portland explorations for the end of this trip, since you'll loop back around anyway. For now, load up with an epic first meal before commencing your northwest adventure.
Heading to Astoria will be a breeze, where you'll want to spend a night in order to catch sunset at Cannon Beach, home to the iconic Haystack Rock. If you get lucky, you'll catch tufted puffins surrounding the rock in their natural habitat, nesting and interacting with one another. They're typically most active between the transition from spring to summer, then new puffin chicks hatch by the end of August.
Day 2: Astoria to Forks – 200 miles
Making your way out of Astoria in Oregon, you're going to cross the Columbia River into the state of Washington. You'll set north for Forks, right on the outskirts of Olympic National Park. As a warm-up for your trek through Washington's most well-known national park, you can visit Bogachiel State Park after checking into your home for the evening.
Day 3: Forks
Today is your day to scout the wonders of Olympic National Park! Walk through the mystical moss-covered trees of Hoh Forest, or go in search of the "Hole in the Wall" at Rialto Beach. Those who just want to relax can also check out the Sol Duc Hot Springs, but keep in mind that you have to make reservations to the hot springs ahead of time. The park itself covers almost one million acres, giving you miles of preserved land to explore. 
Day 4: Forks to Port Townsend – 100 miles
From Forks, you're going to navigate the northwest corner of the United States until you hit Port Townsend, a quaint town serving as your hub for the evening before hopping over to the San Juan Islands. Be sure to book a ferry reservation from Port Townsend to Coupeville before your trip, and yes — your vehicle is coming along on the ferry ride too.
Day 5: Port Townsend to San Juan Islands – 60 miles
Welcome to the state of Washington's northern archipelago: the San Juan Islands. The three largest islands of the bunch are San Juan Island, Orcas Island, and Lopez Island. These islands would be the best place to find accommodations in the area. From the west side of San Juan Island, you'll find Haro Strait, where whale watching and kayaking is a common activity.
Day 6: San Juan Islands
Spending a couple of nights on the San Juan Islands is ideal in order to hit all the best spots. After all, you'll have to take into account your time spent on a ferry hopping from one island to another. Outdoorsmen can check out Friday Harbor on San Juan Island itself for camping, and the area is also great for a lunch stop! 
Day 7: San Juan Islands to Bellingham – 70 miles
From here, you'll take a ferry back to the mainland and drive up State Route 11 towards Bellingham. Keep your eyes on the road and enjoy the drive because Route 11 is absolutely beautiful. Once you get to Bellingham, you can either find a comfortable rest stop, or camp a bit south in Larrabee State Park. At the park, you'll find scenic hikes with a different view of the San Juan Islands. You can also hang out by Samish Bay for a relaxing afternoon by the water, grubbing on fresh oysters. Take this time to stock up on supplies and fully recharge because your next leg is about to be a long, stunning, and eventful one!
Day 8: Bellingham to Winthrop – 150 miles
You're in for a treat because this drive is going to take you through the incredible terrain of North Cascades National Park. Before making your way in, it would be advisable to make a pit stop to fuel up both your body and your vehicle in the small town of Marblemount because you'll want to be fully prepared for what's to come. 
If you plan to take the time and see as much of the North Cascades as you can, you can either park your RV/car after Marblemount, camp by one of the many lakes in the park, or find a trusty vacation rental in Winthrop, on the far side of the range
Day 9: North Cascades National Park
No matter where you decide to stay in the area, you should allot one whole day to drive around the North Cascades. Two must-see stops are the Washington Pass Observation Site and the unbelievably vibrant blue, Lake Diablo. For the road less traveled, you can also hike the Blue Lake Trail in search of a secluded lake with outstanding views. Driving through these glacier cut ridges is truly an incredible experience that will take your breath away.
Day 10: Winthrop to Leavenworth – 115 miles
Transitioning out of the prominent ridges of the North Cascades and heading towards the adorable town of Leavenworth, you'll be blessed with a gorgeous drive through the Columbia River gorge. As you make your way down, you'll pass the town of Chelan, a lakeside community with beautiful homes and a variety of outdoor activities. 
Upon arrival in Leavenworth, you'll feel like you've stepped into a quaint Bavarian town smack dab in the middle of Washington. The city's architecture reflects Swiss and German styles, and the landscape surrounding the city even emulates characteristics of the Swiss Alps. Spend a stress-free afternoon at the Bavarian Ritz Hotel's backyard bar overlooking the Wenatchee River and bask in this glorious moment. Taking a step back to sit back, relax, and see how far you've come on this adventure is much needed.
Day 11: Leavenworth to Kennewick – 150 miles
Once you're ready to snap back into road trip mode, head south to George, Washington — like the first U.S. president. The town of George is worth the detour because it's home to one of the most extraordinary concert venues in the country. If you plan ahead and are lucky enough to find an artist you like playing at the Gorge Amphitheatre, you may even want to plan this entire trip around a scheduled show. The Gorge's outdoor stage has a backdrop of the Columbia River with vast land as far as the eye can see. Even if you aren't able to catch a show, the venue itself is worth paying a visit and you can even hike the Gorge's Trailhead. 
Next up, you can find a place to stay in Kennewick before embarking on the final scenic leg of your journey.
 
Day 12: Kennewick to Hood River – 150 miles
Hood River is Portland's mecca for outdoor adventures. There are plenty of accommodations around the area so you can spend a whole day in the sun hiking, rafting, kayaking, mountain biking, or even visiting an apple farm. For anyone who likes to kitesurf, you're in luck because Hood River is one of the best places to go kitesurfing too! While you're there, you can also drive out to the Mount Hood area and visit Oregon's tallest peak.
Day 13: Hood River to Portland – 70 miles
As you make your way back to your origin point of Portland, a majority of your drive will continue along the Columbia River. On your drive, you'll want to make a few significant stops. First, check out the Horsetail Falls Trailhead, which leads you to Horsetail Falls and near the Rock of Ages Arch. As of 2017, the Rock of Ages Arch Trail has been indefinitely closed, but you can always check online before your trip to see if it's open to the public again.
Another amazing site along the way is Multnomah Falls, a 620-foot towering waterfall, only a short walk from the highway. You can feel the mist of the falls from the striking structure of the Benson Bridge, or appreciate a view of both the bridge and the falls from the bottom. Either way, this attraction is easily accessible and worth stopping for.
Day 14: Portland
Wrapping up your trip in Portland, you can spend as many – or as little – days as you want in this progressive city. Go to one of Portland's many outdoor bars if you happen to be there on a sunny day, or visit the world's largest independent bookstore, Powell's City of Books, occupying a whole city block. As you hit your two-week mark on the road, you deserve to treat yourself to whatever your heart desires before heading home.