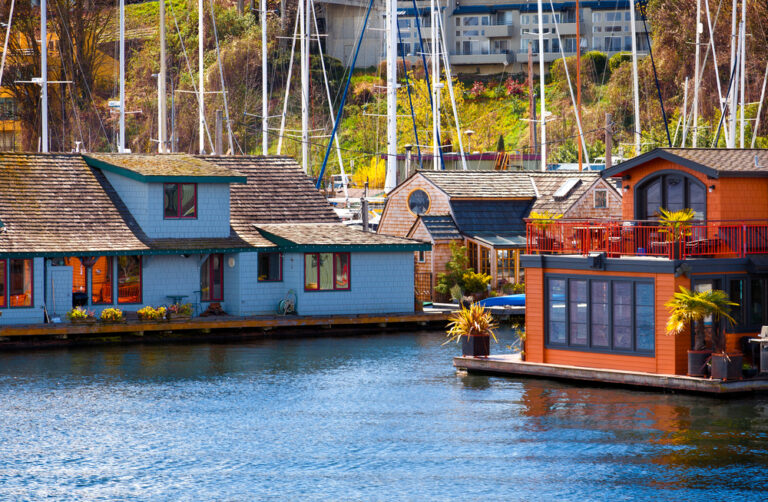 There's more to a Seattle vacation than the Space Needle and the OG Starbucks. This city has a little bit of everything for everyone. Hop from top-choice food and dining options to hiking, wildlife and interesting accommodations. One interesting and unique activity in the Emerald City may surprise you. In this day and age, you can easily rent a boat that also serves as a house! This makes for a fun and memorable experience along with beautiful views and up-to-date, luxurious accommodations.
Whether you plan to visit the city for a music festival, a wedding, or you're simply exploring, booking vacation accommodations on a houseboat will make your stay extra memorable.
So, What Is a Houseboat?
A houseboat is a modified boat that is designed to be lived in full time. Some are built on an actual boat, while others are structures built on top of a floating raft. They usually offer all the amenities of a normal house, including a kitchen, bathroom, and heat or AC.Many houseboats are built without motors, as they are most often moored in marinas. Meaning, these vessels are not usually designed to sail the open seas. Seattle has multiple houseboating communities, where many houseboats dock nearby, providing the feel of a tight knit neighborhood while living in these unconventional homes. Try to meet your neighbors while you vacation on your houseboat to see what full time boat life is like.

Seattle also has plenty of great rentals on dry land as well if life on the water isn't for you.
Different Types of Houseboats
With Seattle being a metropolitan city surrounded by water on two sides, having a houseboat rental simply fits the vibe. These are the four common options available for floating accommodations in Seattle. Don't worry too much about the technical terms, just get a feel for what you'll be looking at when picking a rental.
Houseboat:

The classic houseboat – it's a seaworthy vessel that's primarily a living space. You can pilot these down a canal or into another marina, but it isn't really built for seafaring.



Floating Home:

A floating home isn't a houseboat, it's actually a normal-looking house that floats on top of a platform. Utilities of these floating homes are connected via mechanisms on land, and the house is not designed to be moved on the water.



Barge Home:

A barge home is similar to the floating home, except that instead of a simple platform, the house is stationed atop a barge. Utilities are detachable and the house can theoretically be moved from place to place via the barge controls, but as a renter you'll likely just be keeping it where you found it.



Vessel with a Dwelling:

A vessel with a dwelling is essentially a boat whose purpose is both sea navigation and accommodation. Primarily, this is a boat that has a space to sleep, but that space is not very big. It's okay for a night or so, but probably not for a long-term stay.
How Much Do Houseboats Cost to Rent?
Even the most basic hotel room — when booked at the wrong time — can cost more than you expect. Since most people don't consider renting houseboats for vacations, these floating rental spaces are usually pretty affordable. On average, you should be able to find houseboat rentals between $70 to 150 per night. What's more, the inner layout of each boat can be different, meaning there's a good chance you'll have separate living space to enjoy outside of the bedrooms.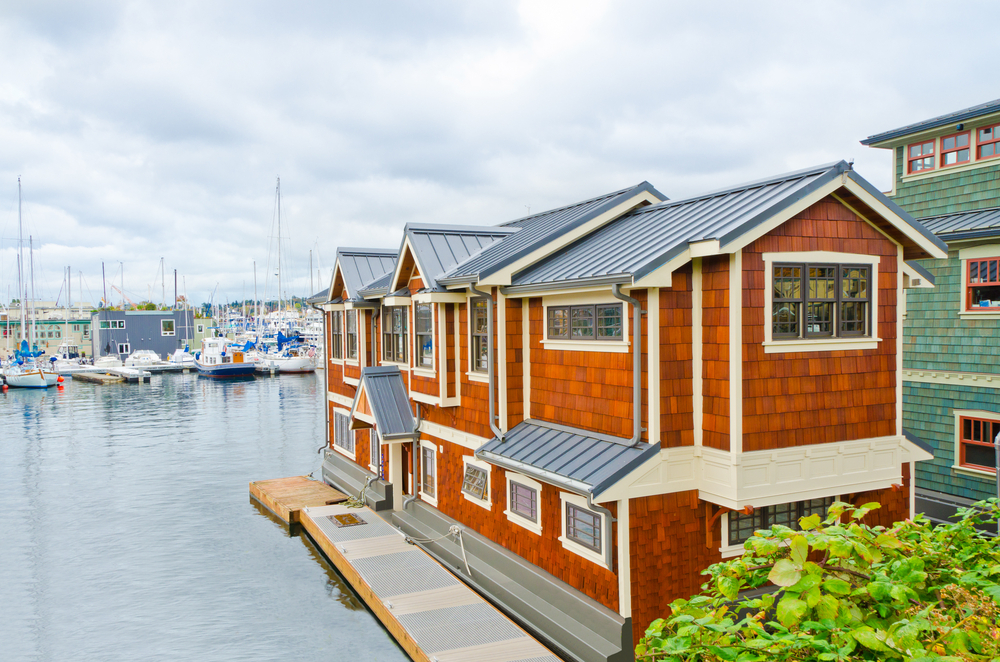 Where Can I Rent One?
There are many options for houseboat rentals around Seattle. Acadia Houseboat Rentals offers a wide selection of houseboats to rent. Their houseboats are on Lake Union, and only a short walk to downtown and many restaurants.
If the houseboat you wish to rent is booked up, make sure to be added to their waitlist, as they may become available on 30 days notice.
Perks
Houseboats offer many benefits you just won't get from a conventional rental experience. Beyond the relaxing rocking of the waves, these are some reasons to choose a houseboat over a hotel or apartment rental.
Great Location: An affordable hotel room might be tucked away in a strange part of the city, but a vacation houseboat is much more likely to dock near the amenities you need. In many cases, you'll be able to find a boat in just the neighborhood you wanted to explore the most. Not to mention — no long walk or commute to the waterfront.
The View: When was the last time you woke up in a lake-view hotel room and didn't cringe at the thought of the bill? For most people, it's been a long time. When you rent a vacation houseboat, you get to enjoy the prime scenery as well as become a part of it.
Privacy: Once you've got the keys to the boat, you're free to relax and enjoy your vacation without worrying about concierges, front-desk conversations and cleaning services interrupting you. Just chill and plan your day in your pajamas before heading out for a nice brunch.
Try Something Different
While every hotel or vacation house offers something a little different, they really don't compare to the uniqueness of staying on a houseboat. You can enjoy your morning coffee, from one of Seattle's famous coffee roasters, while staring out the window watching birds hunt for fish in the lake.
Take a chance and make a memory that will last a lifetime. Spend your vacation relaxing on a one-of-a-kind Seattle houseboat!