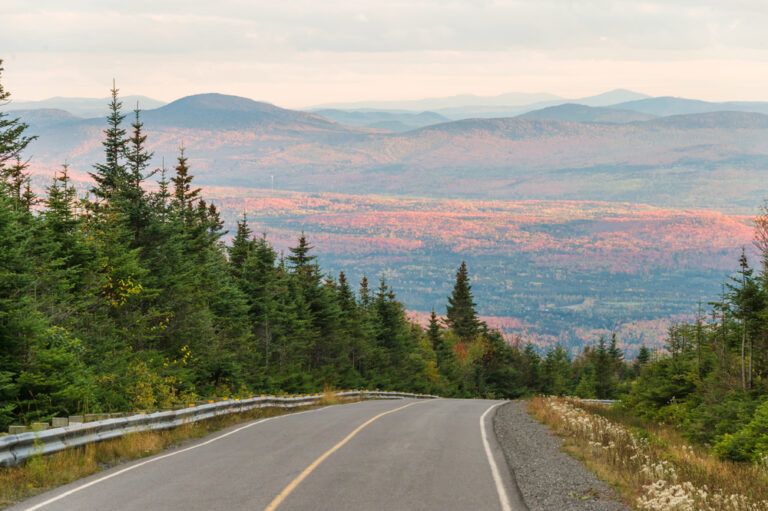 Going to the province of Quebec is getting the best of both worlds — culturally, this Canadian province is a blend of both old-world France and the new world of the Americas. History and modernity cohabitate in beautiful harmony within a setting that is exquisitely urban, as well as breathtakingly natural.
Not far from the awe of architectural skylines are decadent mountains, striking glaciers, picturesque lakes, and lush forests. Truth be told, Quebec is a treasure that's quite arguably a cut above the rest of the Canadian fold.
We've mapped out five enviable Québécois destinations that will make you question why you need to choose just one of these fabulous Francophone locations for the perfect holiday.
1. Montreal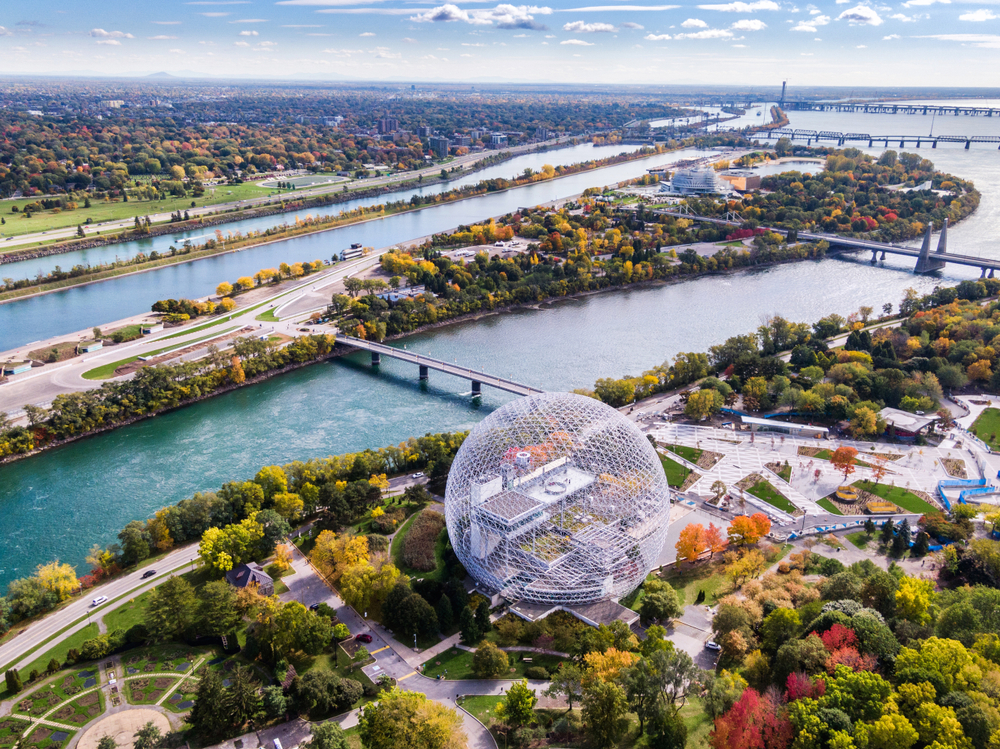 Why not start with the obvious? When we think of Quebec, Montreal is what comes to mind. The second-largest Canadian city isn't touted as one of the most important metropolises of North America for nothing. Here, you'll be at the heart of commerce, glorious architecture, high cuisine, trendy bars, art, fashion, and an urban center that is utterly unique.
Montreal Art and Culture
Montreal is all about blending the old with the new. Old Montreal has all the historic architecture your eyes could ever behold coupled with cobblestone streets that are reminiscent of Parisian promenades.
While old is certainly gold, there's a whole modern aspect to Montreal — especially when it comes to the nightlife. We're talking bars, pubs, and microbreweries galore! The club scene is known for bringing in some of the world's most famous DJs.
If you happen to hit up Montreal during festival season, the city lays claim to a handful of them, including the Montreal Independent Film Festival as well as the Montreal International Jazz Festival — the largest jazz festival in the world. Every summer, you can groove to the sounds of pretty much every musical genre out there including electronic and reggae.
Montreal Cuisine
The food in this city will also be in your favor because Montreal's diverse multicultural cuisine is a melting pot of cultures. The famous Canadian staple known as poutine piles on a plethora of fries, gravy, and cheese curds and is a Quebec classic.
Of course, French food is always abundant but the city's cuisine also serves up plenty of Irish and aboriginal influence as well. Signature specialty dishes in many restaurants include tourtières (meat pies), pâté chinois (Quebec-style shepherd's pie), and pea soup. The mainstay maple desserts are just as mouthwatering.
If you're looking for fine dining, we recommend Toqué!, located on Place Jean-Paul Riopelle in the International District. Steps away from the stunning Notre-Dame Basilica, the chefs and mixologists here create locally-sourced dishes and drinks with a menu that changes daily according to produce arrivals. The city is budget-friendly too — Venezuelan restaurant Arepera is affordably tasteful.
The hip and happening Plateau Mont-Royal district has its own delectable stretch of restaurants such as Schwartz's — a Jewish deli hailed for its smoked meat. Lola Rosa Milton is also a vegetarian and vegan delight.
2. Québec City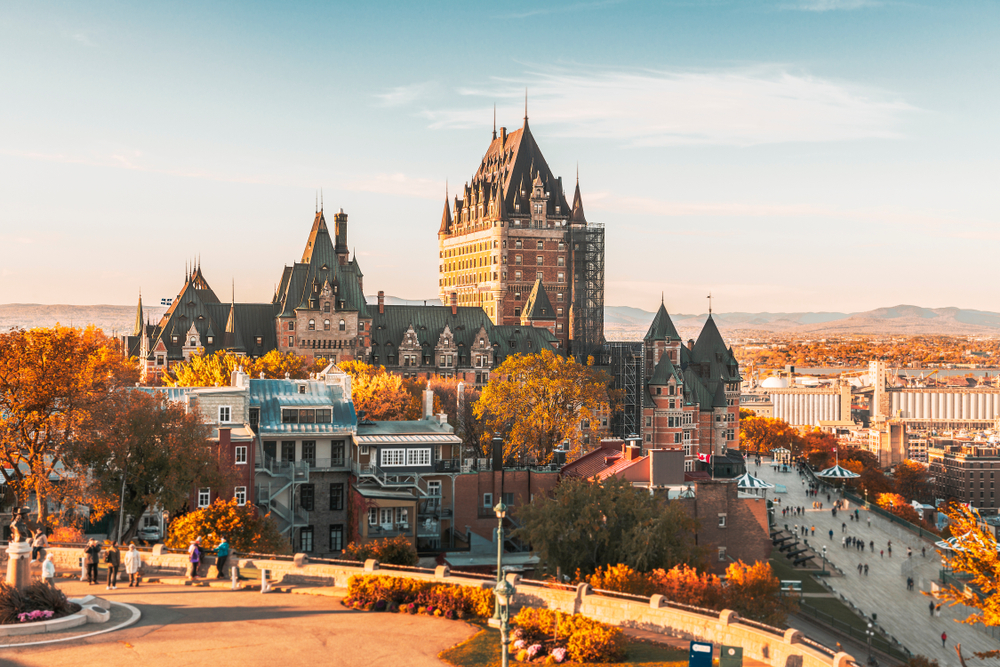 One of the oldest cities in Quebec is another slice of Europe situated in Canada — Québec City. Sitting on the St. Lawrence River, this provincial capital, also known as New France, is the only remaining walled city in North America north of Mexico. The city's high ground offers splendid views of the surrounding landscape, while its narrow cobblestone streets, stone buildings, steep roads and staircases will make you feel like you're traipsing through Paris.
Québec City Art and Culture
Québec City has stunning religious heritage, which can be seen through its stunning churches and basilicas. You can also get a look into the city's military past by touring the Plains of Abraham, the fortifications and the Citadel.
Speaking of high places, head on over to Dufferin Terrace to get a gorgeous view of Old Québec and the St. Lawrence River.
Québec City Activities
The pretty Petit-Champlain is one of the oldest shopping streets in North America, where you'll find the highest quality clothes, jewels, crafts, and much more. If shopping isn't your thing, we promise you'll adore the vintage decor.
And when it comes to nature, the majestic Montmorency Falls will not disappoint. Located a mere 15 minutes from Old Québec, the 83-meters high falls (a full 30 meters higher than Niagara Falls) make for a wave-making historic site that is captivating no matter which angle you see it from.
Québec City Cuisine
But before you get going on your Québec City adventure, a traditional French crepe breakfast will keep you sufficiently fueled. Both sweet and savory crepes are sumptuous at L'Escale Bistro et Crêperie — which is located in the Quartier du Petit Champlain — and they have a huge assortment for both palettes.
Like Paris, Quebec has a way of making visitors become obsessed with French food. The best poutine in town is at Bistro Le Sam, a restaurant at none other than the Château Frontenac.
3. Jacques-Cartier National Park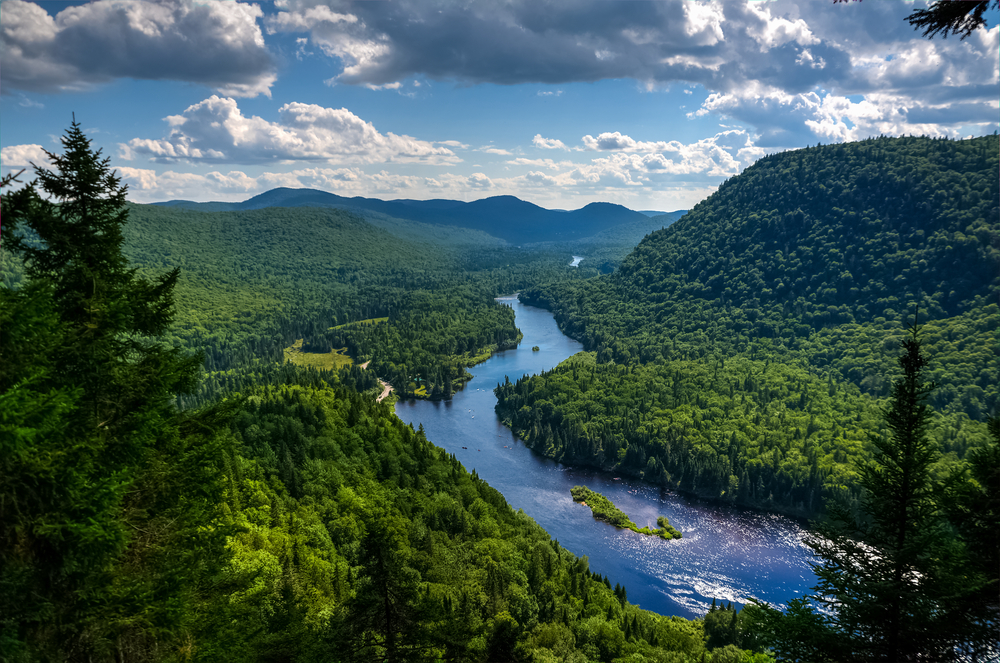 This majestic-looking park is just a 30-minute drive from Québec City, and to say that its natural beauty will overwhelm you is no overstatement. You don't have to be outdoorsy to appreciate the park. The rolling hills, lush greenery, and deep valleys are part of the artistic tapestry that has probably been painted over and over again.
Jacques-Cartier National Park Activities
This gem of a park is open all year-long and has an avid list of activities from, of course, skiing and sledding in the winter to water rafting, geocaching, camping, hiking, and fishing in the spring and summer. Canoers also come out in full force during the warmer months — as do kayakers, and inner tube rafting.
Speaking of summer entertainment, Valcartier Vacation Village is a wildly fun water park that boasts more than 35 water slides, a wave pool, and two theme rivers.
Hikers will love the trails and go wild over the wildlife observation this destination offers. Fishing for mostly trout (as per conservation laws) is a fun way to spend the day, too.
When it comes to camping, you can do this one all year as well: rustic shelters, tents, canoe camping, and cabins are all available.
If by the end of your trip, you find that you love it so much that you can't wait until next summer to visit again, we have you covered — winter activities in the area include ice skating, snow rafting, skiiing, and more.
4. Mont-Tremblant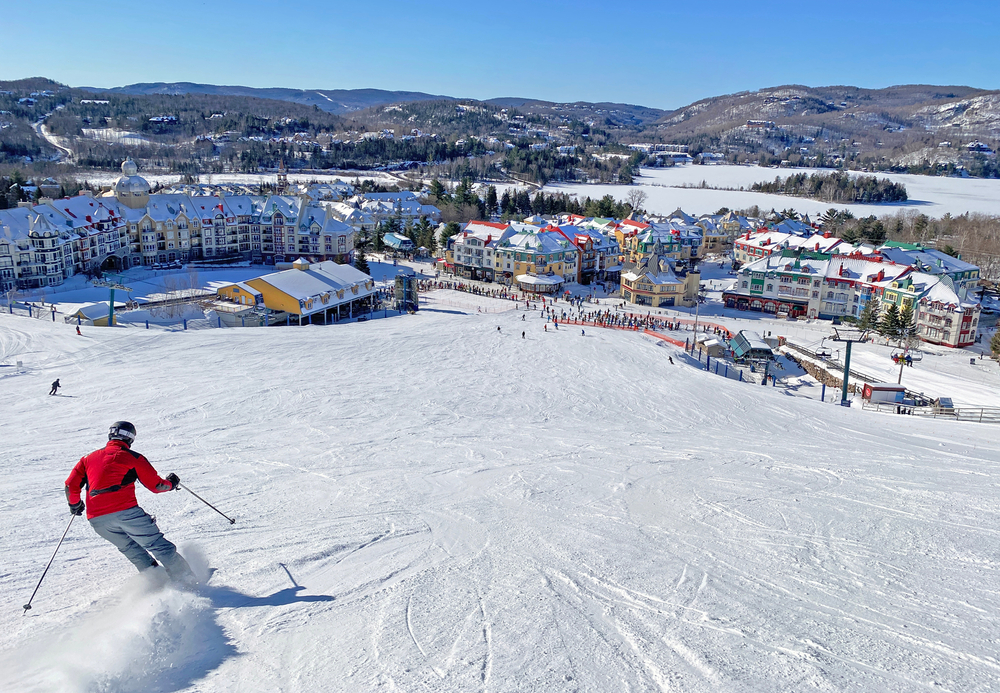 The biggest reason to visit Mont-Tremblant is 3,176-feet tall. Yes, Mont-Tremblant refers to both the city and the mountain, one of the tallest peaks in the Laurentian mountain range. No matter what season you arrive, there's plenty of things to keep you occupied, whether you're staying near the walkable Pedestrian Village at the foot of the mountain, the Old Village situated on the shores of Lake Mercer, or downtown, which is also referred to as Centre-Ville.
Mont-Tremblant Outdoor Recreation
Mont-Tremblant is an active person's paradise. Famous for being a world-class ski resort destination, the city is just as incredible in the warmer weather. You'll find road biking and cycling trails, recreational and skateboard parks, terrains for mountain biking, zip lines, aerial games, helicopter rides, and all sorts of nautical fun. We're already breathless from this list alone!
From May 20 to October 16 this year, you can climb to the top of Mont Tremblant aboard the panoramic gondola. Set your eyes on the stunning scenery as you ride to the summit and see even more views of the long and narrow Lac Tremblant, the imposing Laurentian Mountains, as well as the surrounding valleys. Top the visit off at the Observation Tower — not to mention a handful of hiking trails — and you'll be at peak excitement. But this is just what we recommend by day.
At dusk, escape the glimmer of city lights and enjoy the view of a glittering tapestry of stars amid the wilderness. You can see the stars up close and personal through the second-largest telescope in Quebec at the Velan Astronomy Pavilion. Sauntering for an evening stroll at Tonga Lumina and you'll sigh in pleasure at the most perfect night.
Mont-Tremblant Cuisine
If you're looking to keep the lodge vibe going through dinner time, we recommend La Savoie Restaurant. This quaint gem of an Alpine-inspired establishment has a lodge-like dining room and serves up hearty concoctions of raclettes — a traditional Swiss dish made up of melted cheese, boiled potatoes, curated meats, and pickles — and fondues that you won't be able to forget.
5. Notre Dame Mountains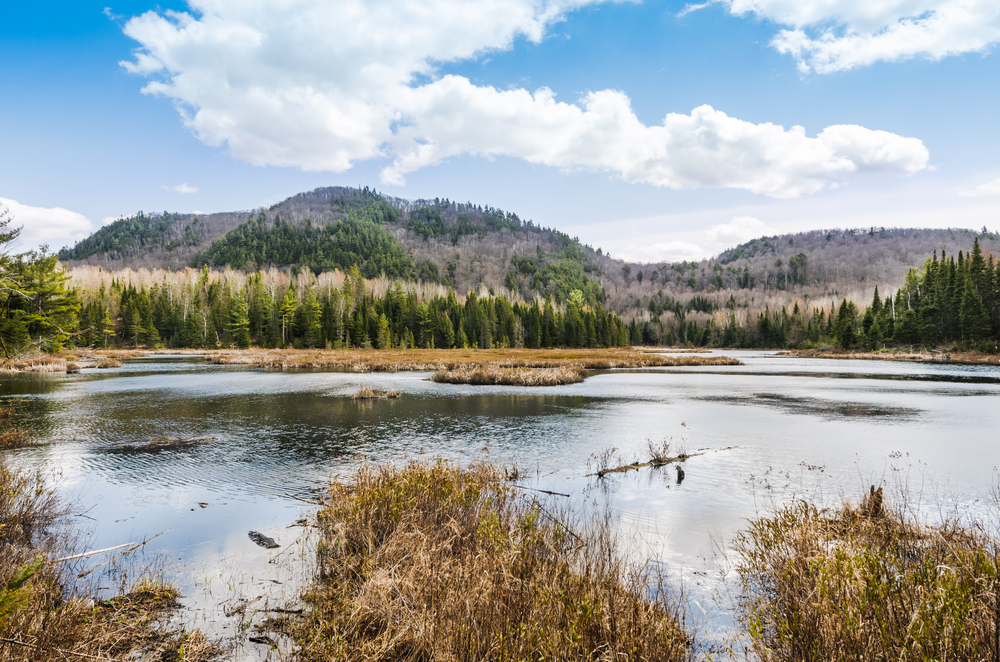 The two-million-year-old Notre Dame Mountains, a part of the Appalachian Mountains, are a nature lover's dream. There are landscapes of forests, pastures, fields, rivers, lakes, and much more. While this is an ultimate outdoor destination, there are plenty of spas, shops, and museums that may also pique your interest.
Notre Dame Mountains Activities
In Sainte-Luce, you can go for a leisurely stroll along the St. Lawrence River on the Promenade de L'Anse-aux-Coques boardwalk. Saint-Gabriel-de-Rimouski is situated in a sugar maple grove with treetops to trek, including forest and lake activities.
For avid hikers, there are also a number of hiking trails in the area, while the beach lover will enjoy the sandy shores of Sainte-Luce-sur-Mer.
Set your sights on the ASTROLab in Mount Megantic Park where the whole family can get an interactive introduction to an astronomy lesson unlike any theoretical experience you may have had in the classroom. Day visits are held at the foot of the mountain and you can also head up to the summit and visit the observatory. We promise you'll be in astral awe.
Close by is the quaint French mountain town of Bozel — which is close to the famous ski area Les Trois Vallées — where the foodie in you can feast at their selection of cafés, restaurants, and bakeries.
Find Places to Stay in Quebec, Canada
Take some of the travel planning stress off with VacationRenter, so your home base is locked in and all that's left is to get your adventure plans swinging into high gear.