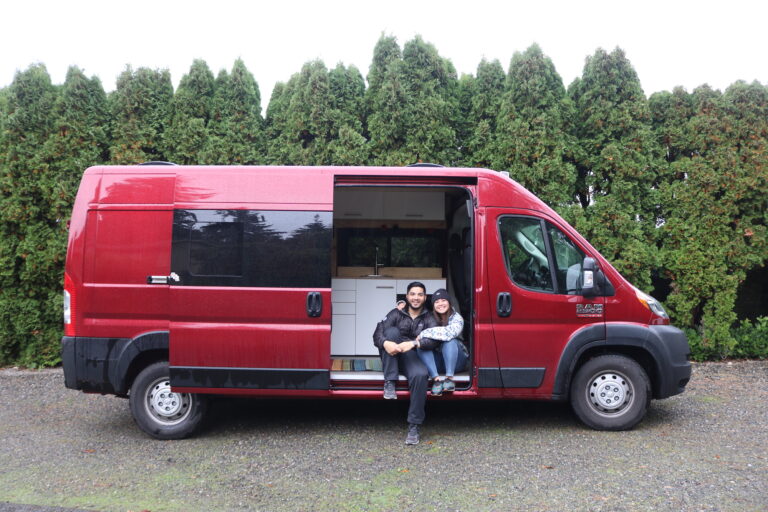 In late 2019, I met with the Outdoorsy team to discuss the potential of adding RVs to VacationRenter's inventory. Fast-forward one year, thousands of bookings later, and with the demand for RVs skyrocketing — Francesca (my fiancée) and I set off on our first trip. In this post, I want to take you through our experience to help you determine if a van-cation could be in your future!
Research and Planning
As we planned our trip, we knew we wanted to see beautiful landscapes and scenery. Having lived in the Pacific Northwest for many years, we thought: what better place than the diverse terrain of Olympic National Park! Not only are you surrounded by majestic mountain ranges and peaks, but you also have access to views of the water, the coast, and mossy green forests.
Knowing where we wanted to travel now, our next step was choosing the type of vehicle for the journey. We spent hours researching what type of RV would be the right fit for us since there are so many to choose from, but ultimately decided on a camper van — a Ram Promaster outfitted by Dave & Matt Vans.
The size, look, and simplicity of a camper van seemed absolutely perfect for us. I can't tell you how many hours we spent watching videos of #VanLife on YouTube while planning this trip! After hours of scrolling through beautiful photos and reading reviews, we finally found one that seemed right for us: the trusty red Vander Mifflin (pictured above). We chose it because it was easy to handle, had beautiful functional interiors, and a comfortable bed.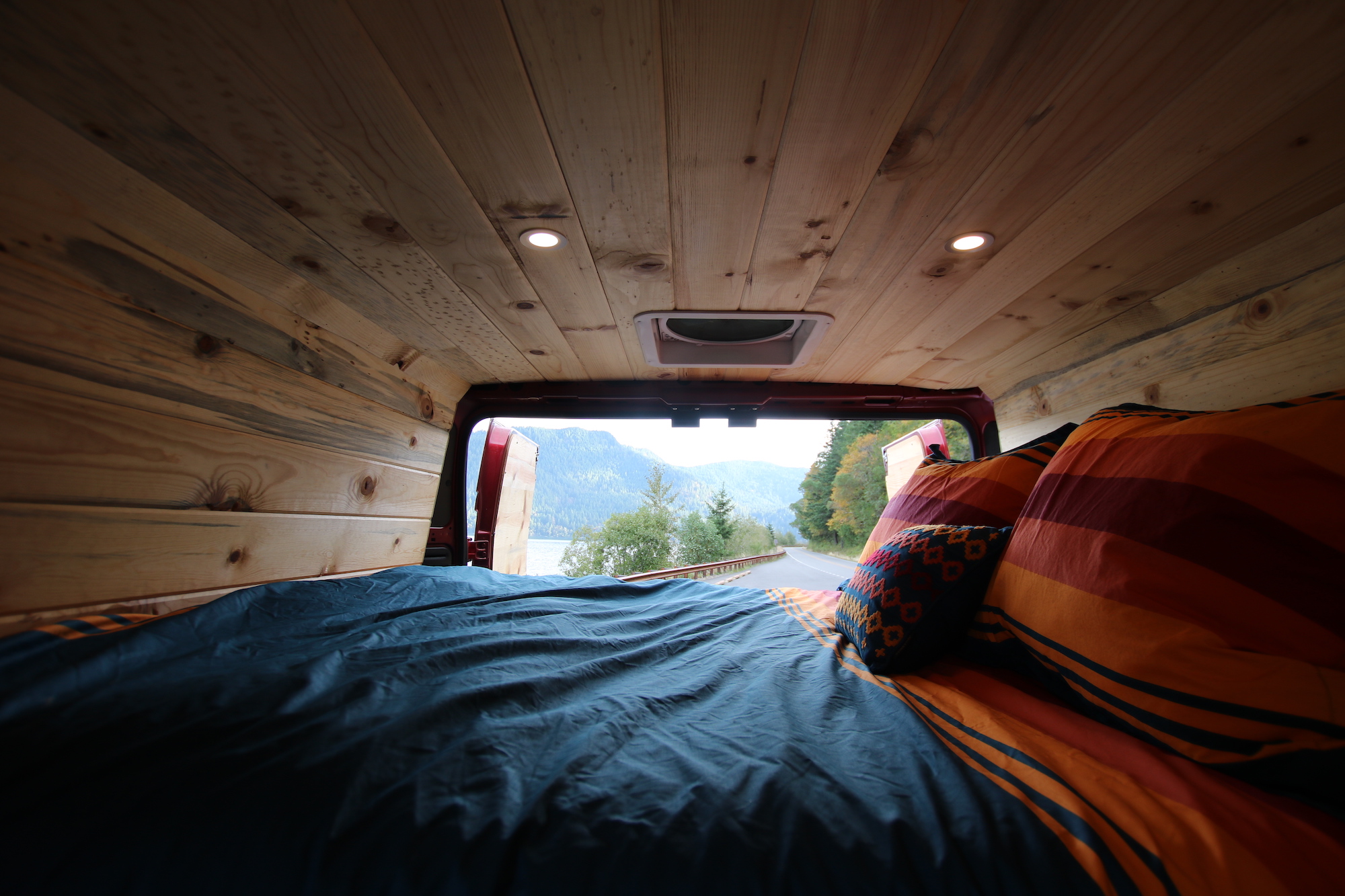 The Process Was Easy
After researching and finding our perfect van on VacationRenter, we finalized the booking on Outdoorsy. One service many Outdoorsy owners offer is both delivery and pick up, which we opted to use. Our owner delivered our van when our trip began and picked it up when it was over. Communication on the app was smooth, the owner was always quick to respond, and when she delivered the van, her tour was very thorough and informative. Going with this option not only saved us hours of time, but really helped to alleviate any questions or concerns we might have had before setting off on our first van-venture together. Outdoorsy also offers insurance and roadside assistance, which gave us added peace of mind throughout the trip.
The Van Brought Comfort with Us to the Park
Full disclosure: I am not much of a camper. One of the main reasons why is because I like to be comfortable after a long, hard day. After challenging hikes, there's nothing more I want to do than take a shower and lie down. The Vander Mifflin certainly brought added comfort to the great outdoors and made the experience so much better for my personal preferences. Having a sink, fridge, and comfortable bed was amazing. And while the van we selected did not have a shower, we made sure to plan ahead that we had access to a shower through our campsite.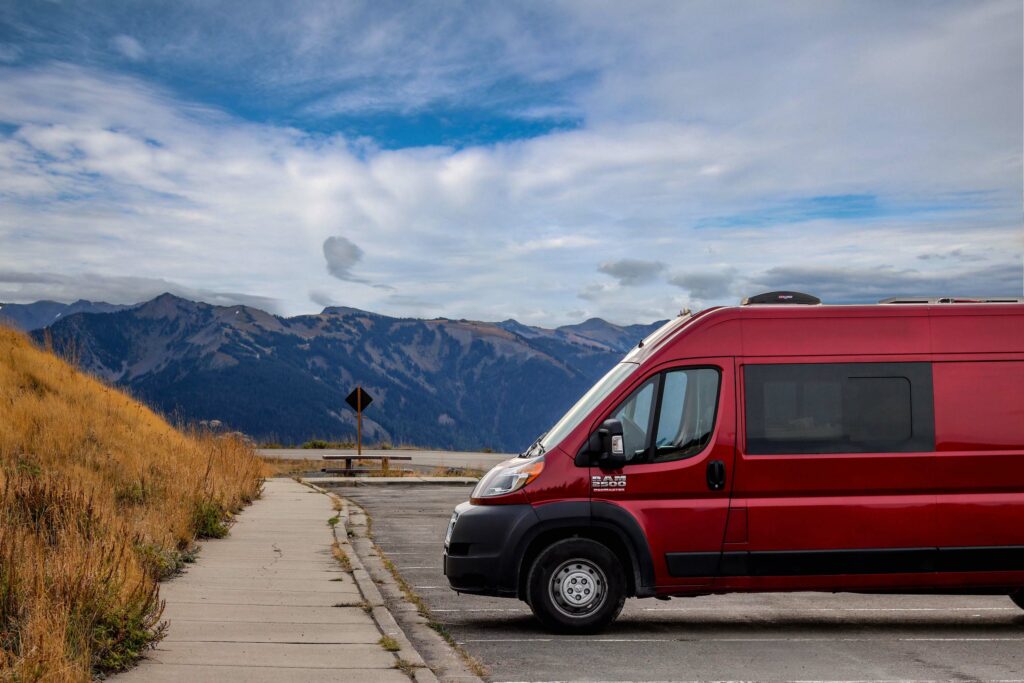 Breaking the Van Down
The Vander Mifflin was perfect for our preferences because of these amenities:
The Living Space: Queen memory foam mattress, two ceiling fans for circulation, insulated walls, pine wood paneling, two swivel seats, two seats that doubled as storage, lighting with a dimmer, and USB charging.
The Electrical: 160 watt solar panel, solar charge controller, 200ah AGM deep cycle battery, fuse box and controllers, and smart battery isolator.
The Garage: The same designation many van-lifers give to their trunk on account of the size, ours came equipped with cooking equipment, camping chairs, a s'mores kit, a cooler, and so much more.
We had all we needed and more for our adventure!
Day 1: Mount Storm King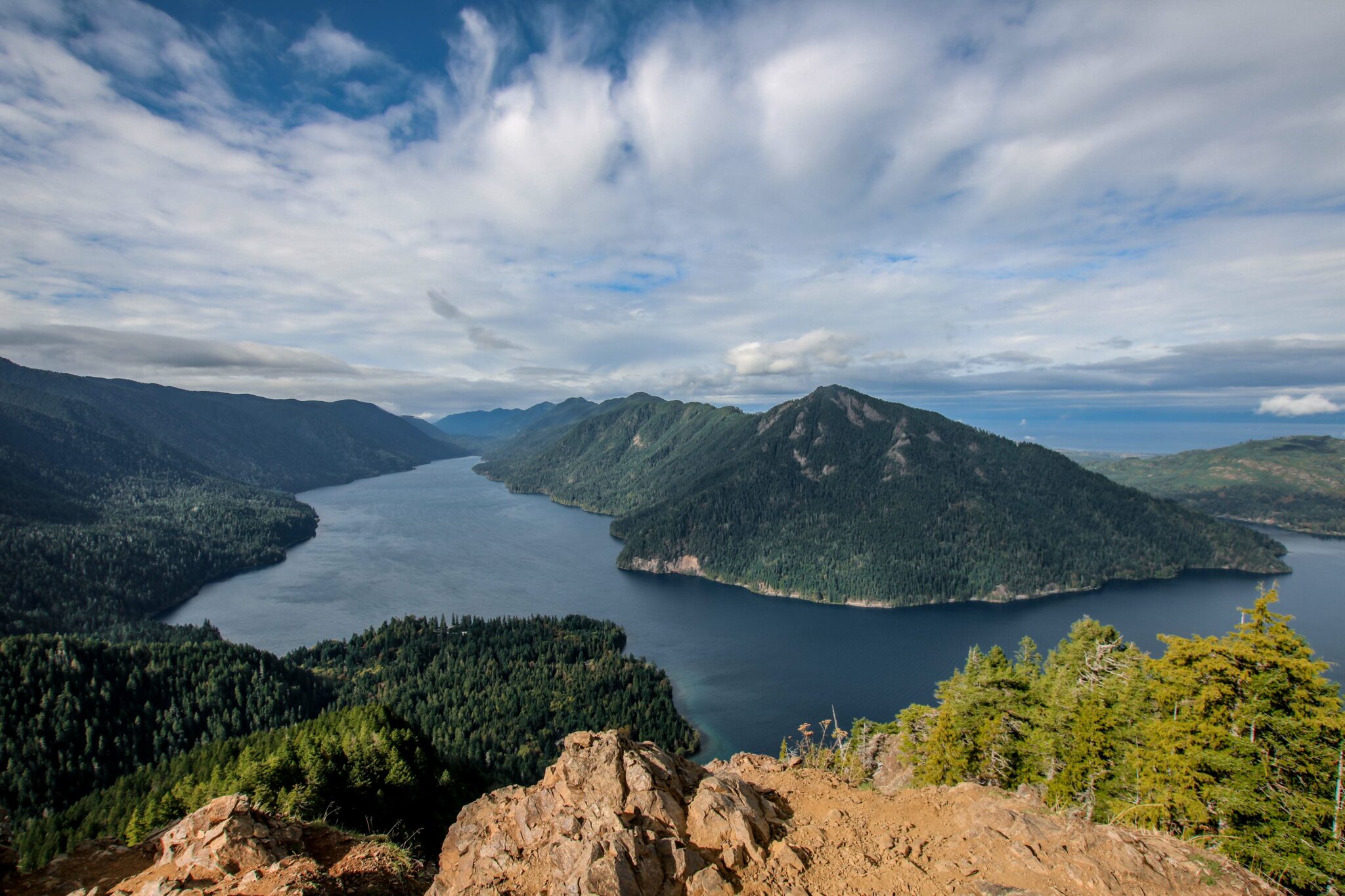 One of the reasons we chose Olympic National Park was to experience the diversity of Washington's beauty. During the trip, we went on many hikes — on beaches, through rainforests, and up mountains — but my favorite part of the trip was hiking Mount Storm King (pictured above). The hike was challenging, and at certain points, we had to climb via a rope, but the view was stunning and absolutely worth it. The cherry on top was being able to head back to our campground for a shower, cook a simple meal in our van, and then fall asleep on our memory foam mattress.
Day 2: Hurricane Ridge & Hoh Rain Forest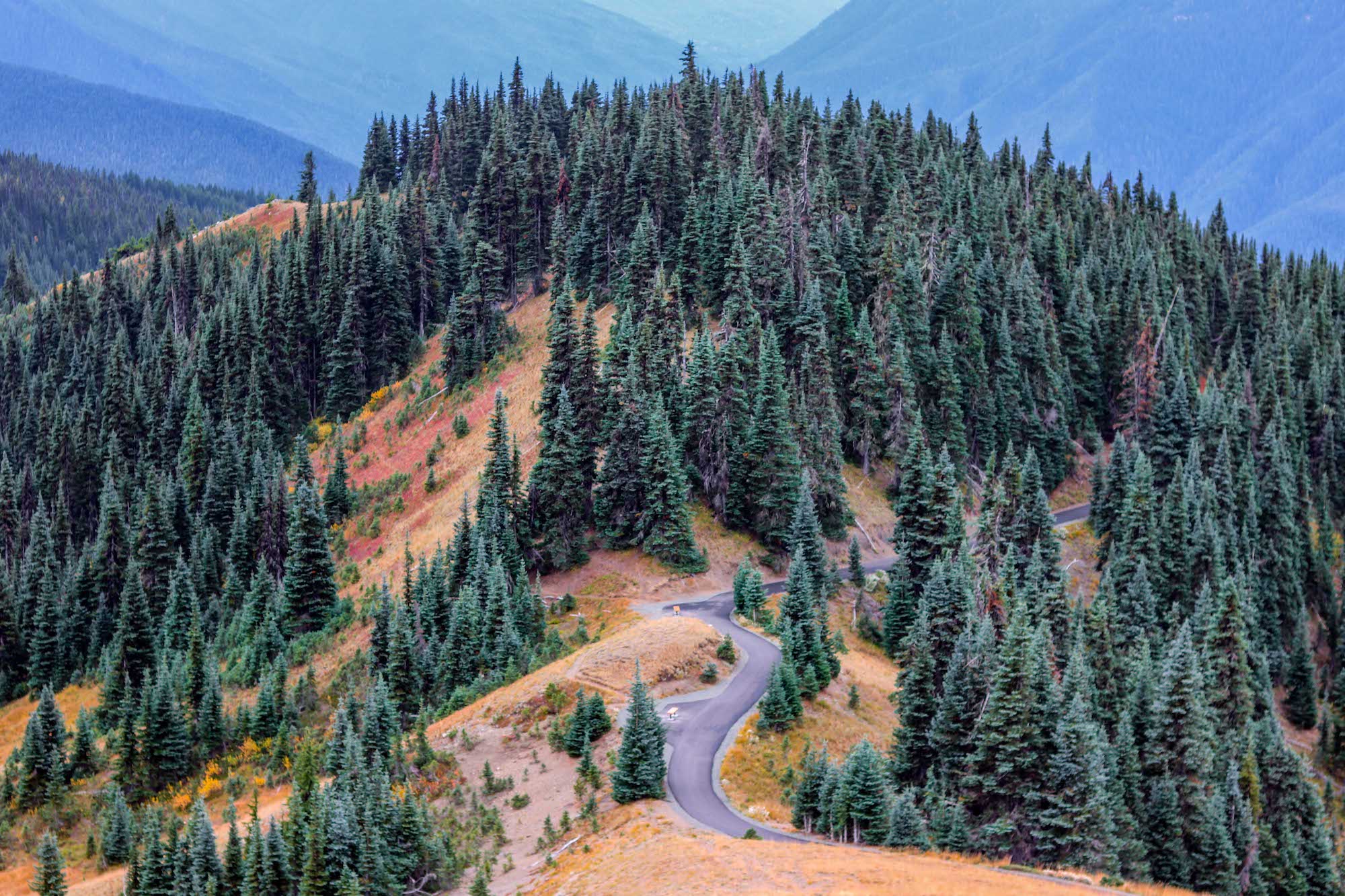 On the second day, we started the morning off at Hurricane Ridge where we ascended a beautiful paved path hike with endless views of mountains and lush trees. With some hikes, you have to wait until you're at the top to reap the reward of majestic views — but this hike gave you views from the moment you started until the very end. After the hike, we went directly to Hoh Rain Forest and walked through the Hall of Mosses.
Day 3: Rialto Beach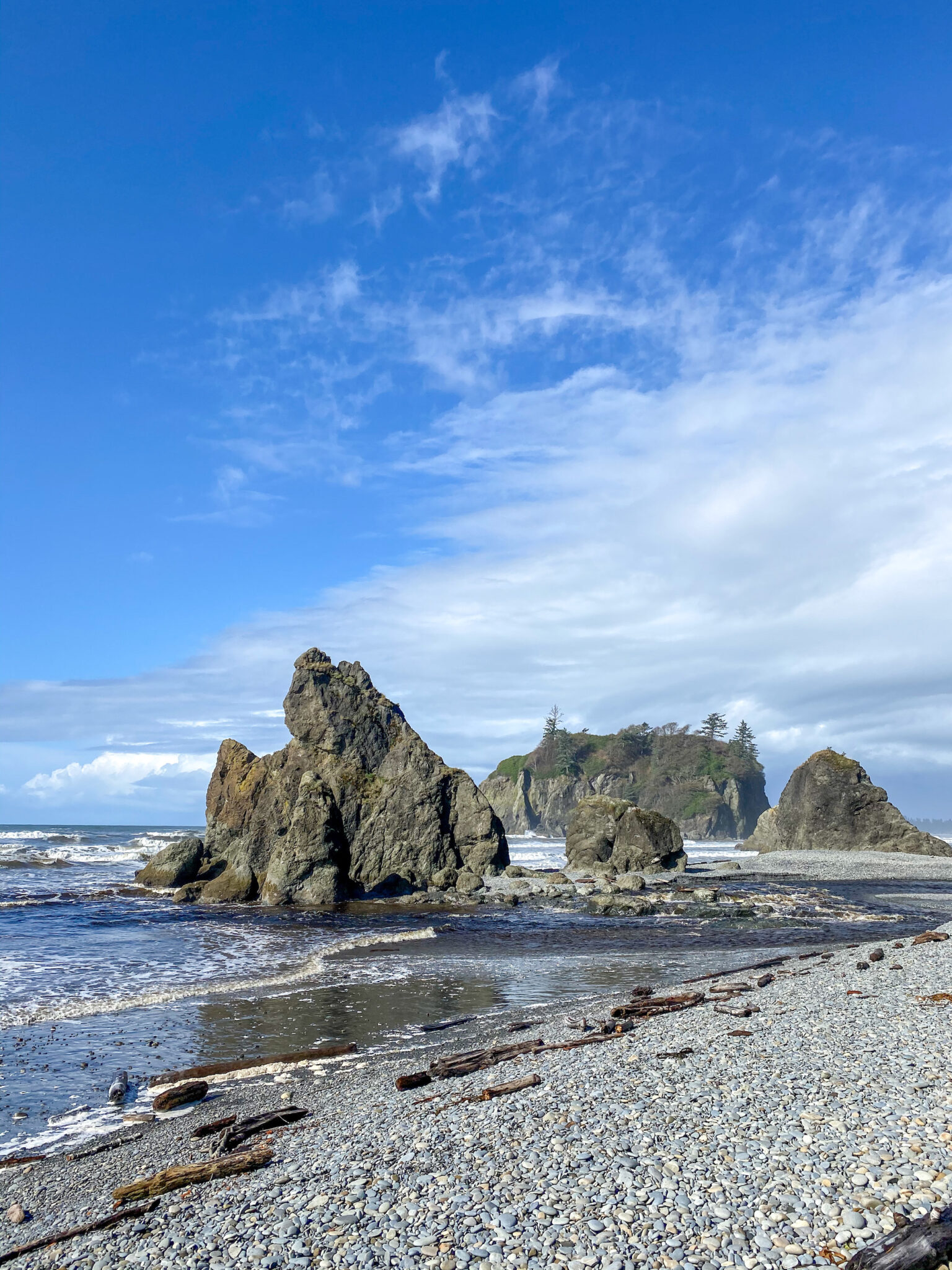 On our third and final day, we visited Rialto Beach, among many other beaches. What we really loved about this trip was all the diversity in nature that we were able to see in such a short amount of time. The beaches had beautiful rock formations, and it was so peaceful walking along the shoreline and just taking in the view.
The Overall Trip
Francesca and I absolutely loved our van experience. We would 100% do it again. Before the trip, I had concerns like: How easy it would be to drive? Would I get cranky or hangry? What would I do without cell service? I had never driven a vehicle of this size before. The closest I had ever driven was a minivan once on vacation, but I picked it up really quickly and it was never an issue. Surprisingly, I also never got hangry because having a fridge allowed us to carry food with us at all times. Lastly, while we did lose cell service at times, it ended up feeling nice and liberating whenever we did because it allowed us to enjoy quality conversations and the present company.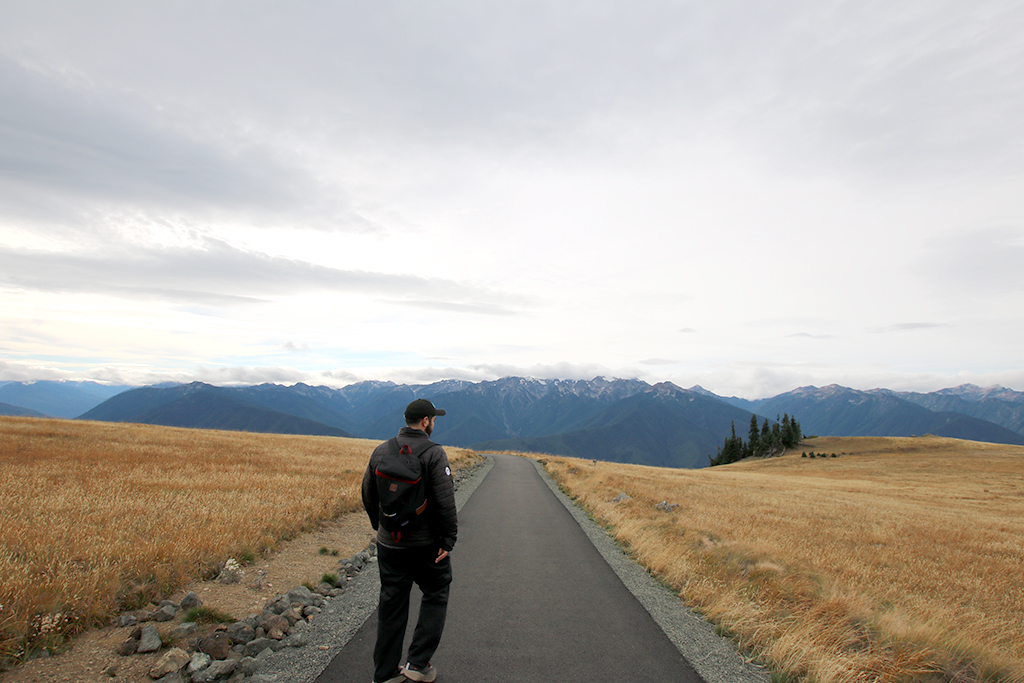 What I loved most was the ability to conveniently bring all of our essentials with us — and a few comforts — allowing us to cover more ground in less time and see more than we normally would. If there's any part of you that is considering renting an RV or camper van in the future, I would definitely encourage you to do so. We have thousands of RVs and campers on VacationRenter to choose from, so get out there and live adventurously!