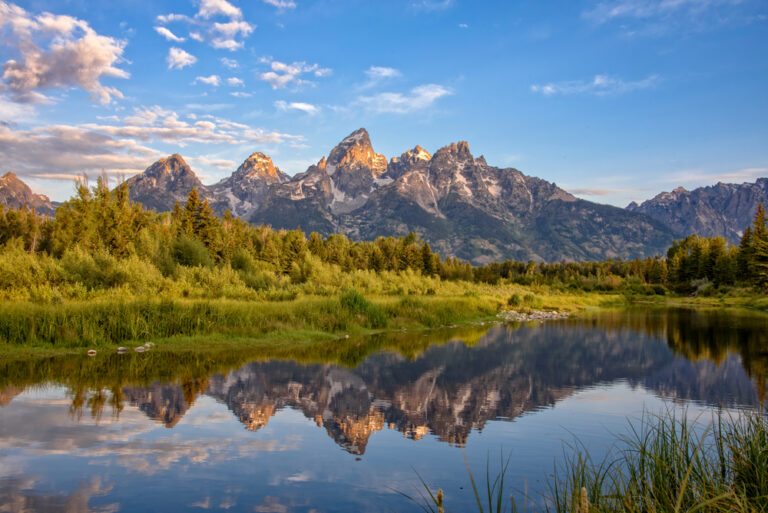 Situated near the border of Idaho and Wyoming, Jackson Hole is known as an exciting and adventurous vacation destination for all walks of life, even those with four legs and paws! With three ski areas, tons of gorgeous hiking trails, and the National Museum of Wildlife Art, your stay will be action-packed and full of breathtaking outdoor activities. Your furry friend is invited on this vacation because after all, what nature-based adventure would be complete without your best friend?
Check out these tips to find the best cabin rentals in Jackson Hole, that can even accommodate your furry family members!
When Is the Best Time to Visit?
If we have to pick, spring and fall are ideal times to come to Jackson Hole due to lighter crowds and lower prices. But the truth is, any time of the year is an ideal time to visit this exciting location.
Summer ramps up with tourists as people pour into the area to visit Grand Teton, Yellowstone, and other natural areas around Jackson Hole. Fall is especially beautiful when the leaves change to hues of orange.
Winter is also busy, with people arriving to ski and snowboard. Spring, on the other hand, is abundant in vibrant flora, with mild and manageable temperatures to spend time outdoors.
Where to Stay?
Jackson Hole is overall a massively pet-friendly area, but finding a place to stay with your pet maybe a little bit of a challenge. Luckily, you found Vacation Renter. Finding an epic, pet-friendly Jackson Hole cabin where the pooch can run free is easy. Just click here to view these unique rental locations and make sure to select the "pet-friendly" filter.
Staying Near Grand Teton National Park
The accommodations available in Jackson Hole are plentiful. This includes not only cabins but also hotels, resorts, lodges, bed & breakfast inns, cottages. Grand Teton National Park is a gorgeous area of land just a short drive northwest of Jackson Hole.
Within the park boundaries, a number of cabins are available for rent.
Staying Near Yellowstone National Park
If you wish to visit Yellowstone National Park on your trip to Jackson Hole, then you should definitely find a cabin closer to the north rather than downtown.
Downtown Jackson Hole
If you prefer a location in downtown Jackson Hole, or the rural areas surrounding it, there are also many places to stay. Most local lodging accommodations offer both resort rooms and cabin rentals to appeal to a variety of guests.
Other Pet-Friendly Jackson Hole Tips
Always double confirm that the rental you are booking in Jackson Hole is in fact pet friendly! No one wants to deal with the curveball of finding another place to stay on the fly because the original doesn't actually allow pets. Find a resort that can have pet-friendly perks, or opt for a private vacation rental so you can let your pets run free.
What Is There to Do?
Get ready to take in the breathtaking nature of world known National Parks, taste world class foods, and bring your pet on an exciting adventure. Read on to check out our favorite pet-friendly things to do in the Hole.
Outdoor Pet-Friendly Activities
Local areas such as leash-free Slide Lake, the National Elk Refuge and Cache Creek all offer lots of space for getting a doggy workout while you're visiting Jackson Hole.
Stick close to places that offer pet-friendly attractions, and you'll spend less time driving from your rental to your favorite activities. Check out Jackson Hole's official website for five dog-friendly trails you can head to with your pup.
Pet-Friendly Restaurants in Jackson Hole
Bring your four-legged friend to visit one of the open air restaurants that offer pet-friendly seating, or fun little treats to spoil your favorite dog.
Two welcoming establishments with fantastic service for both you and your pet include Thai Me Up at Melvin Brewery, and Hatch Taqueria. You'll appreciate a leisurely stroll to enjoy Jackson Hole's best eateries without worrying about leaving your pet at home.
Pet Essentials in Jackson Hole
Jackson Hole is clearly well equipped for your visit! With some world class, outdoor, dog-friendly activities and many eateries waiting to meet your four legged friend, you'll feel right at home.
Pet Stores
Forgot a food bowl or thought it was going to be a little warmer and want to grab a doggy sweater? Head over towards the west side of town to Tetton Tails for any pet needs!
Don't forget to ask the staff for local recommendations!
Vets
While we hope we will never need to visit a vet while on vacation, it never hurts to stay prepared!
If the pooch needs to visit the doggy doctor there are a number of veterinarians around town.
Jackson Hole is meant for spending time outdoors, and it makes it an even better destination since you can bring your pet along too!
Since you found your pet-friendly rental and know all of the awesome places this North-Western town has to offer, you and the pooch are all set to have the time of your lives!