Situated near the border of Idaho and Wyoming, Jackson Hole and the city of Jackson are known as exciting and adventurous vacation destinations for all walks of life — even those with four legs and paws! With three ski areas, tons of gorgeous hiking trails, and the National Museum of Wildlife Art at your disposal, your stay will be action-packed and full of breathtaking outdoor activities. Make sure to bring your furry companion on this vacation because, after all, what nature-based adventure would be complete without your best friend?
Check out these tips to find the best cabin rentals in Jackson Hole — ones that can even accommodate your furry family members!
When Is the Best Time to Visit?
If we have to pick a season, spring and fall are ideal times to visit Jackson Hole, due to lighter crowds and lower prices. But the truth is, any time of the year is a nice time to visit this exciting location!
Summer ramps up with tourists as people pour into the area to visit the Grand Tetons, Yellowstone, and other natural areas around Jackson Hole. But fall is especially beautiful when the leaves change to hues of orange.
Winter is also busy, with people arriving to ski and snowboard. Spring, on the other hand, is abundant in vibrant flora, with mild and manageable temperatures so you can spend all of your time outdoors.
Where to Stay?
Jackson Hole is overall a very pet-friendly area, but finding a place to stay with your pet might be a little bit of a challenge. Luckily, we're here to help! Finding an epic, pet-friendly Jackson Hole cabin where the pooch can run free is easy. Just click here to view these unique vacation rentals, and make sure to select the "pet-friendly" filter.
Staying Near Grand Tetons National Park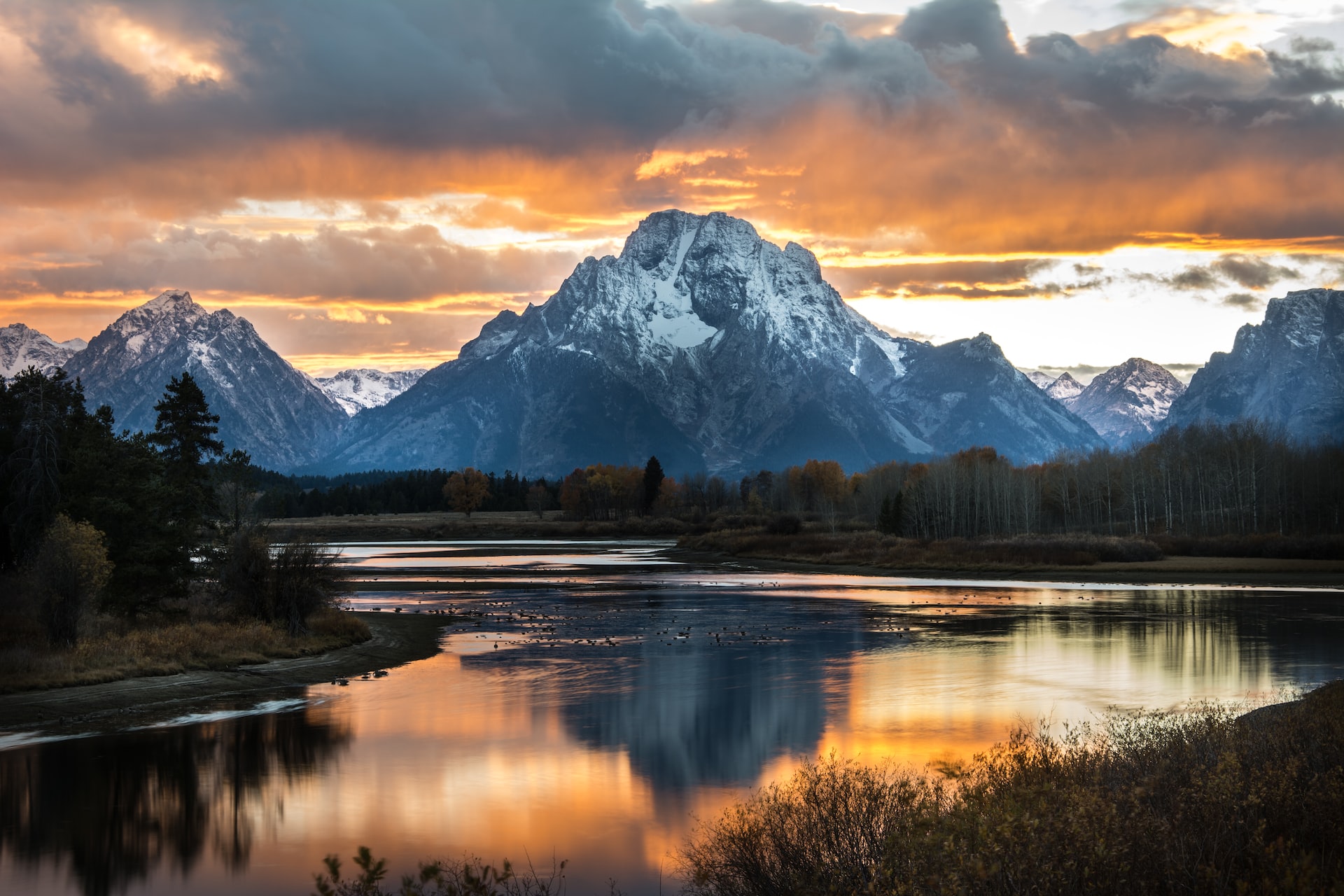 Grand Teton National Park is a gorgeous area of land just a short drive northwest of Jackson Hole. The good news is that dogs are allowed inside the park. The bad news, however, is that they must be restrained at all times and are not permitted on hiking trails, swimming beaches, cross-country ski tracks, etc. According to the U.S. National Park Service, a good rule of thumb is that pets may go anywhere a car is allowed to go: roads and road shoulders, campgrounds and picnic areas, and parking lots.
Dogs are also allowed in the surrounding Bridger-Teton National Forest trails and backcountry unless otherwise posted. And in the winter, from November 1st through April 30th, a portion of Teton Park Road is closed to traffic, allowing owners to walk their furry friends along a designated pet lane.
The accommodations available near the Grand Tetons are plentiful. This includes not only cabins but also hotels, resorts, lodges, bed & breakfasts, inns, and cottages. Plus within the park's boundaries are a number of cabins available for rent.
While smaller in scale to Jackson, you could consider staying in the towns of Teton Village, Moose, Beaver Creek, or Kelly to cut down on travel time to and from the park.
Staying Near Yellowstone National Park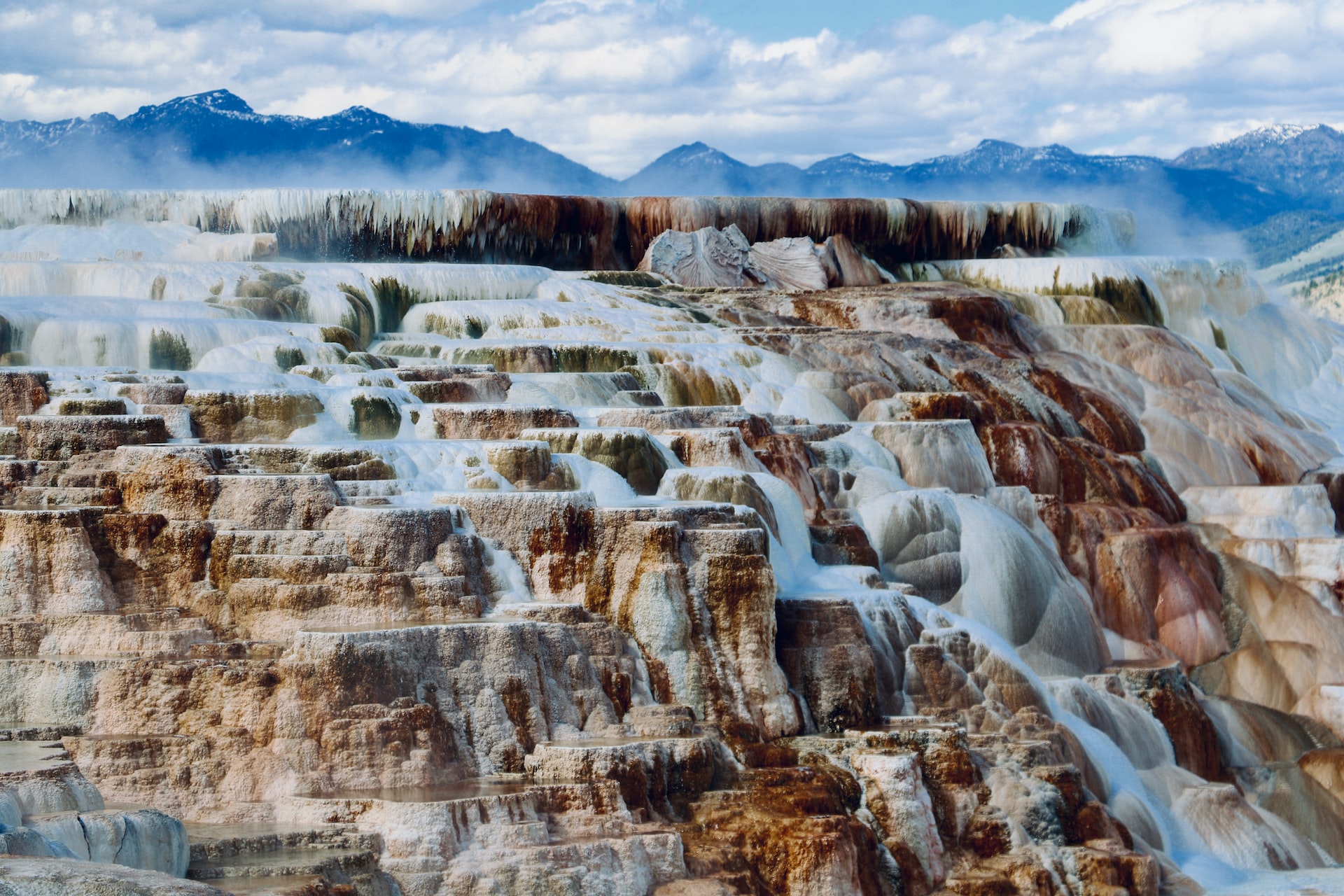 If you wish to visit Yellowstone National Park on your trip to Jackson Hole, then you should definitely find a cabin north of the Grand Tetons. If you're planning to bring your good boy or girl, keep in mind that though dogs are allowed in some public areas, the NPS stipulates that they must be on a leash that is no longer than six feet in length at all times. Owners must also clean up and dispose of all waste, and dogs are never to be left unattended outside.
While dogs aren't allowed in any hotels within the park itself, they are free to stay in cabins on the grounds that accommodate pets. Dogs also aren't allowed on any of the boardwalks, trails, backcountry, or thermal areas like the Mammoth Hot Springs pictured above, which can somewhat limit your experience if you're traveling alone or without a group of family or friends to watch them.
Qualified service animals that assist their owners with disabilities are allowed throughout the park and in all park facilities. However, they too must be leashed.
From downtown Jackson, it takes about 57 miles, or just over an hour's drive, to get to Yellowstone's South Entrance. You can lessen the amount of time your party and pup will be in the car by finding a rental in Colter Bay Village or Moran.
Staying in Downtown Jackson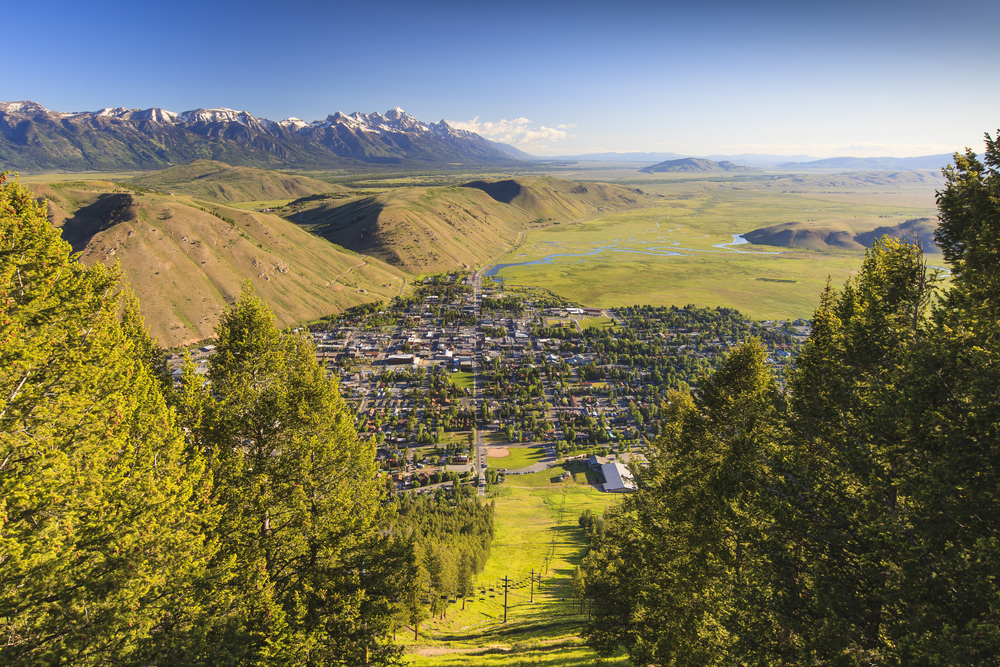 If you prefer a location right in the heart of all the action, then you'll want to stay in downtown Jackson. The city is the perfect blend of small-town fun, accessible, touristy, and full of down-to-earth people. The rural areas surrounding Jackson, such as Wilson, also have plenty of places to stay. Most local lodging accommodations offer both resort rooms and cabin rentals to appeal to a variety of guests.
What Is There to Do?
Get ready to take in the breathtaking nature of world-renowned National Parks, taste world-class foods, and bring your pet on an exciting adventure. Read on to check out our favorite pet-friendly things to do in "the Hole."
Outdoor Pet-Friendly Activities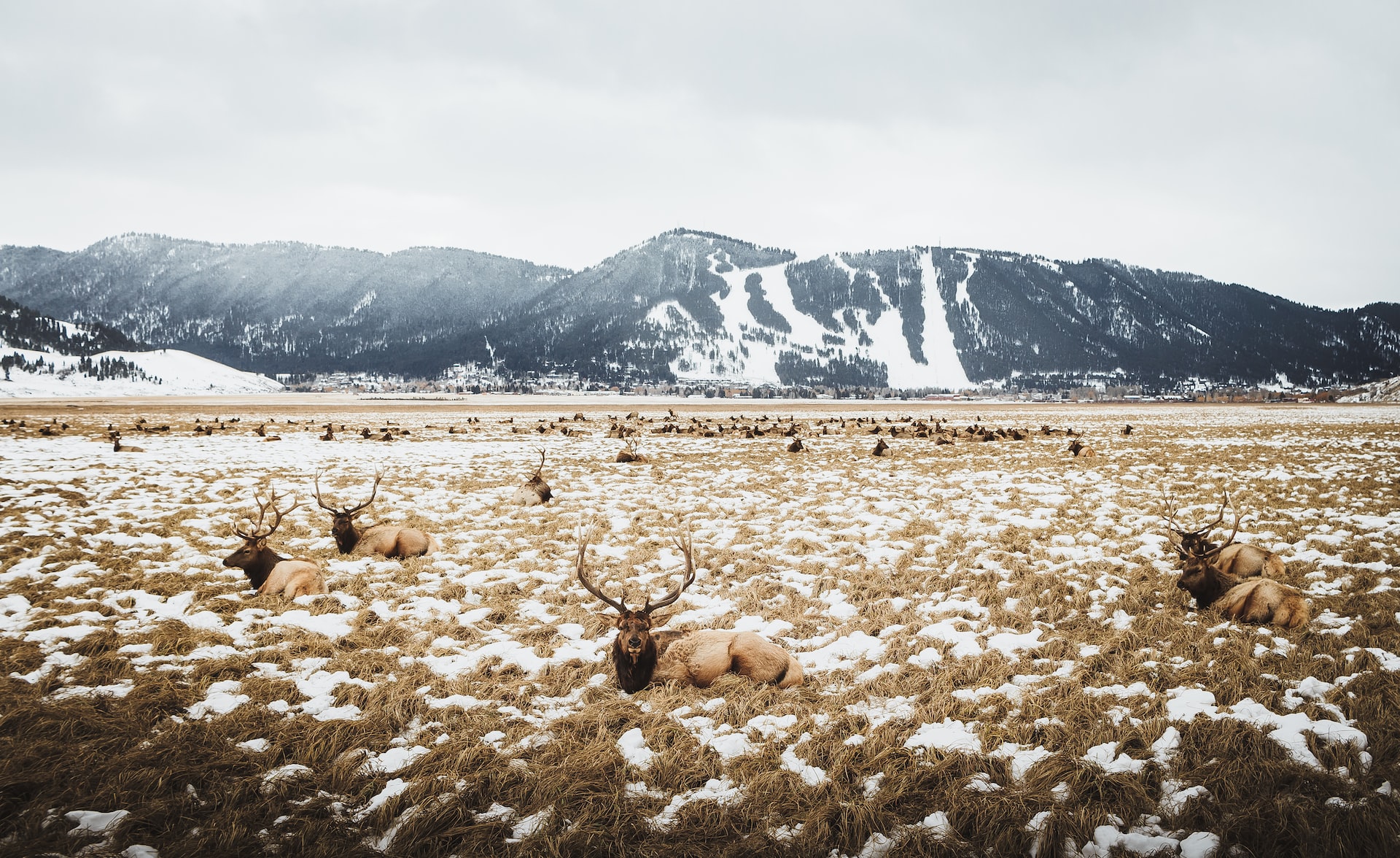 Local areas such as dog-friendly Slide Lake, the National Elk Refuge and Cache Creek offer lots of space for getting a doggy workout while you're visiting Jackson Hole.
Stick close to places that offer pet-friendly attractions, and you'll spend less time driving from your rental to your favorite activities. Check out Jackson Hole's official website for eight dog-friendly trails you can head to with your pup.
Pet-Friendly Restaurants in Jackson Hole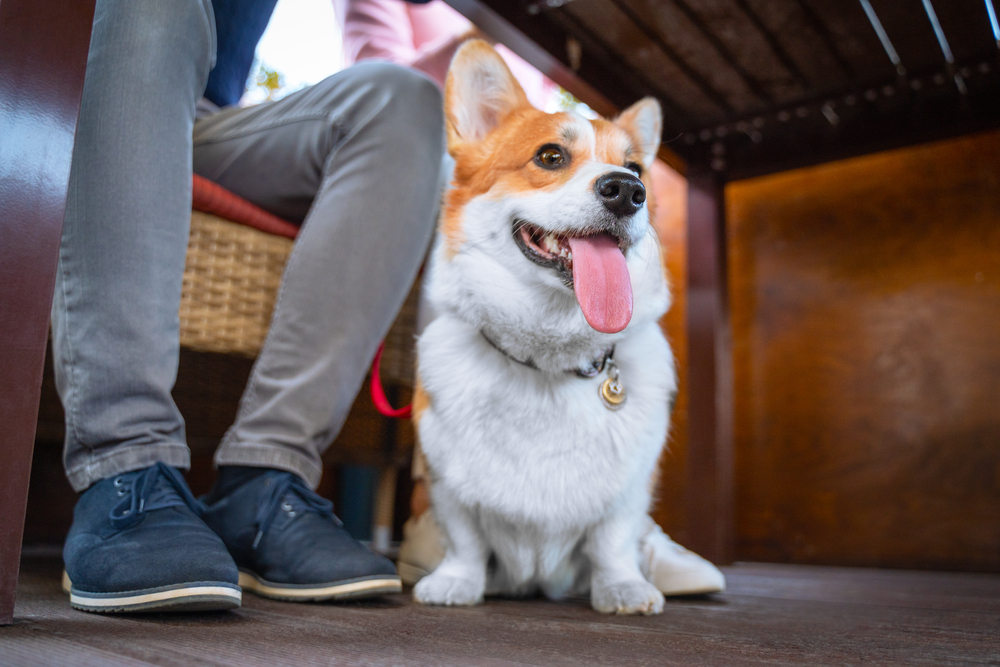 Bring your four-legged friend to visit one of the open-air restaurants that offer pet-friendly seating, or fun little treats to spoil your good boy or girl.
Two welcoming establishments with fantastic service for both you and your pet include Thai Me Up at Melvin Brewery, and Hatch Taqueria. You'll appreciate a leisurely stroll to enjoy Jackson Hole's best eateries without worrying about leaving your pet at home.
Pet Essentials in Jackson Hole
Jackson Hole is clearly well-equipped for your visit! With some world-class, outdoor, dog-friendly activities and many eateries waiting to meet your four-legged friends, you'll feel right at home.
Pet Stores
Forgot a food bowl or thought it was going to be a little warmer and want to grab a doggy sweater? Head over towards the west side of town to Tetton Tails for any pet needs. And don't forget to ask the staff for local recommendations!
Vets
While we hope you will never need to visit a vet while on vacation, it never hurts to stay prepared!
If your pooch needs to visit the doggy doctor, there are a number of veterinarians around town.
Enjoy Your Pet-Friendly Vacation!
Jackson Hole is meant for spending time outdoors, and it makes it an even better destination since you can bring your pet along too. Hopefully, by now you've found your dream pet-friendly rental and know all of the awesome places this exciting town has to offer. Now, the only thing left is for you and your pooch to have the time of your lives!