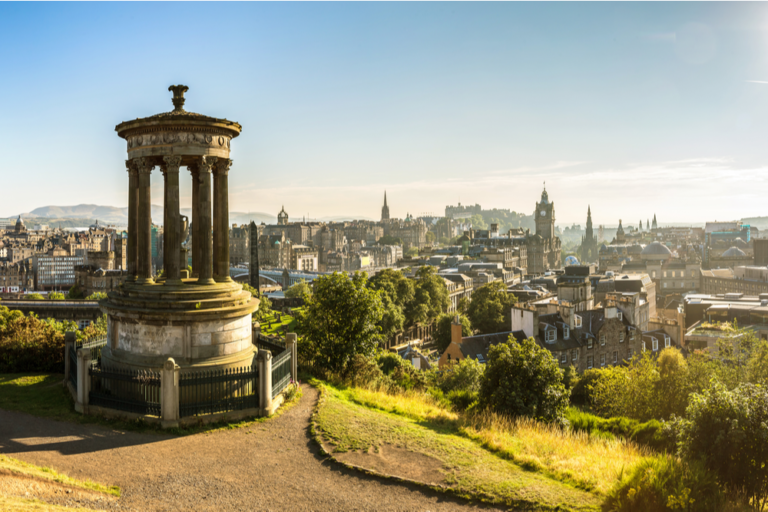 Like all of Scotland, the capital city of Edinburgh has a character all its own. Travelers from all over the world will quickly fall in love with its moody spires set against a bustling city center. With the quaint charm of Dean Village and the magisterial beauty of St. Giles Cathedral, Edinburgh is sure to steal any heart and inspire the imagination with its rare blend of ancient and modern features.
With its downtown area split between the medieval Old Town and the Georgian New Town, it would be as tough to pick the best area of Edinburgh as it would be to choose a favorite from its parade of delicious bistros. So, whether you're here to learn about Scottish history at the National Museum of Scotland or find a seat at a trendy cocktail bar in the West End, Edinburgh has a treat for everybody.
Key Points
The best parts of Edinburgh for foodies
The best shopping spots in Edinburgh
Historical hot spots in Edinburgh
Edinburgh's art and nightlife scenes
Discover Edinburgh's many varied neighborhoods and where to stay for the perfect experience of the wiley Scots!
How Is the City of Edinburgh Laid Out?
Edinburgh is divided into 12 separate boroughs, each with special features and interesting tourist attractions. First-time visitors to Edinburgh should note that Princes Street is the major thoroughfare, and Princes Street Gardens formally divides the two main parts of the downtown area: Old Town and New Town.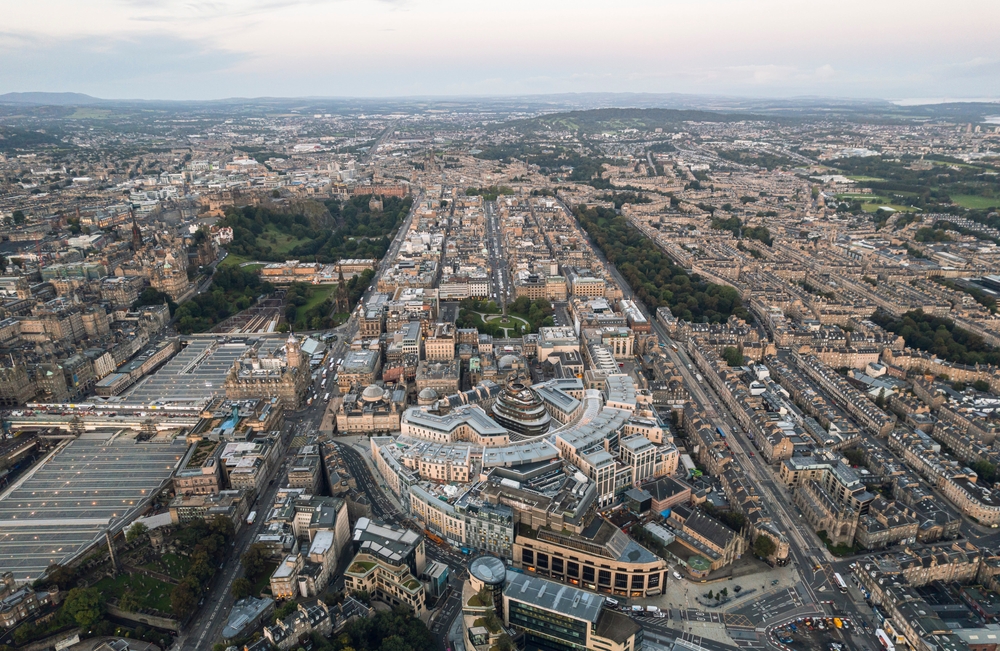 No part of the city is laid out on a grid, and Edinburgh Old Town is famous for labyrinthine, cobbled streets that zig and zag. Edinburgh's many hidden gems are found in its spiraling alleys, known as "closes," and visitors can even take tours of specific closes if they choose. Coming from Edinburgh Airport, easy tram connections leading to the Edinburgh Waverley train station make getting to Edinburgh City Centre simple and quick. Edinburgh has highly efficient public transport, including buses that run to all corners of the city.
The other street of significance within walking distance of the heart of the city is The Royal Mile. Stretching all the way from Edinburgh Castle to the Holyroodhouse, this is not just one of the most centralized streets in Edinburgh, but also it's a place where you'll find some of the most beautiful Victorian architecture in all of the United Kingdom — bending around hidden lanes full of lively bars, shops, and pubs.
Best Places to Stay in Edinburgh by Interest
The best area of this magnificent Scottish city will depend on whether you're in Edinburgh for a quiet staycation or just popping by to photograph the Royal Botanic Gardens and St. Andrew Square. Everyone has a different agenda in Edinburgh. For this reason, it's wise to map out what you really want to do, measure that against your allotted time for the trip, and then decide where to stay. Other factors, such as budget and the number of travelers in your party, may also contribute to your decision.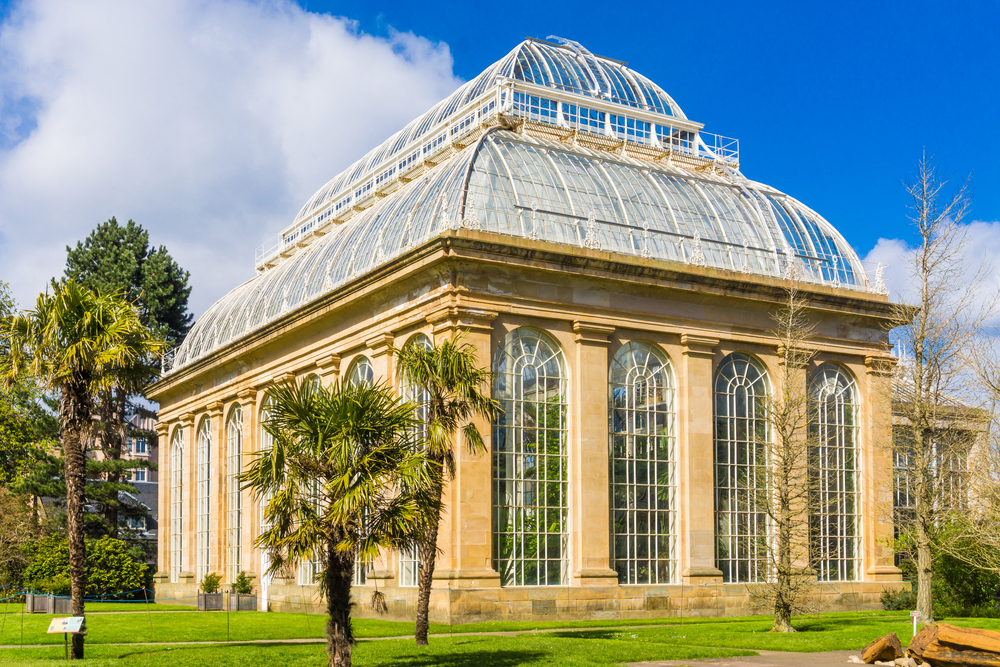 Haymarket Station in the West End and Calton Hill are examples of good, centralized locations within Edinburgh that offer plenty of cool cafes and shops to explore, with easy access to Edinburgh landmarks like Holyrood. The following sections offer further insights into areas of the city that might be best for specific interests.
Where to Stay for Great Food
Edinburgh is a dream location for avid foodies! Two of its globally acknowledged cuisine must-sees are The Witchery by the Castle and Angels with Bagpipes, both located in Old Town. The Witchery by the Castle is a luxury hotel that ranks among Edinburgh's finest. Both George Street and Rose Street are exceptional for their wide variety of restaurants, bakeries, and sweet shops.
Of course, not everyone's idea of fine dining involves Michelin stars! Nevertheless, many travelers make the journey to Edinburgh to imbibe the Harry Potter lore available at some of its more eclectic venues. For instance, The Elephant House, with its bathrooms muraled in Potterhead graffiti, marks the birthplace of Harry Potter, as it's the cozy cafe where author J.K. Rowling worked on early drafts of the famous wizarding wonder! Just a short walk from The Elephant House gets you down to Spoon Cafe, once owned by Rowling's brother-in-law, which is the site where much of the first Harry Potter book was written.
Stockbridge plays home to a world-renowned Sunday farmer market where fresh and delicious food can be enjoyed as travelers stroll along the Water of Leith. This is an especially beautiful walk to take at night, as many of Edinburgh's landmarks are illuminated in the evenings.
Where to Stay to Discover History
Old Town Edinburgh — because it was the medieval heart of the city — is rife with incredible historical sites. Here, tourists can enjoy plague, ghost, and wizarding tours, as well as visit the ancient headstones at Greyfriars Kirk.
Outdoor enthusiasts can also enjoy hiking up to Arthur's Seat and taking in the extraordinary panorama of the city provided there.
Where to Stay to See World-Class Art
Many people think of Glasgow as the king of the Scottish art scene, but art enthusiasts have much to enjoy and discover in Edinburgh! New Town contains the Scottish National Portrait Gallery and the Scottish National Gallery. In addition, the Traverse Theatre offers avante-garde plays, while Jupiter Artland showcases sculpting work by outdoor artists.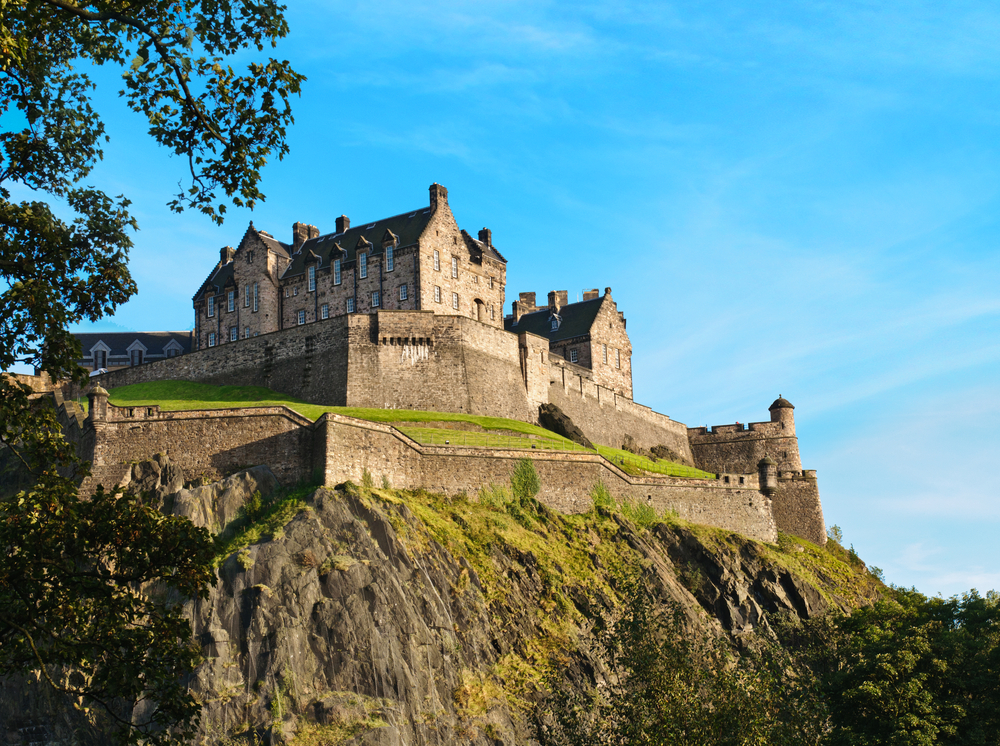 However, don't overlook Old Town's contributions to the art scene. Edinburgh Castle is more than just a lovely piece of architecture housing the Stone of Destiny and the Crown Jewels; it hosts quite a few of Scotland's endlessly entertaining annual festivals, the most notable of which is the Edinburgh Fringe Festival. The Fringe Festival is one of the largest formal celebrations of art and music in the world.
Where to Stay for Nightlife
Whether you want to dance the night away at one of Edinburgh's many underground DJ havens, like Cabaret Voltaire and The Bongo Club, or prefer to take in live folk music at Sandy Bell's, Edinburgh comes alive when the sun goes down. Tigerlily is a four-star hotel on George Street with a bustling cocktail bar and an award-winning seafood restaurant inside, and Grassmarket — just below the Castle — is home to some of Edinburgh's oldest, rowdiest pubs.
You can also find great live music near Edinburgh's port district of Leith. While this is a bit further out from the city center, there are ample and easily accessible bus routes. The other bonus of having your Edinburgh night in the district of Leith is that you'll be doing so in the shadow of the Royal Yacht Britannia, which is docked within visible distance of many local hot spots.
Where to Stay for Amazing Shopping
The Royal Mile is royal bliss when it comes to shopping. Whether you're looking for a handmade scarf in the tartan of your ancestors or a trinket to memorialize your trip to the Scott Monument, you'll find it here. However, if upmarket options are more to your tastes, try the affluent Bruntsfield area for shops like Totty Rocks for Scots-centered fashions.
Princes Street features the sprawling Jenners, among the world's oldest department stores and often referred to as the "Harrods of the North." Further, the Edinburgh Remakery in Leith offers some of the city's coolest upcycled goods. Finally, the Grassmarket neighborhood offers its fabled medieval market and lots of neat local craft shops.
How Can You Stay in Edinburgh for Cheap?
Finding a less pricey stay in Edinburgh is all about timing and location. Accomodations by the Royal Mile and Charlotte Square may save you a bit of money just because they're so centralized that most of the city's major attractions are walkable. Near Princes Street, accommodations add perks like free parking and Wi-Fi. Moreover, areas like Morningside or Bruntsfield and Prestonfield are more residential and feature less pricey grocery stores that can benefit smaller budgets.
One surefire way, though, to locate great accommodations in Edinburgh is to get help from VacationRenter. VacationRenter can help you find the perfect townhouse in Newington or an apartment just a few minutes walk from that Scotsman Hotel with the basement jazz club your friend told you about.
How Long Should You Stay in Edinburgh?
Edinburgh is a comparatively small capital city but possesses an incredibly rich atlas of attractions. The duration of your stay should be guided by the amount of time you have to spend, your budget, and your overall vacation plans for your Scottish trip.
For just a taste of the tartan life, you can get a lot out of Edinburgh in three to four days. However, if you want to really experience all the nuances of this magical medieval city, you may need between 10 and 14 days.
Plan Your Edinburgh Stay on VacationRenter
No matter what part of the city you love best, VacationRenter helps you stay within a few minutes walk of all the best Edinburgh has to offer. Check out VacationRenter today, and make your Edinburgh trip extraordinary!
Mentioned in This Article