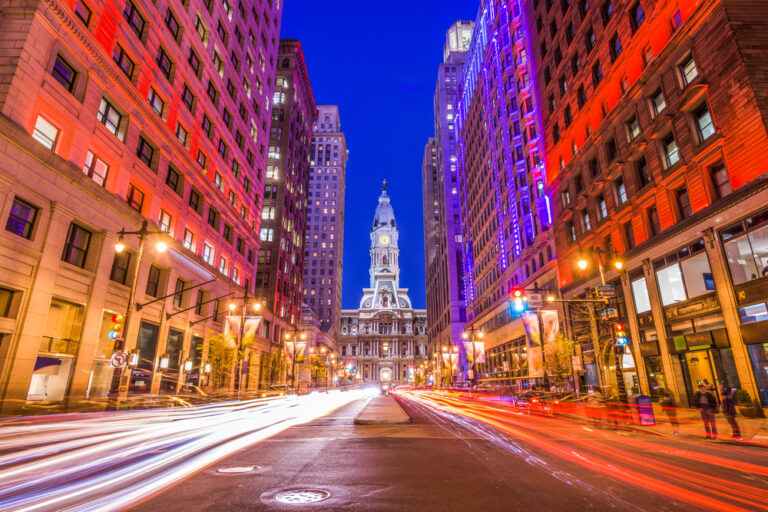 If you are headed to the City of Brotherly Love for just one day and you are not sure how to make the most out of it, you came to the right place. It's important to use every precious minute wisely. This historic Pennsylvania city is virtually bursting at the seams with enthralling museums and exhibits that detail the earliest period of the United States, not to mention waterfront districts and beautiful green spaces that deserve to be explored.
What to See & Do in Philly in One Day
What to do in Philadelphia in one day could be a challenging concept for even the most Type A person, but thanks to this guide, you'll be in good hands. Get ready, because your 24-hour marathon begins … now!
The Liberty Bell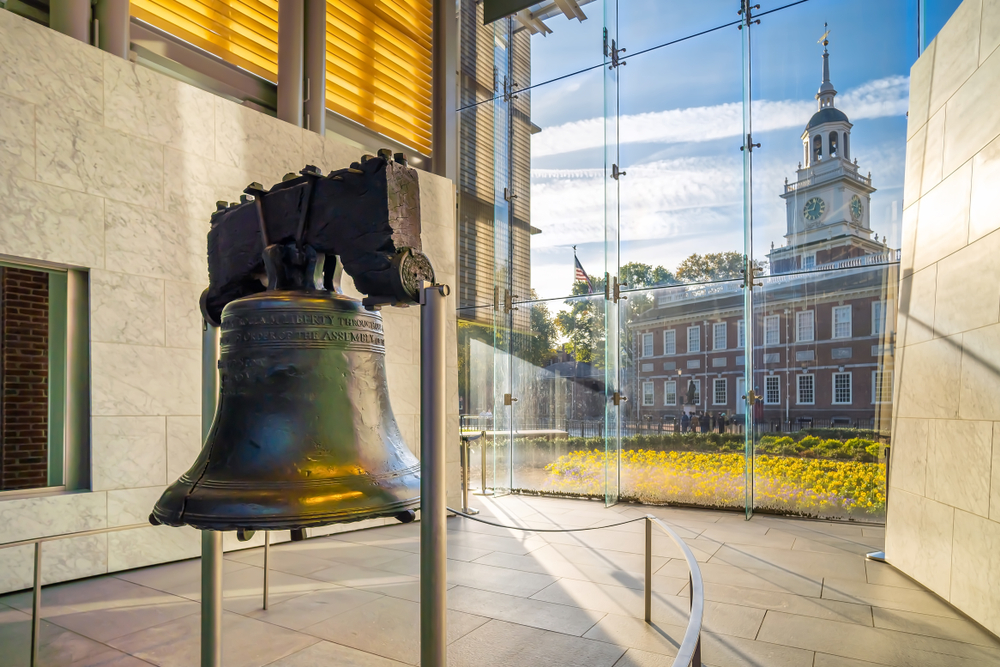 This historic location is probably at the top of your list of things to see in Philadelphia. If you're lucky and miss the lines, you can probably get in and out of the Liberty Bell Center in about 30 minutes, leaving you plenty of time for other sights. While there, explore the many exhibits, watch a film, and of course see the cracked bell in all its glory.
Independence Hall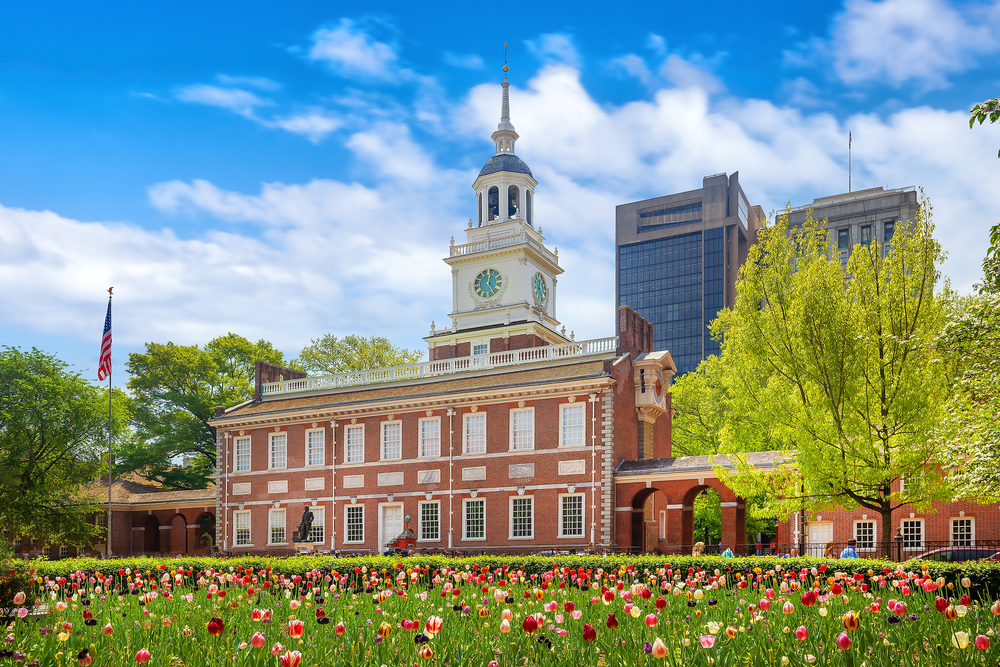 Independence Hall is another must-see attraction, and it's open daily. A ranger leads you on a tour through the building where the Declaration of Independence and the Constitution were both signed. This location is solely responsible for providing Philadelphia with the honor of being the only UNESCO World Heritage City in the U.S.
Christ Church Burial Grounds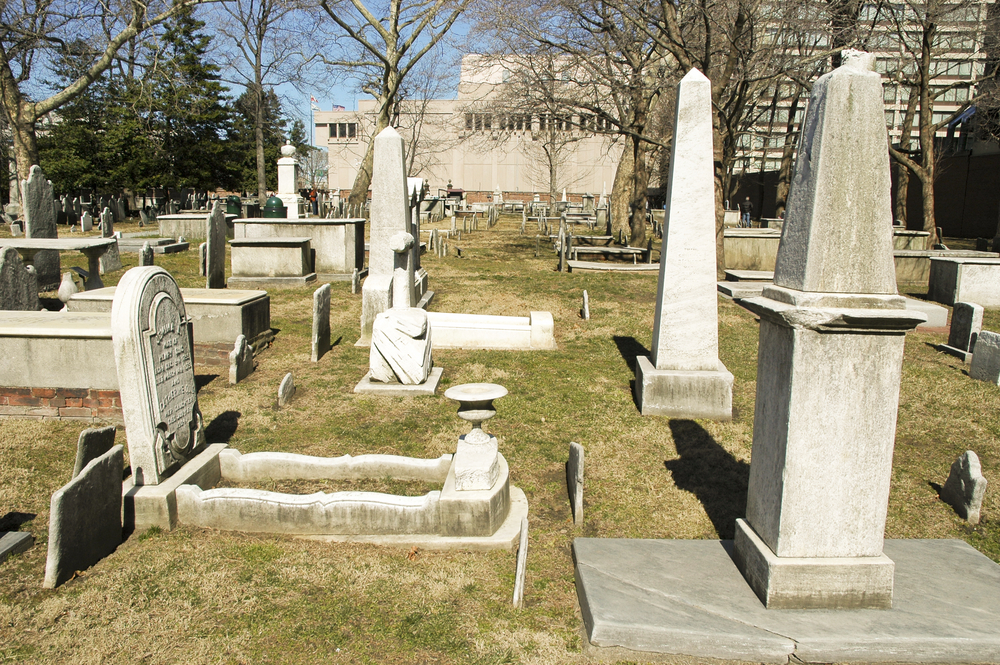 Consider adding the Christ Church Burial Grounds on your one-day itinerary too. This cemetery has 1,400 markers, including Benjamin Franklin's grave. Other notable Americans buried here besides Franklin include Francis Hopkinson, George Ross, Dr. Benjamin Rush, and Major William Jackson. The oldest marker in the cemetery belongs to Sarah Knowles, dated 1721. In all, five signers of the Declaration of Independence are buried on the grounds. Guided tours are available most days of the week except on major holidays between March and November.
Rittenhouse Square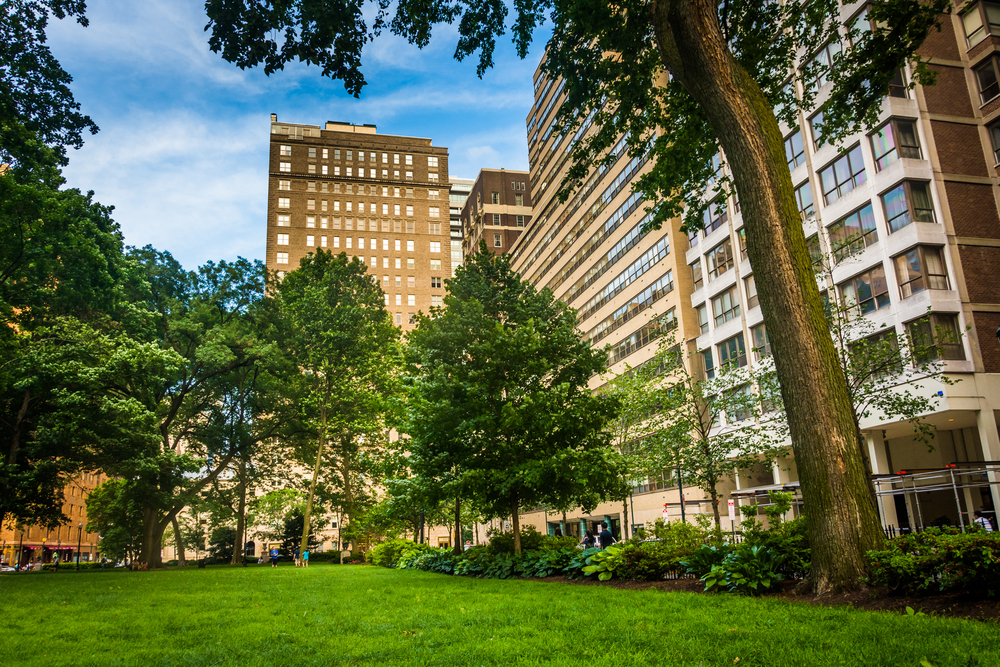 Rittenhouse Square is situated in Center City and covers six acres of green space over 1.5 city blocks. You'll love the chance to meander through the park. Doing so will allow you to enjoy the extensive gardens, lawns, and pathways. Just don't dawdle too long! We still have a lot of ground to cover.
LOVE Park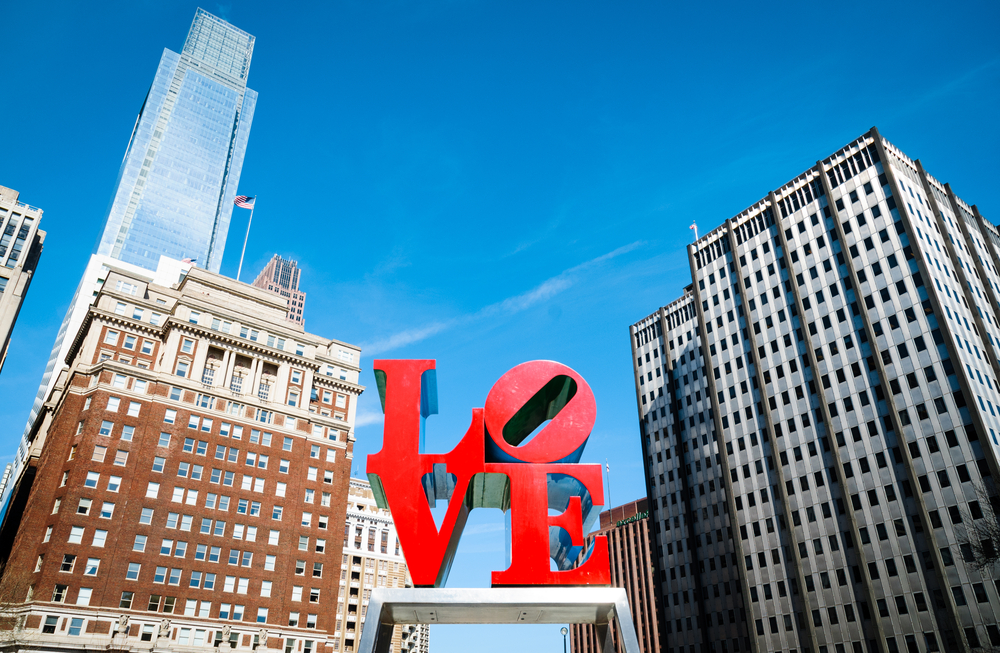 "LOVE Park," officially known as John F. Kennedy Plaza, is a public park located in Center City, Philadelphia. The park is nicknamed LOVE Park for its reproduction of Robert Indiana's 1970 "LOVE" sculpture in big red block letters that overlooks the plaza. This site is only a four-minute walk to Philadelphia City Hall, which is also worth a visit.
Rocky Steps & Statue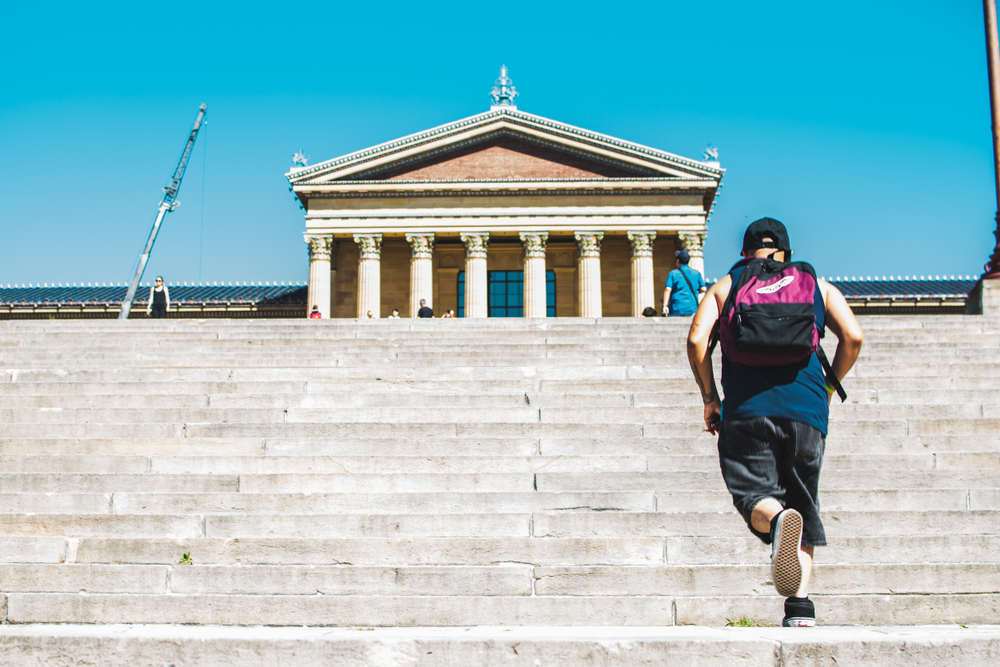 Queue the iconic horns from Bill Conti's "Gonna Fly Now." Whether you're listening to it on your headphones or not, it'll be echoing in your ears as you climb the 72 stone steps leading up to the entrance of the Philadelphia Museum of Art. Tourists often mimic Rocky's famous climb, and you can too.
Philadelphia Museum of Art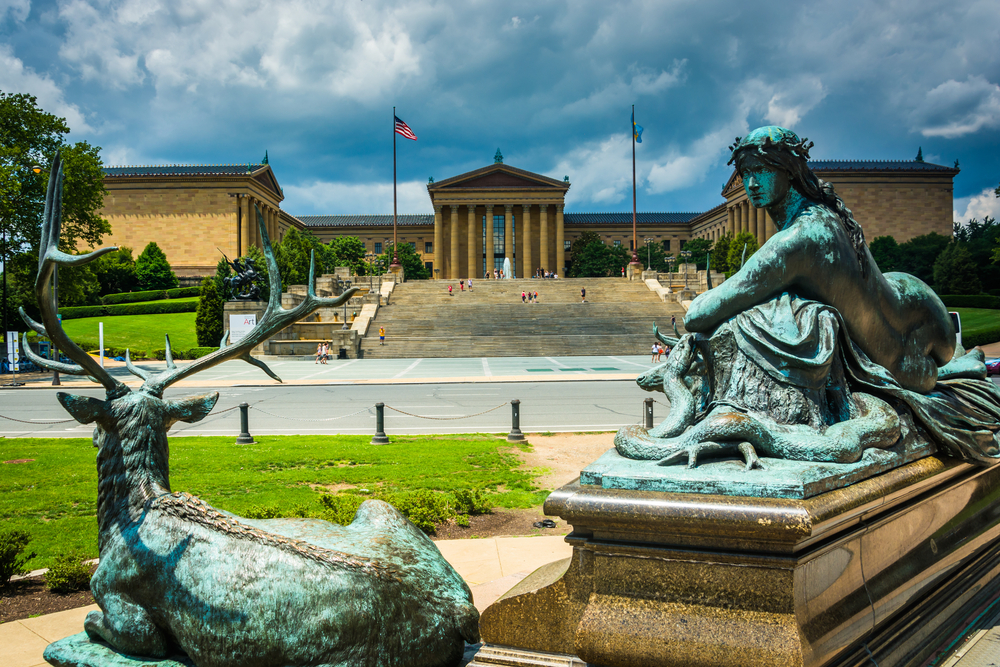 If you have the time, consider staying a little longer and touring the Philadelphia Museum of Art. On view are 1,400 works by 250 black artists, actress (and Philadelphian native) Grace Kelly's exquisite wedding gown that she wore during her royal wedding to Prince Rainier III of Monaco, 60 carved granite pieces, and so much more.
Penn's Landing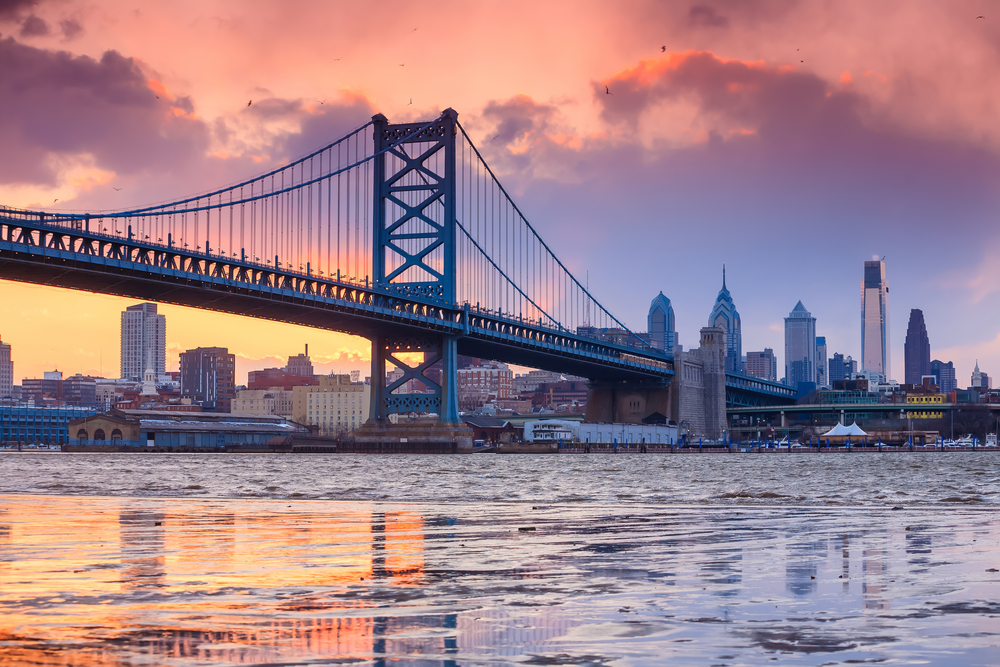 Penn's Landing is another can't-miss spot in Philadelphia. Situated on the Delaware River Waterfront, Penn's Landing boasts a lot to see and do. The Race Street Pier could be the spot where you enjoy a picnic lunch. The pier has two levels, each offering distinctive views. Don't miss a sight of the Benjamin Franklin Bridge while you're there.
During the summer, Penn's Landing is a venue for many festivals, outdoor concerts, and annual events. The Blue Cross RiverRink offers roller skating and outdoor entertainment during the summer too. You might even be lucky enough to catch outdoor movie screenings along the shore of the Delaware River.
Grab a Cheesesteak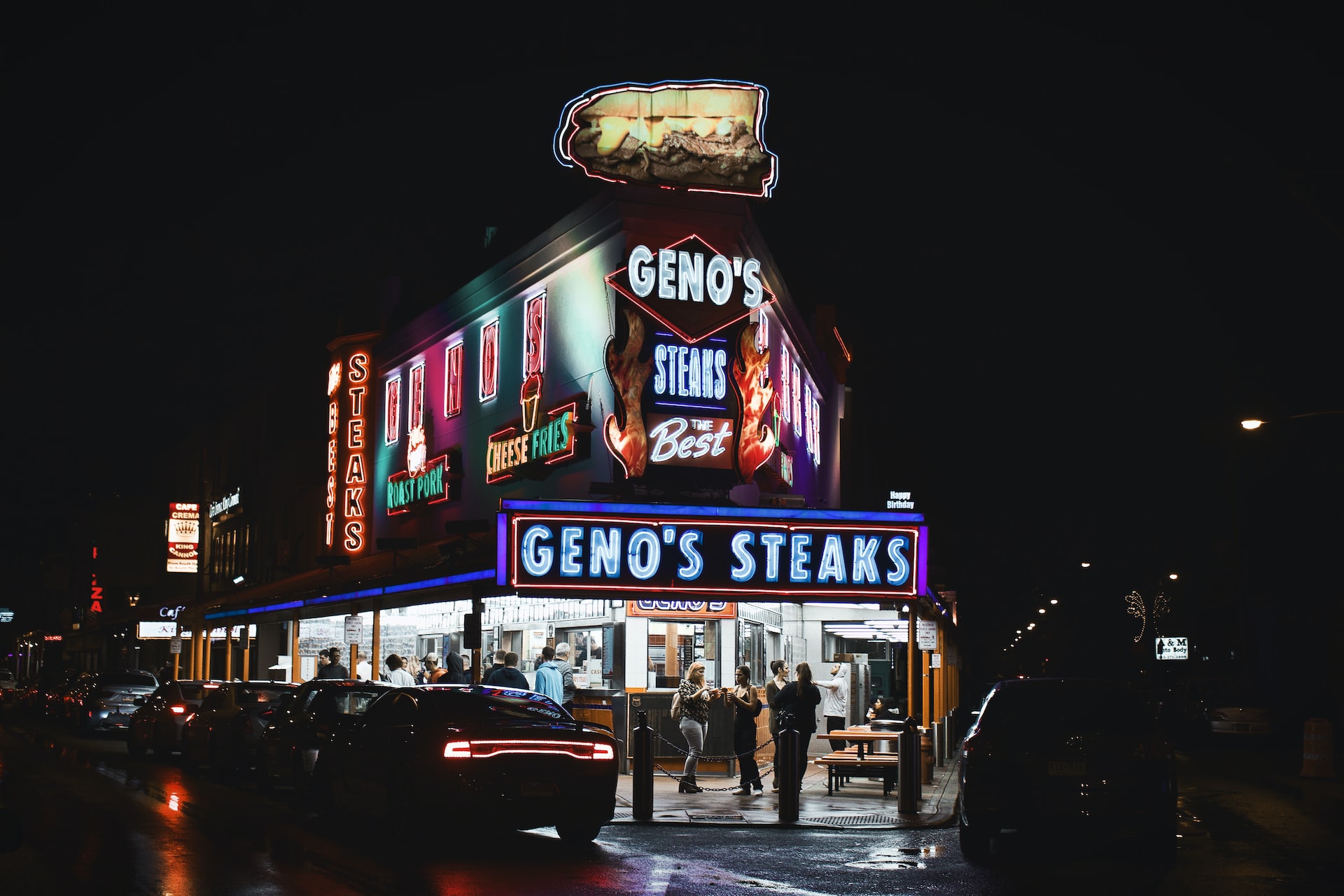 Philadelphia is known for lots of things, including food. You can hardly spend the day in Philadelphia without having a cheesesteak for lunch or dinner, and you'll find plenty of pubs and restaurants serving their own versions of this iconic meal. An easy way to satisfy your hunger and knock off two Philly bucket-list items is to try cheesesteaks from both Pat's and Geno's, as they are located right across the street from each other.
Tips for Visiting Philadelphia
Save money on historic sites. Of course, you'll want to see the most iconic historic landmarks when you're in Philly. The good news is that many of the must-see attractions in Philadelphia, including many of the ones above, are free.
Try a double-decker bus. If you want to get a quick view of the city, try a double-decker bus tour that includes stops at all of the high points. Many of these tours feature hop-on/hop-off stops where you can get off to explore the city at your own leisure. Knowledgeable guides also provide running commentary throughout the bus tours to help you learn as much as possible. The Philly Phlash is an iconic purple bus running between May and September, and it takes you to the big attractions throughout the city at an affordable price.
Walk around. Many people consider Philadelphia to be primarily a walking city, and it's possible to walk from one attraction to another. Make sure to pack some comfortable shoes that will help take you where you want to go.
Where to Stay in Philadelphia
In a city as old and beautiful as Philadelphia, there is no shortage of fun places to go and things to do. While this city has a lot going on, finding the right neighborhood for you can be a real challenge. Philly neighborhoods can vary dramatically from each other in terms of demographics, costs, and amenities – making it difficult to know where's the best place to stay. To aid in your search, we've compiled a list of the three best neighborhoods to stay in Philly.
Penn's Landing/Society Hill
One of Philadelphia's most popular and affluent areas, these adjacent neighborhoods are perfect for those who want to be close to the city's attractions while staying in a classic setting. If your ideal vacation involves excitement and more cafes, restaurants & boutiques, Penn's Landing is the places for you.
Old City
The trendiest neighborhood in the city, Old City offers something for everyone. Visitors to this area will have easy access to Philadelphia's historic sites while being steps away from exclusive shopping, fine dining, and vibrant nightlife. This is a great neighborhood if you're looking to get a lot of sightseeing done without having to commute too far from your hotel or apartment rental.
Center City West
While this area isn't exactly a neighborhood in the traditional sense, it's Philly at its finest. You'll find a ton of bars and restaurants, hundreds of high-end boutique shops, and an increasing number of skyscrapers. Stay in this area if you want to be centrally located with easy access to some of Philly's best attractions including Rittenhouse Square Park, the Philadelphia Art Museum, and Reading Terminal Market.
Get Ready to See Philadelphia in 1 Day!
With so much to see and do in Philadelphia, one day may not seem like enough once you start planning your itinerary. Get up early and prepare to keep going into the evening to see everything on your list of attractions. Visiting this city promises to be so enthralling that you may decide you'll have to return when you have more time.