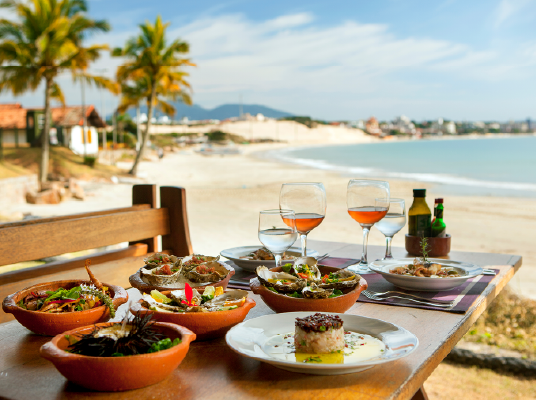 Memories made while traveling are hard to forget — especially when food is involved. Whether you're a culinary sophisticate or someone who appreciates the simplicity of a tasty bowl of noodles, eating delicious food while traveling is a staple of the experience. 
That being said, personal taste varies widely, and some cuisines are bound to be more popular than others among the traveling population. We surveyed 1,000 Americans to explore their culinary travel experiences and the countries they've traveled to, what their favorite cuisines were, and even how this culinary travel has impacted their cooking at home. 
Key Takeaways
Mexico is the favorite international destination for food among Americans, closely followed by Italy and France.

50% of people frequently plan travel around a specific restaurant or eatery.

Street food is nearly twice as popular as prestigious restaurants when traveling. 
The Importance of Michelin Stars for Foodies
Over half of those we surveyed considered themselves to be major foodies, and over half of all respondents had dined at a Michelin-starred restaurant. Michelin-starred restaurants are often the most sought-after establishments at which to dine, with around 2,200 restaurants rated as the best places to dine around the world.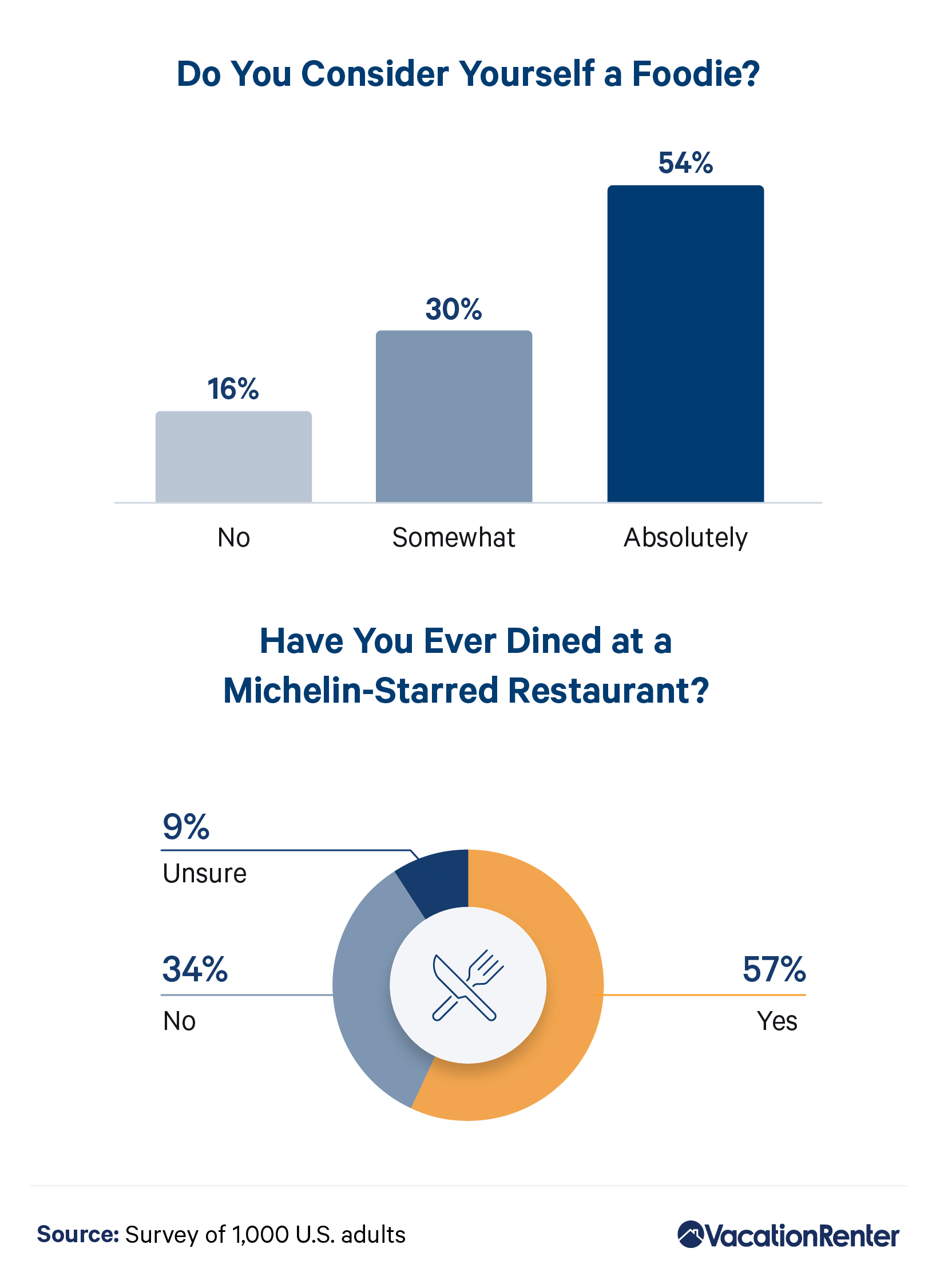 Established in 1926 by the Michelin Company — yes, the tire manufacturer — as a guide for motorists looking for the best places to stop and dine along their road trips around the world, the Michelin star is now the gold standard for restaurants. Their one- to three-star scale exhibits three levels of prestige: 
One star signifying excellence worth a stop

Two stars being worth a detour on your trip

Three stars indicating an establishment worth a special trip in and of itself
Uniquely, we found that men were more likely than women to have eaten at a Michelin-starred restaurant. 
Best Instagrammable Fine Dining
According to our analysis of tens of thousands of Instagram posts tagging 2- and 3-star Michelin restaurants, certain countries inspire more food posts than others. The United Kingdom leads the list of most-instagrammable luxury eateries, boasting 750 posts per 2- or 3-star Michelin restaurant. Macau, a special administrative district of China, comes in second with 650 posts per restaurant.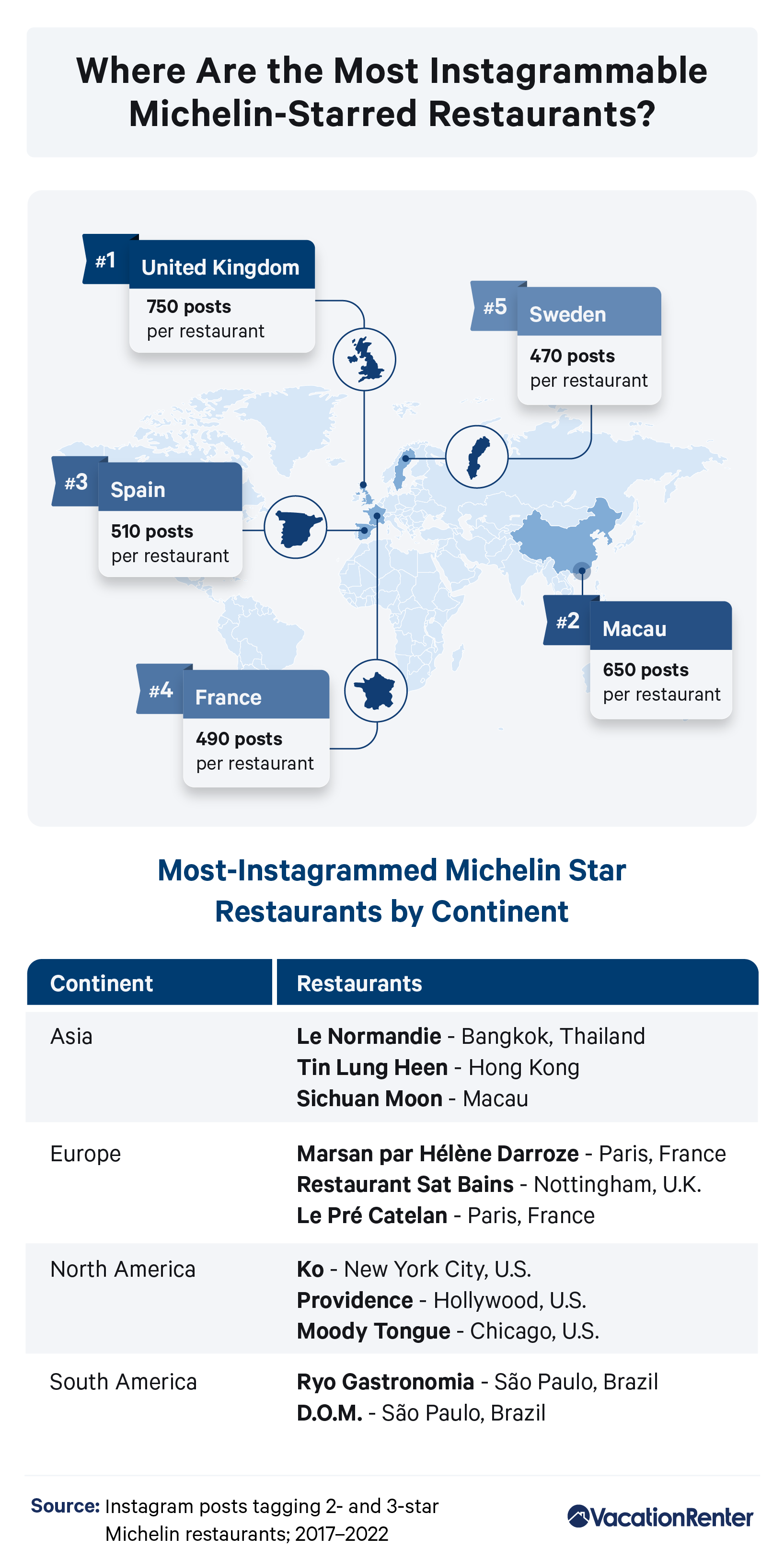 We were also able to identify the most Instagram-famous 2- and 3-star Michelin restaurants all over the world. Ko, a chic contemporary eatery in New York City, had more shots of its food on Instagram than any other Michelin-starred restaurant in North America. Le Normandie, a Bangkok restaurant serving French contemporary cuisine, leads the leaderboard for Asia. These fine restaurants are among some of the best destinations for foodies looking to enjoy luxurious dining experiences across the globe.
Michelin Stars vs. Social Media Hype
It's been estimated that a single Michelin star can add up to 20% to a restaurant's business volume, but social media hype can also help vault a restaurant's desirability into the stratosphere. Social media influencers are often given free tabs in exchange for — hopefully — positive reviews at local establishments, informing thousands (or even millions) of foodies about an exciting must-try place in town.
Biggest Stars of the Global Food Scene
Which country boasts the best food vacations on Earth? Well, it really depends on who you ask, but meals enjoyed by travelers in Mexico, Italy, and France were the favorites.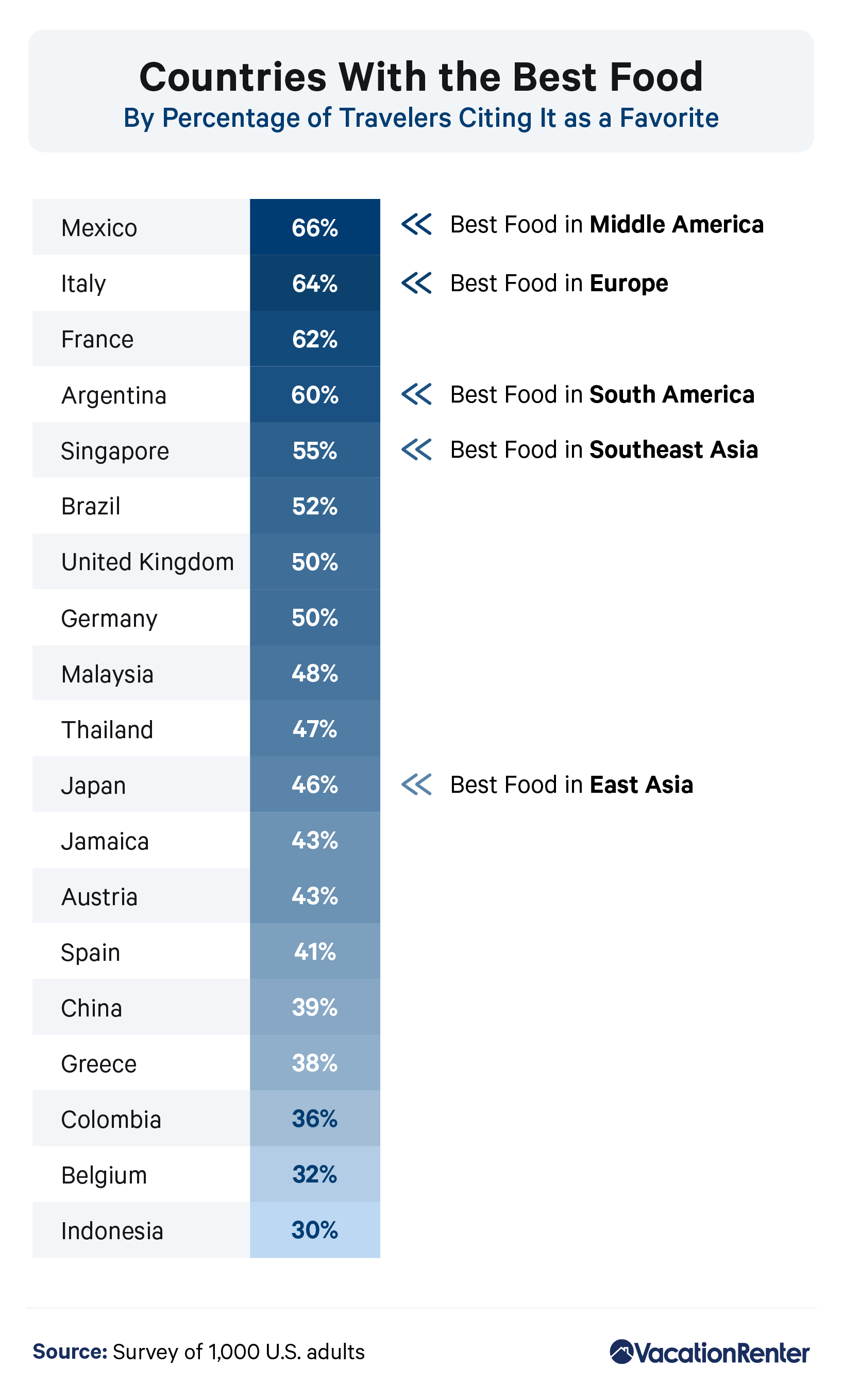 Mexico
Our study found Mexican cuisine to be the most popular cuisine for travelers, with two-thirds of those surveyed labeling it a favorite. 
Mexican food was especially popular among millennials and those in the South and West regions of America, which are often noted as particularly ripe with incredible Mexican cuisine and famous for regional variations of Mexican-style cooking. If you're a young food travel enthusiast looking for the best gastro tourism destinations in the world, Mexico is unlikely to disappoint.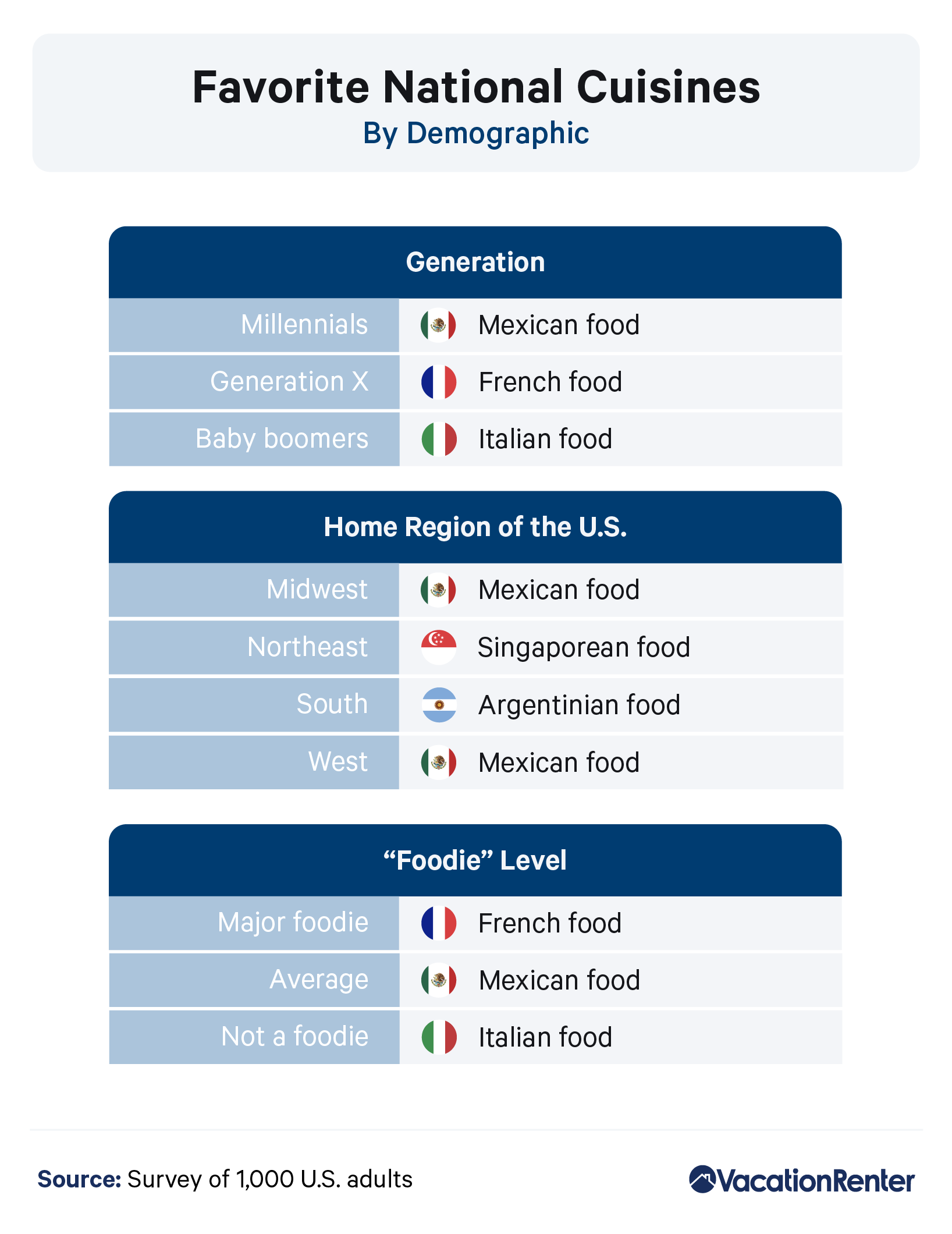 Italy
Italian food was the second most popular among Americans we surveyed. It was especially popular with baby boomers and those who didn't consider themselves foodies. 
France
French cuisine, which features many classic recipes and techniques taught in culinary schools around the world, rounded out the top three favorites. 
Julia Child's famous cookbooks helped bring these complex techniques into American homes in the 1960s, but French culinary styles, hierarchies, and terminology can be found in most varieties of kitchens around the world today. 
A Traveler's Guide to Gastronomy
For some travelers, planning where to eat is one of the most important parts of the trip. Our survey found half of those planning trips frequently tailored their travel around a particular restaurant.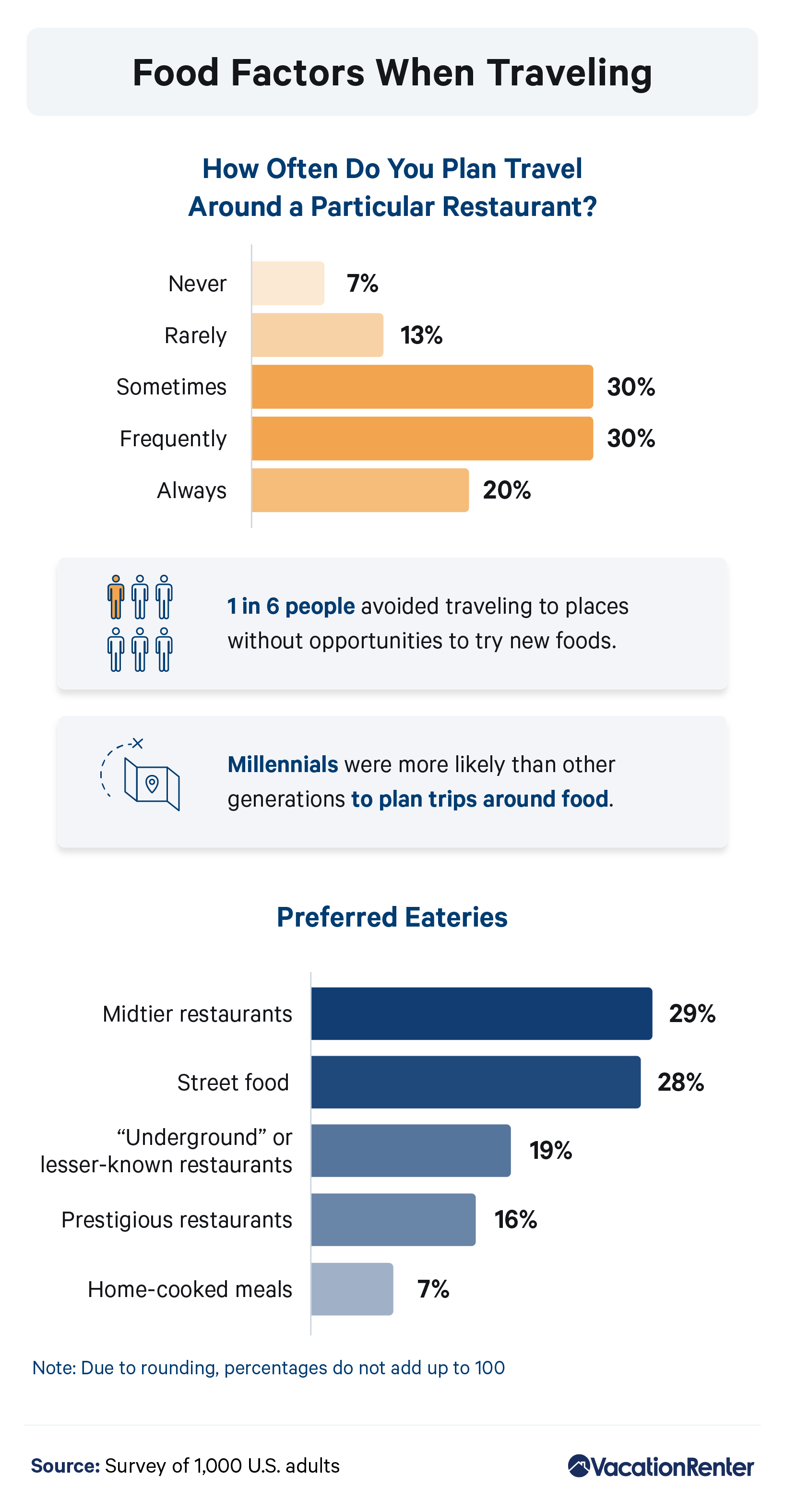 Regardless of the level of prestige in the food, most of us agree it's critically important to have access to new food experiences while traveling. Trying new and exciting cuisine was important enough for 1 in 6 travelers not to bother visiting a place that didn't offer such diverse food options. Millennials, the first generation to grow up sharing pictures of food on social media, were much more likely to plan a trip around a foodie destination than baby boomers.
Interestingly, high-end white tablecloth restaurants are not the only establishments producing acclaimed cuisine around the country, broadening access for all foodies. Acclaimed food writer Anthony Bourdain took street food in Asia as seriously as he did elegant fare, and was always quite keen to eat at a hole in the walls. The places travelers chose to eat were certainly not limited to fine dining or expensive spots, either. Only 16% of those we surveyed sought out prestigious establishments, which can often come with high prices. However, prestige does not necessarily always require a splurge. Franklin BBQ in Austin, Texas — which is modestly priced and allows you to BYOB — is highly sought-after by foodies and famous for lines so long that if you don't join them before they open, you likely will miss out on the food entirely. 
Street food, which has surged in popularity recently with the growth of gourmet food trucks, was more popular among a younger crowd. This concept didn't appeal as much to baby boomers who were more likely to search for lesser-known restaurants that may not have big reputations and long lines.
Taking Your Trip Home With You
Bringing home recipes from travels abroad is a great way to both recreate the experience and test out your culinary acumen. Our study found that while Mexican food was still the most popular cuisine, there were some surprising at-home recipes that made the top of the list.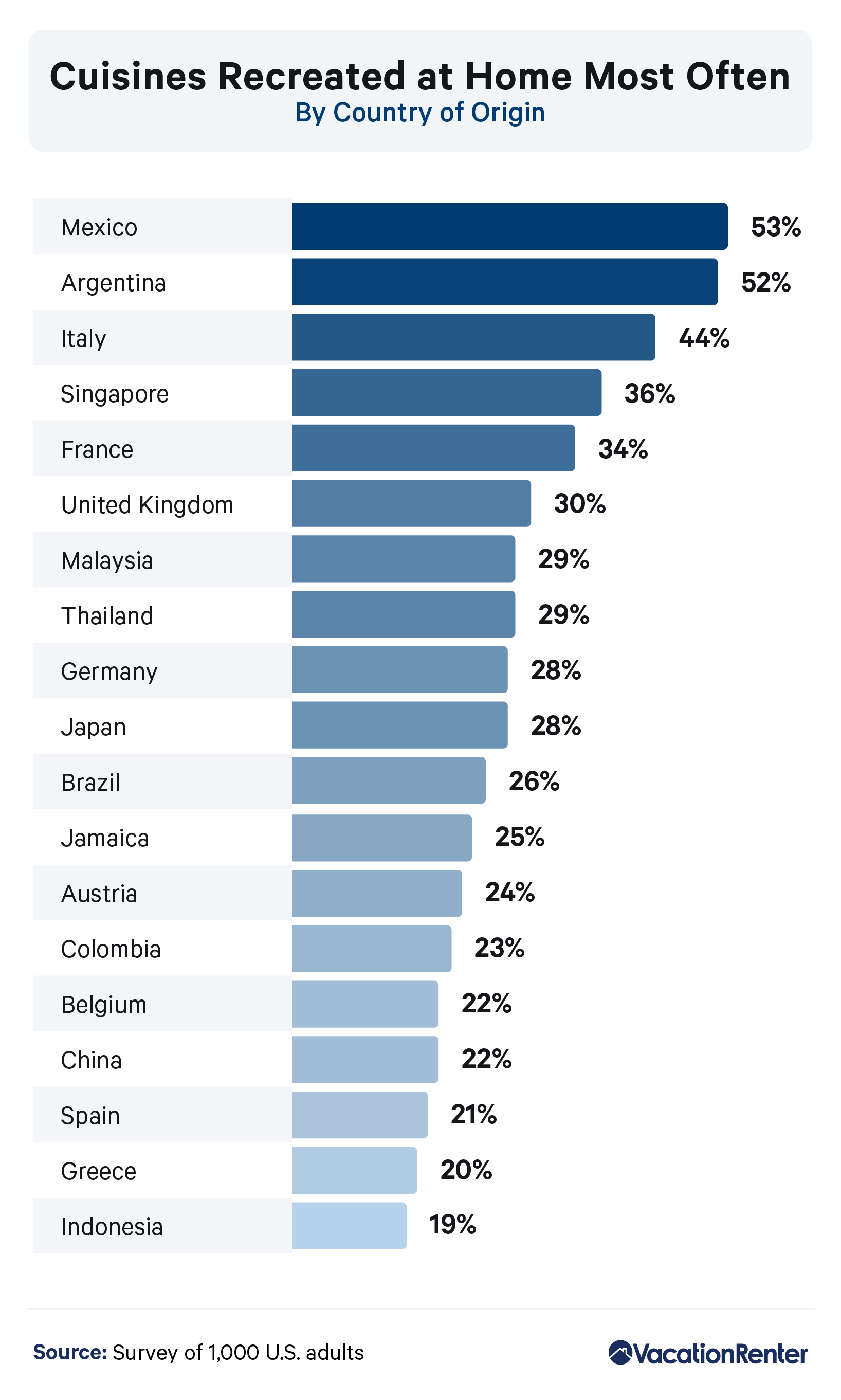 Over half of those who had journeyed to Argentina attempted to recreate dishes from the South American nation, perhaps channeling Francis Mallmann, a famous Argentinian chef who has been featured in Netflix's "Chef's Table" and dubbed the most interesting chef in the world. 
Also in the top five — with comparable numbers to Italy and France — was Singapore, where over a third of respondents reported having recreated dishes from their journey to the island in Southeast Asia. Singaporean food draws influences from China, India, Malaysia, and other regional cuisines, giving its cuisine a spicy and unique identity. This variety provides diners with plenty of options for delicious meals. 
Meals You'll Never Forget
Sometimes a meal can really tie a trip together. A beautiful vista, a gentle breeze, and the company of a loved one can be made even better by the perfect food and wine pairing to complete the memory.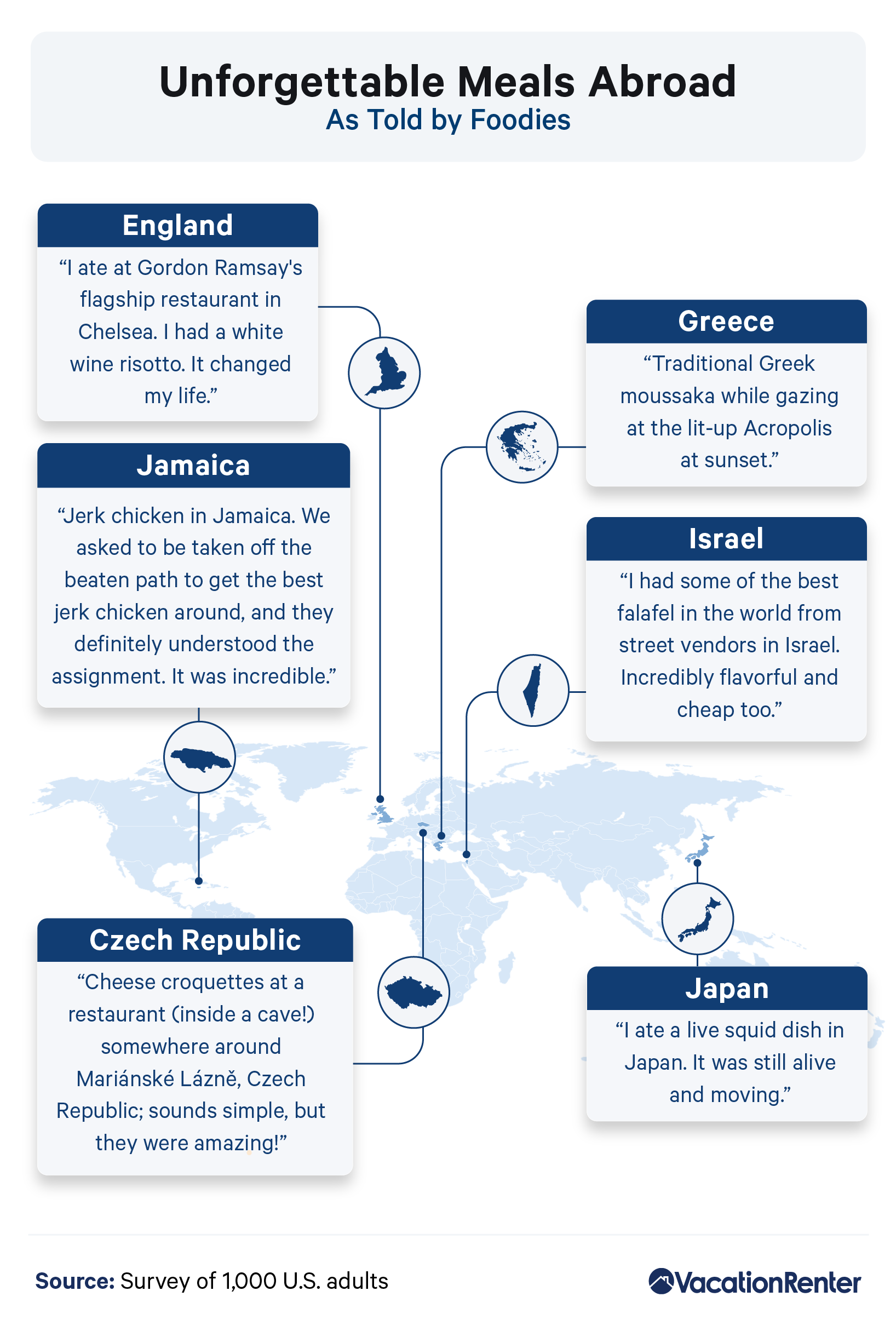 Our sense of taste is strongly linked to memory, and many we surveyed recounted memories of some of the most iconic places on Earth alongside the meals they were enjoying at the moment. Delicious meals — whether it was tasting live squid for the first time or a traditional Greek dish — triggered vivid memories for respondents. 
Something as seemingly simple as a white wine risotto or as common as a croquette can last a lifetime and bring even more vibrancy and unforgettable qualities to travel experiences. 
Food Can Be More Than Just a Meal
We found that food, for many, is much more than fuel for the body while traveling. It's an experience, a journey, and often, a favorite memory as well. The experiences shared on trips around the world were clearly impactful, and this immersion into various cultures drove many to try to recreate them at home. Younger generations are embracing culinary tourism as an adventure of its own, from fine cuisine on a Michelin-starred tasting menu to recreating taco truck fare in their own kitchen. 
When you start to make your plans for your next big trip, whether it's to Paris, France, or Paris, Texas, finding your home away from home is as important as seeking out that life-changing dish. At VacationRenter, you can browse our vast selection of accommodations so you can plan out your next culinary adventure at the best prices available. 
Visit VacationRenter to get started on your next vacation!
Mentioned In This Article
Methodology and Limitations
Data used in this analysis came from a survey of 1,000 adults in the United States. Each of the twenty countries included in the report had a sample size of between 102 and 300 respondents who had traveled to that country. All respondents were required to identify and pass an attention-check question. This survey relied on self-report, which can be subject to various effects related to self-reporting, including attribution bias and recency bias.
The ranking of the most-Instagrammed Michelin-starred restaurants is based on the number of Instagram posts that tag restaurants' official pages or location IDs. The list of restaurants consists of all 2- and 3-Michelin-starred restaurants retrieved from the official Michelin Guide website that have a presence on Instagram.
Fair Use Statement
If you've enjoyed reading about foodies and the marvels of international cuisine, please feel free to share this article for noncommercial use; just be sure to link back to the original article so our contributors can receive credit for their work.