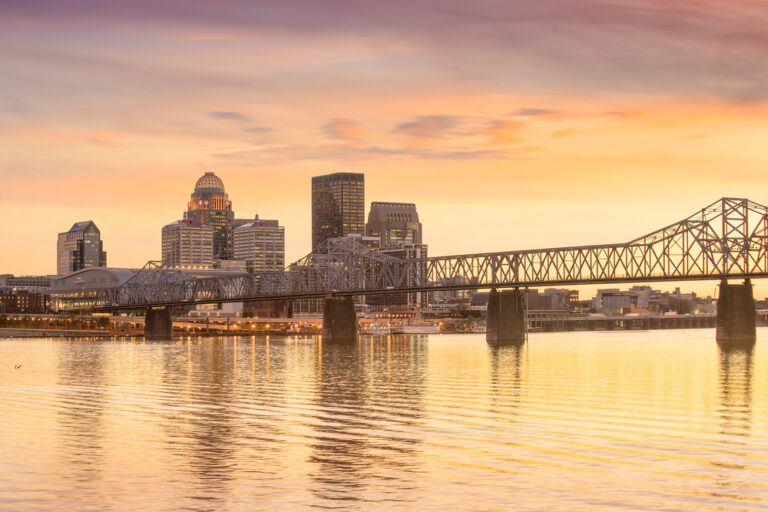 Louisville is situated on the Ohio River along the Indiana border. Kentucky's largest city is home to the Kentucky Derby, a world-renowned horse race. The Kentucky Derby's long history is explored at the Kentucky Derby Museum while baseball is celebrated at the Louisville Slugger Museum and Factory. Louisville has been named on of the top "Up-and-Coming" cities in the US and for good reason. Curious about the other places that made the list? Check out this breakdown of all of our findings for some more ideas on family vacations to take. Read on to learn about other fun things to do while you're in Louisville, Kentucky.
Farmington Historic Home
Farmington Historic Home is a 14-room, Federal-style brick plantation house that has several Jeffersonian architectural features. Take a tour of the circa 1816 home, and you'll learn about life on a 19th-century farm, including the 60 enslaved African Americans that lived in cabins on the property. Abraham Lincoln visited Farmington for three weeks in 1841.
The Frazier History Museum
The Frazier History Museum, located on Museum Row in the Bourbon District of Downtown Louisville presents interactive exhibits. The museum offers artifacts like Teddy Roosevelt's "Big Stick," and Custer's pistols, gallery talks and live, daily interpretations by costumed actors. The museum is the starting point of the Kentucky Bourbon Trail.
E.P. "Tom" Sawyer State Park
When you visit E.P. "Tom" Sawyer State Park, you can swim in the Olympic-sized swimming pool, play a round of tennis or let your pet romp in the dog park. The splash pad is a great place to cool off on a hot day. The rolling fields found in the park, farmland during an earlier era, are a great place to relax or have a picnic.
Whitehall Mansion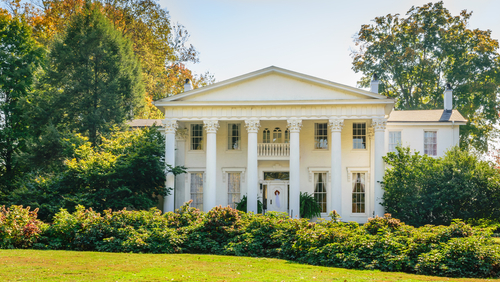 Whitehall Mansion, situated in rolling farmland, was built in the late 1700s. The mansion was designed in Georgian and Italianate styles. You can tour the ornate mansion that contains period pieces, plus the ice house and stone kitchen. Tour reservations are highly recommended, as they fill up fast. Be sure to schedule yours today! The gardens at Whitehall are legendary and a must-see while you're there.
Kentucky Science Center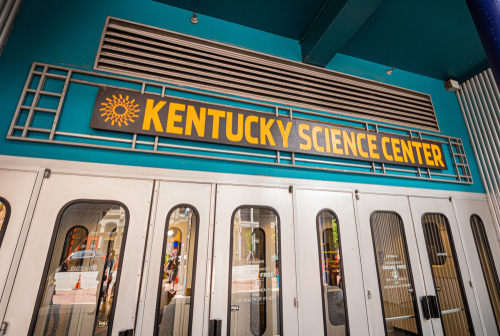 The Kentucky Science Center, located on Museum Row, is Kentucky's largest hands-on science museum. The Science In Play exhibit allows young scientists to experiment, and the Discovery Gallery focuses on natural history. You can also see films that range from documentaries to Hollywood movies in the center's 4-story 3D digital theater.
Beargrass Creek State Nature Preserve
Beargrass Creek State Nature Preserve is an urban forest that has a wildflower garden and pond, plus gardens that attract seasonal butterflies. Hiking trails run through the preserve. The Louisville Nature Center features wildlife exhibits, a Beargrass Creek watershed exhibit, and a one-of-a-kind bird blind.
The Speed Art Museum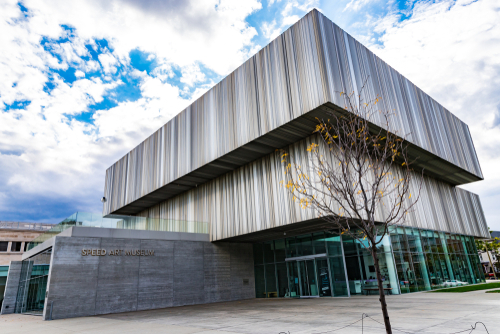 The Speed Art Museum is the largest, oldest, and foremost museum of art in Kentucky. Collections include works of African Art, Native American Art, and Contemporary Art, as well as Photography and Kentucky Collection 1800-1945. The museum's cinema is equipped with state-of-the-art technology.
Thomas Edison House
Thomas Edison House, a shotgun duplex built around 1850, was home for 19-year-old Thomas Edison when he was a telegrapher for Western Union. The museum presents many of Edison's inventions, including incandescent bulbs, motion picture artifacts, and cylinder and disc phonographs. Guided tours are offered. Kids love checking out all the exhibits offered in this historic home.
Kentucky Kingdom
A visit to the Kentucky Kingdom is one of the best things to do with kids in Louisville. Some of the rides at the amusement park are Cyclos, Giant Wheel, FearFALL, and Tin Lizzies. Sea Lion Splash and Avian Adventure are two fun shows. Hurricane Bay water park has slides, a wave pool, and more. Parking is only $10, so plan to drive.
Old Louisville
Old Louisville is known for its tree-lined streets that showcase restored Victorian mansions. There are many types of restaurants in the area like upscale places, farm-to-table eateries, and breweries. Take a walk through the streets as well as Central Park, found in the heart of Old Louisville.
Belle of Louisville
The Belle of Louisville is anchored at its downtown wharf location near the Riverfront Plaza/Belvedere. The steamboat, built in 1914, is heated and air-conditioned. The boat has a sound system, concession stand, and bar, and offers sightseeing and dining cruises.
Louisville Zoo
Habitats at the Louisville Zoo include Glacier Run, Australia, Africa, Islands, South America and the HerpAquarium. Rides and attractions include Splash Park, Conservation Carousel, the African Petting Zoo, adventure ropes courses, and camel rides.
Where to Stay
Louisville offers families a lot of different rental options. Below, we'll take a deeper dive into some of the best options for families. Keep reading to learn more.
Downtown
Location is the main draw of downtown Louisville. You'll be right in the heart of all the attractions and have access to a ton of restaurants and cafes. Enjoy a ton of the museums this historic city has to offer. Spend some time exploring the Louisville Free Public Library. Find the perfect vacation rental right in the heart of all the fun. 
Favorite family spots: Get over to Wild Eggs for an unforgettable breakfast with the family. This place is serving up all the classic breakfast options and offers a kids menu for the 10 and under crowd with favorites like pancakes and french toast. Sicilian Pizza & Pasta is the place to be for a tasty lunch or dinner. We love to recommend the Hawaiian Calzone stuffed with cheese, ham, and pineapple. 
Old Louisville
For one of the most charming parts of town, look no further than Old Louisville. Located practically within downtown Louisville, this neighborhood offers families downtown access with added charm. Look for a lovely Victorian-style home for you and the family in this part of town.
Favorite family spots: For breakfast, we'd suggest enjoying a Homemade Cinnamon Roll or House Made Granola with yogurt at Toast on Market. Looking for the best donuts in town? Check out Hi-Five Donuts. Build your own donut or try one of the classic glazed varieties. There's coffee, too! And who doesn't love a BBQ-slathered pull-pork sandwich?! Get over to Feast BBQ for lunch and dinner, and watch your kids' faces light up when they see the plates hit the table. Or, take a Family Meal back to your rental home!
Butchertown
Traveling on a budget with the family? Look for amazing deals on vacation homes in Butchertown. This iconic neighborhood boasts convenience and low cost. Located just west of the heart of downtown, this area is perfect for families looking to have a ton of fun without breaking the bank. Find great deals on single-family homes in this area.
Favorite family spots: How does a buttermilk fried chicken breast on a homemade biscuit sound? Get over to Biscut Belly for the best breakfast sandwich you've ever tasted! And for the family full of adventurous eaters, check out Naive Kitchen + Bar for some inspired food. They've also got cocktails covered for the adults. The burger here is world-class, and is sure to keep the kids happy.
Family Fun in Louisville Awaits!
Museums and history, tons of great food, and a memorable trip are in store for you and the family when you visit Louisville. Ready to enjoy all of the sites and history to be found in Louisville? Start planning your family getaway with VacationRenter and find the perfect rental home for you and the family!