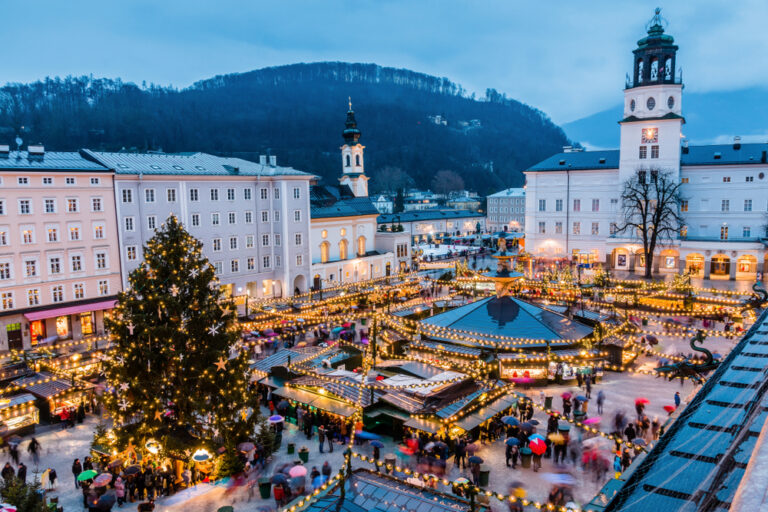 Have you ever dreamt of experiencing the festive season in a real Christmas town similar to the ones in those idyllic Hallmark movies? Whether you're looking to soak in the European Christmas market atmosphere, revel in the distinct winter illuminations found in Asia, or savor the magic of spending Christmas in North America, there's no shortage of options when it comes to postcard-perfect cities.
From Leavenworth in the western United States to Tokyo — and a whole host of gems in between — here are 12 beautiful destinations around the world that come alive during Christmas. Any one of the below can provide an unforgettable holiday experience.
1. Bergen, Norway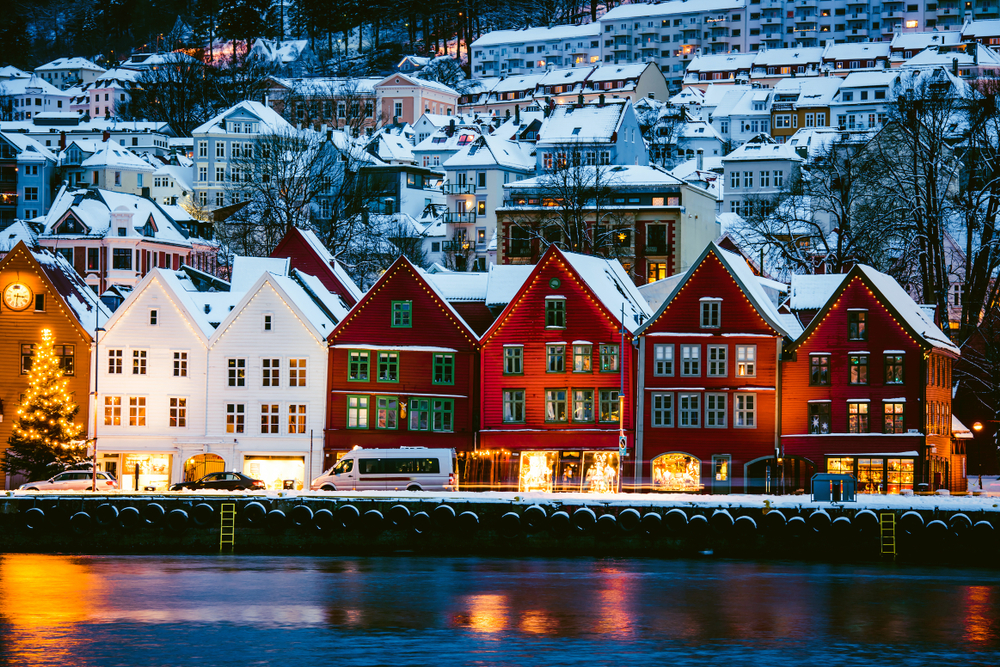 Bergen — also known as the fjord capital — is the second-largest city in Norway. Located on the country's southwestern coast, it is a picturesque destination surrounded by mountains and fjords, including the longest and deepest fjord in the country: Sognefjord. As a major city, you'll be spoilt for choice in terms of things to do here in December, but this is perfectly balanced out by the small city vibes. Bergen radiates charm and urban character, perfect for a Christmas vacation.
Holiday Activities
Visit the Bergen Christmas Market in the heart of the city at Torgallmenningen Square.
Take a piece of Bergen with you when you leave, thanks to an excellent selection of local handmade souvenirs, and be sure to indulge in some hearty Norwegian cuisine at any of the market's many food stalls.
If you prefer restaurant food, there are many vibrant establishments serving up scrumptious modern dishes using local ingredients.
Bergen is also home to Pepperkakebyen, the world's largest gingerbread town. Local residents, schools, companies, and volunteers have been coming together since 1991 to build a little city featuring houses, buildings, trains, and cars (among other structures) that are entirely made from gingerbread cookies. Tourists flock from far and wide between mid-November and New Year's Eve every year to see this awe-inspiring creation in the old Sentralbadet Square in the city center. It's a festive atmosphere like no other!
2. Leavenworth, USA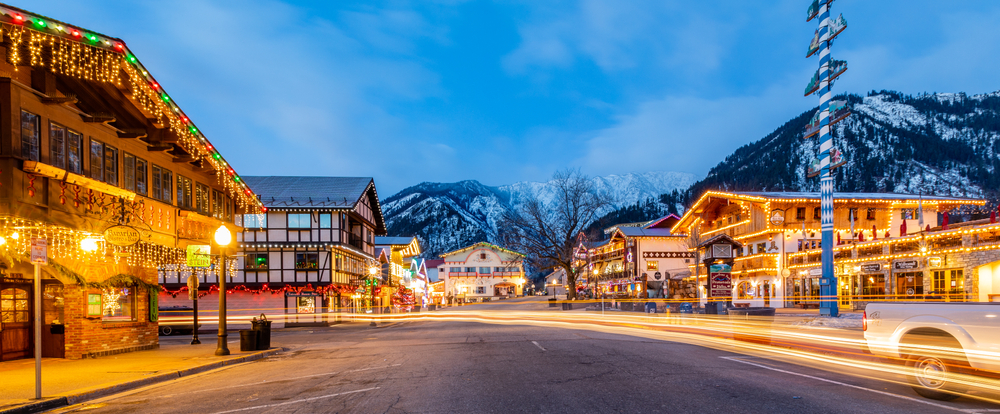 Leavenworth is a lively Christmas destination located in the state of Washington on the west coast of the United States. This dreamy little town redesigned its architecture to align with the Bavarian culture it adopted in the 1960s. With plenty of snow and lots of twinkling lights set against a beautiful backdrop of the Cascade Mountains, this winter wonderland is a dream to visit during the holidays.
Holiday Activities
Get into the Christmas spirit by gliding through Leavenworth's forests on a horse-drawn sleigh ride while cozying up under a blanket and taking in the natural beauty around you.
There are many other exhilarating winter activities you can take part in too, including sledding, tubing, skiing, and snowboarding at either Mission Ridge or Stevens Pass — both less than an hour drive away.
Leavenworth also hosts a range of festivals in December. One of the most popular ones is the Christmas Lighting Festival, which features millions of Christmas lights illuminating the Bavarian village in an unforgettable visual display. You can join in on the Christmas carols, watch the kids slide down the town's park sled hill, and indulge in some chestnuts that are roasted over an open fire — all while counting down to the whole village bursting to life with sparkling lights!
Whether you're looking to spend your Christmas in a hotel, condo, lodge, cabin, or house, this bright little village is sure to deliver a magical festive holiday.
3. Tokyo, Japan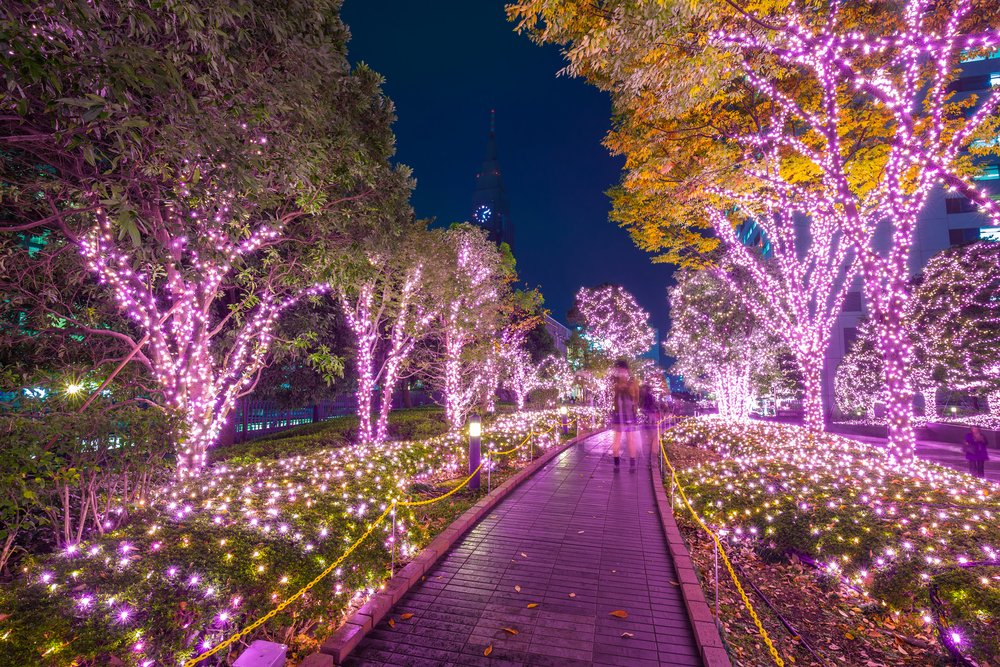 Tokyo is a city that needs little introduction. A perfect blend of traditional and modern, the Japanese capital is a great place to visit year-round, but the city takes it to another level during the holiday season. December 25th isn't a public holiday in Japan, which means everything from monuments, stores, and restaurants remain open for you to experience a Christmas like no other in Tokyo.
Holiday Activities
Take the entire family to Tokyo Disney Resort for the annual Disney Christmas event that runs between early November and Christmas Day.
You'll really feel the Christmas spirit thanks to an array of sparkly decorations, huge Christmas trees, and festive food and drinks, in addition to spectacular day and night parades!
The Maxell Aqua Park Shinagawa is another popular attraction during this time of year with its NAKED Star Aquarium event. Also running from early November to December 25th, the seasonal event is a stunning spectacle that incorporates sea creatures, snowflakes, red Christmas ribbon projections, and cutting-edge digital arts technology. You'll be in awe of the romantic, festive content creations that add vibrant projection mapping technology to the aquarium exhibits for a truly captivating Christmas show.
You can also take the fun to the ice at one of Tokyo's many outdoor ice-skating rinks that come to life over the festive period. All the establishments have rental facilities and offer warm Christmas food and drinks. It's a great place to make lifelong memories in the heart of the city, where you'll be surrounded by neon-lit skyscrapers.
4. Prague, Czech Republic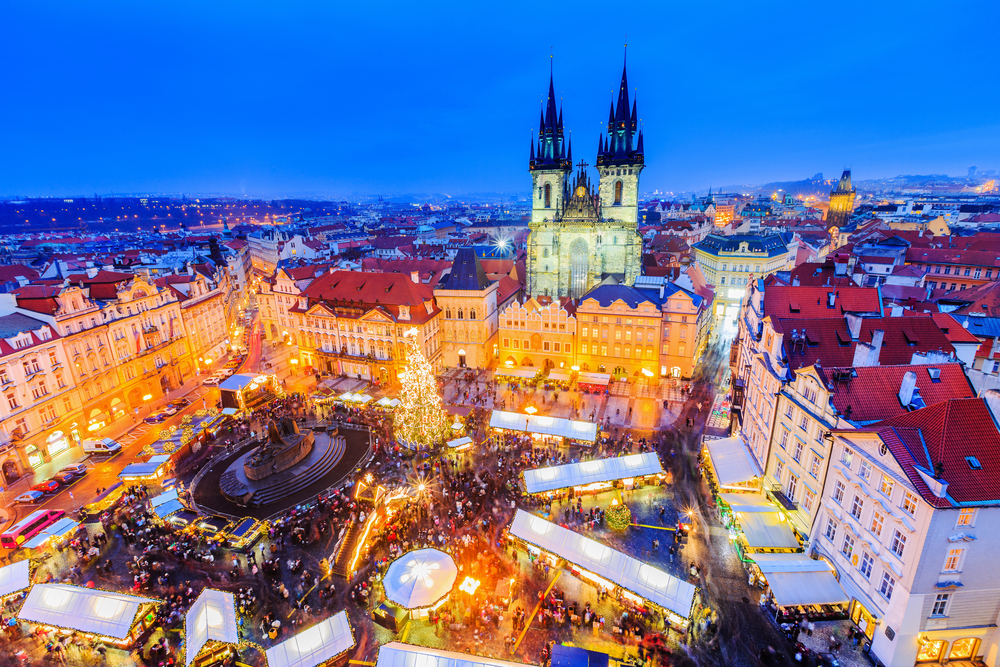 Dreaming of spending Christmas in Europe? It doesn't get much better than Prague in the Czech Republic. This idyllic destination in Central Europe has so much to offer during the festive season, you'll be wishing you had made it there sooner. Just keep in mind when making plans that Christmas Day here — like in most Central European countries — is actually celebrated on December 24th.
Holiday Activities
Soak up the Christmas atmosphere at Wenceslas Square or Old Town Square with the jovial sounds of festive concerts and carol sing-alongs.
When it's time for something a little more lowkey, take a romantic walk under the stars along the Vltava River with the radiant amber glow of the city and Christmas lights in the background.
For picturesque views of the whole city, Castle Hill is a great spot to visit. Head over during the day to fully appreciate an unfiltered panorama of Prague. After you've absorbed the city's topography and captured some postcard-worthy snaps, explore some of the Christmas markets located atop the hill. While you do, be sure to immerse yourself in the local delicacies. Try some svařák — the Czech version of English mulled wine, but with a slightly heavier citrus flavor that balances the sugars. Or you can go with some Bohemian cinnamon punch.
When it comes to food, indulge in a beechwood-smoked klobása sausage from a timber stand, or enjoy treats like trdelník, a spindle-shaped walnut pastry that's specially made for people with a sweet tooth.
5. Quebec City, Canada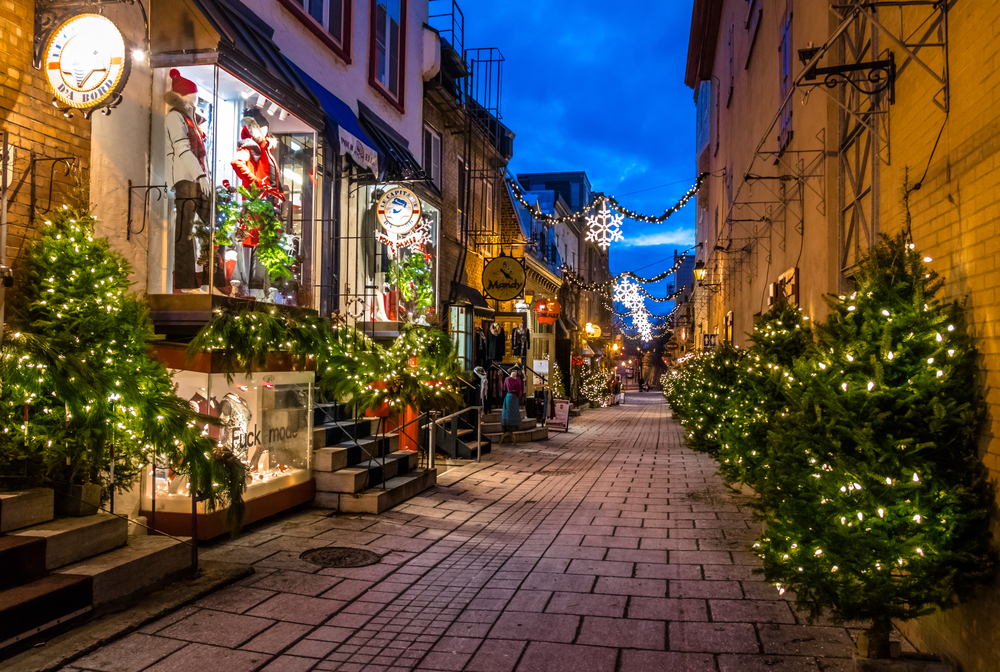 Quebec City is located along the Saint Lawrence River in the mostly French-speaking province of Quebec. The seemingly endless bright lights, festive decorations, and thick blankets of white snow create a picture-perfect atmosphere resembling the charm and allure of your favorite winter movies.
Holiday Activities
Get into the festive spirit by watching a Christmas concert at one of the city's iconic churches.
The Notre Dames des Victoires, located in the lower historic district, and the Anglican Cathedral of the Holy Trinity in the upper section of Old Quebec, host some of the best recitals you'll find this time of year.
Then pay Santa Clause a visit at the historic Château Frontenac, which was built in 1893.
When you're done, take a refreshing walk along the Dufferin Terrace, then whiz down the Toboggan slide at speeds reaching up to 70 kilometers per hour (!).
Among a host of things to try in Quebec City during the holidays is a night at Hotel de Glace — a.k.a. the Ice Hotel. Constructed entirely from ice and snow, the igloo-style seasonal hotel is only open between early January and March. Nothing quite epitomizes Canada more than this fairy-tale-like marvel in the wintertime.
6. Poznań, Poland
Poznań is the second largest commercial hub in Poland after the capital of Warsaw. The city has a rich history dating back to the 9th century, along with beautiful architecture and a vibrant atmosphere that makes it such a special place to visit over the holidays. Located along one of Europe's main east-to-west rail lines — stretching from Paris all the way through to Moscow — Poznań has excellent connections to other dream destinations in the region if you want to experience the different flavors of Europe.
Holiday Activities
Visit Mickiewicz Square to witness the majesty of the famed opera house, the Collegium Maius building, before taking a gripping tour around the iconic Imperial Castle.
Popularly referred to as "Zamek," the castle's origin dates back to 1910, when Poznan was under German rule.
To really get into the festive spirit, Poznań's Christmas Market is sure to get the bells jingling. Countless market stalls line Old Market Square's cobblestone streets. Wander around the wooden stalls where you'll find everything from mementos to handmade toys and apparel. Before you leave, make it a point to try the customary Polish winter delicacies for both food and drinks to complete the Poznań Christmas experience.
7. Cologne, Germany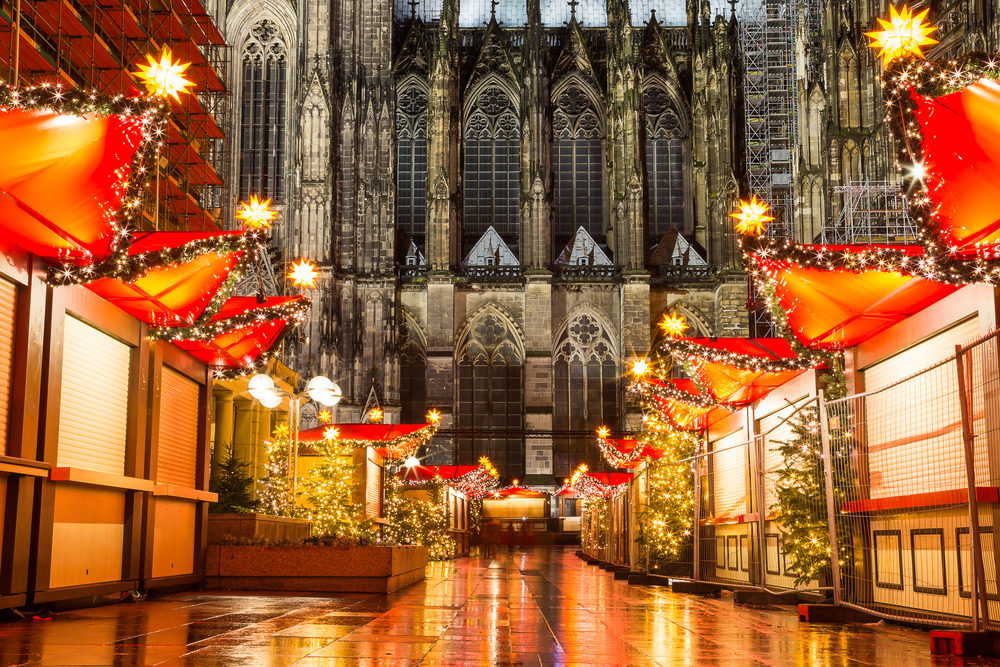 Cologne is a 2,000-year-old city that sits along the Rhine River in western Germany. Spending time here in December is a magical feeling, thanks to the soft snowfall, bright Christmas lights, and overall festive atmosphere.
Holiday Activities
You'll find up to seven different Christmas markets in Cologne, which all boast a unique theme and vibe.
Try some hot glühwein (mulled wine) and a range of tasty local treats on offer. You'll also enjoy the festive background music and heavenly smells that fill air during your time there.
Speaking of good smells — we'd be remiss if we didn't implore you to make a pit stop at the House of 4711. This museum and flagship store has been producing distinguished perfumes and colognes since the 18th century. Take a tour of the establishment to find out about the interesting history of the "House of Fragrance" and get yourself or a loved one a new scent for Christmas before you leave.
Get straight into the action at a real-life Willy Wonka factory: the Schokoladenmuseum, which translates to chocolate museum. It's a dream come true for anyone with an affinity for chocolate. Learn everything there is to know about chocolate's history, including the end-to-end production process. And since it's chilly at this time of year, what better way to warm up than a nice cup of freshly made hot chocolate at the end?
8. Strasbourg, France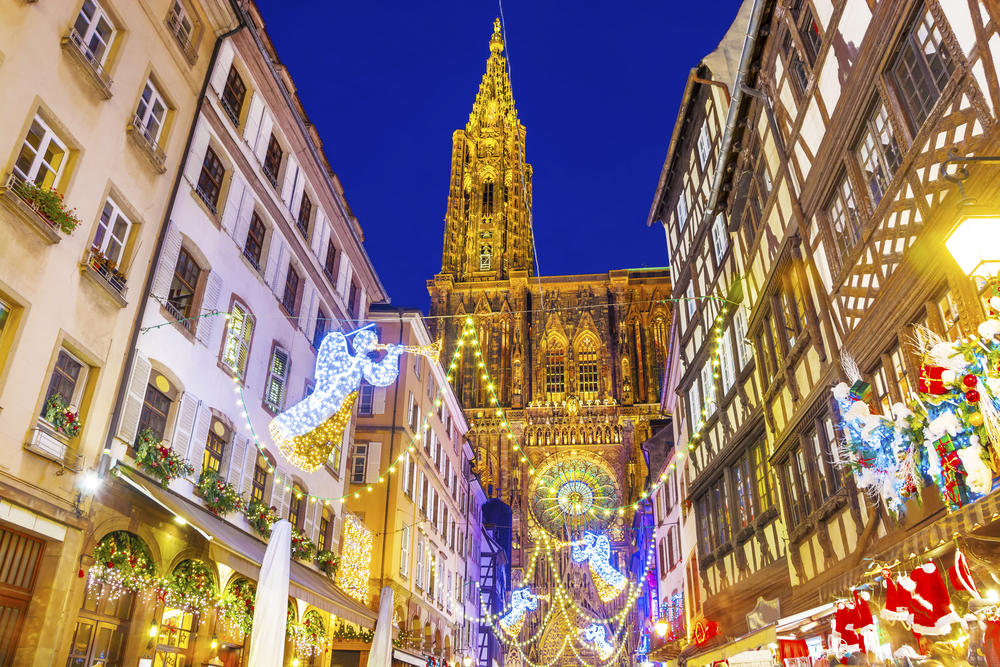 Located in northeastern France, Strasbourg is the Grand Est region's capital city. Sitting right on the border of France and Germany, the city's unique French and German influences are unmistakable. Strasbourg has built a reputation as the literal "Capital of Christmas," thanks, in part, to the glowing 30-meter Christmas tree — the tallest in Europe — displayed at Place Kléber every year. Snap some memorable pictures next to this humdinger and then proceed to the nearby ice-skating rink for a delightful romp on the ice.
Holiday Activities
During your visit, make sure you climb to the top of Strasbourg's cathedral to get a first-hand experience of the most spectacular city views.
On the roof of Notre-Dame de Strasbourg you'll bear witness to an unbroken panorama of the entire city. It's an even more beautiful sight during December with the festive decorations and Christmas markets on full display below.
Petite France is another quaint and colorful gem you need to explore during your stay. With waterways running throughout the area, Petit France has a very tranquil and serene ambiance about it. Meanwhile, if politics has any appeal to you, you can visit the European Parliament, which is also based in Strasbourg. Just check whether it will be open before your visit to ensure you can gain entry to the parliament buildings and take a tour of the establishment.
9. Vienna, Austria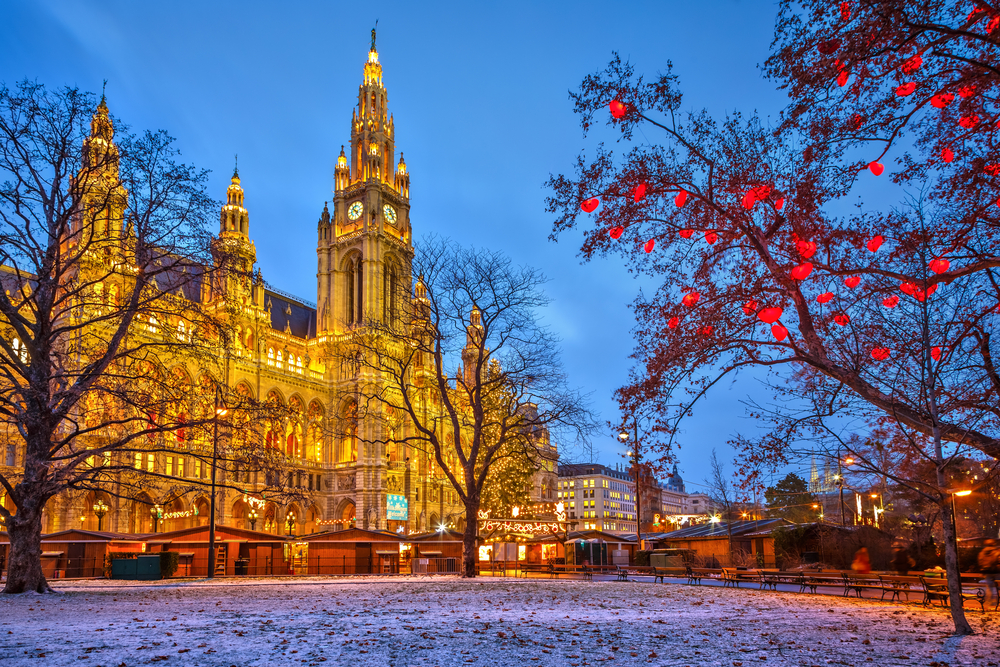 The Austrian capital of Vienna has a rich cultural history dating back to Roman settlements in the 11th century. Legends like Mozart, Beethoven, and Sigmund Freud have all at one time called Vienna home during their flourishing careers, which speaks to the city's natural appeal. In December, however, Vienna transforms into a Christmas wonderland that has an even greater pull for visitors.
Holiday Activities
Go on a nighttime tour around Ringstrasse, a circular boulevard that encircles Vienna's city center. You can either walk, take a tram, or use the "hop on, hop off" sightseeing buses on your exploration of the ring-shaped road.
If you go, you'll come across everything from parks, theatres, museums, opera houses, churches, skyscrapers, luxury stores, five-star hotels, and so much more.
Vienna is known for its sausages, which are widely available at sausage stands year-round. The city takes this to another level during the winter holidays. Stop by one of the stalls and treat yourself to a mouthwatering delight in between your tourist activities. If you enjoy a drink, try some weihnachtspunsch — a local Christmas punch. It comes in a variety of flavors, including non-alcoholic options, and is an excellent way to keep warm on a chilly December night.
10. Brussels, Belgium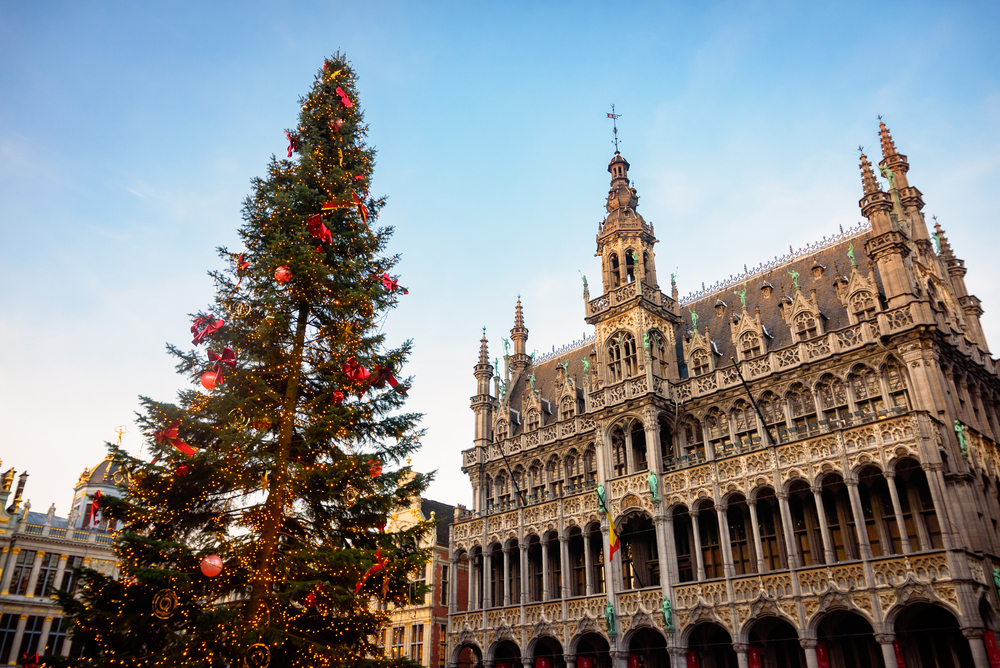 Often dubbed the European Union's capital city due to its standing as the EU's administrative center, Brussels is also a dream destination for the Christmas holidays. There's so much you can get up to in Belgium's capital when you visit in the winter, the fun will never end.
Holiday Activities
If you're making the trip at the end of November, don't miss the Winter Wonders inauguration parade, kicking off the festive season with an opening night spectacle to behold.
Located at the Grand-Place in Brussels' city center, the Winter Wonders extravaganza lasts until early January. It includes a Christmas market with over 200 chalets, an ice skating rink, fairground attractions like a Ferris wheel and merry-go-rounds, as well as sound and light shows, among many other attractions.
Should you find yourself in the middle of a cold and wet day in Brussels, head over to the Royal Gallery Of Saint-Hubert for some indoor leisure. Explore the designer stores, boutiques, cafes, restaurants, and entertainment venues located within the 19th-century shopping arcade. You'll also be in awe of this architectural masterpiece, with its high glass ceiling spanning the entire length of the building.
Other must-dos in Brussels include a visit to the Atomium, the Royal Museum of Arts, and the Royal Palace of Brussels.
11. Basel, Switzerland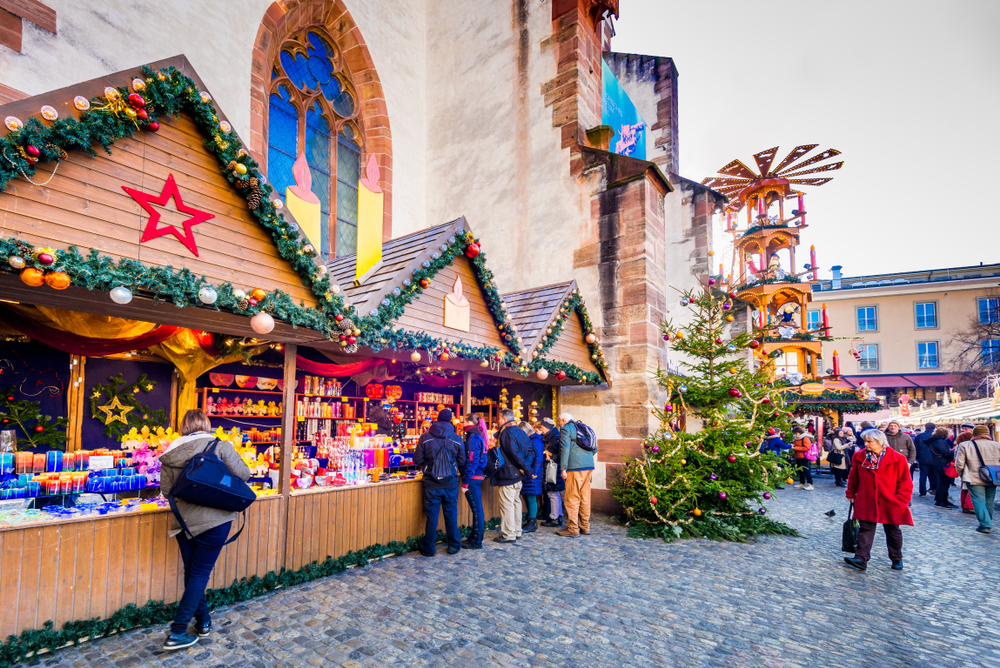 Looking to spend an unforgettable city break somewhere in Europe for Christmas? Basel will undoubtedly deliver. Tucked away in the northwest corner of Switzerland close to the borders of France and Germany, this medieval town along the Rhine River is a captivating destination that elevates to new heights during the festive period.
Holiday Activities
Basel goes all-out every year over Christmas. The streets are lit up with festive lights, hundreds of Christmas trees, and colorful decorations.
If you love shopping, the famous Freie Strasse is a must, with all the upscale designer and fashion boutiques you could hope for located on one main strip. Shopaholics and families are equally guaranteed a magical experience here in December.
That being said, nothing speaks to Basel's core identity more than the city's rich arts and cultural scene. You'll find over 40 museums to explore, including a natural history museum and one of world's largest collections of stuffed teddy bears in the world. Some of the best theaters in the country are located in Basel too. You can enjoy opera, ballet, dramas, and vibrant stage production at the Musical Theater Basel and Theater Basel.
12. Dublin, Ireland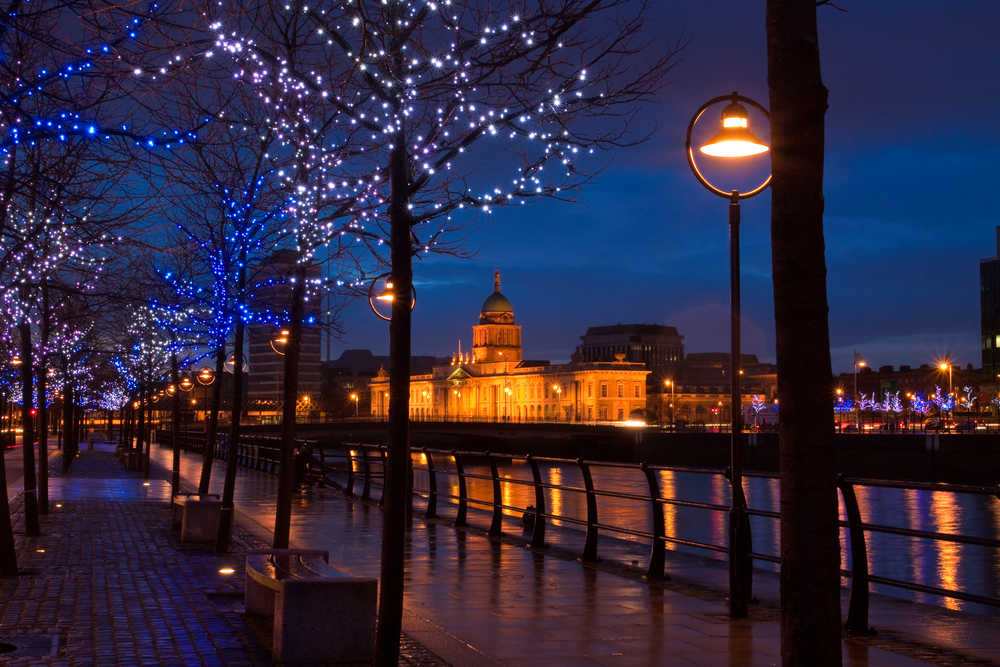 Dublin is one of the best places you can visit around Christmas time. As the capital of the Republic of Ireland, Dublin has so much to offer — you'll be surprised at the amount of things you can do in a fairly small city.
Holiday Activities
Since nothing says "Irish" more than Guinness, make sure you get yourself to the Guinness Storehouse at some point during your Christmas visit.
You'll get a memorable interactive tour around the Guinness brewery, which has a history museum feel to it. Then, top it all off with a fresh pint of Guinness at the end for good measure!
St Patrick's Cathedral is another popular attraction you need to see when visiting Dublin during the festive period. Even for the non-religious tourist, this marvel's construction, aesthetic, atmosphere, and history surrounding it is something you'll fully appreciate when you experience it in the flesh.
One unmissable event to attend before you leave is the annual three-day Dublin Procession of Light — or "Parade of Lights" —celebration to welcome the new year. The city's largest monuments are illuminated with 3D projections and animations of all kinds. It's a beautiful spectacle and it's completely free to watch too! Casually stroll around the city streets to experience the magic of a wintery night while ringing in the new year.
Enjoy Christmas across the Globe
All these cities have a unique festive appeal that will make you appreciate the way people all over the world commemorate this time of year. Immerse yourself in the local celebrations, which are sure to provide a winter wonderland experience you'll never forget! Plan your Christmas getaway with VacationRenter today.