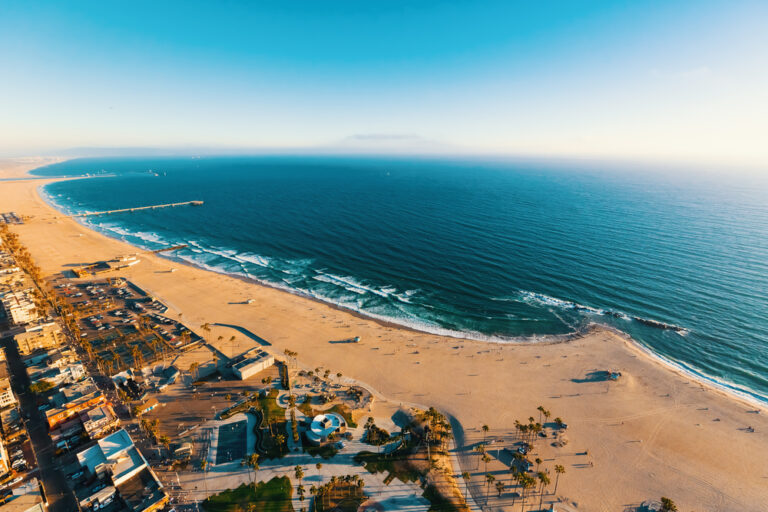 Venice Beach, adjacent to the resplendent Santa Monica, was developed as a beach resort in the early 20th century. Originally, Venice Beach was designed in a way that paid homage to its Italian namesake. In fact, its designer went so far as to add canals, piazzas, pedestrian bridges, a lagoon, and a colonnaded business district. Since then, this iconic location has developed a reputation all its own: equal parts bohemian and upscale, trendy and laid-back. And all of this happening under a warm, inviting, Californian sun.
If you are planning to visit this eminently walkable and bikeable beach, consider these five tips to ensure a seamless vacation to the bohemian epicenter of Southern California.
1. Book Something Close
We put this tip at the top because this one is especially important. If you aren't from LA or Southern California, you might be surprised by the traffic. Angelenos know all too well that getting to and fro in this city is nigh impossible. As a result, getting where you need to go can sometimes (or many times) be frustrating. If you want to get the most out of your beach vacation, staying close to Venice Beach will help you avoid those heavily congested freeways.
In fact, if you're only interested in going to the beach, you can fly into Los Angeles International Airport (LAX) — only six miles away from the heart of Venice Beach — and avoid most of the freeways altogether.
Best Places to Rent in Venice Beach
Being one-third the size of Santa Monica means the attractions in Venice Beach are much more concentrated. The beach itself runs for three miles, and plenty of upscale beach apartments can be found along this stretch heading towards the famous Santa Monica Pier.
There's also Marina Peninsula to the south, an affluent sub-neighborhood in Venice Beach separated from Marina Del Rey by the last remaining canal network. And even though it's not Venice Beach, you'll find some really nice accommodations near and around the boat basins in Marina Del Rey. From the Marina's north side, it's only a half-mile walk to Venice Beach.
Streets to Avoid in Venice Beach
As the second-most visited destination in Southern California, it's estimated that approximately 30,000 people visit the Venice Beach Boardwalk on a daily basis. The eclectic mix of people and unpredictable boho spirit that pervades the boardwalk is also its most detracting element. If you have street smarts and you're used to a city environment, the boardwalk — also known as Ocean Front Walk — and some parts of Venice are manageable. But it can also be overwhelming or anxiety-inducing if you stroll some parts late at night.
2. Make a Loose Itinerary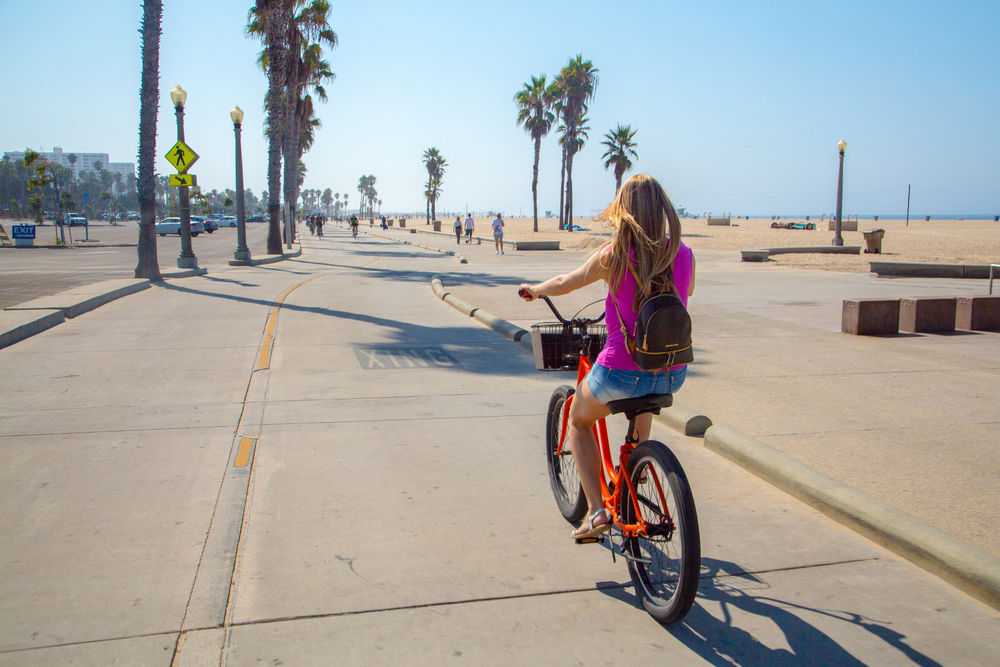 Similar to the one in Italy, getting lost in Venice is pretty fun! We don't mean really getting lost, but putting on your spontaneous hat will definitely help make your vacation more exciting. We recommend putting a day aside to wander around, taste some local food, check out the boardwalk shops, and see where that salty sea breeze takes you.
3. Pack Strategically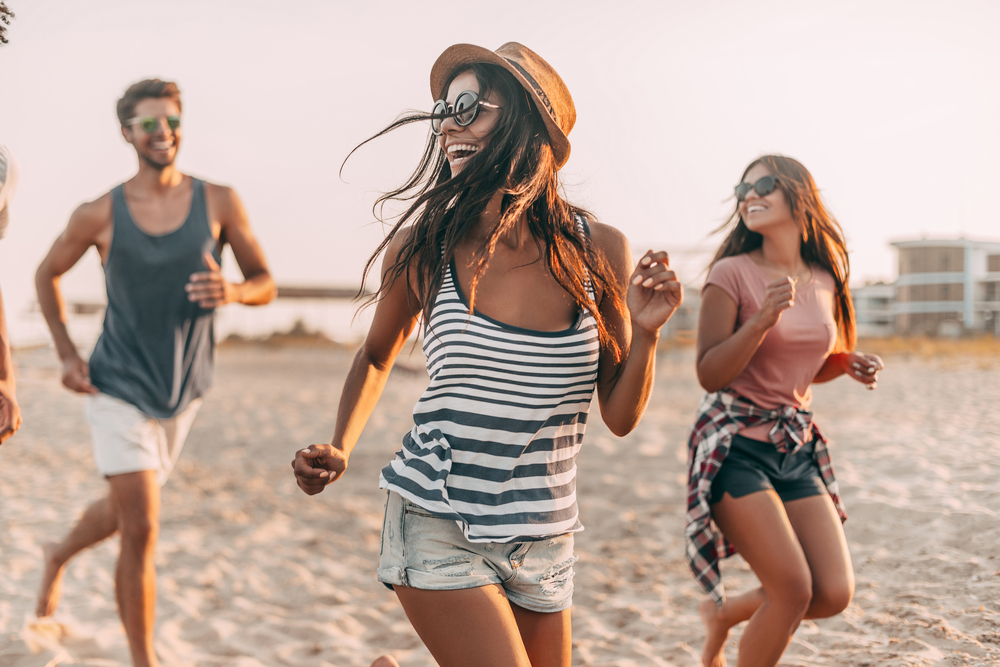 The weather in Venice Beach can change quickly, so you might want to wear layers for the breeze and pack an umbrella or poncho in case of rain. With that said, here's a list of the things you should bring if you plan on hitting the beach, then walking or biking afterward.
What to Pack
Comfortable walking shoes
Sandals
Backpack
Beach towels
Sunscreen
Sunglasses
Don't stress if you forget anything, as Venice is well equipped for anything you may have forgotten. Make sure to leave a little room in your luggage to bring some souvenirs back. There are plenty of local gift shops and craftsmen that will entice shoppers. Whether you're looking for shirts, magnets, keychains, hats, or you simply forgot to bring a pair of sunglasses — they've got it all and more.
4. Explore the Boardwalk & Beach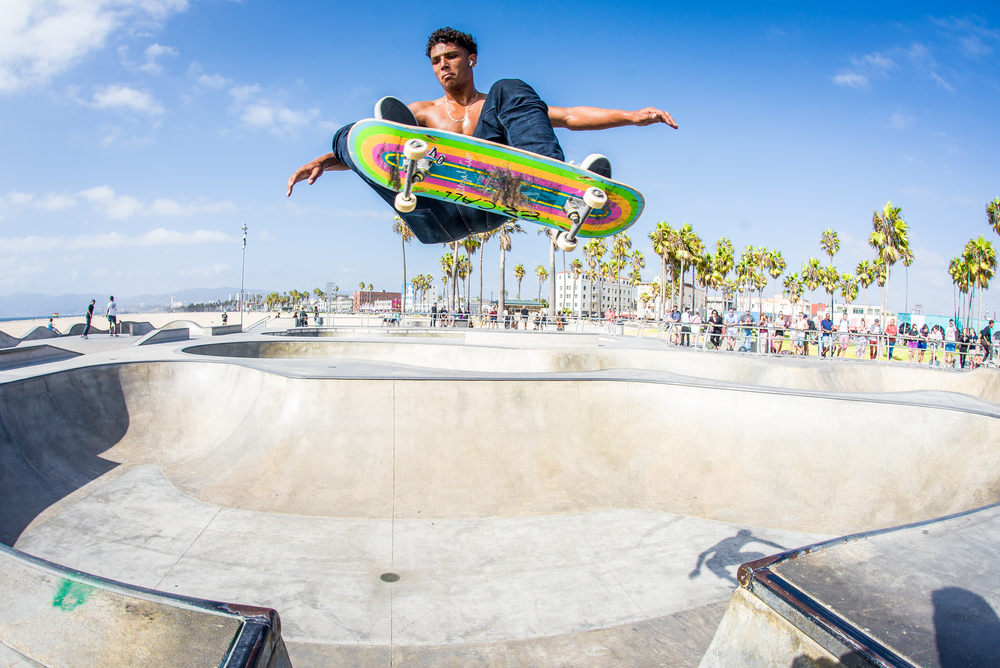 For a true Californian experience, rent a bike and cruise up to Santa Monica on the bike path, surrounded by palm trees, sea, and sand. You can also slow it down, and take more things in, by strolling down the mile-and-a-half-long Venice Beach Boardwalk. This boardwalk is an ideal way to experience the culture and personality of Venice Beach. Here, all manner of street vendors, performers, and artists provide entertainment in exchange for tips.
Top Activities and Things to Do in Venice Beach
Make sure to check out the Venice Skate Park for a chance to see some very talented skateboarders and rollerbladers.
Rent a surfboard and hire an instructor to give you a lesson for a real taste of Southern California culture.
You can't travel all the way to Venice Beach and miss the famous Muscle Beach, where Arnold Schwarzenegger himself pumped iron back in the day.
Depending on what time of day you go, you might be able to see the Venice Beach Drum Circle that performs regularly for locals and tourists alike on the beach.
And since you'll be so close, you should absolutely check out all the fun to be had on the Santa Monica Pier!
5. Enjoy the Delicious Food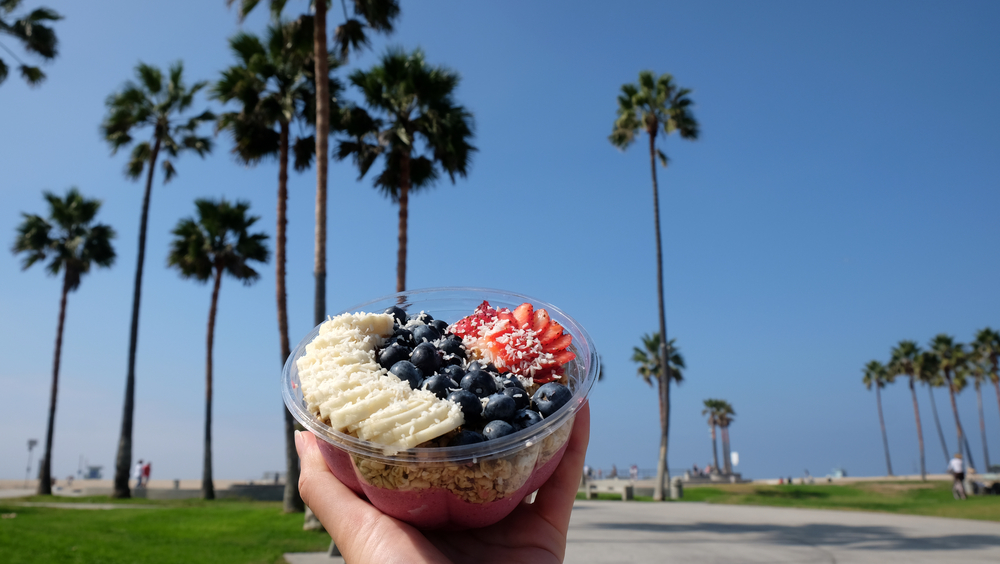 Venice Beach offers plenty of dining options, from fine dining to casual eateries — many of which can be found along the main drags of Abbot Kinney Boulevard and Main Street. The Third Street Promenade in downtown Santa Monica is another place to find all kinds of retail stores and restaurants. We recommend Barrique for a nice evening of delicious Italian cuisine, complete with a wine bar.
For a rooftop terrace to watch the sunset, Gjusta is a quick walk from the beach and serves fantastic fare. During the daytime, grab an acai bowl from any cafe and explore on foot. We promise you won't be disappointed with the Venice food scene.
Start Planning Your Trip to Venice Beach
If the bohemian spirit of this buzzing beach town is what you're seeking, then it's time to start planning! Let us do the work by compiling all the best travel sites into one easily searchable engine that will have you book a trip to paradise in no time. We hope you hang loose — literally!