California is truly a beautiful state — from rolling hills, beach towns, to vast desert terrains. But when most people think of weekend getaways in Southern California, big cities like Los Angeles and San Diego tend to be the first places to come to mind.
Best Southern California Weekend Getaways
If you've already checked Big Bear Lake or Laguna Beach off your list of Californian cities to explore — don't fret because there's much more to see!
Idyllwild: A Gorgeous Mountain City
Located about two hours southeast of Los Angeles, Idyllwild is a small, peaceful mountain town where you can truly spend a weekend away from the hustle and bustle of life. Known by locals as the "home of adventure, music, art, and harmony," the town sits in the heart of the beautiful San Jacinto Mountains. The area, packed with charm and adventure, offers fresh air, little traffic — making it an ideal getaway for anyone living in a SoCal metropolis.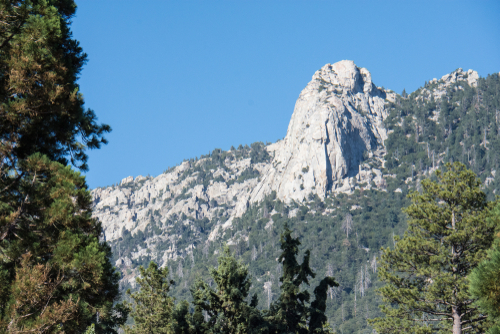 Things to Do in Idyllwild
Outdoor adventures are plentiful, including mountain biking, rock climbing, and hikes for all ability and interest levels. Enjoy a meal at a quaint cafe, or check out the eclectic mix of shops and boutiques. Popular destinations within Idyllwild include:
Mount Jacinto State Park
Lake Fulmor
Idyllwild Regional Park
The Idyllwild Nature Center
Plan a trip with VacationRenter get your nature fix in Idyllwild.
Santa Barbara: Cool Coastal Town
Known as the "American Riviera" along the central coast, Santa Barbara is about two hours northwest of Los Angeles, right along the Pacific Ocean. Whether you're the laid-back surfer type, you love to shop until you drop, your ideal weekend getaway is all about Wine Country, or you're a foodie at heart, you'll find it all here in this beautiful city where Old World California architecture meets the blue waters of the sea.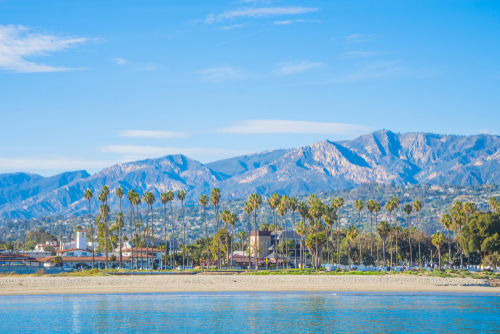 Things to Do in Santa Barbara
In Santa Barbara, you'll find plenty of fine dining along with vineyards and wineries for tastings. Surf, swim, sunbathe at the beach, spend a day at the spa, or take a boat out for whale watching. No matter what you enjoy doing on vacation, Santa Barbara offers plenty to see. Aside from hitting the beaches, check out some of these local hotspots on your next visit:
Santa Barbara Museum of Art
Lotusland
Hike Tangerine Falls or Inspiration Point
Santa Barbara Botanic Garden
Enjoy a relaxing and glamorous stay in a seaside Santa Barbara vacation rental.
Ojai: A Peaceful and Pastoral Place
Ojai, which has been called a "nouveau hippie utopia," is a small town that sits between Los Angeles and Santa Barbara, just south of the Los Padres National Forest. Here you'll find everything from farmland and ranches to art galleries and yoga studios, but you can always count on a peaceful way of life and plenty of friendly locals to welcome you into town.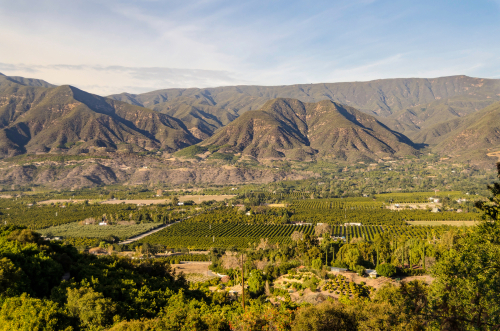 Things to Do in Ojai
There's always an event to attend, like the Ojai Valley Lavender Festival or Art in the Park, as well as shops, farm-to-table restaurants and local art to peruse. For the adventurer, try hiking or horseback riding across the most scenic places in Ojai, or go fishing or kayaking at Lake Casitas. Here are some local attractions to explore:
Ojai Olive Oil Farm
Cara Barranca Tasting Room
Ecotopia Hot Springs
Los Padres National Forest
Ojai Valley Bike Trail
Treat yourself to some much-needed R&R in an Ojai vacation rental.
Santa Catalina Island: A Gem in the Ocean
Santa Catalina should be on everyone's bucket list of things to do in Southern California. Located about 22 miles off the coast of Los Angeles, you can get there by taking a ferry from Long Beach. Once you arrive, you'll find a blend of beautiful scenery and towns that feel more like cities on the French Riviera than the California coast.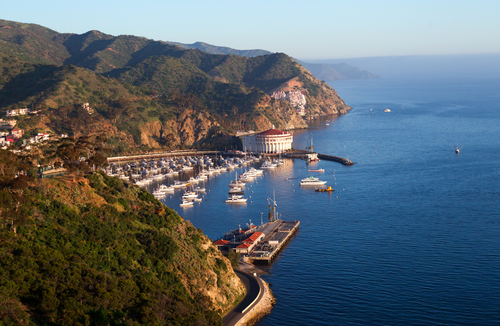 Things to Do in Santa Catalina Island
Choose from dozens of land and boat tours. Shop the boutiques, play golf, go camping, and explore Santa Catalina on your own. One unique way to explore the area is to rent a golf cart! Some other notable things to do include:
Zip Line Eco Tour
Catalina Island Museum
Wrigley Memorial & Botanical Gardens
Flying Fish Tours
Ready for some fun under the sun? Find Santa Catalina lodging options on VacationRenter today.
Palm Springs: An Old-School Desert City
Whether you're looking for a romantic getaway or a family vacation, you'll find it in the luxurious desert town of Palm Springs. About an hour and 45 minutes west of Los Angeles, warm weather throughout the year, a touch of old Hollywood and adventure await.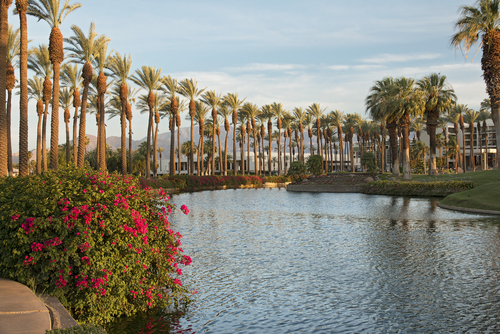 Things to Do in Palm Springs
Soak up the culture, history, and scenery with trips to places like The Living Desert Zoo and Gardens, the Palm Springs Air Museum, or Tahquitz Canyon. Outdoor explorers can drive less than an hour away to explore Joshua Tree National Park. Play a round of golf or tennis, visit an art gallery, or visit one of the world's top spas, including:
The Well Spa at Miramonte Resort
Two Bunch Palms Resort and Spa
L'Horizon Resort and Spa
We Care Spa
Browse Palm Springs vacation rentals on our site to enjoy a weekend of pampering!