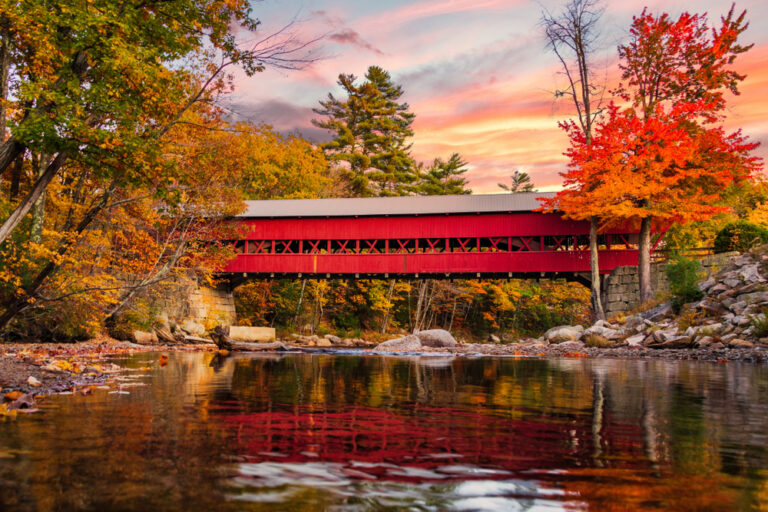 If the weather is getting crisp and the days are getting shorter, it's safe to say that summer is on its way out in the United States' New England region. Luckily, this area trades beach days, bathing suits, and endless fun-in-the-sun for apple picking, pumpkin spice lattes, and fall foliage. In fact, autumn's sights and activities — punctuated by zero humidity or annoying bugs — will have families and friends barely even missing those hotter months.
Since the invention of the automobile in the early 20th century, "leaf peepers" have been making the trek to see the leaves change in New England, which has been consistently rated as some of the best fall foliage in the country. As a result, grabbing some friends, piling into a car, and taking in all the glorious sights along the way is basically a rite of passage even if you're not a New England local.
With that in mind, we've put together this comprehensive guide to help you experience the best fall foliage in New England, from scenic drives to hikes and fun things to do. We're starting from Maine and working our way south to Connecticut's Litchfield Hills — since the northern states change first, starting usually around mid-September. This way, you won't miss peak foliage anywhere you go on your fall road trip. no
Remember: when it comes to leaf peeping, timing is everything!
1. Bar Harbor, Maine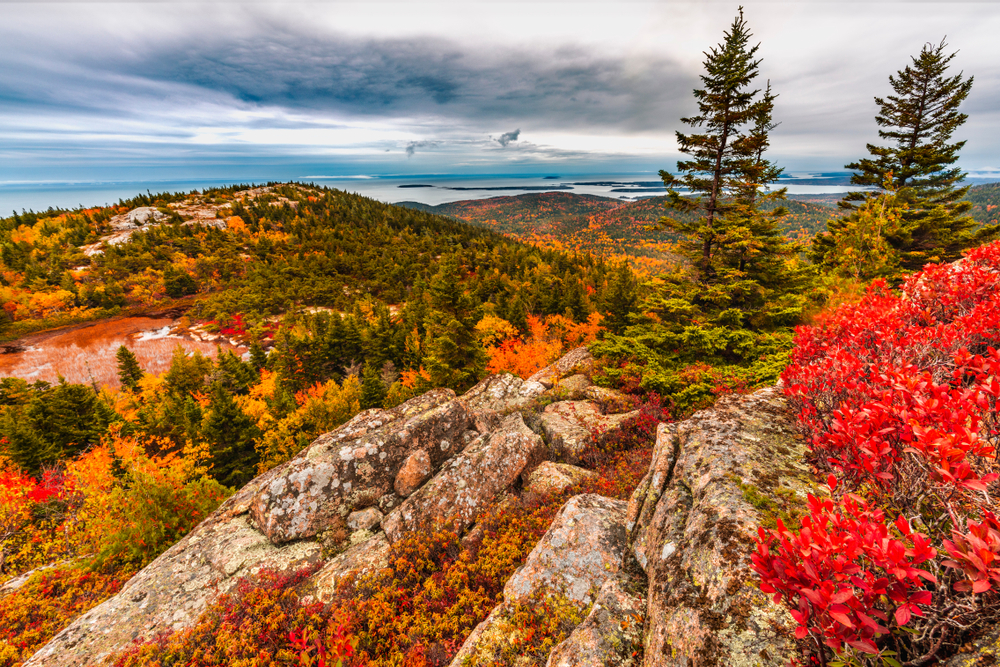 Easily the most remote destination on this list, Bar Harbor, located on the northeastern side of Mount Desert Island, is a rewarding, off-the-beaten-path coastal town. Bar Harbor was originally incorporated as the Town of Eden — a coincidence since it was named after a statesman — but its original name fits all the same. For over a century, the town has served as the unofficial gateway to the untold mountains, cliffs, forests, and shores of Acadia National Park. As to be expected from a national park, Acadia offers plenty of hiking trails, biking paths, and scenic views — especially in the fall.
Since you'll be at the northernmost point on this list, you can expect a lot of evergreen spruce trees (which don't change color) but also plenty of birch, oak, and red maple trees, which very much do! Fun fact: trees with leaves that change color during the autumn season are deciduous; while evergreen trees, notable for their green needles, are coniferous. Consider red maple trees to be the vermillion rock stars of the deciduous world!
Pro Traveler Tip: While you're in town, don't forget to grab a lobster roll, which will still be in season whether you go in September or late November.
Best Ways to See the Foliage in Bar Harbor
Hit the water. Dress accordingly and take to the water, which is one of the best ways to see the tree line. Head out in a kayak or stand-up paddleboard into Frenchman Bay, where you can paddle along Mount Desert Island's coastline with friends or family.
Hike the Beehive Loop. Don't let its innocuous-sounding name fool you — the Beehive Loop Trail, only a 10-minute drive south of Bar Harbor, is certainly not for beginners. While only 1.5-miles in length, it features sections with steep granite staircases and exposed iron-rung ladders. After conquering your fear of heights and ascending to the top, you'll be greeted with expansive views of the foliage and the sea, which is a great place to take some photos.
Peddle the carriage roads. For the bikers out there, pedaling along the carriage roads that weave through Acadia National Park is a must-do experience. The designated 45 miles of carriage roads are car-free and full of woodland views. If you don't have a bike, no sweat; you can rent one on the island.
2. North Conway, New Hampshire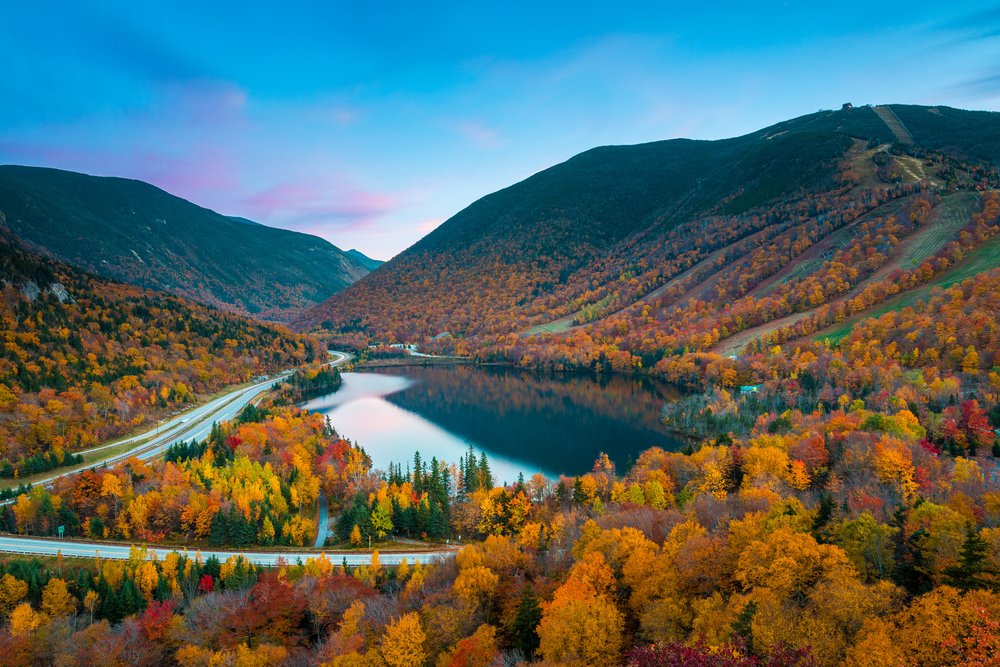 Nestled in the heart of the White Mountains, North Conway is continually voted as one of the best small towns in America. That might be because this quaint mountain town has something for everyone. From parks and restaurants to ski resorts, golf courses, outlet stores, and so much more, a trip to North Conway is budget-friendly and will keep you entertained no matter the season.
However, the natural beauty is upped considerably in the fall, generally around the end of September into early October. The breakdown of trees you'll find in the White Mountain National Forest includes red spruce, eastern hemlock, beech, and red maple. Any drive through the White Mountains is worth experiencing, but Kancamagus Highway takes the cake, in our opinion. This scenic roadway might just be one of the prettiest drives in New England.
Best Ways to See the Foliage in North Conway
Drive the Kancamagus Highway. Pronounced "Kank-ah-mah-gus" a.k.a "the Kanc" to the locals — runs laterally 35 miles between the towns of Conway and Lincoln. Designated as an American Scenic Byway, the Kanc cuts through the White Mountains and offers breathtaking views of the Swift River, Sabbaday Falls, Lower Falls, Rocky Gorge, and of course, miles upon miles of foliage. The best part? Its pristine natural beauty is untouched by humans — there are no gas stations, restaurants, hotels, or other businesses on this unblemished stretch of road. But you're also never far from the creature comforts of modern-day life, either.
Hike the White Mountains. Want to connect with nature? Walking through the foliage is a dream on a hike. The good news is that there are plenty of hiking trails in the White Mountains. An easy, picturesque walk can be found in Echo Lake State Park; while a hike to Cathedral Ledge is moderately difficult, but rewards visitors with beautiful views of the surrounding area. Experienced hikers will want to check out Moat Mountain and Mt. Washington, which is the highest peak in the northeastern United States.
Hop on the Conway Scenic Railroad. Looking for something completely out of the ordinary? The Conway Scenic Railroad offers multiple excursions and different types of trains for whatever you're interested in seeing most. Our advice? Take the Mountaineer, a 1950s-era streamlined passenger train, for a once-in-a-lifetime, over five-hour journey through the Mount Washington Valley and over the rugged Crawford Notch. Just don't forget to bring your binoculars for optimal leaf peeping!
3. Carroll, New Hampshire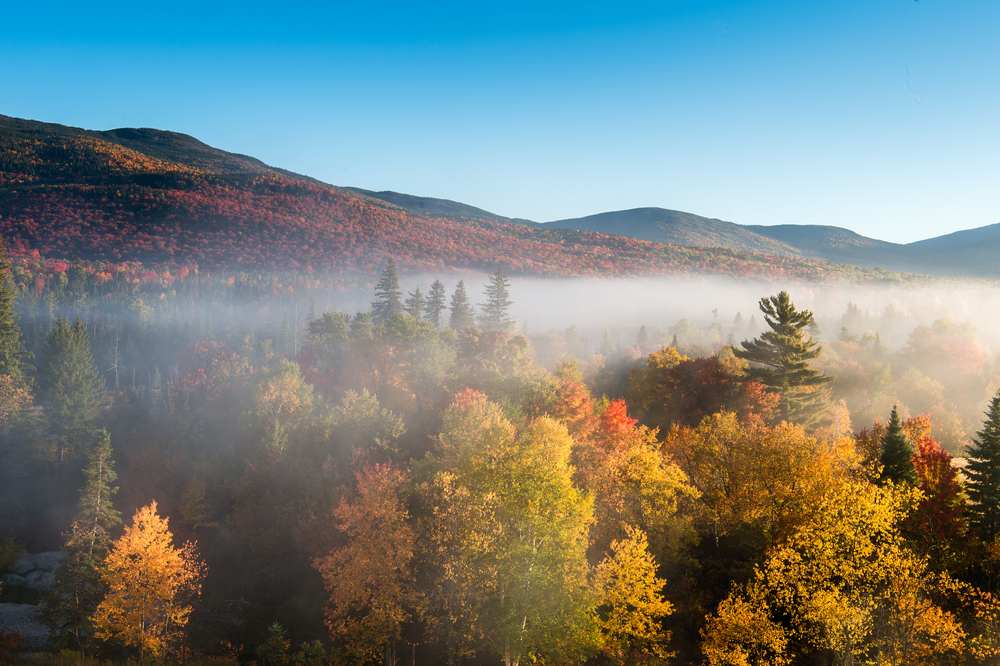 On the other side of the White Mountains is Carroll, New Hampshire, which is famous for its Bretton Woods area. This lavish mountainside retreat is home to the Bretton Woods Ski Resort, New Hampshire's largest ski area, and plenty of luxurious condos, townhomes, and cottages that can fit any budget. It's also the location of the historic Omni Mount Washington Resort — one of the last grand New England four-diamond getaways that has housed presidents, poets, and celebrities under its distinctive red roof.
While nearby Mt. Washington doesn't have any trees along its uppermost ridge, there are abundant trees in the valleys below. Trees of the deciduous variety include sugar maple, red maple, red oak, birch, and white pine, so whether you're playing a round of golf or exploring the area, prepared to be wowed by the incredible views in the fall.
Best Ways to See the Foliage in Carroll
Ride the Mount Washington Cog Railway. Take a ride up the literal side of a mountain on the Mount Washington Cog Railway, which has been making its dramatic three-hour round trip to the summit of the highest peak at 6,288 feet in the Northeast for over 150 years. In fact, P.T. Barnum himself called it, "the second greatest show on Earth" from the summit, all the way back in 1869. The Cog is the first mountain-climbing cog railway in the world. Clear weather provides spectacular panoramic views from Canada to the Atlantic Ocean.
Play a round at the Mount Washington Resort. Home to an award-winning golf course, Mount Washington Resort's 18 holes are strewn amongst the western flanks of the White Mountains. Over 7,000 yards of rolling green hills are the perfect place to tee off and soak in the foliage and the dramatic snowy mountaintops that give this chain its name.
Climb to the summit of Cannon Mountain. While not as tall as Mt. Washington, Cannon Mountain's 4,080-foot summit is accessible via the Cannon Mountain Aerial Tramway, a cable car that flies you up to the mountaintop in under 10 minutes. Once there, you'll see stunning views of the surrounding area, and the foliage of four states! Cross this one off your list and then plan your next bucket-list-worthy adventure with this helpful guide.
4. Stowe, Vermont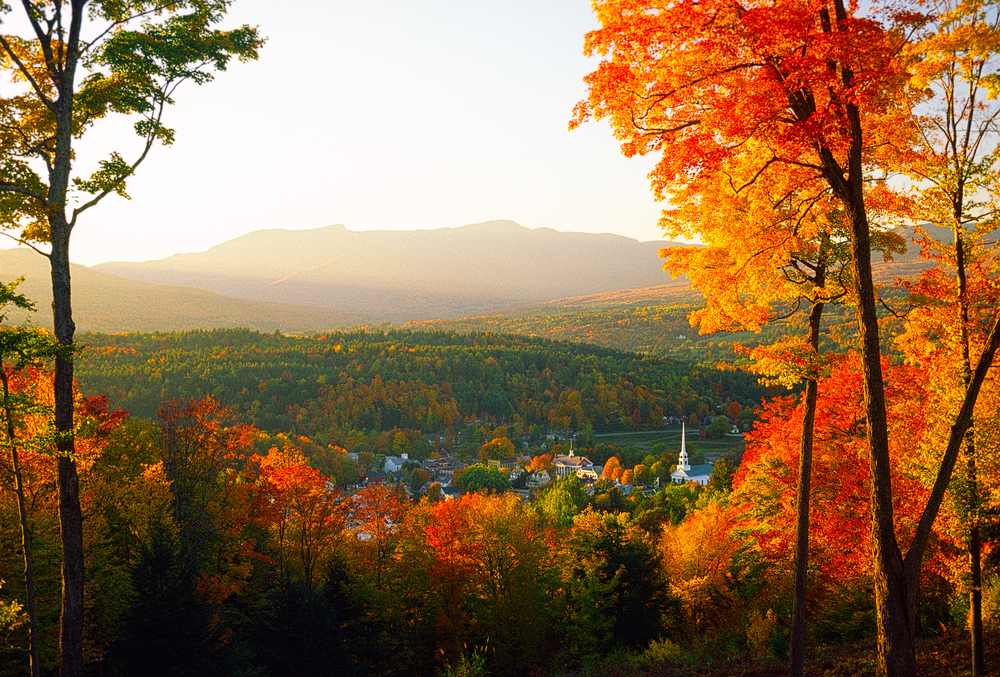 The small town of Stowe, situated between the Green Mountains and the Worcester mountain range, comes alive in the fall. While skiers and snowboarders descend en masse on Stowe Mountain Resort in the winter — situated on Vermont's highest peak, Mount Mansfield — there's still plenty to explore when the leaves blaze with vibrant autumn colors. Stowe is a resplendent alpine village full of boutiques, swanky eateries, and enjoyable places to stay, from cabins to lodges and romantic getaways.
Forests account for nearly eight of every 10 acres of land in the Green Mountain State, or roughly 4.6 million acres, according to the United States Department of Agriculture, so this is an ideal destination to take in the sights. Deciduous trees typical of a northern hardwood forest can be found here, including beech, maple, and birch, while the Mad River Valley towns of Warren and Waitsfield only 30-minutes away have plenty of historic covered bridges to explore.
Pro Traveler Tip: The infamous "Emily's Bridge" can be found here, a covered bridge that is rumored to be haunted.
Best Ways to See the Foliage in Stowe
Cruise Auto Toll Road. If you plan on bringing your car, you should definitely explore the over 150-year-old Auto Toll Road, a switchback two-car lane that takes visitors to the summit of Mount Mansfield. Twenty minutes later, you'll be treated to some of the best views in the area. However, keep in mind that as the name suggests, there's a toll: $29 for the car and driver, plus $11 for each additional passenger, but kids under four are free. No trailers, RVs, campers, or vans converted to RVs, mopeds, scooters, motorcycles, or bicycles are allowed.
Climb to the clouds in the SkyRide. Alternatively, you can take the SkyRide, Stowe Mountain Resort's iconic red gondola, up to the top of Mount Mansfield, which stays open until October 16th, from 10:00 a.m. to 4:30 p.m. daily, weather permitting. It costs $35 for visitors ages 13 and up and $24 for children ages five to 12. After your scenic gondola ride, stop for a bite to eat at Cliff House Restaurant, which serves up American cuisine with a rustic Vermont flair. No matter where you sit — either outside on the deck, or inside with its floor-to-ceiling windows — you'll enjoy spectacular, panoramic views.
And then there's hiking. Earn the majestic views at the Mount Mansfield summit by taking the Sunset Ridge Trail, a 6.6-mile out-and-back hike from Underhill State Park. Don't forget to explore Moss Glen Falls, which is a few miles north of town off Route 100. There you'll find the tallest waterfall in the state, cascading from 85 feet high.
Ziplining at Mount Mansfield. For the adventurous, consider a ZipTour down Mount Mansfield. This adrenaline-inducing experience consists of three zip line spans, each with two cables side-by-side, totaling over 10,000 feet of ridable cable. As the second-longest zip line in the United States, trust us, there's no better way to see the foliage than flying down a mountain!
Explore Waterbury Reservoir. If you're looking for something more lowkey, take to the water at the Waterbury Reservoir, where you can rent a canoe, kayak, or stand-up paddleboard.
5. Manchester, Vermont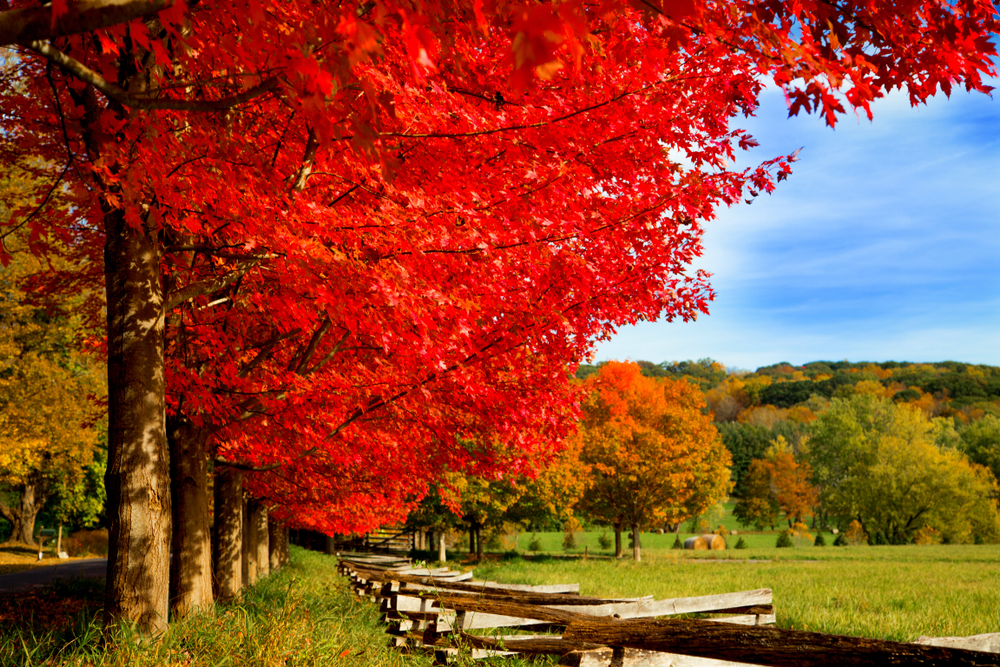 Manchester is a laidback mountain town in southern Vermont's Green Mountain range. But don't let this small town fool you — it's brimming with all manner of breweries, interesting restaurants, beautiful art galleries, and many other attractions typically found in a much larger metropolitan setting. Slightly more accessible to residents of Boston and New York City than the northern locations on this list, urban visitors of these two cities who make the roughly four-hour trek will delight in Manchester's marble sidewalks, charming covered bridges, sleepy country lanes, and friendly locals.
Pro Traveler Tip: Grab Vermont's version of soft serve ice cream, called a creemee, at the Dutton Farm Stand, just a seven-minute drive from town. The good folks of this farm stand boil their own maple syrup and add it to their creemees. Local, tasty, and sort of healthy — the perfect combination!
Best Ways to See the Foliage in Manchester
Visit Hildene. Head over to Hildene, the summer residence of Robert Lincoln — Abraham Lincoln's only child to survive to adulthood — who became the president of the Pullman Company, a manufacturer of railroad cars. Robert and his wife Mary built this Georgian Revival mansion in 1905 just five minutes outside of Manchester. Set on a high hill, Hildene's grounds offer breathtaking views of the surrounding mountains and the sweeping valley below, so it's a great place to see the changing scenery.
Check out Skyline Drive. Take a drive into the sky along the Skyline Drive, the longest privately owned, paved toll road in the United States, located just south of Manchester in the town of Sunderland, Vermont. After ascending 3,248 feet over five miles to the top of Mount Equinox — the highest peak in the Taconic mountain range — on a clear day, you'll be able to see the Green Mountains, White Mountains, the Adirondacks to the west, and the Taconic and Berkshire Mountains of Massachusetts to the south.
6. Williamstown, Massachusetts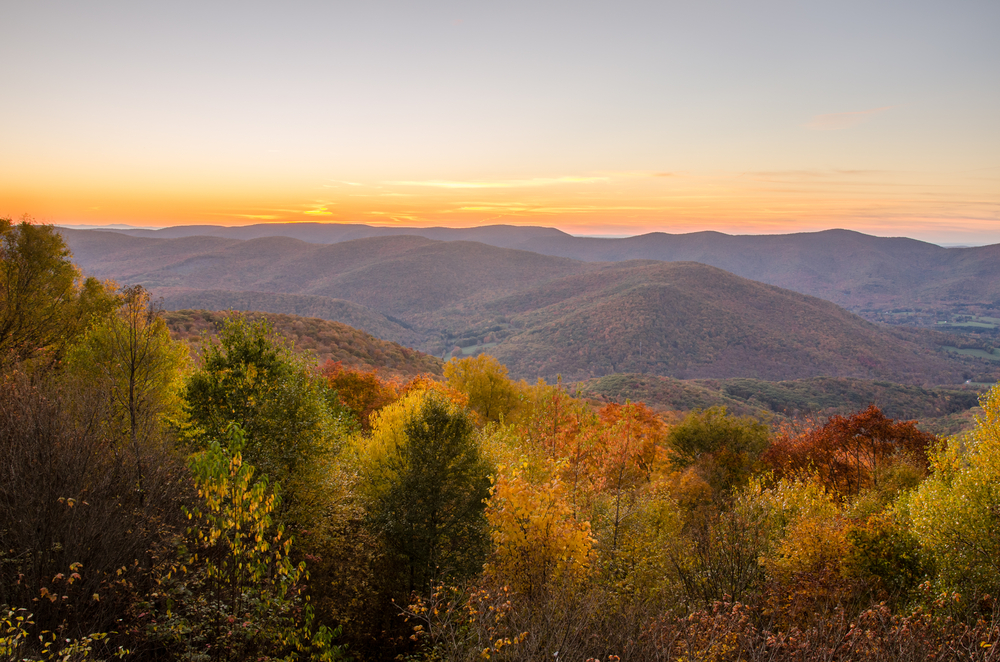 It's safe to say when you think of Massachusetts, you probably picture Boston or the long, sandy arm of Cape Cod. Berkshire County, on the far side of the state, is comprised of 33 woodsy towns that are an afterthought for most visitors, which makes this county one of the best-kept secrets in New England.
One of the reigning jewels of this patchwork of small towns is Williamstown, home to Williams College, one of the oldest colleges in the country. Close by, you'll also find the world-class Clark Art Institute and the long-running, Tony-awarded Williamstown Theater Festival, held every summer. But it's the relaxed airs of its main street, distinctive for its brick buildings, cozy coffee shops, and enjoyable eateries, that will bring a smile to your face when visiting in the fall. While over 60% — or three million acres — of Massachusetts is forested, some towns in the Berkshires are 90% forested, so this is absolutely where you want to experience the changing scenery brought on by the foliage.
Best Ways to See the Foliage in Williamstown
Hike the Mohawk Trail. The Mohawk Trail holds the distinction as the first scenic road in New England. Officially opened on October 22nd, 1914, it features 63 miles of natural splendor winding from Williamstown to Greenfield, Massachusetts. Follow the same trail Native Americans of the Five Nations used to pass between Connecticut and Hudson Valley. Along the way, you'll encounter 50,000 acres of state parks and forests to explore, plus the Massachusetts Museum of Contemporary Art (MASS MoCA), Tannery Falls, and Hairpin Turn, where the trail rises sharply to the Western Summit. Grab some nosh at the Golden Eagle Restaurant, a rustic, two-story eatery with outdoor seating and scenic views.
Peep the views from Mount Greylock. At 3,491 feet, Mount Greylock is the highest point in Massachusetts. Thirty minutes south of Williamstown, from its peak on a clear day, you can see as far as 90 miles away. Take a car and drive to the top, just keep in mind there is limited parking and a fee associated with it: $5 for Massachusetts residents and $20 for out-of-state visitors. There are also plenty of hikes to the summit of Mount Greylock worth exploring.
7. Kent, Connecticut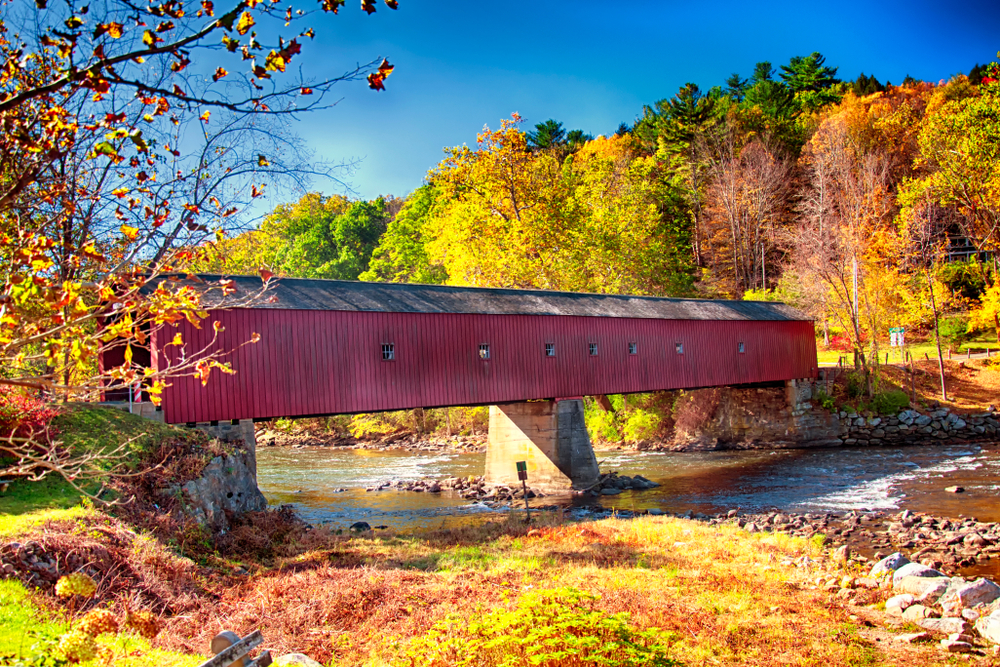 Tucked up in the northwest corner of Connecticut, the Litchfield Hills encompasses 21 towns spread out amongst the rolling hills and deciduous forests that make up this region. The closest location to New York City on this list, Kent is just a two-hour drive from the hustle and bustle that defines the Big Apple, but it might as well be a world away. Kent was incorporated all the way back in 1739 before the revolutionary era began.
While most of these towns are worth visiting, we added Kent due to its convenient location to a number of attractions in the area, including Kent Falls State Park, Macedonia Brook State Park, the tasting room at Kent Falls Brewing Company, and Lake Waramaug. Between Kent, Woodbury, and Litchfield, which gives the region its name, you'll find some incredible examples of typical 18th-century towns. They're also covered in deciduous trees, from northern red oaks to chestnut oaks, red maples, sugar maples, and black cherries. With New Milford acting as the seat of the region, Litchfield County is the perfect blend of remote and accessible for visitors looking for a fall weekend getaway.
Best Ways to See the Foliage in Kent
Paddle Lake Waramaug State Park. In the fall, photographers and sightseers flock in equal measure to Lake Waramaug State Park, a 15-minute drive outside of Kent. Named after a Wyantenock tribe chieftain, the park is open from 8:00 a.m. to sunset. Visitors enjoy picnicking, canoeing, and fishing for bass and perch along 95 acres of parkland.
Hike Kent Falls State Park. The Kent Falls are worth visiting any time of year, but they really look magical in the fall. The brook begins in the town of Warren, but the cascading falls totaling 250 feet enter the Housatonic River in Kent Falls State Park. If you go in the autumn, you'll bask in a kaleidoscope of colors as you walk across covered bridges, hike beside the falls, and feel the mist on your face.
Venture across Bull's Bridge. No stop in Kent is complete without driving across Bull's Bridge, one of the few functional covered bridges remaining in Connecticut. Built in 1842, the single-lane bridge was added to the National Register of Historic Places in 1972. Continue 15 minutes north to Macedonia Brook State Park, where you can hike the Macedonia Ridge Trail across Cobble Mountain and other peaks for outstanding views of the Catskill and Taconic mountains covered in burnt colors.
New England Leaf Peeping FAQ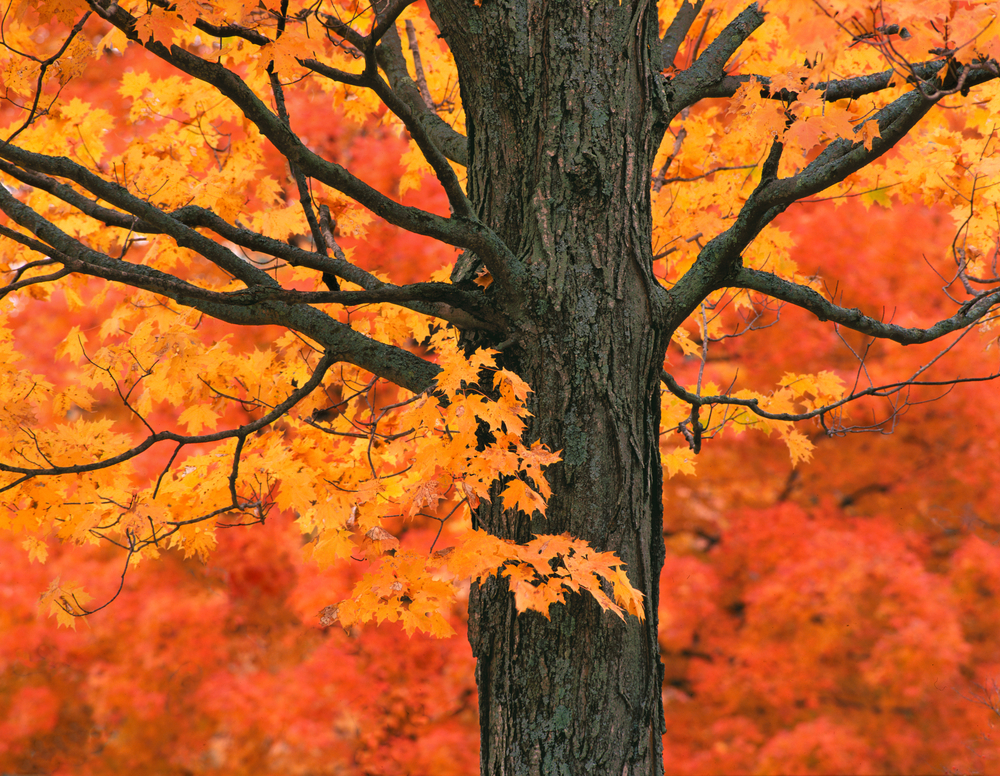 Summer and winter travel in New England requires very little planning. Is it hot? Great, head to the beach! Is it dumping snow? Nice, looks like that ski trip is on! However, to experience the best autumn activities and fall colors in New England, you need to know what you're doing since the window is smaller. That's why we've provided a helpful FAQ to answer any remaining questions you might have.
What is Leaf Season?
When cooler temperatures start to descend in early September, the verdant leaves of deciduous trees — comprised of maple, oak, beech, birk, gum, and willow — erupt in brilliant fiery combinations. And since these trees cover mountains and valleys from Connecticut to Maine, it makes any visit to one of these charming New England towns a must-see experience.
When is the Best Time to Go Leaf Peeping in New England?
While the best time to visit will vary depending on latitude and subsequent rainfall, there's one thing that stays true: the northernmost states change first. That means starting around the middle of September, Maine, Vermont, and New Hampshire will be at their peak, with Massachusetts, Rhode Island, and Connecticut reaching peak fall colors in mid-October. You'll want to keep this in mind, and check the local forecast in the months leading up to your trip when determining the best time to go.
What Should You Pack for a Leaf-Peeping Trip?
The weather in New England can fluctuate wildly depending on the time of day. Layers are your best friend. If you're sweating it out under the midday sun, a t-shirt or tank top might be all you need. But towards the end of the day, when the sun begins to set, you'll wish you were wearing pants, a sweatshirt, or even a jacket. It's always a good idea to check the forecast every day and pack accordingly.
Make sure to bring:
Good hiking boots if you're planning to hike the mountainous trails in the region
Adequate walking shoes when apple picking or exploring on foot
And don't forget to bring binoculars to take in all the sights!
Fall Under Autumn's Spell in New England
Don't let the end of summer give you the blues! There are so many captivating things to do in this region — whether you're visiting from out-of-town or within driving distance — that will have a profound effect on your spirits. It all starts with finding the right place to stay, such as a cozy cabin or a mountain overlook with a wraparound deck. You'll be surrounded by friends, foliage, and nature, and recharged within no time.