According to a study by Ipsos, the average American has only visited 12 states. In addition, 10% of Americans polled said they have never been outside of the confines of their own state. While other countries offer limitless opportunities to see different cultures and geographical wonders, the U.S. is fortunate to have over 400 national parks within its borders, and a bevy of cuisines, fashion, regional dialects, and music that are created by this multicultural melting pot. That means less money required to step outside your comfort zone — or less stress keeping you from seeing that city you always wanted to visit.
In the interest of encouraging more travelers to see more than just New York City or Florida's pristine beaches, we put our heads together and came up with a bucket list packed with adventure in all 50 states. How many of the below have you already crossed off this list, and which ones are you most excited about seeing in the future? Jump straight to your region of choice with these helpful links:
This is an all-encompassing article of the United States coming in at nearly 2 hours of reading time from start to finish. We recommend bookmarking this resource so you can keep returning to build your bucket list.
West Coast
The West Coast of the United States is a region that encompasses three Pacific states: Washington, Oregon, and California. Residents enjoy a number of different habitats and terrain, allowing locals to go from bombing down ski runs in the morning to relaxing on the beach in the afternoon — all in one day! The region's 17 national parks also have a range of different things to see and experience, from the jagged peaks of North Cascades, across the massive volcano that is Mount Rainier in Washington to the granite valleys of Yosemite in California.
Washington: Take a Spin on the Seattle Space Needle
Closest Major Airport: Seattle-Tacoma International (SEA) – 15 miles away
The state of Washington has a diverse set of ecosystems and geography that encompasses peninsulas, mountains, beaches, fertile valleys excellent for growing wine, rainforests, and volcanoes. While you won't be able to see everything from its lofty heights, you'll be able to see a good deal from the Seattle Space Needle's 520-foot saucer-shaped top, which offers 360-degree indoor and outdoor views of Mount Rainier and Puget Sound, in addition to the Cascades and Olympic mountain ranges. And on a clear day: even as far as Canada!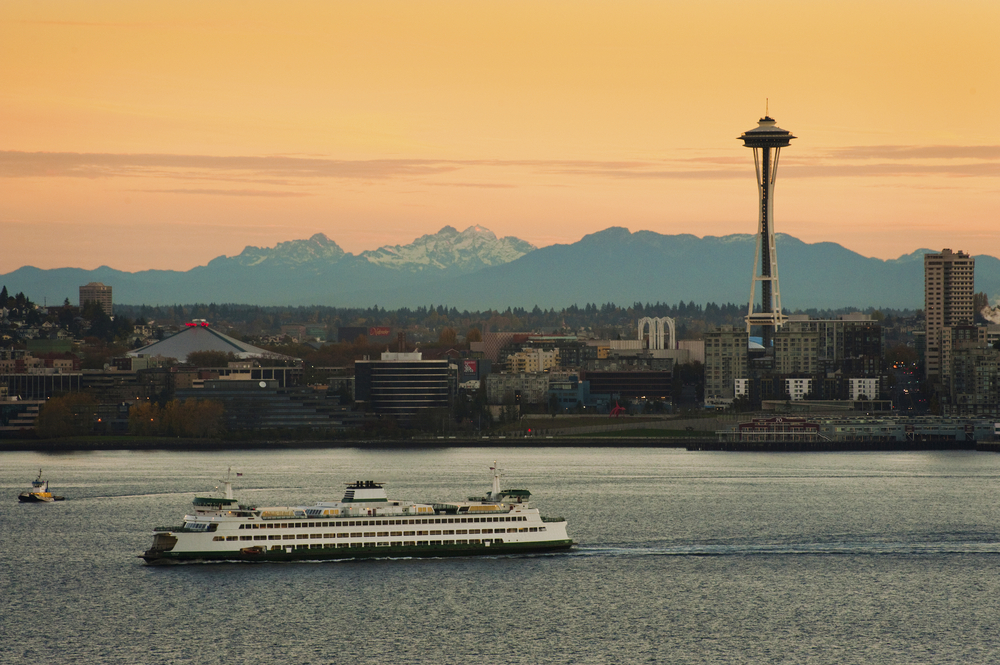 Inspired in part by the world's first TV tower in Stuttgart, Germany, the Space Needle was built for the 1962 World's Fair. Today the Space Needle is one of the most recognizable landmarks in the world. Make sure to fit in some culture by visiting the ​​Chihuly Garden and Glass, located at the foot of the Needle. Stay at one of a number of rentals in the area, and if you need a pick-me-up, don't forget to grab a coffee at the original Starbucks in Pike Place Market.
Oregon: Take a Dip in Crater Lake
Closest Major Airport: Portland International Airport (PDX) – 187 miles away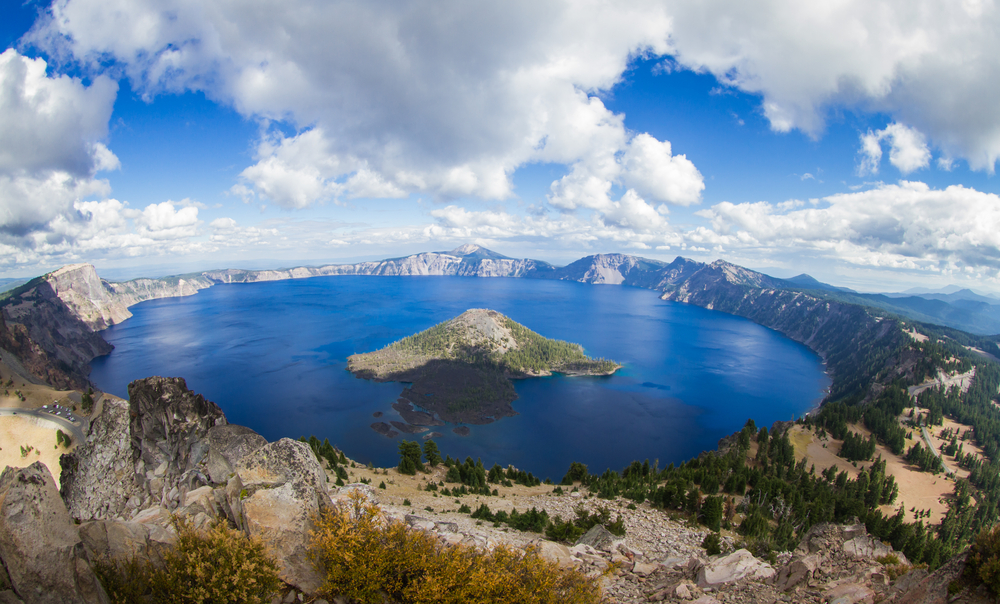 Crater Lake didn't start off as a crater — or a lake, for that matter. Roughly 7,700 years ago, a 12,000-foot volcano violently exploded in what is now Southern Oregon. The resulting force collapsed inward, leaving a caldera — or volcanic basin — in its place. Fed only by rain and snow, it's the deepest lake in the United States, and one of the clearest on the planet. If you go, make sure to take a dip in one of the designated swimming areas. Just remember it's usually pretty cold; the water temperature typically hovers around 38 degrees Fahrenheit for most of the year; a scoche warmer than the 37-degree water of Tamolitch Falls a bit further north.
If that sounds more like a polar plunge to you, don't worry, there are plenty of other things to do at Crater Lake National Park. Visitors can hike the numerous trails, view wildlife, or take a boat tour of the volcanic cinder cone on Wizard Island. Also keep an eye out for the Old Man of Crater Lake; he's not a man in the traditional sense, but a 30-foot mountain hemlock that has been floating vertically since it was discovered by a geologist in 1896. Also consider adding the nearby Oregon Caves and Lava Beds National Monuments to your itinerary to really make it worth your while.
If you're a cyclist and really looking for a bucket list adventure, our recommendation is to set out in the morning from Fort Klamath, OR up the slope to Rim Drive where you can take a well-deserved dip in the frigid water before finishing the loop and returning down the other side for a 66-mile round trip.
California: Hike Half Dome in Yosemite National Park
Closest Major Airport: Sacramento International Airport (SMF) – 152 miles away
California is undoubtedly home to hundreds of bucket list-worthy adventures, no matter what your interests are. From wine tasting in Napa Valley, seeing the Hollywood sign in Los Angeles, to catching a sunset in Santa Monica — there is truly something for everyone. As a company started in the Bay Area, this might have been the hardest state to hone in on one single item.
But if you're an outdoor enthusiast, there's one thing that should definitely be at the top of your list: conquering Half Dome. Rising almost 5,000 feet above Yosemite Valley and 8,800 feet above sea level, Half Dome looks as if it was cleaved in half, leaving one side an exposed vertical rock face. If you owned an Apple computer in 2014, you might have been staring at a desktop background of the Half Dome in Yosemite and not even known it! Thankfully, you don't have to be Alex Honnold to reach the summit. Thousands ascend to the top after hiking 14 to 16 miles round trip and are rewarded for their effort with outstanding views of Liberty Cap, the Vernal and Nevada Falls, and the stunning valley below.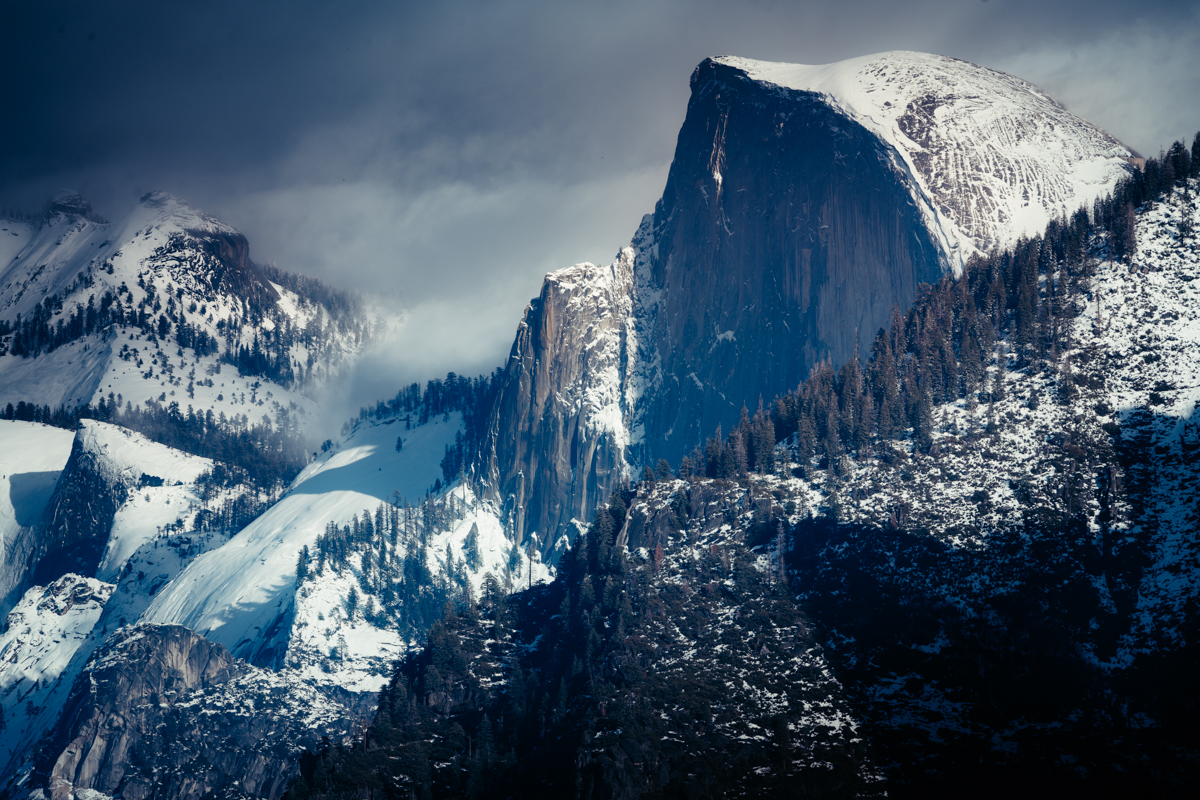 However, if you want to see the whole enchilada — including panoramic views of Yosemite Valley and the Sierra Nevada mountains — from the Half Dome summit, you'll need to apply for a permit. Each day, a maximum of 300 hikers are allowed to ascend the final 400 feet to the top sans climbing equipment thanks to a series of metal cables and wooden planks installed on the mountainside. These permits are distributed by lottery via Recreation.gov, with an application period starting in March every year and daily lotteries during the summer, so be sure to plan ahead.
Island States
Simply traveling to one of these two states is a bucket-list-worthy experience, even for the average American. But if you end up going, you'll be able to see incredible, awe-inspiring coastal and mountainous environments, including active volcanoes!
Alaska accounts for more than half of America's national parklands by area alone, while Hawaii's Big Island has more national park service-managed lands than any of its neighboring islands. Both states warrant multiple trips, as it's not possible for the average traveler to experience everything in just one visit. But these two ideas are a great place to start.
Alaska: Witness the Northern Lights from Denali National Park
Closest Major Airport: Fairbanks International Airport (FAI) – 120 miles away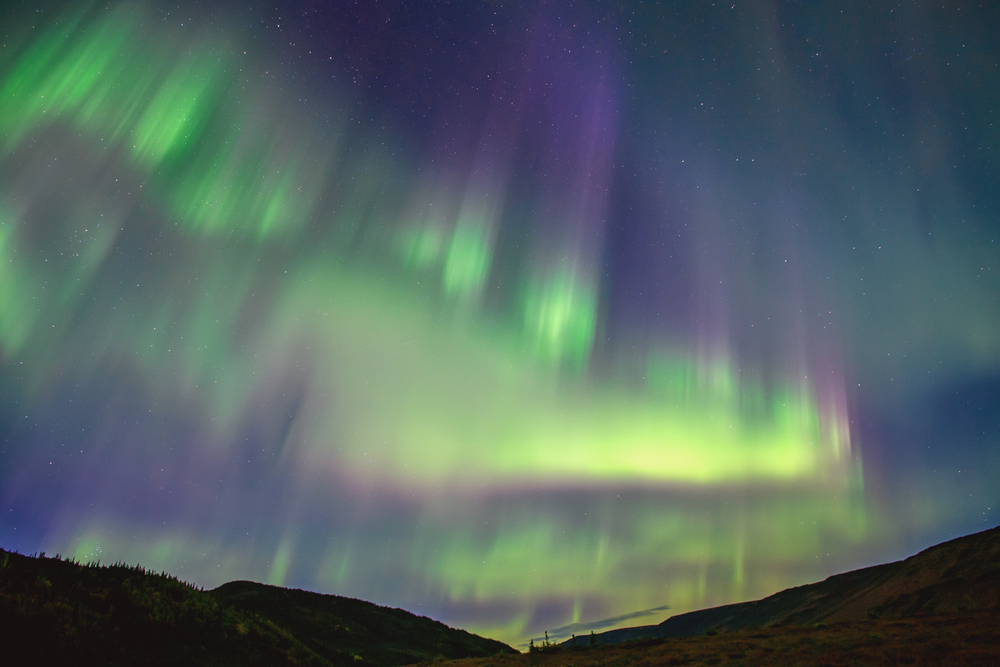 Why is Denali National Park an ideal place to watch the northern lights — also known as the aurora borealis? We'll give you three reasons:
Its high northern latitude and proximity to one of the Earth's geomagnetic poles put you in the "auroral zone," increasing the likelihood of seeing this extraterrestrial dazzling light display.
The entire park — spanning six million acres of the Alaskan wilderness — is free from light pollution, so if the conditions are right, you can see the northern lights in stark relief on a clear night sky.
There are plenty of things to see and do here! Hit the trails with a ranger guide, go snowshoeing or cross-country skiing, take a sled dog team through the wilderness, or just look up and bask in the majesty of North America's tallest peak: the 20,310-foot Denali.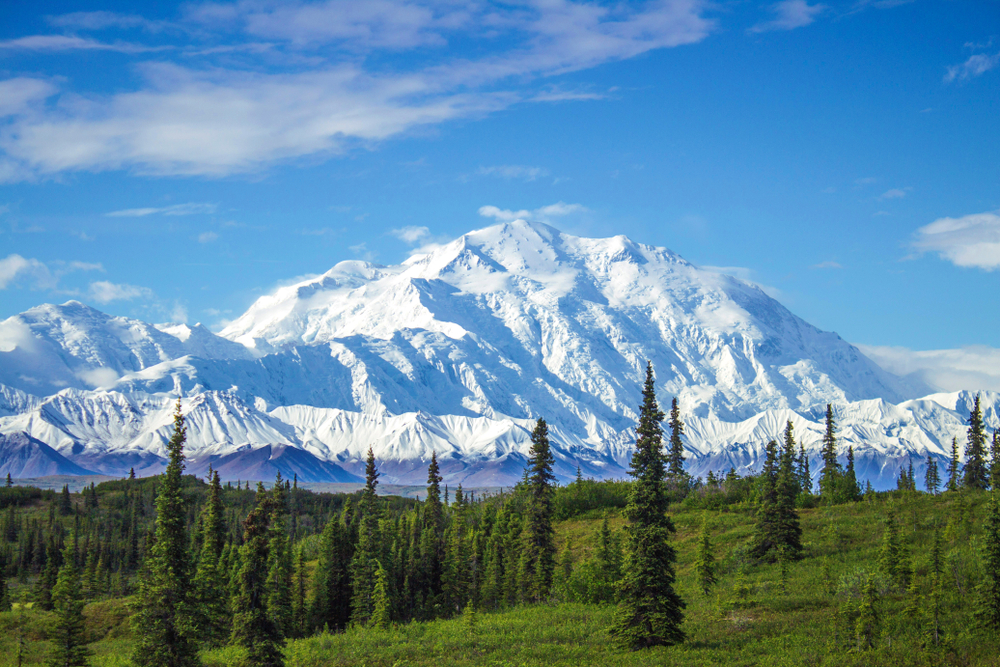 Established in 1917, Denali National Park has been attracting visitors flying into Fairbanks and Ted Stevens Anchorage International Airports ever since — though this isn't a new development by any means, as the first human presence here dates back thousands of years. In the subsequent millennia, the Athabaskan people inhabited the land, which is where the name Denali — translating to "the tall one" — comes from. If you ask us, it seems like it fits. You'll find lodging spans rustic lodges, RVs, and cozy cabins in both Denali Park and Healy, depending on what you're interested in doing.
Hawaii: Go Skydiving in Waialua
Closest Major Airport: Inouye International Airport (HNL) – 29 miles away
OK, we get it — simply vacationing in Hawaii is on many people's all-time traveling bucket lists. And rightly so, since this tropical state has a profusion of sun-soaked beaches, eco-tourism opportunities, snorkeling adventures, and a culinary experience all its own. But why not cross off two things at one time: in this case, a trip to the Aloha State and skydiving? Whether you've never done it before or you're an avid fan of extreme sports, freefalling in paradise just feels right.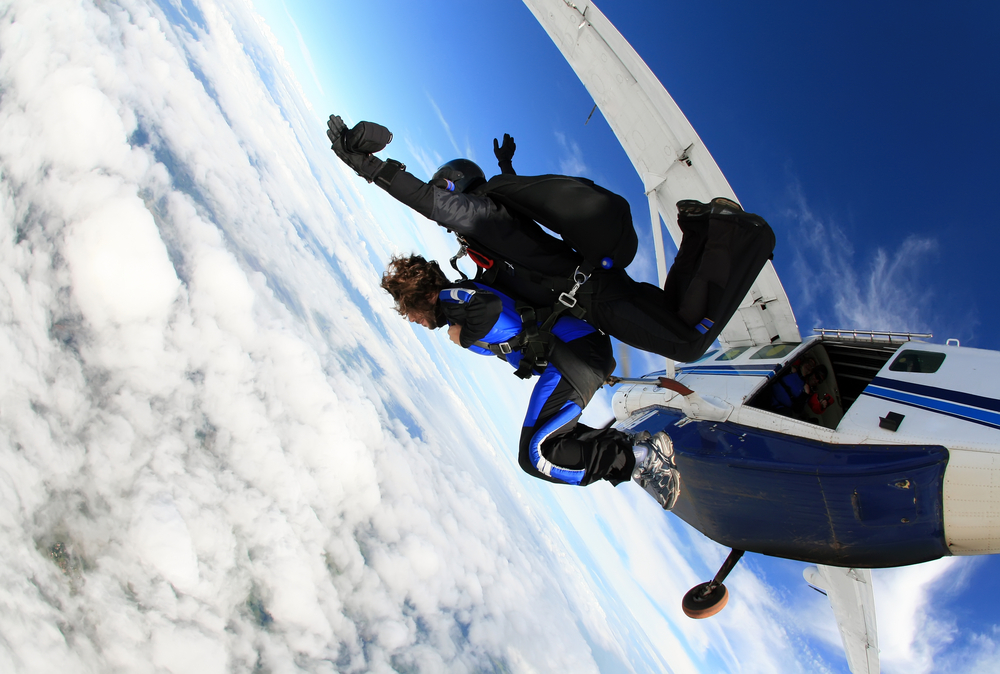 Skydive Hawaii is the largest facility of its kind in all of Hawaii. Based in O'ahu — the third largest island and the location of Honolulu, Pearl Harbor, and, maybe most importantly, the Inouye International Airport — Skydive Hawaii features licensed instructors ready to take adventurous guests on tandem exits. After the parachute opens, you'll see panoramic views of the islands few people ever get to witness. On a clear day, it's possible to even spot whales and other marine life! It truly is one of the most incredible places in the world to cross skydiving off your list.
Southwest
Vast plains, spectacular vistas, dramatic canyons, and rock formations: a trip to the Southwest region of the United States is an invitation to adventure. Nevada, Arizona, Utah, New Mexico, and Texas have historically been where fortunes have been won and lost on a hair trigger. (Or at least that's what Hollywood's Westerns would have you believe.) The region is home not only to the Grand Canyon and Zion National Park, but to Arches, Canyonlands, Bryce Canyon, White Sands, Petrified Forest, Saguaro, and Capitol Reef National Parks, along with numerous national monuments as well.
Nevada: Attend Your First Burning Man
Closest Major Airport: Reno-Tahoe International Airport (RNO) – 125 miles away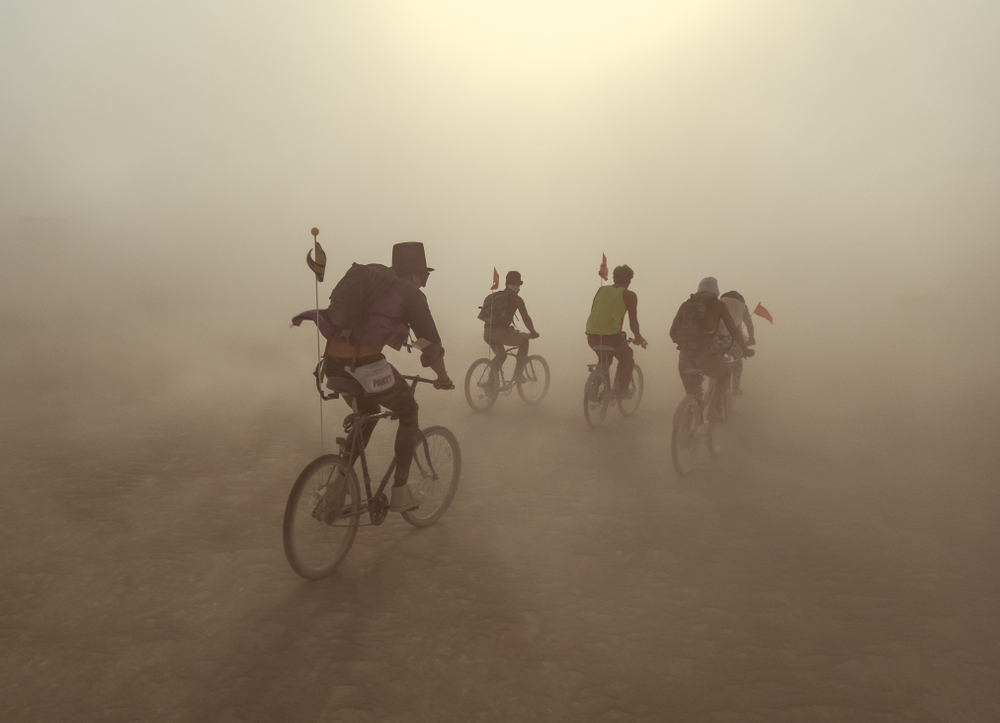 There are music festivals, and then there's Burning Man. Best described as Mad Max meets Salvador Dalí with a hint of traveling sideshows thrown in for good measure, Burning Man is an annual gathering of creatives, visionaries, free-thinkers, and fun-loving people in Nevada's remote Black Rock Desert. Attendees are known as "Burners," and their guiding principle is radical inclusion, meaning all are welcome to Black Rock City. The trick is getting tickets and parking permits, which need to be purchased on profiles.burningman.org in February of that calendar year.
Burning Man spans nine days, but most people come for half of that time. If you're planning your first burn, arrive with the expectation that you'll be part of an ephemeral society on the sands a little over two hours north of Reno — at least for a few days in September. Installations vary every year, but one thing remains unchanged: on the last day, they will always burn the man — a towering human effigy standing over 40 feet tall. Many will arrive in RVs, which you can rent in Reno or Las Vegas, just make sure the owner is cool with you taking it to Black Rock City.
Since commonly searched queries are based around literally just surviving this festival, we thought it worthwhile to provide a quick first-timer guide to Burning Man:
In the desert, the temperature can reach over 100 degrees Fahrenheit during the day and can dip below freezing once the sun sets, so make sure to pack accordingly.
Bring enough food to last the entirety of your time there. Non-perishable items are best such as peanut butter, jelly (no glass), tea bags, coffee, cereal, granola bars, canned stews, chili, soup, or pretty much anything you would bring on a multi-day camping trip. Preparing to have extra is a pro-tip given Black Rock City is a barter economy where gifting is part of the culture.
Having enough water is key. Gallivanting in the sun is all well and good, but if you don't hydrate, your trip can end prematurely with a severe case of heat stroke. Be aware of the signs: nausea, dizziness, confusion, lightheadedness, and fainting.
To stave off sun poisoning, bring loads of sunblock, and apply it liberally. Shielding your head with a hat or bandana is also a good way to avoid too much exposure. Remember to drink over three times the amount of water you normally would. This is the desert, after all.
Be smart, have fun, and see you in the dust! It's worth mentioning that since you'll be in the middle of the desert, sand storms are not a rare occurrence. Prepare accordingly.
Arizona: Visit the Otherworldly Havasupai Falls
Closest Major Airport: Harry Reid International Airport (LAS) – 192 miles away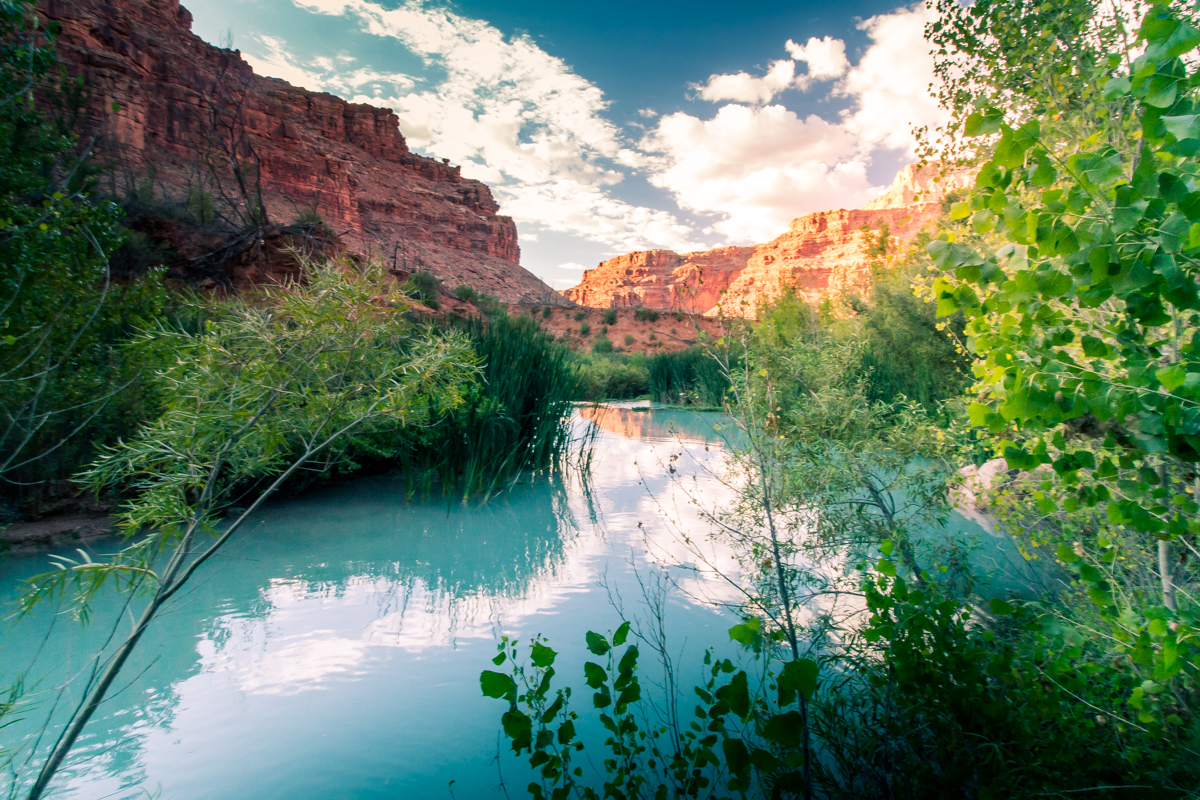 An oasis of turquoise waters spilling over ruddy, burnt-orange, travertine cliffs. It's no wonder people come from all over to witness this idyllic setting in the southwest corner of Grand Canyon National Park. Havasupai means "people of the blue-green waters," and this isolated community of Native Americans generously allows thousands of visitors to travel to the village of Supai in Arizona each year to see the abundance of waterfalls that are a part of their communal identity. Permits and reservations can be obtained directly from the tribe. At the time this guide was published, the Havasupai Tribal Council had extended the suspension of tourism for the remainder of the 2022 season due to COVID-19, and no new reservations are available for purchase, but be sure to check back in early 2023 if this is on your bucket list.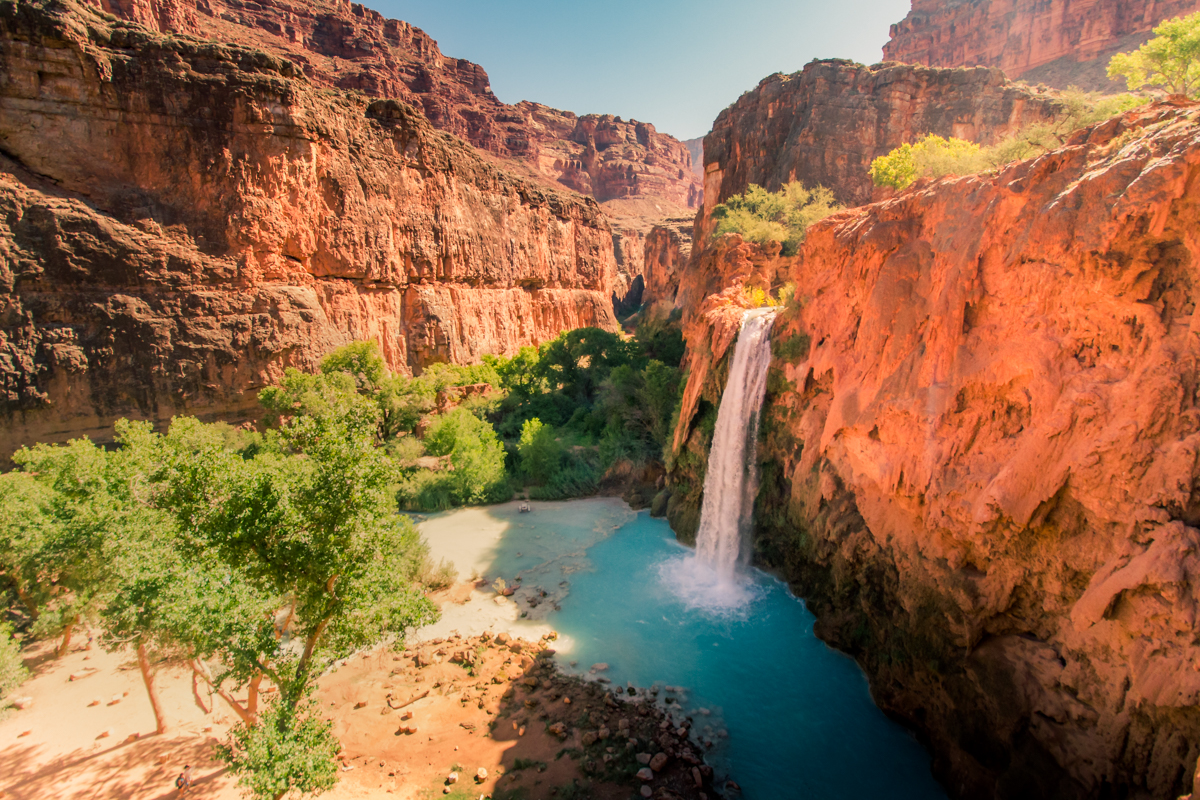 To prepare for your future trip, keep in mind that the canyon is open to visitors year-round. The spring and winter months see colder water, but possibly fewer crowds, while peak tourist season is from May to September. Monsoon season begins in mid-July and extends through August, so plan accordingly. Most people stay two to three nights, either camping or at the lodge. Even if you can't take it directly to the falls, consider renting an RV and seeing the Grand Canyon too. It's a view you'll never forget.
Getting to Supai isn't exactly easy; it's the most remote community in the lower 48 states for a reason. But if people continue to leave trash throughout the hike in, it will soon be tarnished beyond reproach. #LeaveNoTrace. Here are some easy-to-follow tips:
The village is accessible only by hiking, pack mule, or helicopter. The U.S. Postal Service delivers the community's mail by mule!
Of the three, hiking is by far the most popular. Park your car or camper at Hualapai Hilltop off of Historic Route 66 and hike down eight miles to the Havasupai Lodge and tourist office. Another two miles will take you to the campground.
From the campground, most of the falls are within six miles or so.
If you're unable to get a permit for Havasupai, other incredible bucket-list ideas to check out in Arizona include Horseshoe Bend and Antelope Canyon!
Utah: Hike the Narrows in Zion National Park
Closest Major Airport: Harry Reid International Airport (LAS) – 167 miles away
Located in the southwestern corner of Utah near the Nevada and Arizona borders, Zion National Park is a trail hiker's Eden. The park boasts a number of things to do and see within its 200 square miles (for those curious, that's 3% of the land area of Denali mentioned above), from steep plateaus to a maze of deep sandstone canyons. This captivating wilderness is conveniently situated next to a number of rentals in the area that can fit a diverse array of needs.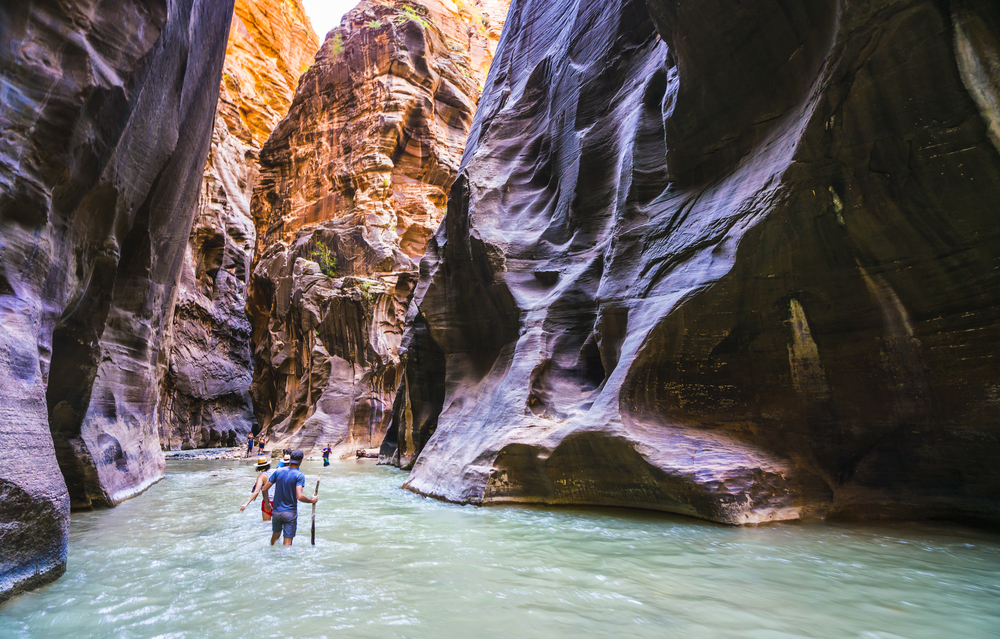 The most spectacular views might be found along Angels Landing trail, a 5.4-mile out-and-back hike that ascends 1,488 feet into the heavens, hence its name. Our advice? Don't look down! The Narrows, on the other hand, don't have the same kind of traditional panoramic views, but then again, you won't be missing them. This hike's name relates to some of the narrowest sections of Zion Canyon, a winding gorge carved by the Virgin River. Erosion has worked its magic on towering walls of red rock sandstone thousands of feet high. This expansive, vibrant canyon narrows significantly, with a width of only 20 feet at places. There's no trail, per se. You'll start off at the Temple of Sinawava — a massive amphitheater that unofficially marks the beginning of the canyon — and from there take a paved, wheelchair-accessible Riverside Walk for one mile before setting out onto the riverbed itself and following the river upstream.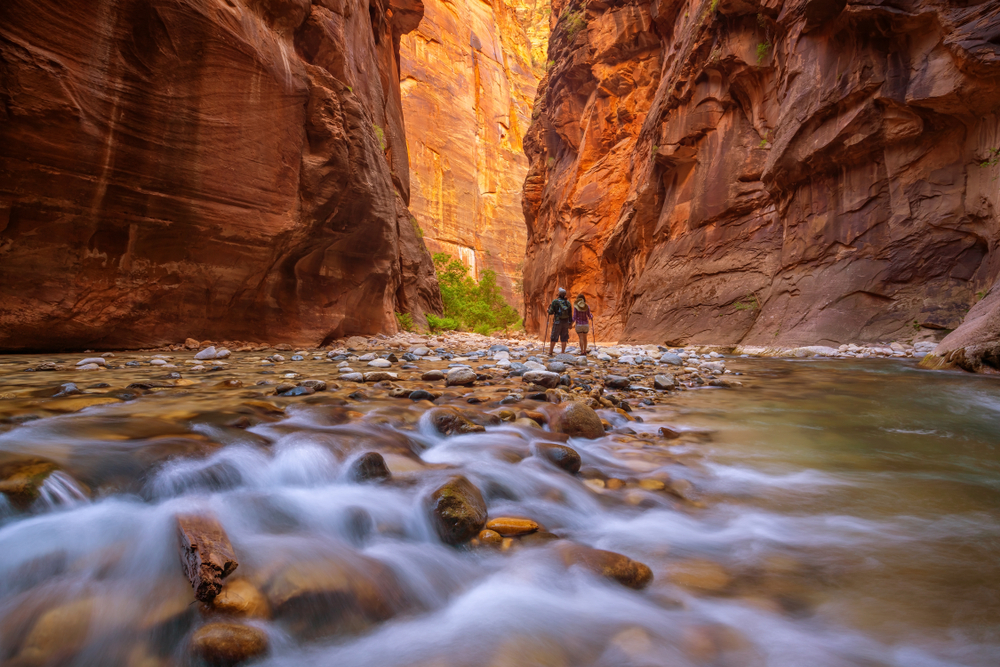 Want to see all the geological splendor of The Narrows? Then you're going to need to get your feet wet! Here's a list of things to consider before you set off on your hike:
The park is open to the public 24 hours a day, every day of the year. The best time to visit is in the summer months, however, they tend to get a lot of foot traffic.
Water levels in The Narrows can range from ankle deep to full swims. Be sure to check the forecast and the National Weather Service for flash flood warnings.
The National Park Service compares hiking the Virgin River to "walking on slippery bowling balls." As such, sturdy footwear is essential. Rent or buy some trekking poles and proper hiking boots with good ankle support at Zion Outfitters. Sandals and bare feet are ill-advised and even dangerous, as they can lead to twisted ankles and crushed toes.
Spending hours within the high canyon walls and chilly water will be colder than the rest of the park, so pack a dry bag with a towel and additional layers.
New Mexico: Attend the Largest Hot Air Balloon Festival in the World
Closest Major Airport: Albuquerque International Sunport (ABQ) – 13 miles away
Due to its ideal weather conditions, breathtaking sights, and jaw-dropping grandeur, hundreds of balloonists call New Mexico home. As a result, it has earned the unofficial title as the Hot-Air Ballooning Capital of the World. You've no doubt seen a dazzling display of colorful balloon-filled skies on Instagram. This year, why not witness the Albuquerque International Balloon Fiesta — a.k.a the largest hot-air balloon festival on the planet — in person?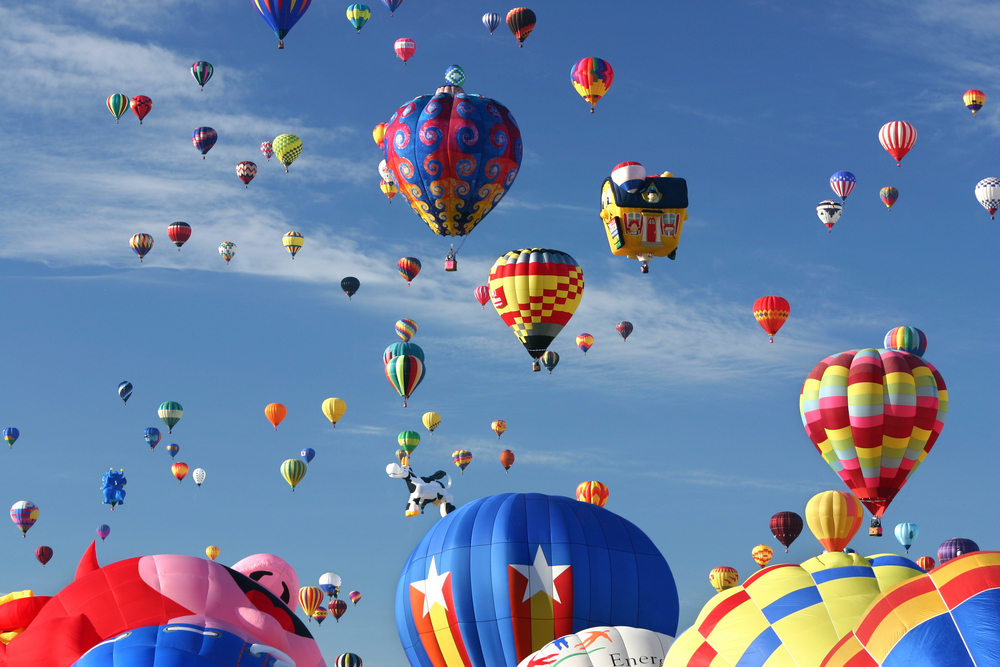 From October 1st to 9th, over 500 balloons will take to the air to celebrate the event's 50th anniversary. Mass ascension, when all balloons take off in a single harmonious lift-off, is something you'll always remember. This family-friendly event also includes evening balloon glows, precision flying competitions, and a gas balloon race. You're even able to walk amongst the balloons as they inflate before launch and can meet the pilots and crew members, who just might ask you to help with the inflation process! With all kinds of rentals to choose from and the Albuquerque International Sunport close by, this one will hopefully be easy to scratch off the list. Tickets for the festival are still available here.
Texas: Road Trip Route 66 Through the Texas Panhandle
Closest Major Airport: Albuquerque International Sunport (ABQ) – 217 miles away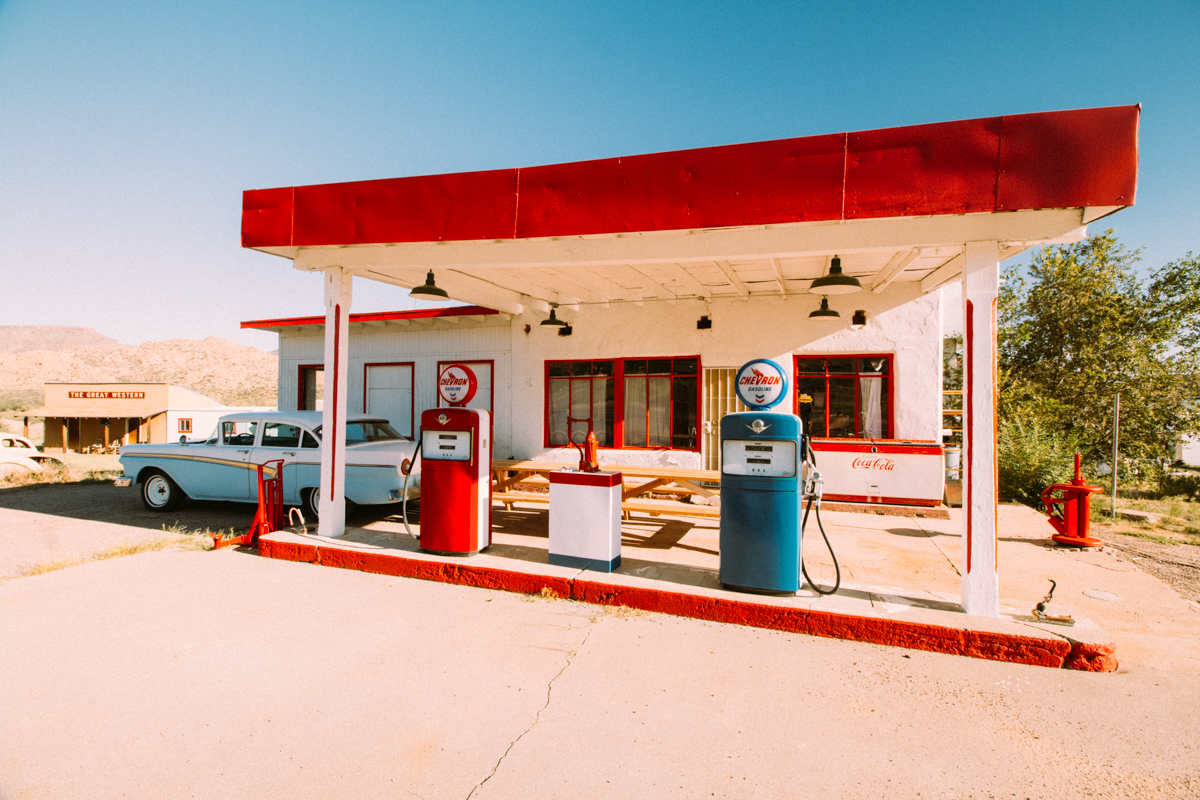 Hands down the most iconic, mythologized road in America became lodged in the national consciousness thanks, in part, to the song (Get Your Kicks on) Route 66. Penned in 1946 by jazz musician Bobby Troup and his wife Cynthia after driving from Pennsylvania to California, it would go on to be sung by the likes of Nat King Cole, Chuck Berry, Bing Crosby, the Rolling Stones, and Americans everywhere. For the full bucket-list-worthy Route 66 adventure, you'll want to check out this road trip guide. However, if you only have a few days to spare, consider landing at the Will Rogers World Airport in Oklahoma City, or the international airport in Albuquerque and making an abbreviated trip across the Texas Panhandle.
Our advice is to grab a rental car with A/C and hit up any one of these attractions:
Listen to live music at the GoldenLight Café in Amarillo, one of the oldest, continually operating restaurants along Route 66. Then head to Cadillac Ranch, an installation of 10 graffitied Cadillacs buried nose-first in the ground.
If you're a red-blooded meat eater, check out the Big Texan Steak Ranch — also in Amarillo — with its infamous 72-ounce steak challenge. (At the time of publishing, the overall completion-per-attempt is about nine to one.)
Take a gander and most likely have a chuckle at the Leaning Tower of Britten in Groom, which is a — dare we say, less refined version of the Leaning Tower of Pisa.
If you or your kids are a Pixar fan, make sure to stop at the U-Drop Inn in Shamrock. This Route 66 landmark boasts an unusual Art Deco style architecture for a gas station and restaurant, and it also serves as the inspiration for Ramone's automotive body shop in the movie Cars.
Visit the Buddy Holly Center and the Moody Planetarium inside the Museum of Texas Tech University in Lubbock.
Enjoy some good ol' fashioned Texas BBQ at Spicy Mike's Bar-B-Q Haven in Amarillo.
Rocky Mountains
A road trip through the Rocky Mountains or Yellowstone National Park can rejuvenate your mind in ways you'd hardly think to be possible. But such is the natural grandeur to be found across Idaho, Montana, Colorado, and Wyoming. Our recommendation is to pull the trigger on one of these ideas below and allow yourself to bask in the full extent of nature. You'll be glad you did.
Idaho: Soak in Naturally Occurring Hot Springs
Closest Major Airport: Boise International Airport (BOI)
Home to roughly 140 soakable geothermal hot springs, Idaho is the soothing byproduct of colliding tectonic plates. Some of these world-famous hot springs can be found along mountain paths, others are nestled beside rivers, and a handful is located in developed areas with modern amenities. If you're trying to figure out when an ideal time to visit is, it depends. For the most optimal weather conditions, summer is your best bet. But if you want to get the full experience of long, relaxing soaks, crisp fall or winter air is the way to go.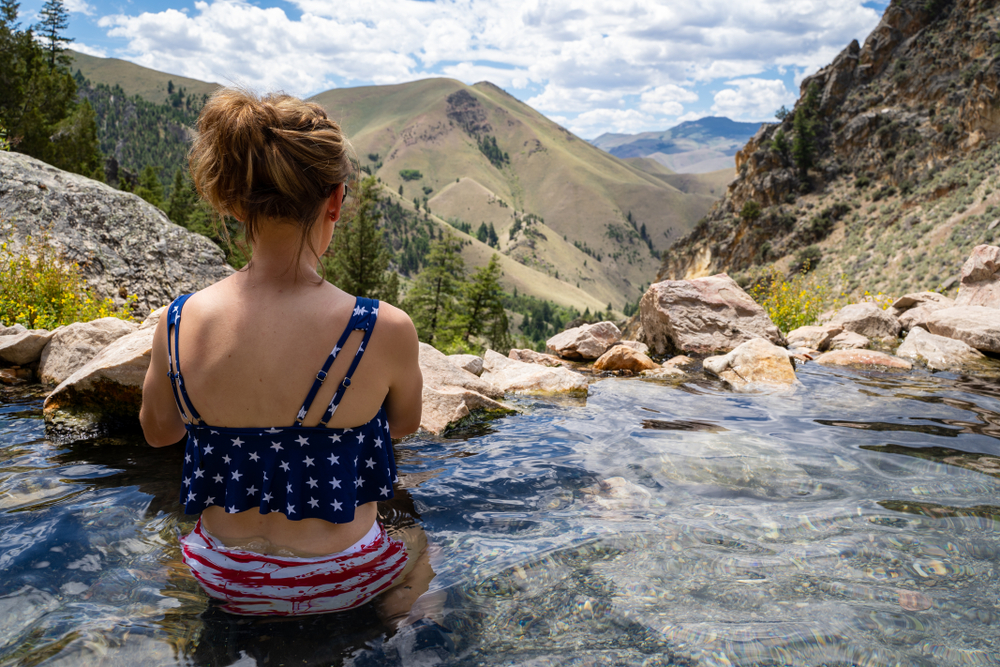 Here's a list of the best hot springs to visit in Idaho. See as many as you can, or stay in one area and enjoy a little R&R:
Montana: See the Glaciers Before They Melt
Closest Major Airport: Glacier Park International Airport (FCA) – 30 miles away
Established as a national park in 1910, Glacier National Park covers about one million acres of land in northwestern Montana (17% of Denali, Alaska is enormous). Nicknamed the "Crown of the Continent" on account of its picturesque vistas and mountain scenery, it might even give its popular neighbor to the south, Yellowstone, a run for its money. More than 700 miles of trails take visitors past alpine meadows, deep forests, waterfalls, and sparkling lakes. There are also tons of wildlife to see, including mountain goats, bighorn sheep, and marmots.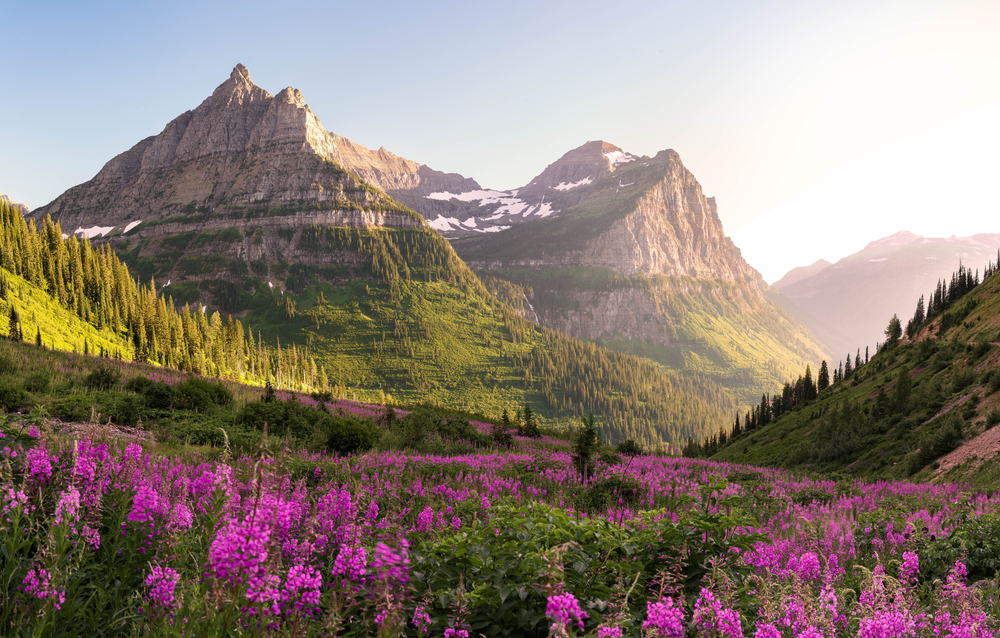 Of course, we can't forget the park's namesake — a couple dozen active glaciers. That count is down from at least 80 in 1850. For years, the park predicted all of the glaciers would be gone by 2020 due to climate change, so seeing these stunning masses of ice assuredly falls into the recent phenomenon of "last-chance tourism." A few glaciers can be seen from the road; a few others can be seen from a short hike; and others can be studied up close after a strenuous hike. Make sure to bring binoculars, which will come in handy if you're also interested in driving the Going-to-the-Sun Road, a winding 50-mile route through North America's Continental Divide. Fly into Glacier Park International Airport located right outside of Kalispell, where you can find a place to stay. Alternatively, you can fly into Calgary in Canada and drive south through Waterton Lakes National Park, just north of Glacier, which is beautiful in its own right.
Before you depart, make sure to grab a souvenir T-shirt; it might just become a family heirloom.
Colorado: Attend a Show at Red Rocks Amphitheater
Closest Major Airport: Denver International Airport (DEN) – 31 miles away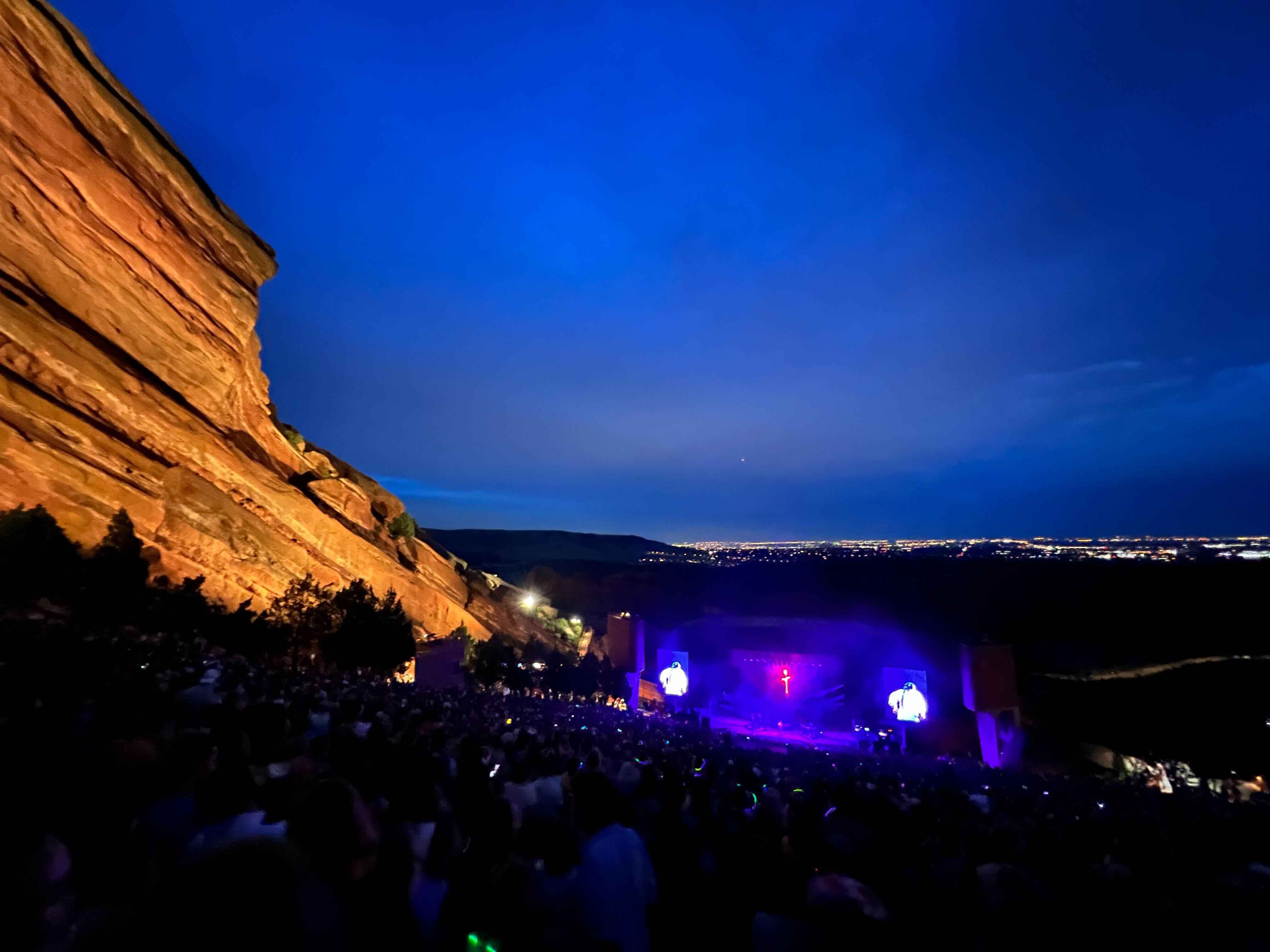 In an unprecedented turn of events, Red Rocks Amphitheater was reportedly the most attended concert venue of any size, anywhere in the world, in 2021. There are a few things that might account for this:
Red Rocks celebrated its 80th anniversary in 2021
Its outdoor location allowed people to feel safe and have fun in the open air despite the pandemic
Lastly — and maybe most importantly of all — attending a concert, movie, or yoga class here is a once-in-a-lifetime experience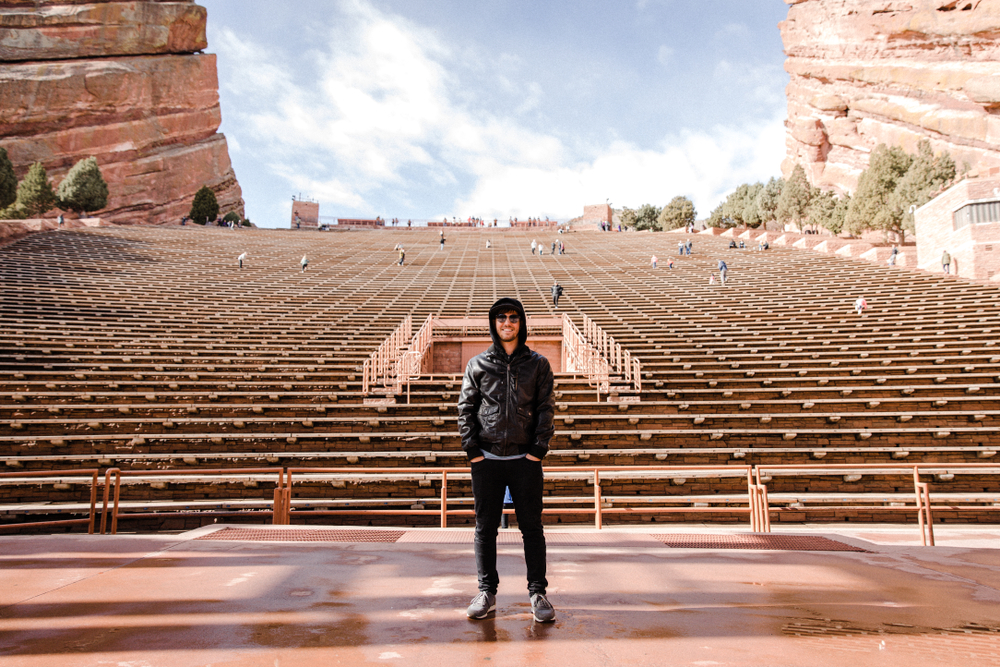 Being surrounded by naturally occurring red sandstone outcrops that provide the perfect acoustics is nothing short of a spectacle. Though Red Rocks Park can be found in Morrison, Colorado — about 25 minutes outside of Denver — you'll feel like you've been transported to Mars. The good news is this one is incredibly easy to get to, with tons of places to stay in Denver. You can see upcoming shows and purchase tickets here.
Wyoming: Watch Old Faithful Erupt
Closest Major Airport: Bozeman Yellowstone International Airport (BZN) – 122 miles away
Yellowstone National Park has it all: dramatic canyons, alpine rivers, lush forests, grizzly bears, herds of bison, and more than 900 miles of hiking trails crisscrossing the park. And yet, its most popular attraction might just be a natural vent in the southwest side of the park that sends bursts of water and steam into the air at regular intervals. That's right, OId Faithful still lives up to its name provided by the Washburn-Langford-Doane Expedition of 1870 who marveled at its regularity. Since then, the time between its predictable eruptions has gotten slightly longer — 90 minutes on average — but it still plays the hits: sending an explosive column of water anywhere from 100 to 184 feet in the air.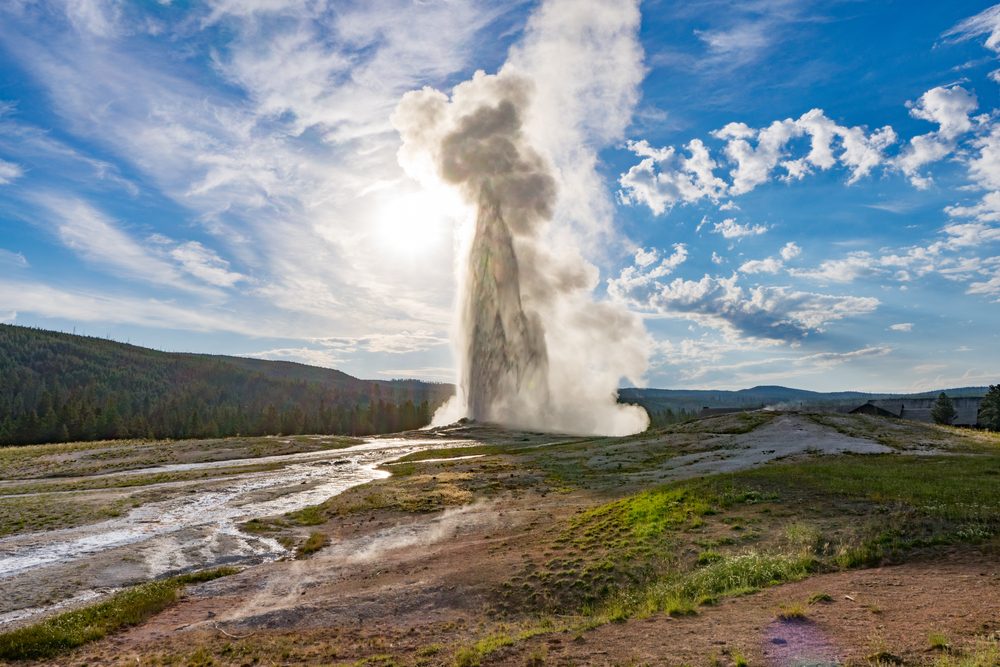 Located in the Upper Geyser Basin — along with the highest concentration of geysers anywhere on the planet, many found within one square mile — Old Faithful and its ilk are responsible for inspiring the establishment of Yellowstone as the world's first national park in 1872. There are plenty of wheelchair-accessible walkways, as well as an Old Faithful Visitor Education Center with a clock that counts down the time between eruptions. Check out one of the rustic rentals in the area, or rent an RV in Jackson, WY, or Bozeman, MO, for a roaming tour of one of the most awe-inspiring places in the U.S.
** Editor's Note: Due to the historic flooding that hit Yellowstone in June of 2022, the north entrance near Livingston, MT is closed until further notice. All travelers flying into Bozeman will have the pleasure of driving the Gallatin Gateway down to West Yellowstone.
Great Plains
A broad expanse of flatland covering Oklahoma, the Dakotas, Kansas, and Nebraska, America's Great Plains are often ridiculed as being a monotonous bore to drive through. However, such thinking discredits an amazing amount of rich heritage and history to see here — not to mention five national parks, which include the aptly named Badlands.
Oklahoma: Explore the Historical Wild West
Closest Major Airport: Tulsa International Airport (TUL) – 109 miles away
Ready to get your yeehaw on? If so, Oklahoma City is the place, a state capital known for its cowboy culture and a series of oil fields near state government buildings. If you're thinking it can't get more American than that, this city is also home to the National Cowboy & Western Heritage Museum: a facility that started off honoring the American cowboy in 1955 and has since grown into a world-class institution of Western history, art, and culture. Its permanent collections and attractions include noted Western painters and sculptors, both historic and contemporary, as well as:
Frontier military items
Native American art and artifacts
Major artworks by Frederic Remington and Charles Russell
The Silberman collection of Native American fine art and the Taos Society of Artists
Liichokoshkomo — an outdoor educational experience tailored to kids and families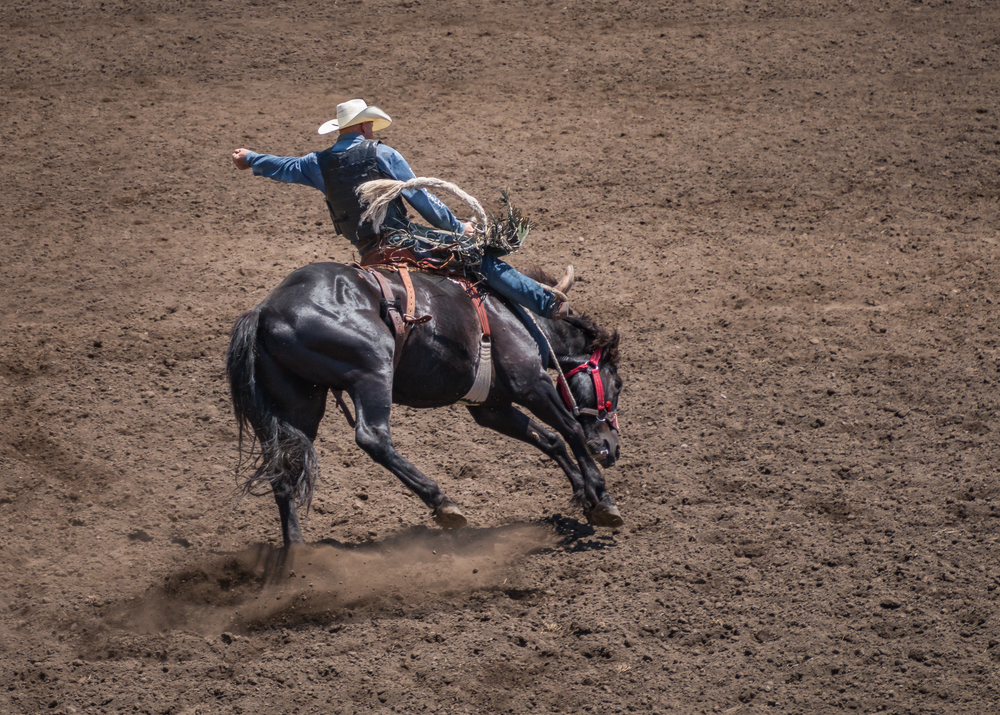 While the museum brings to life the mythical, whimsical West, it also somberly pays respects to the prolonged genocide committed on Native American peoples by relentless westward expansion. For $25 a ticket, you can experience both this location and the recently opened First Americans Museum, only a 15-minute drive away. Come away with a better understanding of the hardships of frontier life and the first people to occupy this land.
South Dakota: See All the Amazing Sights in the Black Hills
Closest Major Airport: Rapid City Regional Airport (RAP) – 32 miles away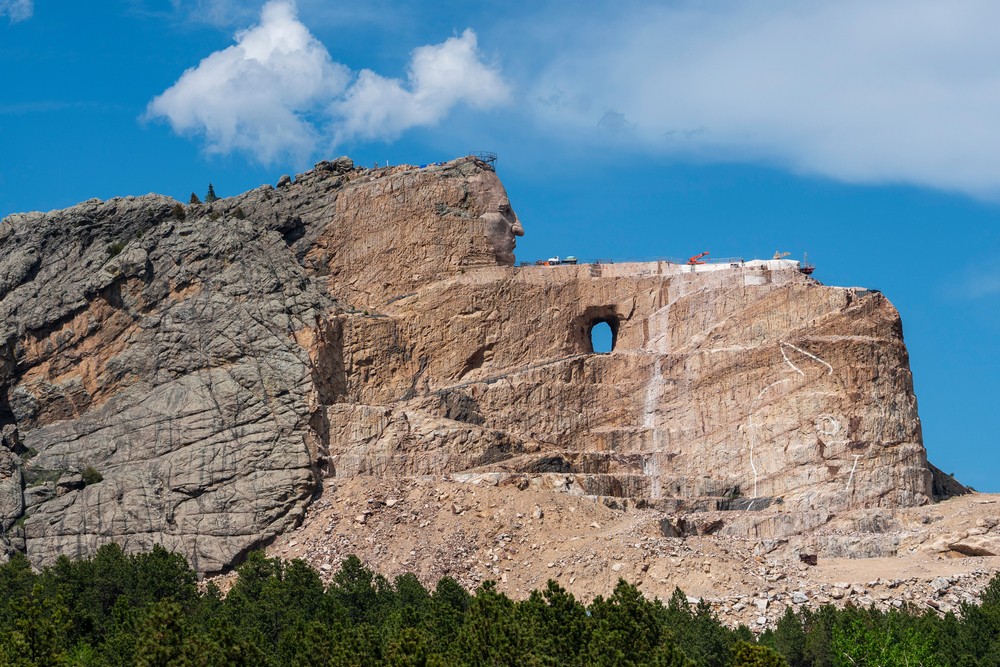 One place shouldn't possibly have so many awe-inspiring wonders, but that's the Black Hills for you! Situated in western South Dakota and northeastern Wyoming, this area consists of over one million acres of forested hills and mountains. Miles upon miles of verdant Ponderosa pine and granite gray rocks are the farthest thing from black, but the Lakota people gave it this name due to the dense shadows that cast during sunrise and sunset. While Mount Rushmore typically gets all the attention, you can't miss the gigantic monument dubbed the Crazy Horse Memorial, made in honor of the Oglala Lakota leader.
The monument, currently under construction in nearby Custer City, depicts a man astride his horse and pointing to his tribal land below. When completed, it will be the tallest sculpture in the world standing at 563 feet high. Then, head across the state line to Wyoming to see Devils Tower: an over 1,000-foot-tall, stump-shaped stone pillar steeped in Native American legend. It's also the premier rock climbing challenge in the Black Hills! Or visit Custer State Park to see the magnificent granite spires of the Pinnacles and herds of bison.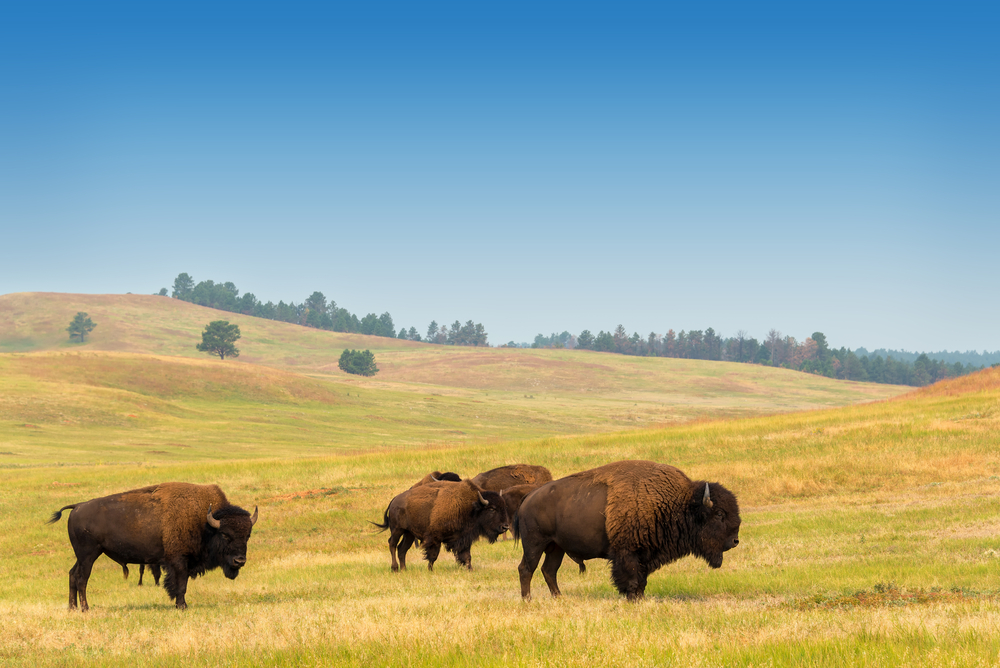 If you're going to make Rapid City the base of operations, consider extending your trip and taking advantage of its central location to a number of interesting attractions. If so, you'll be able to also check out:
North Dakota: Ride the Maah Daah Hey Trail
Closest Major Airport: Bismarck Airport (BIS) – 138 miles away
Whether you're a novice or a veteran mountain biker, you've most likely heard about Moab, Utah, which boasts some of the best mountain biking trails in the world. If you've already been and are looking for an alternative, Maah Daah Hey Trail in North Dakota is one of the best-kept mountain biking secrets in the continental U.S. What it lacks in fanfare, it more than makes up for in picturesque vistas. The nearly 150 miles of single-track pathways wind across the Badlands' expansive prairies, steep clay buttes, lush valleys, and wooded draws. It also crosses the Little Missouri River several times.
"Maah Daah Hey" — MDH for short — is a Mandan Native American phrase, loosely translated to "an area that will be around for a long time." A multi-day trek across these ancient, desiccated lands requires a form of mountain biking called "bikepacking," or the lugging of water, food, and other supplies so you can camp along the route. Keep in mind no motorized vehicles are allowed, and it's a shared-use trail frequented by equestrians and hikers as well if either of those fits your fancy. There are places to stay in Dickinson, near one of the two closest airports nearby. It'll put you close to Theodore Roosevelt National Park, which doesn't allow off-road cycling but does allow road-going bikes.
Kansas: Gaze at the Chalk Pyramids
Closest Major Airport: Colorado Springs Airport (COS) – 251 miles away
Found along the Western Vistas Historic Byway, a 102-mile drive on the western side of Kansas, Monument Rocks National Landmark refers to 80-million-year-old sedimentary formations of Niobrara Chalk. These powdery, brittle outcrops rise as much as 70 feet in some places, and may even hold fossils in their arches, buttes, and pinnacles.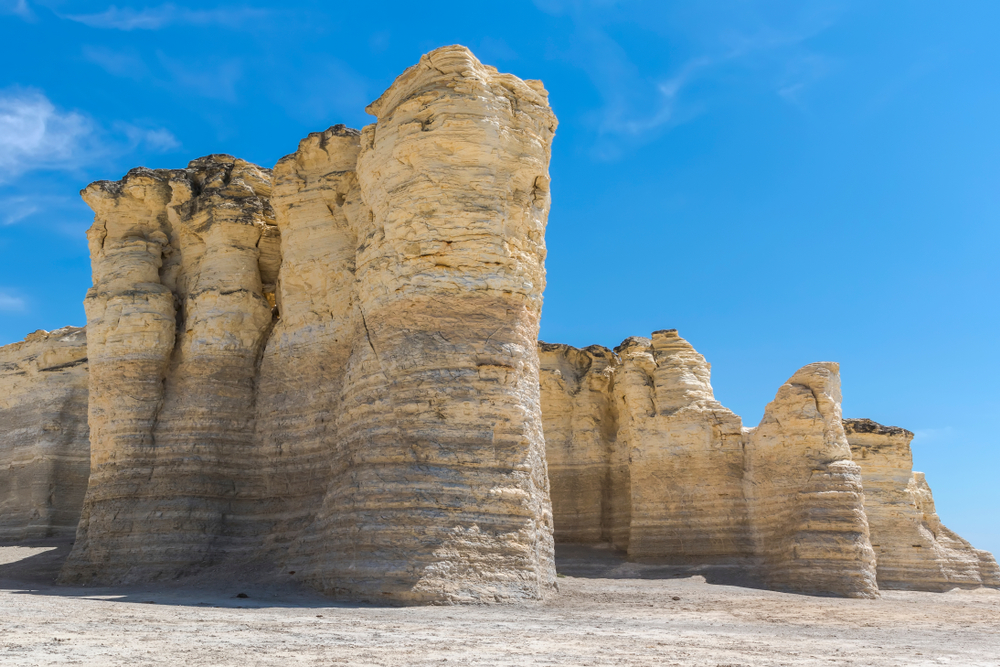 In 1968, Monument Rocks — also known as the chalk pyramids — were designated as the first natural landmark in Kansas. If you follow the Western Vistas Historic Byway from Scott City to Oakley or vice versa, you'll also be able to see Lake Scott State Park: a 100-acre, spring-fed fishing lake located in a hidden canyon. Stay awhile in Oakley to add the Fick Fossil & History Museum and the Buffalo Bill Cultural Center to your list as well.
Nebraska: Attend a Cornhuskers Game at Memorial Field
Closest Major Airport: Lincoln Airport (LNK) – 4.5 miles away
A college football fan might scoff at this addition. True — seeing LSU play in Death Valley, the Fighting Irish play at Notre Dame Stadium, or the Alabama Crimson Tide play anyone would surely make for an exciting time. But going to a Nebraska Cornhuskers game at Memorial Stadium might just be one of the most American things you can possibly do. Starting in 1962, the Cornhuskers hold the record for the longest home ticket sellout streak in college football history, still standing after 376 games.
Frequently ranked as some of the nicest fans in the sport, a trip to Memorial Stadium in Lincoln, Nebraska, will include a sea of red Huskers — and used to include the release of thousands of red balloons after the team scored its first points. Even if there's no longer a balloon release, you can still enjoy welcoming the players and coaches off the bus during the Unity Walk and seeing hot dogs blasted into the crowd by Der Viener Schlinger cannon. The stadium is conveniently located within walking distance of downtown. Once there, you'll find culinary staples including chicken-fried steak, fried-onion burgers, and, of course, barbecue, while staying at a rental in Lincoln. Get ready to lose your voice chanting, "Go Big Red!"
Midwest
The Midwest, also referred to as America's "Rust Belt," includes eight states, with the vast majority bordering one of the Great Lakes. Minnesota, Wisconsin, Iowa, Illinois, Missouri, Michigan, Indiana, and Ohio might be in close proximity to one another, but they're anything but similar in things to do and see.
Counting eight national parks within its borders, this region has a ton of different cuisines and environments that will dazzle the senses, and makes for a ton of bucket list items to choose from.
Minnesota: Paddle Voyageurs National Park
Closest Major Airport: Falls International Airport (INL) – 12 miles away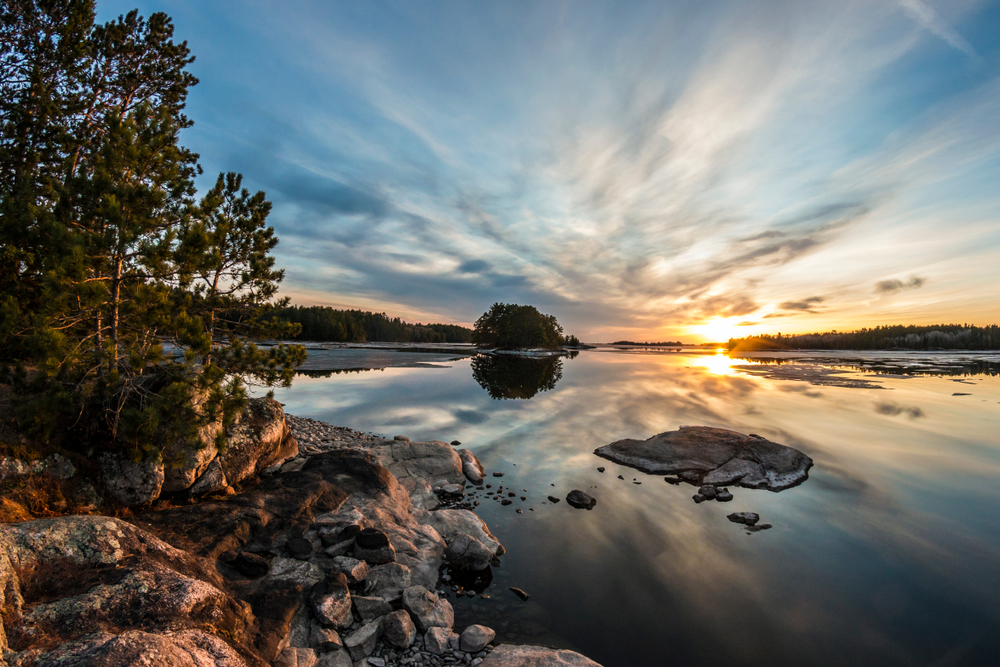 Nearly half of Voyageurs National Park's expansive 220,000 acres are made up of water. That's an FYI in case you needed an excuse to rent a houseboat and explore the Rainy, Kabetogama, Namakan, and Sand Point Lakes region of northern Minnesota. A rental or hotel can also be your base of operations in International Falls, located directly across the border from Canada and the town of Fort Frances, Ontario. Outside of town, you can find rentals with a dock and take a canoe or kayak on day trips and explore at your own pace; that is if you'd rather forgo the stress of boat handling. Here are some things you'll want to see and explore:
Ellsworth Rock Gardens. On the shores of Lake Kabetogama lies this incredibly unique stone garden filled with sculptures all created by one man.
Grassy Bay Cliffs. Sheer granite cliffs rise 125 feet above Sand Point Lake.
Gold Portage. A half-mile watery expanse connecting Rainy Lake with Kabetogama Lake is a great place to see a moose.
Camp on your own island. Yes, the more than 900 islands in this national park can provide the perfect place to unwind in solitude.
Wisconsin: Get Your Cheesehead On at Lambeau Field
Closest Major Airport: Green Bay Austin Straubel International Airport (GRB) – 4 miles away
One of the most legendary stadiums in the United States happens to be in Green Bay, Wisconsin, with its population being a little over 100,000 people. On game day, Lambeau Field — where the Packers play — could hold 80% of the town. Packers fans are affectionately (and perhaps derisively) referred to as "Cheeseheads." But if that connotation refers to a blockhead, the people of Wisconsin wear it as a tongue-in-cheek badge of honor; even donning unmistakable yellow foam hats resembling cheese wedges at games and tailgates. Grab a seat in the bleachers behind either end zone for a chance to experience the Lambeau Leap — when a player jumps into the stands in celebration to pose with the adoring fans.
The Green Bay Packers have the distinction as the most successful franchise in professional football history. Vince Lombardi, head coach of the team during the 60s, is heralded for his leadership and for putting Green Bay on the map. The sterling silver trophy given to the Super Bowl-winning team each year is even named in his honor. As a result, some may say a trip to Lambeau Field is a trip to football Mecca. Games start in August and go through January, so make sure to pack a coat, as they don't call this stadium the Frozen Tundra for nothing!
Lastly, a trip to Wisconsin isn't complete without sampling some of the area's culinary staples, including bratwursts, butter burgers, and squeaky cheese curds. You can start your diet when you get home.
Iowa: Strike a Pose Outside the American Gothic House
Closest Major Airport: Des Moines International Airport (DSM) – 105 miles away
A bespectacled, expressionless man stares straight ahead; a hayfork held vertically in his right hand. Beside him, a woman in a colonial print apron dourly looks off to the side. Visible in the scene behind them are a number of green trees, a red barn, and a white house with a large Gothic window on the second floor. American Gothic, 1930, by Grant Wood is arguably America's most famous painting — an enduring piece of Americana firmly entrenched in popular culture. Wood, a native Iowan, was inspired after seeing the house to create a portrait of a father and daughter during the Great Depression.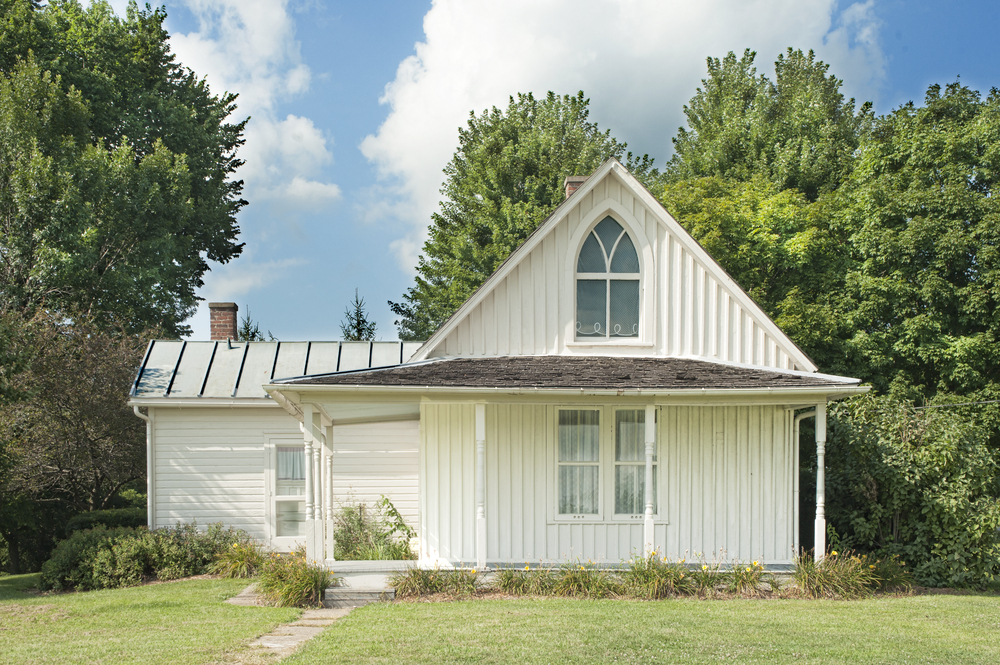 Amazingly, the American Gothic House still stands to this day in Eldon, Iowa, and its exterior is viewed by thousands of people each year. An adjacent visitor center includes an exhibit gallery and a gift shop. And yes, the center provides costumes — and the prerequisite pitchfork — for guests to borrow so they can recreate this classic painting. Strike your best solemn pose, and then head back to a rental in Des Moines, where you can also check out the Greater Des Moines Botanical Garden, with its outdoor plant displays and geodesic dome. If you want to see the painting itself, you'll have to travel to the Art Institute of Chicago, where it's been exhibited since 1930.
Illinois: Celebrate St. Patrick's Day in Chicago
Closest Major Airport: O'Hare International Airport (ORD) – 18 miles away
Speaking of Chicago: while it may not have the most people with Irish ancestry in the United States, the city nevertheless has one of the most unique — and colorful — St. Patrick's Day celebrations you'll ever see. Every year, the Chicago River runs green, a beloved tradition since 1962 initiated by the local plumbers union, which still holds the river-dying honors today. The environmentally friendly dye only lasts for a few hours, so spectators should plan to get to the Chicago Riverwalk and bridges between State and Columbus early. For more up-close-and-personal views, consider purchasing tickets to a river cruise to get a once-in-a-lifetime perspective. You'll sit topside idling down the brilliant green riverway thronged on either side by crowds in kelly green and high-rises in the city center.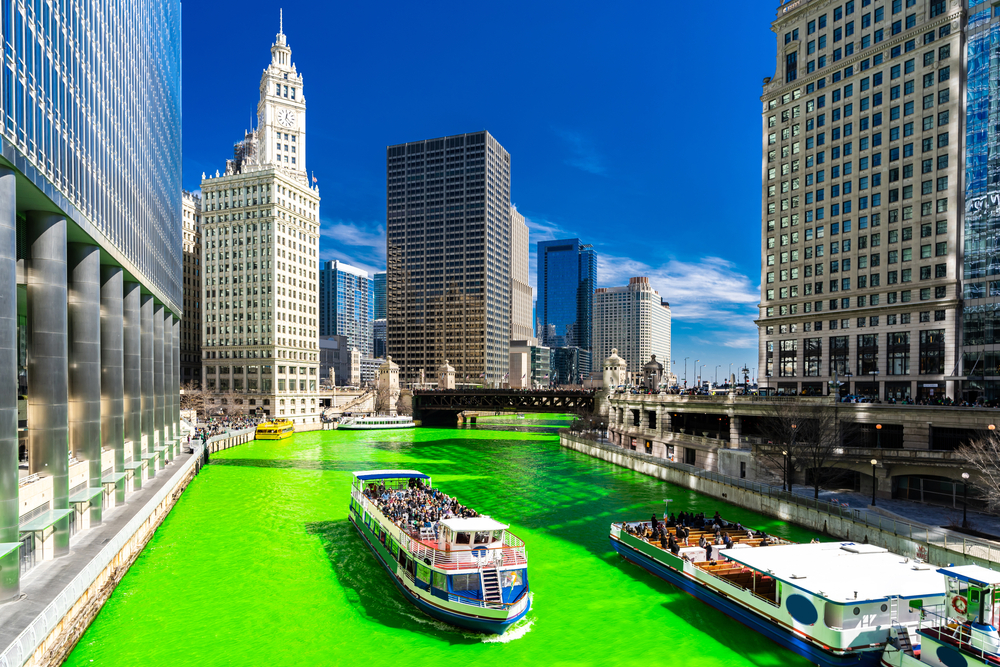 The annual Chicago St. Patrick's Day Parade typically starts around midday, with the Shannon Rovers Irish Pipe Band's booming bagpipes heralding the festivities. This band has dutifully led the procession for well over half a century. After the parade, head to the Irish American Heritage Center in the Mayfair neighborhood for an all-day festival. Rentals in River North, Fulton Market, Streeterville, and the Loop will put you within walking distance of all the action, and the many accessible public transportation options can take you anywhere you need to go. Already crossed this one off your list? Check out this guide for some more great St. Patrick's day celebrations in the U.S.
Missouri: Have a Picnic in Gateway Arch National Park
Closest Major Airport: St. Louis Lambert International Airport (STL) – 15 miles away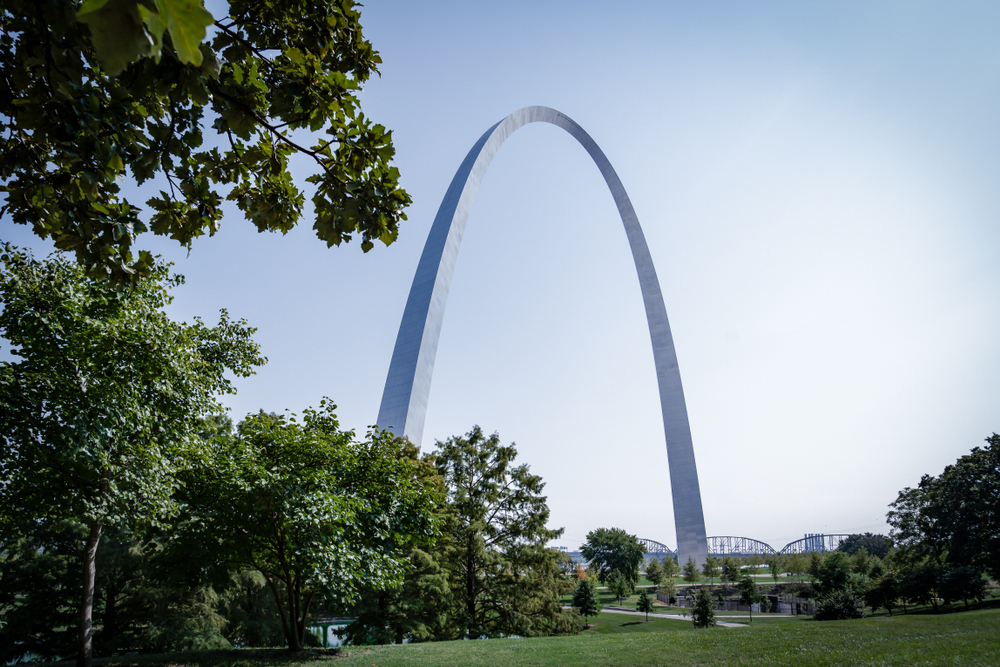 Similar to New York City and the Statue of Liberty, it's hard to think about St. Louis and not imagine its signature 630-foot stainless steel arch. What you may not know is that the Gateway Arch — or the "Gateway to the West" — is the tallest structure in Missouri. Situated along the west bank of the Mississippi River, the park was established to commemorate not only westward expansion but also as a memorial for Dred Scott and the hundreds of other slaves who bravely dared to sue the government for freedom. Today, you can visit the Historic Old Courthouse where these suits were filed and the nearby Museum at the Gateway Arch.
St. Louis has a number of rentals that will make getting to the park and having a picnic outside easy to accomplish.
For the fun-seekers out there, no trip to Missouri is complete without a stop at the Lake of the Ozarks, which will surprise Netflix fans for being much more leisurely and fun to recreate than the show Ozark makes it out to be.
Michigan: Dance the Night Away at Electric Forest Music Festival
Closest Major Airport: Gerald R. Ford International Airport (GRR) – 75 miles away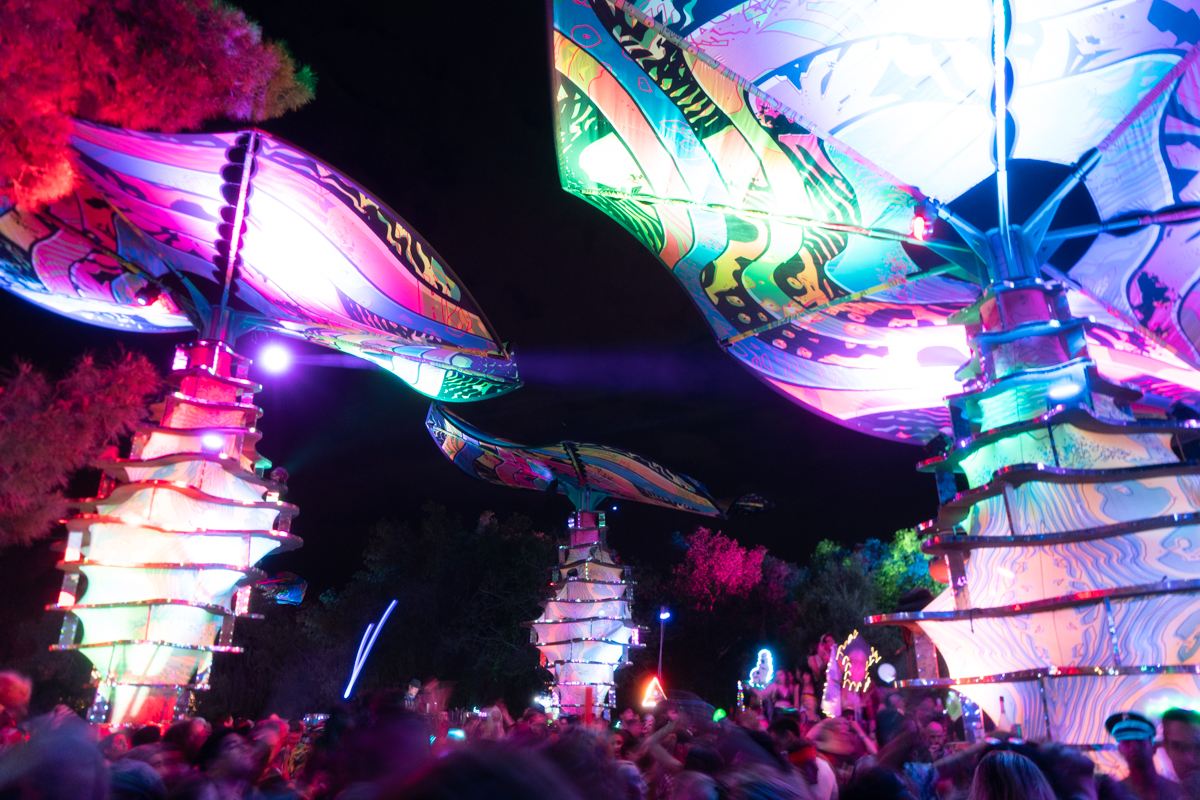 In June 2022, the Electric Forest Music Festival, held in Rothbury, Michigan, celebrated its 10th anniversary after postponing two years in a row due to COVID-19. Nestled in the stunning Sherwood Forest, the natural beauty of the towering woodland trees combines with exhilarating light installations and over-the-top performances by electronic artists and jam bands. During the day, attendees can roam around the enchanting scenery or hang out in one of the hundreds of hammocks dangling between the pine trees. Once the sun goes down, the forest is lit up by a spectrum of brilliant colors — and the magic begins.
Since the weekend festival takes place in the middle of summer, consider adding a stop either before or after at one of Michigan's laid-back beach towns on the western shores of Lake Michigan. From St. Joseph at the bottom to the Silver Lake Sand Dunes at the top, visitors can find any number of different towns to suit their needs.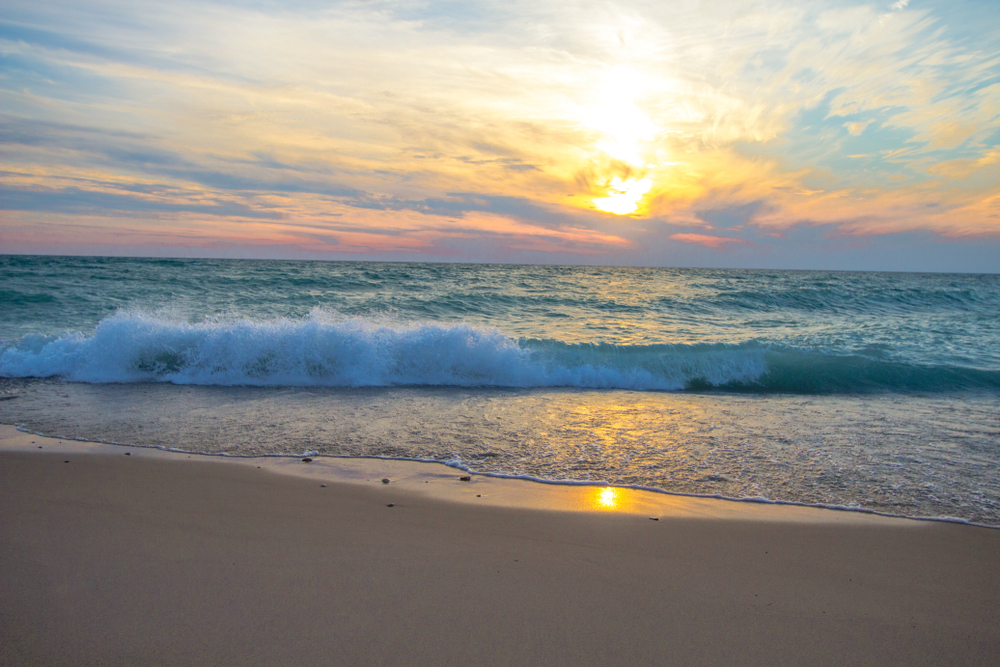 Indiana: Watch the Greatest Spectacle in Racing
Closest Major Airport: Indianapolis International Airport (IND) – 11 miles away
Thirty-three drivers. 200 laps. 500 miles. One bottle of cold milk. For over a century, the Indianapolis 500 — Indy 500 for short — has been held at the Indianapolis Motor Speedway in Speedway, Indiana. A short drive from downtown, Speedway is conveniently located near a number of rentals in Indianapolis. The event billed as "the Greatest Spectacle in Racing," is one leg of the Triple Crown of Motorsport, along with F1's Monaco Grand Prix and the 24 Hours of Le Mans.
Even if you aren't a gearhead, you'll still be able to appreciate as many as 33 IndyCars whooshing along the oval track at speeds exceeding 240 mph. You can also enjoy a jaunt through history at the Indianapolis Motor Speedway Museum, a world-class institution dedicated to automobiles and auto racing. If you're itching to push the pedal to the metal and test your nerves, check out Speedway Indoor Karting, a go-kart facility where you can see if you have what it takes to become a motorsport legend.
Ohio: Rock On at Cleveland's Rock & Roll Hall of Fame
Closest Major Airport: Cleveland Hopkins International Airport (CLE) – 15 miles away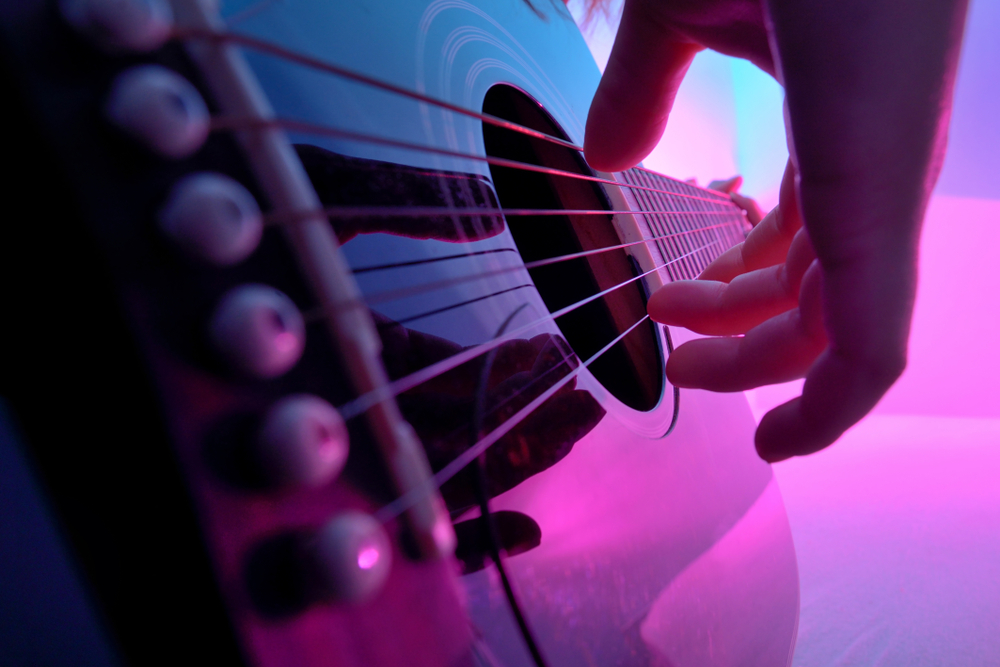 Pink Floyd. Janis Joplin. The Clash. Jimi Hendrix. Prince. All of these music legends and more are honored at the Rock & Roll Hall of Fame, located on the waterfront of Lake Erie in downtown Cleveland. This is a bucket-list-worthy item every rock 'n' roll lover, and music lover in general, should visit in their lifetime. The pyramidal-shaped museum does a good job of cycling through numerous galleries to keep things fresh, rewarding frequent visits.
The permanent exhibits feature a number of musical artifacts, including handwritten drafts of hit singles, performance outfits, and instruments from some of history's greatest concerts. Ranging across five floors, each one has something appealing to see no matter when you go:
Level Zero: In addition to the thousands of items on display, exhibits include films, videos, interactive kiosks, reading materials, and, of course, plenty of music.
Level One: The main entrance and location of the Rock & Roll Hall of Fame Gift Shop and All Access Cafe.
Level Two: The Garage allows visitors to play real instruments, jam with friends, and create branding for your new band.
Level Three: The Hall of Fame portion includes a Signature Gallery that honors each inductee by year, a new inductee exhibit, and an "In Memoriam."
Level Four: A replica of Pink Floyd's The Wall, designed to mirror the band's Berlin performance of July 21, 1990.
Level Five: A staple of the Rock Hall for over 20 years, the Legends of Rock represents a myriad of musical genres and highlights some of the world's most iconic acts.
New England
Home to only one national park across six states but many national forests, New England is rich in other ways. Connecticut, Rhode Island, Massachusetts, New Hampshire, Vermont, and Maine are chock full of different cultures and geography in a landmass only slightly larger than the state of Washington (that's 6.5 Denali National Parks for those keeping tabs). Any bucket list worth its snuff would include a visit to a storied baseball park in Boston, a day of sailing around Newport, a way to see all the wonderful foliage, and so much more.
Connecticut: Indulge in a Pizza Crawl
Closest Major Airport: Bradley International Airport (BDL) – 53 miles away
This addition might send New Yorkers running for their pitchforks in protest. The Tri-State Area, composed of New York, New Jersey, and Connecticut, has been heavily debating who makes the best pizza since time immemorial. While we don't profess to be the arbiters of this debate, we do respectfully put forth that Connecticut has some great places to grab a slice, along with multiple places to relax along the shoreline.
Your Connecticut pizza crawl can start at the Original Pappas Pizza in downtown Stamford, continue in Zuppardi's Apizza in West Haven, before stopping in New Haven for Frank Pepe Pizzeria Napoletana and Modern Apizza, and culminating in the seaside community of Mystic. It's there you'll find the eponymous Mystic Pizza, a famed eatery thanks to a winsome, 1988 rom-com of the same name. Which one serves the best pie? We'll let you be the judge!
Rhode Island: Spend a Day Sailing Around Newport
Closest Major Airport: Boston Logan International Airport (BOS) – 74 miles away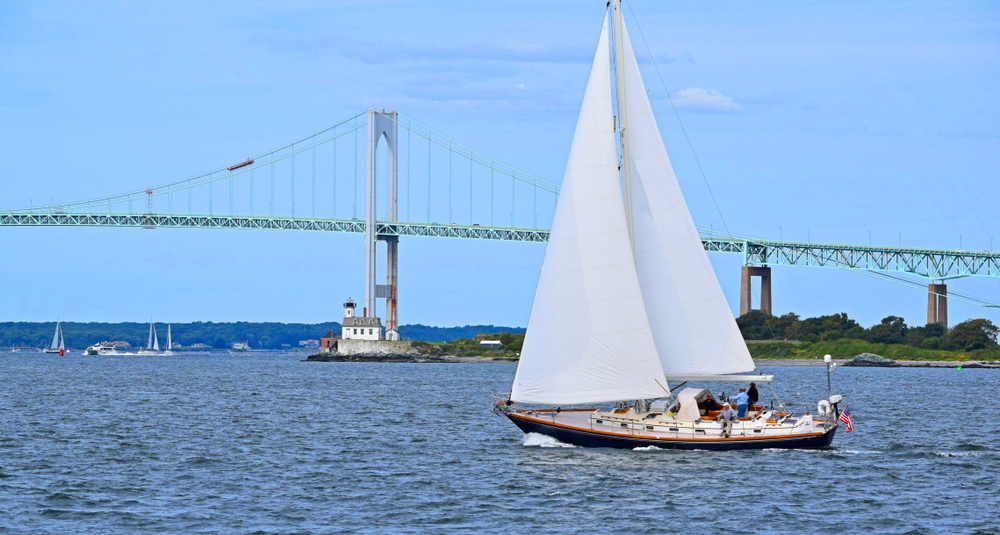 Pinkies up ladies and gents! Or at least that's how you'll feel while getting a watery tour of Newport and the surrounding area. This seaside city located along the coast of Narragansett Bay has long been considered a storied New England summer retreat. Intimate cruise ship experiences or charter captains can provide a one-of-a-kind adventure as you sail past lighthouses, a historic fort, and miles of stunning coastline. Not only is Newport considered the sailing capital of the world, but it also hosted the America's Cup — sailing's preeminent competition — for more than 50 years. Explore all this history and more at The Sailing Museum located right off Newport Harbor in the heart of downtown.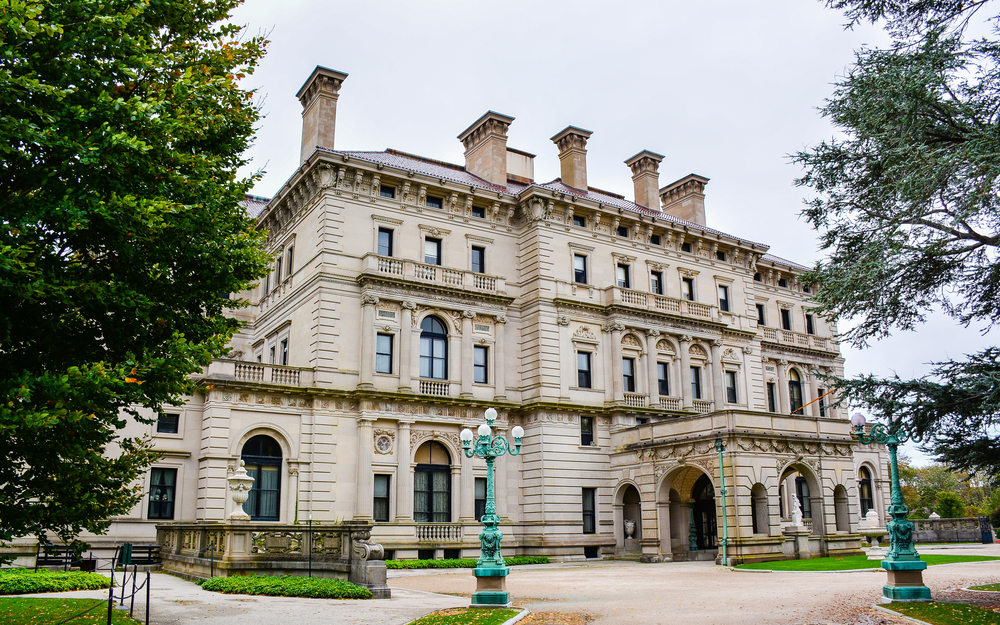 Afterward, walk over to Bowen's Wharf to sample some out-of-this-world seafood, including some of the freshest oysters, clams, and shellfish you'll ever find. A slew of beaches is accessible from a number of rentals, as are both self-guided and trolley tours of the Beaux-Arts "cottages" — massive summer homes of Gilded Age families. The most decadent of the bunch are The Breakers (pictured above), Marble House, and The Elms, which invite visitors to tour inside where the Vanderbilts and robber barons hobnobbed; each one is now considered a National Historic Landmark.
Massachusetts: Attend a Red Sox Game at Fenway Park
Closest Major Airport: Boston Logan International Airport (BOS) – 6 miles away
Some of the oldest major league ballparks still standing in the U.S. include RingCentral Coliseum, Dodger Stadium, and Angel Stadium — all built in the '60s. However, none of them can outseat Fenway Park, home of the Boston Red Sox since it opened all the way back in 1912. Wrigley Field, where the Chicago Cubs play, is the second oldest, having opened in 1914.
Immerse yourself in all the sights, sounds, and root, root, root for the home team at a seat in this charming baseball stadium. Or pull up a chair at the Bleacher Bar, a unique pub underneath Fenway's bleachers with views of center field, and watch right-handed batters try to homer over the Green Monster — the nickname given to the park's 37-foot-high left-field wall.
Booking a rental in the Fenway-Kenmore area of Boston will put you steps from both Fenway Park and the many restaurants and sports bars that line Lansdowne Street. If you're looking for local culture, make sure to visit the Museum of Fine Arts and Isabella Stewart Gardner Museum, then check out the Back Bay Fens (which provides the baseball park with its name) if you're looking to enjoy a walkable city park.
Speaking of walks — history buffs can get a kick out of walking along the Freedom Trail, just a 20-minute drive north of Fenway Park. Every step along the Freedom Trail tells a story about America's founding as a country. This Revolutionary-era collection of museums, churches, meeting houses, burying grounds, parks, and historic markers is a must-see for those looking to step back in time.
New Hampshire: Revel in the Foliage from Cannon Mountain
Closest Major Airport: Boston Logan International Airport (BOS) – 142 miles away
Every fall in New England, the hills and mountainsides explode in fiery combinations of yellow, red, and orange leaves. People travel hundreds of miles to experience this annual phenomenon, which has spurred lifelong natives of the area to teasingly brand them as "leafers."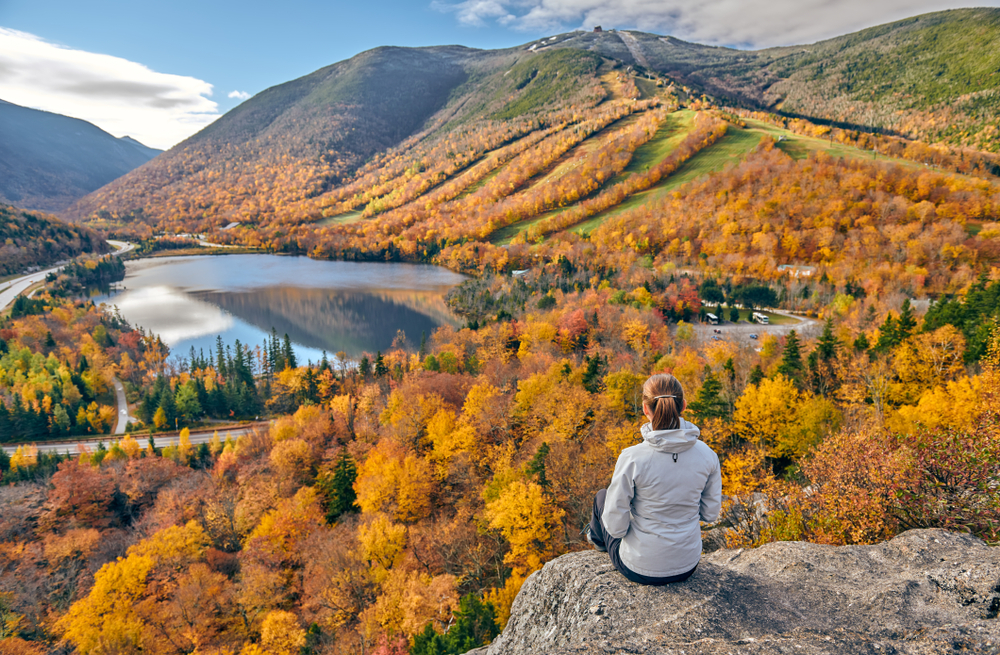 But there's truly no shame in it, especially if you grab one of the best seats in the house — from Cannon Mountain, located in the heart of New Hampshire's White Mountain National Forest. Climb aboard the Aerial Tramway and marvel at views of the surrounding area, which includes Maine, Vermont, New York, and even Canada, as it whisks you over 4,000 feet to the summit. Once there, you'll find scenic walking paths, a 360-degree observation deck, a café, and restrooms. If that alone doesn't do it for you, try renting a car and driving the Kancamagus Highway, one of the most spectacular fall foliage drives in the entire country.
During your visit, soak up the abundant natural beauty found in lakes and mountains by getting a rental in New Hampshire for the duration of your stay. The best time to see the foliage is usually from late September to early October, so make sure you plan accordingly!
Vermont: Visit the Deepest Gorge in the State
Closest Major Airport: Portland International Jetport (PWM) – 170 miles away
The Quechee Gorge, nicknamed "Vermont's Little Grand Canyon," is a narrow ravine on the Ottauquechee River. The Ottauquechee name comes from the Natick tribe and translates to a swift mountain stream, which has been slowly carving through the bedrock ridge for the past 13,000 years, thereby creating this natural wonder. Grab a nearby rental so you can spend the day enjoying all there is to see in this part of Vermont:
Check out some amazing vistas from the uppermost portions of the 165-foot-deep gorge, or while trekking the hiking trails along the mile-long chasm.
Buy a panning sluice from the gift shop (or bring your own) and hunt for gemstones.
Head over to the Quechee Gorge Village, showcasing all kinds of antiques, cheese, and wine, and offers spirit tastings. There are also live alpacas and pieces to purchase by Vermont artisans.
Grab a slice of Greek-style pizza at Pizza Chef then work it off in an adventurous round of mini golf.
Tour the Simon Pearce Workshop and watch artisans blow beautiful glassware or throw pottery.
After hiking all day, head to Woodstock for the night, and maybe even grab a massage at the Woodstock Inn & Resort. Afterwards, sit for a nice meal at Richard's Tavern or The Prince & The Pauper.
Maine: Watch the Sunrise in Acadia National Park
Closest Major Airport: Bangor International Airport (BGR) – 46 miles away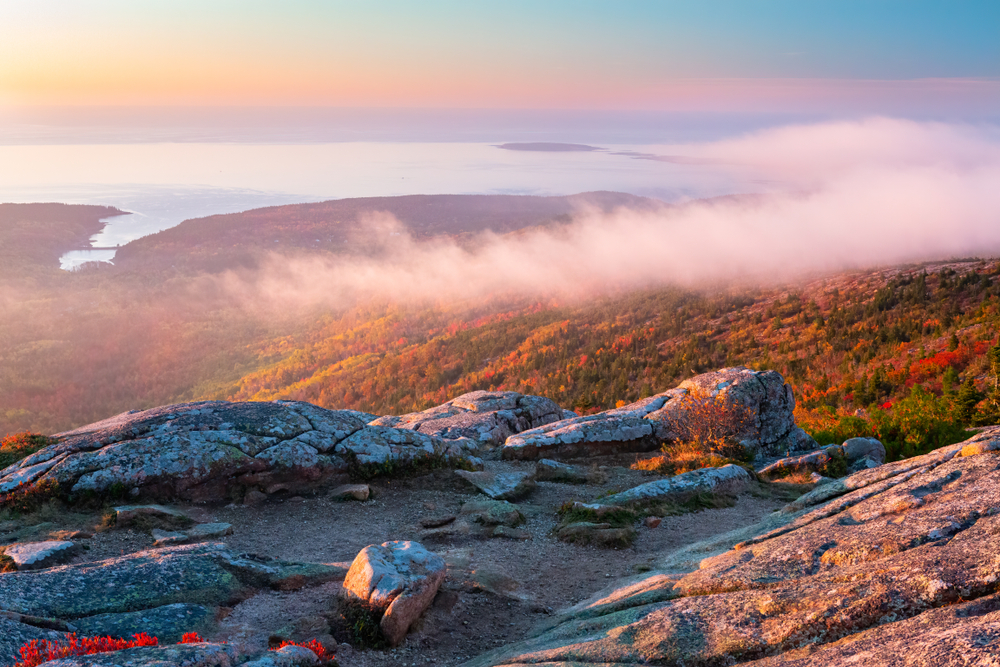 The first national park established east of the Mississippi River, Acadia National Park features a breadth of outdoor activities to partake in, but the two overwhelming favorites are hiking and biking. There are more than 130 miles of hiking trails to explore, 27 miles of historic roadways, and 45 miles of carriage roads built around the park's founding in 1919. The park is comprised of a cluster of islands along the jagged Maine coast and a section of the mainland on the Schoodic Peninsula. Its variety of landscapes includes mountains, woodlands, lakes, ponds, and dramatic ocean shorelines.
Acadia experiences a large influx of visitors each year who specifically enjoy driving to the top of Cadillac Mountain, which at 1,530 feet is the highest point on the Atlantic coast. The park is located near the picturesque town of Bar Harbor on Mount Desert Island. Many visitors believe this peak's vantage point on the easternmost state offers the first views of the sunrise anywhere in the U.S. And they're right — from the middle of October through the first week of March. So if that's your goal, make sure to plan ahead. And don't forget to have a lobster roll before you leave!
Mid-Atlantic
The Mid-Atlantic needs no introduction. Home to the Big Apple, the Jersey Shore, Philadelphia, and the states of Delaware and Maryland, this region is full of outsized things to do. You'll find amazing food and bucket-list-worthy places to explore, and these ideas will help put you on the right track.
New York: Chase Waterfalls Across Upstate New York
Closest Major Airport: Buffalo Niagara International Airport (BGR) – 25 miles away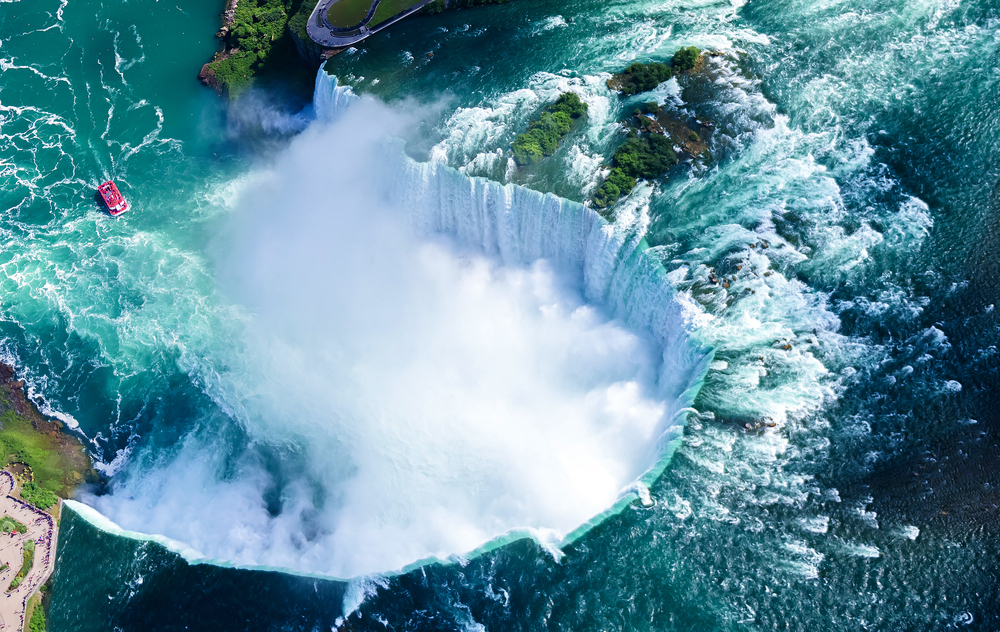 TLC would have you believe it's not in your best interest to chase waterfalls, but when it comes to sightseeing in New York, you absolutely should. Niagara Falls State Park is obviously one of the most famous falls in the world — and is most likely high up on your list — but keep reading for some other spellbinding options in the area.
New Jersey: Experience the Real Jersey Shore
Closest Major Airport: Newark Liberty International Airport (EWR) – 64 miles away
New Jersey gets a bad rap, and its lurid portrayal on MTV's infamous reality show Jersey Shore certainly doesn't help. But the real Jersey Shore consists of multiple family-friendly seaside towns spread out along 127 miles of shoreline. From Sandy Hook near New York City to Cape May at the very bottom of the state, there's tons to do here, like road-tripping to see all 18 lighthouses up close. If you have the time, consider renting a beach house in one of these towns during the summer.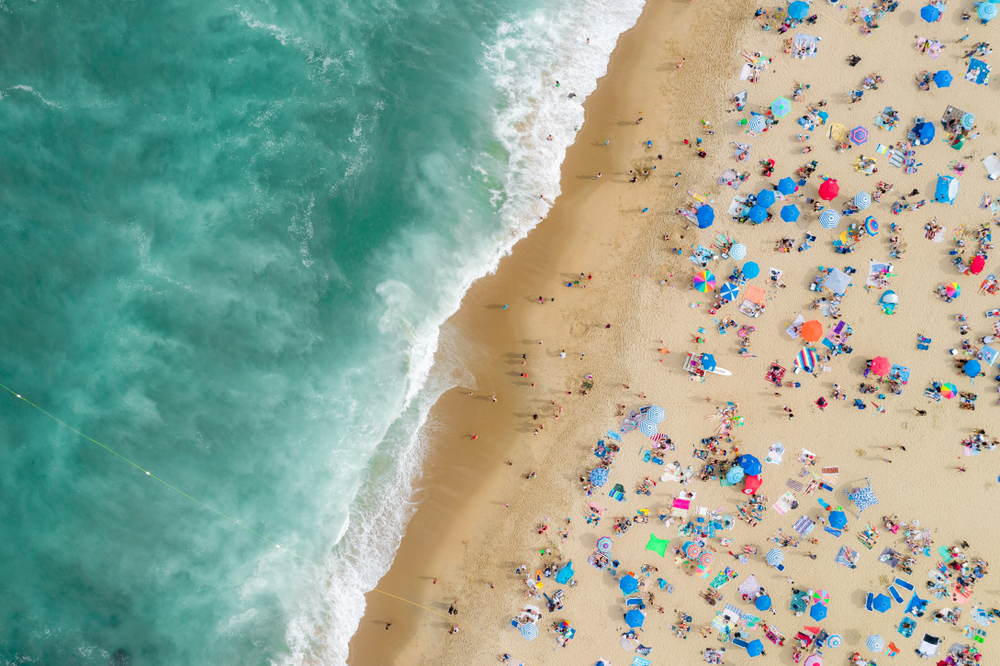 Spring Lake. This small beach town has retained the charm of its earliest incarnation as a popular destination for Gilded Age New Yorkers. Today, Spring Lake features the longest non-commercial boardwalk in the state, ideal for running and biking along the white-sand beaches, or just as a place to unwind.
Long Beach Island. A family haven and surfer magnet, Long Beach Island — locally referred to as "LBI" — is home to the original Ron Jon Surf Shop, one of the oldest operating surf stores in the United States. A trip to LBI is like traveling back in time, with tons of single-level storefronts and facades harkening to the 50s. If you don't mind braving long wait times, check out The Chicken or the Egg for the best chicken wings in the entire state.
Long Branch. If you're in the mood for a little shopping to go with your beach day, try Pier Village Shopping Plaza, which puts you near the Long Branch beaches and all the action within walking distance of Seven Presidents Oceanfront Park. There you'll find high-end stores and trendy boutiques interspersed with some of the best restaurants in the area.
Point Pleasant. For the New Jersey shore's iconic boardwalk experience, look no further than Point Pleasant, which features Jenkinson's Boardwalk. Chock full of old-time fun, the boardwalk includes an aquarium, an arcade, an amusement park, mini-golf courses, and a 4,000-square-foot fun house.
Pennsylvania: Find the Best Philly Cheesesteak in Philadelphia
Closest Major Airport: Philadelphia International Airport (PHL) – 10 miles away
Where does one find the best Philly cheesesteak in Philadelphia? Depending on who you ask, you will assuredly get a different answer. That's because no sole proprietor can lay claim to the title of best Philly cheesesteak — a long, baked roll filled with thinly sliced sauteed ribeye beef and melted cheese (or Cheez Whiz, which is a staple of this cuisine). There are just too many variables and different iterations to count! However, we can certainly break it down for you by fame, the inclusion of Cheez Whiz, grilled onions, and a healthy helping of non-traditionalism, so you can find a favorite vendor that melts your heart (and cheese) just right within the city limits.
Most Famous: Pat's and Geno's. These two establishments refer to Pat's King of Steaks and Geno's Steaks — both 24/7, no-frills, neon-soaked eateries across the street from each other in Passyunk Square. Pat's lays claim to creating the first cheesesteak in the city, while Geno's came later, declaring in no small way that they had mastered the sandwich.
No Cheez Whiz: ​​John's. Another iconic eatery in South Philly, John's Roast Pork forgoes the processed cheese sauce found in Pat's and Geno's cheesesteaks, adding American or provolone to their cheesesteaks instead. You can also veer way off the traditional path by ordering one of their specialty cheesesteaks, which add pizza, bruschetta, bacon, and more.
Most Non-Traditional: Cleavers. Established in 2016, Cleavers revels in its non-traditional, gourmet menu items. While they also have Cheese Whiz as an option, they offer mild provolone and white cheddar sauce as well. Take a walk on the wild side with their Effin' Hot Steak — made with ribeye steak, hot cherry pepper relish, fried onions, American cheese, Sriracha Aioli — or The Cleaver, a cheesesteak bursting at the seams with a one-pound helping of ribeye.
After eating all that red meat and dairy, make sure to burn it all off by running up the "Rocky Steps" — named in honor of Sylvester Stallone's bellicose bruiser — at the Philadelphia Museum of Art. At the top of the steps, don't forget to pose like the heavyweight champion!
Delaware: Cheer on the Action at Monster Mile
Closest Major Airport: Philadelphia International Airport (PHL) – 66 miles away
You don't earn a reputation for being a "monster" in motorsports without bringing the intensity. Dover International Speedway was given the nickname Monster Mile for having a one-of-a-kind concrete race track, which replaced the original asphalt surface in 1995. The result cultivates an international reputation for being hard on both NASCAR drivers and equipment — and is driven home by the enormous mascot, Miles the Monster: a 46-foot-tall, 40,000-pound, red-eyed monument holding a full-sized car in its raised fist.
This Delaware staple, located right outside of Dover, has held at least two NASCAR races a year since opening in 1969. It's also home to what many consider to be the most exciting seats in all of sports. Suspended almost 30 feet above the racetrack, fans can watch the pack of drivers scream right underneath their feet from one of 56 seats on the glass-enclosed Monster Bridge. While the seats can't be purchased outright — instead, they must be won as a prize — if you go, you can still see what it feels like having racecars whizz underneath you by crossing the pedestrian bridge at Turn 2.
Maryland: Attend the World's Largest Crab Feast
Closest Major Airport: Baltimore/Washington International Thurgood Marshall Airport (BWI) – 24 miles away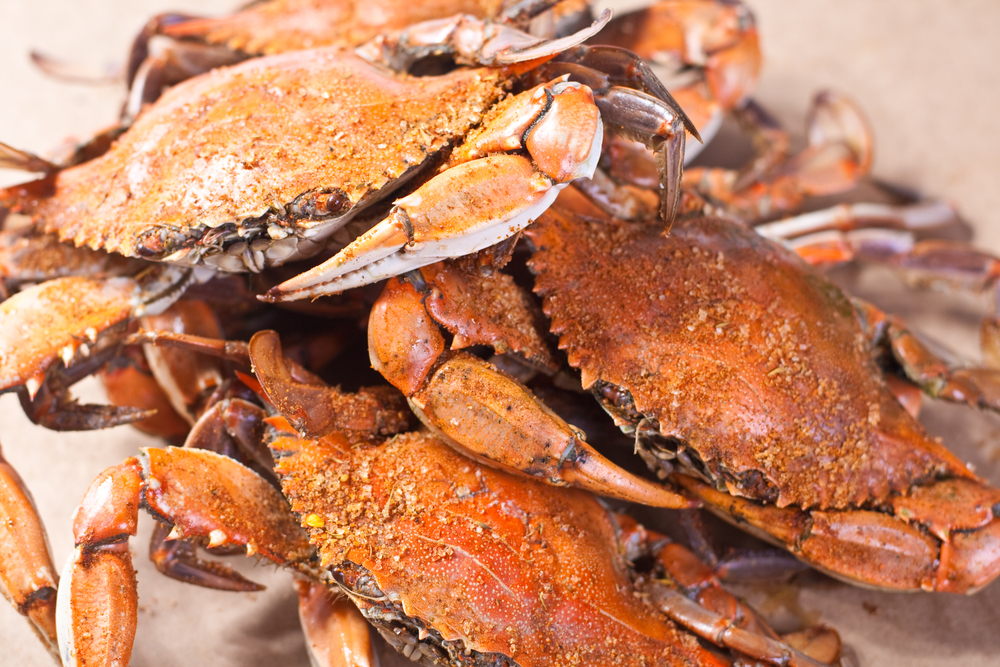 Held rain or shine since 1946 at the Navy-Marine Corps Memorial Stadium in Annapolis, the Annual Rotary Crab Feast is one of the longest-running summertime traditions in the state. The event, billed as "the world's largest crab feast," is an all-you-can-eat bonanza of Maryland's famous blue crabs. You can also get your fill of vegetable crab soup, sweet corn on the cob, BBQ, hot dogs, watermelon, draft beer, and assorted baked goodies.
Put on by the Rotary Club of Annapolis, all of the proceeds go to help local nonprofit organizations — while their partner, Annapolis Green, keeps the event zero-waste by collecting the roughly 20,000 pounds of leftover crab shells and other food waste, and turns them into Christmas composts. Crab Feast is usually held every August, so make sure to grab your tickets here and a place to stay nearby.
The South
The Southern region of the United States is generally accepted as starting right below the Mason-Dixon line. These states include Virginia, West Virginia, Arkansas, Kentucky, Louisiana, Mississippi, Tennessee, Alabama, the Carolinas, Georgia, and Florida. But if you think this only refers to a geographical area — boy, do we have news for you! The South is a culture unto itself within the United States, with cuisine and a way of life all its own.
Virginia: Marvel at the Luray Caverns
Closest Major Airport: Washington Dulles International Airport (IAD) – 81 miles away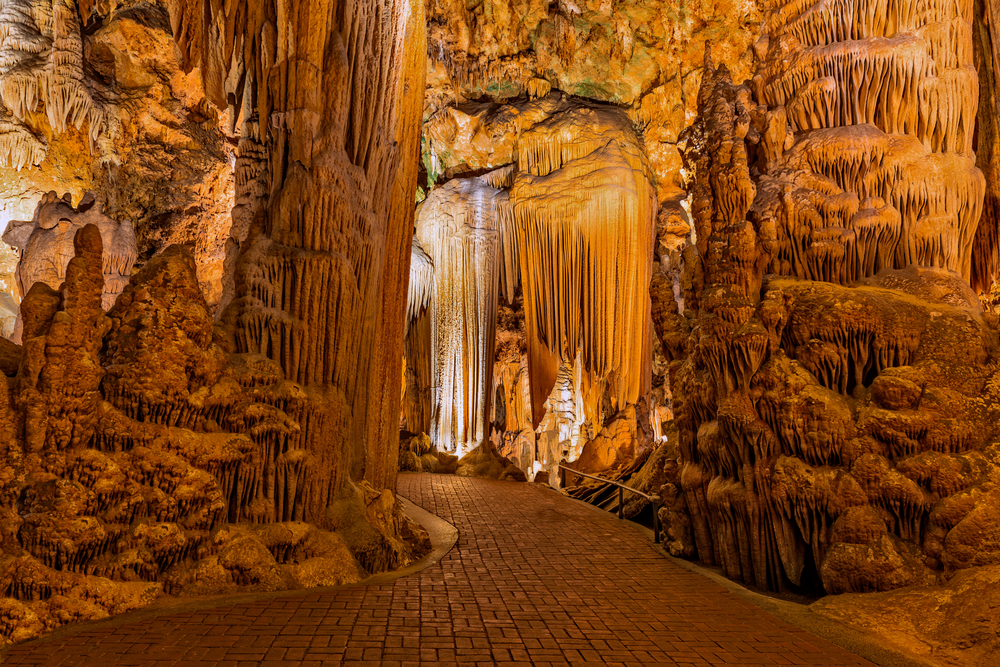 Don't dismiss these caverns as a humdrum roadside attraction. North of the Shenandoah National Park, the Luray Caverns were discovered in 1878, and their thousands of stalactite and stalagmite columns have been wowing people ever since. After purchasing a ticket, you'll follow a paved walkway into the earth — but don't worry, it's far from claustrophobia-inducing. Instead, you'll be greeted with cathedral-sized rooms and towering ceilings. Underground you'll see (and hear) all kinds of wondrous natural oddities. Some of them include:
Dream Lake. The largest body of water in the caverns, this 18- to 20-inch deep sparkling lake reflects a myriad of fantastic crystalline forms and creates a mirror image of the stalactites hanging from the ceiling.
Double Column. Dominating Giant's Hall, the 47-foot Double Column is the tallest formation in the caverns, and it's the result of a stalactite and a stalagmite coming together.
Stalacpipe Organ. The world's largest musical instrument, this organ — built in 1956 — uses rubber-tipped plungers to gently tap 37 stalactites to create a haunting musical masterpiece you'll never forget.
If this one sounds appealing, there are a number of inexpensive rentals in Luray for you to peruse.
West Virginia: Attend Bridge Day at the New River Gorge
Closest Major Airport: West Virginia International Yeager Airport (CRW) – 86 miles away
New River Gorge National Park & Preserve encompasses over 70,000 acres of land between the towns of Hinton and Fayetteville. The park gets its name from a defining feature, the New River: a rugged, whitewater rafting paradise, falling 750 feet across 50 miles from the Bluestone Dam to Gauley Bridge. However, the name might be something of a misnomer, as this is one of the oldest rivers in North America.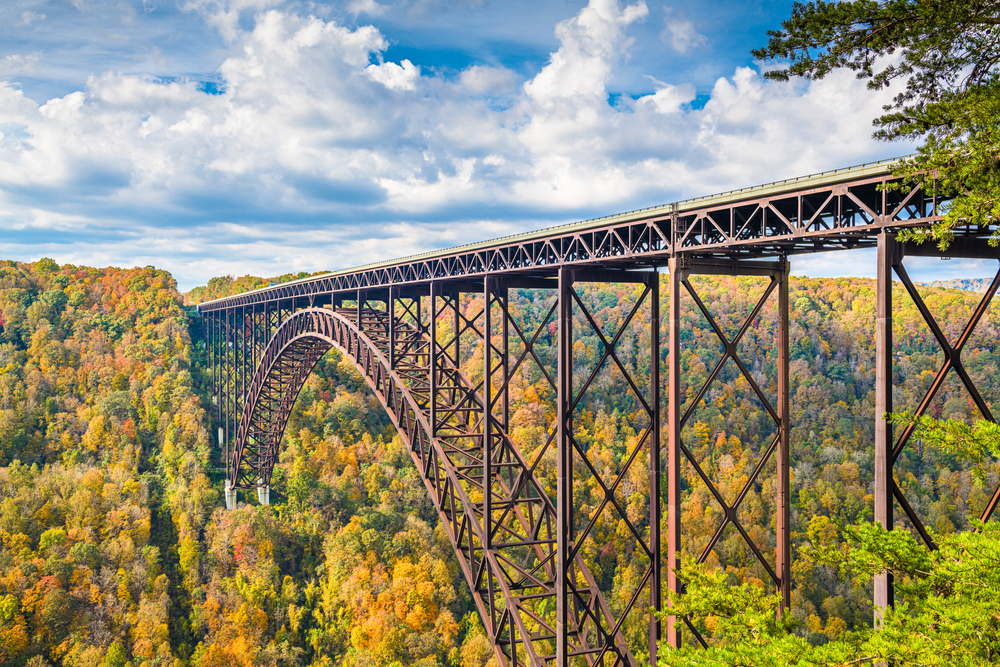 The best time to visit this park is on Bridge Day, held every October. West Virginia's largest single-day festival brings thousands of people together on the New River Gorge Bridge in Fayetteville, West Virginia to watch daredevils BASE jump from the 876-foot steel span bridge — the highest bridge east of the Mississippi — into the gorge below. This is the only day of the year pedestrians are allowed to walk across the bridge, so getting to see this view is a rare treat. If you want to take part in some extreme sports of your own, consider signing up for the Bridge Walk, a tour across the entire 3,030-foot-length of the bridge's underside along a narrow, 24-inch-wide catwalk. Furthermore, the truly brave can sign up ahead of time for a tandem jump here.
Arkansas: Visit the Breathtaking Anthony Chapel
Closest Major Airport: Bill and Hillary Clinton National Airport (CRW) – 59 miles away
Nestled among the dense pines and hardwoods south of Hot Springs, Arkansas, Anthony Chapel is a work of art, consisting of massive pine columns, cross beams, and a vaulted glass ceiling surrounded by floor-to-ceiling windows. Nearly 10,000 square feet of glass reveal the surrounding woodland canopy and sky. If you have $3,000 to spare for a three-hour time slot, we might suggest getting married in this exquisite, one-of-a-kind chapel located 45 minutes from Little Rock in the Garvan Woodland Gardens. If not, merely touring Anthony Chapel can fill you with romance and wonder.
The city of Hot Springs is known for its naturally heated springs, many of them found in the eponymous Hot Springs National Park to the north. With plenty of thermal bathhouses to visit and fried pickles to try — a local delicacy — you'll have plenty of things to explore.
Kentucky: Cheer on the Horses at the Kentucky Derby
Closest Major Airport: Louisville Muhammad Ali International Airport (SDF) – 3.4 miles away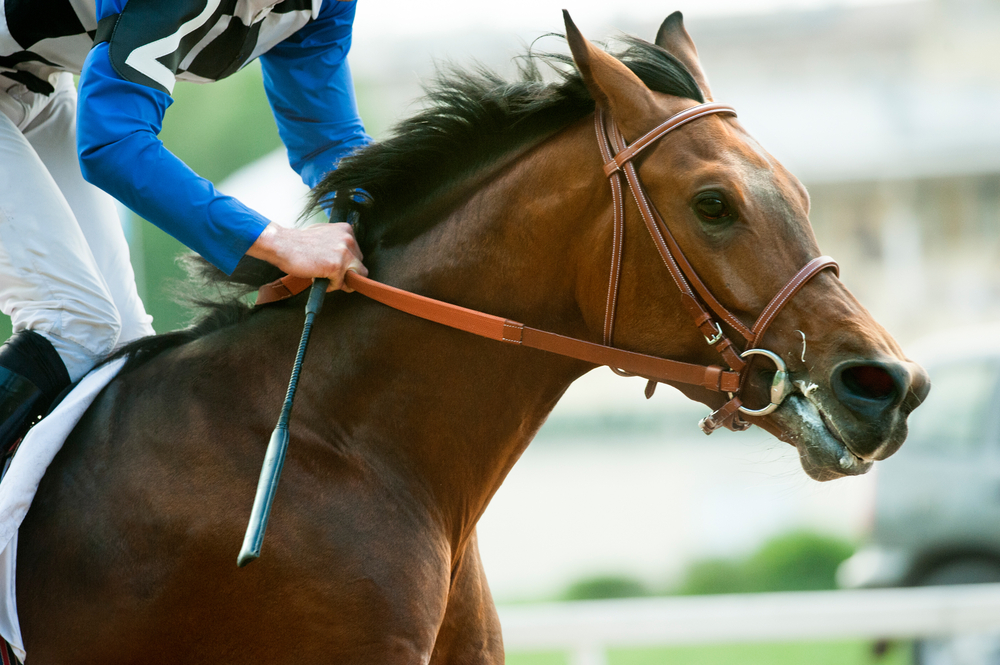 The Kentucky Derby was first held in Churchill Downs in Louisville, Kentucky in 1875. Not only has the location of the race and the date remained the same all these years later, but so have its quirky traditions. Many people show up to watch the Run for the Roses wearing colorful hats and cocktail attire. They also enjoy sipping on the Derby's signature drink: a mint julep — with some experts estimating around 120,000 of these whiskey libations are consumed in a single day each year.
While most of the items on this list require some planning, if you're looking to attend the Kentucky Derby, we suggest really planning ahead, as tickets and accommodations tend to sell out quickly. You can enter your email here for a chance to get tickets to next year's Kentucky Derby. Once those are secured, you can find a place to stay in Louisville if you book early enough. Then pick some favorite horses and good luck!
Louisiana: Celebrate Mardi Gras in New Orleans
Closest Major Airport: Louis Armstrong New Orleans International Airport (SDF) – 15 miles away
It's never too early to start planning your stay in New Orleans for Mardi Gras!
Though Mardi Gras — French for "Fat Tuesday" — technically refers to a single day, the two weekends leading up to it are full of parades and celebrations. The biggest parades are put on by the "Super Krewes" of Orpheus, Bacchus, and Endymion, and are held on the weekend before Fat Tuesday, and Fat Tuesday itself. So no matter when you go, there really isn't a wrong time to celebrate. Expect all kinds of beads, masked revelers, interesting libations, and outlandish spectacles. Whether you see one of the float parades or a foot parade in the French Quarter, it's difficult not to enjoy yourself while attending Mardi Gras in New Orleans.
If you want to partake in the rowdiest tradition of them all, head to the infamous Bourbon Street, a historic street in the heart of the French Quarter. To get a unique perspective of the festivities, try renting one of the pricier accommodations along this strip with a balcony. If that's outside of your budget, don't worry as there are loads to see and do: including dueling piano bars, old absinthe houses, jazz bars, and lots more.
Mardi Gras has a lot going on every year, so if you've never been to one of the biggest parties in the US, you might be at a loss of where to begin. Luckily, we've got some great guides to assist you in picking the right place.
Mississippi: Follow the Blues Trail & Feast on Soul Food
Closest Major Airport: Jackson–Medgar Wiley Evers International Airport (JAN)
People travel to Mississippi to get their fill of blues and incredible cooking. That's because the "Birthplace of America's Music" is also home to some of the best soul food in the South. This cuisine is inextricably linked with Black-American heritage, specifically in the Deep South, or the states of Georgia, Mississippi, and Alabama.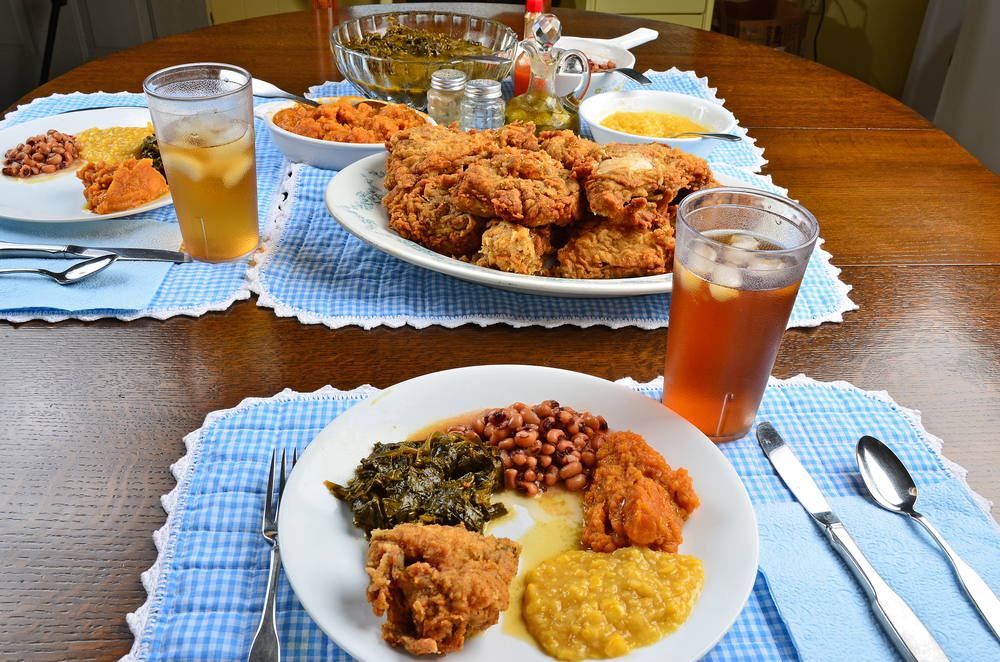 Soul food is characterized by having more flavors, seasoning, and fat. It is also sweeter, spicier, and saltier than your average dish. Many of the establishments that serve this hearty fare are long-running and no-frills, meaning you should expect paper plates and picnic tables when chowing down — the focus is the flavor. Follow the Mississippi Blues Trail to learn more about the Black musicians who strongly influenced music as we know it today, and grab some homecooked meals along the way at these stellar restaurants. Here are a couple places to explore:
Sugar's Place. Located in downtown Jackson, Mississippi, Sugar's Place is a Jackson institution that features smothered pork chops, chicken tetrazzini, baked chicken, and chicken-'n'-waffles.
Biscuits & Blues. This funky restaurant in Natchez is "dedicated to the preservation of hot biscuits and cool blues!" A great place to try some authentic southern biscuits, they also host live blues performances in the evenings and offer Southern dishes like gumbo, po'boys, grits, BBQ, and fried oysters.
Tennessee: Visit Graceland, Home of Elvis Presley
Closest Major Airport: Memphis International Airport (MEM) – 3 miles away
Tennessee is a music lover's dream, with Bonnaroo Music and Arts Festival in Manchester, and all the honky-tonks and legendary country music stars in Nashville. However it's Memphis, on the state's southeastern corner, that's home to none other than the King of Rock 'n' Roll: Elvis Presley.
Only a short drive from the Memphis International Airport and a number of rentals downtown, Graceland Mansion, a National Historic Landmark, draws hundreds of thousands of visitors each year. Plan a trip in August to check out Elvis Week, which features a line-up of concerts, tributes, and special guests in honor of the 45th anniversary of the king's passing. Here are some things to look forward to:
An interactive iPad tour of Graceland Mansion, hosted by John Stamos and featuring commentary and stories by Elvis and his daughter, Lisa Marie.
Elvis Presley's Memphis at Graceland is an all-new, 200,000-square-foot entertainment complex featuring museums, restaurants, gift shops, and more.
New virtual and augmented reality activities like the "Elvis Yourself" virtual dress-up experience, photo booths, games, and interactive concerts.
A Candlelight Vigil where fans gather in quiet remembrance of the king.
Alabama: Graduate from Space Academy
Closest Major Airport: Huntsville International Airport (HSV) – 10 miles away
Are you ready to have a blast, cadet? Then you'll want to travel to the U.S. Space and Rocket Center in Huntsville, Alabama, for this one-of-a-kind adventure. Huntsville is known as "Rocket City" because it's home to NASA's largest center, the Marshall Space Flight Center — so it only makes sense that the largest space museum in the world is also headquartered here. That's right, the U.S. Space and Rocket Center preserves and showcases decades of Space Age history on its premises. It's also home to Space Camp, geared to young aspiring astronauts and adventurous kids.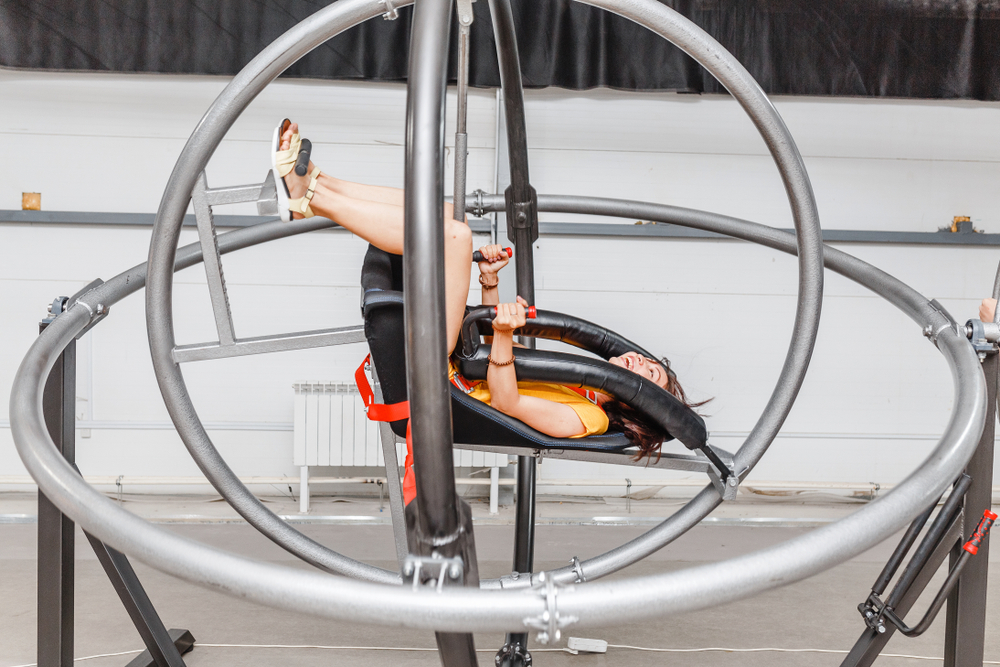 If, like us, you're too old for Space Camp, then Adult Space Academy is the next best thing. This six-day, five-night adventure offers hands-on, interactive space missions and other activities to show you what it takes to be an astronaut. You can register here, and look forward to all the action including:
Training like an astronaut on a multi-axis trainer
Constructing and launching your own rocket
Take part in team-building exercises on the Low Elements Ropes Course
Test your engineering skills by designing a protective heat shield
Perform an extended-duration simulated mission
Fly jet aircraft simulators
Experience neutral buoyancy while SCUBA diving in a 24-foot tank
Since sessions for Adult Space Academy are limited, you should make sure to reserve early. Lodging is onsite in the Habitat facilities and meals are provided in the Space Camp Crew Galley. While the food might not be worth writing home about, casually dropping that you've graduated from Space Academy is a dinner conversation trump card.
North Carolina: Hike the Great Smoky Mountains
Closest Major Airport: Charlotte Douglas International Airport (CLT) – 150 miles away
Receiving more annual visitors than the Grand Canyon, Yosemite, and Yellowstone combined, the Great Smoky Mountains National Park is the most popular national park in the country. What's the allure? Well, for one, this beautiful mountain range between North Carolina and Tennessee reaches heights of nearly 7,000 feet. Follow the Appalachian Trail or one of 150 hiking trails that cover 800 miles of pristine backcountry — from fields of wildflowers to imposing waterfalls. Along the way, make sure to marvel at the park's magical, smoky haze.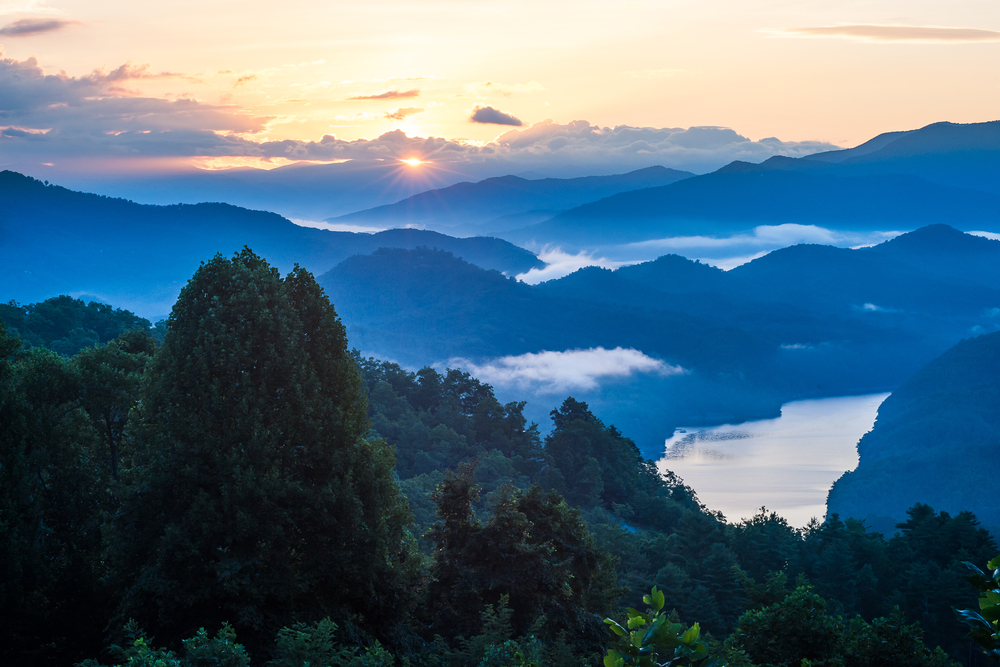 Take a scenic drive to Greenbrier Road, a six-mile walk through spring wildflowers — with the peak months being March and April. It also puts you close to the Porters Creek Trail and Ramsey Cascades, two of the best hikes in the park. For more sights, trek past large waterfalls including Grotto, Laurel, Abrams, Rainbow, and Mingo. There are three entrances to the park from places to stay in Gatlinburg, Tennessee, which will put you in over 500,000 acres of parkland to explore (that's 8% of Denali).
South Carolina: Buzz Over the Grand Strand
Closest Major Airport: Myrtle Beach International Airport (MYR) – 4 miles away
The Grand Strand is a 60-mile stretch of beaches along the Atlantic Ocean that comprise some of the most popular destinations in South Carolina, including Murrells Inlet, Surfside Beach, Garden City, and Myrtle Beach. Take to the skies for a helicopter tour of this area, with the two most frequented outfits being Helicopter Adventures and Oceanfront Adventures, noteworthy for both having a fleet of ruby-red helicopters. Prices conveniently range from $20 to $180. The quicker tours provide passengers with a view of Myrtle Beach, while the longer, more expensive tours follow the coast as far up as the North Carolina border. All ages are welcome and photography is permitted.
Georgia: Scream Your Head Off on the Screaming Eagle Zip Line
Closest Major Airport: Hartsfield-Jackson Atlanta International Airport (ATL) – 46 miles away
Ready to soar like a superhero? If so, head to this outdoor playground in Historic Banning Mills in Whitesburg, Georgia — an hour's drive southwest of your rental in Atlanta — which holds a Guinness World Record for the longest, continuous zip line canopy tour in the world. Included in the tour is the Flight of the Falcon, a crowd favorite for its 1.5 minutes of zip line time, propelling occupants up to 60 miles per hour. Guests are allowed to do so in the exhilarating "Super Hero Style," or flying through the treeline head first.
Historic Banning Mills is popular for its array of extreme adventures, including the world's tallest freestanding wall at a height of 140 feet, as well as the Sky Trek bridge, that's 600-feet-long and over a 180-feet-high, and travels over Snake Creek Gorge. For the extreme sports adverse, they also offer kayaking and horseback riding as well.
Florida: Find the Best Key Lime Pie in the Keys
Closest Major Airport: Miami International Airport (MIA) – 159 miles away
An approximately four-hour drive from Miami, Key West, the southernmost point in Florida, is a world unto itself. Famed for its pastel-hued, conch-style houses and bohemian vibe, it also shares a name with a classic dessert that was invented here: Key lime pie made from Florida Key limes.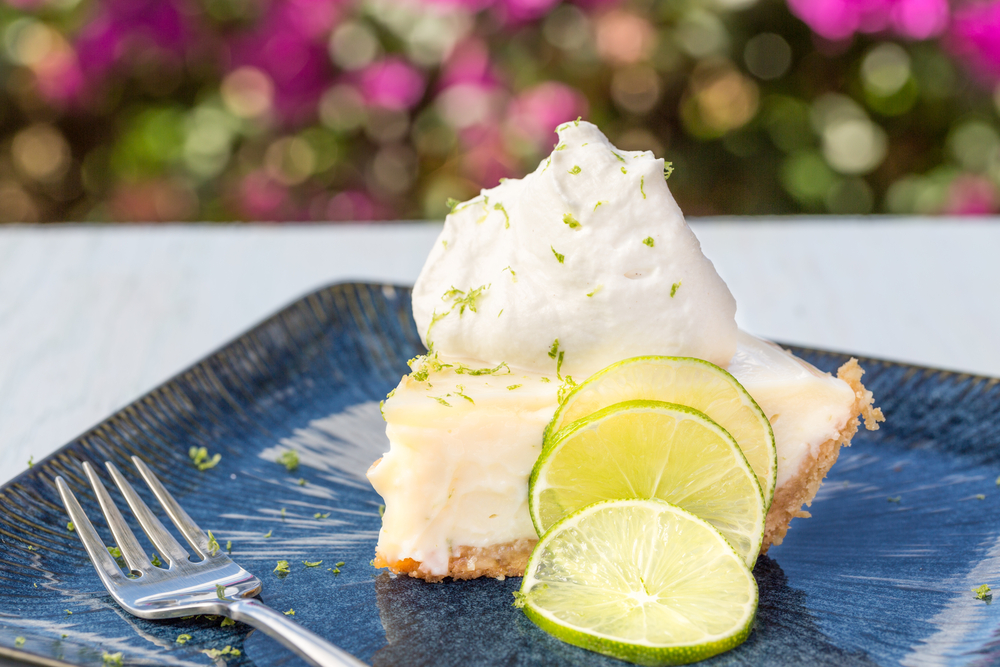 While Key lime pie can trace its origins to Key West sometime in the late 19th century, today you can find it at most restaurants across the country. And yet, the best Key lime pies are still found along the Florida Keys, from Key Largo and Islamorada to Marathon and Key West.
Blond Giraffe Key Lime Pie Factory. Founder and co-owner Tania Beguinati, a lawyer by trade, used her grandmother's Brazilian recipe to win Key West's Key lime pie contest in 1999. Over twenty years later, her pies are still winning awards in Key Largo.
Pepe's Café & Steakhouse. The oldest eatery in the Florida Keys, Pepe's Café might just be the best Key lime pie in Key West.
Banana Café. Another Key West staple, Banana Café adds a twist to the traditional recipe, adding a raspberry sauce to their homemade version.
Start Checking Adventures Off Your Bucket List
50 states. 50 (or more) adventures. It can seem like a lot — until you start crossing some of these items off your list! It's impossible to read through this guide without a little spark of wanderlust igniting in your heart and mind. But try as you might, nothing, and we mean nothing, can replicate the feeling of actually being there. Whether you're staring up at the cosmos in a pitch-black national park or making memories with a friend or a loved one, there's nothing like breathing in the air of a distant, far-flung locale.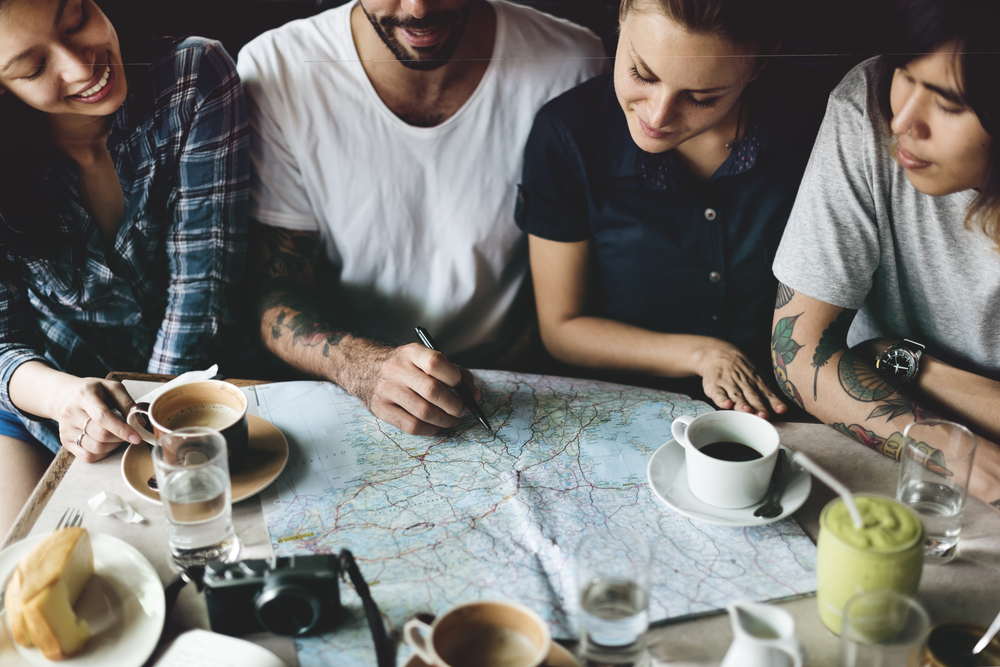 The coolest part? These items are all infinitely attainable, and we want to help get you there! Whether you're hoping to cross a couple more states off your list or looking to have a multi-week adventure to a bunch of national parks — we've got you covered on a satisfying place to rest your head no matter where your journey takes you. Now get out there and start really living!