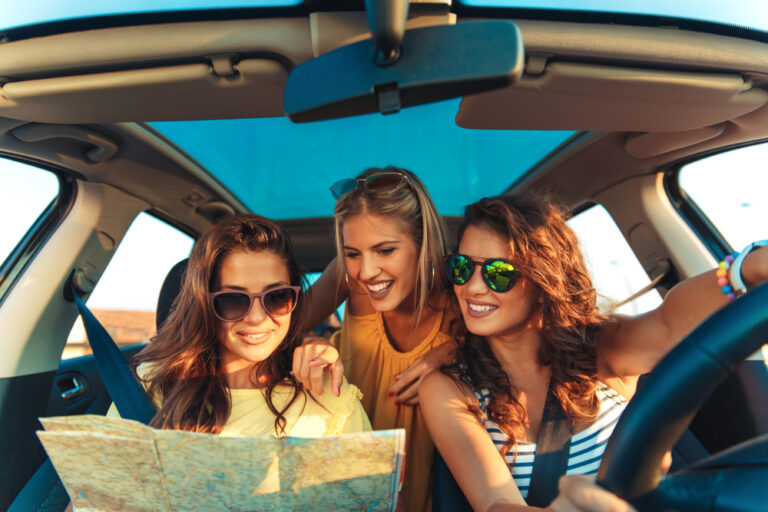 As travelers gear up for road trips this summer, rising gas prices may cause them to take a second look at their budgets. Fortunately, we've investigated just how much some of the most popular road trips in the U.S. will cost this summer, and how much a fuel-efficient car could save you on the road.
From a scenic drive along the coast of California to the patriotic New England Loop, we've plotted seven different road trips — including five from our list of the most majestic American routes — to find how long they would take to travel and how much it would cost depending on your vehicle. We estimated gas prices, included average food prices by city, and added any entry fees you might encounter on your journey.
Key Takeaways
A road trip is 77% cheaper in an electric car compared to a pickup truck

Gas to drive down the Pacific Coast Highway from San Francisco to San Diego could cost up to $135

On average, it costs $60.27 to drive 500 miles in the United States
Rising Gas Prices and Your Summer Road Trip
As summer approaches, people are rediscovering their passion for road trips. To start, we looked at gas prices around the country to see where paying at the pump will be most affordable  — or hurt the most — this summer.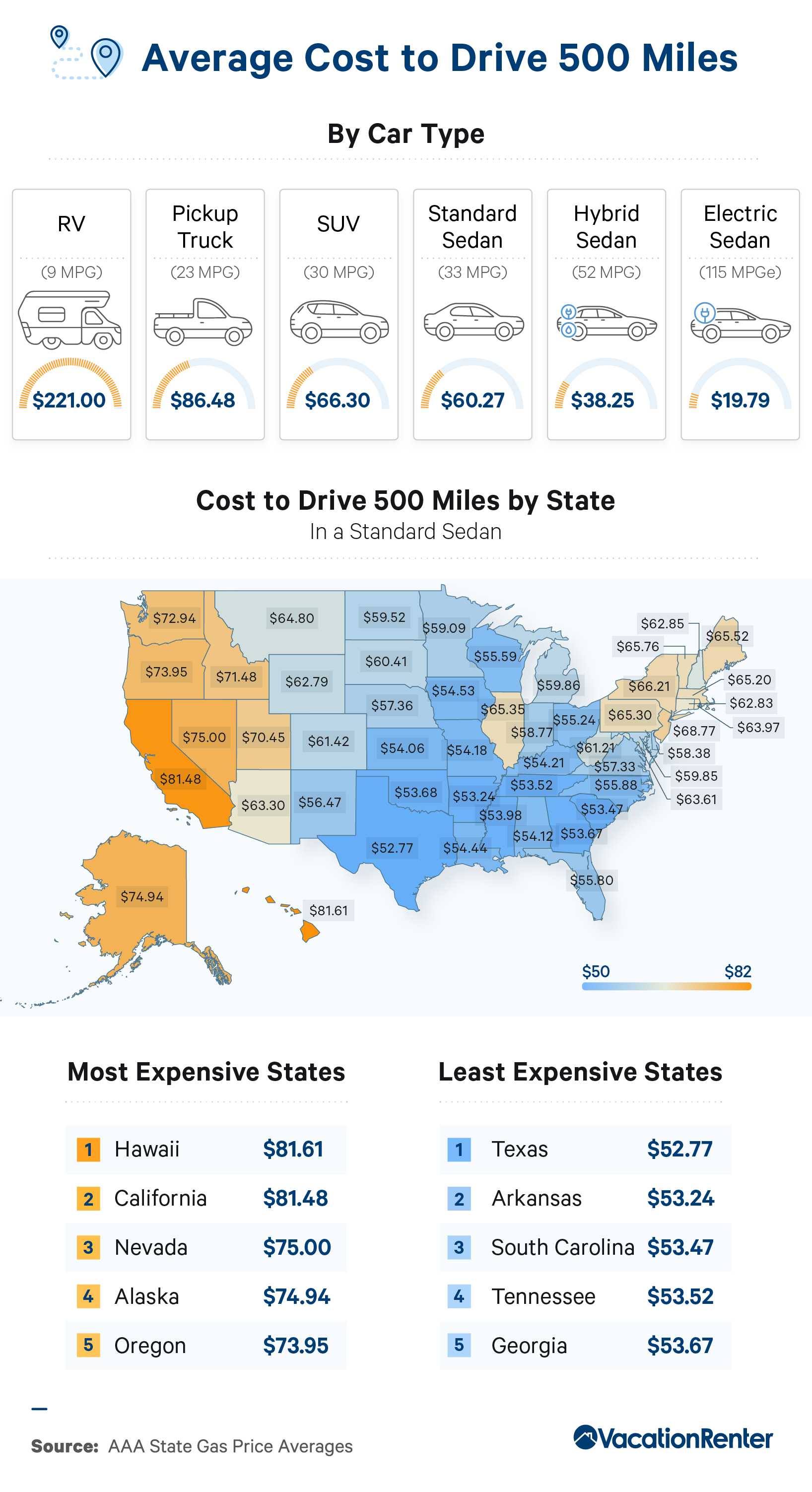 The range of how much it can cost to drive 500 miles in the U.S. shows how tumultuous gas prices are today. Looking at the average fuel economy of six different vehicles, we saw substantial cost differences between types of cars and destinations. But overall, the national average fuel cost to drive 500 miles totals to $60.27 due to the lingering high cost of oil and steady demand for gas during the summer months.
If popular but costly destinations like California and Hawaii are on your bucket list this season, it's important to consider what kind of car you'll be driving. According to our data analysis, it's currently 77% cheaper to drive an electric car than a pickup truck on your next road trip.
Since some states are more expensive than others, it's wise to plan routes ahead of time, including where you'll fill up your tank. Apps like GasBuddy can help you find the lowest deals in the area, and give you an idea of how far you are from the next gas station. 
It's also important to factor in COVID-19 when making travel plans. Some states might have better vaccination rates, so they'll likely be more open to tourists, especially when it comes to dining out and other public activities. 
1. PCH Road Trip: The Route & Estimated Costs
For many warm-weather travelers, beaches are the quintessential summer experience. Driving down the Pacific Coast Highway affords the opportunity to see the best of California's many spectacular ocean views, but how much will it cost? 
California's Scenic Pacific Coast Route:
Starting Point:

San Francisco, CA

Destination A:

Half Moon Bay, CA

Destination B:

Pescadero, CA

Destination C:

Santa Cruz, CA

Destination D:

Monterey, CA

Destination E:

Big Sur, CA

Destination F: San Luis Obispo, CA
Destination G:

Santa Barbara, CA

Destination H:

Long Beach, CA

Ending Point:

San Diego, CA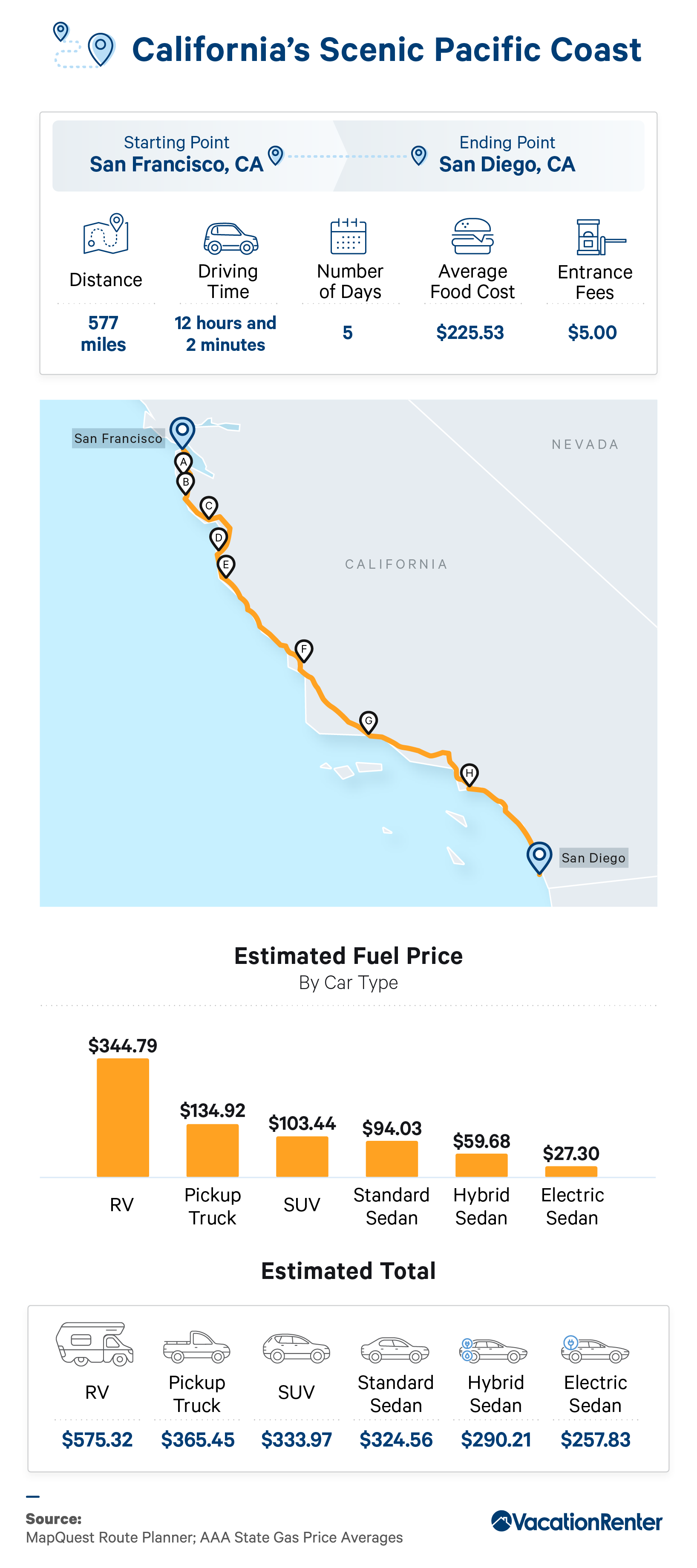 On your trip down the Pacific Coast Highway — also known as Highway 1 — you'll have plenty of time to snap pictures of the Golden Gate Bridge and stretch your legs on winding hiking trails for the gram. Perhaps you'll want to break for lunch to sprawl at Huntington Beach while munching on some street tacos.
Since most scenic views on this trip are free of entry fees — aside from the $5 entrance fee to Morro Bay should you choose to visit — you might have more to spend on fuel. It's not a bad deal to travel this route in a pickup truck, as the price per day is about $73, including gas and food. But if you're light on gear and don't need to haul anything, it's an even better deal to drive an electric sedan for just $52 per day. There's just over a $100 difference between taking this trip in an electric car versus a pickup truck — let alone a gas-hungry RV.  
When you're on the road, every dollar counts. Extra room in your travel budget means you might be able to spend more time surfing, shopping, or exploring cool coastal towns like Ventura or Santa Monica. This highway drive from San Francisco to San Diego would be a gorgeous and efficient five-day tour, especially if you choose the most affordable option.
2. California National Parks Road Trip: The Route & Estimated Costs
California offers a diverse range of geography and some of the nation's most popular national parks. Travelers can experience breathtaking desert scenes, sparking fresh lakes, and even some of the biggest trees in the world.
California's National Park Loop Route:
Starting Point:

Reno, NV

Destination A:

Sierra Nevada, CA

Destination B:

Yosemite, CA

Destination C:

Mammoth Lakes, CA

Destination D:

Death Valley, CA

Destination E:

Joshua Tree, CA

Destination F:

Palm Springs, CA

Destination G:

Sequoia National Park, CA

Destination H:

Lake Tahoe, CA

Ending Point:

Reno, NV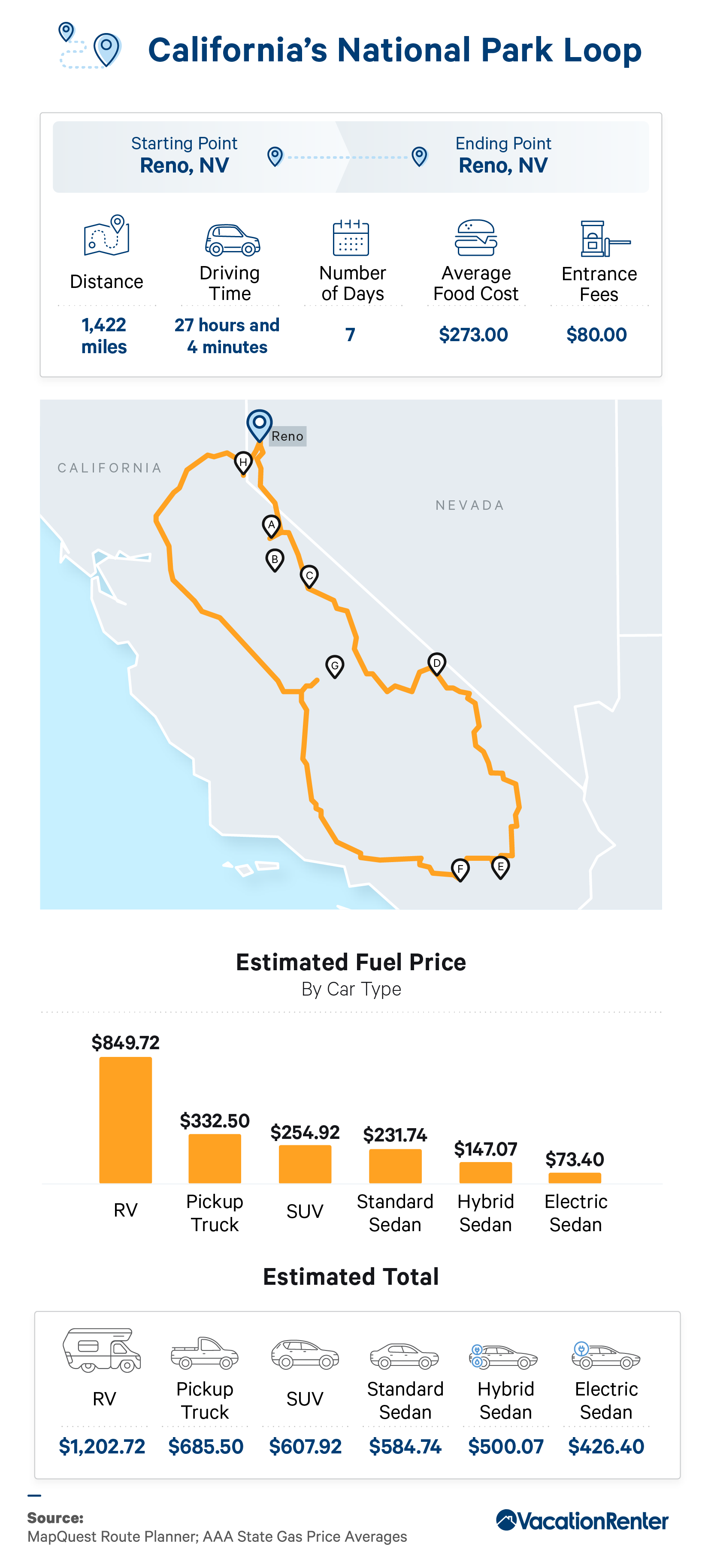 If you enjoy road trips and visiting natural wonders, you might be looking to add some more stamps to your national park passport. In just one week, you can experience four of California's most incredible national parks by following the park loop shown above. Entrance fees can add up fast, so it's helpful to look into discount passes like the Annual U.S. Park Pass, which includes 12 months of unlimited access to all U.S. National Parks for just $80. Some people may even qualify to enter for free.
Touring California's park loop takes drivers through 1,400 miles of fantastic places like Yosemite and Sequoia National Park. It might be worth choosing a hybrid for this journey rather than a standard sedan, since it would save you 37% on gas. An electric car would save you even more money, with the average trip cost being $60.91 per day. You might even save enough to afford more time to rest at some cool, desert-themed vacation rentals in Joshua Tree.
3. Southwest Road Trip: The Route & Estimated Costs
There's something special about driving through America's vast deserts, which are anything but deserted. The southwest is where you'll see unique rock formations, breathtaking canyons, and skies full of stars. Looping through Arizona and Utah will provide you with sights like these as well as some of the country's most unique landmarks. 
Starting Point:

Phoenix, AZ

Destination A:

Prescott, AZ

Destination B:

Sedona, AZ

Destination C:

Flagstaff, AZ

Destination D:

Lake Powell, AZ

Destination E:

Kanab, UT

Destination F:

St. George, UT

Destination G:

Monument Valley, AZ

Destination H:

Winslow, AZ

Ending Point:

Phoenix, AZ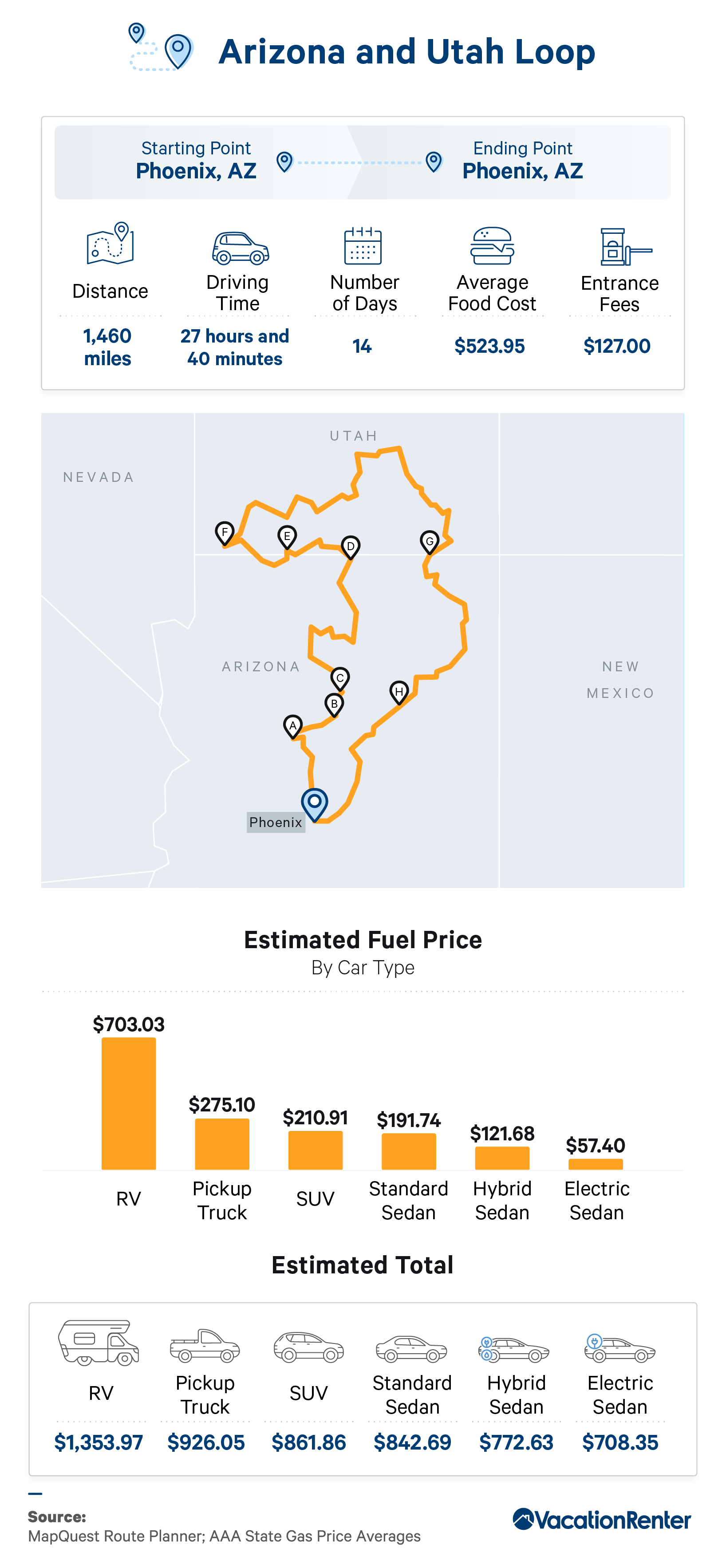 If you've always wanted to visit the Grand Canyon, this is your chance to do it. We certainly would if we had two weeks to spend in the sunshine and desert-land vibes of the Southwest. Even if you're driving more than ever before on this vacation, you'll see plenty of the gorgeous pink sunsets this region is famous for.
The route through Arizona and southern Utah is over 1,000 miles long, so you might want a more fuel-efficient car for this trip. We found you can save more than $80 by using a standard sedan instead of a pickup truck. Switching to an electric car yields even greater savings, as you could save over $200 on gas alone.
If you're worried about finding places to charge an electric car when traveling hundreds of miles through sparsely populated areas, there's no need to fret. Plenty of electric charging stations are around, even in rural areas on the route we've mapped for you. The Alternative Fuel Data Center created by the U.S. government can help you find a charging station along any route you take this summer. 
4. East Coast Florida Road Trip: The Route & Estimated Costs
A road trip down the Atlantic Coast of Florida encourages travelers to explore beaches, amusement parks, and major cities. This route has something for everyone!
Florida Coastline Drive Route:
Starting Point:

Jacksonville, FL

Destination A:

St. Augustine, FL

Destination B:

Daytona Beach, FL

Destination C:

Orlando, FL

Destination D:

Palm Beach, FL

Destination E:

Miami, FL

Destination F:

Key West, FL

Ending Point:

Miami, FL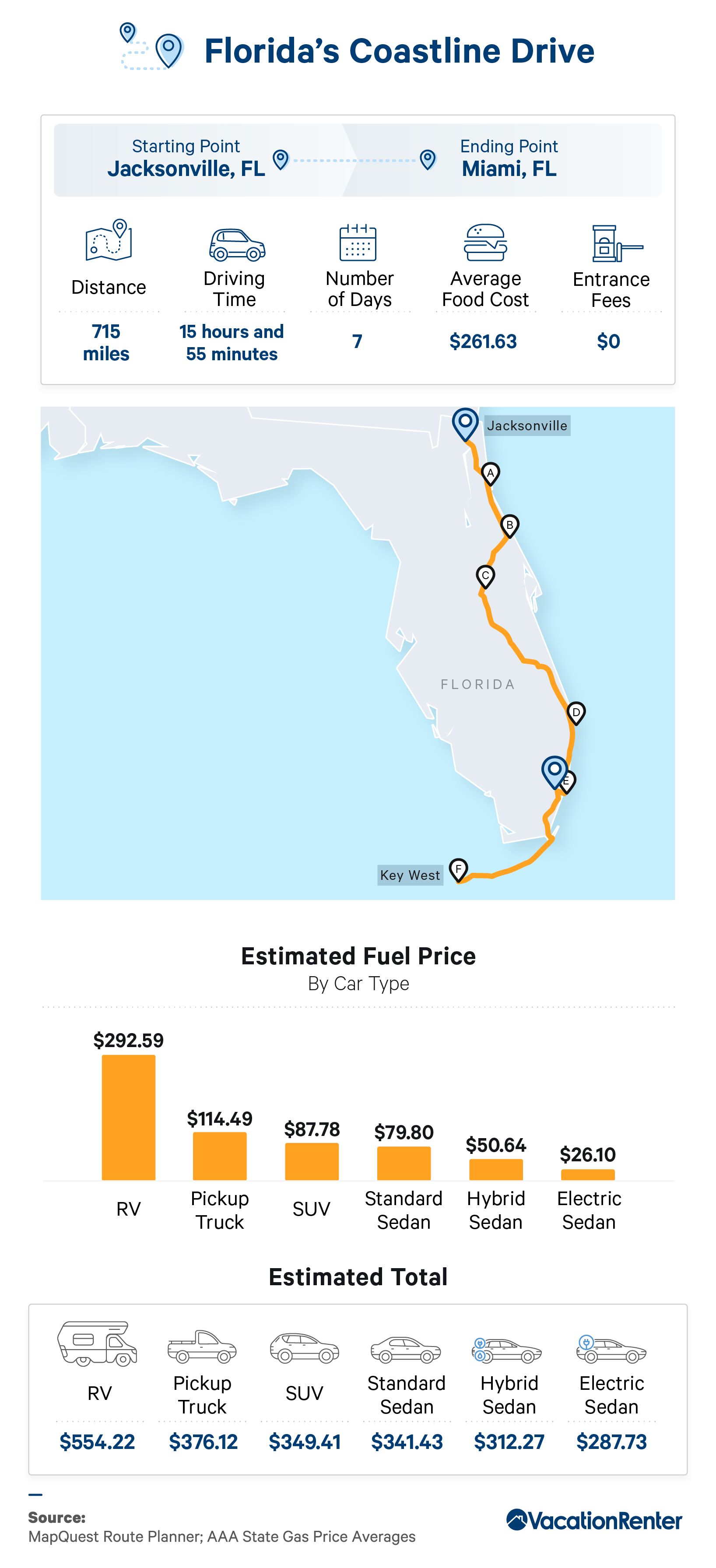 Driving down through Florida is one of those trips you could take again and again and never get bored. History buffs will discover fascinating museums and European architecture in St. Augustine, and thrill-seekers of all ages can hit up Orlando's famous Disney World. Meanwhile, Miami has tons of inspiration for street art fans, and it's the ideal place for those who dream of sipping mimosas on the beach. 
This will probably be your cheapest and most feasible trip if you can't choose your vehicle or have multiple passengers. If you'll need to drive a pickup truck, a road trip through Florida is your best option because you'd only save $88 with an electric car. On average, you'll spend only $56.09 per day to enjoy 715 miles of the tropical coastline via pickup truck.
5. Pacific Northwest Road Trip: The Route & Estimated Costs
This road trip takes you through the forests of the Pacific Northwest, where you can explore dense patches of woods, beautiful lakes, waterfalls, and Pacific Ocean beaches. You may even spot a whale! 
The Great Northwest Loop Route:
Starting Point:

Portland, OR

Destination A:

Astoria, OR

Destination B:

Forks, WA

Destination C:

Port Townsend, WA

Destination D:

Friday Harbor, WA

Destination E:

Bellingham, WA

Destination F:

Winthrop, WA

Destination G:

Leavenworth, WA

Destination H:

Kennewick, WA

Ending Point:

Portland, OR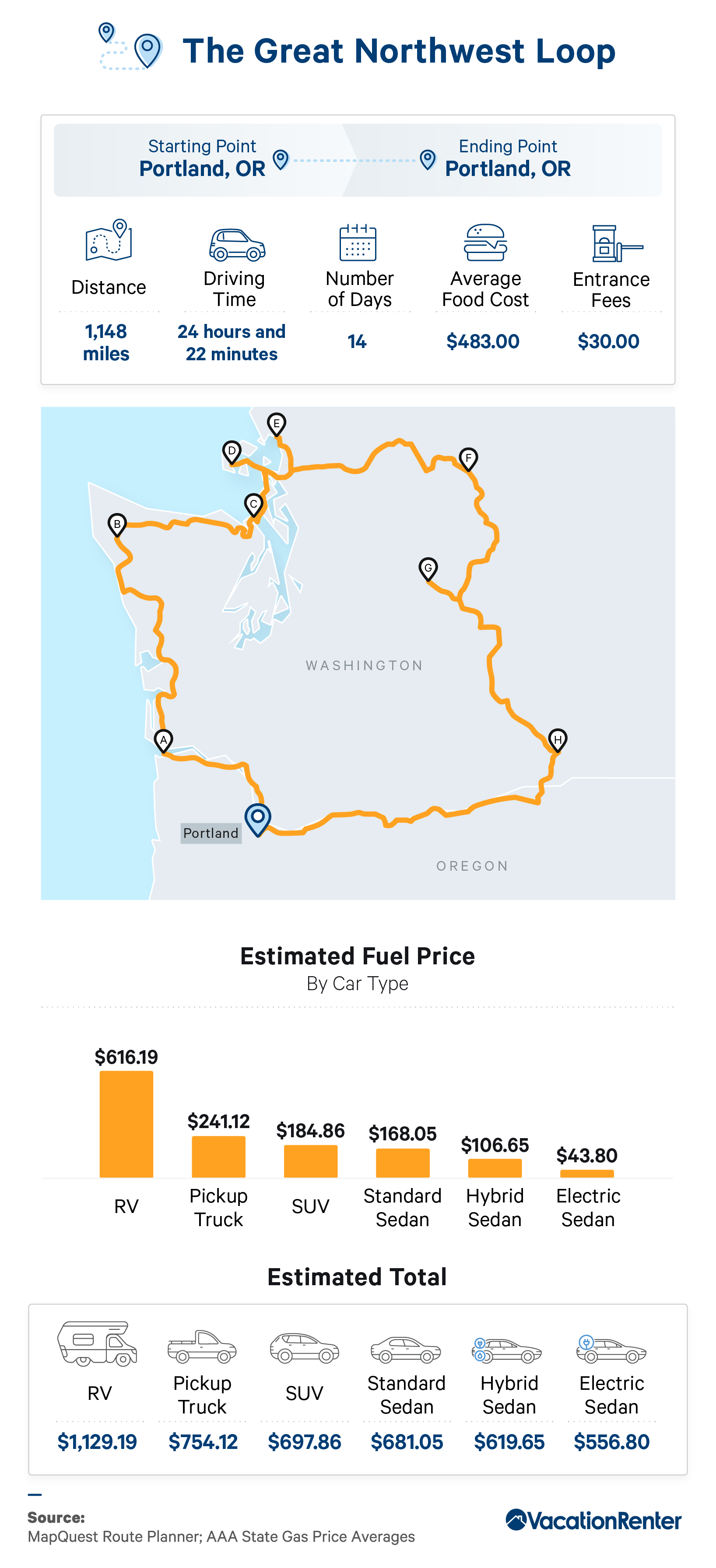 If you prefer to surround yourself with mountains and trees, the Great Northwest loop is the route for you this summer. It's the ultimate trip around the northern West Coast, featuring lakes, waterfalls, and hot springs. And it wouldn't be complete without visiting Olympic National Park and North Cascades National Park.
Mountain roads can be tricky to navigate, so choosing the right vehicle for the journey is important. There's a $197 difference between driving a truck or an electric sedan on this trip. The hybrid sedan is, once again, 37% cheaper than the standard model. Trust us: it's better to be safe in a more compact, environmentally-friendly car when you're out in that fresh mountain air.
6. Route 66 Road Trip: The Route & Estimated Costs
Did you know Route 66 is one of the most driven routes in the country? It's called the "Mother Road" because it's a major path across the western U.S. With this trip spanning several states, you'll be able to feel how each adds to America's diverse climate — literally and culturally. 
Starting Point:

Chicago, IL

Destination A:

Springfield, IL

Destination B:

St. Louis, MO

Destination C:

Springfield, MO

Destination D:

Tulsa, OK

Destination E:

Amarillo, TX

Destination F:

Santa Fe, NM

Destination G:

Albuquerque, NM

Destination H:

Gallup, NM

Destination I:

Flagstaff, AZ

Destination J:

Barstow, CA

Destination K:

San Bernardino, CA

Ending Point:

Los Angeles, CA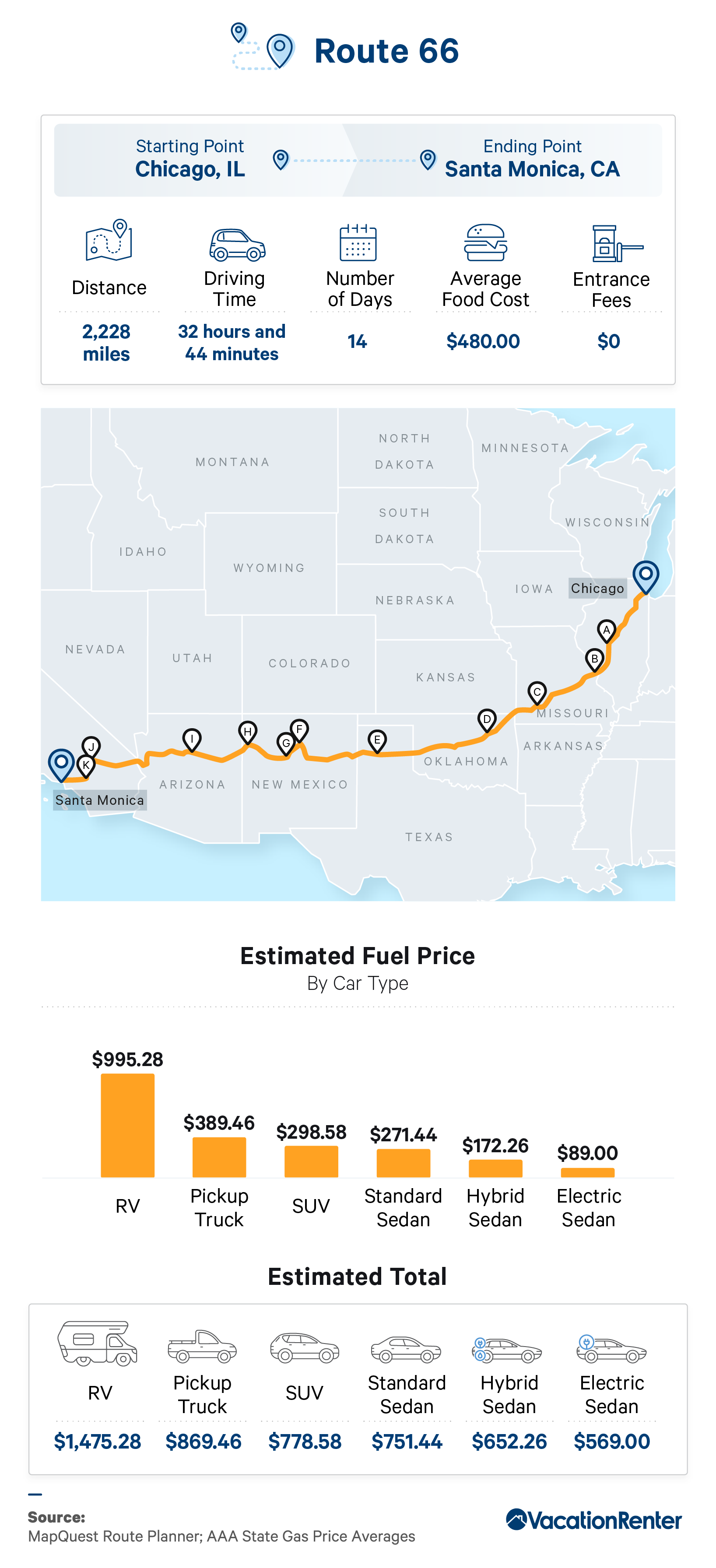 A classic Route 66 road trip would be a fun adventure with the entire family or a few friends, so you may want a vehicle with plenty of room. We found an SUV option that costs only about $21 per day in gas. If it's just you and your partner, you can cut your total costs by $210 by opting for an electric sedan over an SUV. For those traveling in style in an RV, heads up: you could spend nearly $1,000 on gas alone to take this trip.
Traversing over 2,000 miles, Route 66 affords travelers the opportunity to see a variety of geographical landscapes in a single trip from the plains of Illinois to the deserts of New Mexico and even the beautiful Pacific ocean upon arriving in Los Angeles. Furthermore, there are many spots along the route that have commemorated and memorialized the history of Route 66 and the golden age of car travel. 
7. New England Road Trip: The Route & Estimated Costs
While many people think of autumn leaves for New England road trips, the summer can be a great time to explore the region's expansive coastlines and experience cooler summer temperatures.  
Starting Point:

Boston, MA

Destination A:

Portland, ME

Destination B

Bar Harbor, ME

Destination C:

Stowe, VT

Destination D:

Gorham, NH

Destination E:

Adams, MA

Destination F:

Hartford, CT

Destination G:

Providence, RI

Destination H:

Cape Cod, MA

Ending Point:

Boston, MA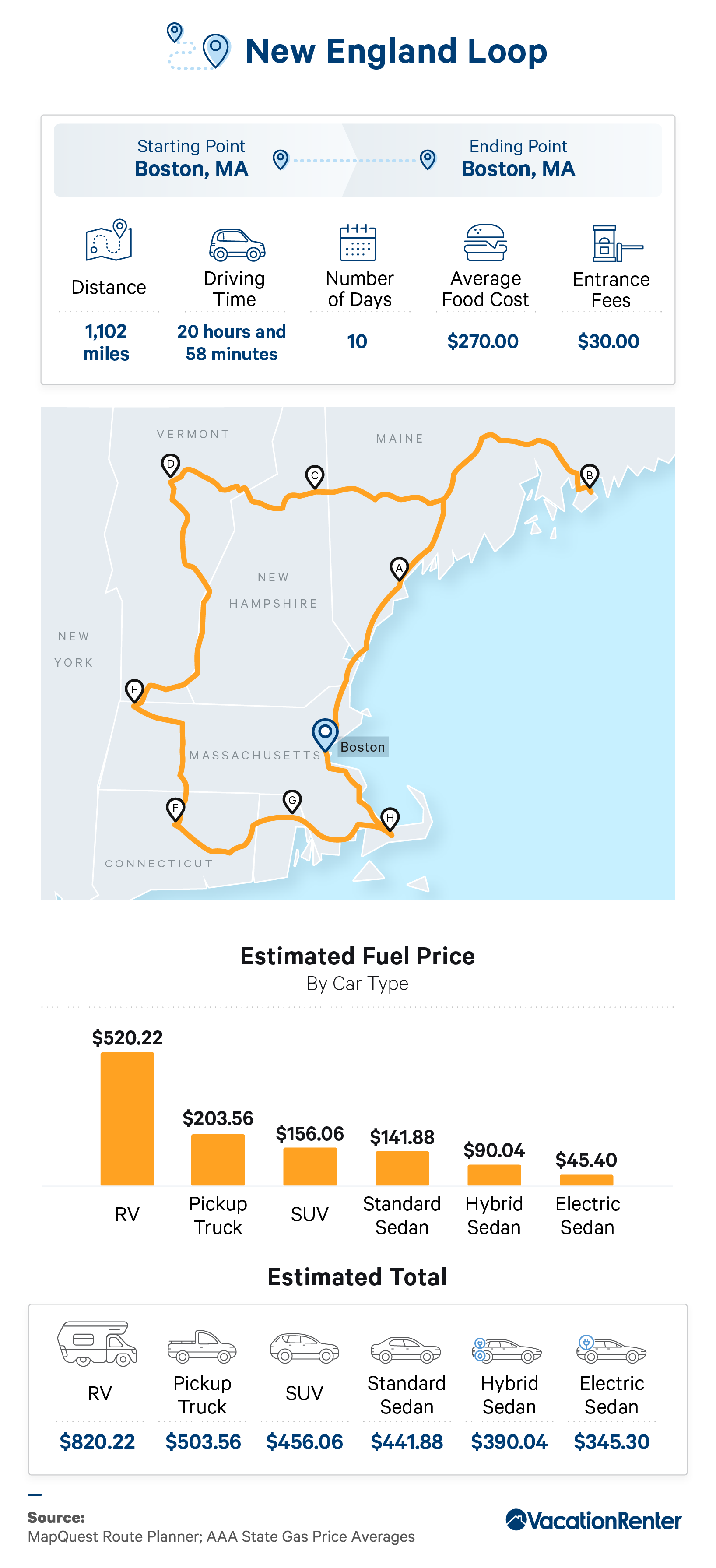 You'll start and end in Boston, giving you plenty of time to explore the city's historical attractions and famous coffee shops. We recommend hitting Diesel Cafe for a pre-trip espresso to stay fueled for your driving journey.
If you're a sucker for hunting down hidden gems, you'll love exploring the grand mansions in Rhode Island, charming antique shops in Connecticut, and historic theaters in Massachusetts.  
The New England loop is an excellent trip for late summer or early fall — before the kids head back to school or just after! Whether or not you'll be traveling with the kiddos, there won't be much extra cost if you plan to drive a larger vehicle. A pickup truck costs $62 more than a sedan for the entire 10-day trip, and an SUV was only $14 more. Of course, an electric sedan is still the most affordable option.
The Joy Is in the Journey
Despite tumultuous gas prices, a summer road trip isn't out of the question. Just make sure to fill up the tank while driving through more affordable states. To further cut costs, switching to a hybrid or electric car could save you significant amounts of money without sacrificing your summer travel plans. 
The USA is huge, so we wanted to help you plan some great routes where exploration, adventure, and fun are the top priorities. Whether you're planning a quick impromptu trip with your best friends, the family trip of the year, or a romantic getaway, there are plenty of options to choose from despite crazy gas prices.
Methodology
We looked at five different cars: a 2022 Ford F150, a 2022 Chevrolet Equinox AWD, a 2022 Toyota Camry, a 2022 Hybrid Hyundai Elantra, and a 2022 Tesla Model S. The sixth vehicle was an RV, although we didn't specify a model, instead assuming an average of roughly 9 miles per gallon. We input our routes into MapQuest along with these vehicles to find the estimated distance, gas price, and travel time. Furthermore, we looked at food prices in cities on the itinerary on Numbeo and replaced any cities not found on Numbeo with averages from other cities on the route. Finally, we researched the entrance fees for different state and national parks.
About VacationRenter
VacationRenter is a one-stop shop for vacation rental properties. We use automation to search other booking sites and their property listings to help travelers find the perfect vacation rental.
Fair Use Statement
If you think we've done a great job showing the costs for great road trips this summer, we'd love for you to share our findings with fellow travelers. All we ask is that you send it for noncommercial purposes, and provide a link back to this article so our team can get credit for their hard work.