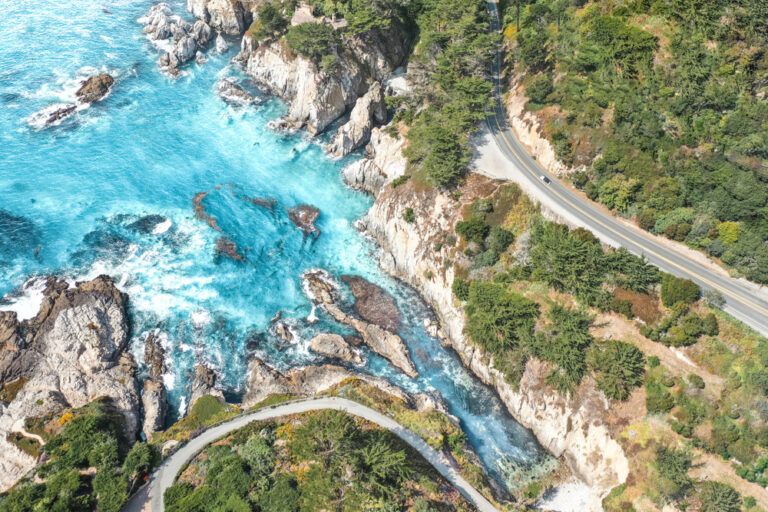 Our road trip series kicks off with the longest, and most breathtaking state route in California: the Pacific Coast Highway, also known as Highway 1, or just simply "the 1". This drive is filled with spectacular views of the ocean and is a true vision of California's coastline.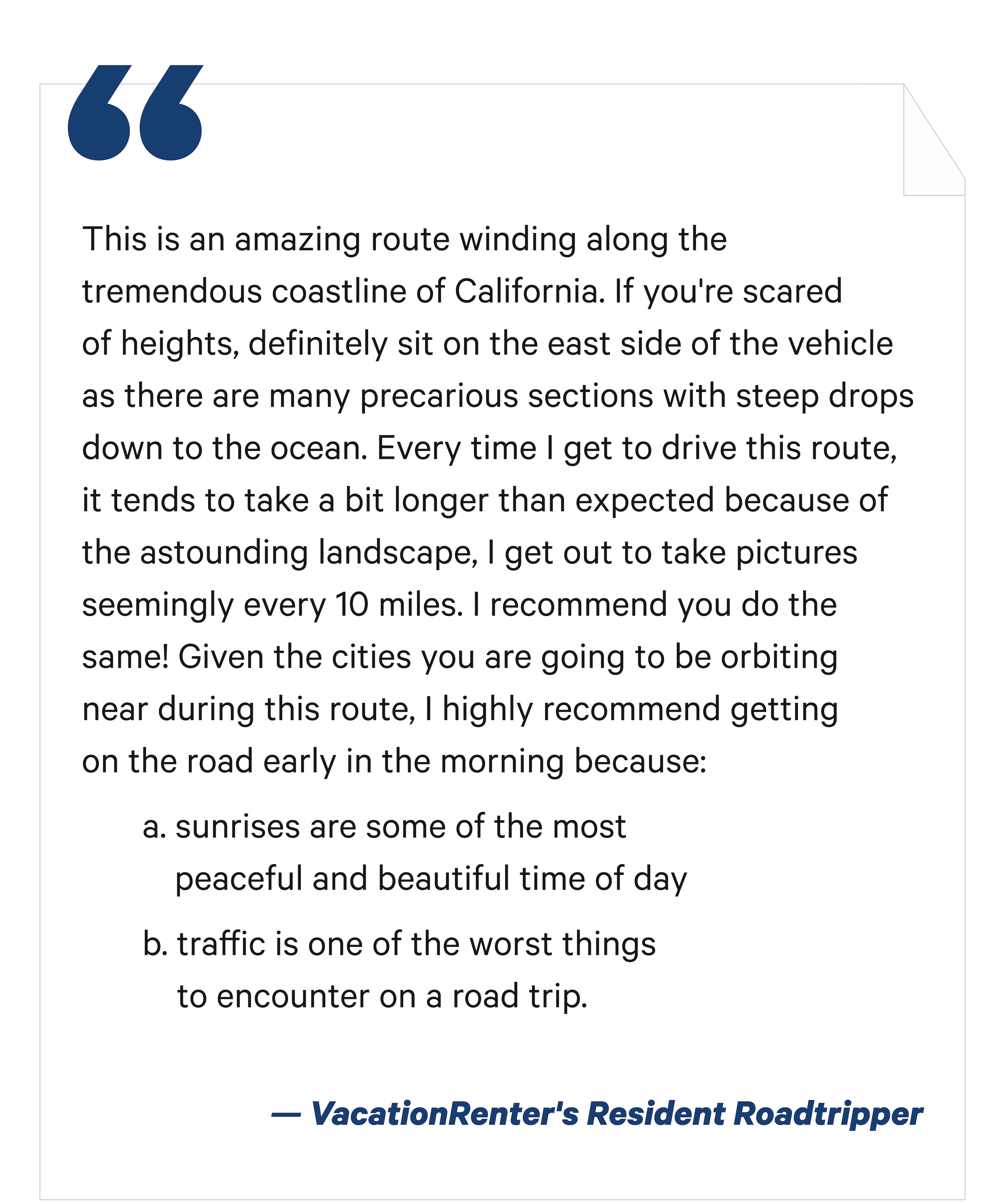 Driving California's Pacific Coast Highway One
Starting point: San Francisco
Closest airport to starting point: San Francisco International Airport (SFO)
Ending point: San Diego
Closest airport to ending point: San Diego International Airport (SAN)
Driving distance: about 600 miles
Duration of trip: 5 days
Day 1: San Francisco to Monterey – 120 miles
If you've set your mind on this road trip for the beaches, then we suggest setting your starting point to Baker Beach in San Francisco for a unique view of the Golden Gate Bridge. Start your day off with some magic and head to Baker Beach at sunrise, or simply take a quick snapshot before your Californian escapade begins! The moment you enter Highway 1, you'll already be greeted by the Pacific Ocean's charm.
From Baker Beach, you can navigate to Santa Cruz for a lunch break. On your way to Santa Cruz, feel free to stop anywhere in between — from Montara, to Half Moon Bay, Pescadero, or Panther Beach in Davenport. If you're lucky enough to make it past the arch when the tide is low in Panther Beach, make a left and walk all the way to the edge of the beach. True adventurers will be greeted by a secret lookout beyond the rocks. 
Next up is Monterey, where you can enjoy the sights of the 17-mile drive. This stretch alone is a warm up for the rest of your amazing road trip ahead, because it's basically a mini road trip within your road trip. Along the 17-mile drive, you can make a coastal stop wherever you'd like, and even enjoy sunset views from the iconic Lone Cypress. After sunset, you can come home to a charming vacation rental in one of the best beach towns in the United States.
Day 2: Monterey to Morro Bay, San Luis Obispo or Pismo Beach – 150 miles
Today is an exciting day because you'll have a variety of places to explore. On your way down to Central California, take a moment to appreciate the incredible Bixby Bridge, serving as the gateway into Big Sur. The beautiful Big Sur is a coastal stretch of land known for its raw cliff sides and tremendous landscapes, with an assortment of hiking trails and campgrounds scattered throughout the region. If you're up for a hike, do proper research to find the right trail for you, but if you're in search of a short mile-long hike with great reward, you can have a go at the McWay Waterfall Trail.
Then, it's time to make your way to your rest stop for the evening. Book a relaxing rental in Morro Bay, San Luis Obispo, or Pismo Beach. These three laid-back beach towns are within 30 minutes from one another, so no stress if you they all seem adorable – they are – just find the right vacation rental and you'll have an amazing evening. Upon arrival, you've officially reached the halfway point!
Day 3: Pismo Beach to the Greater Los Angeles Area – 200 miles
Wherever you decide to stay between the three cities, definitely take the time to scout out the area before hitting the road again. Check out Morro Rock, a 581-foot volcanic mound resting on the beach in Morro Bay State Park, or rent some ATVs to zoom through the sand dunes of Pismo Beach.
Onward you go until your first break of the day in Santa Barbara. Take a stroll through the college town or grab a bite at Santa Barbara Shellfish Company before making your way into definitive SoCal. Most seafood joints around the area are divine! Drive through Malibu, Santa Monica and Long Beach to try to avoid the Downtown LA traffic, and find a vacation home in one of these coastal towns for your next overnight break.
Anyone looking to sit back and relax in a beachfront rental might want to check out Venice Beach, Huntington Beach, or Newport Beach. Foodies, on the other hand, may want to find a rental closer to the heart of Los Angeles to make the most out of the high quality restaurants per capita. Some suggestions to try are David Chang's Majordomo or flag down Leo's Taco Truck for some of the most mouthwatering al pastor tacos you'll find in the area — there are seven different trucks scattered throughout LA!
Day 4: Greater Los Angeles Area to San Diego – 120 miles
Before heading down to your last stop, take advantage of any activities close to your rental. Whether it's catching a thrill at a theme park or seeing how many all-you-can-eat restaurants you can go to in a day, there's plenty to see and do in the Greater Los Angeles Area.
For those who can only maximize their trip to five days, it's time to head down to your final destination of San Diego. Book a stunning beach home to cap off your final night of this trip. Ideally, the best places to stay are somewhere in the Pacific Beach or Mission Beach area, just minutes away from the ocean.
Day 5: San Diego
Known for their delicious Mexican food (being only a 30 minute drive from Mexico) and laid-back lifestyle, this beachy metropolis is the perfect place to end your road trip. La Playa Taco Shop serves heavenly fish tacos, while Lucha Libre prides themselves on their divine California burritos. Before heading home, be sure to visit the Mission Beach strip and take a moment to pat yourself on the back for successfully making it to the south end of California.