Our second road trip route takes us on a loop to hit four of California's National Parks, and then some. Needless to say, you're in for a wild ride. This route covers a good chunk of California, so you can make your starting and ending point anywhere along the route since it goes in a loop.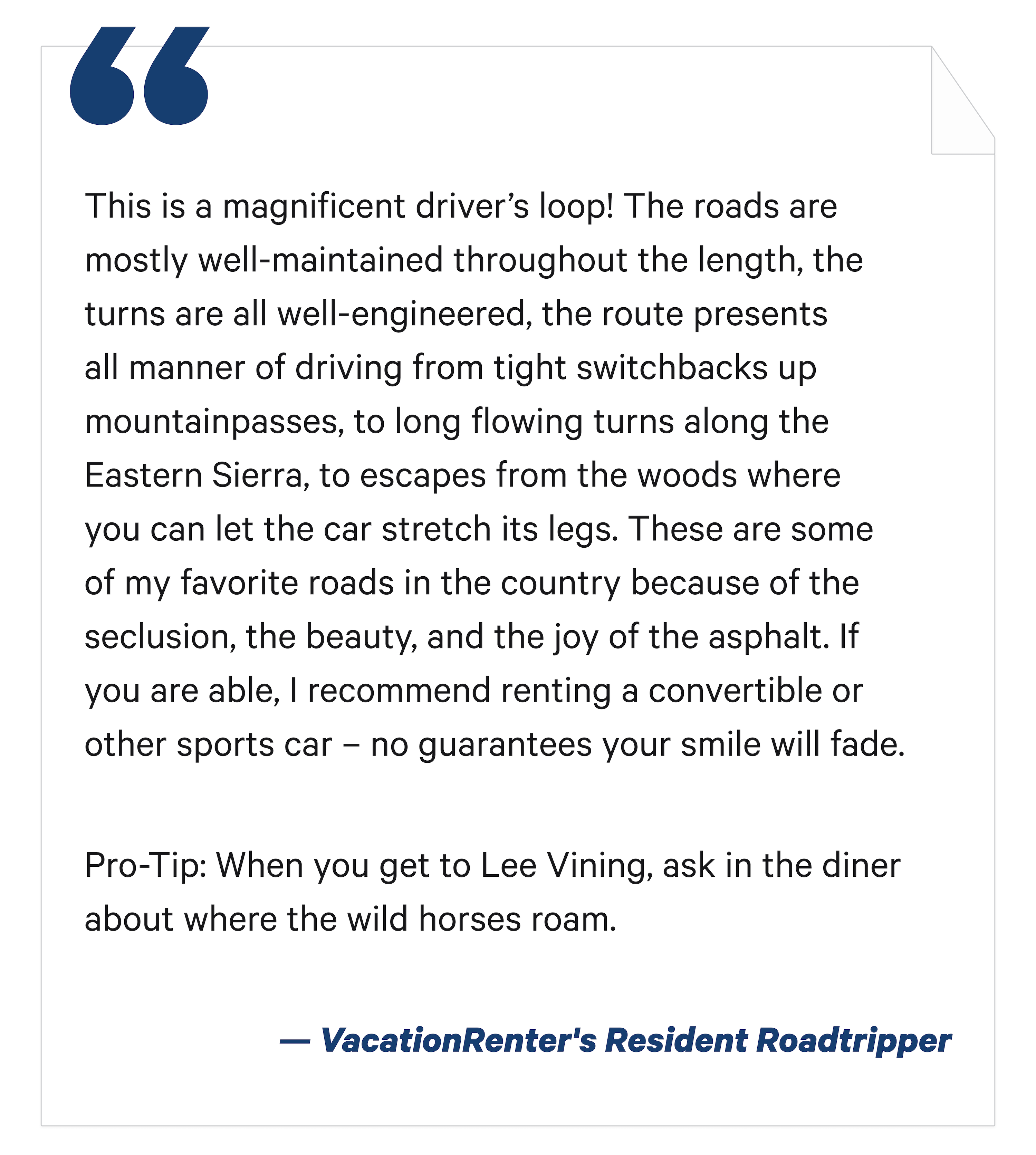 4 Parks on the California's National Park Loop
Starting point: Reno
Closest airport to starting point: Reno International Airport (RNO)
Ending point: loops back to Reno
Driving distance: about 1,330 miles
Duration of trip: 1 week

Day 1: Reno to Mammoth Lakes – 190 miles
On the first leg of your journey, you'll immediately be surrounded by the Sierra Nevada Region, home to California's vast mountain range. These mountains are especially beautiful during the transition from winter to spring, when there's still snow on the mountains, but an abundance of plant life emerging from all angles.
Driving from Reno to Yosemite
Driving a couple hours down Interstate 395 will lead you to Yosemite National Park. In it resides El Capitan, Half Dome and hikes for all skill levels. Pick a trail to traverse, then spend the night in Mammoth Lakes, just a 45 minute drive south from the Tioga entrance to the park along 395. Alternatively, you can also try to find a rental inside the park, but they normally book up quick, especially in the summer months. For a short and easy Yosemite hike with rewarding views, check out Taft Point.
Day 2: Mammoth Lakes to Death Valley National Park – 150 miles
Checking off the second national park on the list, we're going to Death Valley! Drive through the desert and feast yourself on the massive Ubehebe Crater, or catch a glimpse at the eroded ridges of Zabriskie Point. After a day of desert exploration and all that driving, we don't blame you if you want another day of rest. Simply find your personal recharging station in the outskirts of Death Valley National Park before you move on to the next park.
Day 3: Death Valley National Park to Joshua Tree National Park – 230 miles
We hope you're not tired of national parks yet because it doesn't stop there. Roughly four hours south of Death Valley is Joshua Tree National Park.
There are tons of adorable desert-themed rentals within a few miles of the park, with amazing amenities like private hot tubs, or a backyard to spend the whole night star gazing. If you're staying close by, we advise checking in to your vacation rental before heading into the park so you can roam around baggage-free. Then, you can spend the day admiring the uniquely shaped trees and insane rock formations like Skull Rock.
Day 4: Joshua Tree National Park to Palm Springs – 50 miles
And now, for your vacation from your vacation — time to catch some R&R in Palm Springs! This part of the trip is totally optional, but after driving for hundreds of miles and three national parks later, a full day of chilling is well-deserved. Plus, after this, you're about to embark on the two longest legs of this journey, so take our advice and consider this a rest day.
Find a luxurious escape in Palm Springs, then treat yourself to a massage and spa day at one of the resorts that the area is famous for, such as The Well Spa at Miramonte.

Day 5: Palm Springs to Sequoia National Park – 310 miles
We're back on track to hit the last national park on our agenda, Sequoia National Park. The drive from Palm Springs is a little more lengthy than the previous ones (5.5 hours to be exact), but since you probably got a full day of rest beforehand, we suggest leaving early so that you'll make it there by noon. Take a stroll through the world's largest trees, including the "largest living thing on Earth," General Sherman, standing at 274.9 feet tall and 79 feet in trunk size! Then, spend a night in a cozy cabin nearby and enjoy your change of scenery in the massive woods.
Day 6: Sequoia National Park to Lake Tahoe – 360 miles
Now that we've seen all four national parks, here comes the longest drive of this road trip – at six hours – to Lake Tahoe. While you will be in the car for a while here, the journey of this stretch is breathtaking all the way to the finish along the shores of Lake Tahoe, the end result will be quite rewarding. Lake Tahoe is beautiful during any time of year, but if you go in the winter or spring, you might be able to squeeze in a ski day. 
If you go during months sans snow, you can enjoy the sun and hang out by the lake. Drive up to Emerald Bay State Park and admire the lake's sapphire blue waters.
Driving From Sequoia National Park to Lake Tahoe
Driving from Sequoia National Park to South Lake Tahoe takes around 6 hours to cover a distance of 311 miles. Some of the main cities along this section of the California's National Park Loop are Fresno, Stockton, and Sacramento, all of them destinations full of fun things to do and nice restaurants and bars if you are craving some urban life.

Day 7: Lake Tahoe to Reno – 37 miles
Onto the final stretch of this route, we're bringing you back to Reno. Four national parks in one week? That deserves some bragging rights! If you ask us, you can even extend this road trip even longer to get more time at each National Park. If you're able to, we promise it will be so worth it.