The region around Lake Tahoe is a paradise for nature lovers, mountain men, ski bunnies, and anyone else with a desire for a simpler existence, more than any metropolitan city can provide. Nestled at the crook of the California and Nevada's border, Lake Tahoe — the body of water — is one of the largest in the United States, with a surface area of nearly 200 square miles, or 191 sq. miles to be exact.
Despite it being so visually expansive, its size is not the main thing that captures people's attention when first glimpsing the high alpine lake, it's the lake's vibrant blue waters. It's absolutely mesmerizing when seeing it in person. Pictures try to do it justice, but it always seems over-saturated on the screen. Then when you get up close, you realize that wasn't fancy photo-editing. Lake Tahoe is actually that blue and that clear.
If you're in California or Reno and tell someone you're going to Tahoe, the most reasonable follow-up question is: "Oh nice, it's so beautiful up there! North or South?" If you've been enough, or even just once to both, you'll understand that there is quite a difference to the two regions; which are colloquially referred to as North Lake and South Lake. Knowing these differences and how it relates to the vacation you are looking to have can truly make or break your vacation in Lake Tahoe.
No matter what season you plan your Tahoe trip, we can promise you it will be memorable in its stunning display of nature hitting its stride. However, given that it is on the eve of winter, we're going to focus this on the colder months, comparing and contrasting North Lake Tahoe to South Lake Tahoe between late November and early May.
What's the difference between North Lake Tahoe and South Lake Tahoe?
North Lake Tahoe is the cluster of communities, parkland, resorts, and forest land along the north and northwest of Lake Tahoe. North Lake Tahoe is not actually a town name, but rather contains Truckee, Tahoe City, Dollar Point, Ridgewood, Carnelian Bay, Kings Beach, Crystal Bay, and Incline Village.

While on the other end of the lake is the actual town of South Lake Tahoe. Yet outside of that town as the core, South Lake Tahoe can be everything from Emerald Bay, a beautiful cove off the southwest corner of the lake, to Glenbrook along the East Shore.
Speaking of East Shore, North and South Lake are not the only way to navigate the lake. West Shore and East Shore are aptly named as they sit along the western and eastern shores of the lake. On the west side there are some very cute communities, and gorgeous homes right at water's edge, which contrasts the serenity and vistas found while driving along East Shore.
No, but what's the real difference between North Lake and South Lake?
With a collection of ski resorts scattered between numerous residential communities, North Lake Tahoe exudes a cozy, traditional mountain experience by the Sierra Nevada Range. Truckee is the largest community as it sits along a railroad and Route 80, but even so, it still holds on to the mining town vibe with a quaint main street of boutiques, cafes, bars, and restaurants.
In South Lake Tahoe, you are absolutely going to find a mountain experience as East Peak and Monument Peak loom right along the water. There is a distinct presence of casinos which pop up literally on the border of Nevada and California. Yes, there are casinos on the north side of the lake with Crystal Bay Club and the Biltmore. But it's simply not the same as having Montbleu, Harrah's, Hard Rock, and Harvey's loom ten stories over Route 50.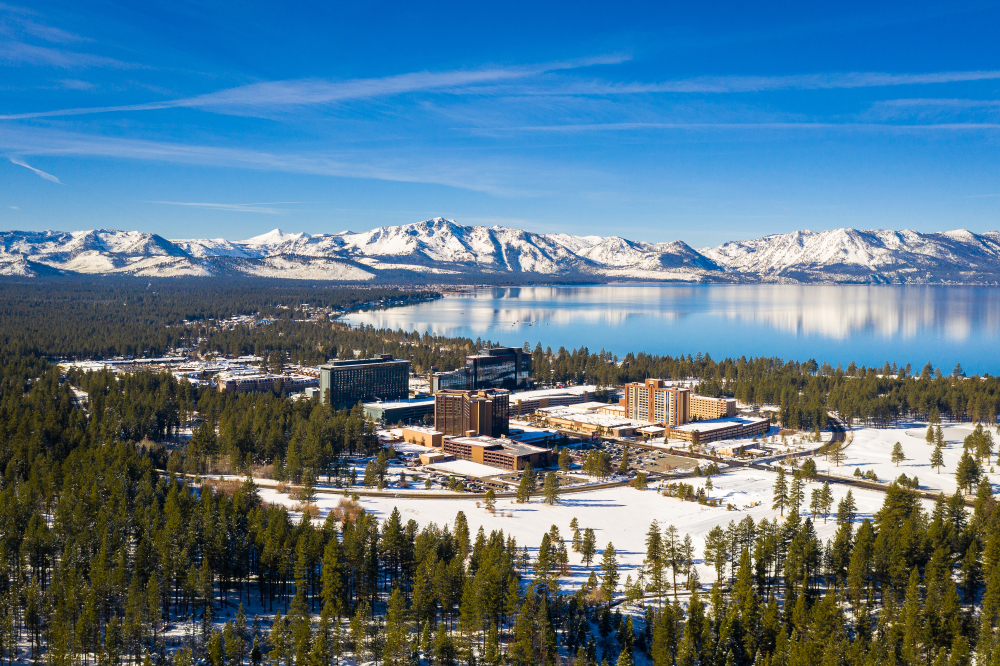 Now that's a bit heavy-handed to bucket the entire region with four buildings. However, when comparing the North and South, we would be remiss to point out that the four largest buildings in the region are casinos on the state line in Stateline. And with that comes a specific cultural presence relative to the numerous ski shops and local dives found in the North.
So what kind of vacation are you looking for?
Everything in close proximity: With two towns sharing a border at the state line, the region of South Lake Tahoe packs a tremendous amount in a small area. So if you're looking for everything available without the stress of finding an Uber or packing the family into the car, find a vacation rental in South Lake Tahoe, California, or Stateline, Nevada. These are also the best locations if you want to ski at Heavenly Ski Resort.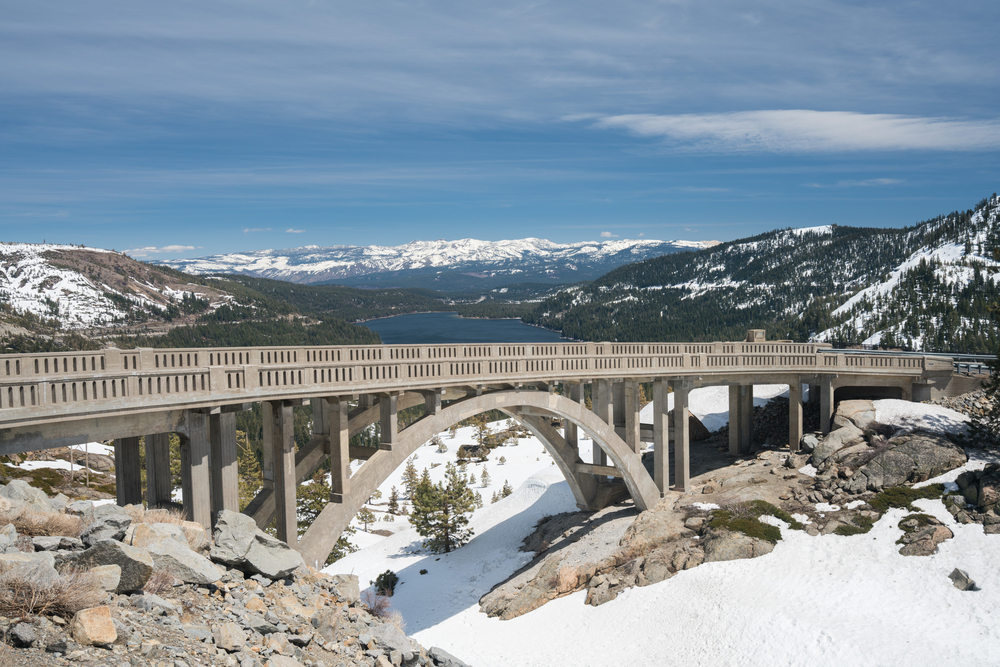 The down-to-earth mountain town without venturing too far off path: Truckee, California is the answer to your prayers. With a quaint main street of boutiques, bars, cafes, and restaurants, right off the main highway to the region, Truckee will have the rental you are looking for with hosting friends and family.
Staying at the mountain: If you are hoping to ski the legendary Squaw Valley USA, look for homes to rent in Olympic Valley, CA. You'll wake up to sounds of ski patrol detonations, snowmobile engines starting their morning, and groomers ending their night. Staying in this area puts you in walking distance to the Far East lift, so have a blast! And don't worry, there's also a shuttle if you'd rather not walk with all your snow gear in the cold.
Quiet, secluded peace in the woods: Take a peek at Tahoe City, Carnelian Bay, and Tahoma. You'll be within reach of Squaw Valley and Alpine Meadows to the west, and Northstar to the northeast, but it's a bit more of a trek to get there. However, what you trade for time in a car you are likely to get back in terms of seclusion and quality of home. Tahoe City by itself is a cute mountain town right on the lake, so if being on the water is important during the snowy months, then this is your place to search.
But what about skiing and snowboarding?
Squaw Valley and Northstar are the most popular destinations in North Lake and rightly so with incredible terrain and pleasant villages. Aside from the two most popular resorts, within close proximity of the north side of the lake are also Alpine Meadows, Homewood, Diamond Peak, and Mt. Rose. Heavenly Ski Resort lies in the south, where the gondola into the mountain is also right at the state line of California and Nevada.
Beyond the range of "close to lake" are a number of other choices as well. To the north are Sugar Bowl and Boreal. (Yes, there is another small hill called Soda Springs, but if you are traveling to ski, this is not where you will be heading). Then a bit farther south are Sierra-at-Tahoe and Kirkwood Mountain Resort.
Heavenly Ski Resort is all but the only option for those in South Lake, and its village is shared by South Lake Tahoe and Stateline, Nevada. So after skiing, you can just boot walk right into any of the numerous restaurants or bars for apres. Yes, Kirkwood and Sierra-at-Tahoe are considered within reach and are each great mountains to boot, but if you want a Lake Tahoe experience beyond just the skiing, then these shouldn't be high on your radar.
So, have you decided between North Lake and South Lake? Allow us to help you find the right vacation rental for you!