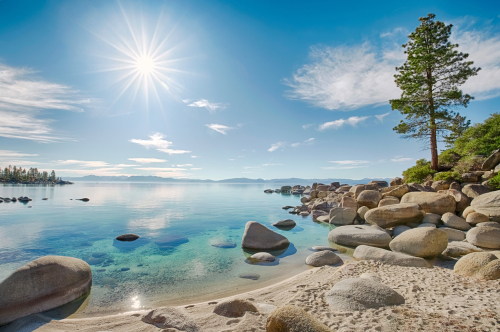 Picture a perfectly blue, enormous lake that is surrounded by a beautiful snow-capped mountain range. This gorgeous freshwater lake has a massive surface area of 191 square miles and is situated on the California/Nevada border. From the highest heights to the lowest depths of its refreshing waters, the greater Lake Tahoe area is renowned for its diversity of outdoor activities no matter the season. Whether you plan to bomb down Heavenly Ski Resort's lofty 10,000-foot mountain peak or swim in the lake's 1,600-foot deep waters, a trip to this popular region in the Sierra Nevada Mountains is absolutely worth it.
Divided into two parts, Lake Tahoe as a whole has something for everyone. But for everyone curious about where to stay, we break down what you can expect to find in North vs South lake Tahoe because there are in fact some differences between the two.
What's the Difference Between North and South Lake Tahoe
North or south, you can find exciting activities on the lake in the summertime no matter which side of Lake Tahoe you stay on. Overall, North Lake Tahoe moves at a slower pace, and is more relaxed (or what the locals refer to as "Tahoe Time"). Since there are far fewer people who visit this side of the lake, you can expect a quieter trip in nature without groups of visitors breaking that enchanting spell. It's also where you want to stay in the winter, since it has the largest concentration of ski resorts in North America with a staggering 12 mountains to choose from, and each one offers a distinct experience. (Counting the three in South Lake Tahoe, the area has 15 in total.)
South Lake Tahoe, on the other hand, is where you want to go with a group of friends. The "Las Vegas of Lake Tahoe" is home to all kinds of casinos, nightlife, festivals, and clubs. While both north and south enjoy modern conveniences, the South Shore area of Lake Tahoe is much more developed. If North Lake Tahoe has that mountain town kind of feel, the South Shore has more of the trappings you'd find in a party city like Nashville. It also boasts some amazing water sports and hiking trails, so you can get away from all the crowds.
North Lake Tahoe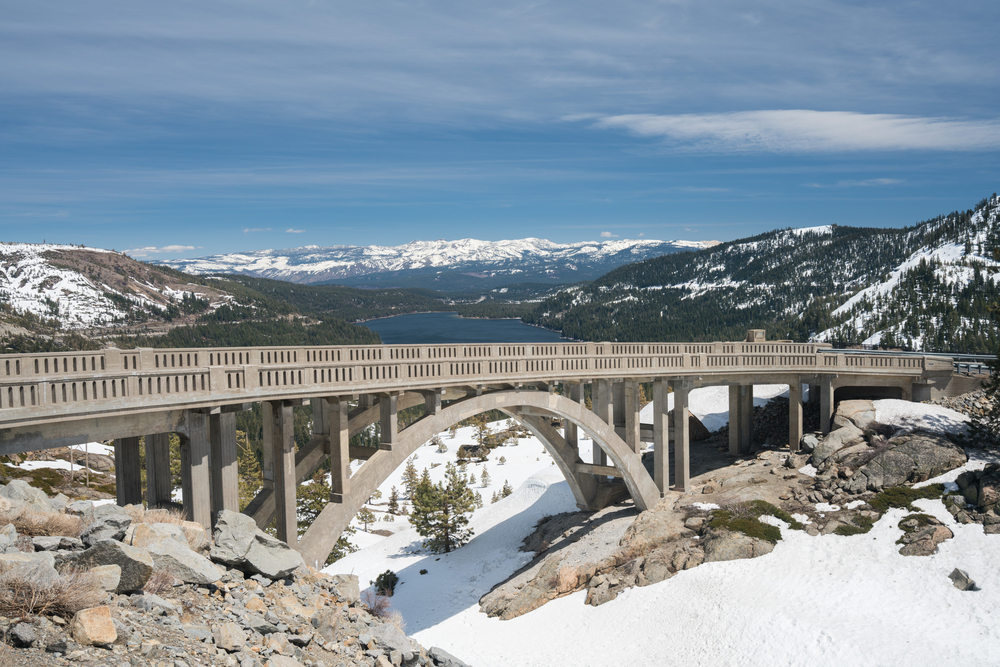 North Lake Tahoe is the cluster of communities, parkland, resorts, and forest land along the north and northwest banks of Lake Tahoe. North Lake Tahoe is not actually a town name, but rather contains Truckee, Tahoe City, Dollar Point, Ridgewood, Carnelian Bay, Kings Beach, Crystal Bay, and Incline Village.
Things to Do in North Lake Tahoe
Skiing and Snowboarding: Squaw Valley and Northstar are the most popular destinations in North Lake and rightly so with incredible terrain and pleasant villages. Aside from the two most popular resorts, within close proximity of the north side of the lake are also Alpine Meadows, Homewood, Diamond Peak, and Mt. Rose.
Mountain Biking: The Tahoe area is a widely known hotspot for mountain biking. Don't worry though, with as many trails as this area boasts, you won't feel crowded while exploring these mountains. Burton Creek State Park has some seriously awesome trails for bikers of all skill levels.
Where to Stay in North Lake Tahoe
North Lake Tahoe exudes a cozy, traditional mountain experience by the Sierra Nevada Range. Less populated than South Lake, you'll have more of that rural, "Mountain Town" vibe from this area. That doesn't mean this area lacks amenities though, as each town has lots of unique rental options.
Tahoe City: Tahoe City by itself is a cute mountain town right on the lake, so if being on the water is important during the snowy months, then this is your place to search.
Truckee: With a quaint main street of boutiques, bars, cafes, and restaurants, right off the main highway to the region, Truckee will have the rental you are looking for to host friends and family.
South Lake Tahoe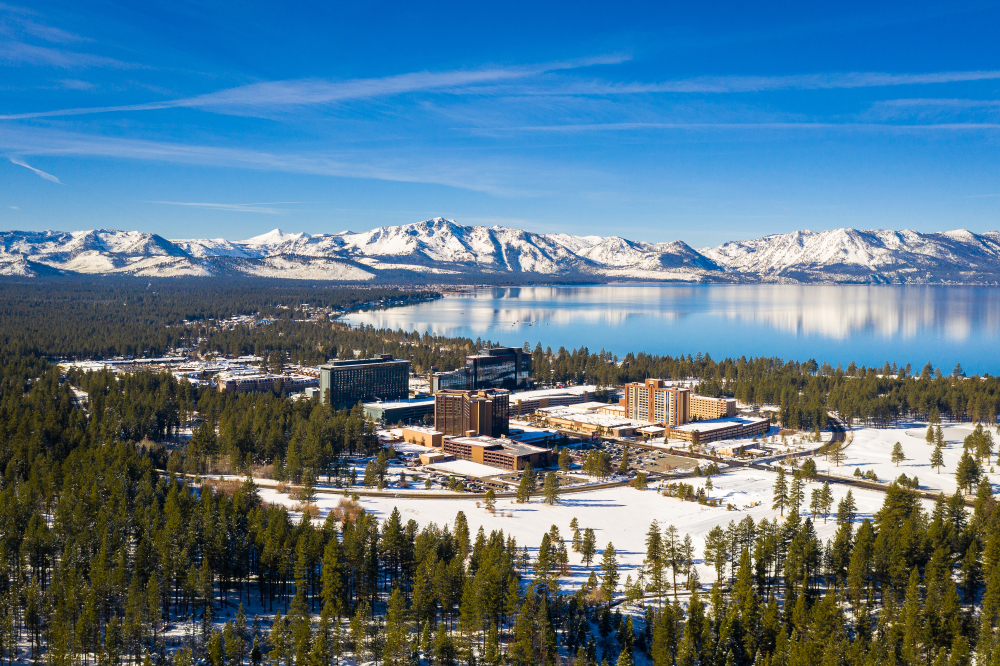 On the other end of the lake is the actual town of South Lake Tahoe. While the town serves as the core, South Lake Tahoe can refer to everything from Emerald Bay, a beautiful cove off the southwest corner of the lake, to Glenbrook along the East Shore.
Things to Do in South Lake Tahoe
Skiing and Snowboarding: Similar to the north, South Lake Tahoe also has great slopes. Heavenly Ski Resort lies in the south, where the gondola into the mountain is also right at the state line of California and Nevada. To streamline your trip to the mountain, you can even access the lift from downtown! Heavenly is far from the only skiing option in this area, but unlike the other resorts, its village is shared by both South Lake Tahoe and Stateline, Nevada.
Gamble: Besides enjoying breathtaking natural views, there is a bunch more to do. There is a distinct presence of casinos that pop up literally on the border of Nevada and California. Visit Montbleu, Harrah's, Hard Rock, and Harvey's casinos, which loom ten stories over Route 50 for ample opportunities for card games, slots, and all the table games you'd expect to find in a casino.
Where to Stay in South Lake Tahoe
With two towns sharing a border at the state line, the region of South Lake Tahoe packs a tremendous amount in a small area. So if you're looking for everything available without the stress of finding an Uber or packing the family into the car, find a vacation rental in South Lake Tahoe, California, or Stateline, Nevada.
South Lake Tahoe: Easily the most recognizable town name in the greater Tahoe area, South Lake will offer you affordable rentals with the easiest possible access to the gondola. This town also has a huge selection of restaurants and bars, and is a great choice for a vacation any time of year.
Stateline: Just steps over the California/Nevada border, Stateline is where you'll find the nightlife action at all of the casinos, and everything that they bring to the table. Like South Lake Tahoe, Stateline is also right on the lake and has plenty of lake access and related activities available.
Which One is Better?
It's hard to crown a winner here, since both offer travelers an incredible experience depending on what they're interested in. For example, a group of twentysomethings will have a much different experience than a young family. So make sure you plan accordingly based on the below.
North Lake Tahoe Pros & Cons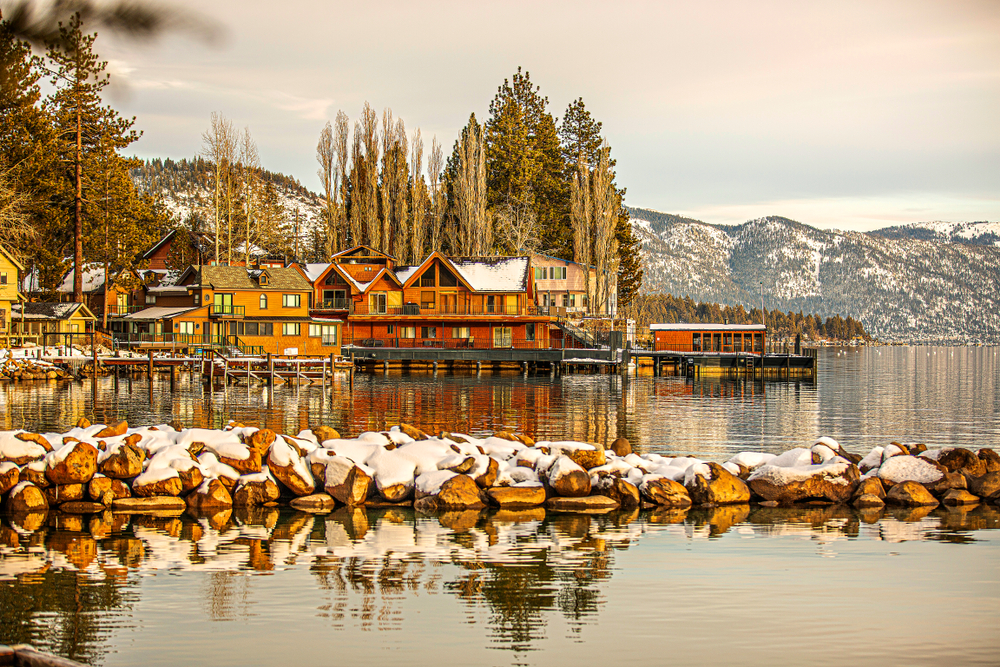 Pros:
Better suited to families who want to have a relaxing getaway in proximity to fine dining and exciting activities
While South Lake Tahoe has some great options, if you're looking for a number of different ski resorts to try, you'll most likely want to grab a spot on the north side
A number of nice restaurants including Christy Hill, Daniel's, Le Bistro Tahoe, and Stella at Cedar House
Cons:
Its quieter, laidback vibe isn't going to be for everyone
South Lake Tahoe Pros & Cons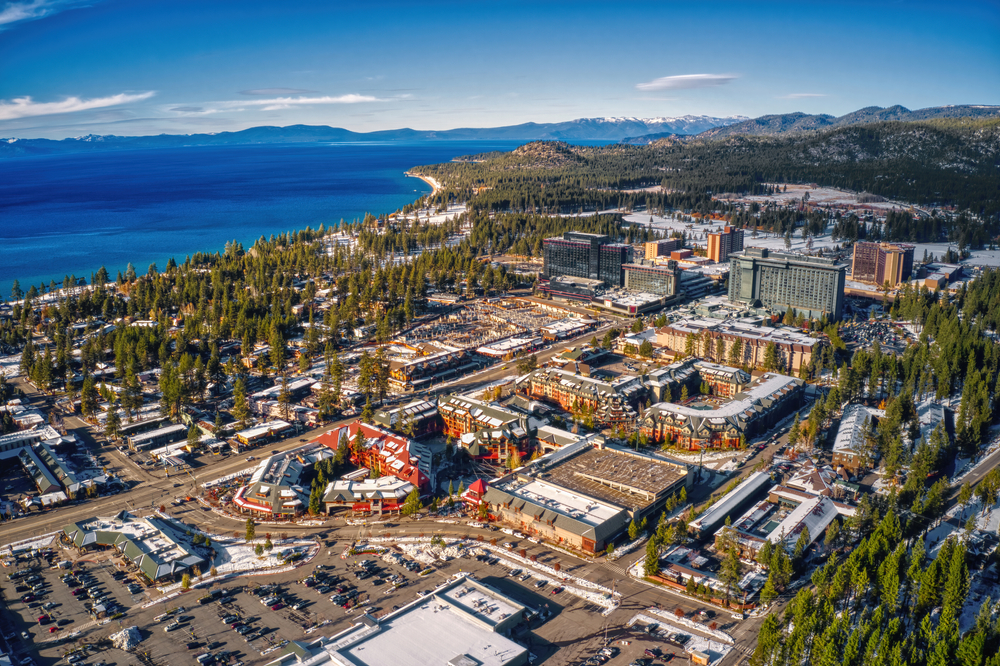 Pros:
For the gambling set, South Lake Tahoe has plenty of casinos to choose from
A selection of different bars like Community Speakeasy, Tiki Bar at Beach Retreat, Himmel Haus, and Turn 3 will have you trying a new place every night
The watersports include speedboat and jet ski rentals, parasailing adventures, or you can rent a kayak or paddleboard and wander close to the shoreline
Cons:
Those who like a quieter, more relaxing vacation will probably steer clear of this rowdier locale
The casinos can be a distracting hinderance for those who want to purely enjoy nature
Have You Decided between North Lake and South Lake?
You couldn't possibly go wrong when choosing where to visit in the Lake Tahoe region. Pristine mountains and epic adventures surround the lake in all directions. It's just a matter of selecting which town suits your needs perfectly.