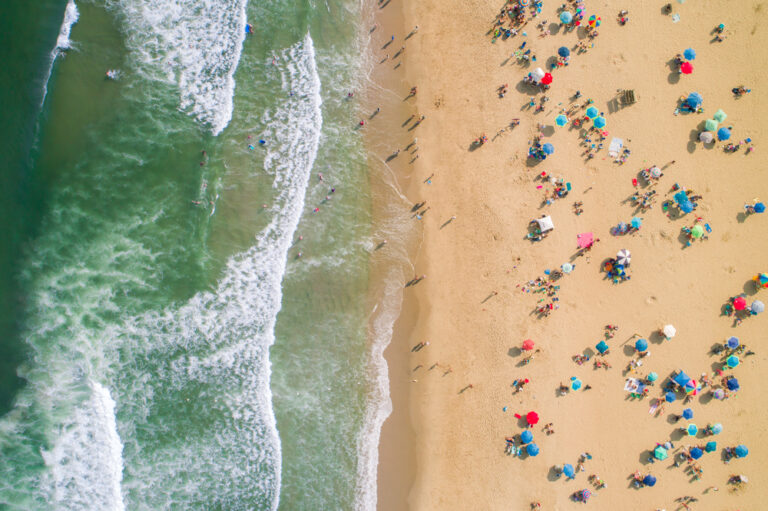 If you're searching for the perfect place to soak up the sun during your summer vacation, then look no further than the New Jersey coastline. It stretches roughly 130 miles along the Atlantic Ocean, just south of New York City, so the area is home to an abundance of beautiful beach towns that become popular vacation destinations during the warm summer months. And in true East Coast style, many of these coastal cities have seafront boardwalks with a vast array of shops, restaurants, and attractions to keep you entertained during your trip.
That said, each of the New Jersey beach towns offers a slightly different vacation experience, from family-friendly destinations to places where partying is paramount, so it's important to do your trip research before booking. But with so many top-notch beach towns to choose from in the state of New Jersey, it's easy to get overwhelmed with your options and obsess about making the right decision. To help you in your search for the perfect beach vacation destination, we've compiled a list of the top towns located along the New Jersey coastline and what makes them so special.
Ocean City, New Jersey
At Ocean City, you'll find eight miles of coastline, a two-and-a-half-mile-long boardwalk, shopping, watersports, and boating, all rolled into one family-friendly atmosphere. Ocean City hosts events like the Doo Dah Parade — a parade honoring all things weird, wonderful, and wacky. This parade is home to the Basset Hound Waddle, showcasing over 500+ basset hounds, and a closing ceremony that consists of a shaving cream pie-throwing.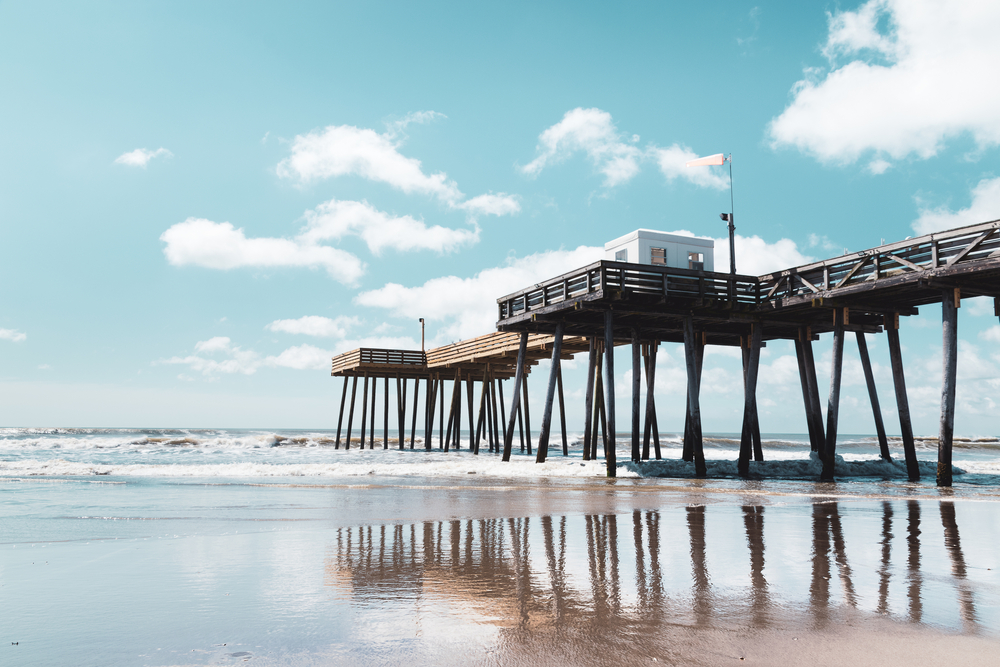 A few fun things to do in Ocean City are listed below, but this beach town has a lot more to offer, especially when things heat up during the summer season. You and your loved ones can enjoy arcade games, roller coasters, and mini-golf at Gillian's Wonderland Pier and Playland's Castaway Cove amusement parks before grabbing a bite to eat at one of the excellent eateries along the Ocean City Boardwalk.
Ocean City Highlights:
Eight miles of beach
Two and a half miles of boardwalk
Gillian's Wonderland Pier and Playland's Castaway Cove amusement parks
Congo Falls Adventure Golf
Boardwalk and arcade games
Family-friendly atmosphere
Cape May, New Jersey
Cape May is a colonial-era resort town that's perfect for a romantic getaway at a Victorian-style bed and breakfast. Aside from the beautiful beach views, there are many parks and nature trails to explore during the day. This seaside gem is a National Historic District, and it has close to 600 Victorian buildings that have been preserved. Take the trolley tour around town to discover more about the history and culture of this fine city.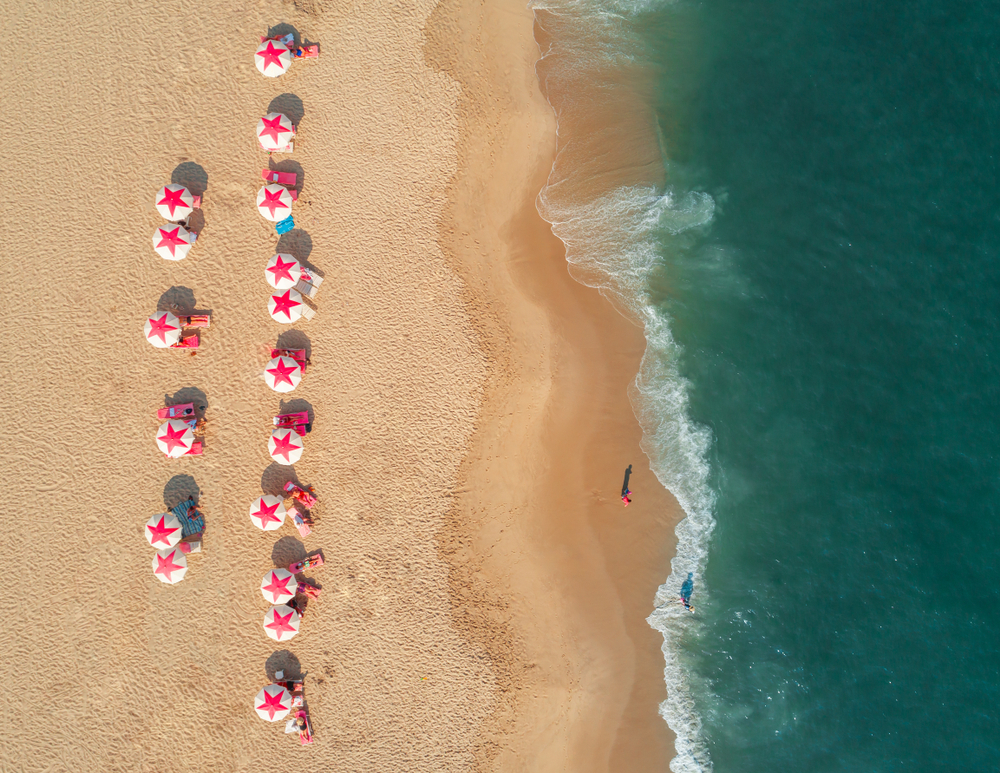 There's plenty to see and do including humpback whale watching cruises, or exploring the Naval Air Station Wildwood Aviation Museum, the Lighthouse at Cape May Point State Park, and Higbee Beach. At night, you can enjoy fine dining at one of many historic restaurants including the Washington Inn heritage house, or attend one of the many events in Cape May, including classic jazz festivals and live local theater shows.
Cape May Highlights:
Classic jazz festivals
Live local theater shows
Humpback whale watching cruises
Higbee Beach
Naval Air Station Wildwood Aviation Museum
Lighthouse at Cape May Point State Park
Atlantic City, New Jersey
Situated on Absecon Island on the Atlantic Ocean, Atlantic City has a rich history that dates back to the 1600s. And while it started as a health and wellness destination, this coastal city is now world-famous for its vibrant nightlife, high-rise hotels, and endless opportunities to gamble. With its legendary boardwalk — which is the longest and oldest in the country — and historic casinos, Atlantic City is full of exciting attractions that appeal to tourists of all ages.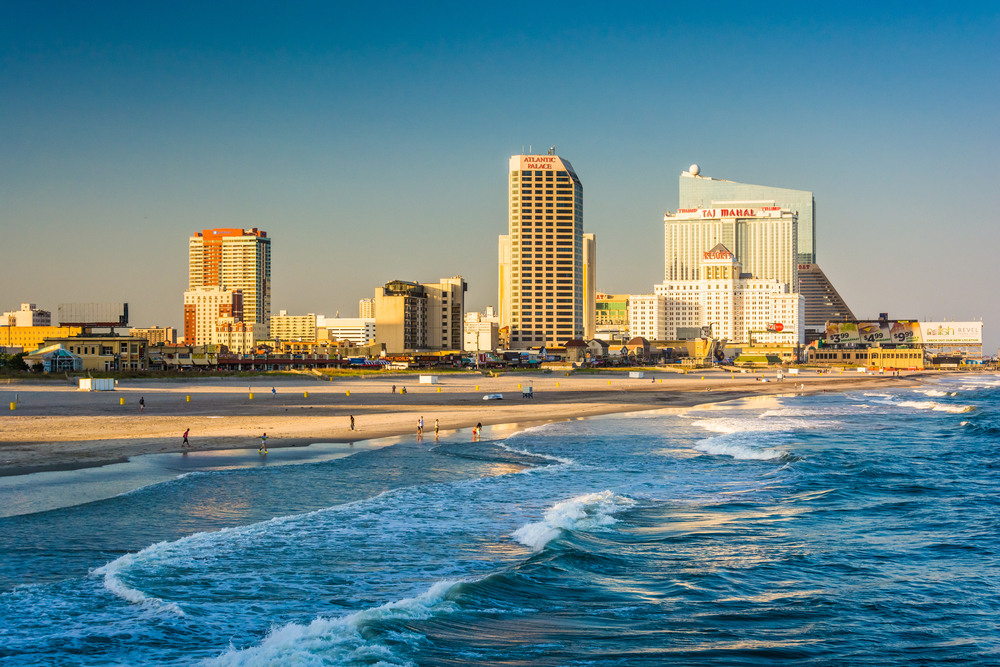 You can catch an exotic animal show at the Atlantic City Aquarium, or pay a visit to the Jim Whelan Boardwalk Hall which has hosted live music and sporting events since 1926. In addition to exploring the shops and restaurants on the Atlantic City Boardwalk, you'll definitely want to carve out a day or two to experience some of the most popular attractions in town, the Central Pier Arcade, and go-kart speedway as well as the Steel Pier Amusement Park.
Atlantic City Highlights:
Five miles of boardwalk and beachfront
Atlantic City Aquarium
Steel Pier Amusement Park
Central Pier Arcade and go-kart speedway
Ripley's Believe It or Not! museum
Jim Whelan Boardwalk Hall
Long Beach Island, New Jersey
Long Beach Island is a beautiful barrier island and popular summer vacation destination that's located just off of the Southern Coast of New Jersey. It's a narrow piece of land, only about half a mile wide, and stretches for 18 miles along the Atlantic Ocean, but the area is home to quite a number of picturesque beach towns. As you can imagine, Long Beach Island is home to some of the best beaches in the state.
It's a very family-friendly area with almost 10 different mini golf courses and plenty of arcade games. Not to mention, Long Beach Island is home to the Fantasy Island Amusement Park and Thundering Surf Waterpark, which are perfect activities for kids of all ages. Of course, the area also offers a large number of boat trips and watersports to participate in while you're there, so you're sure to be entertained during your entire time at Long Beach Island.
Long Beach Island Highlights:
Fantasy Island Amusement Park
10 miniature golf courses
New Jersey Maritime Museum
Thundering Surf Waterpark
Boating and watersports
Family-friendly atmosphere
Asbury Park, New Jersey
Asbury Park is a New Jersey town on the coast known for music, and with an abundance of festivals and events throughout the year, there's always something happening in this coastal city. Whether you decide to enjoy the sandy beaches, historic areas, or impressive music line-ups, you're guaranteed to relish in the wide variety of restaurants and a vibrant nightlife that Asbury Park has to offer.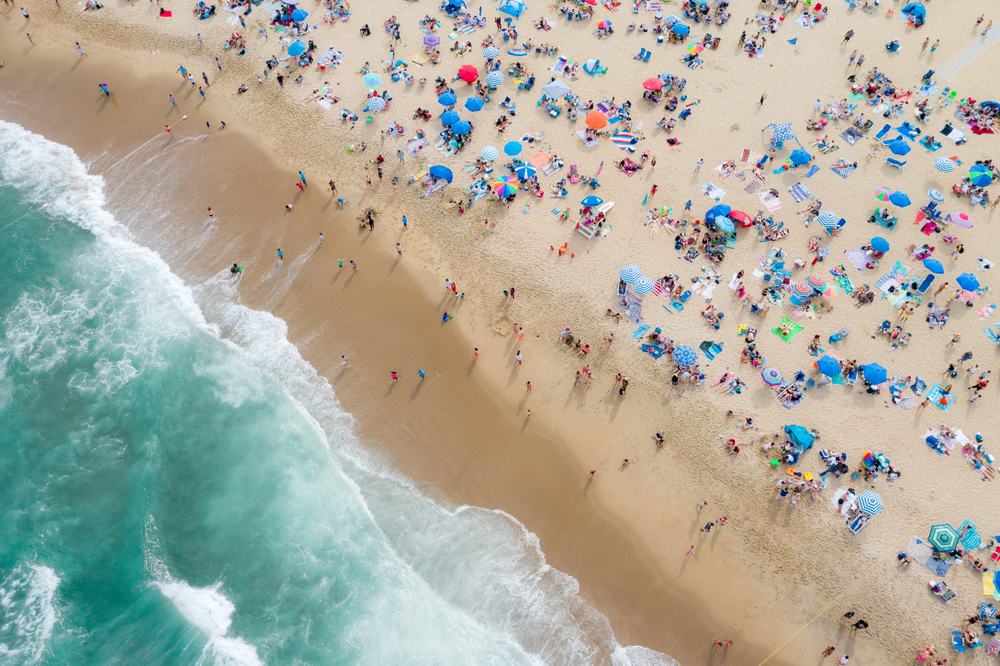 At the top of your list of things to do while you're in town should be seeing a live show at The Stone Pony, an iconic music venue that helped to launch legendary groups like Bruce Springsteen and Bon Jovi into stardom. Then head over to Asbury Lanes to play a few games and catch more live music while you throw some stones. Lastly, be sure to take a stroll down the boardwalk to drink-in the ocean views and grab a bite to eat at one of the many delicious dining establishments.
Asbury Park Highlights:
One mile of boardwalk that stretches south for another seven miles to Avon-By-The-Sea
The Stone Pony, a historic live music venue
Asbury Park Casino
Silverball Retro Arcade
Asbury Splash Park
Asbury Lanes bowling alley and live music venue
Seaside Heights, New Jersey
You might be familiar with the beach town of Seaside Heights due to the popular TV series, Jersey Shore, but that's not all that this vacation destination has to offer. With over two miles of boardwalk and sandy beaches, you can soak up the sun and swim in the sea while enjoying the many shops and restaurants in town.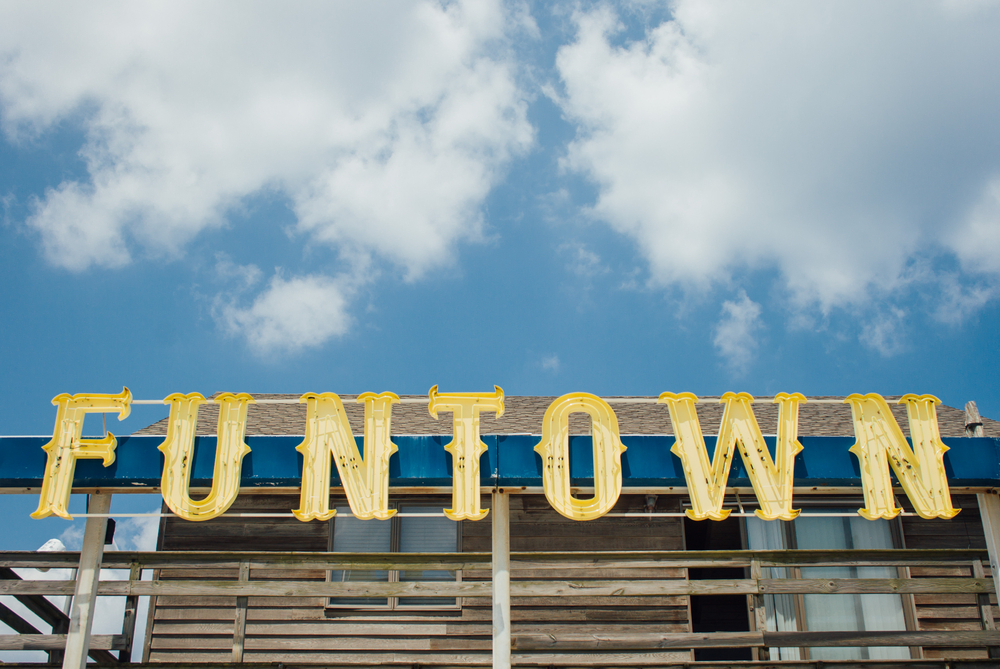 Perhaps the most popular attraction in town is the Casino Pier & Breakwater Beach amusement park that's located in the heart of the Seaside Heights coastline. It's a massive complex that's home to an array of rides, arcade games, a water park, and much more! But be sure to stop by Lucky Leo's to try your hand at driving the bumper cars at some point during your visit to Seaside Heights.
Although Seaside Heights only consists of 16 blocks, VacationRenter has plenty of rentals around town – from houses and apartments to beachfront hotels – so you're sure to find the perfect place to stay while you're in town.
Seaside Heights Highlights:
Two miles of boardwalk and beaches
Casino Pier & Breakwater Beach amusement park
Lucky Leo's boardwalk arcade games and bumper cars
Smuggler's Quay Adventure Golf
Boating and watersports
The Jersey Shore House
Wildwood, New Jersey
Wildwood was built in the '50s and '60s. As a result, so much of the architecture represents that classic "doo-wop" feel. In fact, just seeing some of the historic motels in the area brings you back in time. And if you're feeling nostalgic, Wildwood also hosts an annual classic car show on one of the last weekends in September. But, you don't have to wait until September to find something fun to do.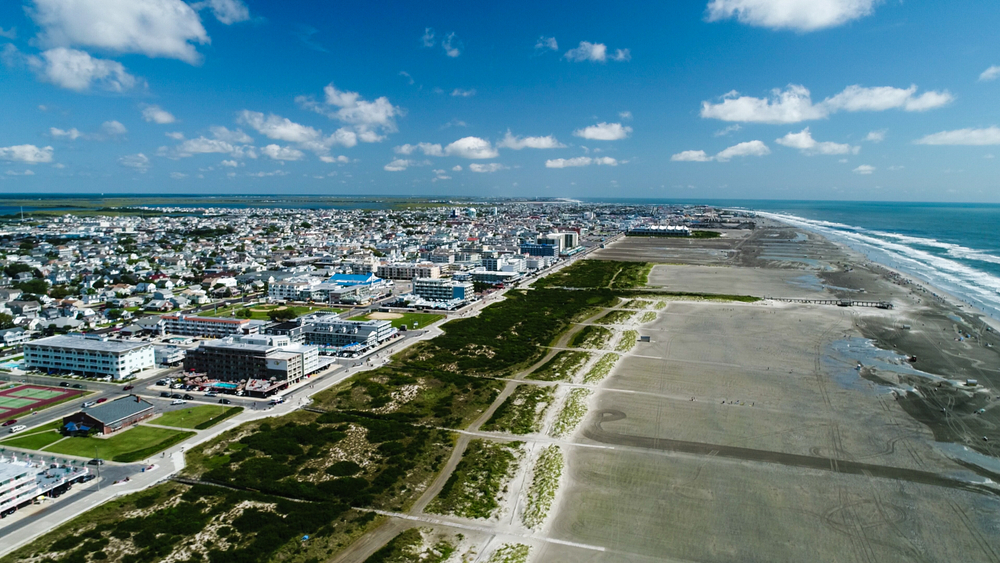 It's one of the only towns in New Jersey where you can get onto the beach for free and attend over 180 events at no additional cost. Along the picturesque boardwalk, you'll have access to Morey's Piers & Beachfront Water Parks, Raging Waters Water Park, the Wildwood Giant Wheel, mini-golf, and more.
VacationRenter offers plenty of rentals in Wildwood so you'll be able to easily find a place to stay during your visit — from motels to Victorian homes! Memorial Day officially kicks off the summer season and with a jam-packed calendar featuring over 180 events, you're sure to find something for everyone to enjoy.
Wildwood Highlights:
Free beach access (one of the few places in New Jersey)
Five miles of very spacious beaches
Roughly two miles of boardwalk
Boardwalk and arcade games
Morey's Piers Amusement Complex
Raging Waters and Ocean Oasis Water Parks
Ready to start planning your New Jersey beach vacation? Find your ideal rental accommodations on VacationRenter today!