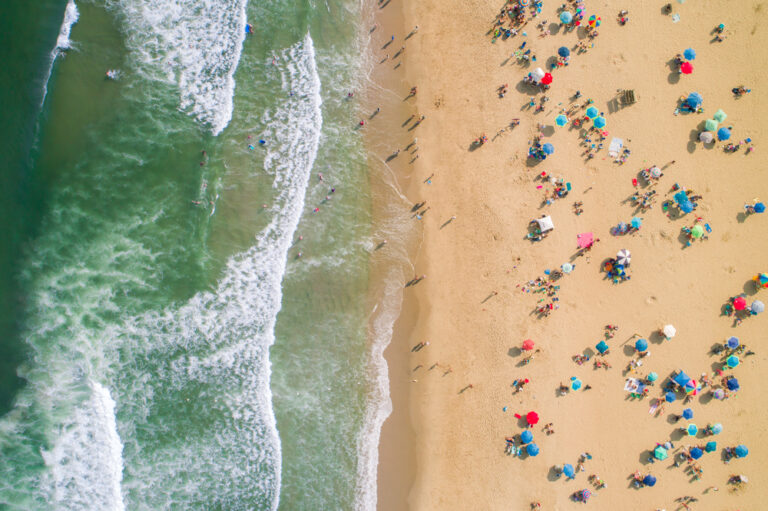 If you're searching for the perfect place to soak up the sun, look no further than the New Jersey coastline. Stretching roughly 130 miles along the Atlantic Ocean, this sandy expanse of barrier islands includes an abundance of towns just south of New York City and east of Philadelphia. And as you might expect, these beach towns, numbering over 40 in total, become popular vacation destinations during the summer with their vast array of marinas, bays, restaurants, amusement parks, and so much more.
The best part? They're far from cookie-cutter, as each of these Jersey Shore towns offers a slightly different vacation experience.
The Nicest Beach Towns in New Jersey
Whether you're looking for family-friendly destinations like Spring Lake and Long Beach Island, or places where partying is paramount like Atlantic City and Manasquan, you'll find a town to match your interests.
Looking for the nicest beach town on the Jersey Shore? These selections cracked our list because they're continually ranked as the most popular with the cleanest beaches. That means you'll want to give yourself plenty of time to search for an affordable rental if that's an important caveat.
1. Ocean City, NJ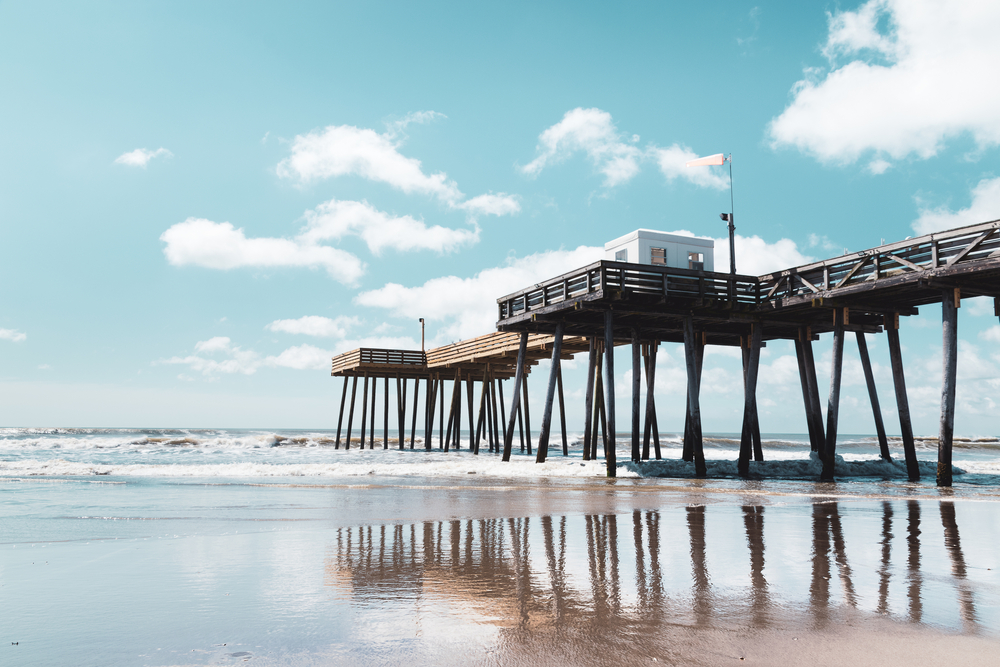 In Ocean City — located close to the bottom of the state — you'll find eight miles of coastline, a long boardwalk, shopping, watersports, and boating, which combine to produce an inviting family-friendly atmosphere. Families flock here every summer since it's a dry town without any liquor stores, but there are still plenty of restaurants and bars if you and your family are craving a night out together. It's also the closest destination on this list to Atlantic City, so consider renting a place here if you want to be close, but not in the middle of all the action.
Ocean City hosts events like the Doo Dah Parade — an event honoring all things weird, wonderful, and wacky. This parade is home to the Basset Hound Waddle, showcasing over 500 basset hounds, their long ears swaying in the breeze, and a closing ceremony that includes a pie-throwing segment!
Ocean City Highlights
Where to Eat and Drink
Jay's Crab Shack is as laid-back as they come, but you'll find some knockout selections that cater to a wide variety of palates.
If expereincign brunch outdoors surrounded by the sounds of the bay and salty air vibes sounds like your ideal experience, you'll want to head to the Dockside Kitchen.
Yianni's Cafe is a family-owned Greek restaurant open year-round for breakfast, lunch, and dinner.
2. Cape May, NJ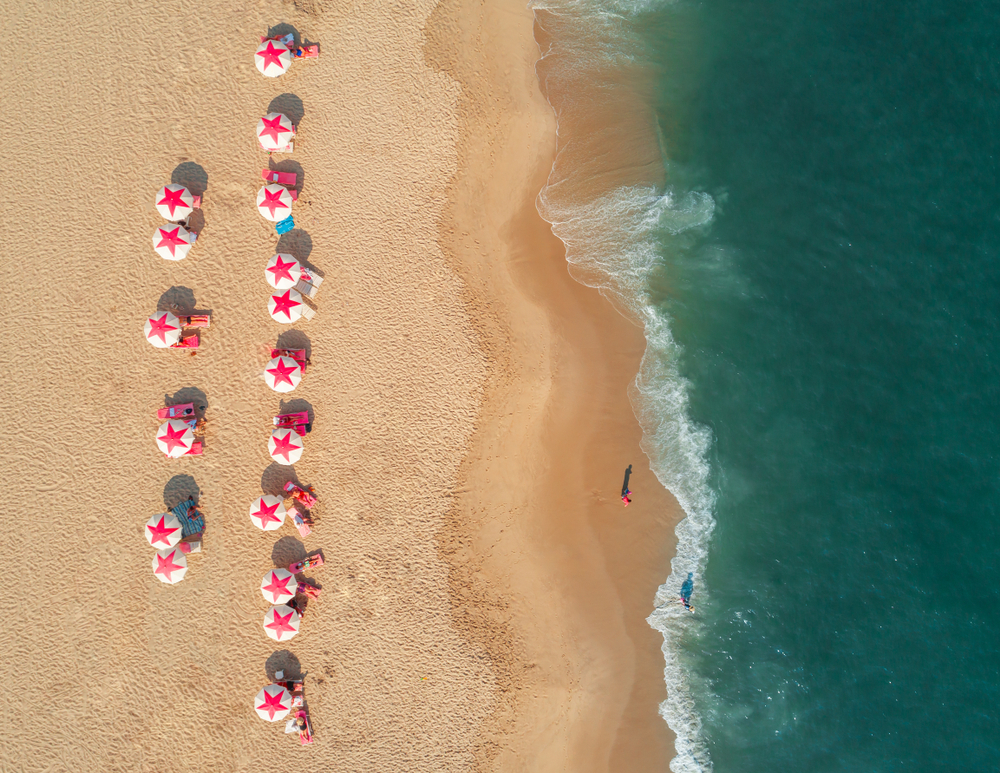 This colonial-era resort town is located at the very bottom of the state — a.k.a the tip of New Jersey's Cape May Peninsula. Aside from the beautiful beach views, there are many parks and nature trails to explore during the day. The downtown portion of this seaside gem is considered a National Historic District, since it counts close to 600 Victorian-era buildings that have been carefully preserved. Take a trolley tour to discover more about the history and culture of this fine city and all it has to offer.
Cape May Highlights
Where to Eat and Drink
Enjoy some fine dining at one of many historic restaurants in the area like the Washington Inn & Wine Bar
George's Place Court House is a lively neighborhood spot offering a variety of daily specials from a Greek-inspired menu.
Head to Tisha's for a charming fine dining establishment offering a menu of creative dishes.
3. Spring Lake, NJ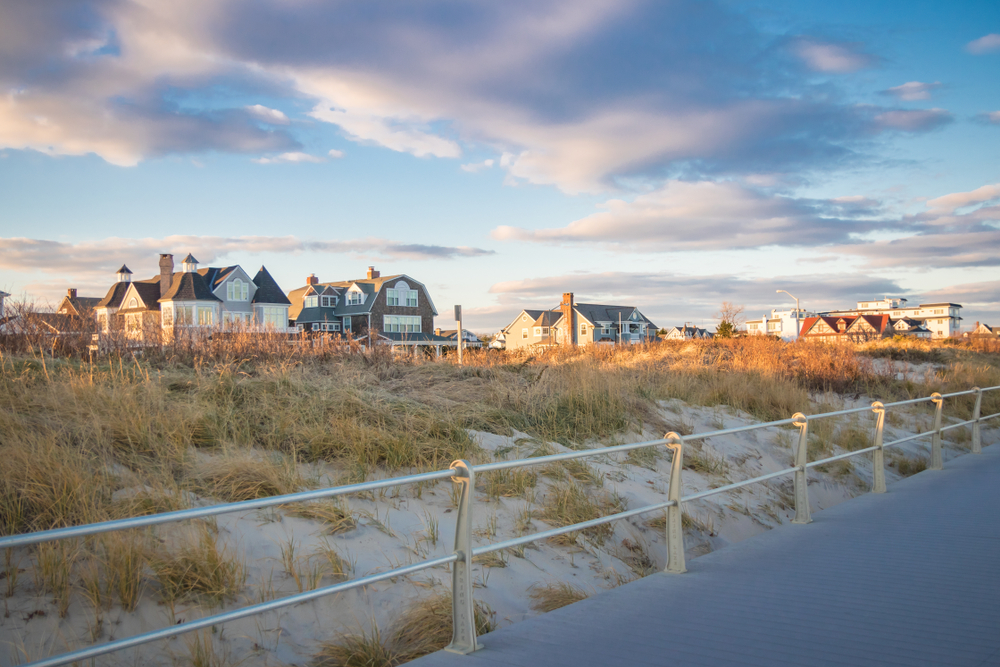 With a nickname like the "Jewel of the Jersey Shore," you know Spring Lake is going to set a high bar. This year-round community only an hour-and-a-half drive from New York City has a reputation for scores of luxury homes, uncluttered beaches, historic Victorian inns, and a quaint downtown filled with boutiques and restaurants. Similar to the other towns along the shore, Spring Lake has a two-mile boardwalk. However, what sets this one apart is that it's entirely free of neon lights and storefronts, making it the longest, uninterrupted, non-commercial boardwalk in the state of New Jersey, and a nice play to go for a run or ride a bike.
Named for the lake at its center, visitors have been drawn to Spring Lake for its tree-lined streets, lush lawns, and close proximity to the ocean for more than a century. It's a quaint, quiet getaway compared to the other places on this list, but for some, that's all they're going to need.
Spring Lake Highlights
Check out the Spring Lake Theatre Company, which is located in the Spring Lake Community House and offers a full calendar of performances.
Most people will travel to Spring Lake and ignore the lake at its center in favor of the beach. If you don't want to be like most people, consider renting bikes and taking them to the 16-acre Divine Park to see the spring-fed lake.
Head to the downtown area — a charming, tree-lined street with upscale boutiques, cafes, and restaurants.
Where to Eat & Drink
Bareli's By The Sea is a modern Italian restaurant with a full bar, ocean views, and a seasonal terrace.
Enjoy some fine dining at Whispers, an elegant, swanky, BYOB restaurant in the Victorian-era Hewitt Wellington Hotel.
No trip to Spring Lake is complete without stopping at The Parker House, a Victorian-style beach home featuring a porch bar, a relaxed tavern, and an upstairs club.
4. Long Beach Island, NJ
Long Beach Island — or LBI — is a beautiful barrier island and popular summer vacation destination that caters to people of all interests. This narrow piece of land is only about half a mile wide, but it stretches for 18 miles along the Atlantic Ocean. LBI is actually home to several picturesque beach towns including Beach Haven, Surf City, and Harvey Cedars. While the northern half of the island is more residential and the south portion has more shops and attractions, both north and south see far fewer visitors on average.
Long Beach Island Highlights
Head to Fantasy Island Amusement Park in Beach Haven for a wide selection of carnival rides games, casual eateries, and ice cream shops.
Right next door to Fantasy Island, the Thundering Surf Waterpark is home to plenty of slides and water park attractions that will keep your kids busy all day long.
Discover the 10 miniature golf courses located all over the island.
At the New Jersey Maritime Museum, you'll learn about shipwrecks, navigation equipment, and life at sea.
Where to Eat & Drink
No visit to Long Beach Island is complete without a stop at the Chicken or the Egg, which is one of the best restaurants on the island serving some of the hottest wings you'll ever try.
Make a reservation at Raimondo's if you're in the mood for creative Italian fine dining.
The Black Whale Bar & Fish House is an unfussy eatery and cocktail spot serving fresh seafood, from lobsters to the day's catch.
5. Asbury Park, NJ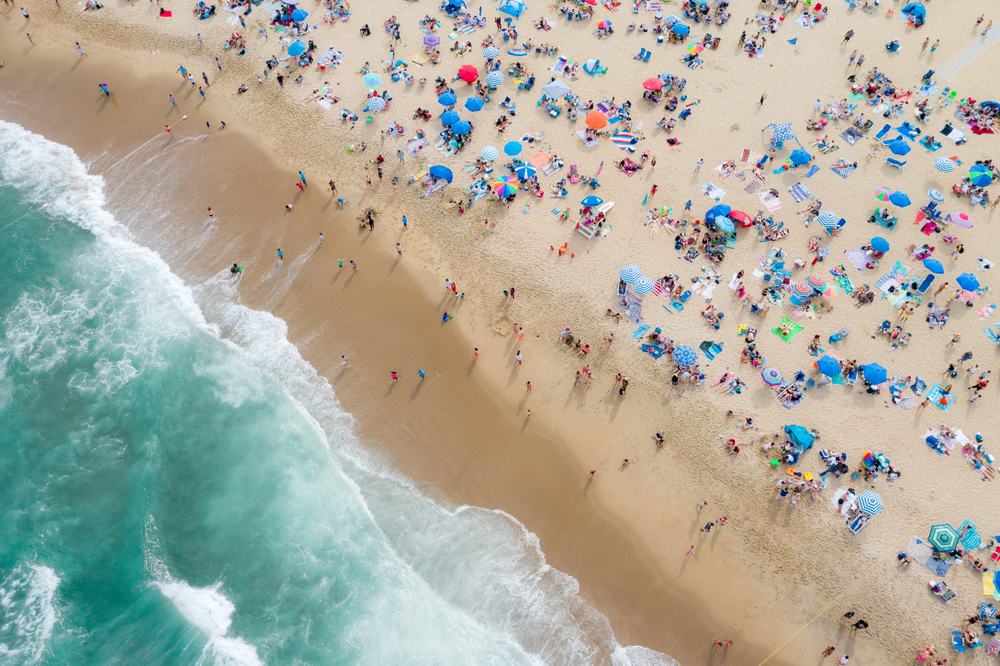 Asbury Park is where you want to go for your New Jersey beach vacation if you're a big fan of going out to eat and enjoying a show, because this beachside community has both in spades. With some of the best restaurants along the shoreline, you'll find a thriving restaurant scene full of culinary gems that range from Japanese to Mediterranean and Italian eateries.
After dinner, you'll find plenty of things to do. With an abundance of festivals and events throughout the year, there's always something happening here. Whether you decide to enjoy the sandy beaches, historic areas, or impressive festival line-ups, you're guaranteed to relish in the wide variety of incredible restaurants and the vibrant nightlife that Asbury Park has on offer.
Asbury Park Highlights
At the top of your list of things to do should be seeing a live show at The Stone Pony, an iconic music venue that helped launch the legendary performer Bruce Springsteen into stardom.
If you're hankering for an arcade day, look no further than Silverball Retro Arcade, which has hundreds of pinball games in rotation at any given time.
Across the street from The Stone Pony, the Asbury Splash Park is a beachside playground with various whimsical fountains and padded ground reminescent of a Nickelodeon show.
Where to Eat & Drink
6. Avalon, NJ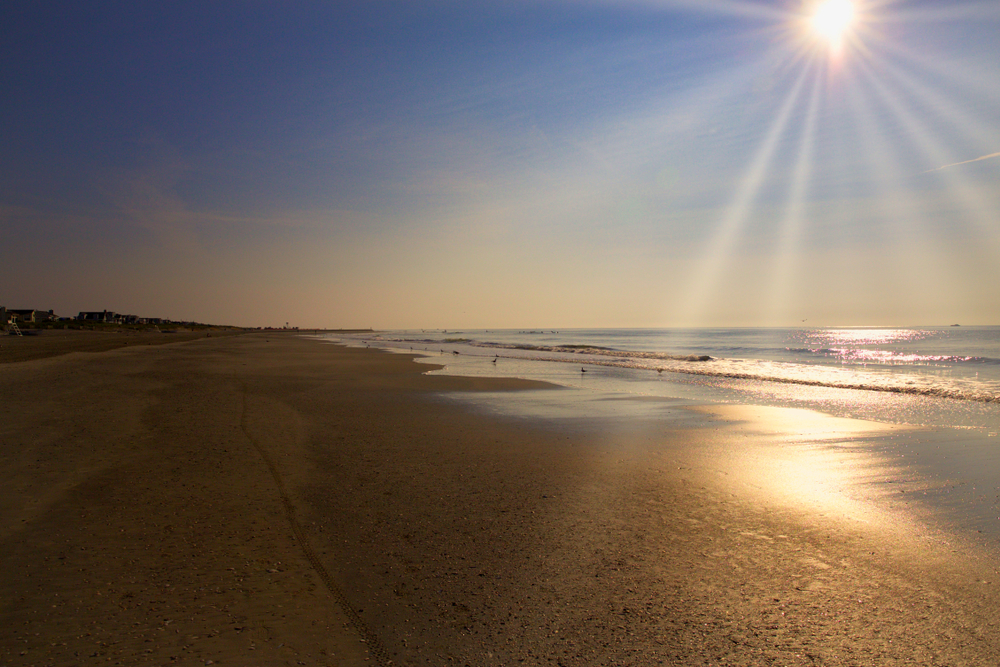 About as polar opposite as you can get from the town of Seaside Heights and the popular MTV series it spawned, Avalon enjoys a seven-mile stretch of eminently clean white-sand beaches and family-friendly fun. People of all ages will relish the miles of carefully preserved sand dunes and all-around laid-back vibe. The town of Avalon actually extends eastward one mile farther into the Atlantic Ocean than its neighboring towns, and is often referred to as being "Cooler by a Mile."
The southern half of Seven Mile Island includes the town of Stone Harbor, which is slightly cheaper on the whole when compared to Avalon, and a good place to consider when looking for an affordable rental nearby. When taken together, Avalon and Stone Harbor's beautiful beaches, fine shopping experiences, exquisite restaurants, and exciting nightclubs make for a great beach vacation.
Avalon Highlights
The Avalon Sport Fishing Center located between 15th and 16th Streets on the bay is headquarters for a large fleet of charter and head boats to take anglers out for full or half days.
SUP Guy — yes, it's legit — offers stand-up paddleboards and kayak rentals delivered and picked up from your rental at no charge!
Enroll the kids for a day (or more) of fun-in-the-sun surf lessons at Avalon Surf Camp.
Head to Dune Drive to explore the many boutiques, and get a heavy dose of retail therapy.
Island Water Sports in Stone Harbor is the place for watersports rentals like boats and wave runners, which come with equipment for waterskiing, wakeboarding, and tubing.
Where to Eat & Drink
7. Wildwood, NJ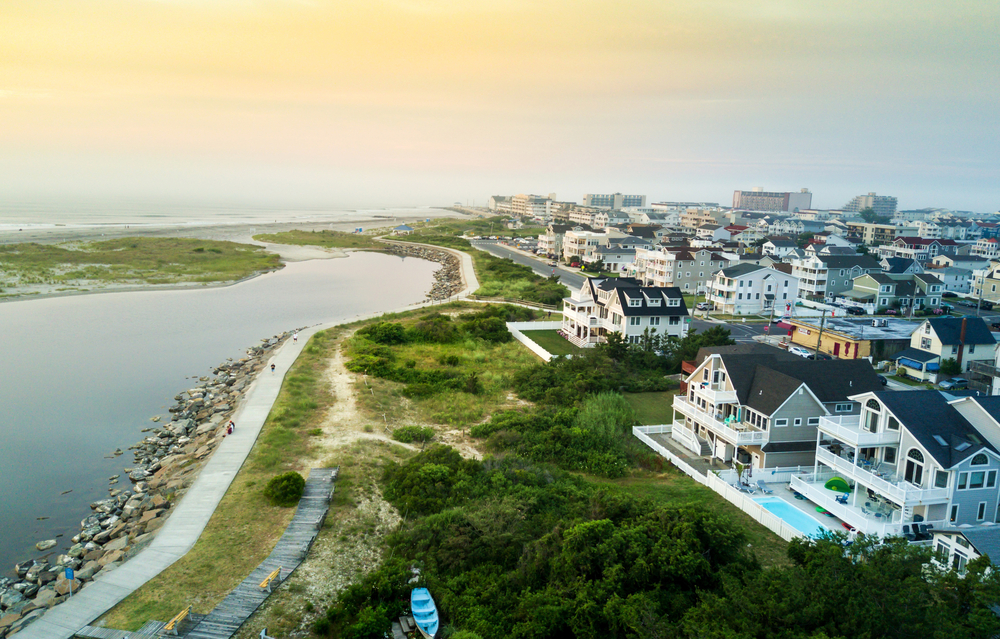 Sandwiched between Cape May and Stone Harbor, Wildwood is another resort town on the New Jersey coast. Well-known for its wide, sandy beaches and a boardwalk jampacked with eateries, shops, waterparks, and thrill rides, Wildwood is more of the New Jersey Shore you may already be familiar with. It does see more visitors, but that's because it's one of the only towns in New Jersey where you can access the beach for free.
Memorial Day officially kicks off the summer season, and the Wildwood social calendar doesn't let up; featuring over 180 events, you're sure to find something for everyone to enjoy.
Wildwood Highlights
Fox Park is home to the Doo Wop Experience museum, with 1950s and '60s artifacts that include a collection of neon signs.
Discover five miles of very spacious beaches that don't require an entrance fee.
Morey's Piers Amusement Complex might take the cake when it comes to beachfront amusement parks in New Jersey. Taken together with the Raging Waters and Ocean Oasis Water Parks, you're going to have a full day of fun on your hands!
Where to Eat & Drink
In a state chock full of them, check out the 1950s-style Doo Wop Diner — voted one of the most iconic diners in New Jersey — for a large menu of burgers, milkshakes, and other tastes of Americana.
Dogtooth Bar & Grill is a casual eatery serving a variety of lunch and dinner selections.
If you're in the mood for some fine dining, head to Beach Creek Oyster Bar & Grille for an intimate, upscale indoor setting or outside on their waterfront deck.
Don't Forget Your Beach Badge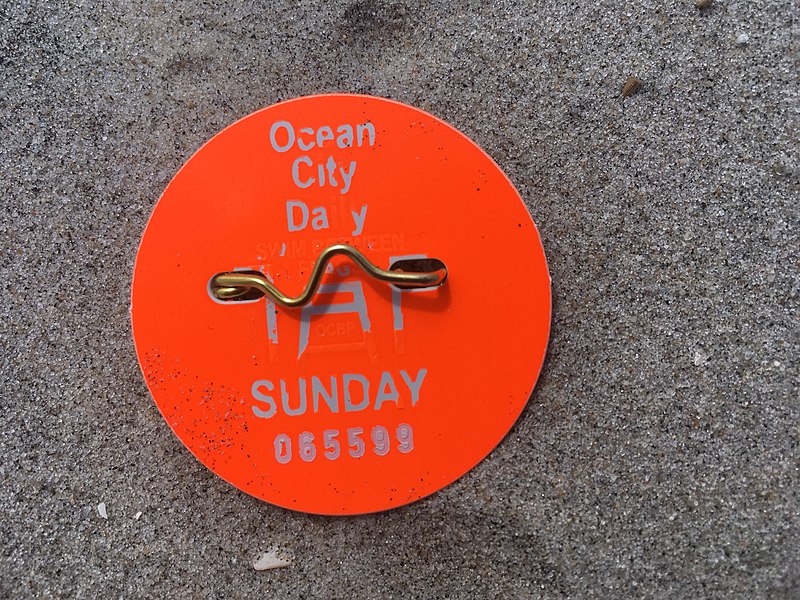 Keep in mind that in New Jersey, beach tags are mandatory for adults and teenagers, with kids 12 and under usually allowed entry free of charge. Daily tags and wristbands typically cost around $10 per day and can be purchased from booths at the entranceways to public beaches. The tradeoff is many of these shore towns have boardwalks with a vast array of shops, restaurants, and attractions to keep you entertained during your trip.
Start Planning Your NJ Beach Vacation
With so many top-notch beach towns to choose from in the Garden State, it's easy to get overwhelmed. Consider bookmarking this guide and coming back to it when making plans to visit some of the best beach towns in New Jersey. One trip will hardly be enough to see everything, but it will give you a good idea of some of the hidden treasures this often-maligned state has to offer.