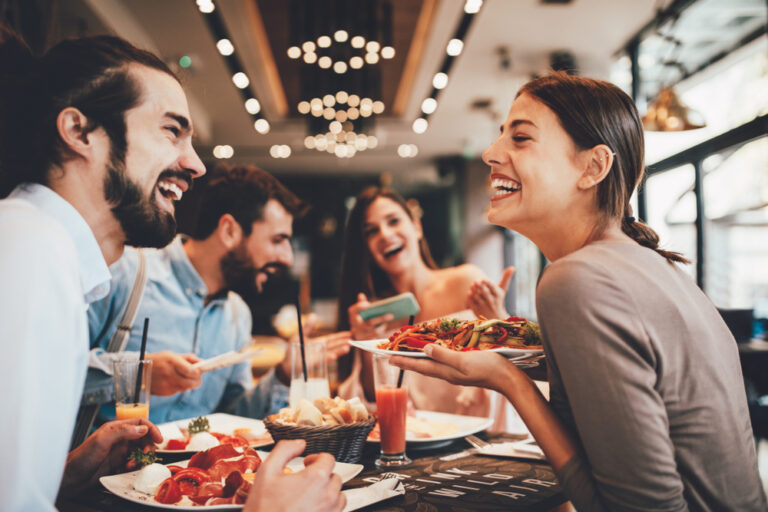 Being a foodie is about more than just enjoying meals — it's a whole lifestyle. Sometimes, that lifestyle involves traveling around the country, or even scouring the globe to find the best eats, combining the joys of traveling with the delight of a great meal. Crafting an itinerary that will bring you to all the best food destinations is no easy feat, though. That's why we put together this guide to good eats for traveling foodies. 
Key Takeaways
The ultimate road trip for a traveling foodie begins in

Seattle

and ends in the City of Champions:

Boston

Nashville

's

Hattie B's Hot Chicken

ranks in second for top stops among traveling foodies, after

Snooze A.M. Eatery

Brunch spots are the most coveted meal type among traveling foodies 
Thanks to insight from foodies all across the United States, using Yelp and Google My Business reviews, we created a campaign that features the top restaurants, cuisines, establishments, and meal types. Whether you're traveling from the next town over or all the way across the continent, these are the locations that fellow traveling foodies enjoyed the most. 
The Ultimate U.S. Road Trip for Traveling Foodies
Hitting all the top food spots in one go sounds great, but what's the ideal foodie road trip across the continental United States?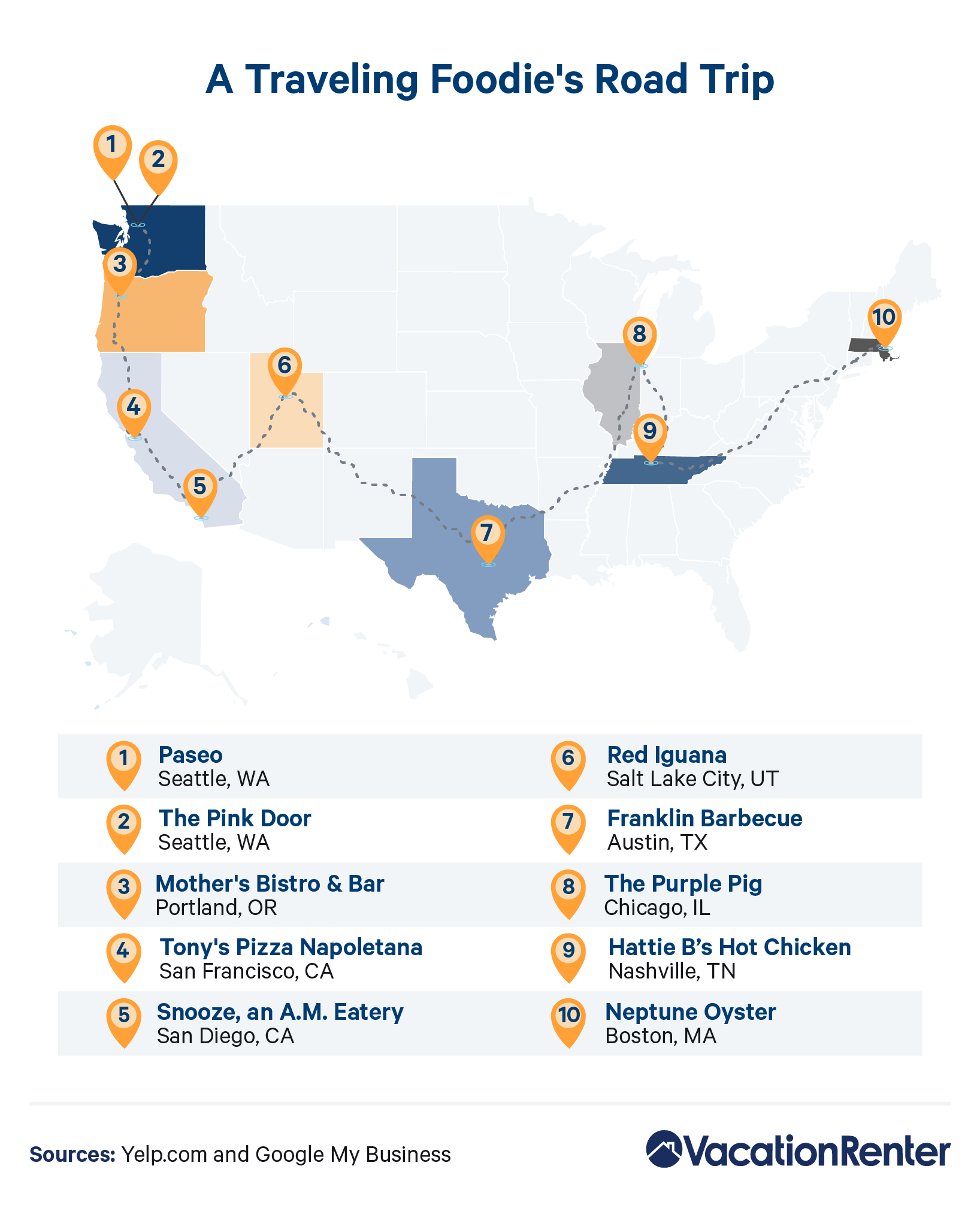 For mouthwatering eats that are worth the hike, start in the Pacific Northwest, make your way down the West Coast, across the country, and end your culinary adventure in Boston. This road trip will take you across the U.S. to the nation's top 10 restaurants, according to traveling foodies. With a driving distance of just over 6,000 miles and an average fuel cost of $600, those traveling for food are bound to have their fill of various meal types including brunch, tapas, and dinner; cuisines like Latin, Mexican, and Italian; and establishments such as bars, diners, and restaurants.
The Top U.S. Cities for Traveling Foodies
There are plenty of great cities for foodies across the country, but we've chronicled the top 20 cities by population and found the restaurants traveling gourmands ranked the highest. Whether you're on the East Coast, in the Midwest, or traversing the deep South, traveling to any of these cities will be worth the trouble if good eats are desired.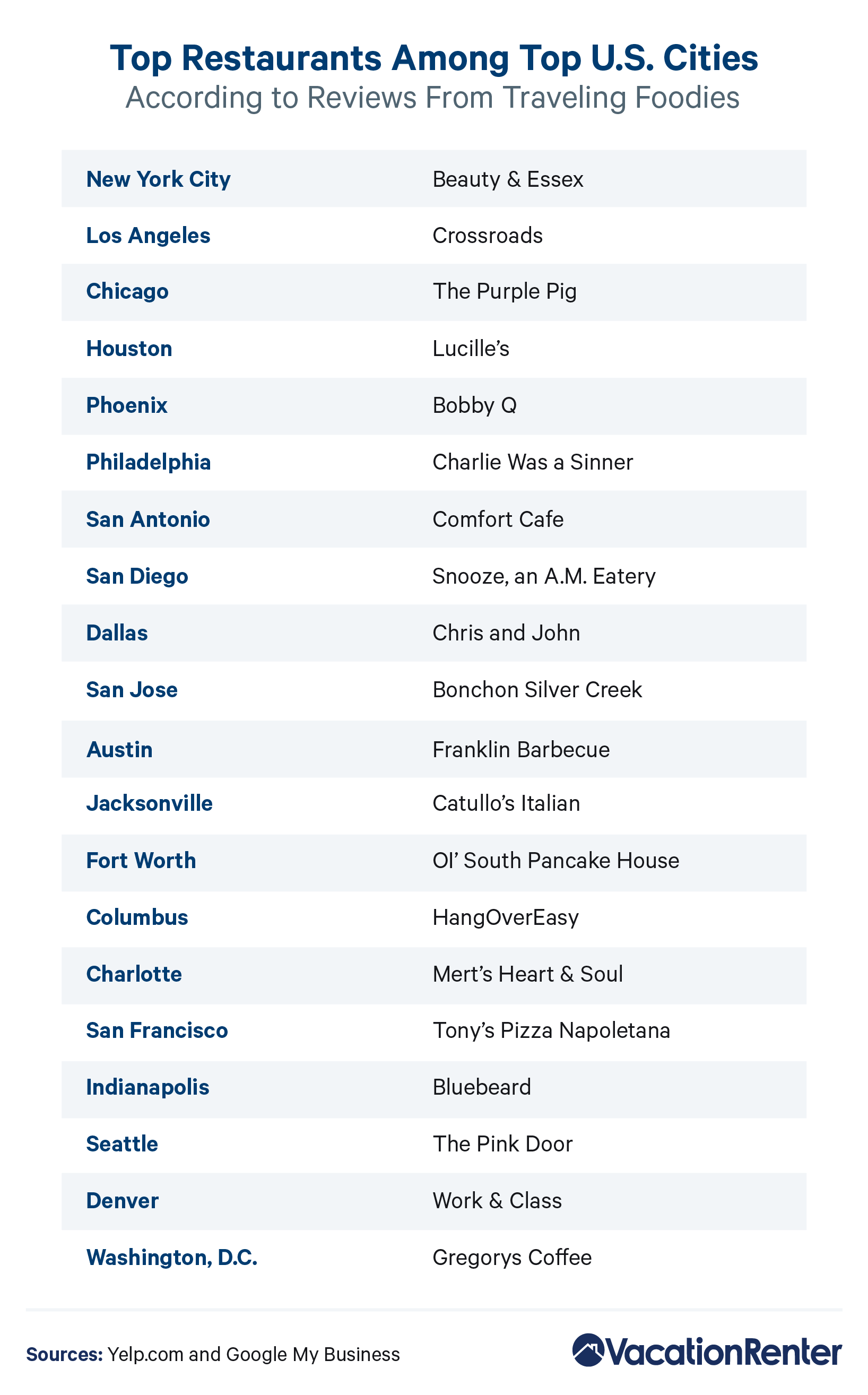 New York City stands out as the city foodies are willing to travel the farthest to visit. Food lovers come from far and wide, traveling as many as 3,624 miles just to get a taste of the incomparable food served in NYC's best establishments — which can be a standalone vacation. But sometimes it's a specific restaurant that pulls foodies in from such long distances to a given city. With so many incredible famous gems, and hidden haunts, anyone of them could have made the list. Yet, the top restaurant foodies are traveling to in New York is Beauty & Essex, though, if the city that never sleeps is not your speed, there are other options for traveling flavor nerds across the country like Lucille's in Houston, Bobby Q in Phoenix, and Catullo's Italian in Jacksonville. Any one of these would be worth the trip, but combining them all in an epic road trip would be even better.
The Top Cuisines by Location
One of the joys of traveling as a foodie is getting to try out the very best that different cuisines have to offer. Depending on which cuisines you're most interested in, you can tailor your trip to the states where specific dishes are most prominent.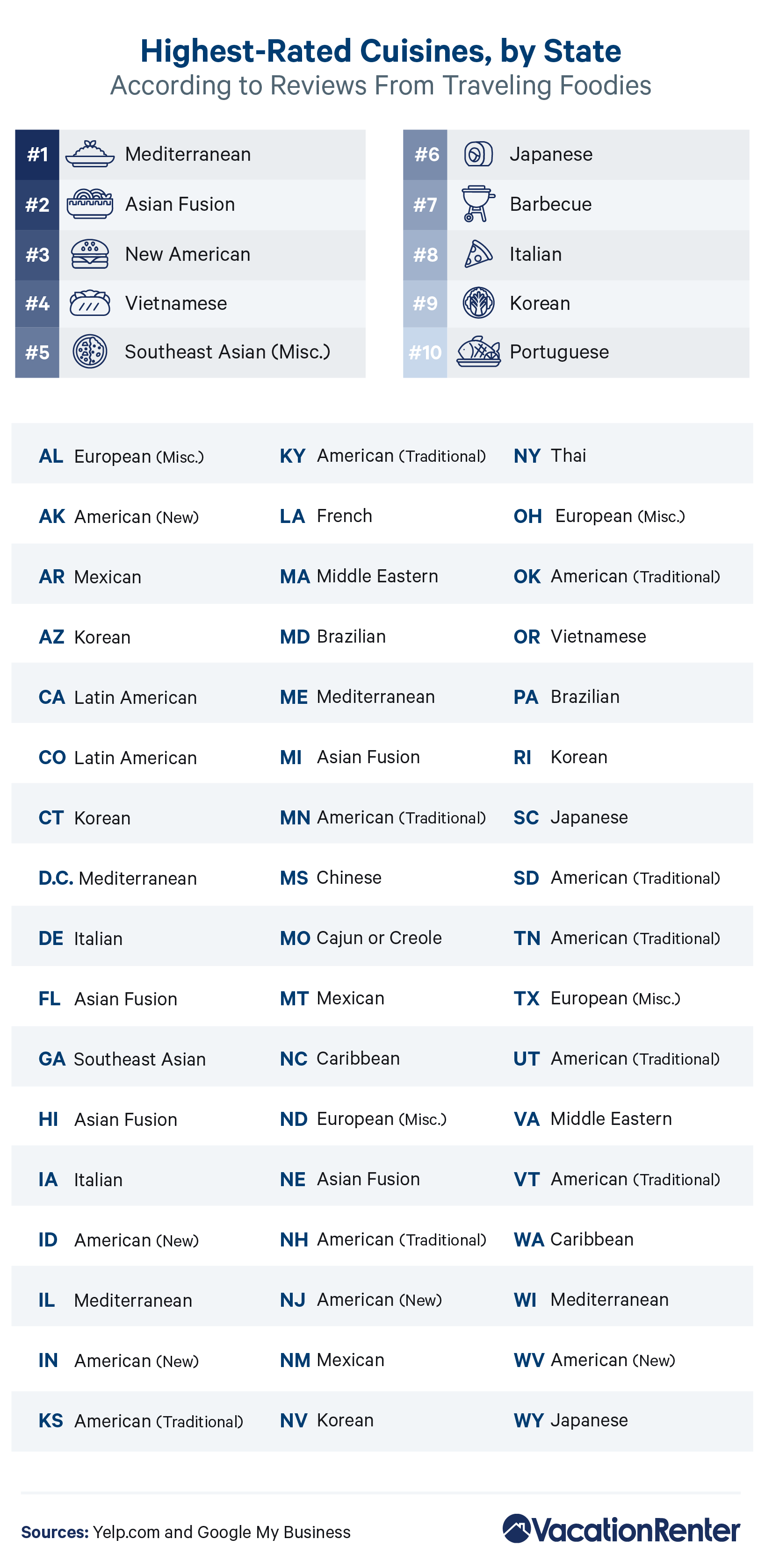 If you're in the mood for the best Thai food, for example, head over to New York City, where one traveling foodie named Fish Cheeks the "best thai [they] had in the city." Alternatively, if you're looking for Caribbean fare, you might want to make the trek to Washington. It might seem like an unusual place for this type of Latin American food, as the heart of Latin America is over 3,000 miles away. Paseo in Seattle, however, was mentioned as a "had to try" destination for traveling foodies.
Perhaps surprisingly, Texas – home of heated barbecue sauce battles – is touted as one of the ideal places to go for miscellaneous European cuisines. Texas might seem like a place for only traditional American cuisine, like burgers and fries — or even New American cuisine, featuring the flavors of the American melting pot — but you'll also get a great mix of German, British, Basque, Polish, and Scandinavian eats in the Lone Star State. 
Moving east along the Gulf Coast, Florida shines when it comes to Asian Fusion cuisine, as do Hawaii and Nebraska – yes, we were also surprised about that one. One traveling foodie wrote a review of Takato Sushi in Fort Lauderdale, Florida.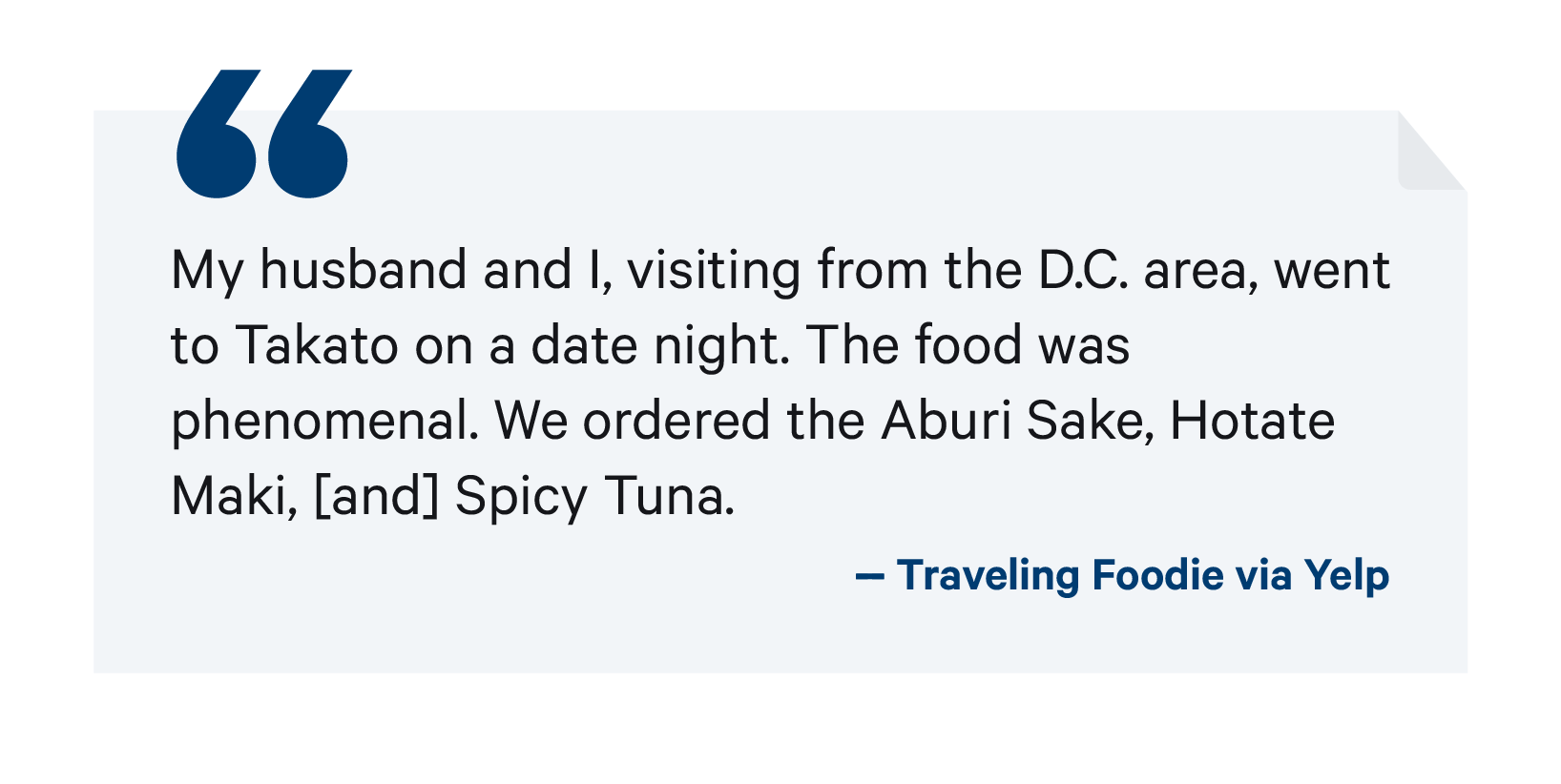 In any major city in the country, you should be able to find at least one great restaurant for each of type of cuisine. Some cities, though, have a particularly strong reputation for serving excellent food from a certain cuisine. Those traveling by their stomach have identified the following cuisines below as the best these cities have to offer.
You may have noticed that some cities have shown up repeatedly on these lists. Cities like Chicago, Los Angeles, and New York City are simply food cities that have a lot to offer both locals and traveling foodies alike – not surprising with 152 Michelin stars between the three marquee cities. They'll surely have a little bit of everything, but according to fellow foodies, their top cuisines are barbecue, Mediterranean, and New American, respectively. 
For a city specializing in Latin American cuisine, you might want to head out to Denver. In Denver, traveling foodies frequented Work & Class for a "relaxed and cozy location serving homestyle Southern and Latin American cuisine, plus cocktails." This spot likely hits close to home for a city with a nearly 30% Latin American population. And on that note, no trip to Denver would be complete without a green chile burrito – a staple food group of many locals.
Top Food Establishment Types: Diners, Dives, and More
A true foodie knows that a sit down restaurant isn't the only place to get a good meal. Bars, delis, cafes, walk-up windows, and even food trucks make the foodie scene. When you're traveling, knowing where to look for good food can make a big difference in how much you enjoy your dining experience and overall trip. Traveling foodies have had their say about the top food establishment types in each state, and here's what they found.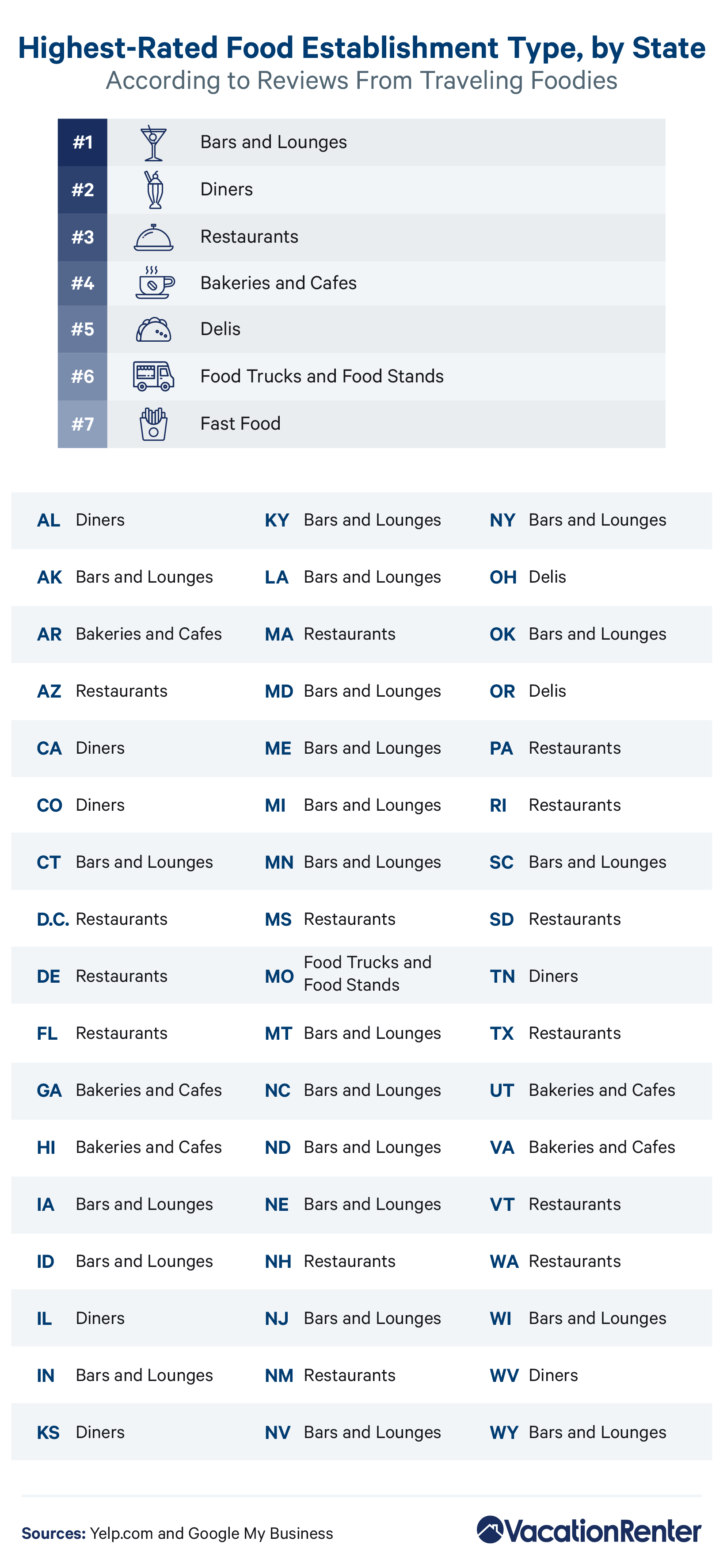 According to the reviews, it seems that anyone looking for the best food truck and food stand eats should head out to Missouri. Some of the eats mentioned in our research include fast and casual bits like pizza and ribs. Quick or hand-held eats like these are meant-to-be's for food stands or food trucks. 
Unsurprisingly, restaurants, bars, and lounges are some of the most popular food establishment types across the states, but diners fared quite well, too. Traveling foodies rated diners as the top food establishment in seven states around the country, including California, Colorado, and Illinois. Delis, on the other hand, ranked highest in just two states — Oregon and Ohio — but that just speaks to how great the delis in those states must truly be. 
Looking city by city, a better idea of what each destination has to offer emerges.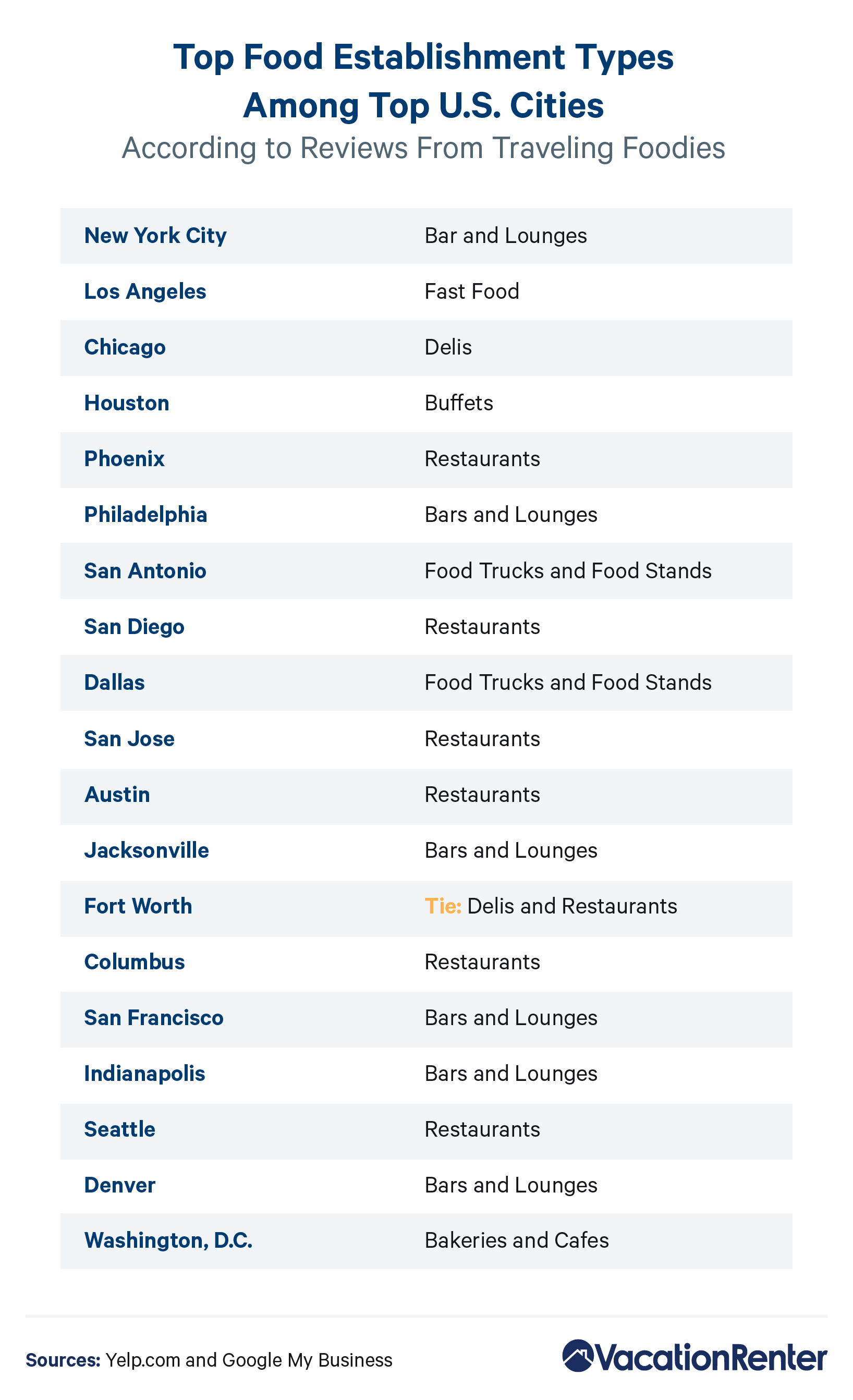 Traveling foodies ranked food trucks and food stands the top establishment type in both San Antonio and Dallas. For that reason, Texas, along with the state of Missouri, looks like another great place to visit for elite food truck meals. When it comes to other quick eats, it seems L.A.'s famous In-N-Out Burger chain propels fast-food joints to the top establishment in the city, a notable result considering foodies aren't known for their love of fast food. Wading deeper into the topic of anomalies, Washington, D.C. makes a splash as the only city on this list for which bakeries and cafes are the top establishment, and Houston also stands alone with buffets as foodies' top pick there.
Top Meal Types by Location
When thinking about different places to go to eat, the cuisines, the establishment type, and the geographic location aren't the only factors to consider. Meal type is another huge consideration. Which meals do traveling foodies prefer in each state?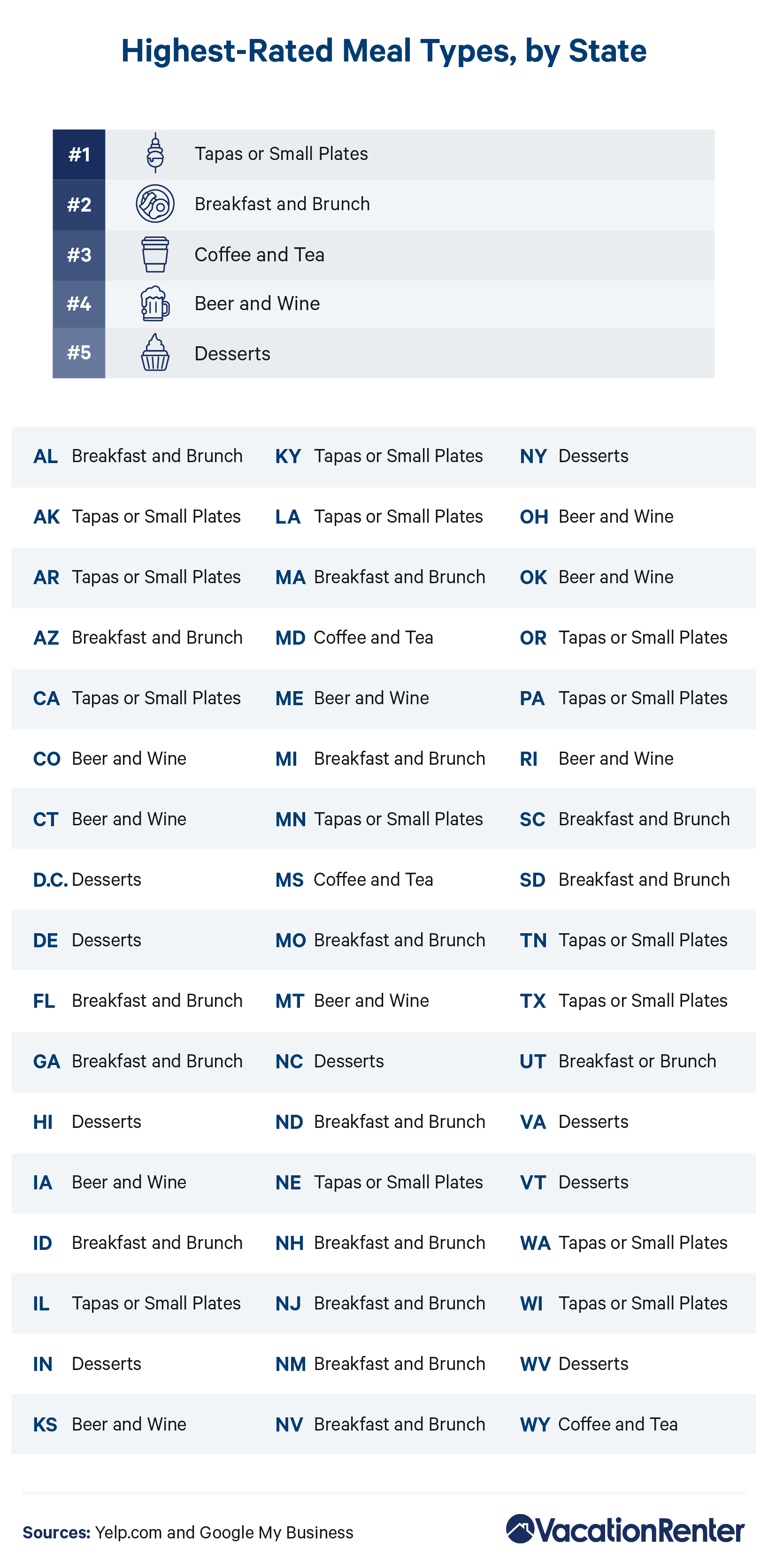 Tapas or small plates made a big splash all over the country, especially along the West Coast. In the East Coast, breakfast, brunch, and dessert were some of the most popular meal options, according to traveling foodies. In the middle of the country, beer and wine took the top spot in terms of meal types, adding some interesting beverage flair to the results. Rounding out the top meal choices were coffee and tea: the most popular choice in Wyoming and Mississippi.  
Pulling in a bit closer and looking at top U.S. cities, similar results (and tastes) are clear.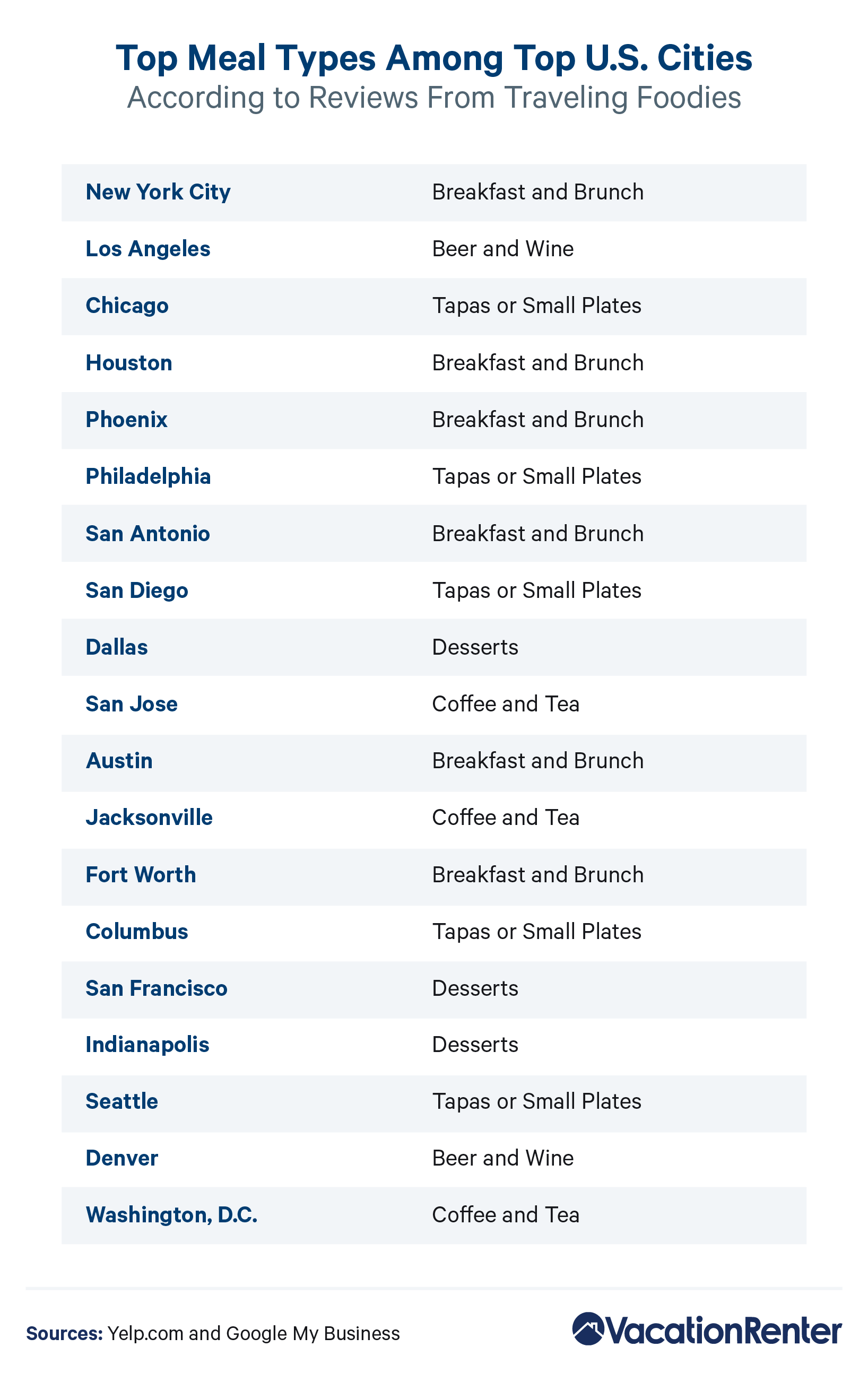 Across the top 20 cities, breakfast and brunch is the most popular meal type, closely followed by tapas or small plates. Denver and Los Angeles appear to be the places to go for beer and wine, but if coffee and tea are more to your taste, there are a few cities on the list where foodies opted for those drinks the most. 
Top 10 Brunch Spots in the U.S.
Brunch is a meal that's easy to overlook by people who don't know any better. "It's just like a late breakfast, right?" ask the uninitiated. A foodie's answer to that question would be a resounding no. That's clear by the number of states where traveling foodies ranked breakfast and brunch as the top meal type. For a foodie, brunch can be one of the best dining experiences, so it's worth traveling a long distance to score incredible brunch fare.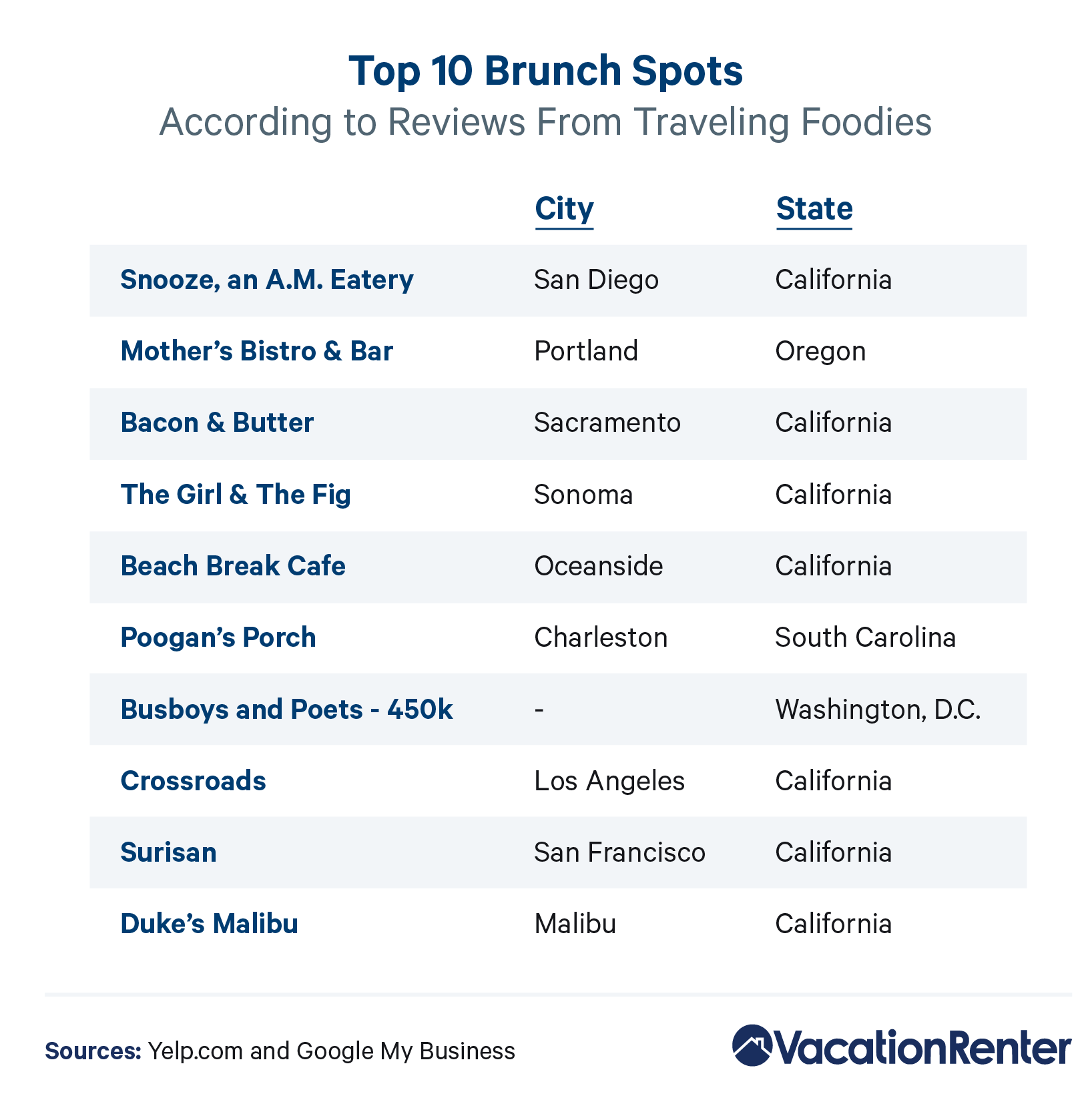 As for where to go for a great brunch, there's one standout location: California. With seven of the top ten best brunch spots making the list, it certainly seems like California merits the trip for any brunch-obsessed foodie. 
If you're headed toward the East Coast instead, you still have some great brunch options. Head over to Poogan's Porch in Charleston, South Carolina, or Busboys and Poets – 450K in Washington, D.C.
Places to Stay for Traveling Foodies
Whether you're out on your foodie road trip or headed straight to your No. 1 must-try restaurant, you're going to need a place to stay.
Methodology
To create a road trip, state, and cities list of food spots popular among traveling foodies, we scraped Yelp and Google My Business for review phrases including but not limited to:
"I drove here from …" 

"I drove all the way from…" 

"I am from…" 

"I flew in from…" 

"I came from…" 

"I'm visiting from…." 
Top U.S. cities were extracted from the top U.S. cities by population, according to the U.S. 2020 census. 
Limitations
Route stops were chosen to include popular locations and prioritized for their proclivity to span the United States. Data from Yelp.com and Google My Business are self-reported and therefore subject to exaggeration or telescoping.
Fair Use Statement
If you know a traveling foodie who loves road trips, please feel free to send this their way. All we ask is that you do so for noncommercial purposes only and give us credit by linking back to the article.