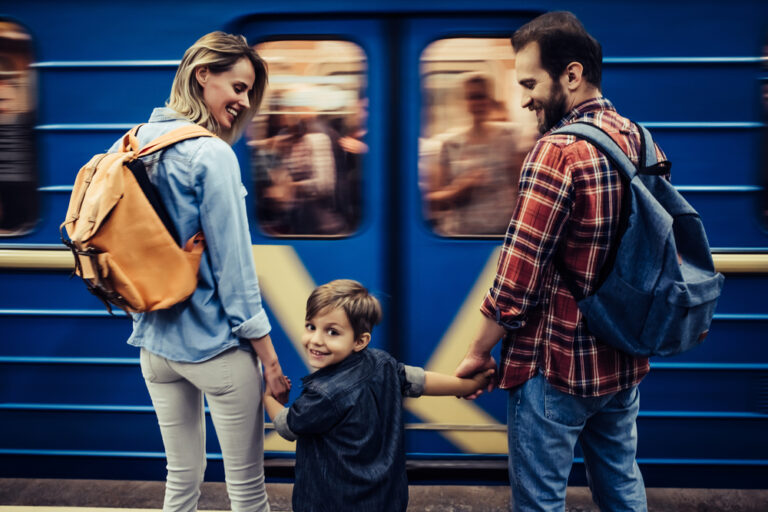 When it comes to exploring the ins and outs of a particular city, having a car can be overrated. After booking tickets for a trip, most people automatically think about finding a rental car. But ever since the pandemic hit, rental cars have been either hard to get a hold of or very expensive.
Could there be another way where you don't have to worry about parking, parking tickets, and constantly inputting destinations into Google Maps, or being worried about driving back to your hotel or rental if you had a couple of drinks? You bet.
We're featuring six stellar U.S. cities where not only do you not need a rental car — especially if you're under 25 and could do without the additional fees — but where cabs, streetcars, subways, and buses are in abundance.
1. New Orleans, Louisiana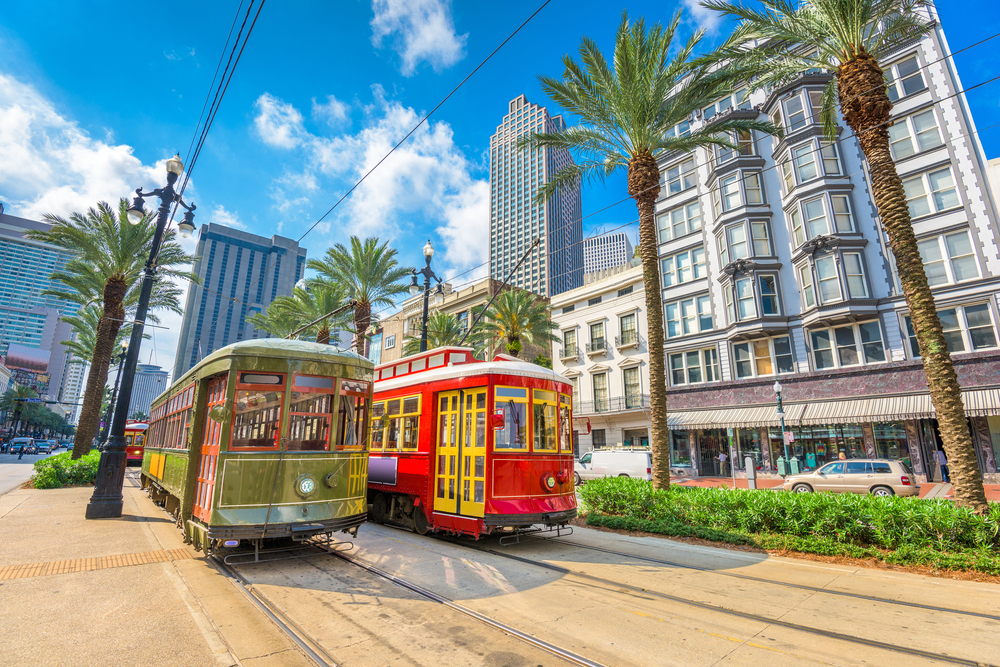 The famous and historical French Quarter happens to be located in the heart of the city and is hailed for its nightlife including its jazz clubs, Cajun restaurants, and boisterous bar scene. If you ask us, it's the most convenient place to stay due to its central location. The closest airport to the city is New Orleans International Airport (MSY), which is about 11 miles out. If you're keen to experience the quieter side of New Orleans, you can easily head to the French Market which is stocked with gourmet food and local crafts. The city is also budding with street performers.
Fun Things to Do
If you have a penchant for the darker side of life, the city's cemeteries should be added to your adventure list. Intriguingly, many of the tombs in these "cities of the dead" are above ground so that they are protected from rising water levels. The tombs are decorated with heavily ornate embellishments which were inspired by both French and Spanish architecture. If you're feeling both brave and more than a little curious, there are even ghost tours in town that make stops at these cemeteries.
Where to Stay in New Orleans
Getting out and about in New Orleans is easy on foot and on public transportation. The city's districts are very compact by nature, so they're perfect for leisurely walking tourists. A great way to go is getting on one of the city's famous streetcars, and if you're really aiming to get active, another option is biking.
Aside from the French Quarter district, the best areas to stay without a rental car are on Canal Street, Burgundy Street, Esplanade Ave, and Decatur Street. This area is centrally located and considered safe, but of course always keep aware of your surroundings.
2. Portland, Oregon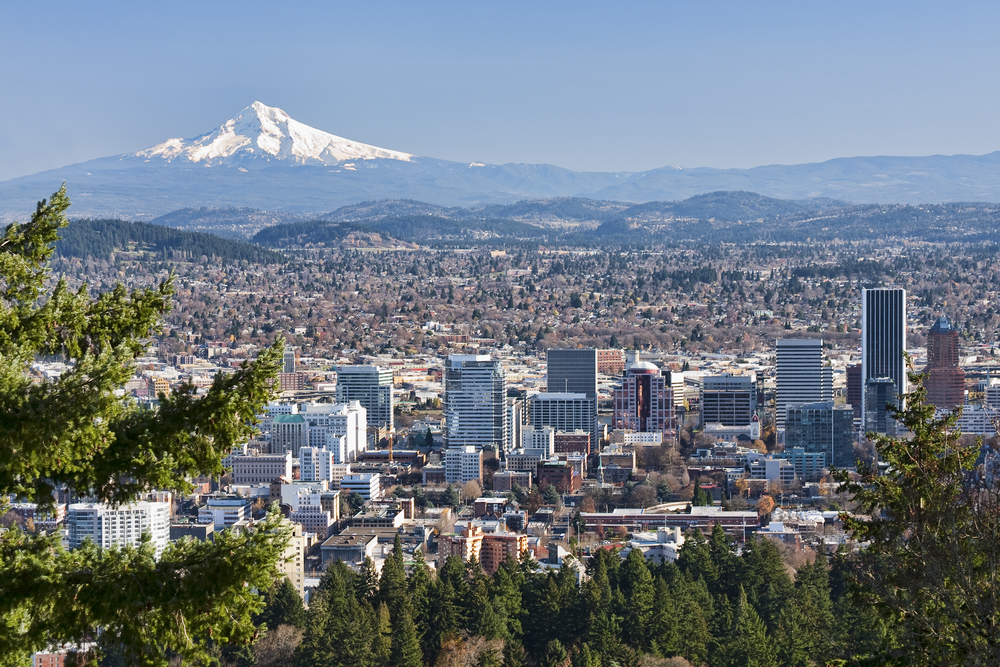 The scenic city of Portland, Oregon, is known for its expanses of green space, including a plethora of parks, far-reaching forests, and myriad of mountain tops. The nearest major airport is Portland International Airport (PDX) which is 12 miles from the center of the city.
Fun Things to Do
If you're wondering why Portland is portrayed as the City of Roses, roam through the Portland International Rose Test Garden — the country's longest-running rose test garden — and you'll see why. ("Test" because it was historically known as a testing ground for new rose varieties.) To this day, visitors from all around the world come to see the space's 10,000 roses. If you're besotted by the natural beauty, Forest Park has 70 miles of trails for hikers, runners, and equestrians.
The City of Roses doesn't mess around when it comes to food fare either. We're talking fine dining, blocks of street food, countless coffee shops, beautiful breweries, and heaps of distilleries. In fact, the city hosts hundreds of food carts — most of them grouped in pods — that have been hailed by the likes of Bon Appétit and CNN.
The Portland ramen scene has been all the rage in recent years. Find your perfect bowl at restaurants that specialize in ramen such as Afuri Ramen, Kinboshi Ramen, and Boke Bowl. The city is also a good place to be thirsty since it's recognized as the craft beer capital of the state and is home to more than 70 breweries.
Where to Stay in Portland
Downtown Portland is the easiest neighborhood to run around without a rental car. The heart of the city has 32 bus lines, four MAX rail lines, and a host of streetcars.
3. Boston, Massachusetts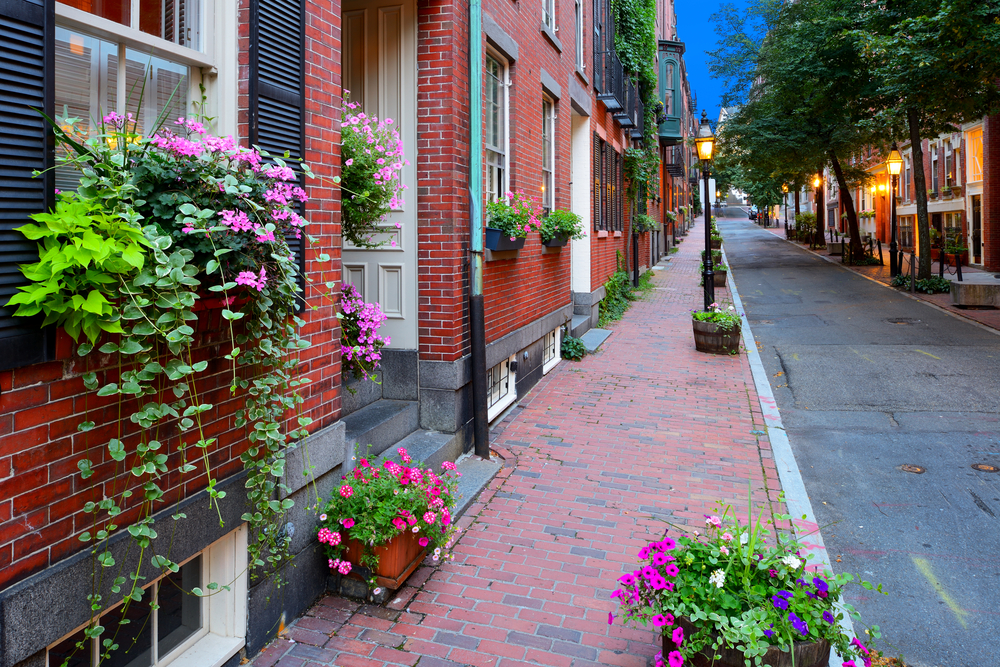 There's much more to Boston than its famed baked beans or the Cheers bar made popular by the 1980s sitcom of the same name. The city has a vibrant arts, music, history, and theater scene that can make for the most memorable of holidays. There's the Boston Museum of Fine Arts, the Boston Symphony Orchestra, and the Huntington Theater Company — and that's just the tip of the iceberg.
Fun Things to Do
The Boston Public Garden is a beautiful way to spend the day. Experience the first botanical garden in America, as the Boston Public Garden was established all the way back in 1837. Take in scenic sights with more than 80 species of plants from locations around the city. You'll also see many imported exotic trees and plants as well as the famous Swan Boats that were created over a century ago.
The Museum of Fine Arts serves as an educational window to the ancient world. Lose yourself in the museum's collections of Impressionist paintings, ancient Egyptian pieces, as well as works from Greece, the Middle East, and Asia. You'll also be in awe of Americana at its finest as you'll see paintings, furniture, folk art, glassware and other decorative arts from many eras including Art Deco.
Enjoy Fenway Park, which is of course home to the famous baseball team the Boston Red Sox. Fenway Park also has bragging rights to being the oldest ballpark in Major League Baseball history and is able to host 40,000 spectators. Stick around Lansdowne Street if you're seeking nightlife, as this is one of the top destinations in the city for late-night fun, with its collection of accessible clubs, bars, and gaming rooms.
Where to Stay in Boston
Downtown Boston is the best place to be for easy access, as it's within walking distance of some of the best neighborhoods in the city. The closest airport is Boston Logan International Airport (BOS), just over two miles away. The heart of the city is home to a huge variety of restaurants and accommodations. In fact the best way to get around Boston is on foot. The second best is the very efficient "T" subway system which has subways, trains, and trolleys along five separate transportation lines.
4. Santa Barbara, California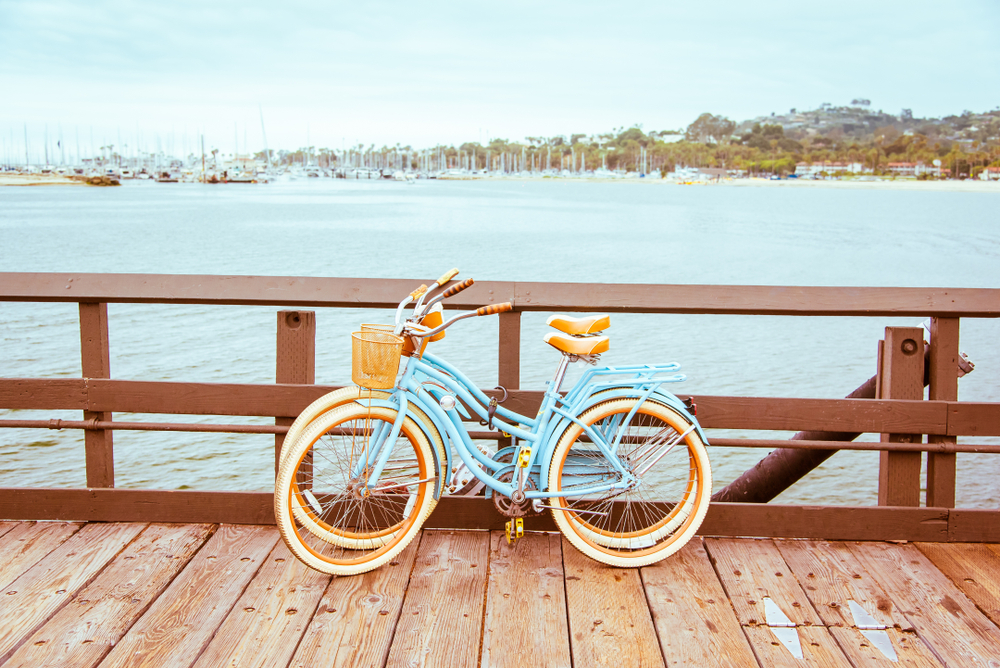 Dubbed "The American Riviera," Santa Barbara encapsulates every seaside vision: breathtaking beaches, luxury resorts, popular wineries, and an abundance of shopping experiences.
Fun Things to Do
If you're looking to get inspired by the city, hike up to Inspiration Point where you'll be floored by the expansive coastline and views of the Channel Islands in the distance. Keep it au naturale by heading to the Santa Barbara Museum of Natural History and indulge in a kid-sized cavern, or enjoy a path around the campus' Mission Revival buildings which sprawl along a wooded creek.
Speaking of history, the Santa Barbara County Courthouse is a Spanish-Moorish structure that is considered one of the most stunning government buildings in the entire country. The top of the Seth Thomas Tower Clock has cascading views of the city. You'll also love the exquisitely painted Mural Room on the second floor!
Where to Stay in Santa Barbara
Downtown Santa Barbara is easily accessible via waterfront shuttle, pedicab, biking, or walking. We recommend staying along State Street so that you'll be within walking distance of all of these. There is also the Santa Barbara Amtrak Station which happens to be situated in the middle of the Funk Zone — a district lined with of cafes, galleries, and boutique wine-tasting rooms. Be sure to check out the harbor and stroll over to Leadbetter Beach Park if relaxing in the sunshine next to tubular waves is your idea of a swell time.
5. New York City, New York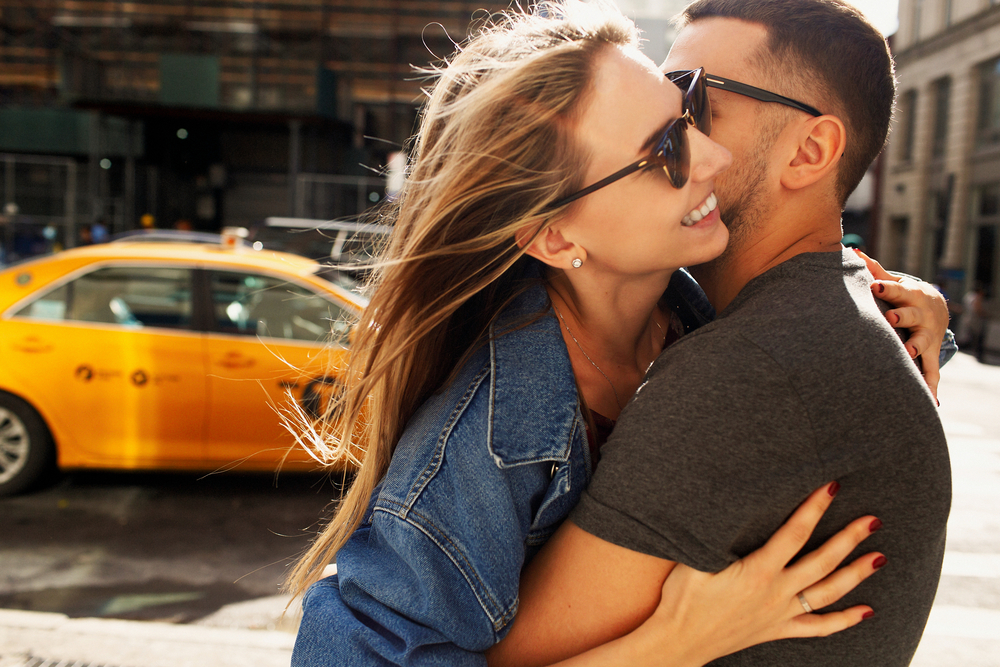 New York City — easily one of the most famous cities in the world — is touted for Times Square, Broadway performances, the glamorous "paint the town red" kind of nightlife, and its decadent dining scene.
Fun Things to Do
Take some pleasure in Rockefeller Plaza where you can snap pictures of stunning sculptures or go from store to store and restaurant to restaurant. If you visit NBC Studios, you might catch a taping of the Today Show. You can also spend time people-watching from the Top of the Rock Observation Deck, then get decked out for an evening performance at — where else — but Radio City Music Hall.
No doubt Broadway is one of the best New York City experiences, but Shakespeare in the Park shouldn't be downplayed. This free-of-charge series is put on by the Public Theater during the summer months in the open-air venue of Central Park. Imagine an evening under the stars while you take in a theatrical performance.
Don't be fooled — nature in New York is a thing! Take, for instance, the New York Botanical Garden: a 250-acre national historical landmark in the Bronx that receives millions of visitors from around the world each year. Your interest will also be piqued by the picturesque High Line, an elevated linear park and rail trail that was created along the bones of a former elevated New York Central Railroad line.
Where to Stay in New York City
The Upper West Side of Manhattan is the best place to be without the need for a rental car. Broadway, Columbus, and Amsterdam Avenues are all within walking distance. You can also easily commute to the heart of the city anywhere, including both SoHo and Brooklyn! The easiest and most efficient way to get around NYC is the subway, but buses and taxis are in abundance in all areas of the metropolis. You can buy a MetroCard — or MTA card — by using a MetroCard ticket machine, which are available in most subway stations. These cards are usable across all modes of public transportation, including ferries.
6. Chicago, Illinois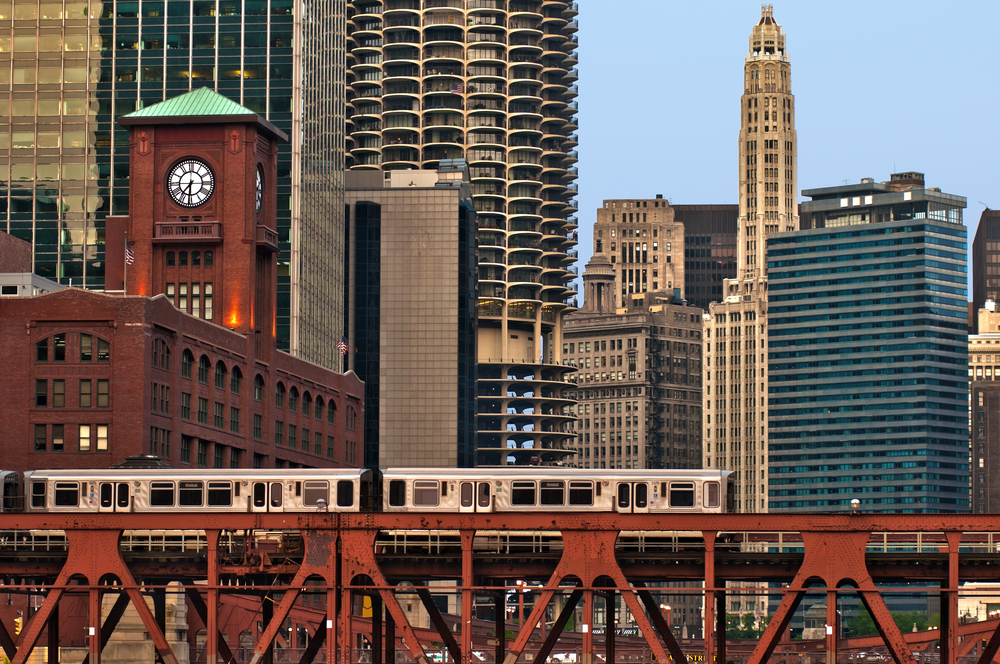 Situated on the banks of Lake Michigan, Chicago follows only New York City and Los Angeles as the third largest city in the United States. People around the country — and indeed, the world — come to Chicago for a range of reasons. The city boasts amazing architecture like the Willis Tower (formerly the Sears Tower), a diverse music scene, fabulous food (including deep-dish pizza), and iconic neighborhoods.
Fun Things to Do
The Magnificent Mile on Michigan Avenue boasts a slew of retailers, from Neiman Marcus to Bloomingdale's and Nordstrom. Architecture aficionados will also appreciate the city's collection of illustrious buildings. The Chicago Water Tower, hailed as the longest-standing structure on Michigan Avenue, also withstood the Great Chicago Fire of 1871.
Navy Pier is also one of the city's main attractions, where you can take the Chicago River Architecture Cruise at a very affordable price. Additionally, you can jump on the Hop-on, Hop-off (or HOHO tours for short) to get a real feel for the city or see the city from a unique viewpoint from the John Hancock Building's 360 Chicago Observation Deck.
We wouldn't advise leaving the city without at least a few hours spent at Millennium Park. Nestled in the city center north of the Art Institute of Chicago, the 24.5-acre park is an art-lovers paradise that includes cutting-edge architecture and also happens to be a well-known backdrop for concerts and festivals like Lollapalooza.
Where to Stay in Chicago
The best areas in the city to stay without a rental vehicle include River North, Gold Coast, and Mag Mile. The Loop is also an option, although it is a little further from most bars and restaurants. Midway Airport is a mere eight miles from this area. The best way to get around Chicago without a rental is the L-Train — short for "elevated" — which is budget-friendly and easy to use. It also provides some great views of the city on account of its height! Of course, buses and taxis are also reliable options, as is the Metra Rail if you want to get to the city's suburbs.
Plan Your Next Walkable City Vacation
Now that you've narrowed down some options for your next getaway, the next step is finding a place to rest your head. Plan your vehicle-free getaway to any of these six sensational cities and book a stay with VacationRenter!