2021 Coachmen Apex Nano Bunkhouse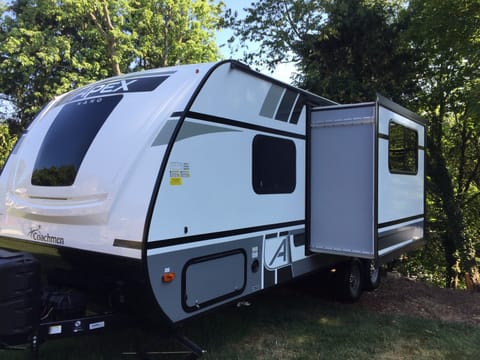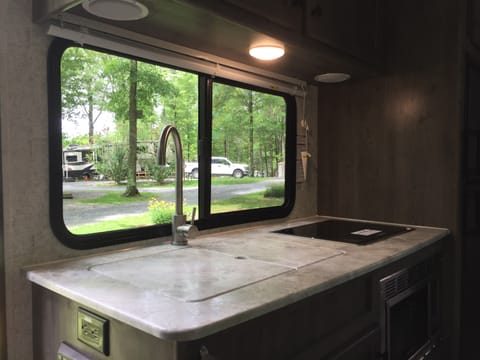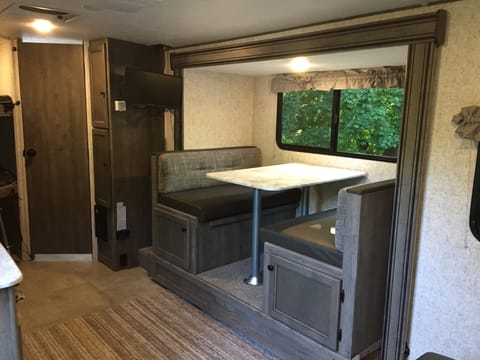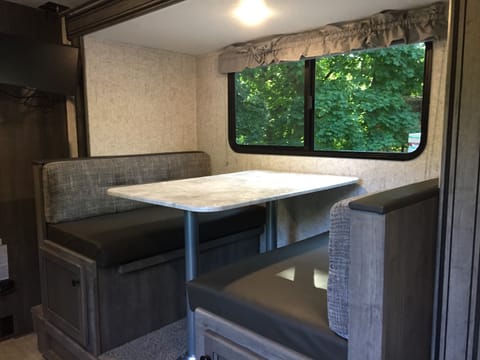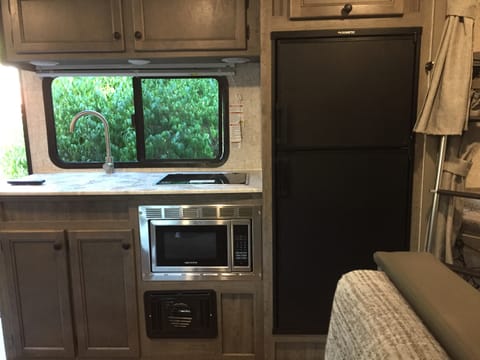 RV in Mount Lebanon
8 guests
---
Reasons to book
People love it here
Guests give this property a top rating
Includes essentials
Pets allowed, Kitchen / Kitchenette, Air conditioner and more
---
About this rv rental
Located in
Mount Lebanon
, this attractive rv for $95 per night is a great option for your next break. A brand new Coachmen Apex Nano 208BHS (year 2021) pet friendly travel trailer with full amenities. It has everything you and your family need to enjoy your vacation. Amenities include heat, 13.5 A/C, full kitchen with refrigerator, stove and microoven, full bathroom, 14' power awning with LED light, TV & DVD player, cable hook up, slide out, outside kitchen, outside shower, outside speaker, stabilizer jacks, power jack, two 12v battery, two 20lb propane tanks, 100 W solar panel, two double bunk beds with a ladder, dinette, murphy bed with sofa. It has a sleeping capacity for 8 people. With tons of storage space, your whole family can fit their belongings comfortably in this unit for the whole trip. Things included: A. Water hose with pressure regulator, power cord with power surge protector, sewer hose, folded outside trash can with trash bags, mop, broom, dustpan, hand crank for stabilizer jacks, leveler blocks, and wheel chocks are in the from storage area. B. Moreover, this unit comes with an indoor trash can, cutlery set, plates, cutting board, knives, can opener, pizza cutter, frying pan, medium pot, strainer, spoons, spatulas, measuring cup, paper towels, clean towels, and dish detergent, which are under the sink in the kitchen. C. RV quality toilet paper, hand soap and toilet treatment solution are in the bathroom. Fresh bed sheets will be provided for the queen bed and two double bunk beds. D. A grill and WiFi extender that permits video streaming are free add-ons. E. Fresh bed sheets and pillows will be provided for the queen bed and two double bunk beds. F. A back up camera, bike rack, hitch and sway bars will be provided upon request. Although the default pick up and drop off times of Outdoorsy is 3 pm, I prefer either before 7 am or after 6 pm to give my renters extra time and work around my job schedule.
Amenities
Air conditioner
Pets allowed
Kitchen / Kitchenette
TV
RV in Mount Lebanon
8 guests
---
Reasons to book
People love it here
Guests give this property a top rating
Includes essentials
Pets allowed, Kitchen / Kitchenette, Air conditioner and more
---
Reviews
5.0 / 5

"Outstanding"

(24 Reviews)
FAQs
Average price for RVs in Mount Lebanon

The average price for RVs in Mount Lebanon is $175.
RV make and model

This is a 2021 Apex rental.
Is 2021 Coachmen Apex Nano Bunkhouse pet friendly?

This is a pet friendly stay! For more information, we recommend contacting the booking provider about animal policies.
What amenities does this RV offer?

We found 4 amenities for this rental. This includes air conditioner, pets allowed, kitchen / kitchenette, and tv.