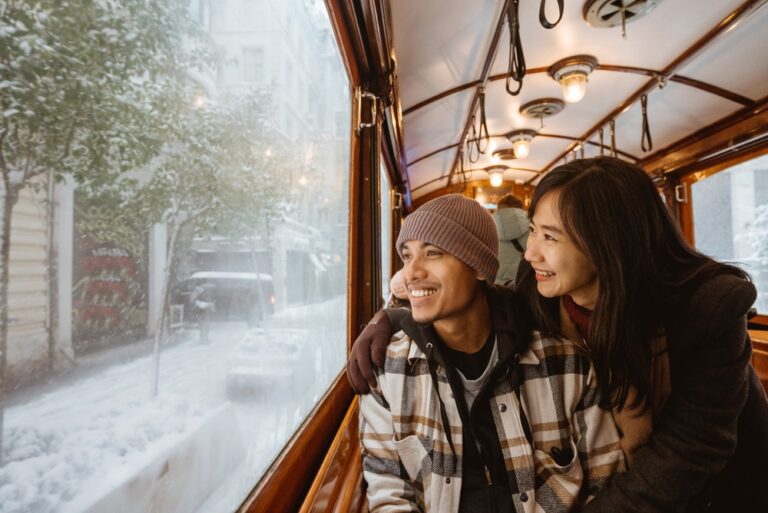 VacationRenter took a deep dive into our global booking data to find out what the industry can expect for the upcoming winter season. We looked at how our users are searching and filtering as they choose where, when, and how to vacation this winter — or summer, for those in the southern hemisphere. What we found might surprise you. Here are the top trends we're seeing.
Key Insights
The beach is calling. Vacationers are choosing seaside destinations over ski getaways this winter. However, powderhounds are spending more than beachgoers on accommodations.
Remote work remains in play. When filtering by amenities, travelers' top priorities are internet access and kitchens, making connectivity and convenience top-of-mind in booking decisions.
Snowbirds are spreading their wings. People are escaping the cold for month-long stints at destinations around the globe — not just in North America.
Hotels are having a renaissance. VacationRenter users are booking and spending more on hotels than any other property type.
Top Trend #1: Diverging Destinations
The Alps, the Rockies, the American tropics and subtropics, and the largest island in the world (Australia) are drawing vacationers in the largest numbers — in terms of bookings — so far this winter. Three of this winter's top 10 global destinations are in the United States: Florida, Hawaii, and Colorado (with Florida taking the No. 1 spot and Hawaii being No. 2).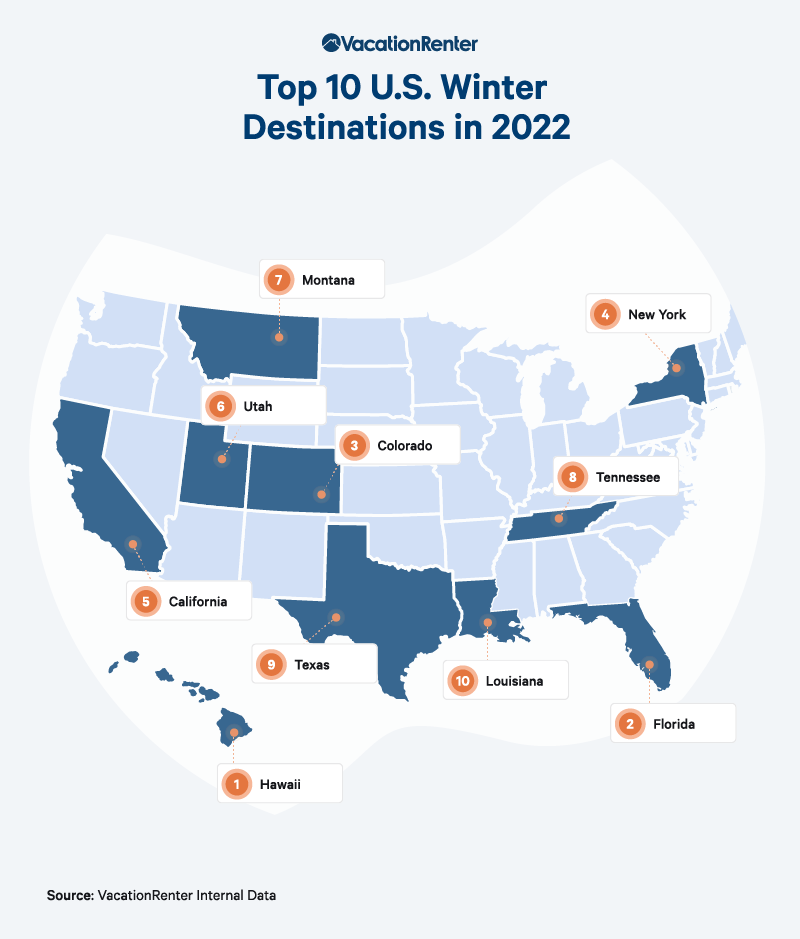 On the European side of the equation, the Alps — primarily mountainous regions in Austria, Italy, France, and Switzerland are trending upward — not surprisingly as global jet setters come for the powder and stay for the après ski.
Coming in hot is Australia, which is up over 250% in searches on VacationRenter. This increased interest in the Land Down Under may be a result of pent-up demand, lingering from Australia's extended COVID lockdown. Similarly, New York City is making a post-pandemic comeback, ranking in the top four most popular U.S. destinations in terms of bookings.
Keep an eye on Barcelona and Lisbon — online searches indicate that Spain and Portugal may be the next big destinations!
#2: Beach-Bound Over Powder-Hound
Travelers are seeking out warm, flip-flop-worthy weather this winter. While Florida and Hawaii are currently the most-booked regions in the world, online searches for beachy destinations seem to be dominated by Australia and New Zealand. Travelers are also showing significant interest in coastal towns across South Africa, Mexico, and the United Arab Emirates (notably, Dubai).
Ski destinations in Austria, Switzerland, France, Italy, Canada, Colorado, Utah, and Montana continue to make a strong showing on the map this winter. So far, those answering the snowy call of the mountains are fewer in number than their beachcombing or surfing counterparts, but greater in spending power. For example, Park City, UT and Vail, CO lag in terms of booking numbers, but rank higher when it comes to how much travelers are spending on their accommodations.
Given that skiers and snowboarders tend to chase snow and make last-minute booking decisions based on powder — especially with the freedom to ski at multiple resorts via collective ski passes like Ikon and Epic — mountain destinations may still get a last-minute boost from the snow gods. Plus, snow enthusiasts may have some lingering concerns over the crowded slopes and employee shortages, which tainted the winter resort experience during the height of the pandemic.
#3: Nature and Culture Are the Main Attractions
Even though New York City is topping the charts in a post-pandemic resurgence, urban getaways aren't seeing as much traction this winter. VacationRenter travelers are searching most frequently for getaways that revolve around Mother Nature: water, beach, coast, and mountains. After a few years of pandemic mayhem, people are looking for a respite.
The only departure from this trend is the culture-themed vacation — travel focused on art, history, or other cultural realms — which ties for the second-most popular category. Compared to the same travel period last year, big city vacations and golf trips are down.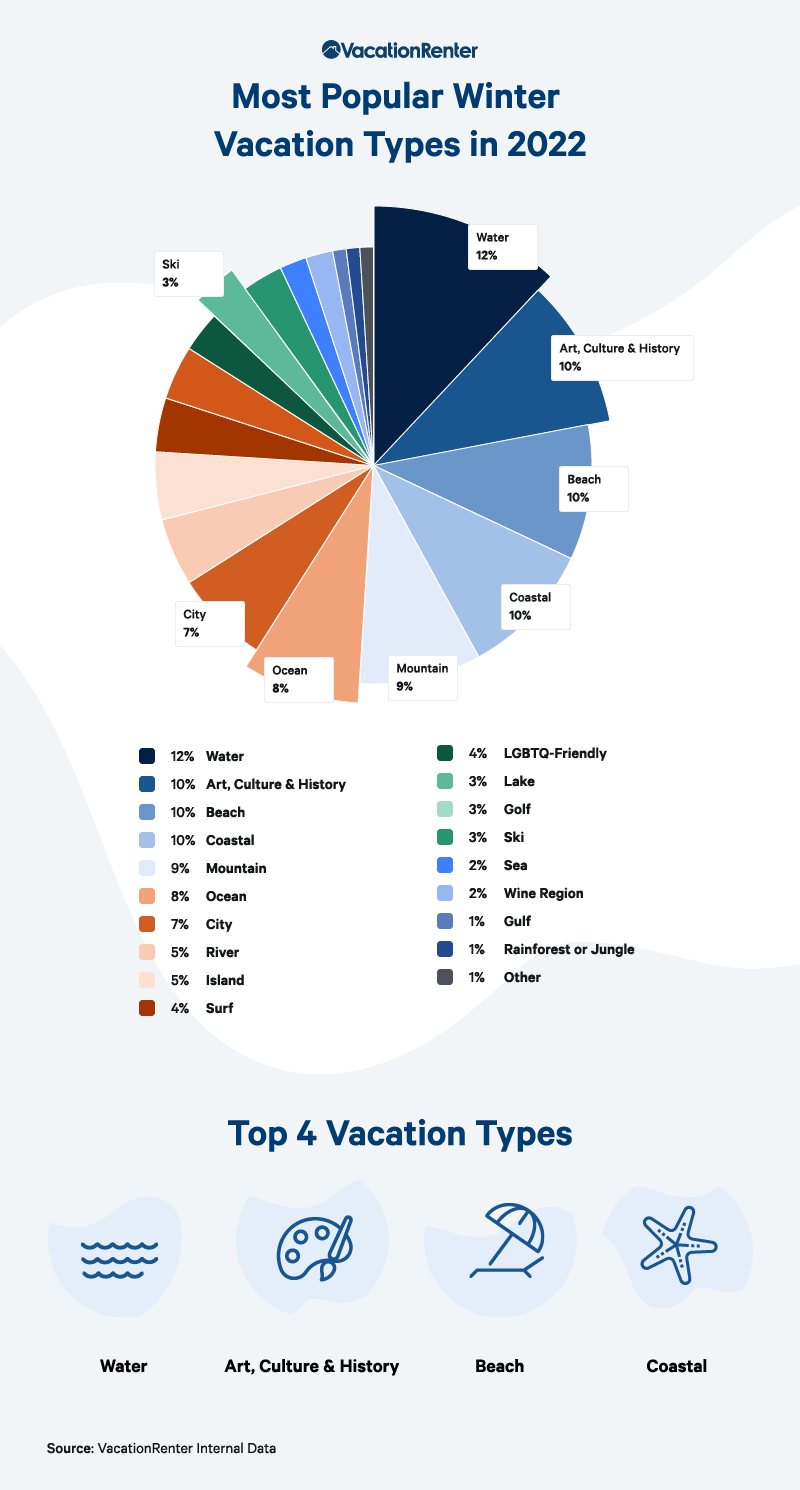 #4: Remote Work Dominates Wishlist Priorities
On the amenities side of the equation, travelers are balancing a desire for a change of scenery — preferably, with a pool — and the need for connectivity. According to a recent Gallup survey, hybrid work is expected to increase to 55% of remote-capable employees by the end of 2022. That sustained, remote-work trend has opened the door to travel, as long as internet access is available. In fact, connectivity ranks second only to kitchens, a convenience embraced by work-cationers and budget-savvy holidaymakers alike.
#5: Travelers Shift Away from Covid-Hued Amenities
Whether it's pandemic fatigue or confidence in vaccines, travelers seem to be letting go of some Covid-related amenities. Search filters, such as enhanced cleaning and contactless check-in, are currently declining in popularity. The one outlier to this trend is flexible cancellation, which remains in demand as Covid variants and employee shortages continue to affect travel.
#6: Snowbirds Are Going Global
Snowbirds are spreading their wings! We've seen U.S. travelers escape the cold for long-term stints in Florida, Hawaii, Arizona, Alabama, and California for decades. However, international destinations, such as Spain — most notably, the Canary Islands — and Mexico are increasingly cropping up on the leaderboard for month-long stays, or longer.
#7: Hotels Are Back
Hotels are the big comeback story this winter. Vacationers are booking and spending more on hotels than any other property type. Bookings for traditional rentals, primarily houses and apartments, continue to remain strong, but the big push toward isolation and elbow room seems to be waning. A distinct move away from RVs (at least for the winter season) and a gradual return to resorts — though less dramatic than hotels — indicates that vacationers are getting more social and open to shared common spaces and amenities.
#8: Plan-Ahead Vacationers Are Booking Short Stays
As it stands, mini vacations — classified as one- to three-night stays — are the most popular length-of-getaway this winter. Shorter stays may be a result of anything from inflation concerns to pandemic sick leave cutting into vacation time.
Of note: this trend will likely shift as last-minute planners pull the trigger on reservations.
#9: Travel Peaking Around Christmas
The holidays are traditionally heavy travel times, and the 2022/2023 winter season is no different. This year, Christmas vacationers are slightly outpacing the New Year's crowd, with December 23 and December 30 — both of which fall on a Friday this year — trending as our most popular check-in days. In terms of timing, travelers aren't yet booking ahead for President's Week or Spring Break; however, weekend travel, with check-in on Friday or Saturday, is on an upward trend.
#10: Six Is A Party
Most vacationers are seeking out accommodations for six or more this winter — perhaps indicating an uptick in pandemic-delayed reunions of larger groups of friends and family. Parties of two are also making some noise, indicating couples may be looking for cozy romantic getaways this winter.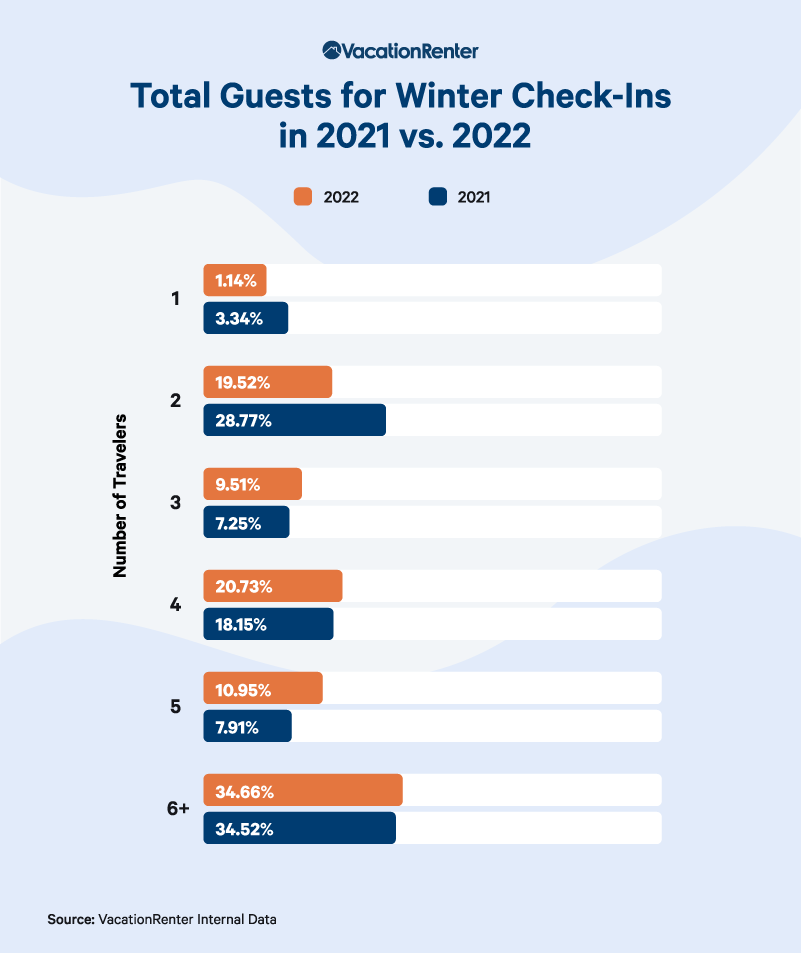 Trendy or Not, Discover the Winter Vacation that Suits You
Surf or snow, north or south, adventure or respite, cabin or chateau, popular or under the radar — that just-right getaway awaits. Wherever and however you travel this winter, find your perfect vacation rental on VacationRenter.com.