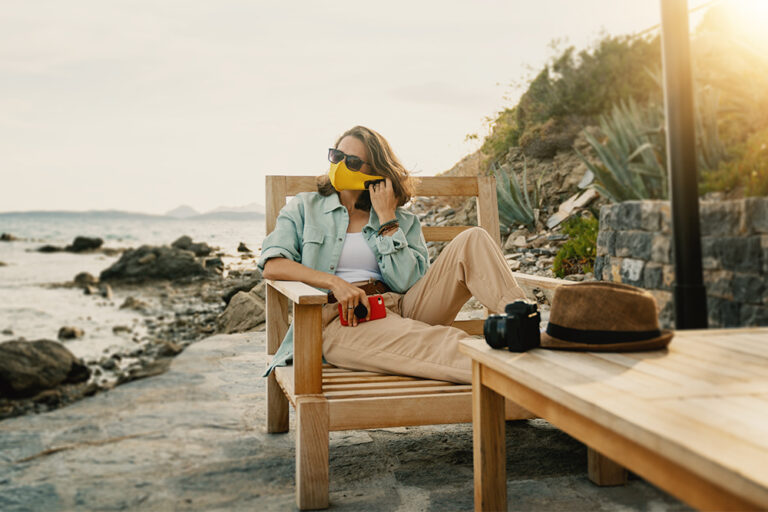 In the early days of the COVID-19 pandemic, when everyone was adjusting to lockdowns and wondering how to fill the hours without socializing, it felt like 2020 would never end. Then work began to take over many people's lives as the division between work-life and home-life disintegrated, and people found themselves working even longer hours during the pandemic. Suddenly, it was December 31st, and many workers found themselves staring at an abundance of unused paid time off (PTO) days wondering where the year had gone?
We decided to examine this conundrum by asking people how many PTO days they left on the table and why. To understand how people treated vacation time while working from home, we surveyed over 1,000 current employees on their PTO benefits, usage, and plans for the future. We learned about what makes them feel like they can't take time off and how employers can change this. Here's what we found out.
The Current State of PTO Affairs
To understand how people are using their PTO days, we started with a baseline on people's current PTO allotment and usage.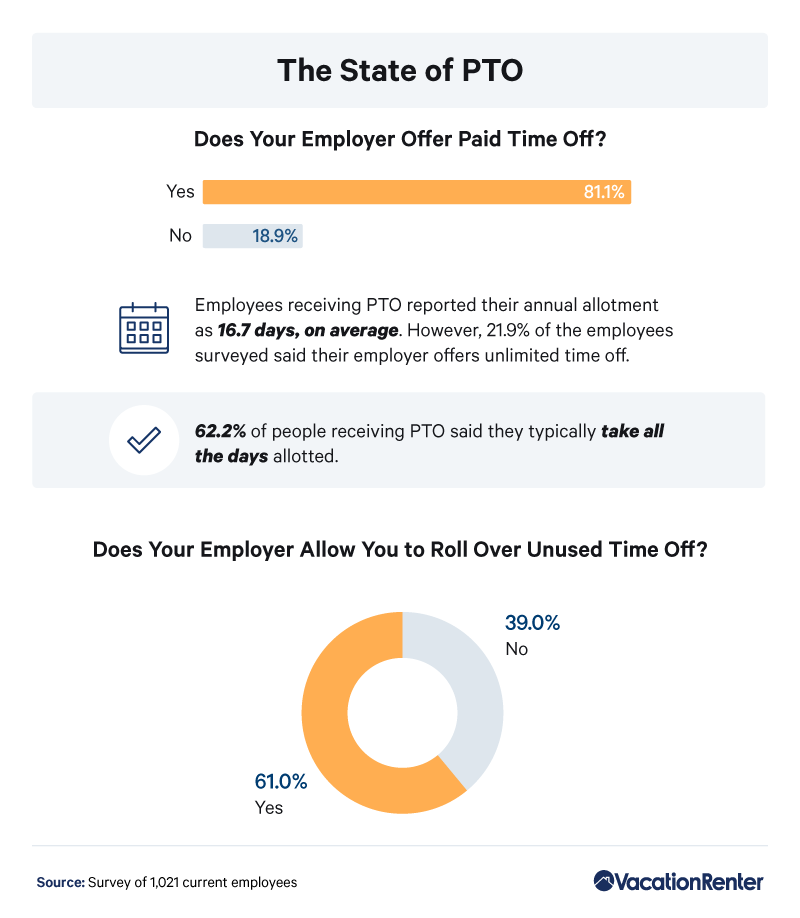 Over 81% of respondents said their employer offers PTO. Among these folks, the average annual allotment was 16.7 days, but almost 22% had unlimited paid time off – where employees can take as much time off as they need, provided it doesn't disrupt business. 
Unlimited PTO structures are becoming increasingly common, but some experts warn they aren't always the benevolent gift they may appear. In fact, a study from HR software provider Namely shows that employees in the United States take less time off on an unlimited structure than they do when they have an annual allotment – which is saying something, given only about 62% of people said they typically take all of the days allotted to them.
Some would argue a better way to encourage PTO usage is to make it a use-it-or-lose-it system without the option to roll over unused days. This isn't suggested to restrict their time off, but rather encourage employees to take the time off every year. According to our survey, 61% of respondents' employers allow employees to roll over unused PTO days. Whichever system employers choose to rely on, it seems like it falls to company leadership to encourage employees to take time off. 
Leaving PTO Behind in 2020
We asked respondents about their experience with time off during 2020. Over 41% said they took less time off in 2020, while less than 18% said they took more time off during the year.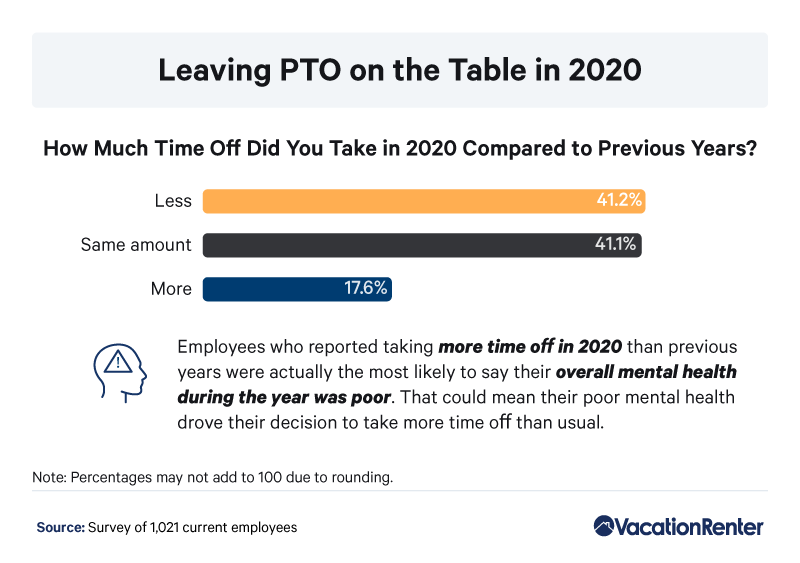 Those who reported taking more time off, however, were the most likely to say their overall mental health during the year was poor. This may suggest that their poor mental health was the impetus for taking the time off.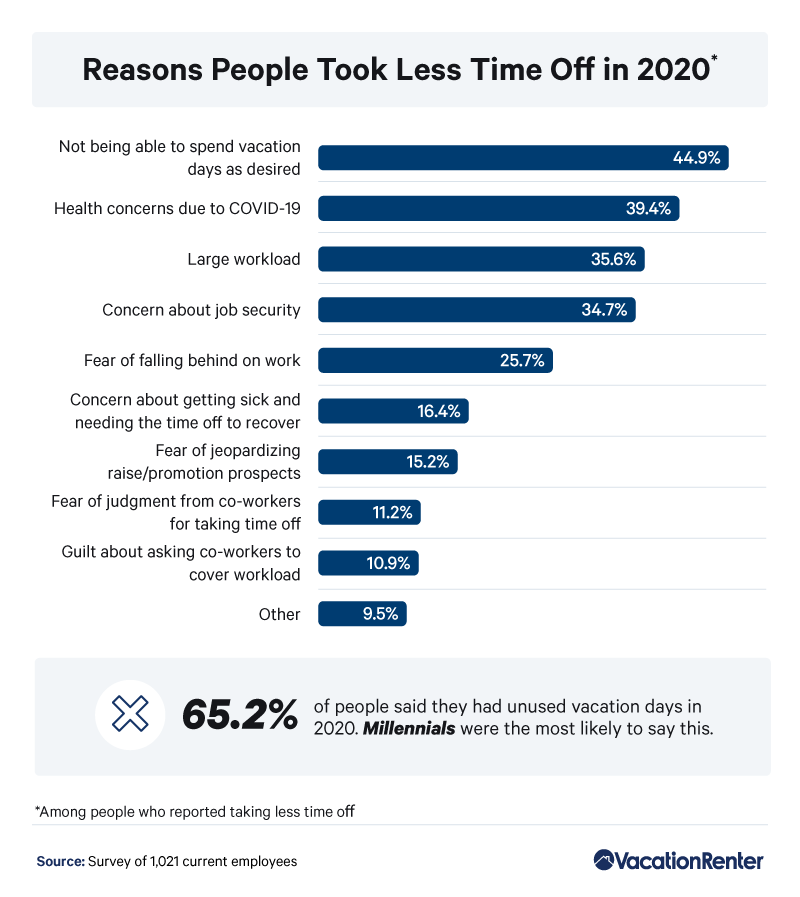 We delved deeper into the reasons so many people took less time off in 2020. Why were they less interested in using their PTO days? Unsurprisingly, the biggest reason people took less time off during the pandemic was that they wouldn't have been able to spend their vacation days the way they wanted to. Vacationing amid a pandemic and global lockdowns is likely not the vacation you'd envisioned for yourself, even if you can't travel or do the activities you hoped to use your PTO for, it's still important to take time off because such breaks are essential to mental health.
The second most common reason people took less time off during 2020 was over health concerns due to COVID-19. While it's wise to be cautious for self and fellow human, there are still ways to vacation safely during a pandemic, such as going remote with an RV – which has become increasingly popular during COVID-19 – socially distant cabins, or villas. Also, keep in mind that it is not the length or extravagance of a vacation that makes it worthwhile from a mental health standpoint; even just a day off here and there can go a long way.
People also reported taking less time off in 2020 out of fears over their job security. In addition to this legitimate fear, more than 1 in 4 workers said they didn't take more time off during 2020 because they were afraid of falling behind on work. Studies by SHRM have shown that employees actually had to spend more time in meetings and work longer hours during the pandemic to keep up with the increased number of communication channels.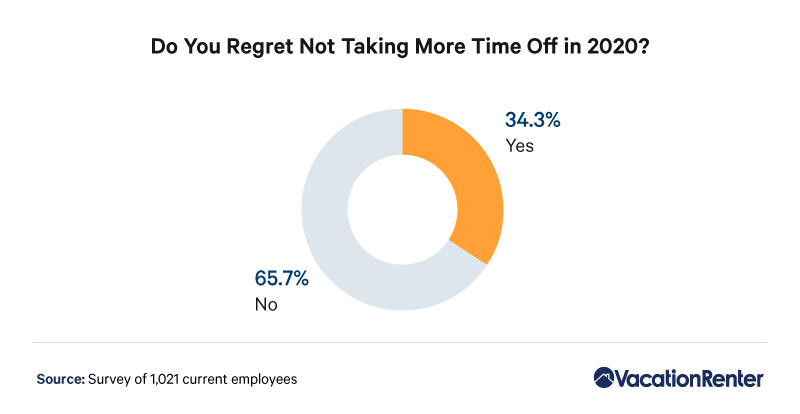 At the end of the day – or year – how did people feel about their PTO usage in 2020? When asked, over one-third of respondents said they regret not taking more time off, which leads us to our next topic to investigate: what will we do differently in 2021?
Planning for PTO in 2021
While roughly one-third of people regret not taking more time off in 2020, more than one-third (36.8%) said they plan to take more time off in 2021 than they did the year prior. Gen Xers were the most likely of all generations to commit to taking more time off in 2021. And nearly 47% of respondents said they were going to take more PTO days specifically for their mental health this year.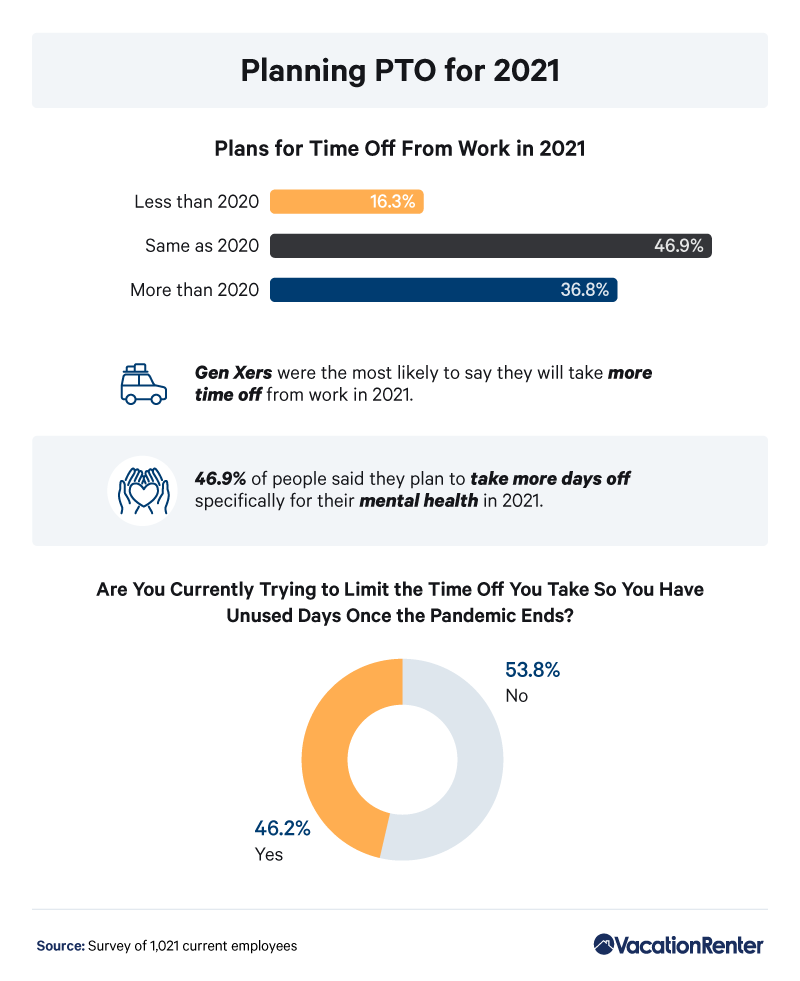 Most people said they plan to use the same number of PTO days in 2021 as they did in 2020, while about 16% said they'll take even fewer days off. Over 46% of people say they're intentionally trying to limit their PTO usage during the pandemic, so they can have unused days when the health restrictions are lifted. Others may be saving PTO days to get paid for unused days in case of a layoff.
Whatever employees' reasons for not taking PTO days, one thing is clear: employers and mental health professionals alike want you to take time off. Employers want employees to use PTO to prevent work burnout, while mental health professionals from Duke University say time off can improve mental and emotional well-being. But if employers want employees to take more time off, what can they do to encourage people to use their PTO?
Promoting PTO Usage
As the pandemic places increased mental and health stress on employees, taking time off to rest and recuperate is more important than ever. But as our research has shown, employees don't always feel they can take time off even when it's allotted to them. Experts from Harvard Business Review say it's up to managers to encourage employees to take the PTO they need and deserve. How can they do this?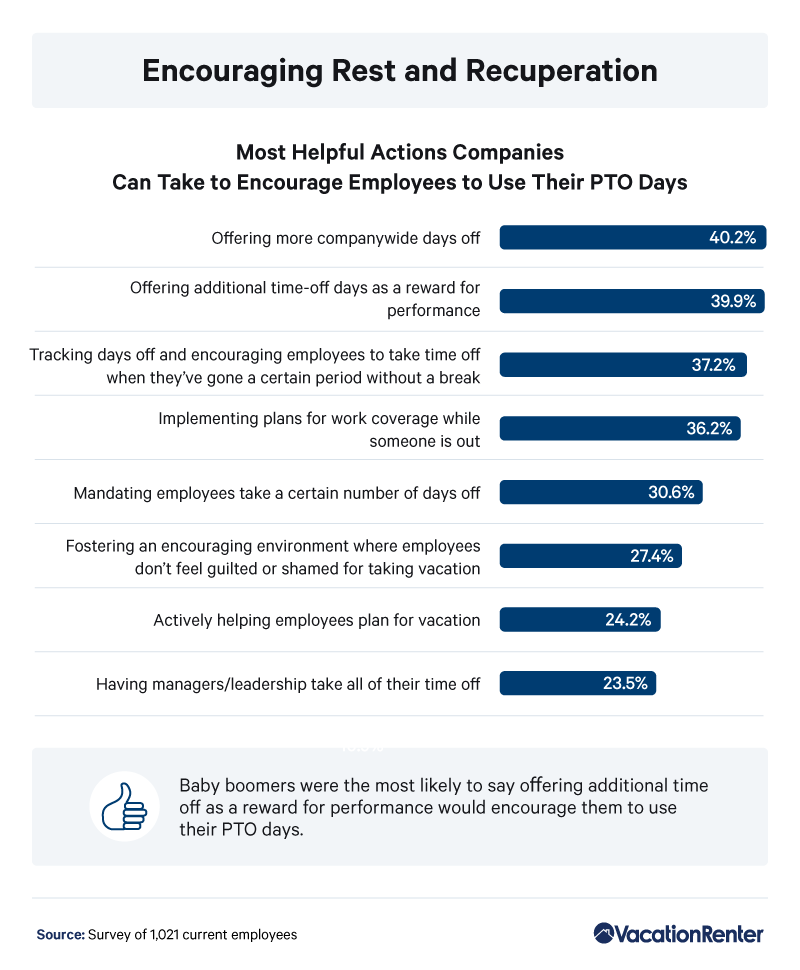 According to our survey, over 40% of people felt the best way for companies to encourage employees to use their PTO days is by offering more company-wide days off. Nearly 40% of respondents said offering additional time off as a reward for performance, such as by granting vacation days for hitting a benchmark would help encourage employees to take more time off as well. Baby boomers were particularly keen on this idea. 
Another popular strategy is to track days off and encourage employees to take time off when they're overdue. Some tech companies are both adding floating holidays to the calendar and tracking vacation days. Intel even launched a "Staycation Challenge" that asked employees to submit their best staycation ideas for the chance to win prizes.
According to over 36% of respondents, managers should also implement plans for work coverage while employees are out of the office. This would help combat the common fear reported by our respondents above that they'd fall behind on work if they took more time off. Having adequate coverage for employees using PTO days may also help stop workers from feeling the need to check in at work while on vacation.
While a less common suggestion from our respondents, BirdDogHR's VP of Product Management  says one of the best ways to encourage employees to use PTO days is for managers to lead by example in taking their own allotted PTO days.
Validating Vacations
Taking time off from work is important, even if you only make it as far as your couch. Not giving yourself adequate time to rest and recuperate can lead to work burnout and reduced productivity. None of us are meant to work non-stop, which is why companies grant PTO days, but paid time off is only as good as the time you actually take.
While vacationing during a pandemic may not be your ideal retreat, there are still many safe ways to take time off during COVID, both from home and afar. At VacationRenter, we believe in making vacation planning easy so you can spend more time enjoying your time off and less time planning. We've made finding your perfect rental fast and easy by letting you search the top vacation rental sites all in one place. Hop over to VacationRenter.com to try it out for yourself.
Mentioned in This Article
Methodology
We surveyed 1,021 current employees about their experiences with paid time off in 2020 and their plans for PTO in 2021. Respondents were 53.4% men and 46.3% women. One respondent was nonbinary, one was transgender, and one chose not to disclose their gender. The average age of respondents was 38.7 with a standard deviation of 11.6 years. 
When asked about actions their employer could take to encourage employees to take their vacation days, respondents were instructed to select up to three actions they felt would be most helpful. 
Limitations
The data we are presenting rely on self-report. There are many issues with self-reported data. These issues include, but are not limited to, the following: selective memory, telescoping, attribution, and exaggeration.
Fair Use Statement
We hope you found this information as impactful as we did. We'd love for you to share it with anyone else who could benefit from our research but ask that you share for noncommercial purposes only and include a link back to this page, so readers can benefit from the research in its entirety. Thank you.