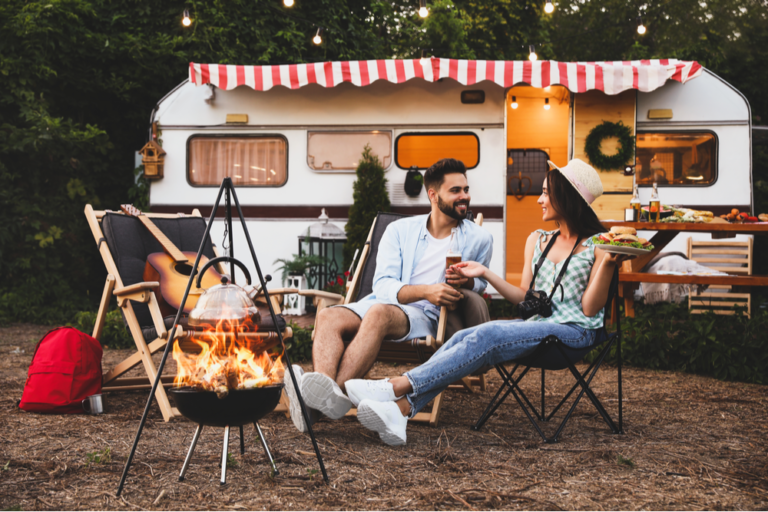 For couples who want to enjoy the freedom of the road full time, travel trailers provide an easy, affordable way to do this. They can explore the great outdoors at their own pace — stopping at campgrounds and other places where they can park — and enjoy the conveniences and comforts of home in amazing natural settings during getaways.
Key Points When Choosing a Travel Trailer
Must-have standard features for travel trailers
The storage space you'll need
Amenities that will make travel easier
Some of the top camper makes on the market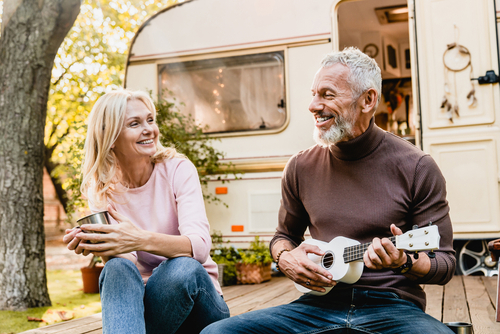 Travel trailers are the least expensive way to enter the RV lifestyle and are hauled by a car, SUV, or truck. They come in a range of sizes, styles, and prices. When you've parked at a campground, you can detach the vehicle from the travel trailer so you can drive around much easier and cheaper, using less gas than if you were in an all-in-one motorhome.
This guide to the best travel trailers for couples will help you decide the features and makes best-suited to your requirements.
Types of Travel Trailers
The main types of travel trailers include:
Classic travel trailers. Traditional travel trailers attach to the vehicle with standard ball hitches. Ranging from 10 to 35 feet long, they usually have firm exterior shells and living space inside that's high enough for people to stand up. The space may include a bedroom, bathroom, kitchen or dining area, entertainment center, and storage space.
Toy haulers. These travel trailers are designed to carry a lot of cargo, camping equipment, sports equipment, and sometimes even small recreational vehicles.
Teardrop trailers. These are small travel trailers that can be hauled behind any car and are ultra-light, compact, and easy to store. Since space is limited, they often don't have bathrooms.
Stand-up trailers. Standup trailers are also miniaturized travel trailers, but have different designs and dimensions than teardrop trailers. They usually have a greater interior height, allowing people to stand up straight. Some might include beds and some might have bathrooms or dining areas that convert into sleeping spaces.
Pop-up trailers (i.e., camper trailers). These trailers fill the space between tents and travel trailers. They tow like classic travel trailers but, when parked, they have fold-out sections of canvas or weather-proof fabric to create roomy living areas with sidewalls. They are fast and easy to set up and take down.
Fifth-wheel trailers. These are designed to be towed by pickup trucks. Their front slides over a pickup bed, which has a hitch that sits beneath the forward quarters. Fifth-wheel trailers are often very big, heavy, and require at least a half-ton truck equipped by the factory to cope with a heavy payload.
Travel Trailers for Two: Features to Consider
When considering the best travel trailers for couples, here are some features you should take into account.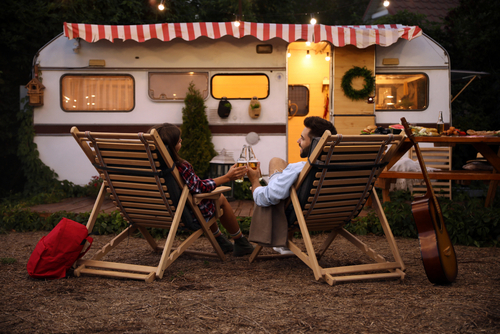 Beds and Sleeping Capacity
Most travel trailers have at least one traditional bed — that is, a bed that stays a bed and isn't converted into another piece of furniture. To save space in the interior, it might be a smaller bed than the queen bed you're used to sleeping in at home, so it's good to get its measurements to know what you're working with. The mattresses are also thinner, so you may want to get a topper to make it softer.
Other options could be sofa beds or dinettes that convert into sleeping arrangements. Larger travel trailers might have a bunk room or space with two to four small bunk beds. Pop-up trailers might have covered protrusions that provide increased sleeping space for occupants. Some travel trailers may even have pull-down murphy beds.
Indoor or Outdoor Kitchen
When buying a travel trailer, ask yourself if you would like an indoor or outdoor kitchen. An indoor kitchen can take up precious space, but it may be a good idea if you have to cook in inclement weather. An outdoor kitchen with an awning — and even a power awning — might be desirable if you want to save space or like being outside while cooking.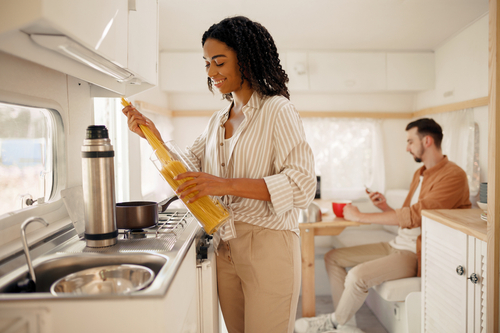 However, if you don't want to choose, some campers provide both kitchens. For example, the Vast has a patented all-season, indoor-outdoor sliding kitchen that fits into the shower area when traveling but unfolds so that it can be used inside or outside the camper.
Holding Tank Capacity
If you have a bathroom and kitchen in your travel trailer, you may have three holding tanks: one for grey water (from the sink or shower), one for black water (from the toilet), and one for fresh water. If you run out of fresh water or if your wastewater tanks are full with nowhere to empty them, you could be in trouble.
Even a small travel trailer might have a black water tank of about 15 gallons and a grey water tank of 32 gallons. The capacity goes up the bigger your travel trailer is. Depending on the size of your travel trailer, the fresh water holding tank may hold between 20 and 100 gallons.
Bathroom Setup
If you have a shower in your travel trailer, make sure it's big enough to turn around easily, with the head mounted high enough to hit your face with water. A shower door rather than a curtain will keep water from splashing around the interior of the trailer. Also, a larger water heater (10 gallons rather than six) means you'll get more hot water.
An outdoor shower can help you save space and wash off after being at the beach or getting dirty in the woods.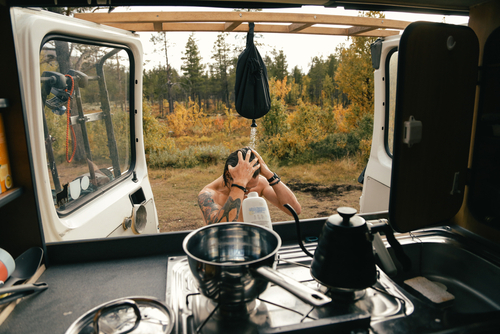 Campers are divided as to whether they want toilets in their travel trailers. Some don't like the space they take up, while others may view them as a necessity if they have to make multiple trips to the bathroom during the night.
The types of travel trailer toilets include:
Traditional flush toilet. This is installed above a holding tank. It also requires plumbing and a water tank to work.
Cassette toilet. This is a portable toilet that is fixed in place with a black water tank — or "cassette" — that is removed through an access panel on the side of the RV.
Portable toilet. With a removable holding tank, this is a cheap option and good if you have limited space.
Composting toilet. This is a green option that doesn't require a blackwater tank, but may need extra ventilation to deal with odors.
You also might have to choose between a "wet bath" (a compact bathroom with a toilet, shower, and sink and faucet in the same space) and a "dry bath" (found in larger campers, separating the shower from other fixtures with an enclosure).
Trailer Weight
Since your vehicle will tow your travel trailer, you need to ensure that it's big and powerful enough to handle it. For example, a small or compact car might be able to handle a dry-weight teardrop or stand-up trailer but couldn't safely haul a large, classic trailer. You'll need a truck or powerful SUV for that.
As a rule of thumb:
A front-wheel-drive car or small SUV can tow about 1,500 pounds
A midsize, all-wheel-drive SUV or pickup can tow about 3,000 pounds
A full-size SUV or half-ton pickup truck can tow 5,000 pounds or more
An overloaded vehicle runs the risk of ruining its drivetrain and endangers passengers. For a safe and smooth ride, you should also get the right hitch to attach your travel trailer to your car, which has different kinds of sway control systems.
Storage Space
You should determine whether a travel trailer will have the storage space for all the things you want to bring. Does the kitchen have enough space for pots, pans, dishes, and flatware? Do the living and bedroom storage areas provide enough space for personal items and clothes? Can the bathroom handle all your toiletries and personal hygiene items? You can also save space with storage ideas, such as wall-mounted magnetic strips.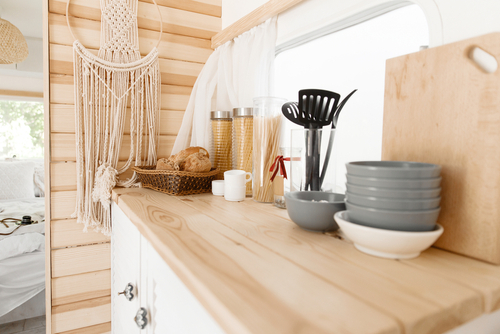 Other Amenities
There are things that you must have in a travel trailer, and then there are add-ons that would be really nice to have, enhancing your RV experience. These could include:
TVs and entertainment centers
An air conditioner
Cameras for backing up
Power tongue jacks (as opposed to hand-cranked ones) for hitching and unhitching your trailer
A full stove instead of a cooktop
A central smartphone control of trailer systems
A Wi-Fi range extender
Stabilizer jacks
A water pressure regulator
A hand-held vacuum
Interior LED lighting
5 Best Travel Trailer Brands for Couples
While there are many different makes of travel trailers, here are some of the top brands known for their high quality and many great features and amenities.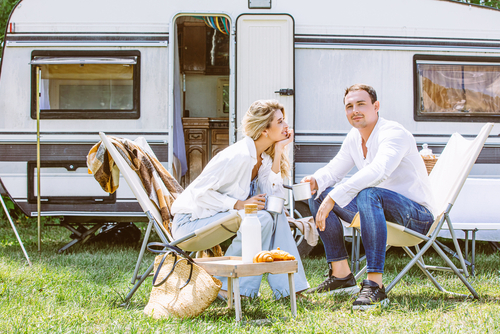 Winnebago
Founded in Iowa in 1958, Winnebago is synonymous with travel trailers and motorhomes. The brand states its purpose as, "We help our customers explore the outdoor lifestyle, enabling extraordinary experiences as they travel, live, work, and play."
Its towables range in price from $23,808 to more than $41,835 and include the Micro Minnie, the Hike, the Minnie, and the Voyage. Even though the Micro Minnie is the smallest of the bunch, it still boasts a spacious galley kitchen and countertops, flexible storage, and an open-air entertainment system. The top-of-the-line Voyage has an optional king bed, washer and dryer prep, a docking stage for devices, and a huge amount of storage space.
Airstream
With their rounded ends and shiny metallic coverings, Airstreams are a well-recognized brand of travel trailer. They don't have any slide-outs or floorplan extensions like some other travel trailers, but they're still pretty roomy inside. Most include a bathroom, bedroom, kitchen, dining area, relaxation area or entertainment center, and food storage space.
The well-recognized brand includes iconic models like the Classic, the Globetrotter, and the Flying Cloud. A couple might be satisfied with a smaller model, the aluminum frame Caravel — which is 16 to 22 feet in length — starting at $65,700. It sleeps up to four people and comes in four different floor plans, including a dedicated sleeping space, convertible dinette or lounging area, a kitchen with all the amenities, and an onboard restroom.
Palomino RV
In operation since 1968, Palomino RV is known for its lightweight travel trailers, including its Palomini, Puma, Real-Lite Mini, Revolve, and Solaire lines. Weights range from 3,000 to 8,000 pounds.
Coming in a variety of floor plans, its award-winning Revolve line is a great choice for environmentalists since it's 100% solar-powered. It can be charged by the sun, shore power, or a tow vehicle, so you never have to worry about running out of power again. It also includes lightweight construction, a murphy bed, and an interior monitor panel that reveals real-time battery pack usage.
Happier Camper
Happier Camper offers small, lightweight, retro-style travel trailers that boast the highly flexible Adaptiv system that allows you to arrange the interior any way you wish. A honeycomb fiberglass floor can be fitted with modular cubes that include storage cubes, a kitchen sink, cabinets, a table, a cooler, and several other components. It doesn't have a typical bathroom setup and only uses a dry toilet.
Starting at $29,950, the ultralight HC1 comes with a rear hatch that makes loading big objects, such as kayaks, a breeze. The larger Traveler model — starting at $49,950 — and its Adaptiv technology enables you to customize and reconfigure the travel trailer's two living spaces into an office, a dining area, sleeping quarters, or a lounge space in minutes.
Starcraft
While Starcraft started manufacturing metal farm implements in the early 20th century, it branched into RVs, campers, and boats in the 1960s. It points out that its "operating facilities are located in Topeka, Indiana — the heart of Amish Country. Starcraft's workforce is still largely made up of old-world craftsmen."
Its 2021 travel trailer lineup includes the Autumn Ridge Single Axle, ranging from a little more than 19 feet in length to 23 feet. The compact trailer can sleep up to four or six (depending on the floor plan) and comes in configurations designed to maximize its space. Options include an LED TV, a 6-cubic-feet gas or electric refrigerator, and a spare tire with a carrier. The trailer is built with a strong, fully walkable Magnum Roof System.
Looking for Accommodations Along Your Trip? Let VacationRenter Help!
While taking a road trip with a travel trailer can be a lot of fun, you might want to stay in more comfortable accommodations with more space and amenities. This is where VacationRenter comes in. We simplify the usually complicated process of finding exactly the right vacation rentals. Using automation and artificial intelligence, we gather all the rental options from the leading travel sites in one place and only present the best results.
Between your new travel trailer and VacationRenter, your road trip will be a moving experience you'll never forget!
Mentioned In This Article