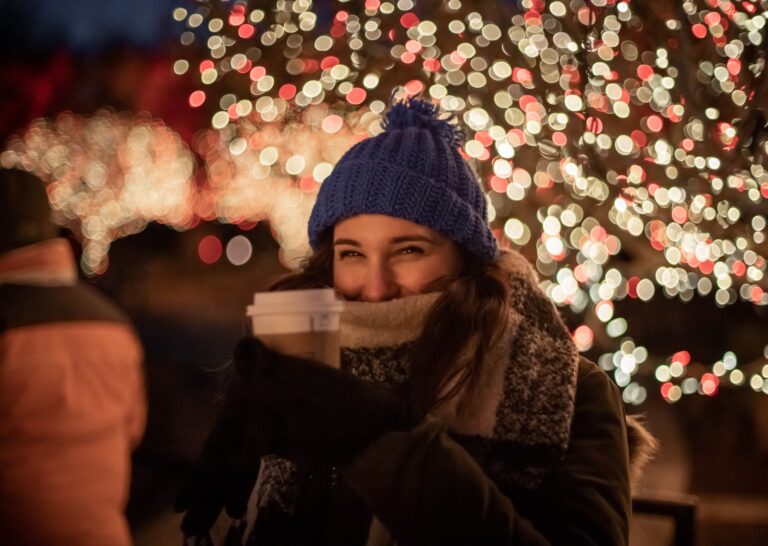 It doesn't matter how old you are, what holiday you celebrate, or where you live — the sheer joy of wandering through endless twinkling lights is uplifting, especially when days are short and nights are long. Here, we cover some of the best holiday light displays across America. These luminescent shows would surely make Clark Griswold of "Christmas Vacation" fame proud, and they're guaranteed to brighten the season for all.
1. Gardens Aglow at Coastal Maine Botanical Gardens in Boothbay Harbor, ME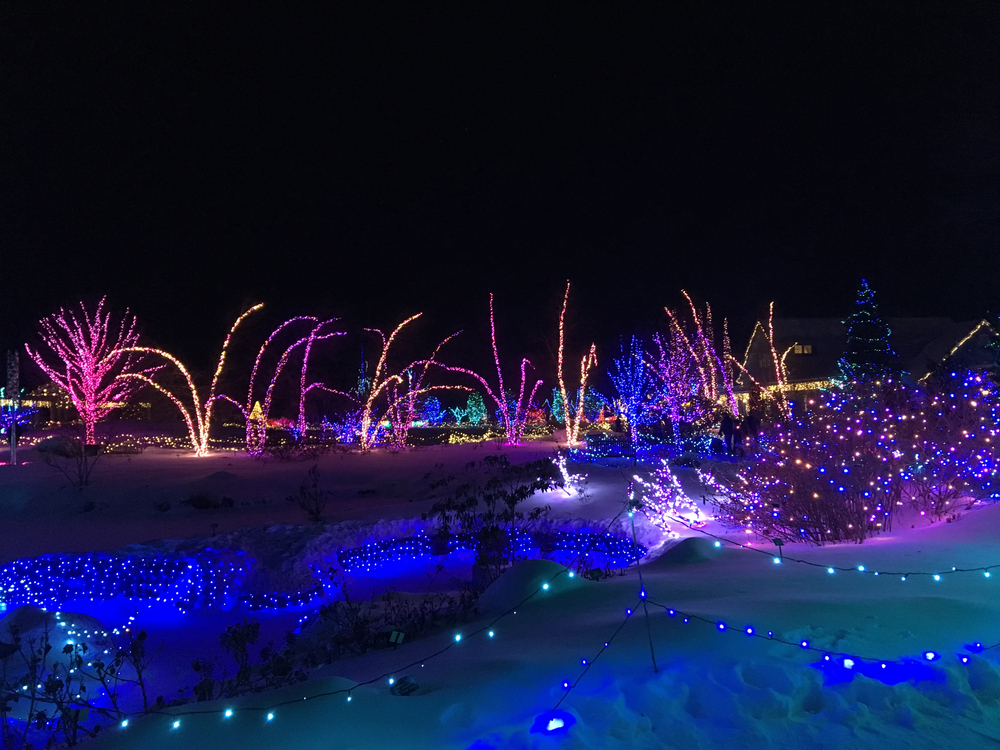 When Maine's lovely coastal town transforms into a snow-covered wonderland, nothing warms the heart quite like a wander through Gardens Aglow. The already beautiful botanical gardens transform into multicolored vignettes created by 750,000 LED lights. As you weave through the winding pathways, you'll glimpse massive globes, parades of trees, trellises, and tunnels festooned with lights rather than flowers, in addition to animal sculptures — including Maine's own moose, of course! While you're there, pick up a map of the Lighting Contest beyond the Gardens, where neighbors vie for the best light display title.
2. Rockefeller Center in New York City, NY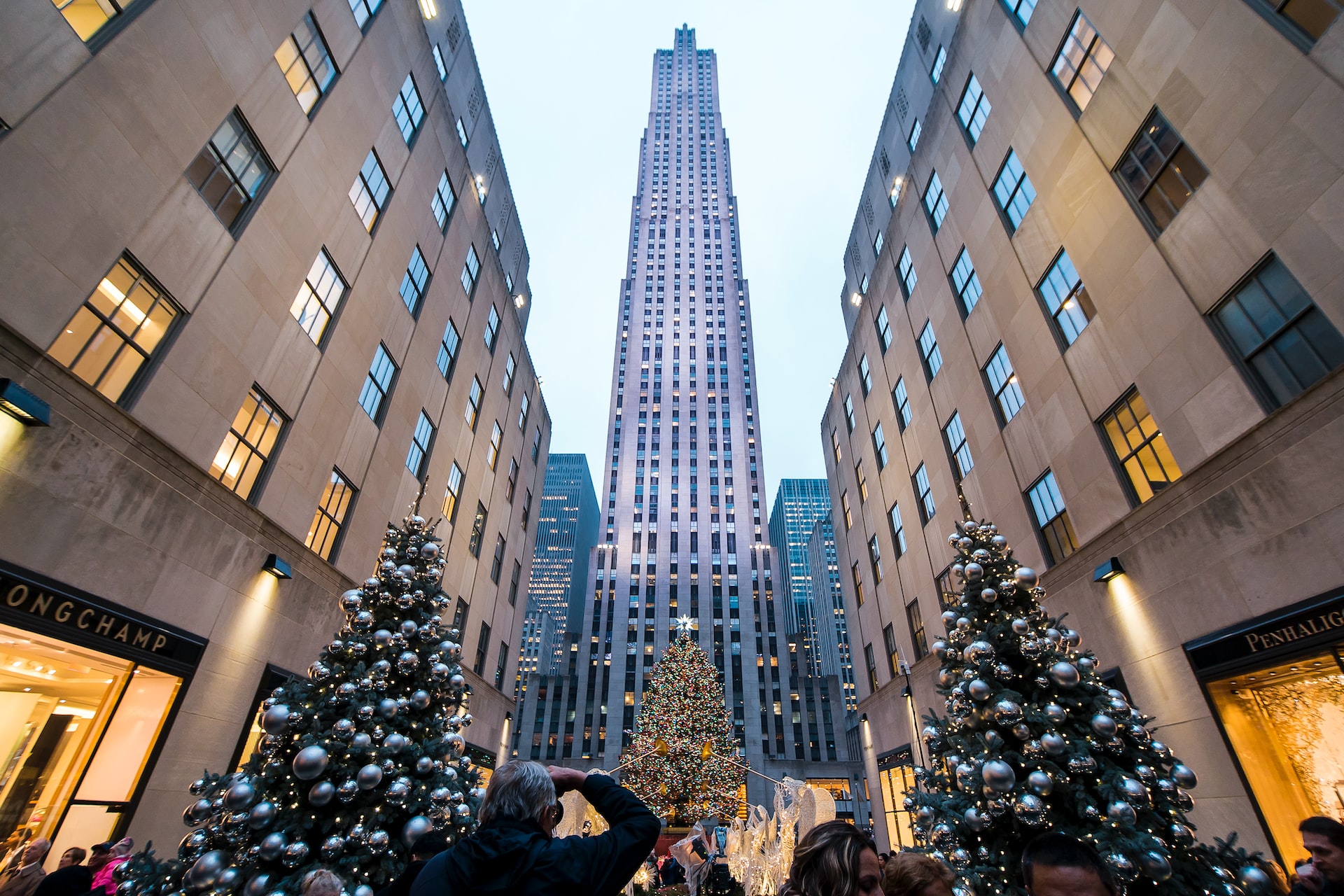 It doesn't get more iconic than Rockefeller Center. This isn't just an average tree beside any old skating rink. It's a beacon of merriment and a nearly century-old Big Apple holiday tradition known the world over. Fifty thousand lights bedecked last year's Norway spruce, which stood 79 feet tall. The 2022 tree, slated to be lit on November 30, remains illuminated daily throughout December. For more festive fun, check out Fifth Avenue's renowned shop windows at Bergdorf's and Saks Fifth Avenue, or venture across the Brooklyn Bridge to Dyker Heights where the displays are worth the trek.
3. Miracle on 34th Street in Baltimore, MD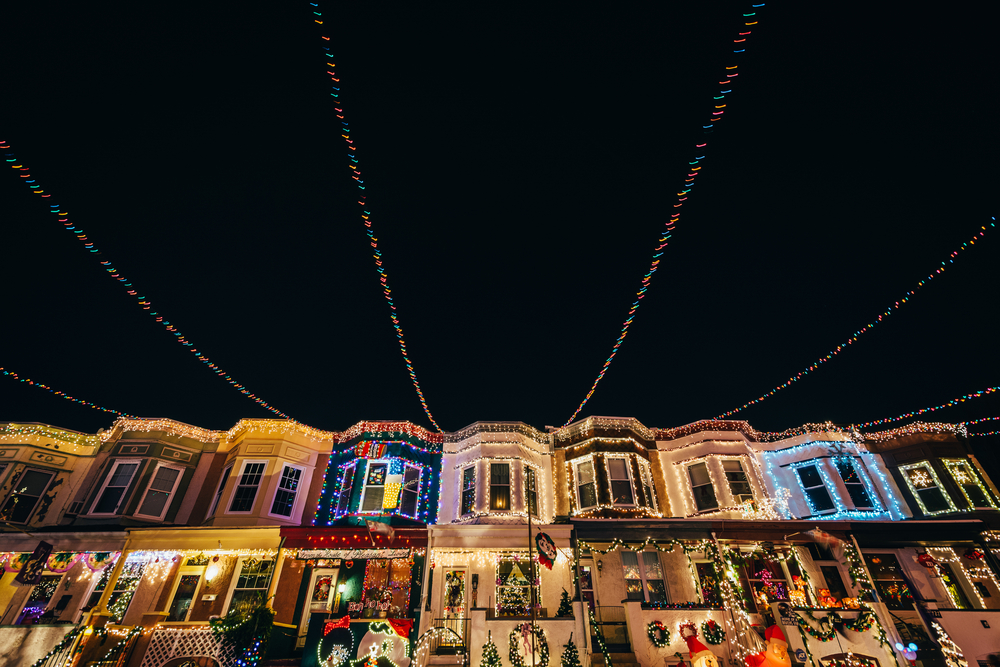 Now in its 73rd year, this Hampden tradition delivers holiday cheer in spades — with all faiths and cultures represented. At the 700 block of 34th Street, neighbors step up their festive game as they transform their quaint rowhouses into brightly decorated — sometimes wacky — displays. Think inflatable dreidels, a hub-cap Christmas tree, festooned flamingos, snowmen and Santas, seemingly infinite bulbs lining rooflines and windows. And even a giant red crab — this is Maryland, after all! Eats, libations, and shopping round out the festivities. The lights flicker on starting Saturday, November 26th at 6:00 p.m. and the fun lasts through December 31st.
​
4. Annual Nights of Lights in St. Augustine, FL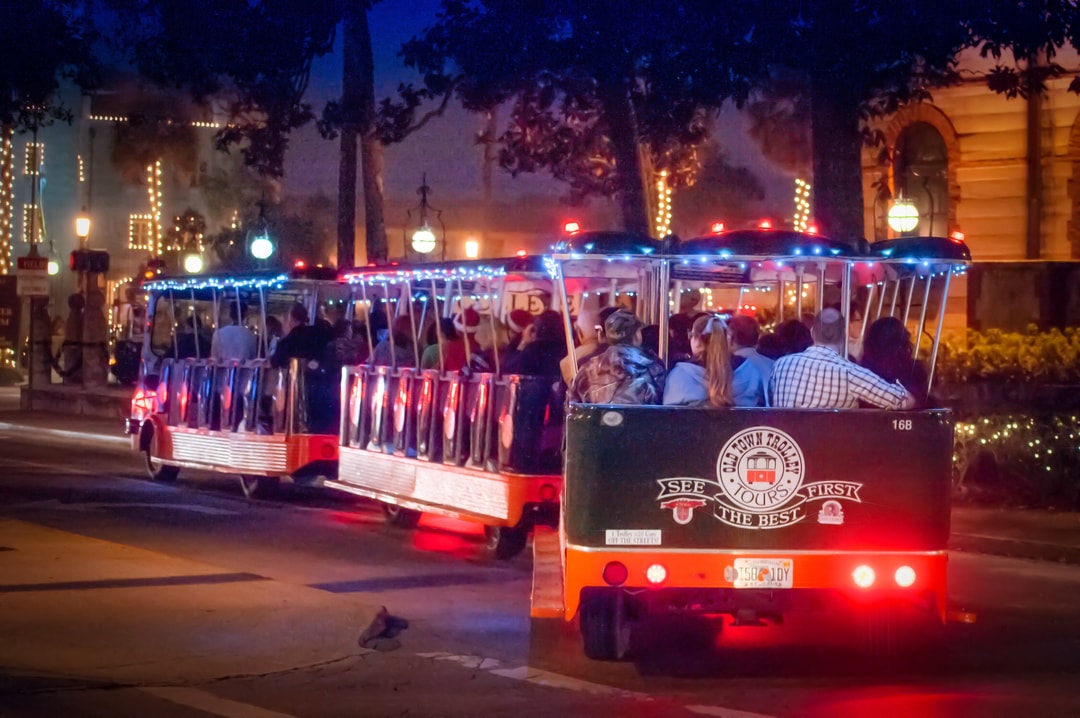 For milder temps, head south to St. Augustine for the 29th annual Nights of Lights, November 19th through January 31st. Three million white lights cover the town's Spanish Colonial-style buildings, plazas, palm trees, and iconic streets and landmarks, spanning 20 blocks and lending an old-school, classy aura to the magical holiday experience. Meandering through the displays is free. If you'd like an expert guide — who'll likely fill you in on the town's history — you can board a trolley tour. Also consider a romantic horse-drawn carriage ride, soaking in the enchanting merriment from a dining patio, or boarding a boat cruise for a twinkling view from the water.
​
5. Dollywood and Winterfest in Pigeon Forge, TN
Fans of country hits "9 to 5" and "Jolene" need no introduction to Dollywood, but most don't realize that the theme park's home city has a holiday light spectacle of its own. Pigeon Forge's Winterfest kicks off with fireworks in early November and incorporates six million lights into its displays, which range from a Wonders of Light Walking Trail spanning the Riverwalk to a menagerie of giant creations, like a 52-foot caterpillar, deer, dragonflies, bears, and a field of eight-foot wildflowers. The 150-acre Dollywood rivals its hometown's bedazzled displays with its own Smoky Mountain Christmas. Within the park, another six million lights of jolly, over-the-top décor — notably Glacier Ridge, Craftsman's Valley, and Santa's Village — accompany music and shows.
​
6. ZooLights in Chicago, IL
For almost three decades, Lincoln Park Zoo has transformed its wildlife exhibit-lined walkways into the cheery holiday spectacle called ZooLights. Millions of LED lights brighten almost every nook and cranny of the 49-acre grounds while the animal inhabitants snooze. Ride the Ferris wheel, take the train, wander through the light maze, or cozy up to the firepit for s'mores.
Zoo entrance is free on Mondays and ticketed Tuesday through Friday, but reservations are required for all nights. Consider popping over to the Chicago Botanic Gardens' illuminated trail for Lightscape, a jaw-dropping artistic light show and display.
​
7. An Olde Time Christmas (and more) in Branson, MO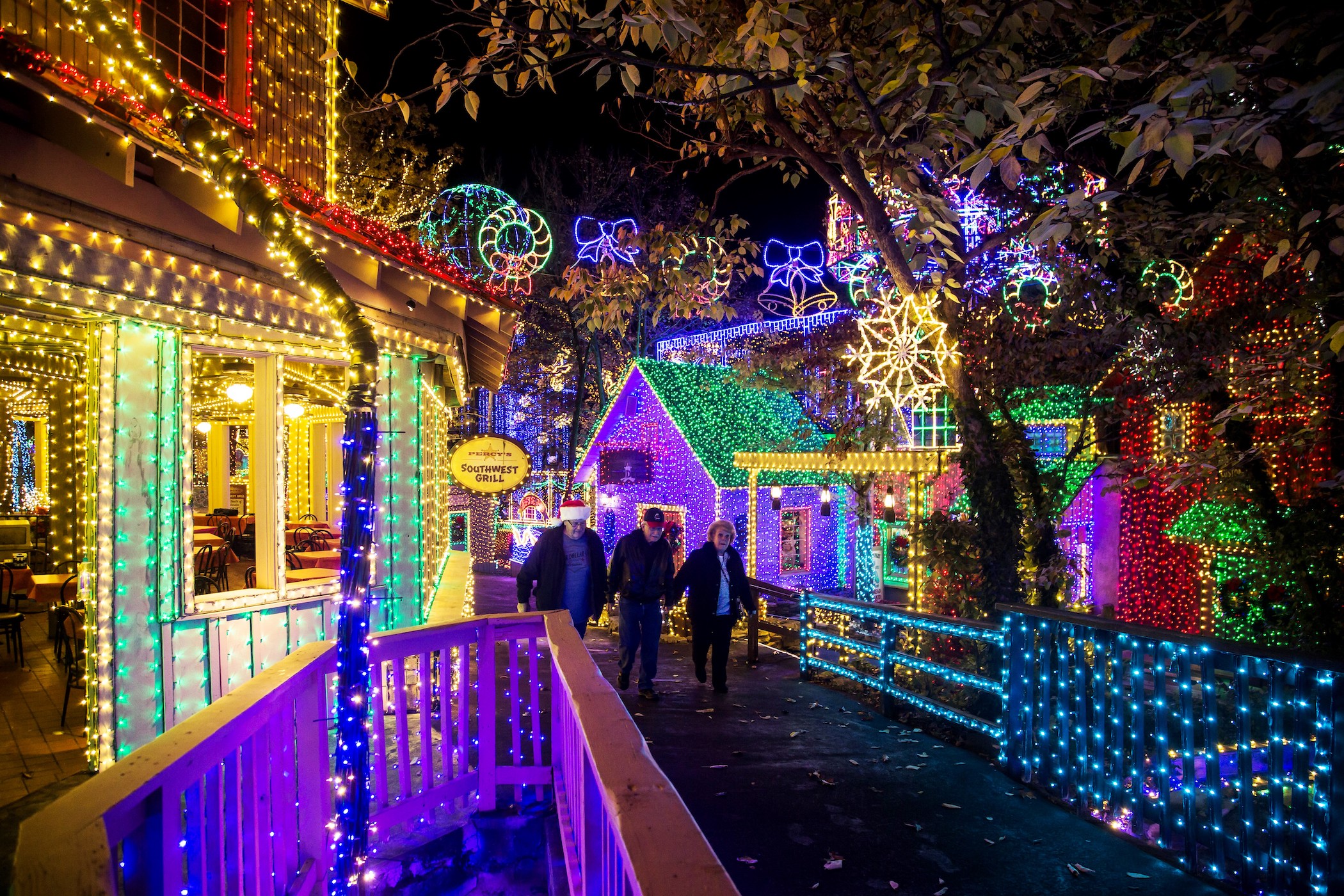 Get merry at Silver Dollar City's An Olde Time Christmas between November 5th through December 30th. The Branson theme park jingles all the way through yuletide thanks to six and a half million lights, a thousand Christmas trees, holiday shows, mugs of hot cocoa or wassail, crafts, sing-alongs, steam train rides, roller coasters, and more. The town of Branson itself takes holiday lights and celebrations to a whole new level. Ride the Polar Express, drive through Christmas displays (such as "Lights of Joy") throughout town, watch the fire and water show at Branson Landing, or take a spin on the green-and-red-lit ferris wheel beside the town's festive ice rink.
​
8. Trail of Lights in Austin, TX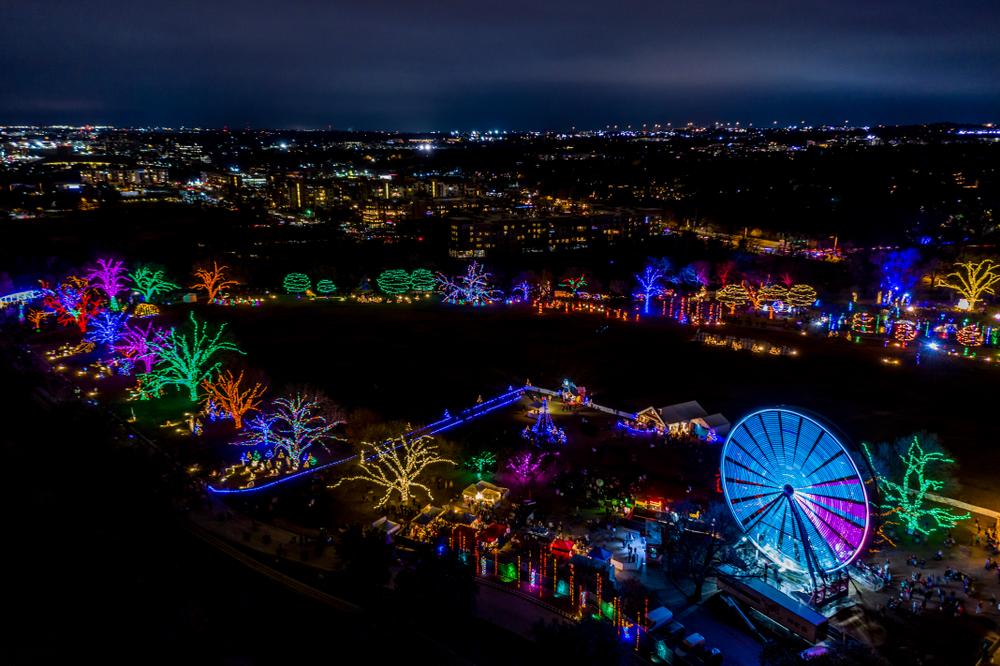 It all started with the lighting of a lone Yule Log, 58 years ago. Today, crowds gather in Zilker Park to marvel at dozens of bright and beautiful displays, created with more than two million lights. The 1.25-mile trail weaves past 70 displays, 90 well-lit trees, and through wondrous tunnels. Although the event runs from December 8th to 23rd, a sneak peek is possible for those willing to dress in holiday garb and squeeze in a sweat by joining the Fun Run on December 3rd.
​
9. Blossoms of Light at Denver Botanic Gardens, CO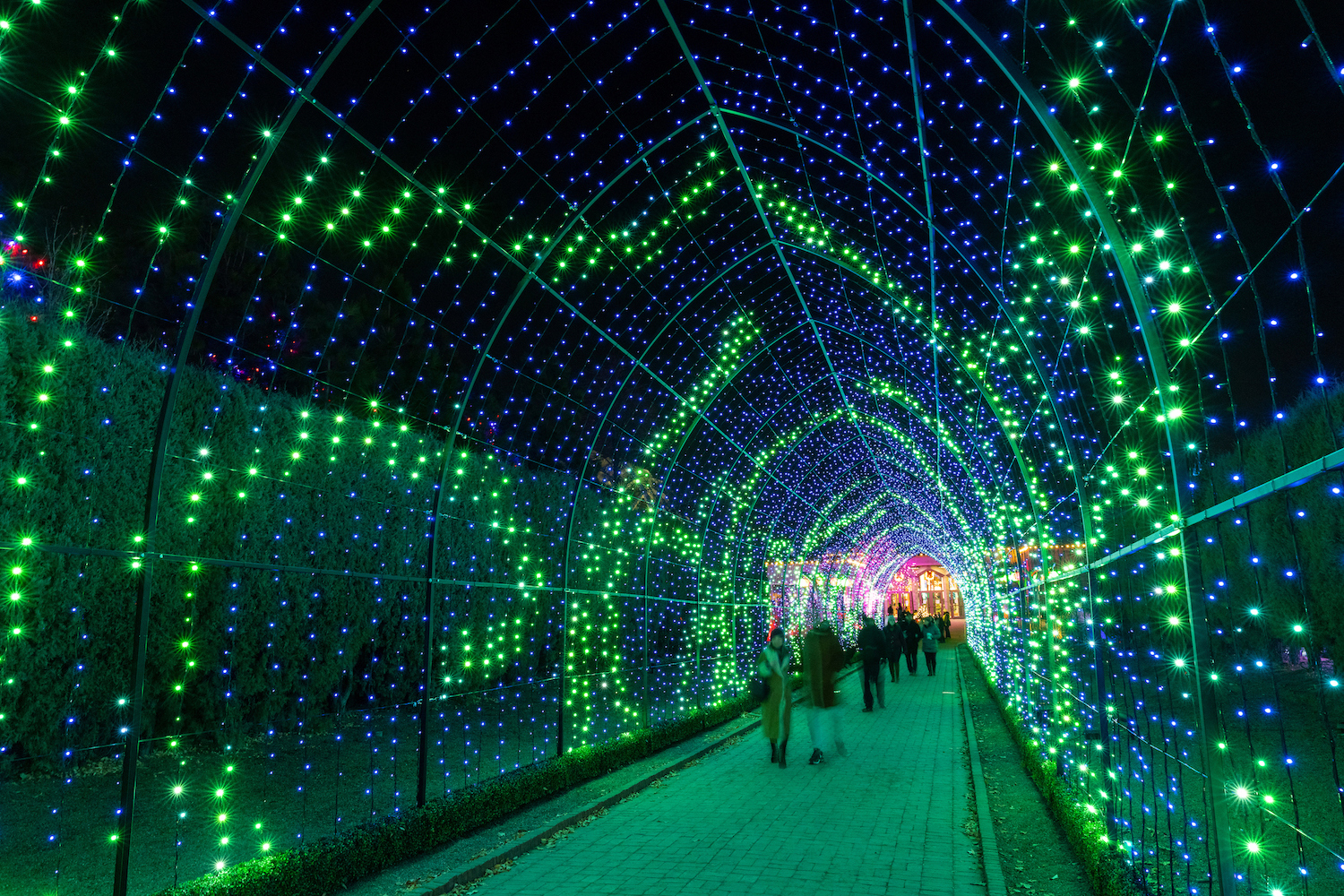 It takes a year of planning, more than a million — often re-used — LEDs, and careful attention to the botanic gardens to create Blossoms of Light. The result is a stunning landscape of orbs, tunnels, floating blooms, and perfectly adorned trees, plants, and structures. Every winter since its mid-1980s inception, the organizers unveil a completely fresh design. For 2022, the garden shines at night from November 18th to January 7th, but will be closed on Thanksgiving and Christmas. Be sure to check out the garden's sister display called Trail of Lights at Chatfield Farms in Littleton.
​
10. Glittering Lights at Las Vegas Speedway, NV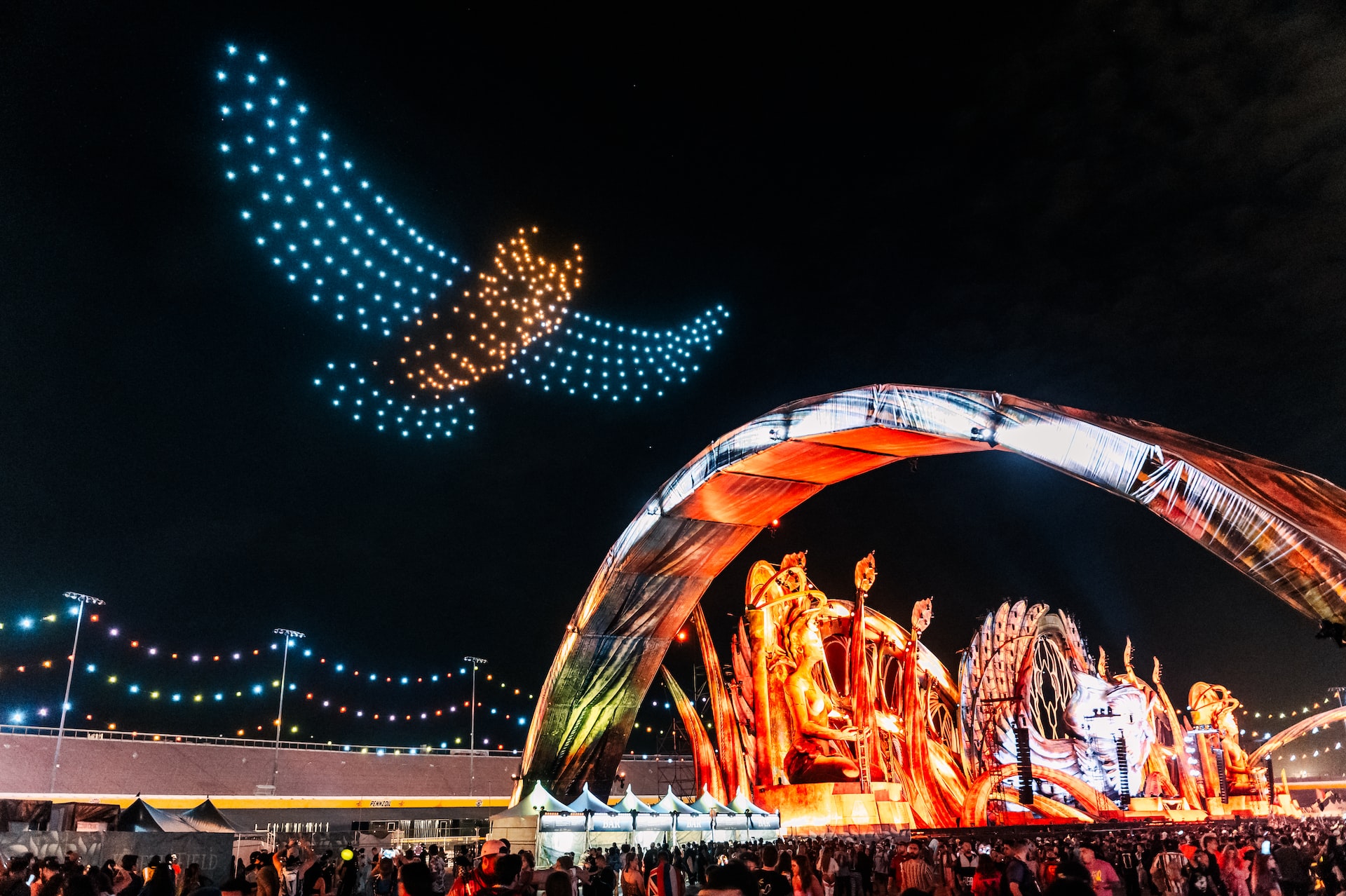 Bright lights are nothing new in what's arguably the neon capital of the world. However, Glittering Lights — the two-and-a-half-mile, drive-thru holiday extravaganza at the Las Vegas Speedway — outshines the Strip for the season of joy. The holiday spirit goes beyond the five million lights, a living Nativity scene, and fireworks. Donations from the not-so-fast fund go to Speedway Children's Charities, and discounts are given with donations to local Goodwill locations. Drive yourself or hop aboard the Santa Tram for the slow cruise around the track, from November 10th through January 8th.
​
11. Christmas Boat Parade in Newport Beach, CA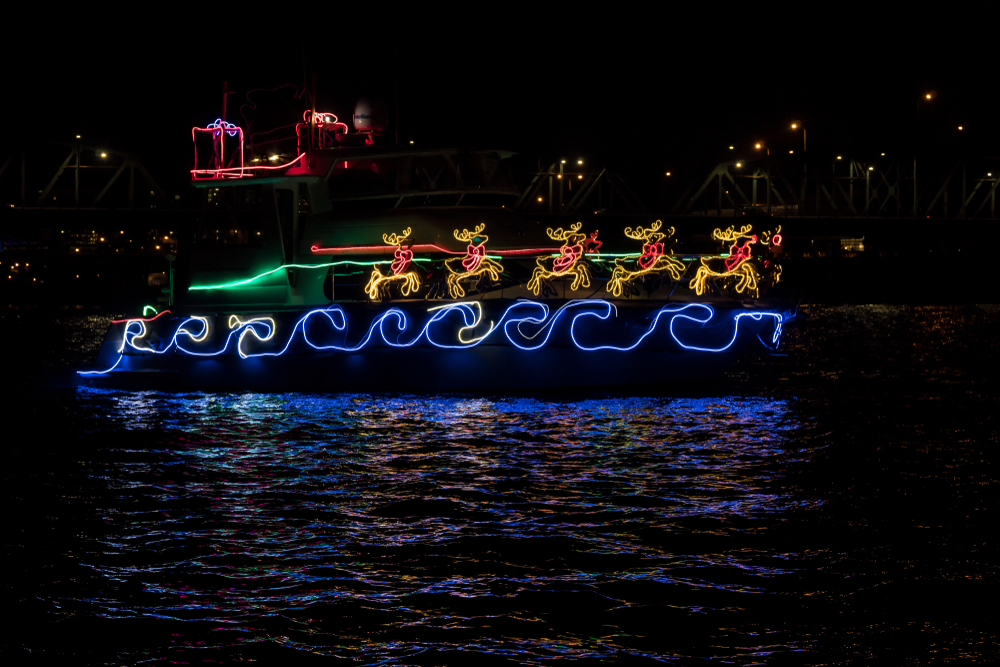 Forget the snow and set sail for Southern California! The 114th Newport Beach Christmas Boat Parade and Ring of Lights, brightens the town's quaint harbor from December 14th to 18th. The floating parade — which can be viewed from Marina Park, the dining decks of waterfront establishments, or a chartered vessel — features more than 100 brightly trimmed yachts, boats, kayaks, canoes, and skiffs (essentially, bedecked watercraft of all types). Homeowners along the route partake in a decorating contest known as the Ring of Light, which can be enjoyed by simply walking through the waterfront neighborhoods, like Balboa Island and Balboa Village, or from the water.
​
12. Winter Wonderland at Portland Raceway, OR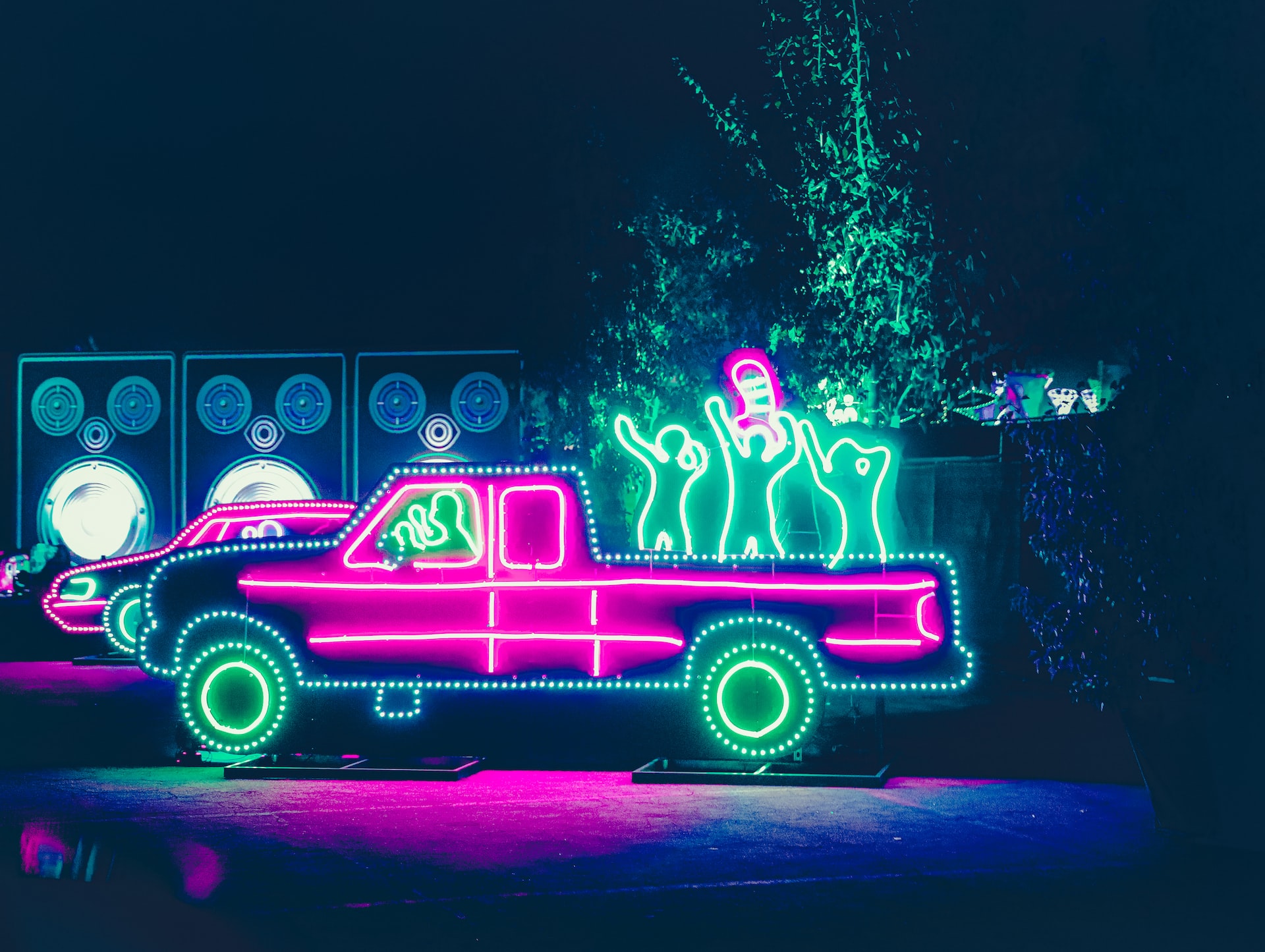 Shift that sleigh into low gear for a slow lap through 250 sets of blinking, shining, smile-inducing lights at Portland International Raceway from November 25th through December 31st. Turn up the tunes and feel good about piling into your car for the 29th annual Winter Wonderland, which benefits hunger relief efforts of the local non-profit, Sunshine Division. For those who prefer to go car-free, time your light-display viewing for Bike the Lights Night on November 28th or the dog-friendly Lights & Leashes event on November 29th.
​
Ready for a Truly Lit Getaway?
'Tis the season to travel, so book that VacationRenter stay before the hustle-and-bustle of the holidays derails your cheery getaway. Keep in mind that these popular light shows and flashy displays tend to draw crowds, so plan ahead, reserve your spot, and give your crew a little extra time to get there and soak in the festive ambiance. And remember that the best holiday lights might be right down the block, or at whatever small town holiday celebration is brewing on the Main Street closest to you. Happy Holidays!