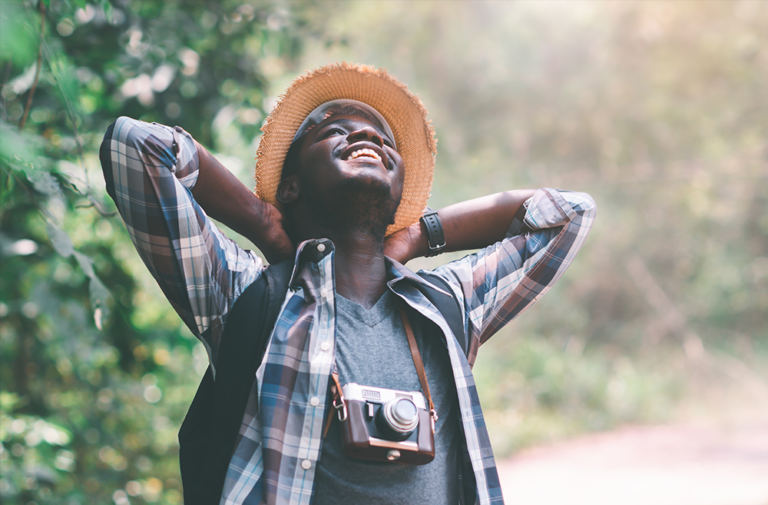 There's no doubt that one great part of traveling is making memories with the people you love. Still, there are also benefits to traveling alone, such as the complete freedom to design your itinerary or the opportunity to be self-sufficient.

Key Takeaways
The best city for introverts is Denver, CO while Cambridge, MA, is the worst.

Antioch, CA, had the highest-rated art galleries and museums in the U.S.

Provo, UT, had the best parks and gardens in the U.S.

To find the most introvert-friendly cities in the United States, we analyzed data from 250,000 establishments in 500 American cities. Looking at factors such as population density, walkability, and type of activity — is it quiet? uncrowded? — we were able to score each city from best to worst for introverted travelers.
In this study, the cities that scored the highest were the ones with a large number of quiet and independent activities. Museums, art galleries, cafes, gardens, and bookstores are places fit for the independent traveler. Furthermore, the best cities for introverts also had a low number of clubs, festivals, stadiums, and arenas. High walkability and low population density also helped cities achieve higher introvert-friendly scores. Discover which U.S. cities topped our list and which scored poorly and are better suited for more social travelers. 

The Most Introvert-Friendly Cities
Denver, Colorado, topped the list as the best city for introverts to visit in the United States. In addition to loads of great museums, coffee shops, parks, and bookstores within the city limits, the proximity of the Mile High City to the Rocky Mountains makes it the perfect location for those who hope to be alone with nature. To be safe when hiking alone, remember to inform others of your whereabouts and expected return time. You may also consider renting a personal locator beacon to take on your adventure. 
If nature isn't your thing, several large cities also made our list. San Diego — the country's eighth-largest city — was the fourth-best location for introverts to explore. What set this Californian city apart was its beautiful beaches and many spas. But there are plenty of other things to do in San Diego, including trying some of the most authentic Mexican food in the U.S.
Overall, California is a good destination for introverts. Three of its cities made the top 10 list, and California also accounts for 20% of the top 25.
For those who prefer the Atlantic to the Pacific, Virginia Beach, Jacksonville, and Washington, D.C. are all great options on the East Coast. Washington D.C. was one of the most walkable cities overall and had the most museums and libraries — an astounding 556 in the area! In addition, entry to many of the city's most popular museums is free, making it an ideal spot for quiet, cosmopolitan travelers. 

The Least Introvert-Friendly Cities
While numerous metro areas welcome introverts, not every city is equally suitable for a quiet and isolated vacation experience. To evaluate cities that might not be as introvert-friendly, we found activities that draw large crowds and loud people, like theme parks, dance clubs, festivals, stadiums, and arenas. Cities with a lower number of introverted activities compared to extroverted ones received lower introvert-friendly scores.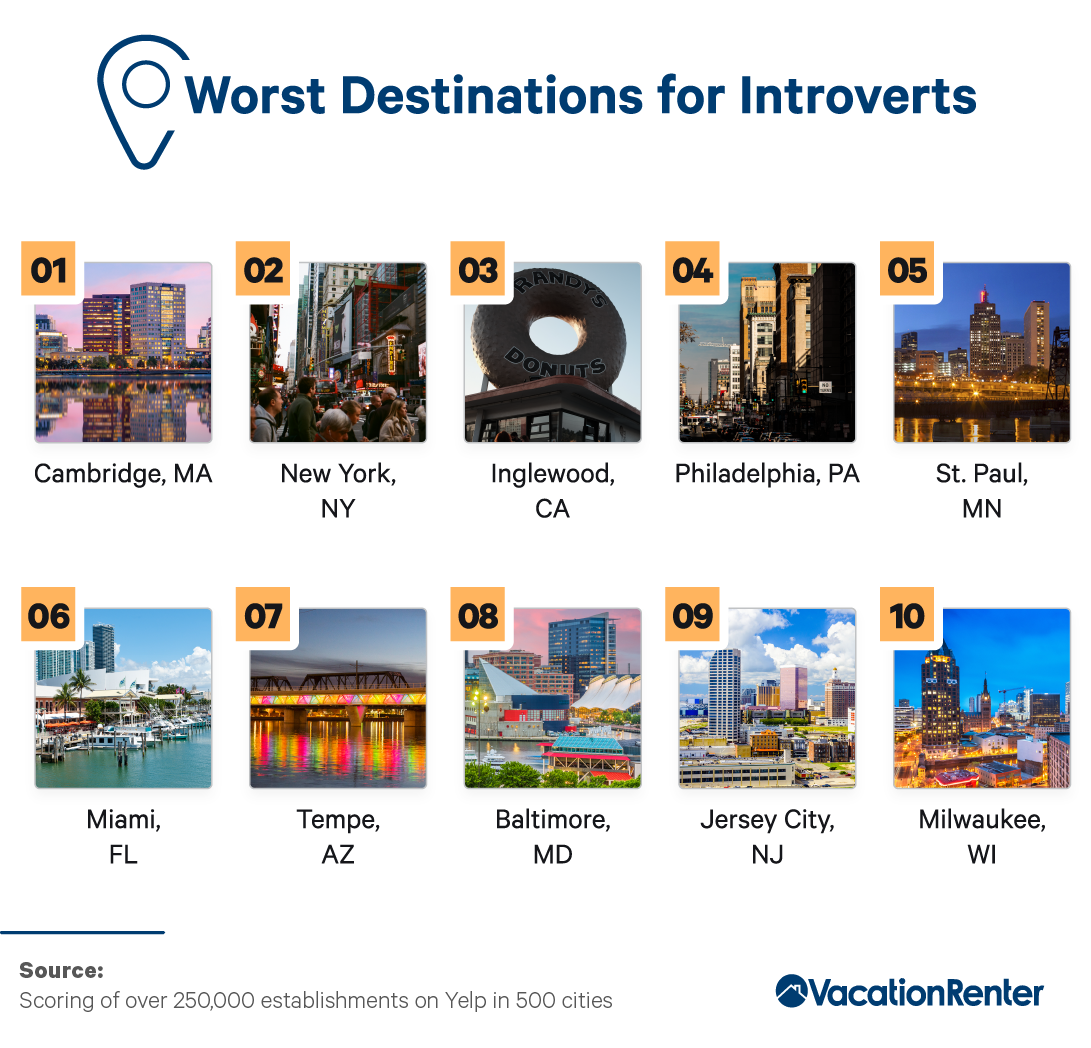 Across the river from Boston — Cambridge, Massachusetts, was the least introvert-friendly city. However, the New York metropolitan area may be worse as far as crowds are concerned as New York City ranked second on our list, and Jersey City, located just across the Hudson River, also made the bottom 10. Another fellow East Coast powerhouse also scored low: Philadelphia is the fourth worst city for introverts looking to avoid crowds. 
However, we did come across some surprising results. The midwestern cities of St. Paul, Minnesota, and Milwaukee, Wisconsin, were both in the bottom 10. These low scores may be due to a high number of bars and a low number of other introvert-friendly activities. Though a city has many bars and clubs, it doesn't mean introverts can't also enjoy the area.
For instance, the sixth-lowest scoring Miami, Florida, contained 1,005 bars, clubs, and lounges; but that's not to say that there aren't plenty of activities for introverts as well. For example, Miami is home to over 200 art galleries, museums, and libraries. What's great about traveling alone is the ability to customize the experience with activities perfectly suited for you. Even if you're an introvert traveling with others, you can take time out from the group and crowds to do something more to your liking.

Top Activities for Introverts by Location
Not all introverts value the same things, and many extroverts are interested in quieter activities every now and then, too. To better understand which places specialize in specific activities, we compiled a list of cities with the highest average ratings for five different leisure categories. 
While not incredibly introvert-friendly, New York and Los Angeles took the top two spots for bakeries, cafes, and coffee shops. They were the only two cities to average over a 4.0 rating in this category. Cafes can be more than a place to grab a coffee or have a quiet morning. With innovative desserts and a plethora of photo ops, cafes have become a must-do activity for many types of travelers. 
Another bucket list item for some travelers is finding hidden gems in the locations they visit. It's even better to take something unique home with you from a local shop. New Orleans was rated the highest among all cities for its independent shops and had many eclectic thrift stores.
For those looking for a highly-rated outdoor experience, a trip to Tennessee may be your best bet. The state had three cities in the top 10 places with the best parks and gardens.
Just 45 minutes from a national park, Knoxville is a good option for exploring the Great Smoky Mountains. Cave lovers may also be interested in touring Chattanooga's underground waterfalls, and the numerous waterways around Memphis provide kayaking, canoeing, and paddle boarding opportunities.

Cities With the Most Extroverted Activities
In addition to quieter activities, introverted travelers may also be interested in including some more extroverted stops on their trip. Not every introvert craves alone time all the time. People who identify as extroverted introverts are more social and might want to consider one of the following destinations for their next trip.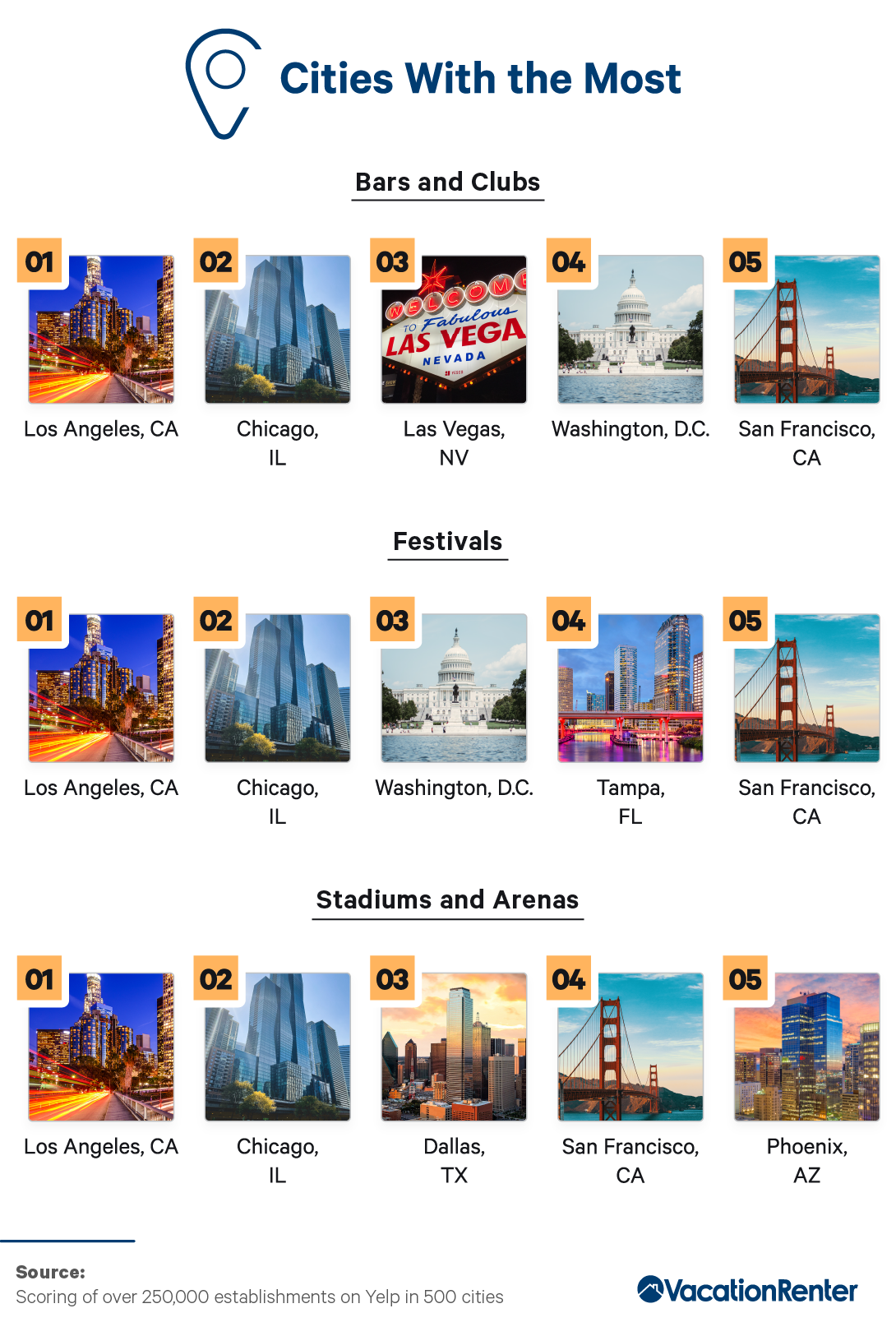 If your top priority is avoiding an overwhelming number of people, Los Angeles, Chicago, and San Francisco likely aren't for you. Each of these cities appeared in the top five of every category above. But there are also many reasons why crowds of people flock to these establishments. For example, Chicago's large number of stadiums and arenas also have a storied history of sports, which can be enjoyable for many people to learn and experience.
Additionally, it can be fun to go out and connect with people who have similar interests as you when you're in the right mood. Festivals are a great way to do this as they draw a large audience around a shared passion. Tampa, Florida, has a wide array of festivals, including the infamous Gasparilla Pirate Festival every January. Even the biggest introverts can have fun while celebrating their hobbies and interests with like-minded friends.
Choose Your Travel Adventure
Overall, we found that the best place for introverts was Denver, Colorado, due to the considerable number of highly rated quiet activities and the low number of more raucous establishments. Furthermore, we identified Cambridge, Massachusetts, as the worst place for introverts because of its many bars, but New York City, New York, was also a strong contender for this rank.
Regardless of your desired socialization level or location, VacationRenter helps you find the ideal place to stay in cities all over the world. Our travel experts have compiled the best information from a plethora of travel sites into one easy-to-use platform. Once you've picked your next trip destination, come back to book your exceptional accommodations quickly! 
Methodology
To create our ranking of the best cities for introverts, we collected data on the 500 biggest cities in the United States. The bulk of our data came from a scrape of Yelp in which we looked for the number and rating of: art galleries, museums, libraries, bakeries, cafes, coffee shops, bookstores, record shops, thrift stores, parks, gardens, spas, bars, clubs, lounges, festivals, stadiums, arenas, and theme parks.
We also included each city's population density gathered from worldpopulationreview.com, walkability from walkscore.com, and crime rates from neighborhoodscout.com.

About VacationRenter
VacationRenter makes it simple to find the perfect vacation rental for an upcoming trip. All rental options from leading travel sites are brought together in one place to make searching and booking a rental quick and easy.

Fair Use Statement
Have an introvert in your life who's looking for a quiet destination? Trying to hint to an extrovert where you want to go and what you want to do on your next trip? Please feel free to share this information; we just ask you to do so solely for noncommercial purposes and link back to this article as credit for our research team.