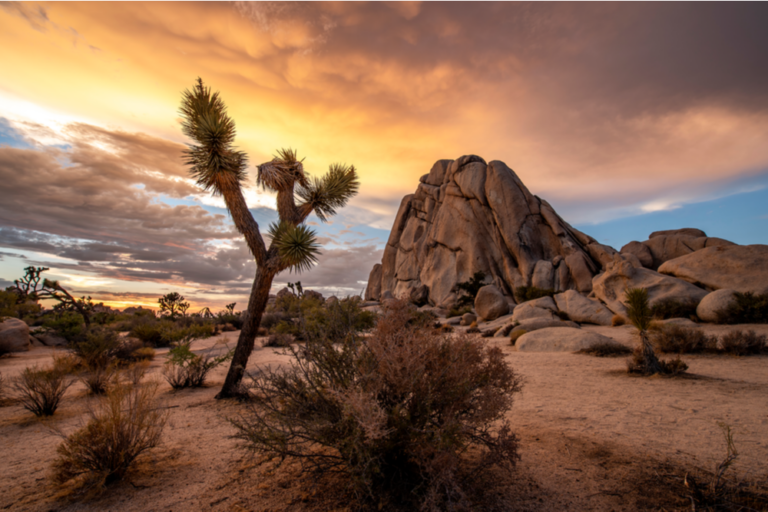 There's no place on Earth like Joshua Tree National Park and the surrounding area. This southern California locale — an over two-hour drive from Los Angeles and less than an hour from Palm Springs — brings together two distinct desert ecosystems: the Mojave and the Colorado.
If you love the outdoors, there's no place like Joshua Tree. Its natural landscape is named for the spike-leafed desert plant of the same name that grows only in this part of the world. Between these picturesque trees and other local flora and fauna, the region draws nature lovers from all over. The area has it all: nature trails, gorgeous natural rock formations, scenic desert landscapes, reservoirs, and much more.
As you plan your trip to California, consider some of these glamping spots.
1. RV Rental in Yucca Valley, California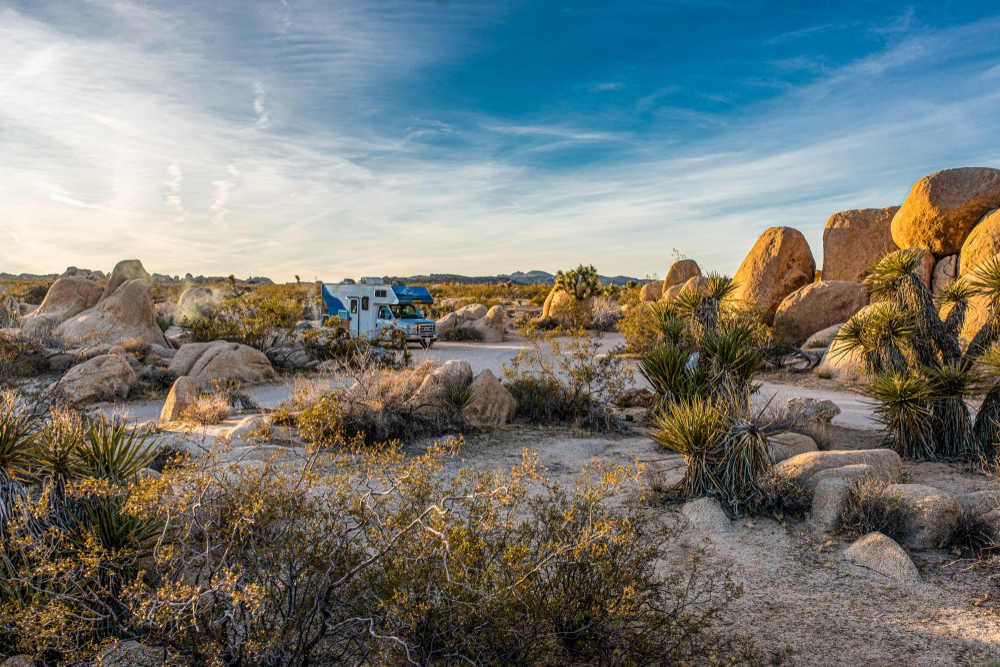 2016 Forest River Eco RV
Take comfort with you as you travel throughout Joshua Tree National Park, stopping at any of a number of campgrounds to explore this gorgeous landscape. This 26-foot dual pop-out camper opens up to a full modern kitchen complete with a center island sink, oven, refrigerator, stove, and dining area. Catch a good night's sleep on the queen bed (linens provided), located in a closed-off, separate bedroom — fully equipped with a TV to help you unwind at night.
There's also a dinette sleeper if you have an extra guest joining you, or you're taking the kids on the family trip of a lifetime. Other amenities include a toilet and indoor shower, as well as an outdoor shower, air conditioning, and heating.
2. Converted Bus Rental in Yucca Valley, California
Vintage 1966 Greyhound Bus
This vintage 1966 GMC commuter Greyhound bus was converted into a contemporary tiny home on wheels. The interior of the bus has been completely renovated with a modern design created by an architect. As a result, plenty of fine finishes and little touches elevate the entire space. This eco-friendly, solar-powered camper comfortably sleeps four people in two sleeping areas. There's also a full bathroom with a toilet and indoor shower and a full kitchen with a refrigerator, coffee maker, stove, and oven. And, of course, there's A/C for those hot desert days. Pick up this rental in Yucca Valley, just outside the national park entrance.
3. Airstream Rental in Joshua Tree, California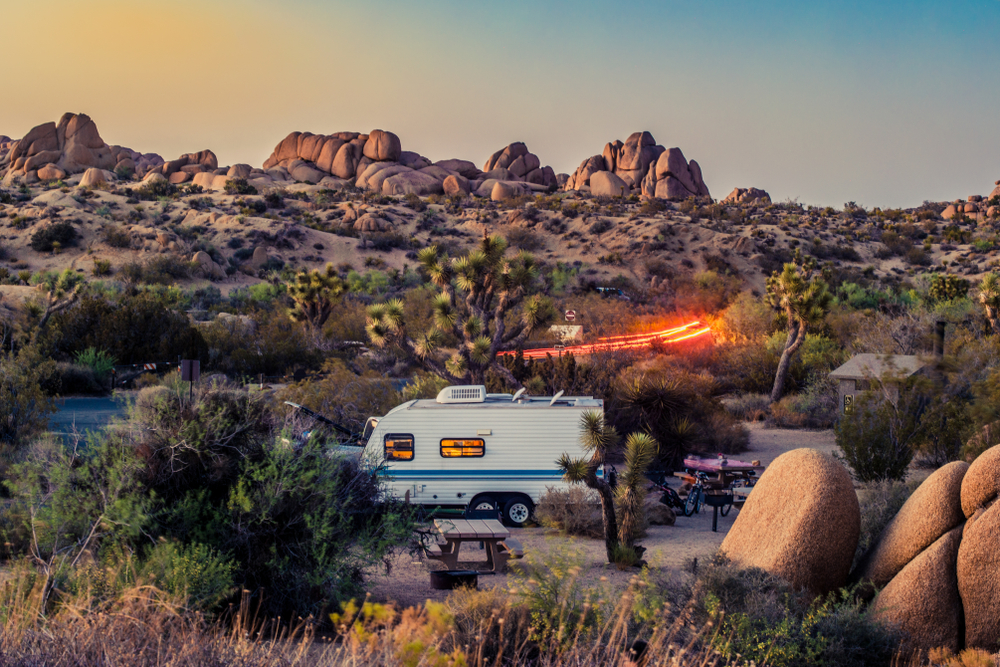 AutoCamp Joshua Tree
This unique rental offers luxury stays in converted Airstreams. This cool accommodation comes with a shared midcentury modern Quonset Hut Clubhouse, and guests can grab a drink at the outdoor bar or explore art installations created by local artists displayed throughout the property.
There's also a large pool, which converts to a hot tub in the colder months. Each Airstream allows plenty of natural light, comes with a private kitchenette and a spa-inspired bathroom, and allows for picturesque views of the Joshua Tree desert.
You can even opt for a more elevated experience by choosing an Airstream that comes with a larger living area and private bedroom. There's also complimentary Wi-Fi on-site, community fire pits, and complimentary mountain bikes to use on the property.
4. RV Rental in Joshua Tree, California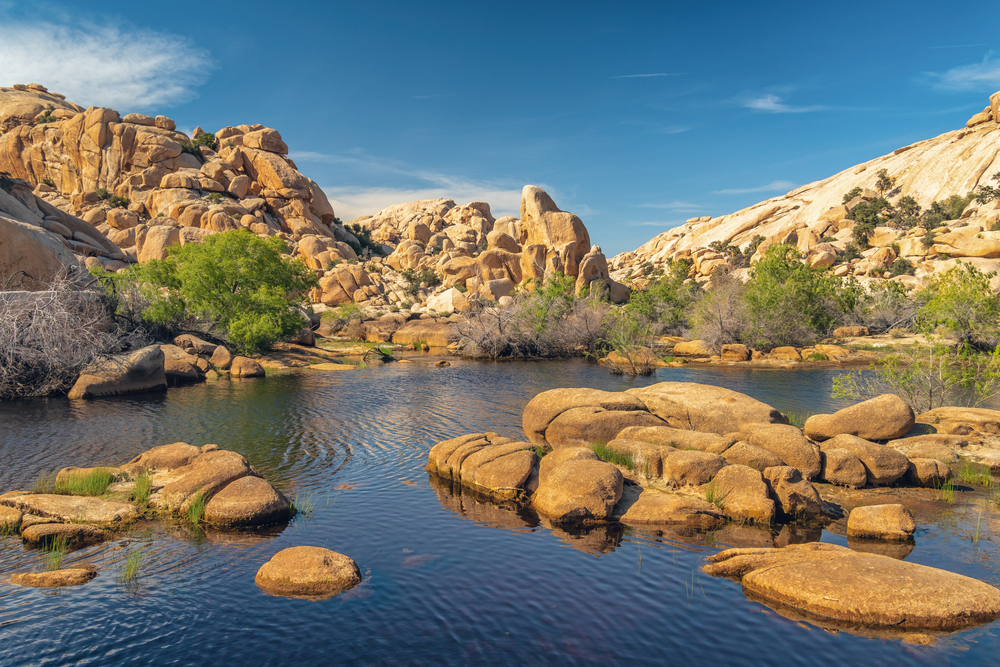 2019 Pacific Coachworks Tango
If you're looking to enjoy some time in the desert with family, this spacious RV is ideal for your next trip. It's great for hauling your bikes, grills, and other camping equipment into Joshua Tree. In addition to having plenty of space to hang out and relax, this rental comes with other fantastic amenities, including a memory foam mattress on both beds, everything you'd need in a kitchen — stove, oven, microwave, refrigerator, and freezer — a tub and shower combo, a radio, an awning with an LED light, and a remote control generator.
5. Airstream Rental in Yucca Valley, California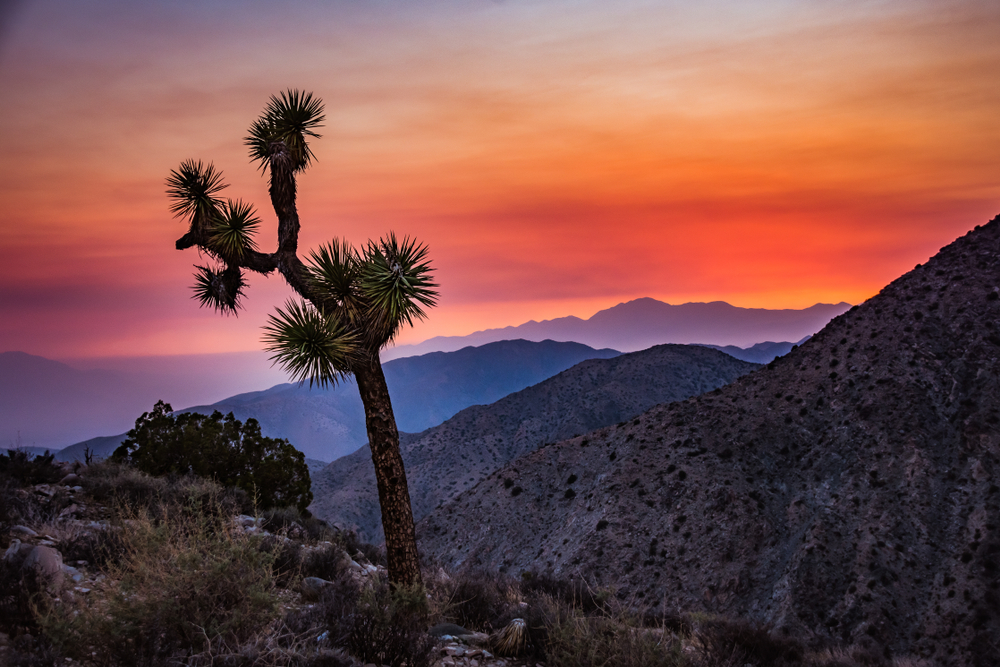 Vintage Airstream
If you're looking for a photogenic experience just outside Joshua Tree National Park, this unique Airstream is perfect for you. Situated in Yucca Valley and surrounded by Joshua Trees, this pet-friendly rental offers amenities like heat and A/C, a kitchen, and an indoor shower.
This Airstream gives your glamping experience a retro feel without sacrificing comfort and relaxation. Bring your friends or family along; it sleeps six people between two comfy beds and a pull-out couch. If stargazing is your thing, it doesn't get much better than this!
This site is located a short drive away from the Joshua Tree National Park West Entrance Station. From there, you'll have plenty to explore as you head south, including Ryan Mountain Vista Point, the Desert Queen Mine, Skull Rock, and more. Be sure to plan out some time to hike these amazing trails!
6. Yurt in Twentynine Palms, California
28 Palms Ranch Stargazing Yurt
Similar to the Yucca Valley, Twentynine Palms is an area just outside of the park and offers plenty of unique glamping options. A popular place to enjoy endless desert and mountain views is a yurt at 28 Palms Ranch. The rental property can accommodate up to four people and features a picnic table, BBQ grill, kitchenette, and a private bathroom and shower. The site is also pet-friendly if you have any furry friends you want to bring along.
Plan Your Next Joshua Tree Adventure
As you plan your outdoor adventure near Joshua Tree National Park, you can book some of these amazing accommodations. We're here to help you enjoy a glamping getaway of a lifetime!