Are you looking for a more convenient and comfortable way to road trip? If so, an RV vacation may be the next thing to add to your travel bucket list. Traveling in a recreational vehicle (RV) allows you to take all of the comforts of your home on vacation with you. RVs come in all shapes and sizes — most have a living space with a cooking and dining area, plus a bathroom and multiple beds!
There are two main types of RVs: driveables (in which you drive the actual RV) and towables (which are towed by another vehicle). In either option, there are usually plenty of compartments for storing all the things you'll need for a trip. Cooking and eating in the RV saves money, too.
Just picture it: all your supplies loaded up, the open road before you, and sights ready to be seen. But where in the world are you going to park your house on wheels so you can cook a meal and get a good night's rest? At an RV park, of course!
What Is an RV Park?
An RV park is a designated place for people to park their RVs or trailers overnight. Most RV parks cater to visitors with RV campers, but some differences may lie between individual parks in the duration of stays, specific vehicles, or even the ages of guests they allow. Although some may have restrictions, there are sure to be parks that fit anyone's needs in the places you want to travel.
Many RV parks are privately owned, or collectively run by organizations that require a paid membership to stay at their parks. Some RV travelers choose to join clubs or memberships so that they're assured that the park they're going to meets certain amenity or aesthetic standards. Since every park could have different standards for admission, we recommend calling ahead before arrival to make sure the park fits your needs.
A nice RV park typically provides the following amenities for a comfortable stay and full hook-up:
Electric hookup
Freshwater hookup
Sewer hookup
Paved, level parking site
Recreation area
Clean facilities
Guest laundry
Tent sites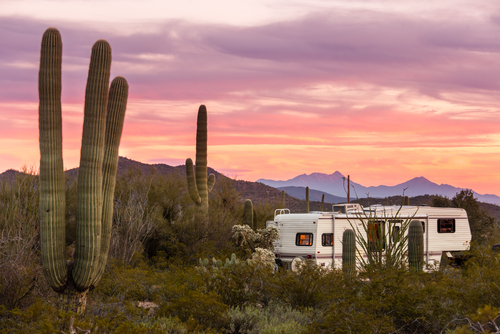 Bonus amenities at some RV parks include playgrounds, group activities, Wi-Fi access, swimming pools, or other water sources, such as a lake, an ocean, or a river close by. If you plan to travel with your pet, check with the RV park for pet rules and amenities. Some are very pet-friendly and provide dog parks where your pooch can run free under human supervision.
What Is an RV Campground?
An RV campground is similar to an RV park; however, it allows other kinds of camp equipment, like tents and small pop-ups. Since the campground wasn't built just for RVs, you may find fewer amenities and a more rustic RV camping experience. Campground roads may be more difficult to navigate, especially if you have a large rig.
The good thing about RV campgrounds is that they're less expensive. Keep in mind that fewer RV spots are available at a campground than an RV park, so be sure to call ahead to see if they can accommodate your RV and any hookup needs before you arrive.
What Is an RV Resort Park?
An RV resort is like a luxury version of an RV park. Resorts accommodate RVs only, and their campsites can be rented or purchased for varying lengths of time.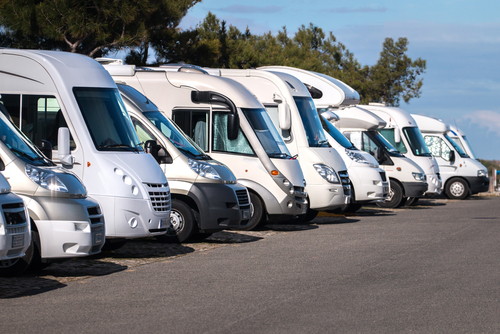 A resort campsite is treated more like a vacation home that an owner has access to any time they want. Top-of-the-line RV resorts are often gated communities that prize security and privacy. They offer luxury amenities for RVers, such as restaurants, golf courses, and full-service spas. If you're looking for a getaway for two or more adults, a luxury RV resort is a great option.
It's important to keep in mind that even though the word "resort" is in a site's name, it doesn't always mean that it's going to be an upscale place. This word is used loosely in the RV world, so it could have been the best place to stay decades ago. Still, don't let the age of a place stop you — they may have done major renovations to the resort just last year. Some RV resort parks also have vehicle age restrictions, requiring that your RV be produced after a given year. To get what you expect, be sure to do plenty of research on the place before booking a stay.
How to Choose the Best Place to Park an RV
Every travelers' needs and expectations are different. With that in mind, here are several factors to consider when you're trying to decide which RV parks to book for your next trip:
Location. Is it important to be in a specific location or near a certain attraction, like a state park? For example, if you're planning on spending most of your time at the beach, you might want to opt for an RV park that offers sites as close to the ocean as possible. On the other hand, you may choose an RV park with a more central location if you plan to travel around an area to experience multiple places. It's also important to research the safety in and surrounding areas of the park you choose.
Amenities. Amenities can vary greatly from park to park. Choose the place that offers what you need, whether it's picnic tables, Wi-Fi, biking or hiking trails, or even a game room.
Availability. The size of your RV matters because not all parks can accommodate every type of RV. Be sure to call ahead and confirm that you'll be able to easily navigate their roads, if there's enough space to park your rig, and if they have back-in or pull-through sites available if needed.
Cleanliness. A park that is well cared for is obviously concerned about its guests' experiences. Read customer reviews to see if the park maintains clean, working facilities and campsites.
Cost. Does the cost to rent a site at the RV park fit into your budget? Depending on the type of experience you want, you may need to spend more to stay at a nicer RV park.
How Much Does It Cost to Stay at an RV Park?
Costs between RV parks can vary widely depending on a park's management, location, services, and amenities. Frequent RV travelers can benefit from joining RV clubs that offer discounts at certain parks. Here are some typical daily RV park rates to expect:
Standard: $35 to $40
Midlevel: Upward of $60
Luxury: $200+
You can sometimes snag great deals, depending on special offers and the time of year in which you're visiting a park. For example, summer in Florida might be less expensive since it's considered the state's off-season.
RV parks may also offer weekly and monthly rates. Additional expenses may include fees for pets, extra vehicles, Wi-Fi, or cable TV. Ask for a clear explanation of fees before booking a site at a park.
How to Reserve an RV Park
If you want to stay at an RV park for the first time, you're probably wondering how to access it. The best thing to do is to make a site reservation before arriving at an RV park.
Reservations can usually be made over the phone or online, and a deposit is expected to reserve a site. If possible, choose where to park so you're close to what matters to you. If you know you're going to arrive late for check-in, don't panic. Simply call ahead to give them the courtesy of a heads-up so they know when to expect you.
Not all RV parks take reservations, especially most national parks like the Grand Canyon or Hot Springs National Park. If you find yourself with few options to stay near your destination, be sure to arrive at the RV park when it opens for the day. Otherwise, you may have difficulty securing a space to park, or you may have to pay a significant amount to get a site as a latecomer.
Plan Your RV Road Trip With VacationRenter Today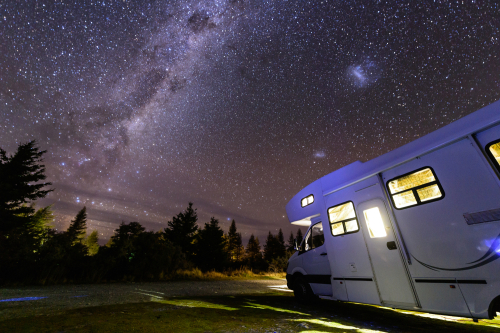 RV road trips are becoming more popular than ever. Whether you want to visit a certain destination or just wish to take a stunning scenic drive, VacationRenter is here to make it easier for you to find and book your perfect trip. Save time and money by searching the best booking sites and deals all in one place on VacationRenter.