21st Floor Hotel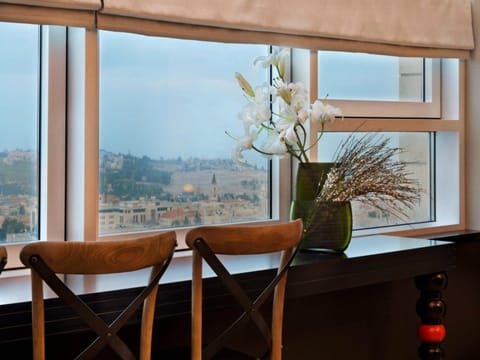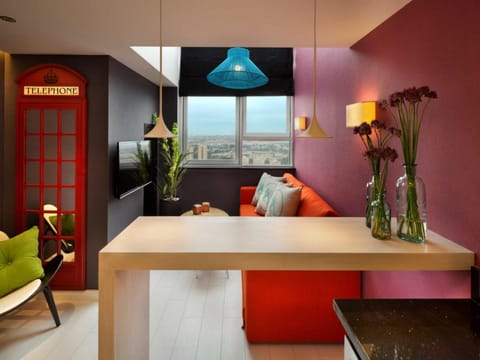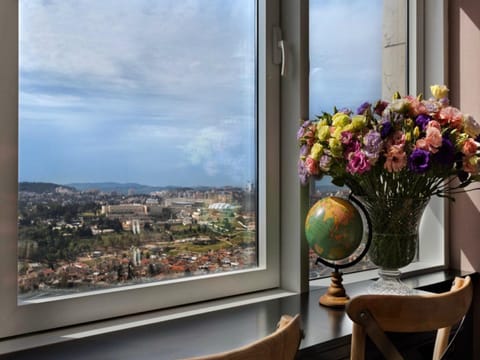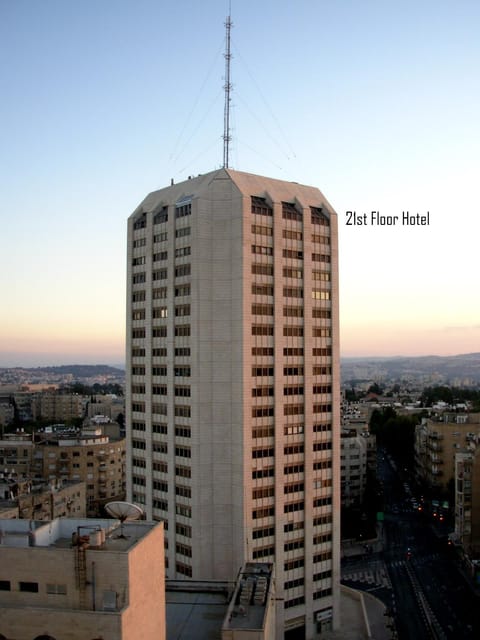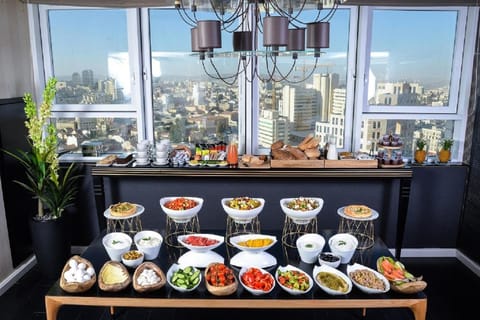 Hotel in Jerusalem
Air Conditioner
Kitchen / Kitchenette
Internet / Wifi
Nestled in
Jerusalem
, this lovely room in hotel for $152 per night is a fantastic choice for your next vacation. Located in the heart of Jerusalem, 21st Floor Hotel offers modern self-catering accommodation with free WiFi and panoramic views of the city. The Western Wall is 3 km away.
Air Conditioner
Kitchen / Kitchenette
Internet / Wifi
Parking
Laundry
Dishwasher
Hot Tub / Spa
TV
Family Friendly
100% verified reviews
4.3 / 5

"Excellent"

(171 Reviews)
We stayed for just one night but we loved it very The hotel has a very exspensive look that makes you feel quite well. Great service from Ruth and Anas. Will come again.
Loved this hotel - great location and service - would stay again and high recommend!
May 2022
We have stayed at this hotel before, so in our first big international trip in two and a half years, we decided to go with the familiar and stay with them again. I'm happy to say the services and facilities have remained consistent and of high quality. The staff, especially Yoel and Anas, were beyond helpful and accommodating when it came to making sure we were comfortable for our stay. The view of the city is breathtaking (we can see the Temple Mount and the gorgeous Jerusalem sunset), and it's the perfect location in the city center (close to markets, restaurants, bus stops, and tourist attractions while being far above most of the city noises). We love having a kitchen as well; it is well stocked with the basic utensils and is perfect for making meals when you get tired of eating out all the time (I've grown quite fond of the induction stove!). And this is probably the first hotel we've been in in awhile where we enjoy the beds; they are just the right amount of firmness for us, so no back pain! We even had a late check-in, and it went very smoothly, which was very appreciated after such a long flight. Highly recommend!
We had a 2 floor apartment with fully designed kitchen and very nice two rooms on the 2'nd floor. The rooms where nicely cleaned and set by the time we arrived to Jerusalem. Everything was a short walking distance from the hotel. the staff where kind and helpful. We had a grate time!
I highly reccomend. Staff is awesome! Yoel and Oz are great!
Dec 2022
This is a really good find in the middle of almost anything you could want as far as the old city and shopping/food. The hotel is on the top floor of a residential building. Make sure you taxi driver is aware of this and sees the picture of the building. We arrived a bit late our flight was delayed. We finally arrived at the hotel around 2am BUT the taxi driver swore there was not hotel in the building so he rode around asking other folks for about 30 more mins. Finally I just said let us out here and we will just go in and see for ourselves. (The price was fixed so it wasnt a stall technique.) When we get upstairs it is 3am. No one is in the office and that is to be expected in a boutique hotel. I used Whatsapp to call the number on the office door. Yoel the manager answered at 3am. There was some issue where booking.com did not have the reservation loaded. Yoel actually cared enough to remotely show me how to get access to a room that he knew was available. The room was larger than I had reserved and they let us stay there for the duration of our trip. The next day we had scheduled an early tour (Elbow Tours....excellent ask for Eli.) Yoel was patient with us did not rush check in until we got back from the full day tour. Then I met Oz. Oz has a great personality. He is right for hospitality. He genuinely cares about your stay and was helpful to let us know where to find whatever we needed. Oz is one of those people you feel like you instantly want to become friends with. We were scheduled to get on a cruise from Ashdod and needed a covid test. Problem being most of Israel was done testings. Yoel, Oz, and a young lady I forgot her name, they all worked soooo hard to help my wife and I find this test. They called, they searched the web. They honestly gave us a couple hours of valuble time. (We still had trouble finding a test.) But eh major thing is that the team at this hotel CARE about you and your stay. Service matters more to me MOST!
The hotel has some small things to repair in the room. Nothing major. You will not beat the views so get over the small things!
The view, good localization, nice staff
The rooms need some renovation, it is quite old and unfortunatatly, not to clean
The staff were friendly and very accommodating
The staff was wonderful, when we had an issue with our room, they changed us right away, without question. Also, our flight wasn't for hours after we checked out and they still assisted and took care of us, even though we'd checked out already. And the place itself was great - a really comfortable, spacious suite with amazing central location.
Amazing staff and a great location.
Jan 2022
The staff was amazing. They were extremely helpful and went the extra mile to make sure all my needs were met. the location was great!
The shower is in a jacuzzi tub so I had to carefully get in and out. Also the glass door did not cover the entire tub and water would go on the floor when taking a shower.
The space is amazing. Our two-story apartment had on the first floor a spacious living and dining area, powder room as well as a functional, small, open kitchen with dishes, silverware, cookware, coffee maker with fixings, Shabbos hot plate and water urn. Kosher fleishigs cookware and place settings are available upon request. Floating stairs led to the 2nd floor landing housing two bedrooms and a full bathroom with a shower (great water pressure) and jacuzzi. Generous closet and drawer space in each bedroom. Each apartment is different so yours may not offer these features. Be sure to clarify the specifications of your apartment with them when you book. The staff was kind and accommodating, helping me to arrange transportation to the airport and printing. Staff is not on site after 8pm, but said they are available by phone. We did not include breakfast which is off site. There are only 14 apartments in this "hotel." Understand that these apartments are on the 21st floor of a building. There is not a lobby, no on-site restaurant, no room service, nothing else. You get the apartment with hotel services (daily cleaning, new towels, beds made) and that's all.
The place is run down, perhaps because of the pandemic. The wallpaper is peeling in many places. The furniture is visibly worn out and scratched or chipped. We were originally given an apartment that was decorated with black walls. If you don't like that be sure to ask for a light apartment. Fortunately, they were able to switch our apartment after the first night. Apartments 2114, 2101 and 2102 are on the wall with the elevator. If you stay over Shabbos you will hear the Shabbos elevator's loud bell every 7 minutes. The walls in the apartments are thin, so you will hear noise from your neighbour's apartments and from the hallway. The well-meaning staff needed to be reminded of my requests for new pillowcases and extra towels. Would I stay here again? If traveling with more than one person, yes.
Nice but can be better
Mar 2021
The room design, the view from the 21st floor
1. Poor "continental" breakfast ... probably because Passover. 2. Mattress in principal room is too hard 3. A/C (heating) didn't work well
Pluses and minuses.
Oct 2022
There was a lot of space, as the room was like an apartment. There were restaurants within walking distances, though most of them fast food.
The entrance is hard to find, and the lobby is gloomy and shabby. It isn't on the street of the address, so is hard to find. As implied by the website, there are no 360 views, and no restaurant. You have to have vouchers in local restaurants for breakfast. The place would be no good if you find stairs hard, as the bedroom and bathroom are up 14 steps. The hot water is very hot, so beware!
excellent to sum it up
Oct 2022
The Manager Mr.Oz was very welcoming and treated us like we are friends who have never seen each other for ages. The view from the hotel was one of kind.The room so quiet.Would advise everyone visiting Jerusalem to check on Mr.Oz.
Needs renovation. Not great value for money
Oct 2022
The location is nice and walking distance from key attractions
The hotel is poorly maintained. There's mold in the shower ceiling, the furnitures needs replacement, the toilet makes noised every few minutes. The kitchen is poorly equiped and not very clean... In short, a massive renovation is needed! The parking in the building is expensive, especially if you take the car out and in again. Value for money isn't great.
Don't be fooled by the Pictures
Jul 2021
The whole lace is really really dirty. I was literally scared of falling asleep. It's dirty and creepy
A wonderful home away from home!
Mar 2023
The 21st Floor Hotel has so many wonderful things to offer.  The views of Jerusalem are breathtaking; the location is superb; close to all public transportation lines, many restaurants, shopping and a 25 minute walk to the Old City; the apartments are spacious and comfortable;  the staff is excellent and the elevators are very efficient.      Oz the hotel manager is extremely friendly and engaging. And he's knowledgeable about the area and always either had an answer or knew where to find one for us. His English is excellent, he's just a really nice guy! Anas, the staff supervisor, was also extremely helpful and accomodating. His answer to everything? "Of course!" Hadassah and the housekeeping staff also made us feel right at home and were extremely flexible about the timing of our daily room cleaning. They wanted us to feel at home and we never felt like we were a bother to them despite our variable schedule as we toured the country and came back at all hours. They were always eager to assist us in any way they could. The owner Yael was around a lot of the time and he made sure all of our needs were met.       The apartments are well appointed and visually appealing.   We understand that the apartments will be undergoing renovations in the near future. That will surely take care of some minor repair issues that didn't impact our stay but will keep this a 5 star operation. We stayed for 5 weeks.   We appreciated how much closet space and drawers there are as we could unpack everything and stay organized!  Also, the fact that there are 2 distinct levels of living space was especially wonderful for our extended stay so my wife and I could have our own space at times. The coffee and tea station was very useful each morning, and occasionally the staff put out pastries for the guests. A very nice touch!       Overall, we had a great experience at this hotel. We will certainly come back again!
Really no complaints. We've been home for three days and we already miss Oz and his team!
Regular Israeli breakfast. Good. Khalavi. Nothing extraordinary.
Very unmaintained and outdated
Friendly accommodating staff!
Jun 2022
Our stay extended longer with the arrival of my aunt, and the hotel was very gracious in accommodating us and with preparing her room (which was normally set up for children) to be more comfortable for an adult. Everything in my previous review still applies. We had a wonderful stay. I just wanted to add that Joel, the hotel manager, was incredibly helpful when we needed to get the PCR results for the flight home. He helped us call Superpharm when the results were delayed and got them to us (and printed out a copy for the airport) just in time. He (and Annas) were both easy to reach whenever we needed anything before and throughout our stay. We'd definitely stay here again!
Some of the things in the room were in need of a little touch-up aesthetically, but nothing too serious. Again, the hotel staff was very helpful if we needed anything, and the hotel is in a very convenient location.
All good and definitely to consider again.
Mar 2023
No gym, no breakfast room
How much does this hotel cost compared to others in Jerusalem?

The average price for a rental in Jerusalem is $154 per night. This rental is $2 less expensive than the average.
Is parking included with this hotel?

Yes, parking is listed as an amenity at 21st Floor Hotel. For more information, we encourage you to contact the property about where to park.
Is there a pool at this hotel?

We didn't find pool listed as an amenity for this hotel. It may be worth double checking if a pool is important for your stay.
Is 21st Floor Hotel pet friendly?

Unfortunately, this hotel is not pet-friendly. Try searching again and filter for "Pets Allowed"
What amenities are available at 21st Floor Hotel?

We found 9 amenities for this rental. This includes air conditioner, kitchen / kitchenette, internet / wifi, parking, and laundry.