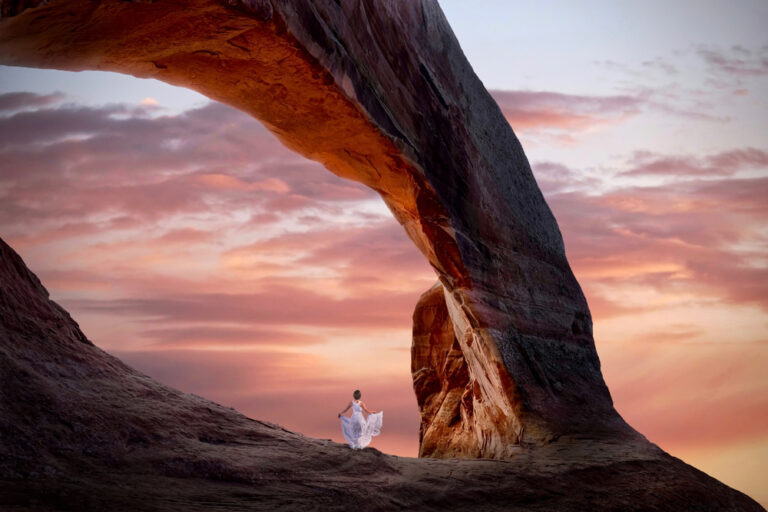 What is wellness travel? According to the Global Wellness Institute, wellness travel is traveling to maintain or enhance your well-being. The wellness travel industry is nearing a trillion dollars in valuation this year as people are heading to spa resorts and yoga retreats in droves with hopes for healing, growth, and spiritual enlightenment. Even though healing often occurs from within oneself, some geographic locations appear to be more popular than others for fortifying the healing process.
After compiling data from Yelp, AllTrails, and more, our team at VacationRenter created a comprehensive list of the world's top healing destinations. While this topic is often related to expensive and exclusive wellness resorts, our research shows that some cities and states can also be classified as "healing locations." From the highest prevalence of yoga studios to how many locals felt spiritually well, rest assured that this report is an accurate map of where to go to heal.
Key Points
Based on our findings, the top three healing destinations are Venice, CA; Berkeley, CA; and Scottsdale, AZ.

Those who travel to heal report career improvement (40%), more intimate relationships (38%), and an increased sense of purpose (35%) after returning from their trip.

Americans spend an average of $1,500 when traveling for healing purposes.
Top 50 Healing Vacation Destinations in the U.S.
If you're wondering where you should go for your next wellness trip, perhaps you'll find the answer below. For the first part of our study, we determined the top 50 healing destinations in the U.S. based on data from Yelp and the American Association of Naturopathic Physicians. We also factored in the states where residents most frequently reported feeling spiritual peace and well-being.
Overall Rank
City
Total Score
Yoga Studios Rank
Hiking Trails Rank
Wellness Retreat Centers Rank
Naturopathic Physicians Rank
1
44.12
1
15
4
10
2
39.61
2
18
3
3
3
34.08
10
9
38
1
4
33.64
5
27
14
1
5
33.23
17
2
4
23
6
33.13
7
4
20
15
7
30.14
48
1
38
37
8
29.69
9
3
38
20
9
26.07
4
21
11
7
10
24.23
3
7
14
27
11
23.36
17
13
26
5
12
21.85
14
27
1
8
13
20.32
27
5
2
37
14
18.36
10
19
7
11
15
16.36
19
10
20
16
16
15.96
36
43
38
4
17
15.87
24
6
9
37
18
15.04
6
23
11
30
19
14.7
48
45
31
5
20
13.98
40
13
38
11
21
13.5
27
11
9
23
22
13.27
20
11
31
18
23
12.88
29
34
38
8
24
12.71
26
8
26
37
25
12.2
32
23
7
17
26
11.1
8
31
14
37
27
9.68
36
40
14
13
28
9.67
23
32
31
14
29
9.54
34
15
38
23
30
9.45
16
25
14
27
31
9.22
24
21
11
30
32
8.38
22
26
38
20
33
7.42
44
37
20
18
34
7.35
34
42
4
34
35
7.15
44
17
38
30
36
6.74
15
37
31
30
37
6.25
36
20
31
37
38
6.11
13
36
38
37
39
5.76
32
29
26
34
40
5.64
12
49
38
26
41
5.55
44
29
20
37
42
5.06
40
47
26
22
43
5.04
36
34
20
37
44
4.59
40
41
14
37
45
4.34
20
49
20
37
46
3.53
31
37
38
37
47
3.5
48
32
38
37
48
3.32
29
44
31
37
49
3.27
47
45
26
34
50
3.15
40
48
31
27
California is a true standout in the wellness travel industry. The Golden State was home to the top two cities for healing — Venice and Berkeley — based on all categories, including yoga studios, hiking trails, naturopaths, and wellness retreats. California also had many residents who considered themselves spiritually healthy. According to Pew Research, 57% of adult Californians reported feeling spiritual peace and well-being at least once per week. 
States with coastlines appeared to have an advantage in this study. In our research, four of the top five states for spiritually "well" residents — California, Texas, New York, and Florida — provide access to an ocean, a gulf, or both. And though fifth-place Pennsylvania is an inland state, it's home to many beautiful lakes and rivers. Research has shown how water increases happiness and quality of life for those near it. Proximity to water also correlates with improved spirituality and peaceful feelings.
Best Places for Health and Wellness Activities
That said, one state or geographical area alone may not offer a one-size-fits-all approach to wellness. Depending on the healing activities you prefer, some locations may be better for your journey than others. The results below reveal the top 10 cities specifically for yoga studios, hiking trails, naturopathic physicians, and wellness retreats.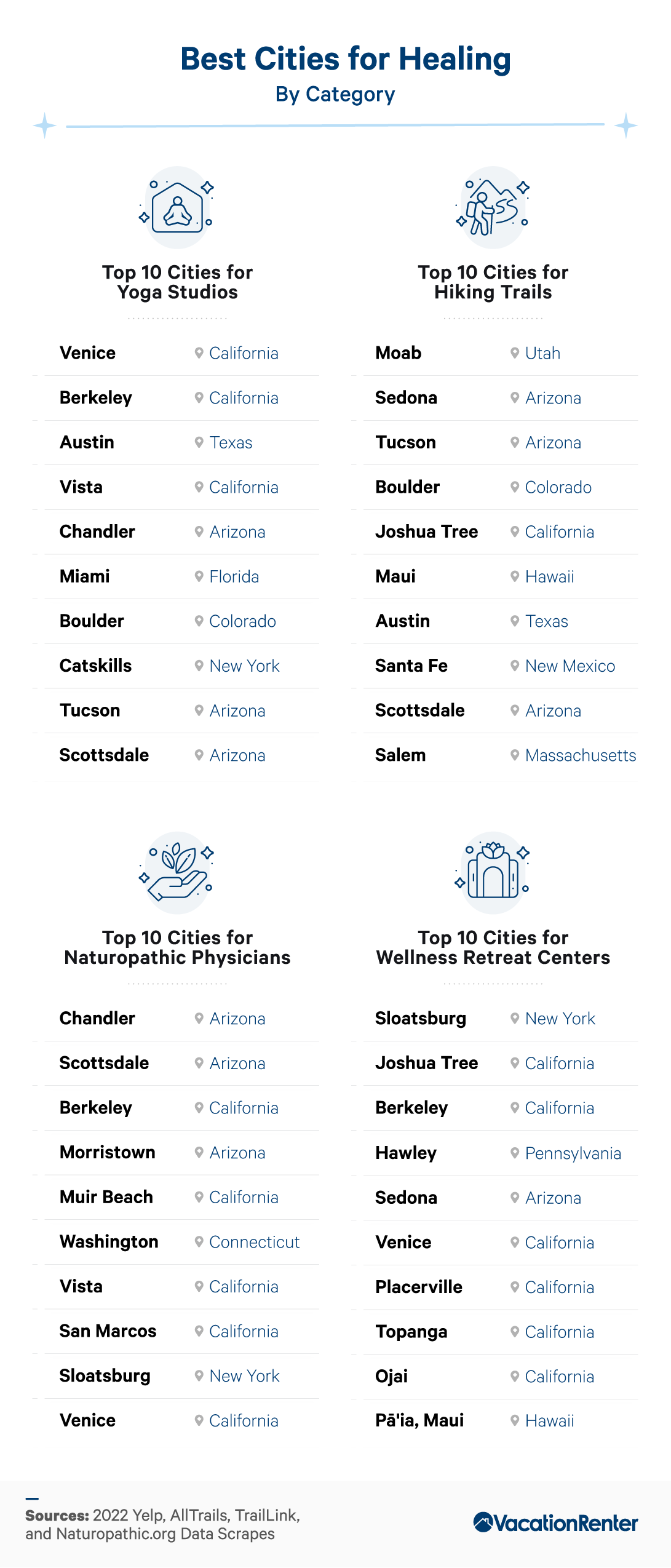 If yoga studios help you find your bliss, you'll have the most options in Venice or Berkeley, both located in California. These two cities had more yoga studios per capita than anywhere else in the United States. Yoga offers its practitioners benefits for the mind, body, and spirit. The ancient practice has exploded in popularity in recent years — cities all over the country have seen an increase in yoga studios, and our third-place winner, Austin, is no exception!
Hiking is another excellent way to challenge the body and soothe the mind. Being in nature may help you reconnect with the Earth, which can be considered a spiritual experience for some travelers. Moab in Utah was the top destination for hiking in the United States, likely due to the beautiful red-rock trails of Arches National Park. Runner-up Sedona, Arizona, offers many hiking trails and the additional perk of multiple wellness retreat centers. 
If you're interested in identifying and treating an illness, two Arizona cities — Chandler and Scottsdale — have plenty of naturopathic physicians to choose from. These doctors work to identify the causes of underlying diseases and develop personalized treatment plans to address them.
International Destinations With Healing Properties
Healing doesn't just happen on U.S. national soil — destinations all over the globe are said to possess miraculous healing potential. The Earth offers remedies to all sorts of ailments, including skin care, immune function, and even stress and depression.

Over the past year, Saturnia in Italy has gained the most search volume attention, and for good reason. The Waterfalls of Saturnia in the Tuscany region contain sulfur and thermal plankton, which are said to possess healing properties for those dealing with skin, digestive, and circulatory ailments. The Dead Sea in Jordan is another popular wellness destination, and it's not only impressive because of its unusual buoyancy. Both the water and mud of the Dead Sea have been found to have beneficial effects on rheumatologic diseases.
If skin care is important to you, consider a trip to the Blue Lagoon of Grindavik in Iceland. The lagoon's mineral water has antibacterial properties from the silica that's present. A soak in this natural outdoor spa has helped people with psoriasis and eczema.
Visiting the Damlataş Cave of Turkey might be the right choice for travelers seeking to improve respiratory health. The radioactive properties of the air inside the cave may be good for diseases such as non-allergic asthma and rheumatism. Similarly, the healing forest of Yakushima, Japan, is said to boost immune function, improve cardiovascular and respiratory health, and reduce stress and depression.
Connecting to Earth's Energy Vortices
Spiritual and wellness seekers may be familiar with the chakra system, but for the uninitiated, chakras are essentially energy centers throughout the body. We've compiled a list of destinations at home and abroad that are most associated with each chakra's healing energy.

Though some believe there are over 100 chakras, most research and practice revolves around seven major ones that correspond with particular nerve bundles and organs. From the top of the head to the base of the spine, these chakras are: 
Crown

Third Eye

Throat

Heart

Solar Plexus

Sacral

Root
Each chakra can trigger a lifetime of learning, but the chakra map of the Earth could be one way to target what you feel most needs healing or attention.
Many people believe that just as the human body has these specific energy centers, so too does Mother Earth. If your chakras don't stay open and balanced, your body and mind may feel unaligned or out of sorts. Yoga, meditation, and breathing exercises may help keep chakras well balanced, but each chakra also has a frequency that can be found in distinct areas of the globe. Traveling to these places could also help you focus on specific chakras and find better balance.
For example, the root chakra frequency is most closely associated with Mount Shasta in California. It's regarded as the root of the Earth's energy which regulates universal life. For those looking to connect with inner strength, stability, or a sense of groundedness, Mount Shasta could be an inspiring place to visit.
Although certain locations may not be at the center of these vortices, they may possess enhanced energy frequencies due to ley lines. Ley lines are lines that crisscross around the globe, like latitudinal and longitudinal lines. They're dotted with monuments and natural landforms, carrying rivers of supernatural energy. The presence of ley lines may explain why many people experience supernatural energy in Sedona, Arizona. Those seeking spiritual enlightenment, such as talented healers, artists, and spiritual guides, flock to Sedona for its noticeable otherworldly energy.
Sentiments of Healed Travelers
Our study concludes with a look into the experiences of people across the country who have traveled specifically with the intent to heal. They shared what they were trying to achieve, how they felt on the trip, and what most improved upon their return.

Most Americans we surveyed traveled domestically (77%) for healing purposes rather than to international destinations (23%). They also reported spending an average of $1,500 to participate in a wellness experience, but it was money well-spent as over half said their trip surpassed their expectations. Over one-third of travelers also reported experiencing feelings of confidence and happiness as a result of their travels.
Work life can be stressful at times, and everyone has their limits; escaping work stress was why most people (53%) sought wellness travel. Moreover, careers were the most common place people noticed improvement once they returned. Such trips may be a worthy expense if you can come home to an improved career (which was the case for 40% of respondents), more intimate relationships (38%), and an increased sense of purpose (35%).
After these past few years of pandemic life and stress, traveling to a wellness destination may be just what many of us need. Creating a budget for your trip and traveling in the off-season might help make the dream of a healing journey a reality.
Find Inner Peace at a Top Wellness Destination
Mental healing happens on the inside, but environmental changes can help foster it. Traveling can encourage a better mind-body-spirit connection and lead to many benefits. Places like California offers its visitors countless yoga studios and a connection to the root chakra. Arizona may be better suited for those looking for naturopathic doctors or wellness retreats, while those who want to hike their way to happiness should consider the mountains of Utah.
After people visit healing destinations, they leave glowing reviews. Most respondents with wellness travel experience felt more confident, and many also experienced improvements in their careers and personal lives. While growth and enlightenment are lifelong journeys, these wellness-specific locations could help you along the way. We hope you've found inspiration for your next self-care travel destination today!
Methodology
We surveyed 1,000 Americans regarding traveling with healing intentions. The mean age of respondents was 40 years old. Among them, 56% were male, and 44% were female. Respondents comprised the following generational breakdown: 25% Gen Z, 26% millennials, 25% Gen X, and 24% baby boomers. To help ensure that all respondents took our survey seriously, they were required to identify and correctly answer an attention-check question.
The meta ranking for the best overall healing destinations synthesized the following four variables per city:
These variables determined which cities have the highest potential for self-care and healing experiences. Data was obtained via a web scrape of: https://www.alltrails.com/, https://www.traillink.com/, https://www.yelp.com/, and https://naturopathic.org/.
Metrics and Weights for the Metaranking
Number of Yoga Studios (Weight = 25%)

Number of Hiking trails (Weight = 30%)

Number of Naturopathic Physicians (Weight = 20%)

Number of Wellness Retreat Centers

(Weight = 25%)
International Healing Locations Links:
About VacationRenter
VacationRenter offers travelers of all budgets, styles, and destinations the chance to plan and book the trip of their dreams.
Fair Use Statement
We could all use a little wellness inspiration, especially in an age of pandemics and spiritual crises. If you'd like to share the findings of this research, you're welcome to do so. Just be sure your purposes are noncommercial and that you link back to this page.