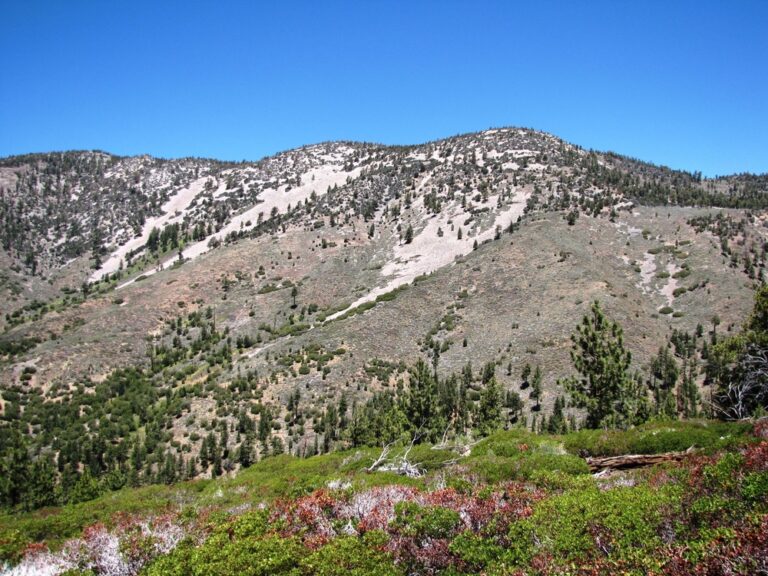 Named for its distinctive shape, Sugarloaf Mountain is the highest peak in the San Bernardino Mountains, with an elevation of 9,952 feet at the peak. The closest municipality nearby is Big Bear City, a cozy mountain town situated on a lake with the same name in the heart of Southern California. Big Bear is a remote SoCal gem, but for those looking for a true mountain getaway, Sugarloaf, an unincorporated community less than a 20-minute drive away, has some great vacation rentals off the beaten path to explore.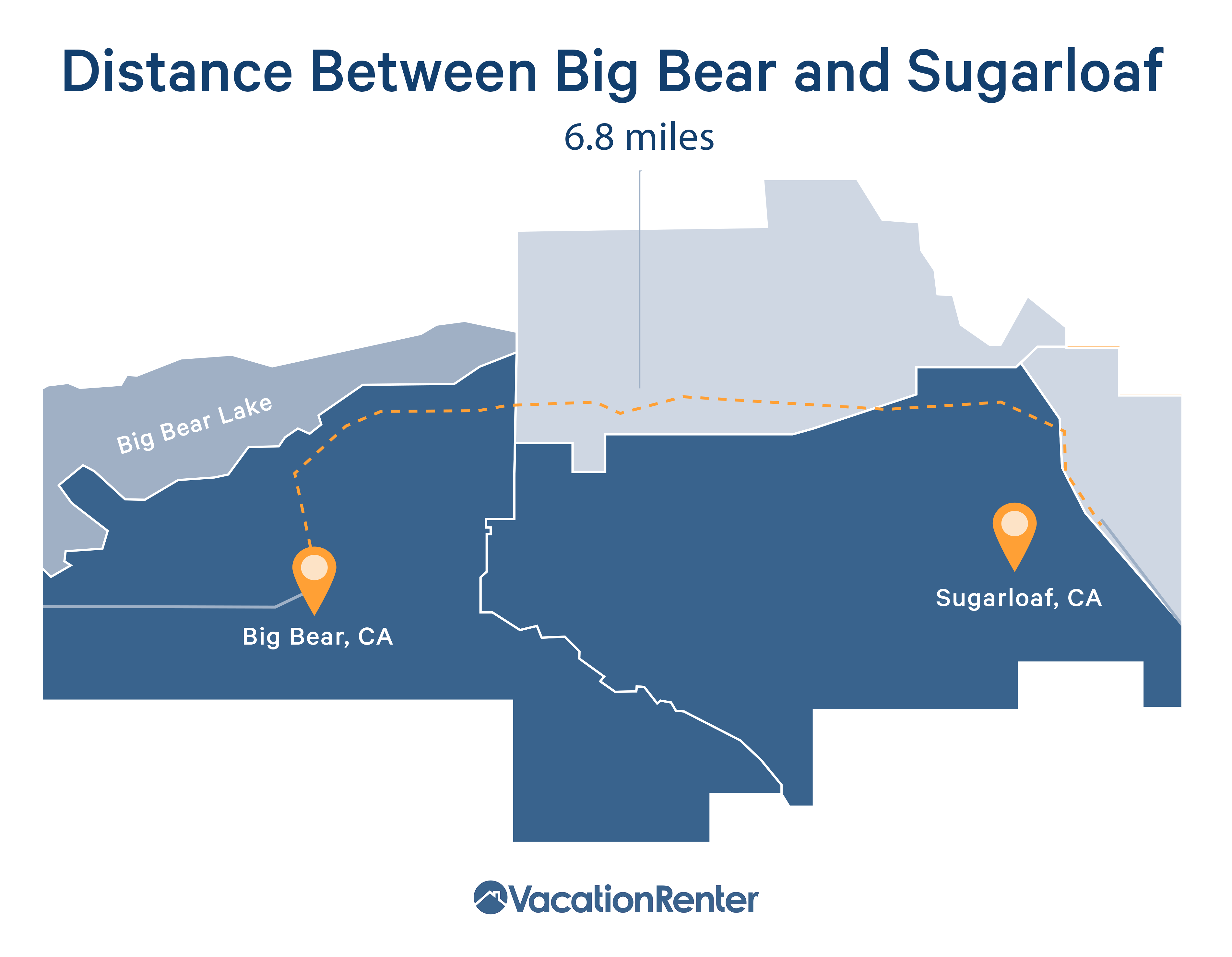 About Sugarloaf
Nestled up against the San Bernardino National Forest, Sugarloaf is a popular destination for vacationers in both the summer and winter. It was initially developed as a camping enclave before permanent houses started cropping up. As a result, the Sugarloaf area is compact but private, thanks to an abundance of trees scattered throughout the small cabins and houses in the area. Though it's developed quite a bit over the past decade or so, it still has a small-town atmosphere, and there's not a whole lot going on compared to other areas of Big Bear. Vacationers looking for a true escape will love the alpine feel.
Depending on where you come from, you might be familiar with a Sugarloaf in your area. The name is derived from the fact that sugar used to come in mountain-shaped loaves rather than loose granules, so when mountains were being named, people keyed in that they closely resembled these shapes — which is why there are over 30 landforms with this designation in the US alone. Though there isn't a Sugarloaf ski resort in California, there are still loads of things to do, including skiing and riding at two mountains close by.
What Makes Sugarloaf the Ideal Location in the Area?
Do you want a secluded retreat combined with accessibility? How about proximity to countless outdoor activities and a local airport? If either of those has piqued your interest, read on for reasons why you should stay in the Sugarloaf area the next time you head to Big Bear, California.
Only 15 Minutes from the Slopes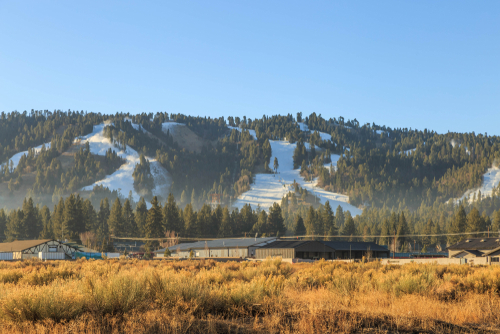 A ski house rental in Sugarloaf is around 15 minutes from the slopes. In fact, both Sugarloaf and Big Bear City are conveniently located next to Big Bear Mountain Resort and Snow Summit, which combined have over 400 acres, 26 lifts, and 55 runs, so there's no shortage of terrain to explore. The Big Bear area gets around 120 inches of snow every year, making it an ideal playground for skiers and snowboarders. A little farther out, you also have the option to ski or ride Snow Valley Mountain Resort, which is under an hour away.
Year Round Activities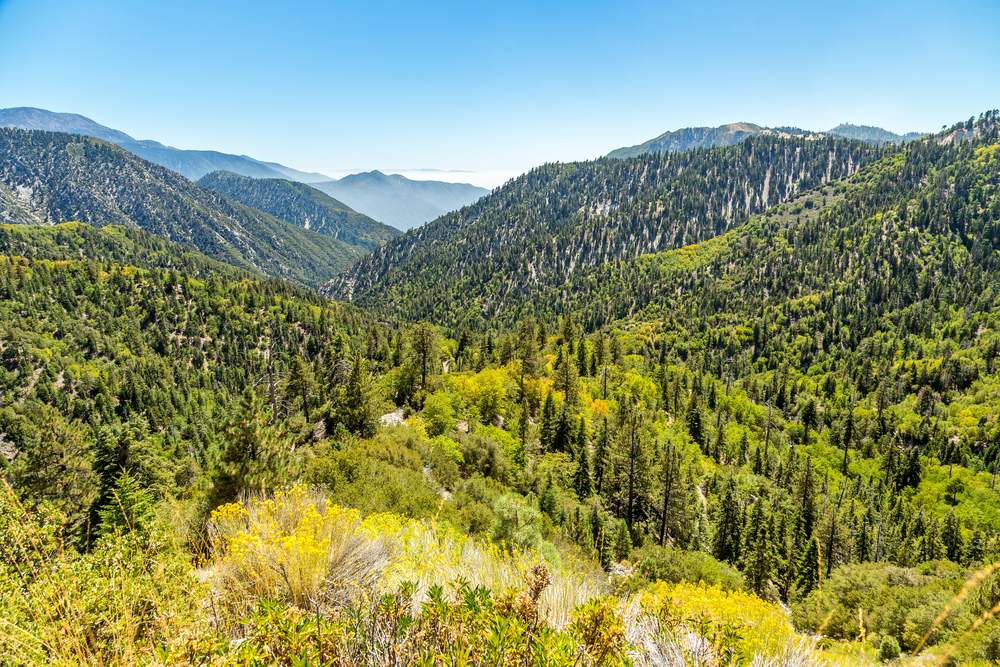 The proximity to mountains, lakes, and forests makes Sugarloaf a great launch point for recreation in all seasons. Mountain biking is a huge draw to this location, as is fishing and backcountry hiking. There are actually suitable hiking and biking trails in the San Bernardino National Forest just adjacent to Sugarloaf, and you could theoretically bike to a trail from your Sugarloaf rental house if you wanted to. Anglers will want to head to Boulder Bay Park, where you can fish from the dock or launch a canoe or kayak for a waterborne adventure. For the sun-soakers and fun-chasers out there, Big Bear Lake has multiple marinas and tons of watersport activities to try. The best part? Sugarloaf is less than 10 miles from Big Bear Lake.
Better Stargazing than Big Bear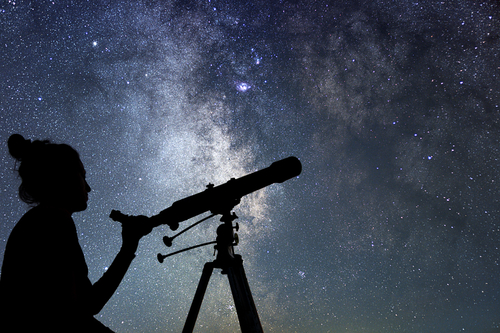 A less-rigorous option that comes with staying in Sugarloaf is stargazing. Though all of Big Bear is well placed for naked-eye views of a wondrously starry sky, Sugarloaf's elevation several hundred feet above most other residential areas means that the view here is even clearer. The lack of heavy development further facilitates incredible views of the stars. It's such a prime location for astronomy that the New Jersey Institute of Technology even operates a solar observatory with a massive telescope off of Big Bear Lake.
Plenty of Hiking Trails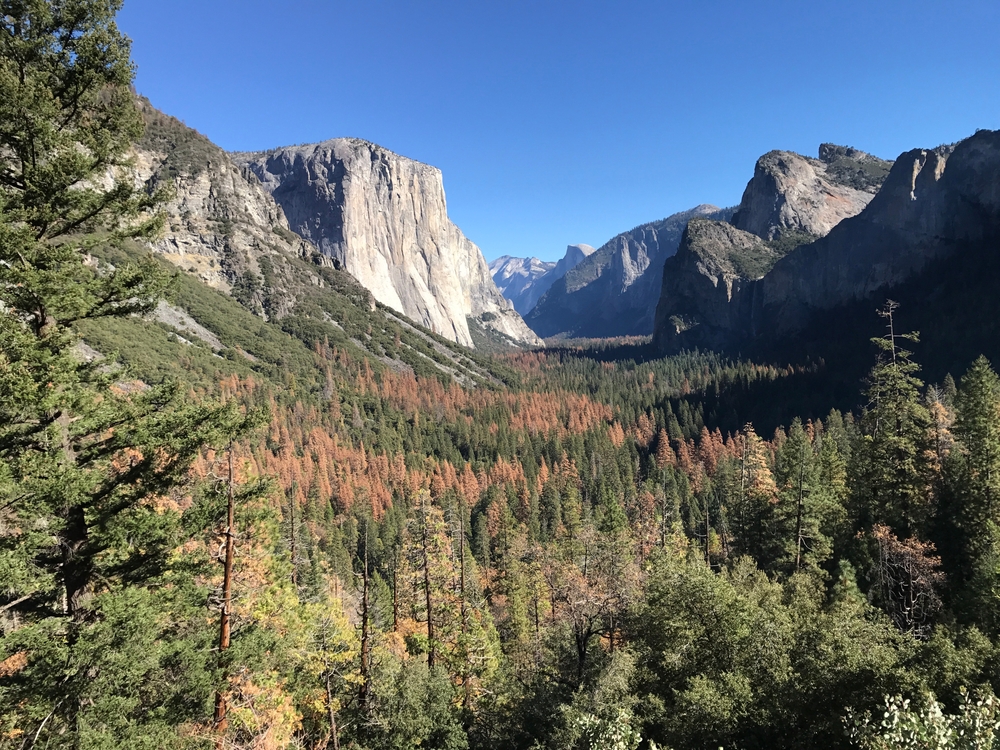 Experienced hikers will want to head to Sugarloaf Mountain, which offers an 11.6-mile out-and-back trail that is considered a challenging route, but is also open year round. Whie the Sugarloaf National Recreation Trail is best experienced by those who are up for a backcountry challenge, there are plenty of trails in the area for all kinds of hiking levels.
Keep in mind that whether you plan to rent or bring your own car, you might need an Adventure Pass depending on where you plan to go. Many of the facilities and services in San Bernardino National Forest are free, but some areas require this pass to be displayed in your vehicle. Adventure passes can be purchased at most convenience and liquor stores. A day pass costs $5, while an annual pass costs $30. You can find a full list of vendors here.
While you're in the Big Bear area, here's a list of popular trails to explore, which are continually ranked as some of the most fun things to do in Sugarloaf, CA:
Castle Rock Trail: One of the most popular trails in the San Bernardino National Forest, the trailhead is on State Highway 18, close by to Big Bear Lake Village. There's a 4.5-mile loop nearby that takes you to the Champion Lodgepole: the world's largest lodgepole pine tree that's over 450 years old and 110 feet tall.
Alpine Pedal Path: A five-mile out-and-back asphalt path that wanders along the north shore of Big Bear Lake from the Stanfield Cutoff to just west of the Solar Observatory. It's also a great place to spot an eagle.
Pine Knot Trail: This trail is a favorite amongst mountain bikers and horseback riders, as it switchbacks through thick forest and meadows. Strewn throughout are lofty lake vistas and ultimately a panoramic point from which San Gorgonio and even Catalina Island can be seen.
Close to Town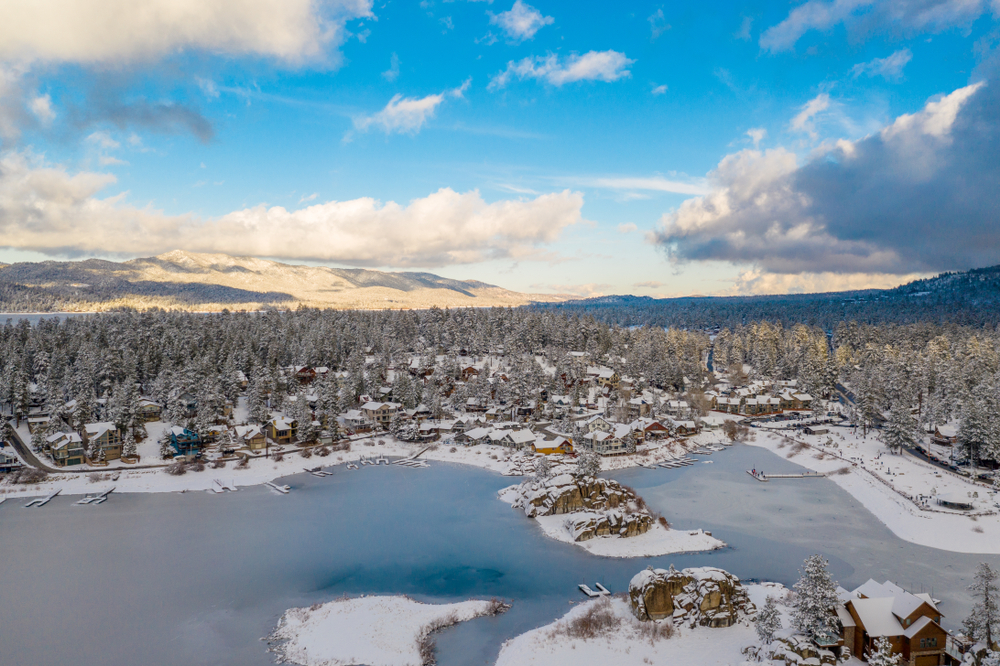 Though Sugarloaf isn't as developed as the village, it does have some conveniences, including a general store and laundromat. If you don't mind cooking for yourself, you could easily set up shop in a rental cabin in Sugarloaf without even having to venture into the more crowded areas of Big Bear.
If you do want to see what Big Bear offers, you'll be in luck. You can warm up with the exotic dishes at Himalayan Restaurant, which specializes in dishes like palak aloo, redolent with garlic, ginger, and spices. Or, you can hit one of Big Bear's beloved après-ski spots like Le Dolce Vita Tasting Room or one of Big Bear's amazing restaurants like the pet-friendly Evergreen Restaurant or Captain's Anchorage, which specializes in steak and seafood. If you're feeling in the mood for a drink, check out Big Bear Lake Brewing Company, where you can get a good taste of the area's craft beer.
Big Bear is also a good place to look for a rental, since it has plenty of cozy, family-friendly options to pick from. Choose from charming cabins and lodges, ranch-style accommodations, cozy rooms at hotels, or private vacation rentals suited for small groups and large families. It's also easy to find weekend or weeklong rentals that can accommodate bigger groups of people.
Find the Right Sugarloaf Vacation Rental
As you're researching Big Bear vacations, you may look at a map and get the impression that Sugarloaf is located on a completely flat stretch of land. The streets here are laid out in a neat grid, but its mountainside location does mean that some get quite steep.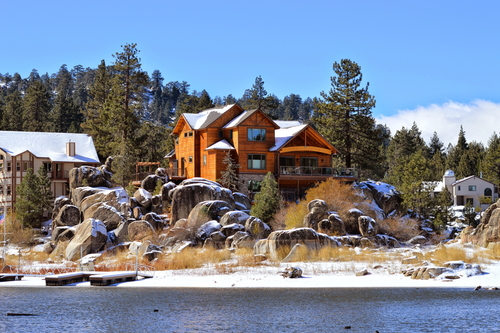 Big Bear vacation rentals and homes can be expensive, but in Sugarloaf, prices are still relatively low, which makes the area appealing for budget travelers. The isolated feel may help contribute to the fact that prices are lower here because there aren't many walkable resources like restaurants and shops. If this secluded location is what you're looking for, visit VacationRenter for lodging accommodations in Sugarloaf today!