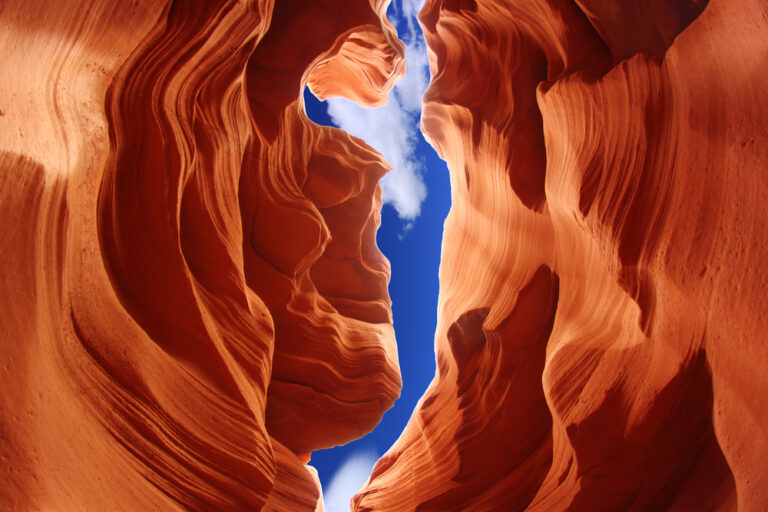 If you're looking to take some incredible nature shots and epic selfies while visiting "The Grand Canyon State," there are two major features at the top of almost everyone's list when they visit Page, Arizona.
Here's the issue with that: they're at the top of almost everyone's list.
So we're going to try and provide you a little help before you start snapping away and have your travel photos end up looking almost identical to every photo shot in the area and posted on social.
We'll go ahead and tell you what those two popular features are, provide a few tips and tricks on how you can change things up if you're absolutely, positively determined to shoot them, and — most importantly — tell you a few great alternative options nearby to help you seriously up both your photography and exploration game.

Slot Canyons
Locations
Okay, there's just no denying that slot canyons are pretty incredible. These cavernous-like geologic structures inspire awe and wonder whenever they're seen and photographed. This definitely plays a role in why they are photographed and posted online all the time.
The majority of slot canyons near Page are made of Navajo sandstone, and there are quite a few slot canyons in the area, which may give you some ability to at least avoid the same locations as everyone else.

The Lower Antelope Canyon and Upper Antelope Canyon tend to be the two most well-known and popular slot canyons in the area. (A point worth keeping in mind if you do want to avoid the most popular ones.)
You also may need to set up a guided tour in order to access many of the slot canyons within the region, so you'll definitely want to be sure and check before simply setting off on any scenic adventures.

Tips & Tricks
Before you can even start trying to avoid taking the same shots as everyone else, you'll want to know a few basics in advance.
The first thing to keep in mind is that photography can often be very difficult in slot canyons. They tend to be dark and tight, so you will probably want to shoot during peak sunlight hours and choose your locations carefully in terms of equipment and space you may need.
It's a good idea as a backup for you to bring a flashlight or additional light source that can help brighten some of their natural features in darker areas. It's also worthwhile to bring some protective covering for both yourself and your camera, as wind will often cause sand to fly around within the confined spaces of slot canyons.

If you're absolutely set on getting some slot canyon photos in, though, take advantage of the quieter corners and get up closer with private tours of similar and equally amazing slot canyons in the cute town of Kanab, Utah. Dreamland Safari Tours offers some incredibly hands-on, personalized tours you would be remiss to ignore.
One major tip to avoid creating the same shots as everyone else when it comes to slot canyons: do NOT go for a typical wide and centered portrait shot. At the very least be sure to change things up on your shots with a few different angles and perspectives so you can try to ensure your incredible adventure ends up looking unique.

Horseshoe Bend
Location
Just a few miles southwest of Page is Horseshoe Bend, a natural vista within the Glen Canyon National Recreation Area. The reddish "Colorado Plateau" stone is a distinctive visual component of Horseshoe Bend and its name was inspired by the horseshoe-like shape the vista takes as it bends its way along the Colorado River.
One of Horseshoe Bend's most popular features is an overlook of the Colorado River that is almost 1,000 feet high. Okay, fine, yes. The view is absolutely stunning, and it's certainly a major reason why a similar shot is posted online frequently almost every single day.

Tips & Tricks
As just a basic, the first thing to remember is that it's almost 1,000 feet high. Be safe when getting close to the ledge and keenly aware of that factor if you have a fear of heights or any vertigo issues at all.
Unlike some of the lighting issues you will probably run into with slot canyons, Horseshoe Bend is solid for photography at almost any time of day. Dawn and sunset are typically cited as the best possible times to shoot, though. The imagery of the sun rising up or coming down over the canyons, and stunning light rays emitted as those happen, have a particularly beautiful aesthetic that is pretty undeniable.

If Horseshoe Bend absolutely has to make it into your photo roll, one major tip to help you avoid creating the same shot as everyone else: do NOT take a shot of your feet hanging over the ledge. Just don't.
At least try an overhead selfie with the incredible view clearly showing in the background or place yourself in the frame of a wide portrait shot with all of the natural beauty showing in the background.
Alternative Locations
Alright, finally on to the best part of our guide to help you stay away from being cliche when it comes to your photography within the vicinity of Page, Arizona: great alternatives nearby for you to explore!

Vermilion Cliff National Monument
Approximately one hour west of Page, Arizona, is the jaw-dropping Vermilion Cliff National Monument. (Seriously, just take a look at the photo we've included above and try not to gape in wonder and awe.)
This national monument was established on November 9, 2000, and encompasses over 293,000 acres of pristine, natural beauty. If you're looking to take some incredible shots in the "The Grand Canyon State," there are a multitude of options available to you here.
Rainbow Bridge National Monument
Did someone say one of the largest known natural bridges in the entire world? Okay, probably not. But I'm going to go ahead and say it now because that's exactly what Rainbow Bridge National Monument is.
This incredible natural structure is technically located in Utah, but is only about an hour and a half northeast of Page, Arizona, so we simply had to include it in our list of alternative options for you to check out.
Glen Canyon Dam
Visiting a great dam comes with a multitude of winning factors. They're wonderful to photograph, they're awesome to visit, and they're a whole lot of fun to talk about visiting. Just think of all the great dam stories you'll be able to tell when you visit the Glen Canyon Dam.
This concrete arch-gravity dam is located along the Colorado River and is quite literally just outside of Page, Arizona. There's simply no excuse to miss this dam when it's just so "dam" close.
Get ready to take in some of the most incredible natural sights in the world when you decide to explore in and around Page, Arizona!