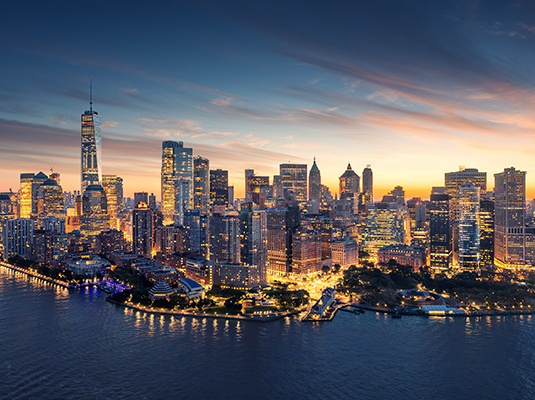 If you could designate various American cities as our "cultural" capitals, which would they be? Would you choose based on food, libraries, performances, or museums? We asked ourselves these same questions and answered them with our country's most recently available, people-provided data. By looking at the number of cultural establishments and the way people are talking about them online, we could specifically determine cultural capitals across the nation. 
In order to define America's cultural capitals, we scraped Yelp's data for the words "food" and "arts," filtering specifically by the country's 50 most populous cities. The data was then sorted into categories for arts, culture, and food – excluding all major chain restaurants. Because Yelp data is user-rated, we were able to notice not only the number of cultural establishments in each area but the average star-rating or appreciation of each. What we found was ultimately the cultural capitals of the United States, as decided by the people. Continue reading to see where they are. 
Museums, Galleries, Venues, and More
First, our study kicked off with a look into the cities with the most "arts-related" establishments across the country, as well as those with the highest average Yelp reviews. In terms of the number of art establishments, New Orleans came in first with about 137.1 arts-related locations per 100,000 residents. Their New Orleans Museum of Art (NOMA) showcases traditional art staples alongside newer and more modern pieces. San Francisco and Las Vegas came in second and third, respectively, with regards to the number of arts establishments.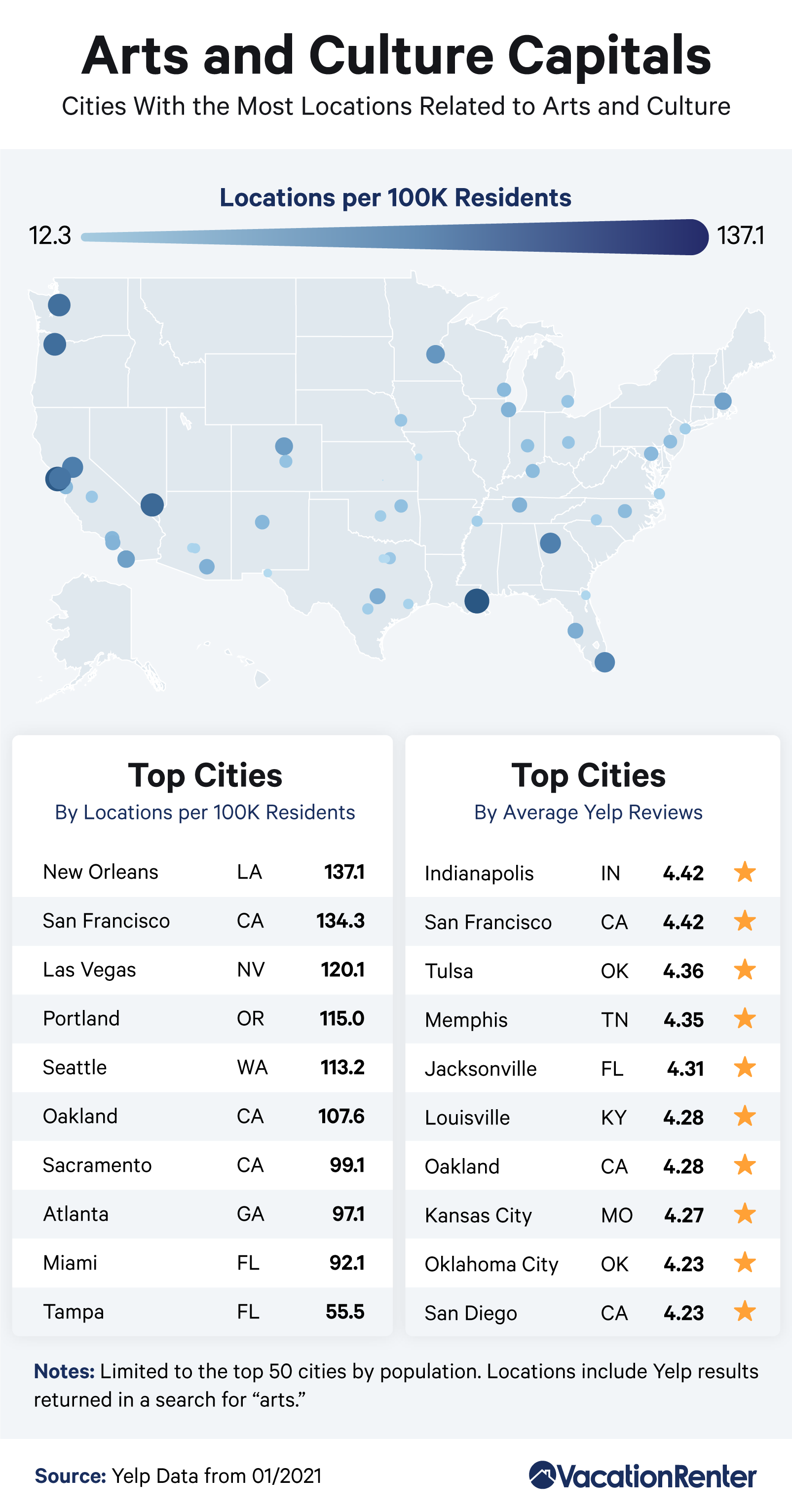 Once it came to the "best" arts establishments, however, Indianapolis and San Francisco took the cake together, with both receiving an average of 4.42 stars for their art spots. Newfields in Indianapolis has a large collection of art from a variety of cultures and time periods, while San Francisco's Palace of Fine Arts offers incredible views and many cultural exhibitions. Both for learning and exploring, California arts seem to be taking the lead for this definition of the nation's cultural capitals, as three of the top ten art cities (by the number of locations and average rating) are in the Golden State. That said, when it came to average rating, Tulsa, Oklahoma came very close to Indianapolis and San Francisco. Though this likely has to do with Tulsa's drastically smaller population, the city is still home to some incredibly awe-inspiring museums and art attractions. 
Inspiration Destinations
As you might imagine, the definition for what exactly constitutes an art or cultural establishment is wide and far-reaching. We wanted to include everything from performing arts to landmarks, bookstores, and everything in between – so we did. By breaking up cultural establishments into these categories, we were able to see which cities ranked the best for each specific art in terms of the total number and average star rating.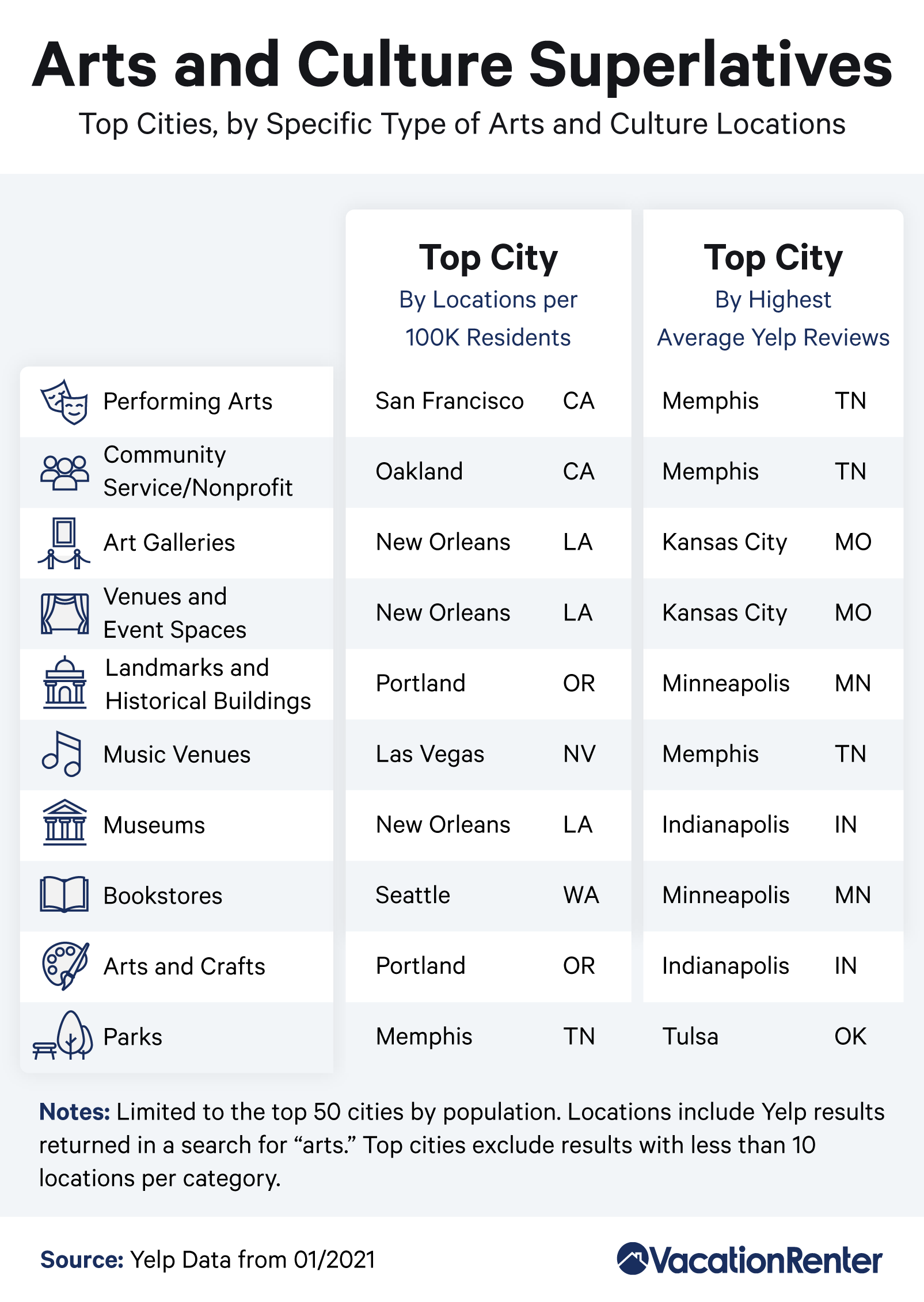 New Orleans – the city with the most arts-related locations per 100,000 residents – was also tops in terms of the number of museums. NOLA is home to various historic museums that pertain to art, culture, history, and more. That said, it didn't appear to be as appreciated, in terms of Yelp reviews, as Indianapolis, where museums received the highest average star ratings in the country. The Indianapolis Museum of Art, known to the locals as Newfields, was recently described as so great that it's "difficult to leave."
Memphis had the best performing arts — arguably one of the most informative cultural categories — but San Francisco had the most. Memphis also had the best community service/nonprofit and music venues. That said, they didn't have the most locations in any of these same categories. 
Food Trucks, Pop-Ups, Fine Dining, and More
Of course, we couldn't consider cultural capitals without considering food. Miami had more non-chain restaurants and eateries per capita than any other city in the United States. For every 100,000 people, Miami had 408.6 food places to choose from. One of their more famous, which has essentially reached landmark status, is Gianni's, a restaurant famously located in the Versace mansion, presenting an interesting combination of food and art. Las Vegas again showed its breadth as well, with 380 restaurants per 100,000 residents. It seems that nearly every famous chef, from Gordon Ramsay to Guy Fieri has a restaurant in Sin City.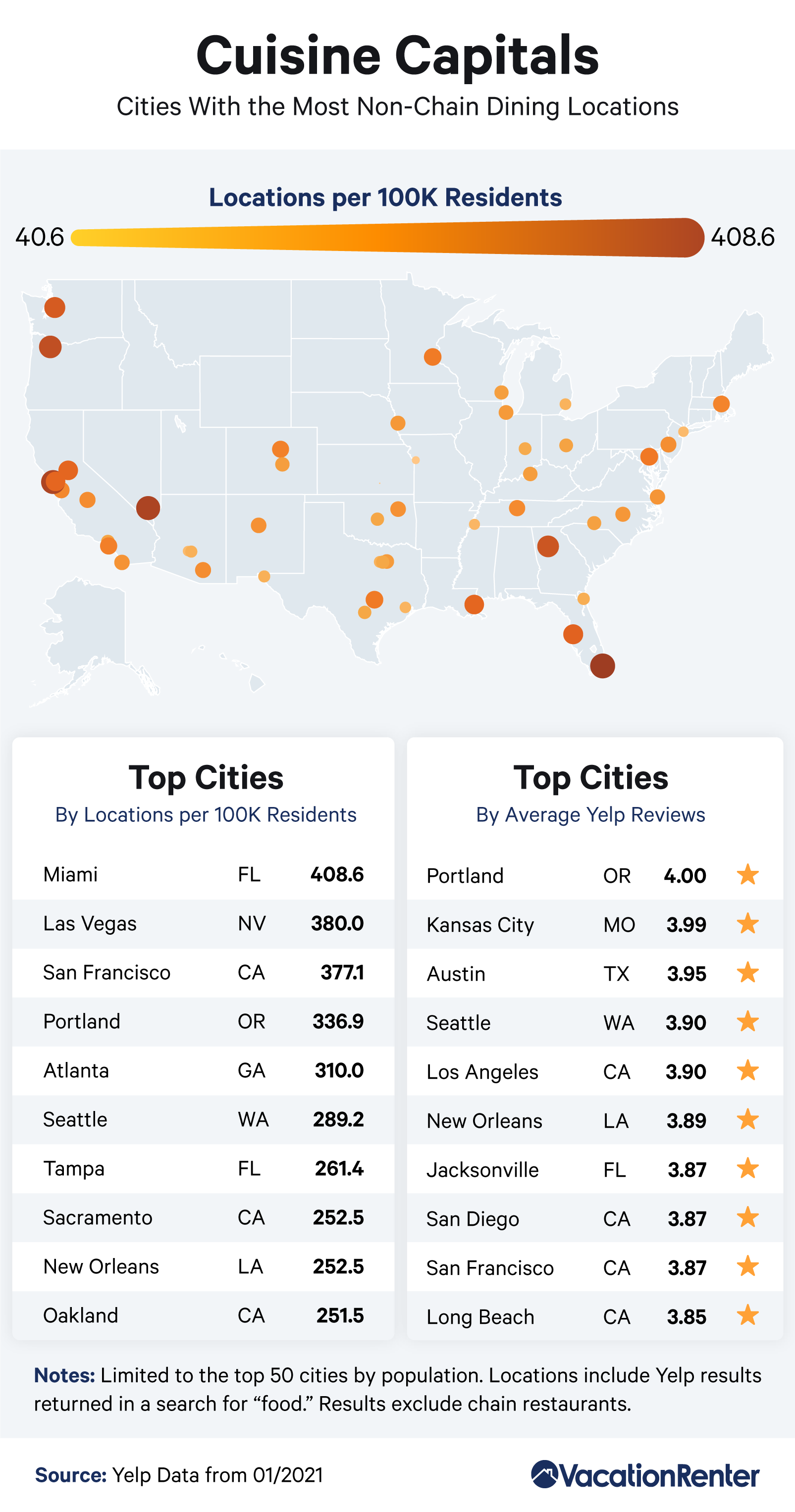 In terms of quality and caliber, Portland came in first for the best overall food ratings of any city, with an average of 4 stars. Eater Magazine recently released a list of Portland's 38 restaurants that define the city, should you find yourself in the area upon reopening. Their number one choice, Ataula, is echoed by the Yelp reviews which promise the establishment "lives up to the hype."
Culinary Destinations
One could argue food is art in its own right, but for the purposes of this study, it was separated on its own and then further broken down into specific types of cuisine. Once again, we considered the top "capitals" by the number of establishments per 100,000 residents, as well as those with the best average star ratings.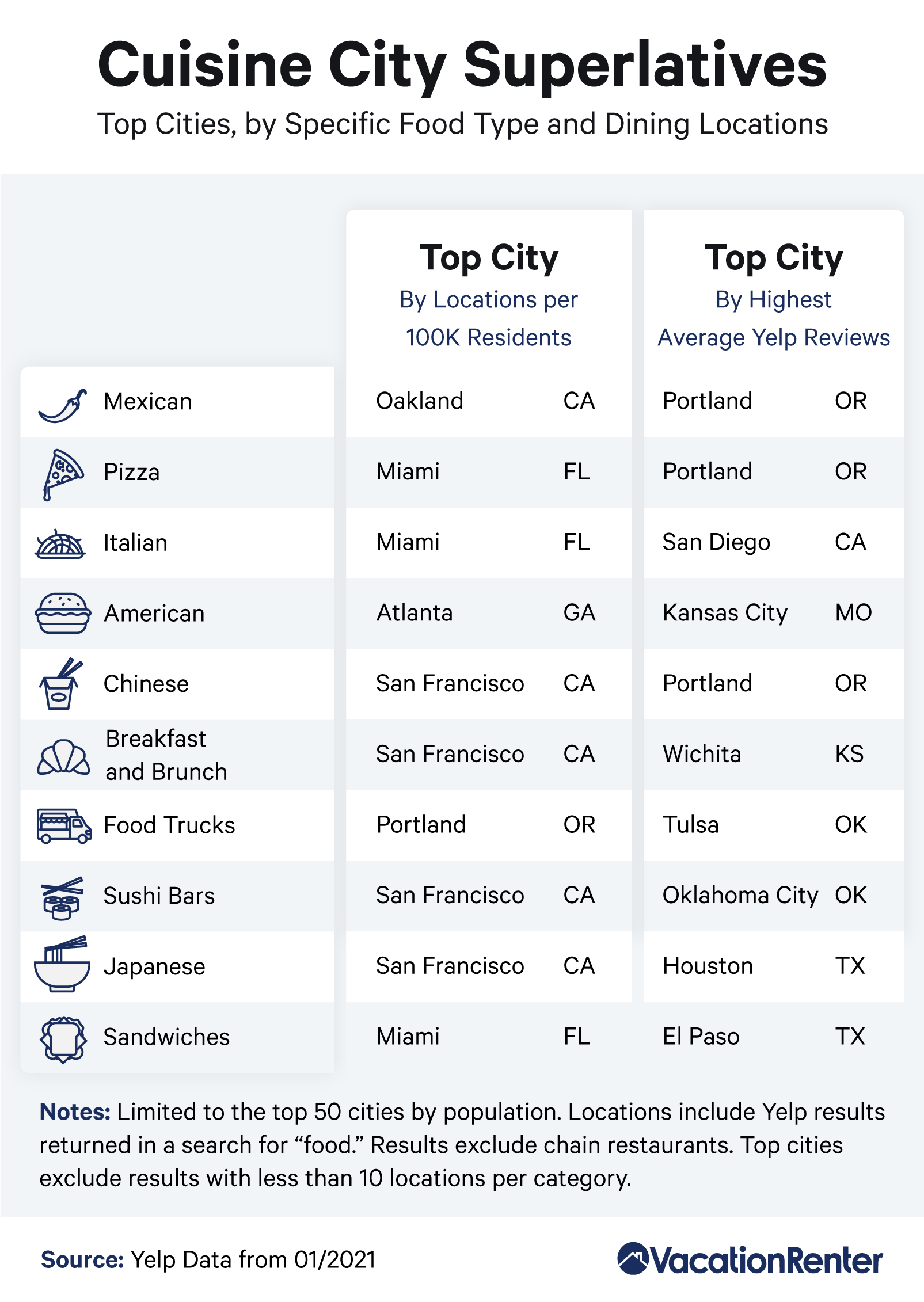 San Francisco and Miami appeared multiple times – the former for the most brunch, Japanese, and Chinese restaurants; the latter for Italian, pizza, and sandwiches. We saw an interesting trend repeated here again, where these same establishments were not the highest-rated, though they were numerous. Instead, the best-rated Italian restaurants were in San Diego, the best sandwiches in El Paso, Texas, and the best sushi bars in Oklahoma City. Food trucks, a relatively new phenomenon, were most numerous in Portland but rated the best in Tulsa, Oklahoma. 
America's Most Cultural
In order to get an increasingly holistic view of what it means to be a cultural capital, we combined the data on both food and arts in order to see which cities were ranking best for both – not just one or the other. 

Per 100,000 residents, San Francisco had the most cultural establishments. It's worth noting that this may be due in part to the fact that San Francisco ranked top 3 in both total art and food locations per 100,000 residents. That said, the diversity in art, history, and cultural locations draw many to San Francisco, alongside its very well-established and influential startup tech scene. Miami came in second in terms of total number of establishments, with Las Vegas in a very close third. 
When the data focused on star rating, however, Portland once again came out on top for all cultural establishments. Millennials have been moving to Portland at a particularly high rate, and it was comically called the place "where young people go to retire" by Portlandia, a sketch-comedy series parodying life in the city. Perhaps this younger crowd is particularly active — and critically positive — in their online reviews. 
Capitalizing on Culture
While it may be easy to define a "normal" capital as one wherein the location's governing body operates, the cultural definitions proved much more broad, according to the people. The overall number of establishments highlights a particular focus on culture, arts, and food, while star ratings showed reverence for these same factors but in different areas. 
Once the world is fully open again, we hope you look forward to enjoying these establishments and supporting local culture. If you're itching to get out there and see what some of these Yelp reviews are talking about, start with VacationRenter. We can help you find the perfect accommodation to stay in, with many offering cultural attractions of their own. To start browsing your options or book your next great stay, head to VacationRenter today. 
Methodology and Limitations
We collected data from the Yelp Fusion API for locations in the Food or Arts category from the top 50 U.S. cities by population. A sample of 1,000 related locations were returned for each location. Data were requested on April 22, 2020 and January 2021. These data were paired with 2018 population data from Census.gov. Duplicate locations were removed.

Data exclude chain restaurants (defined as restaurants with 15 or more U.S. locations), locations that fall outside city limits, and locations with categories that were deemed unrelated to arts, food, or culture. The final number of locations analyzed in this study is 99,259.
Top cities by average Yelp ratings by specific type of location exclude cities with less than 10 results per category.
No statistical testing was performed, so the claims listed above are based on means alone. As such, this content is exploratory and is presented for informational purposes only.
Fair Use Statement
Feeling proud or inspired by your city's cultural contributions? You're welcome to share this article online within your own city or any city in the world, so long as you link back to this page and make sure your purposes are noncommercial.