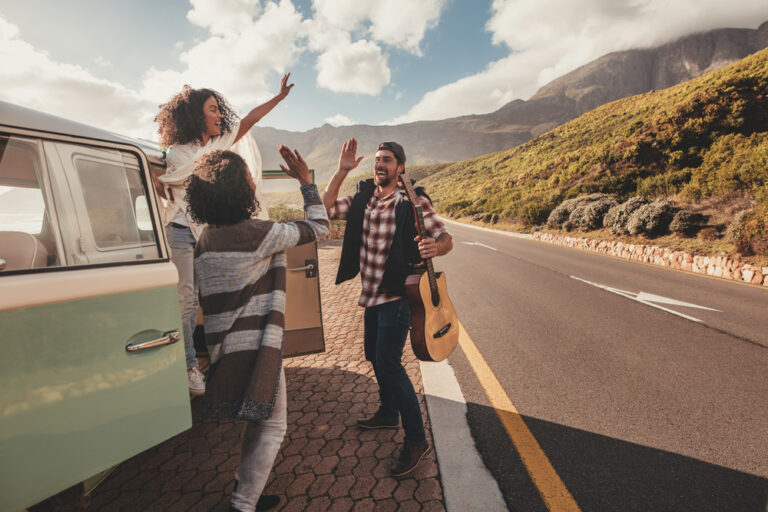 If you're reading this, you're probably as excited as we are to be approaching the light at the end of the tunnel. As travel restrictions slowly start to ease up, many people are starting to think about their summer travels. If you've been saving up your PTO days for this very moment, we're here to help you find your next destination. 
While hopping on a plane and traveling halfway across the world may still seem like a stretch, secluded staycations have caught speed as the most popular form of respite in recent months. To show our full support for this idea, we've rounded up the best U.S. cities for a secluded staycation in all 50 states. Explore the country by region below to find out if an underrated town you've never heard of is just a drive away from your home base!
Jump straight to your region of choice with these helpful links:
West Coast
The West Coast of the United States is a region that stretches from the southwestern Canadian border to northern Mexico. It only consists of three states: Washington, Oregon, and California. People flock to this coastal region year-round for the beautiful scenery, outdoor activities, and delicious food. Within these three states are our top picks for a staycation on the West Coast!
Leavenworth, Washington Staycations
Washington natives might want to consider escaping to Leavenworth for their next in-state getaway. The Bavarian-style village tucked away in the Cascade Mountains is the perfect hideout from the everyday. Leavenworth is also considered a gateway to nearby ski areas and wineries. Enter Front Street and you'll find Alpine-style buildings hosting restaurants that serve German beer. In fact, with so many German and Swiss symbols lining the streets, you might be inclined to think you really are an ocean away from the stresses of life.
The town is also sprawling with a number of spas to soothe away your troubles. Alpine Spa at Icicle Village Resort offers an afternoon of ultimate relaxation and rejuvenation. If that's not enough, you can also hit up the Spa at Post Hotel and Aspen Leaf Day Spa. 
It's worth mentioning that Icicle Gorge Trail has one of the most popular trails in the Okanogan-Wenatchee National Forest. With scenic views of Icicle Creek, Icicle Gorge, and the surrounding forest, it's ideal for families, trail runners, beginner hikers, and bird enthusiasts alike. The Wenatchee River in Waterfront Park is a habitat for ospreys and eagles. Whitewater rafting on the river will also feel like flying. You can also try out tubing with Blue Sky Outfitters, accommodating to travelers ages four and up.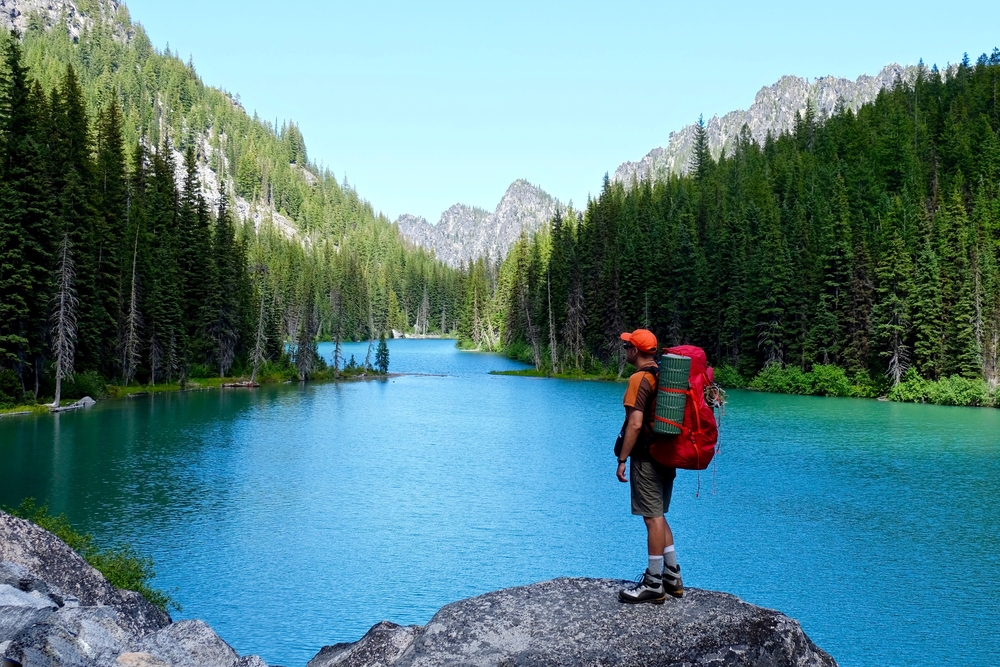 Sisters, Oregon Staycations
This year, Sisters is celebrating 75 years! The northern Oregon city is named for the trio of towering peaks to its west. It's a vibrant, artsy community with a late 1800s charm and a small-town ambience.
Year-round, you can enjoy camping and fishing in nearby Suttle Lake where there are 800 acres of family-friendly ski terrain at Hoodoo Ski Area in the winter. In the summer, you can lose yourself in the mystery of Lost Lake where every year, in the heart of Central Oregon's Cascade Mountains, the lake mysteriously drains down a hole. It fills up to capacity each winter, quickly starts to drain every spring, and transforms itself into a quiet meadow by summer.
The 79-acre lake is said to be a water haven during the rainy months, where streams and creeks run high and fast, and the mountain basin fills up like a bathtub. When the rains slow down, so do the streams, but the cycle of the lake doesn't stop there. The water recedes, pours into a seven-foot wide hole, and simply disappears.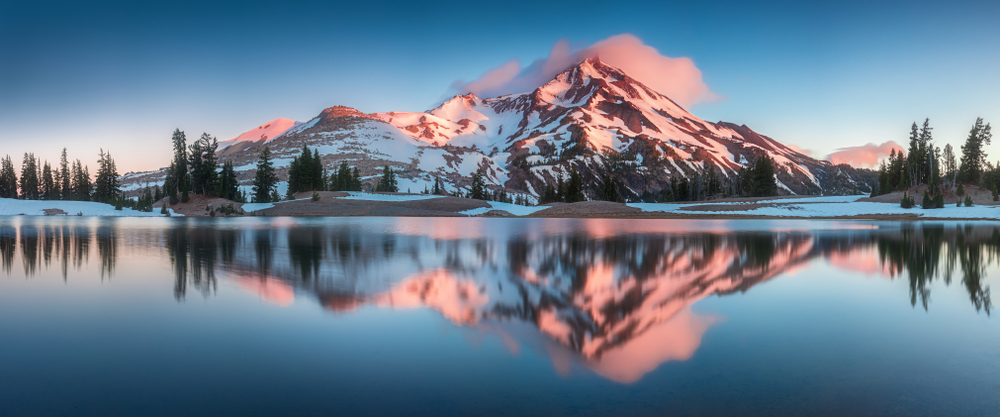 If your head is spinning in bewilderment, we recommend recouping by checking into the spa at Hop Inn, but it's not just any spa. Hop Inn has the world's first and only craft beer spa  — you read that right. Coined the "Hoppiest Place on Earth" (no kidding) the inn also has you covered for a sobering morning ritual. Their "Hop in the Cup," made of craft brewed coffee with hop-infused coffee beans, is worth making the trek out of bed. 
With that coffee-infused energy, head down to Koosah Falls. Also known as Middle Falls, it's the second of the three major waterfalls of the McKenzie River, in the heart of the Willamette National Forest. The waterfall is notable for its main drop of 64 feet that plunges into a considerable pool, south of Santiam Pass. The Koosah and Sahalie Falls Trail is a 3.5 kilometer heavily trafficked loop trail located near Cascadia that is designed for all skill levels. The trail offers a number of activity options and is best used from March until October. Dogs are also able to use this trail, but must be kept on a leash.
Santa Barbara, California Staycations
Santa Barbara is one of those cities where everything has its own harmony: the sea and mountains cohabitate in blissful accord and the valleys are an abundant blend of kaleidoscopic colors.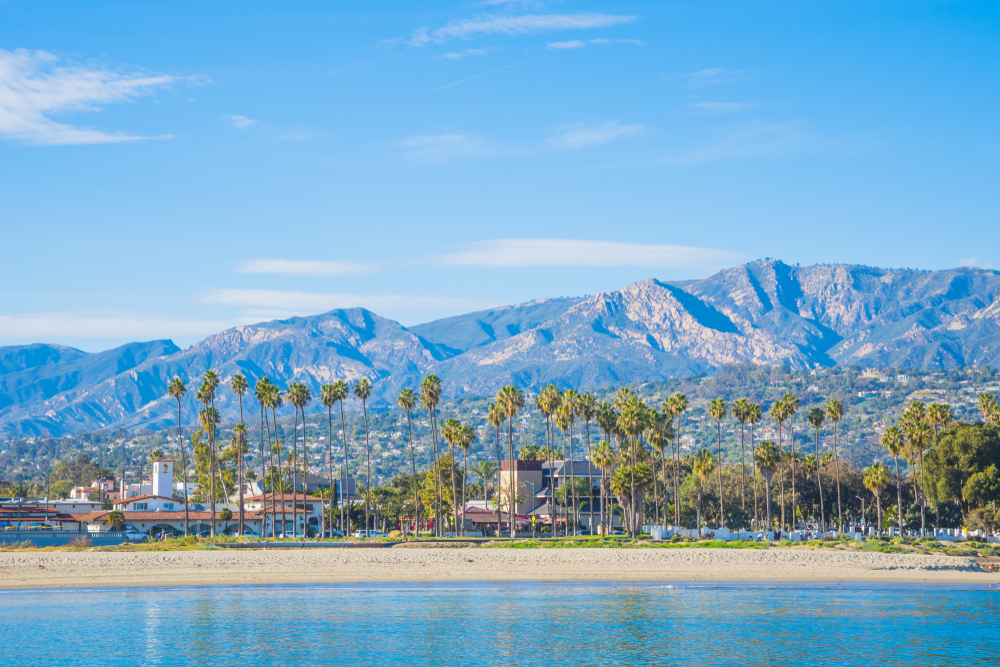 Not only does the California coast in Santa Barbara connect breathtaking beaches and soaring mountains, but some of the city's bounty borders on the botanical. The Santa Barbara Botanic Garden, for one, isn't just an open space with pretty flowers; it's a living and breathing museum where collections-based research preserves California's native plants and displays them in a beautiful setting. If you can't get enough of that flower power, flow over to Lotusland: a 37-acre botanical garden. Polish opera singer Ganna Walska spent 43 years creating the garden, and it's recognized as one of the ten best botanical gardens in the world. The spectacular collections of exotic plants are dramatic, whimsical, and home to several extraordinary plant collections.
If you happen to be bringing along a budding scientist or two — or are a curious mind yourself — you won't want to miss out on MOXI (The World Museum of Exploration and Innovation) where you can explore, play, and discover the wonders of science throughout MOXI's three floors. There are hands-on exhibits where the kids can bring ideas to life in the Innovation Workshop. The McMillan & Kenny Families Fantastic Forces Courtyard soars up three stories to the glass ceiling of the Levinson Family Sky Garden where, in limited numbers, you can have a panoramic view of the city. 
Island States
Hawaii and Alaska are the only two states made up entirely of islands. Each island state offers vastly unique experiences and incredible opportunities to explore. While both feature stunning landscapes that are sure to take your breath away, one is a tropical paradise and the other is made up of mountainous terrain that you wouldn't typically expect to find in the U.S.
Kodiak, Alaska Staycations
Alaska residents need look no further than Kodiak for their next home-away-from-home vacation. Known as the Emerald Isle, the city is set upon its namesake: Kodiak Island is Alaska's largest island and the second-largest island in the United States.

This gem of a city likes to keep company with the stars. If you're lucky, you may be able to catch the wondrous Northern Lights from Afognak Wilderness Lodge. If the sky's still the limit, consider Kingfisher Aviation Tours. Here you can experience the rugged and majestic mountains of southwestern Alaska from a floatplane, which can allow you to access otherworldly places less frequented by tourists. They do have COVID guidelines to check out before you book!
Hiking up the Pillar Mountain Trail can also calm that adventurous spirit. But the "spirits" need not end there! The Kodiak Island Brewing Company supplies a wide variety of premium craft beers. Local favorites include the award-winning Spruce Tip Wheat Wine and the Snowshoe Session IPA.
Kailua, Hawaii Staycations
Ah, Hawaii. If you're lucky to live in this state, your life must be like one never-ending vacation. Kailua is a sunny seaside town located on the eastern coast of the island of Oahu. The weather on this side of the island is said to be almost always dry and sunny and there are many white sand beaches including Kailua Beach and Lanikai Beach —  perfect for sunbathing, snorkeling, and swimming. You can kayak on the Mokulua Islands with Kailua Beach Adventures.
The Lanikai Pillbox Hike, also popularly known as the Kaiwa Ridge Trail, is one of the most picturesque Oahu hiking trails. This intermediate-level hike rises just above the gorgeous Lanikai Beach, rewarding hikers with some of the best vistas of Oahu's windward side.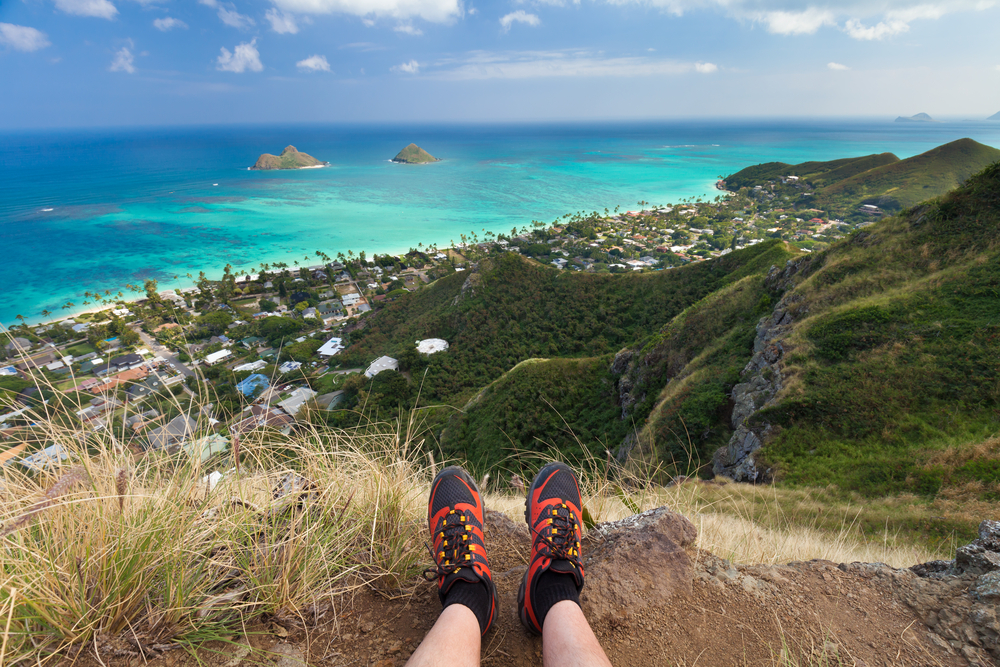 Bonus fun fact: Kailua has a reputation for being one of the more health and environmentally-conscious towns in the state.
Kailua has many eclectic residents and visitors, so you'll find a diverse food culture that includes Pacific Rim cuisine certainly, but the town is also home to some of the best Italian, American, Mexican, and Middle Eastern food. Now we're all hungry for Hawaii.
Southwest
Known for iconic depictions of the "Wild Wild West," America's Southwest states consist of Nevada, Arizona, Utah, New Mexico, and Texas. The states are often visited by nature lovers, in addition to those seeking to experience historical and scenic sites. The hot desert climate, combined with exciting cultures, makes for interesting staycation destinations.
Incline Village, Nevada Staycations
Nevada locals will feel inclined to visit Incline Village for their in-state staycation this year for a range of reasons. Not one to be underestimated, the "village" is actually one of the largest towns along Lake Tahoe amidst the Sierra Nevada Mountains. It is also home to many large mansions — no name-dropping necessary, but some belong to quite a few famous people. Mark Twain once called Lake Tahoe, "the fairest picture the whole Earth affords." 
Incline Village is home to the Diamond Peak Resort — a ski resort scene that boasts 1,840 vertical feet of skiable terrain packed into 655 acres of panoramic terrain. If you're looking for more jewels, Lake Tahoe is known as "the sapphire jewel of the Sierras" because its waters shine turquoise and majestic — especially in the summertime. You can spend the day boating, stand up paddleboarding, or kayaking Lake Tahoe's pristine waters. Take a leisurely raft down the Truckee River, or explore the Sierra Nevadas via hiking or mountain biking.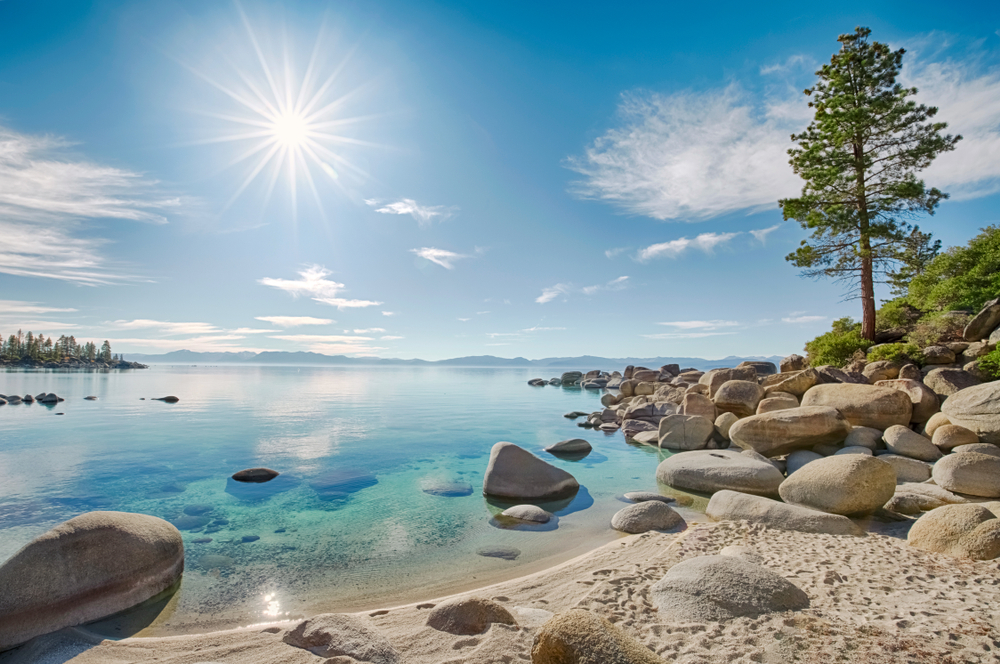 The Tahoe area is also home to several championship golf courses such as Incline Village Championship Course and North Tahoe Lions Club Disc Golf Course. But please be warned: the courses are just as challenging as they are picturesque.
Scottsdale, Arizona Staycations
The city of Scottsdale certainly has an upscale reputation. Old Town Scottsdale is internationally known for its resorts, spas, a host of fine dining, bars, lounges, art galleries, ritzy nightclubs, luxury shopping, and designer golf courses.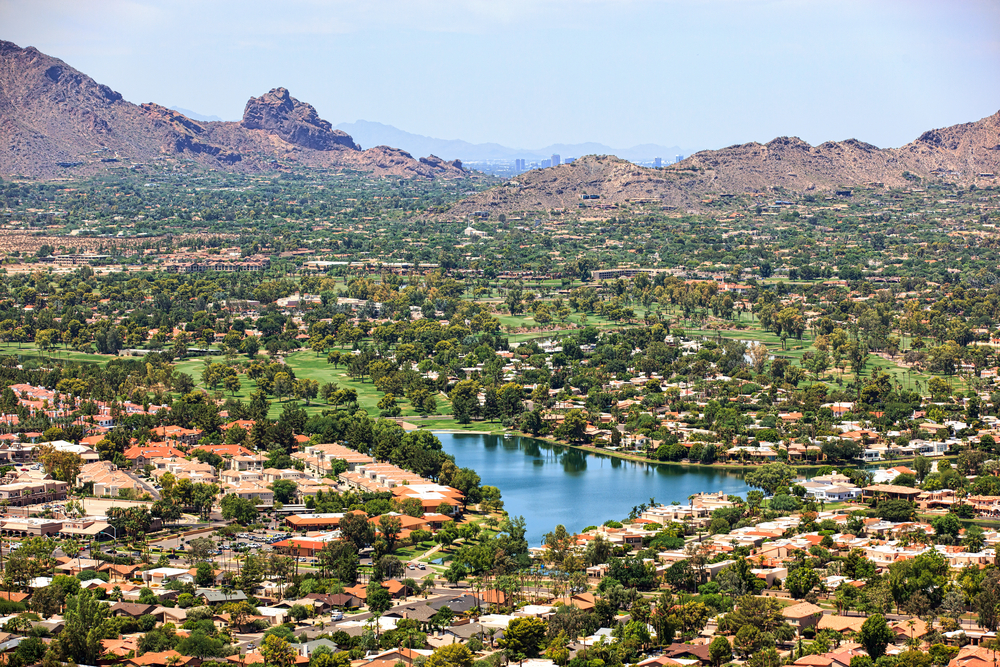 But Scottsdale isn't called the Desert City for nothing — there are also a range of rugged-style sensibilities for your pleasure. Pinnacle Peak Park has a number of rock-climbing routes where experienced rock climbers with appropriate gear are permitted to partake in a variety of routes in three areas of the park.
McDowell Sonoran Preserve is a desert habitat that includes an interconnected network of multi-use trails for hiking, biking, and horseback riding, which can be accessed from multiple trailhead locations. They do have some restricted COVID guidelines to take note of. If you still need to be convinced, taking the Sonoran Desert Jeep Tour at sunset will be enough to make you want to hit the road to Scottsdale. 
Moab, Utah Staycations
Moab, Utah is a city that likes to rock and roll. The city is a portal to massive red rock formations in Arches National Park. The Southwest Canyonlands National Park features mesas and buttes carved by the Green and Colorado rivers, and has many depictions of Native American rock art.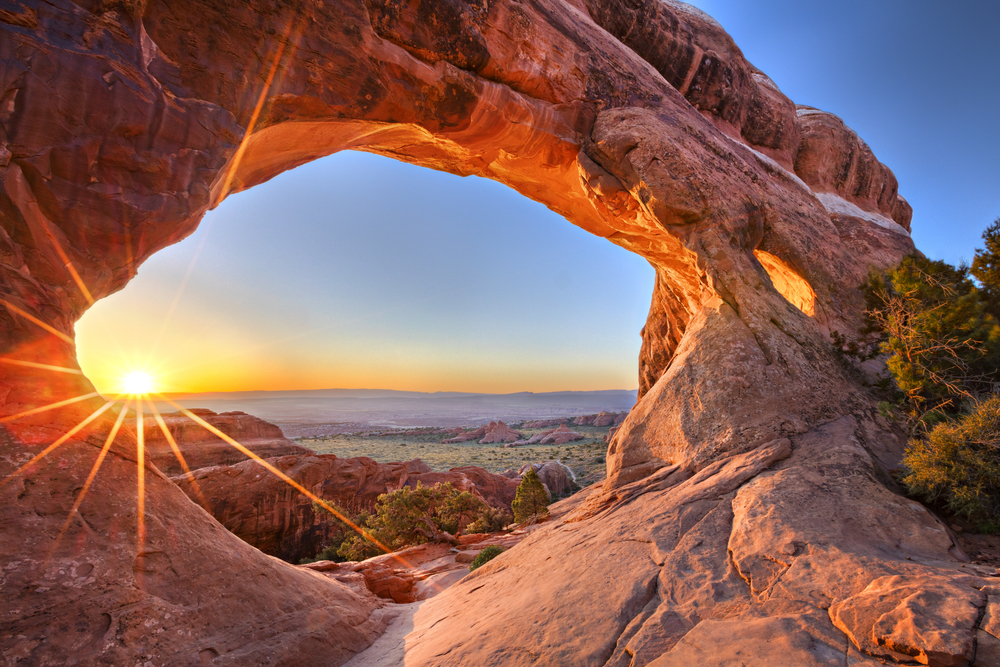 Turns out a certain class of Mesozoic reptiles used to rock close to Moab millions of years ago, too. Dinosaur tracks can be found at sites like Bull Canyon Overlook and Copper Ridge. In the city, collections at the Museum of Moab include dinosaur bones and archaeological artifacts.
If you want to make your own tracks, try cruising off the beaten path at ATV Hell's Revenge Safari Route. UTVs will take you down Hell's Revenge Trail on a 2.5-hour off-road adventure in Moab. Don't worry, an experienced guide won't leave you hanging. You can navigate a Kawasaki Teryx 4 — a 4×4 vehicle equipped for traversing sandstone domes and slick rock ledges. You'll have the thrill of steep climbs and descents with views of the La Sal Mountains, Abyss Canyon, and the Colorado River. Some words of warning: you will need to have the ability to hike a short distance on uneven rocky terrain.
Las Cruces, New Mexico Staycations
Located about four hours south of Albuquerque on Interstate 25, Las Cruces sits just north of the United States and Mexico border. The city is a fertile agricultural region along the Rio Grande, surrounded by the Organ Mountains. Las Cruces is also the former stomping grounds of infamous outlaw Billy the Kid.
You can make some tracks to White Sands National Park where the world's largest gypsum dunefield engulfs 275 miles of desert. The glistening white sands of New Mexico rise out from the heart of Tularosa Basin and is considered one of the world's great natural wonders. White Sands National Park preserves a major portion of this unique dunefield, including the plants and animals that live here.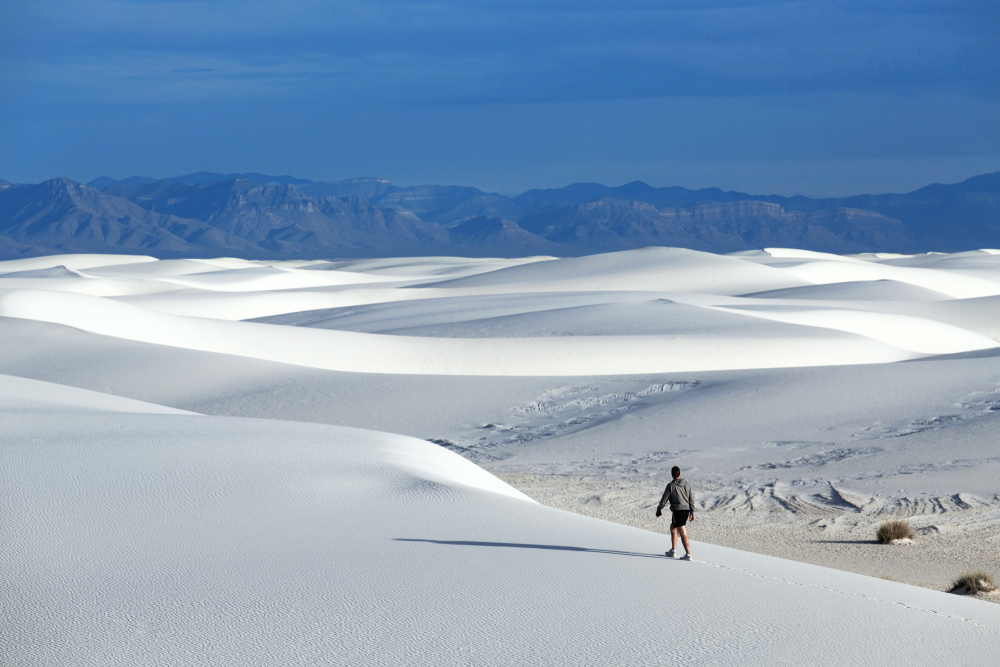 You can also make your way to the nearby historic and picturesque town of Mesilla to see the thick-walled Adobe building that once protected the residents against Apache attacks. Today there are art galleries, restaurants, museums, and gift shops. The village actually looks a lot like it did a century ago and visitors can walk the plaza and feel how life might have been in the 1920s. Mesilla Valley Bosque State Park is also a picturesque place to hike on one of their self-guided nature trails.
Amarillo, Texas Staycations
There are many reasons to admire Amarillo for its artistic beauty. The city has many Art Deco and Spanish Revival buildings to see. It is also a stop along U.S. Route 66 — one of the original highways in the country — and Sixth Street is a hub full of artsy fine dining and antique shopping. The Cadillac Ranch boasts an artistic attraction of its own kind. The ranch specializes in showcasing installations of graffiti-decorated cars that are partly buried in a field.
But Amarillo has plenty of rugged good looks that are just as staggering. The city is a gateway to the vast, trail-lined Palo Duro Canyon State Park. The second largest canyon, which lies in the heart of the Texan panhandle, can be explored on foot, mountain bike, horse, or car. There are no less than 30 miles of hiking, biking, and equestrian trails to suit your style. You can also camp, geocache, study nature, or bird watch to your pleasure.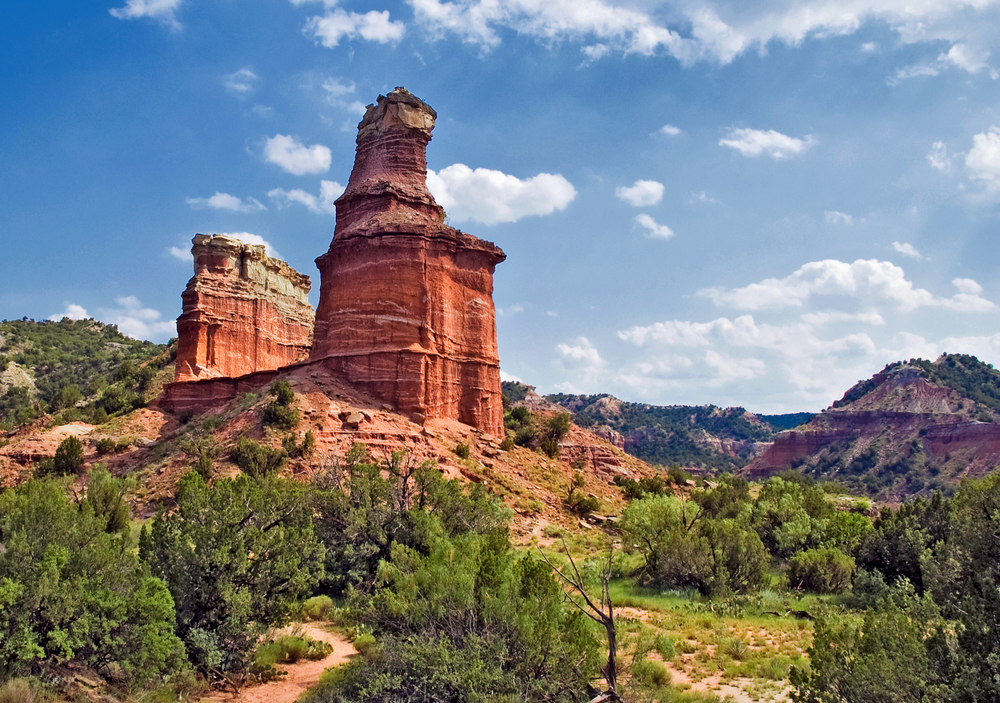 The Amarillo Botanical Gardens are breathtaking in their own right. The grounds symbolize the beautiful story of how the center grew from a small garden club in 1929 to an "Oasis on the Plains" that attracts visitors from all over the world. Native flora at the gardens are showcased over four acres of seasonal gardens and it is also home to an indoor tropical conservatory.
Rocky Mountains
America's Rocky Mountain states include Idaho, Montana, Colorado, and Wyoming. All four of these U.S. states are home to beautiful sunrise and sunset views along the mountain range, majestic pine trees, and some of the country's best national parks — well-worthy of a road trip!
Stanley, Idaho Staycations
Stanley, Idaho is an exquisite nugget of a mountain town that has a population of less than 100 people. The town lies at the foot of the majestic Sawtooth Mountains along the banks of the Salmon River. This truly one-of-a-kind western town has a skyline of jagged mountain peaks all around. The New York Times aptly describes Stanley as "Your Own Private Idaho."
The area is home to world-class climbing, hiking, fishing, camping, horseback riding, boating, and backcountry skiing in the winter. An outdoor lover's paradise, the town is full of natural hot springs. The Boat Box Hot Springs is said to be one of those places that you could miss completely unless you knew it was there and no wonder — it's located on the side of the river and surrounded by trees and a valley all around.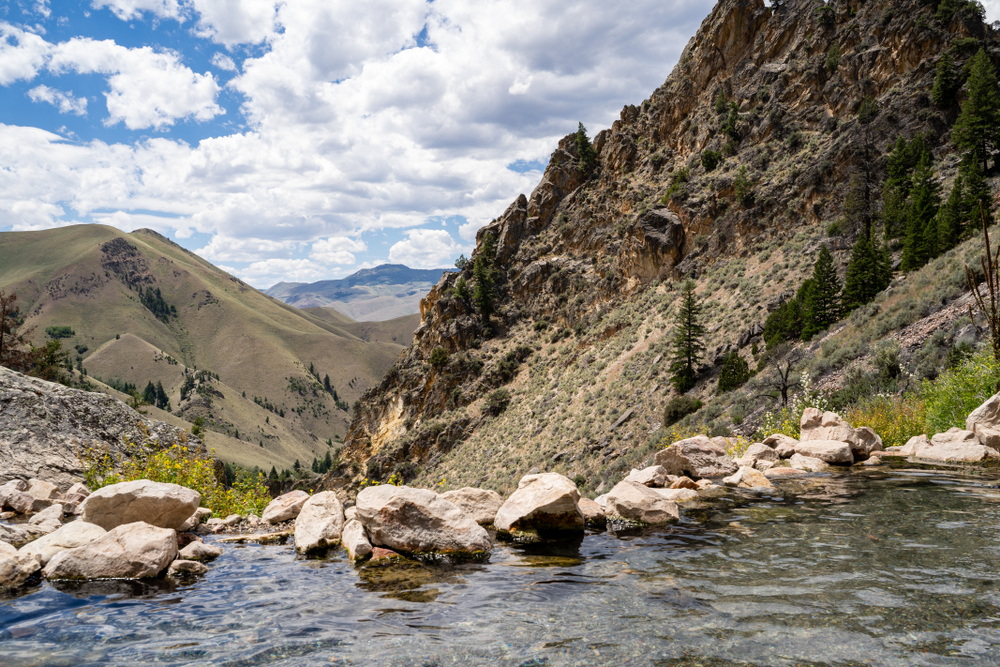 The town might be small, but there are enough restaurants to go around including The Rustic Lounge, Mountain Village Resort Restaurant & Saloon, and the Pot Belly Stove Cafe, known for their fall-off-the-bone BBQ ribs and juicy prime rib.
Whitefish, Montana Staycations
Those from Montana are most fortunate to have a mountain resort town in their midst. Named as one of the "Top 25 Ski Towns in the World" by National Geographic, Whitefish is a hideaway that likes to lay low at the base of the Rocky Mountains on the shores of Whitefish Lake.
Considered a gateway to the jagged peaks, lakes, and glacier-carved valleys of Glacier National Park — perfect for serious hikers — there's a lot you can do during the summer months. There are mountain-bike trails that wind downhill at Whitefish Mountain Resort and you can rent a bike at Glacier Cyclery. There's City Beach, located near the lake's outflow, plus boat launches and picnic areas at Whitefish Lake State Park.
Glacier National Park is speckled with an array of ships, restaurants, and coffeehouses. It's no secret that coffee culture is a serious business in Montana.  Montana Coffee Traders roasts their own beans, making it a highlight of the Whitefish downtown scene and their Whitefish roasting headquarters offers tours.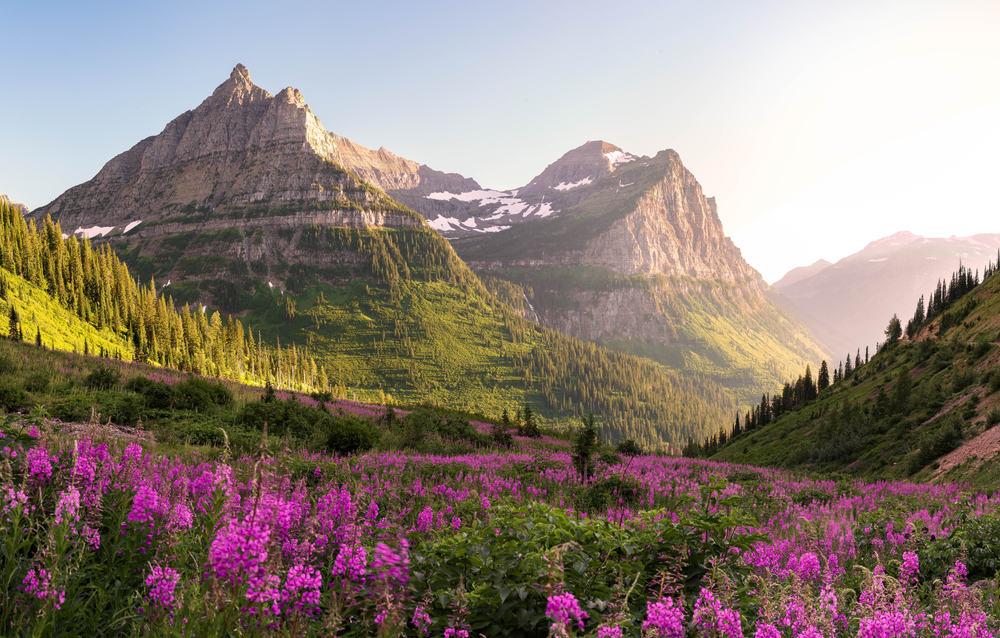 Speaking of brewing: Backslope Brewing is a refreshing way to unwind after hitting the trails. We highlu recommend their award-winning Crooked Wind IPA. This popular spot is also recognized for its food made from locally sourced products, just be careful — their fried chicken sandwich is hot!
Pagosa Springs, Colorado Staycations
If you live in Colorado, Pagosa Springs should be high up on your list for a string of reasons. Hot air balloon rides at Rocky Mountain Balloon Adventures or Wilderness Journeys Pagosa, Inc. are perfect to peacefully float away while taking in the expansive views — how's that for social distancing?
If peacefully floating away sounds heavenly, you might also want to indulge at a number of the city's hot spring spas including The Springs Resort & Spa, the Healing Waters Resort & Spa, and The Overlook Hot Springs Spa, where you'll instantly feel yourself drifting away.
There's also an outpouring of waterfalls in the area: Piedra Falls, Silver Falls, and Treasure Falls are all worth the individual hikes to get to each site. Flow in the direction of the craft breweries which include the Riff Raff Brewing Company and the award-winning Pagosa Brewing & Grill.
Thermopolis, Wyoming Staycations
If you're from Wyoming, Thermopolis is your state's most underrated hotspot. The town is home to the world's largest mineral hot springs, which happens to be Hot Springs State Park. You can submerge yourself at the park's Free Bath House where the 104-degree water will soothe away any aches and pains. Hot water also cascades down the colorful Rainbow Terraces along the Big Horn River at a rate of 8,000 gallons per day which you can take in from the Swinging Bridge.
Wind your way to Wind River Canyon, a scenic Wyoming canyon on the Wind River and on the Wind River Indian Reservation which is located between Thermopolis and the town of Shoshoni — a popular stop for visitors to Yellowstone National Park. You can also choose your own adventure with guided whitewater rafting and guided fly fishing trips at the canyon. It'll be quite a trip!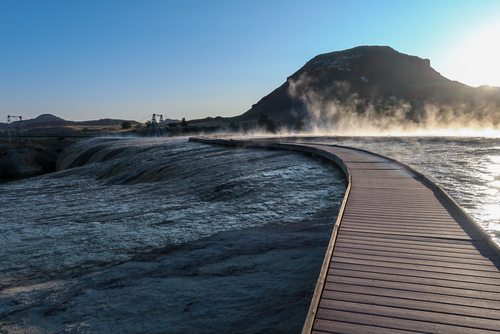 Great Plains
The Great Plains of the United States are a large, sweeping expanse of prairie land in North America. This region of the United States is steeped with historical landmarks, including Mount Rushmore. Keep reading below to learn more about the Great Plains region and where to go for your next local adventure!
Tulsa, Oklahoma Staycations
Oklahoma's very own Tulsa has a very cool cultural vibe. For starters, the Blue Dome Entertainment District offers a culinary utopia of restaurants. There are also a host of bars and unique boutiques to wade through. The city boasts an impressive amount of art deco architecture: Decopolis Tulsa Art Deco Museum is made up of two quaint museums (one downtown and one on Route 66) in historic buildings featuring art deco exhibits, a cafe, and a 1920s-themed gift shop. The Philbrook Museum of Art is a global collection of fine and decorative art in an ornate Italian Renaissance-style mansion and garden.
Tulsa is touted as a city rich in musical history. Take some notes at The Woody Guthrie Center. Most people know Woody as the artist who wrote "This Land is Your Land," but Guthrie was an influencer of both art and activism who wrote more than 3,000 songs in his lifetime — although few were ever recorded. See his archive of work, including more than 100 notebooks, correspondence, and many other documents that show his mission to speak for the disenfranchised.
The Gathering Place Riverfront Park, voted as the Best New Attraction of 2019 in USA Today, has enough attractions, sports and wellness activities, commissioned art masterpieces, and dining spots to keep the whole family entertained for hours on end. If you have any leftover energy, wade over to Oklahoma Aquarium. The state itself might be landlocked, but it certainly isn't lacking in aquatic resources and wildlife. In the "Aquatic Oklahoma" gallery, you can learn about noodling, feed their smaller turtles, and pay a house call to an alligator snapping turtle that is older than Oklahoma itself.
Rapid City, South Dakota Staycations
Rapid City is often referred to as the "City of Presidents" and is famous for being the gateway to Mount Rushmore — the massive iconic sculpture of four U.S. presidents. The Mt. Rushmore National Memorial, technically in the city of Keystone an hour away from Rapid City, has the figures of George Washington, Thomas Jefferson, Theodore Roosevelt, and Abraham Lincoln, surrounded by the beauty of the Black Hills of South Dakota. A series of life-size presidential statues also span across several blocks in the city's downtown.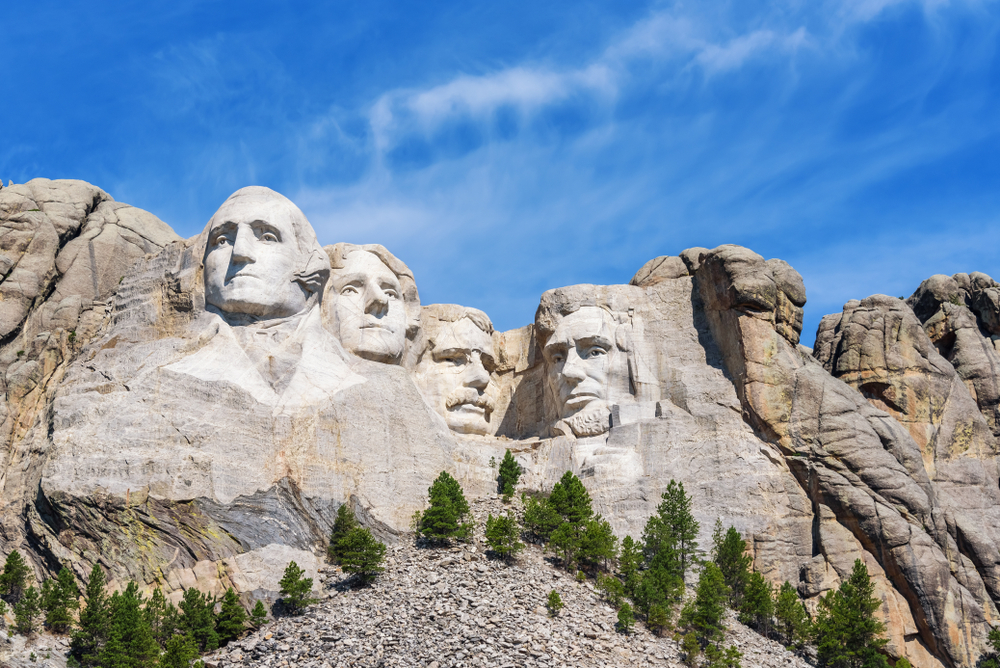 This understated city in South Dakota has a lot to offer, and on a grand scale, no less. Currently in progress, Crazy Horse is the world's largest mountain carving located in the Black Hills of South Dakota and is considered The Eighth Wonder of the World. You can also see a large section of the infamous Berlin Wall and two tank traps on display in Memorial Park.
If you're wound up from all the wonders, take it easy in Canyon Lake Park. The relaxed park area features a lake with ducks and geese, picnic areas, a toddler playground, and a gazebo. You can also head over to Firehouse Wine Cellars. Their tasting room and working winery in the historic downtown part of the city houses internationally awarded wine and they have a variety of wine styles from long oak-aged reds to crisp whites not to mention dessert styles.
Dickinson, North Dakota Staycations
Speaking of former presidents, Theodore Roosevelt National Park in Dickinson, North Dakota is the only American national park named directly after a single person. The park — known for its Maah Daah Hey Trail and the Badlands Overlook — are but twp places to explore in the city that is a playground for hiking, biking, equestrian trails, entertainment, and shopping for North Dakota locals looking to holiday in their home state.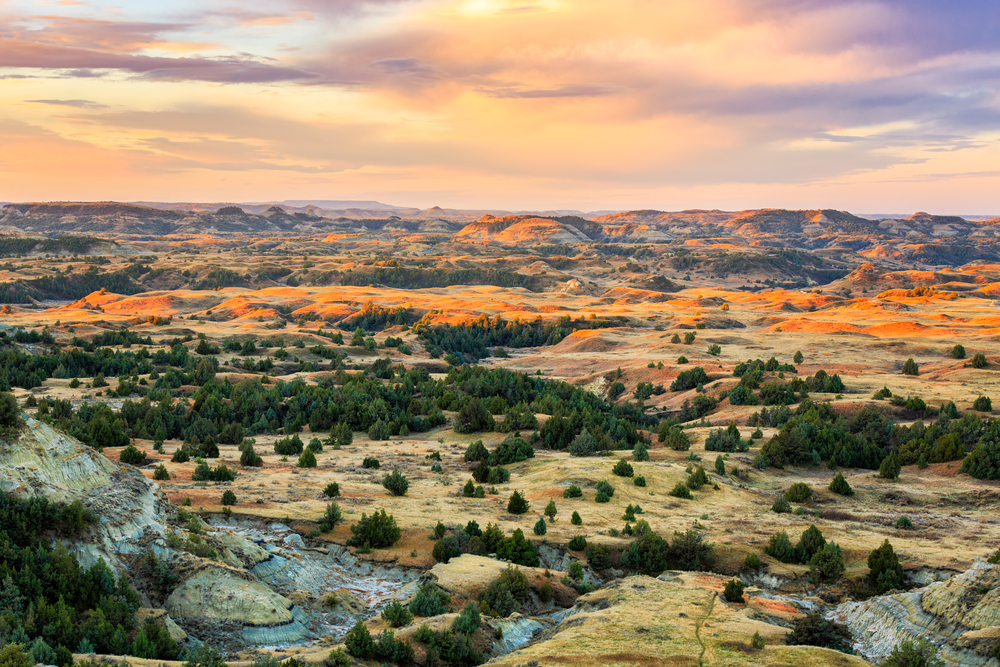 If you're headed to the southwestern part of the state because of a penchant for the Wild, Wild, West — the Custer Trail Auto Tour, south of nearby Medora, won't disappoint. The tour promises to set the stage for conflict amid gold rushes, homesteads, and railroads. The auto tour is divided into two segments that provide access to portions of "Sully's Battle of the Badlands Trail" and "Custer Historic Trail." The entire tour, which goes on for roughly 80 miles, can be driven in a single day, but they recommend taking 2 to 3 days to truly immerse yourself in the area. A word to the wise: it's easy to get lost in the Badlands, so watch for the directional signs that will keep you on track.
When you're done with the auto tour, ride off into the sunset on an off-road ATV tour, which is also in Medora. The badlands and grasslands offer a rugged ride amid breathtaking scenery over one million acres of public land where there's lots of prairie flora and wildlife viewing. Campgrounds are available after you enjoy the road less traveled.
Topeka, Kansas Staycations
Located in the majestic Flint Hills region of Kansas, the city of Topeka played a major role in American history, from the movement to abolish slavery to the integration of public schools. The city offers historical attractions such as the Kansas Museum of History and the Old Prairie Town at Ward-Meade Historic Site. Located on the Oregon Trail in Topeka, the six-acre historic site includes the Ward-Meade Botanical Garden and preserves the family history of one of the earliest settlers in the area.
But it's not all about the past in Topeka! The city offers a plethora of unique pop culture, including the Evel Knievel Museum and Truckhenge — six antique trucks jutting out of the ground, reminiscent of England's Stonehenge. Everything found in Truckhenge is the work of one artist: Ron Lessman, whose family has been farming the land since the 1870s.
If you're looking for some old-fashioned family-style fun for the kids, Gage Park offers a ride on the historic mini-train or carousel, a trip to the zoo, and swimming at Blaisdell Family Aquatic Center. The 160-acre park is home to a two-mile fitness loop trail, Helen Hocker Theater, and the Kansas Children's Discovery Center.
Omaha, Nebraska Staycations
Omaha offers the perfect opportunity for Nebraskans looking to opt out of their routine for a few days. The city — situated on the Missouri River — is the birth site of civil rights leader Malcom X. There is even a 14-acre memorial center open to the public.
History buffs and culture connoisseurs will get a kick out of The Lewis & Clark National Historic Trail, known for its museum and cultural centers. Additionally, the Joslyn Art Museum is known as the principal fine arts museum in the whole state of Nebraska. Tours are available (currently in limited numbers of 30) at Joslyn Castle — a Scottish Baronial mansion in the heart of Midtown Omaha that has been enchanting visitors since the doors first opened in 1903.
Walk or bike on the Bob Kerrey Pedestrian Bridge, on the border of Nebraska and Iowa. The 3,000-foot long walkway stretches across the Missouri River and gives pedestrians a spectacular view of Omaha's skyline. The bridge happens to be connected to more than 150 miles of nature trails.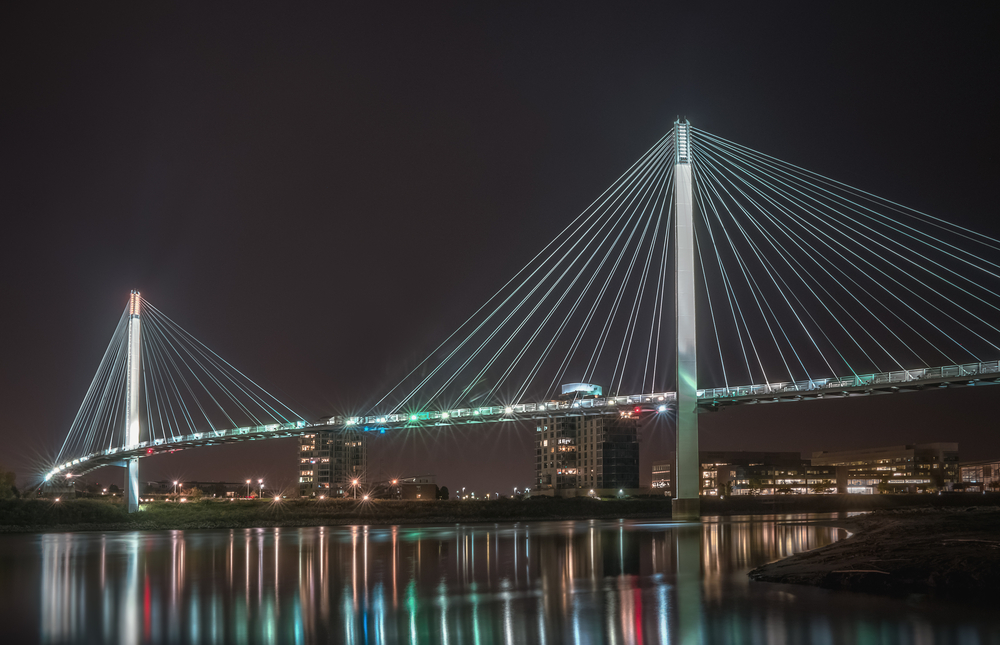 Food is the best way to get to know a city and the Omaha Culinary Tours will give foodies a great experience. They offer tours, classes, and events to please many different palettes.
Here's another tour that will tip your interest: Omaha Craft Brewery Tour which explores nine — yes, nine! — different local breweries. Whether you want the light zest of a cold ale, the mild flavor of a frosty lager, or the heavy malt taste of a dark stout, Omaha is recognized as one of the country's top beer cities. Enjoy a variety of creative concoctions by skilled craftsmen for whom beer is believed to be a personal calling.
Midwest
In the Midwest, you'll find Iowa, Minnesota, Missouri, Illinois, Wisconsin, Michigan, Indiana, and Ohio. A road trip through this part of the country will take you through hundreds of miles of scenic landscapes, parks filled with wildlife, and small-town communities with a laid-back, slower-paced life compared to other parts of the United States — making it the perfect region to enjoy a staycation.
Decorah, Iowa Staycations
Part of the fun that comes from living in a state like Iowa is discovering hidden gems and secrets that only locals know. Exceptionally proud of its Norwegian heritage, the northeastern town of Decorah promises many a diamond-in-the-rough waiting to be discovered by its fellow Iowa residents.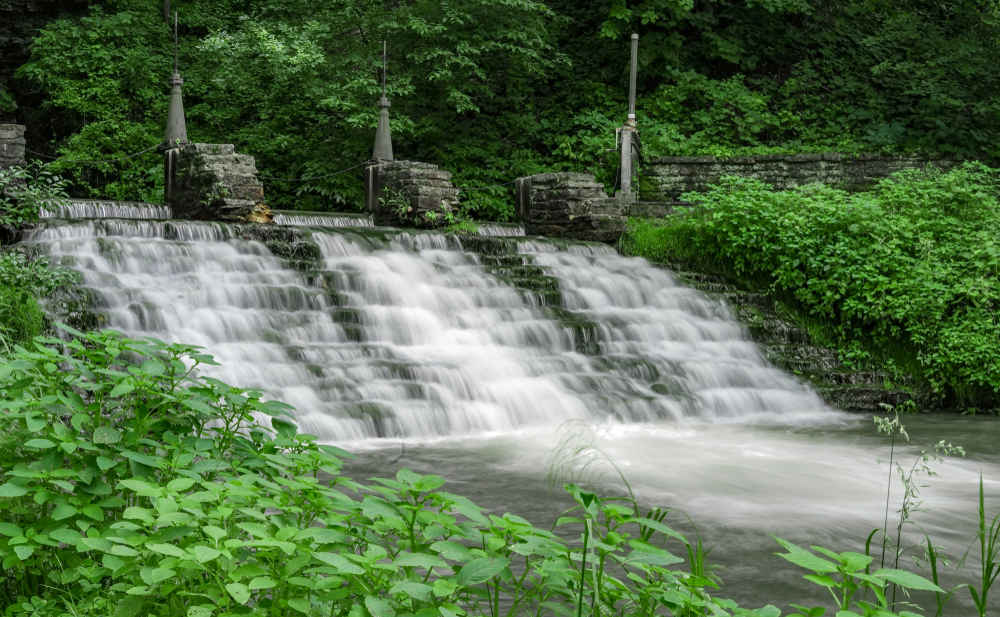 The beautiful, cascading falls of Dunnings Spring Park is one wonder that's hiding in plain sight. Close by is the Decorah Ice Cave State Preserve, containing one of the largest caverns with ice in the Midwest, and is famed for its rare ice deposits — the cave itself was formed in 450-million-year-old limestone and dolomite.
Another noteworthy Decorah landmark is The World's Smallest Church, built in 1885 and constructed of stones quarried at Snake Hollow. It might not be in active service anymore, but is maintained and looked after religiously (pun intended) by a local family and open year-round.
Lutsen, Minnesota Staycations
You don't have to leave Minnesota in order to lose yourself because the town of Lutsen is the landscape-filled escape you've been dreaming about. There's the Lutsen Mountains Ski & Summer Resort, for example, where you can take the Summit Express Gondola. We can bet that you won't find a better vantage point to view the Sawtooth Mountains and Lake Superior's dramatic coastline. This aerial gondola is one of the area's most popular attractions, which will take you on a scenic ride to the top of Moose Mountain, 1,000 feet above Lake Superior.
If you can't get enough of that mountain air, try Oberg Mountain, offering wonderful views of Lake Superior, Oberg Lake, and Moose Mountain. There are steep cliffs at the top, so it's best to take caution bringing small children along.
Once you come down that mountain, you'll need to soothe those aching muscles. Take the weight of the world off at Woodlands Spa at Caribou Highlands nestled away in the woods, with a relaxing massage or body treatment. You can also chill out in their hot tub, or the indoor and outdoor pools, while enjoying a spectacular view of Moose Mountain. You'll be sad to say "so long" to Lutsen, so we suggest taking home some wine from North Shore Winery as a sweet parting gift to yourself.
Lake of the Ozarks, Missouri Staycations
The Ozarks in Missouri were on the map long before the Bydres moved there in the Netflix drama, Ozark. Located in the heart of the state, Lake of the Ozarks is considered the Midwest's premier lake resort destination. The region is as lively or laid back as you want to be.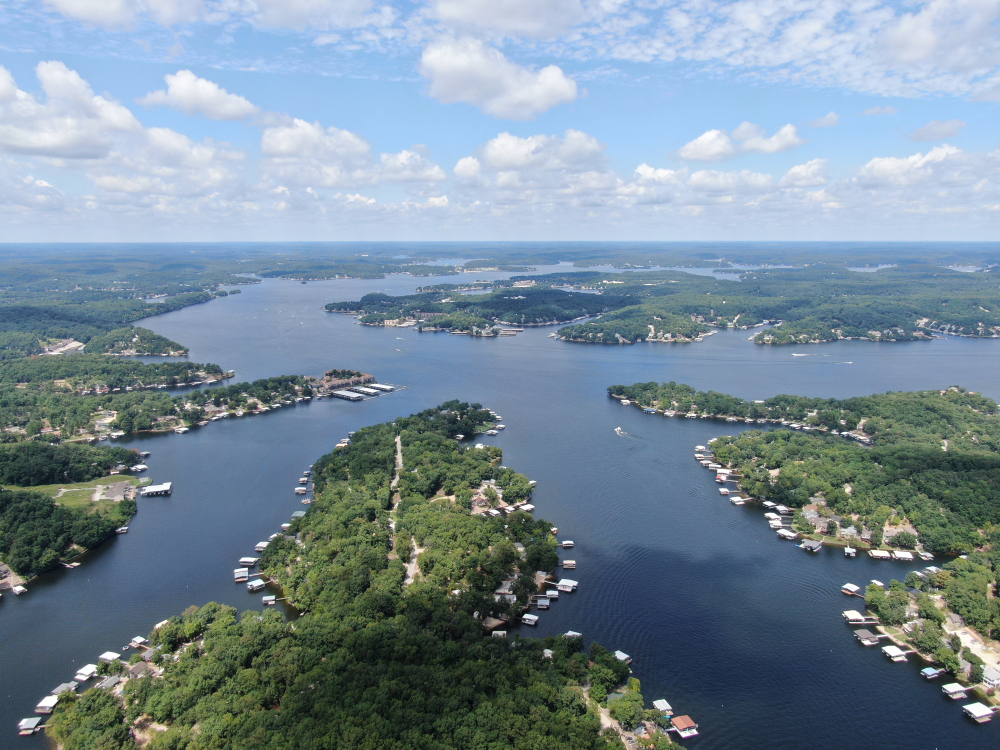 Choose from outdoor options such as world-class boating, golfing, and fishing. Big Surf Waterpark is the biggest family-fun destination in the Ozarks. At Ha Ha Tonka State Park, you'll find plenty of trails and boardwalks — not to mention a historic castle and a few geological wonders.
The Bridal Cave is pledged to the history and legends of the Osage Native Americans where, within the Osage tribe, many smaller tribes were formed. Millions of years of struggle between water and rock have created this cavern with more onyx formations than any other known cavern. There's also Jacob's Cave, famous for its depth illusion, reflective pools, and prehistoric bones. The mile-long tour promises every type of cave formation imaginable.
Galena, Illinois Staycations
The small town of Galena is the picture-perfect choice for your next in-state vacation in Illinois. Located in the northwest part of the state, Galena has a galore of scenic views from hilly landscapes, church steeples popping out over tree lines, and a picture of rivers and lakes in the distance to welcome you with open arms to Galena Country.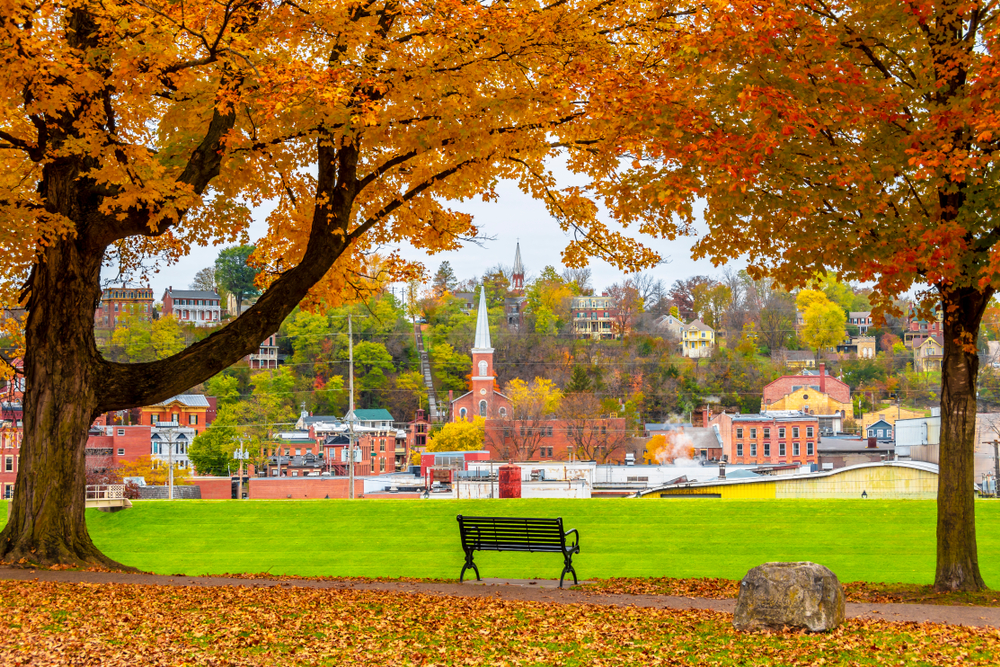 One such welcoming feature happens to be the home of a former President himself. Ulysses S. Grant Home was the home of Ulysses S. Grant, the Civil War general and later 18th President of the United States.
At Chestnut Mountain Resort, you'll have no shortage of activities in the warmer months. You can take a thrill ride down the Alpine Slide, cruise the Mississippi River, get your adrenaline going on the Soaring Eagle zip line, or ride a Segway through the scenic Chestnut hills. Go for a ride on the resort's trails or enjoy a 9-hole disc golf course!
If you're looking for the outdoor equivalent of a museum or gallery because you don't want to be stuck indoors, the West Street Sculpture Park offers all kinds of curious creations and is a fun alternative to explore. The park contains large welded sculptures from local artist John Martinson, a steel-infused man-made contrast to nature.
Sheboygan, Wisconsin Staycations
The city of Sheboygan is clocked as a freshwater haven, an outdoor lover's playground, and often called a fisherman's glory. No wonder, the city Lake Michigan is bordered to the east by Lake Michigan and filled from the north to the south with accessible fishing holes and lakes.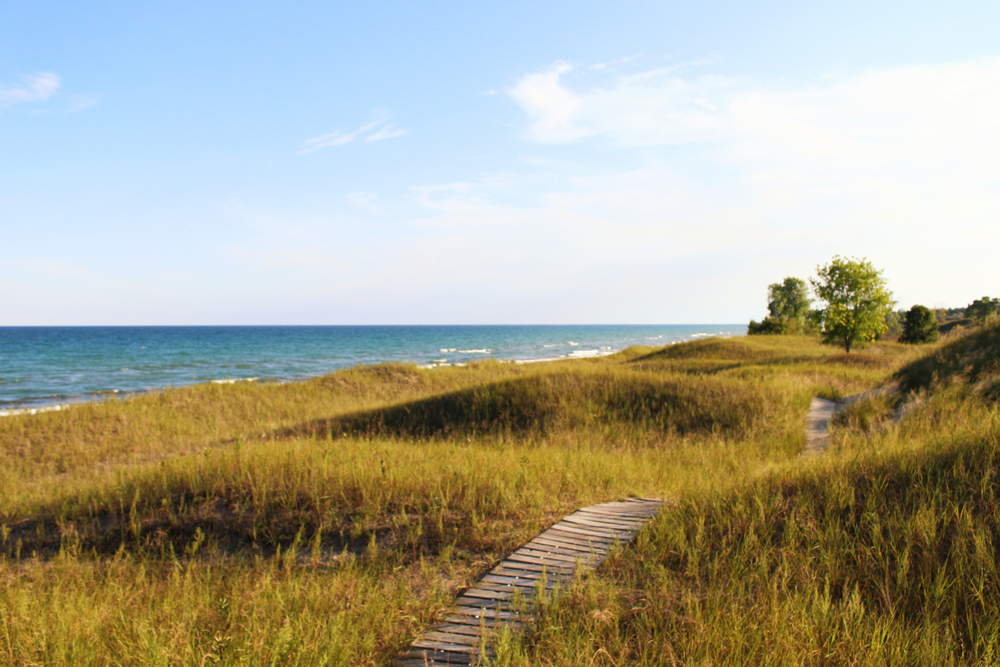 Bookworm Gardens is one place in town that will reel you in. You'll lose yourself in the whimsical botanical garden that has sections of it inspired by popular children's books. You might even feel nostalgic as you engage in the nooks and crannies of all the story-themed exhibits.
James Tellen Woodland Sculpture Garden is another garden that will transport you into another world. From 1942 until his death in 1957, artist James A. Tellen created over 30 historic, religious, and mythic figures within the woods surrounding his family's summer cottage in the Black River area of the city. You'll find a collection of both life-size and miniature stone characters using the natural environment as a kind of ready-made stage set. Together, they take on a magical relationship with their natural surroundings.
Speaking of surroundings, Kohler-Andrae State Park is one of the last natural preserves along the Lake Michigan shore. Encompassing stunning sand dunes and a beautiful beach surrounded by the lake, the park is also home to a variety of flora and fauna such as white tailed deer scampering around the dunes.
Saugatuck, Michigan Staycations
With its sugar sand beaches and sparkling waters, the coastal town of Saugatuck is the most delectable summer spot in Michigan. After you drink in the sight of the sunset and splashing waves, quench any leftover thirst with some local wine samples at Fenn Valley Vineyards Saugatuck Tasting Room, where they do wine demonstrations and have dishes like beef bourguignon over polenta as but one speciality to suit your palette.
Recognized as one of the top five art towns in America, you can feed the artist in you by strolling through galleries such as OxBow or LaFontsee. The 2021 season at the Saugatuck Center for the Arts is going to be an exciting and unique experience, and can be taken in from the open air under the stars on their new outdoor stage. The array of shows featured this year promise to open your mind, eyes, ears, and heart.
If you're looking to satisfy your hunger for nature, find your way to Saugatuck Dunes State Park, where you can explore the park using hand-curated trail maps. Along a secluded strip of Lake Michigan, Saugatuck Dunes State Park offers shoreline and huge dunes. If you are coming to hike, be prepared to hike along sandy paths and across rolling terrain. Keep your eye out for birds and endangered plant species, too.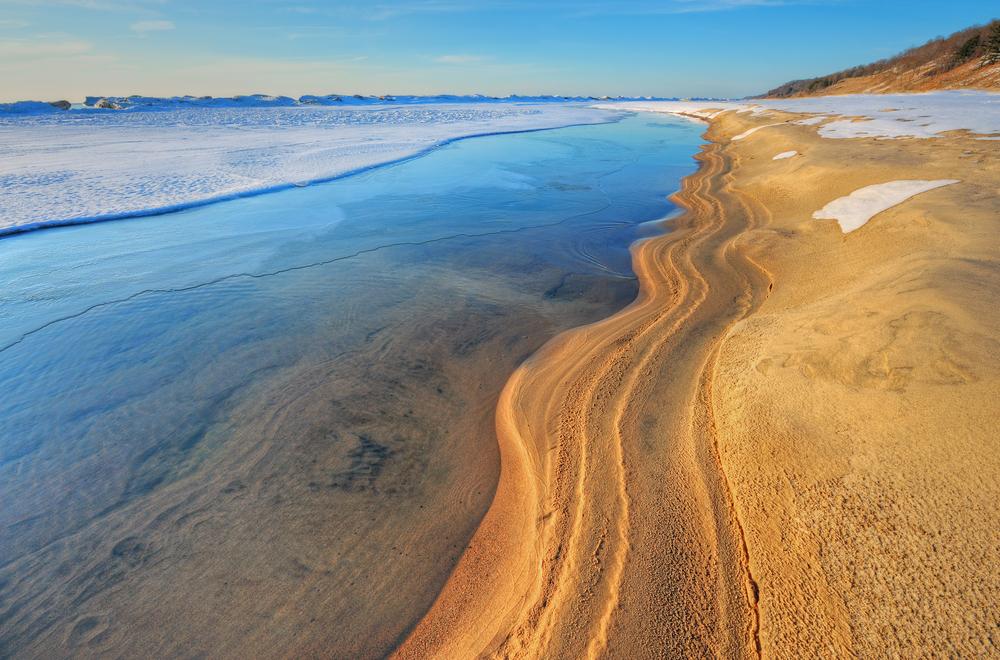 Looking for kid-friendly things to do? Drive an hour out of Saugatuck to Kalamazoo where you can visit the Air Zoo — the perfect place to bring your family for a day full of interactive exhibits and exciting experiences. Their flight simulators allow visitors to step right into the cockpit.
Kalamazoo doesn't have to be all about the kids, though. Henderson Castle — also known as the "Jewel of Kalamazoo" and ranked the top historic inns in Michigan by AAA — is an 11,000-square foot Queen-Ann style mansion. It sits on three acres and offers an intriguing blend of architectural, artistic, antique, and modern amenities. Heated marble floors, crystal chandeliers, gorgeous stained glass windows, plus a sauna and steam room, make the castle a haven in the city.
Michigan City, Indiana Staycations
Michigan City might be one of those understated cities, but it has a lot of surprising perks in store for those who live in Indiana and are looking for a staycation in their home state. The city — which lives on the south shore of Lake Michigan — is home to the beautiful Washington Park Beach. If the kids get bored of the beach, The Washington Park Zoo houses tigers, wolves, and grizzly bears who can certainly help chase the day away.
While you're running, the Indiana Dunes National Park promises not to be your run-of-the-mill state park. It has miles of natural terrain, dune-lined shores, and a diverse range of flora and fauna. Take in the towering sand dunes, or explore beautiful trails on foot or on bike.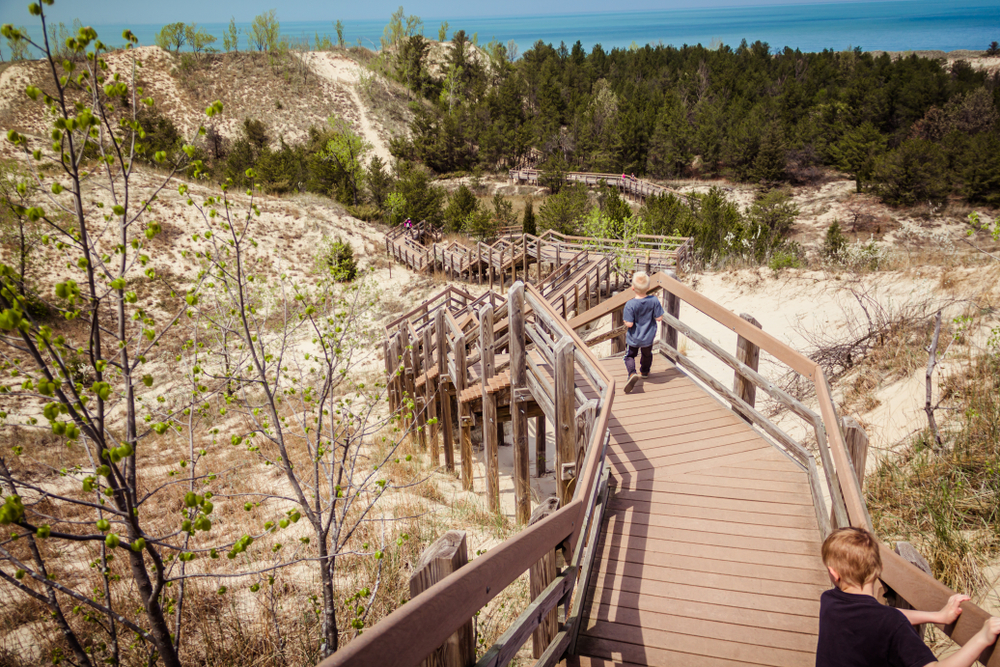 The lakefront city has a lot of fine dining along its beautiful shores. You can go to Water's Edge Restaurant by car or by boat, where you can enjoy fantastic views of the lake and the marina while feasting on delicious food. Shoreline Brewery has fantastic craft beer and great food, conveniently located near the beach and Lighthouse Place Premium Outlets.
Regional favorites include J&J's Pizza Shack, Swingbelly's, Bridges Waterside Grille, and Gelsosomo's Pizza to name a few.
Geneva-on-the-Lake, Ohio Staycations
Ohio natives know that going to Geneva-on-the-Lake is a summer tradition, and affectionately refer to the state's northeastern village as "Ohio's First Summer Resort." The Strip — the local term for the mile-long stretch of Lake Road — is reminiscent of a vintage boardwalk and features a number of restaurants, ice cream shops, unique shops, miniature golf, and lots more.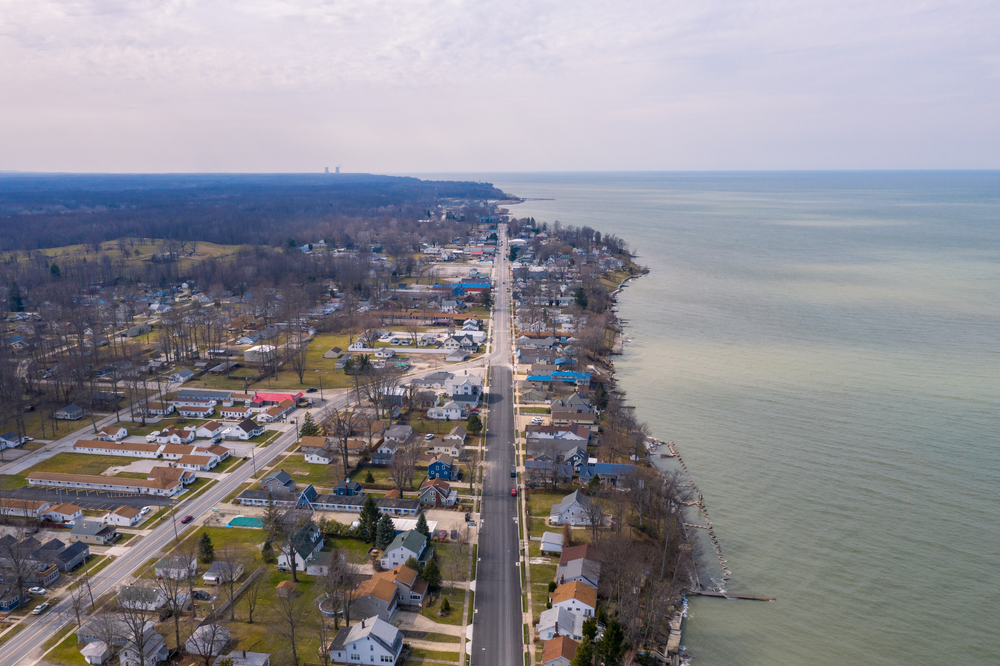 Geneva-on-the-Lake has two lakefront wineries in Ohio Wine Country including The Lakehouse Inn Winery: a boutique winery that produces small-batch, hand-crafted wine, and sources grapes from Ohio's Grand River Valley.
If the wine has you flying high, wait until you're a little more grounded to go ziplining at Lake Erie Canopy Tours. A guided zipline canopy tour promises to be an awe-inspiring excursion suspended on a network of steel cables and sky bridges anchored by towers spanning up to 60 feet high through the treetops. You'll get a bird's eye view while flying at speeds up to 30 mph above sparkling creeks and Geneva State Park along Lake Erie's shore.
To get back to your senses, Geneva State Park is the way to go. Located on Ohio's northeastern shoreline, Geneva State Park's 698 acres are said to reflect the character and charisma of Lake Erie. The shimmering expanse of the lake lures vacationers who enjoy fishing or boating, and swimmers can bathe in the beauty of the sandy beach. Nature enthusiasts can also retreat to the park's freshwater marshes.
New England
Historically home to a portion of America's 13 colonies, New England is extremely rich in U.S. history. Today, the region's states consist of Connecticut, Rhode Island, Massachusetts, New Hampshire, Vermont, and Maine, which are all surrounded by the Atlantic coast.
Madison, Connecticut Staycations
The city of Madison might make for an ideal in-state vacation locale for a multitude of reasons. For one, a trip to Hammonasset Beach State Park is more than just another day at the beach. Connecticut's largest shoreline park has two miles of beach to enjoy swimming, strolling along the boardwalk, or just relaxing in the sun and surf. There are also campsites, picnic areas, and a fishing pier for your pleasure.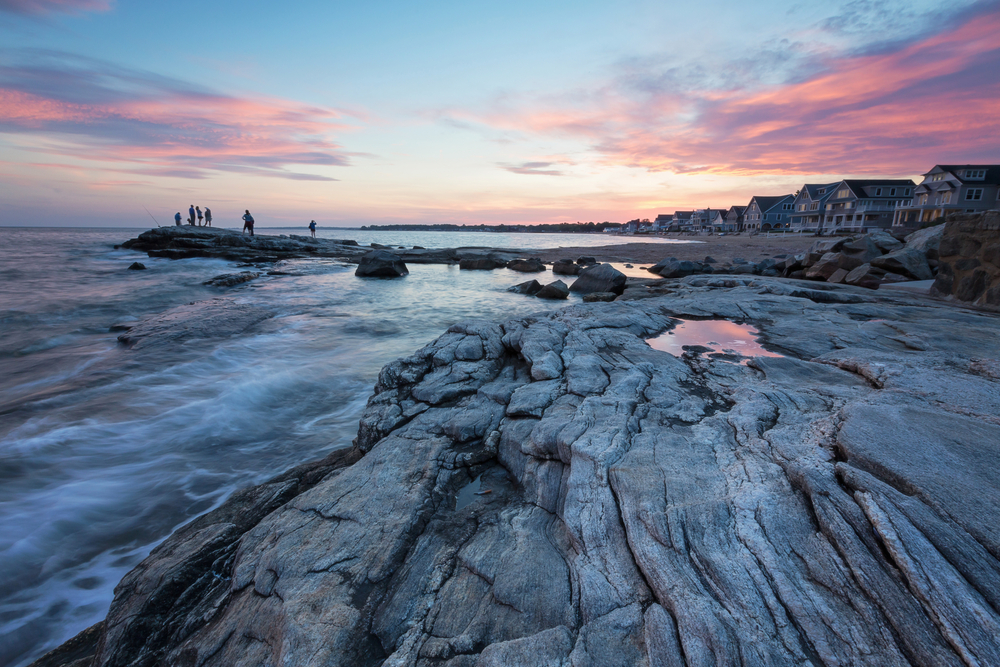 The East Wharf — sometimes referred to as the "purple sand beach" — has lifeguards, a pier, kayak and sailboat racks. The Madison Beach Club has its own beach and is located near Madison Country Club, a private golf course.
For some more of a lay of the land, the Madison section of the easternmost Shoreline Greenway Trail is a mile-long stretch that leads travelers through Hammonasset Beach State Park with views of woodlands, marshes, and a tidal stream.
The Thimble Islands are an archipelago consisting of small islands in Long Island Sound, located in and around the harbor of Stony Creek in the southeast corner of Branford, Connecticut. The Thimble Islands Cruise has tours and charters, with COVID guidelines in place, which are currently by reservation only.
Westerly, Rhode Island Staycations
The classic New England town of Westerly has a vibrant personality — particularly in the summer. The beachfront communities of Misquamicut and Watch Hill are local hotspots. Plus, keep an eye out for Watch Hill Lighthouse in Watch Hill Beach, which sits atop a bluff on Fishers Island Sound. According to local legend, Watch Hill got its name during King George's War (1744 – 1748) when a watchtower and light were established on what was then known as Bear Hill. The purpose of the light wasn't to serve ships in the Sound, but rather to warn local residents of a naval attack.
In this day and age, we promise the town goes at a much more peaceful pace. You can wander Westerly's historic downtown with its shops and restaurants, art galleries, and 15-acre Victorian strolling park. Take a 10-minute drive south to reach the picturesque shoreline and nature escape of Napatree Point. Tapped Apple Cidery & Winery has a tasting room that is tapped to allow you to unplug from the daily grind. Located in historic downtown Westerly, they offer a variety of handcrafted wines and ciders made with apples that are exclusively sourced.
Berkshires, Massachusetts Staycations
If you want to reach for the stars without having to get on a plane, the Berkshires — located in the mountains of the western part of Massachusetts — is your staycation destination. The rural region is home to Mount Greylock, which sits at the highest point in Massachusetts. On a clear day, you can see as far as 90 miles away from its 3,491-foot peak. While the visitor center exhibits are closed due to COVID, the park itself is still open from dawn until dusk.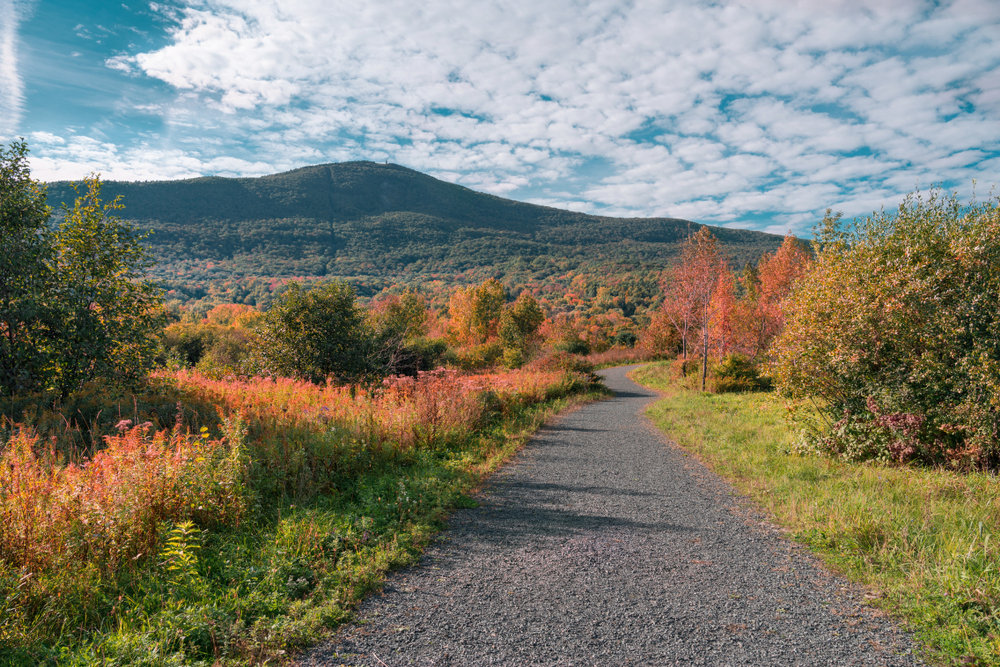 If you need to get your head out of the clouds, there's plenty of adventure to be had closer to the ground. Ramblewild Adventure Park — featured in the New York Times and The New York Post — is Feronia Forests' first tree-to-tree adventure destination. There are also a number of aerial parks in the region such as Catamount Aerial Adventure Park, offering excitement, challenge, and personal growth for adventurists of all kinds. Their challenge courses are designed to not only engage people with the environment, but are said to also have a profound impact on visitors' self-confidence and happiness.
There's also the Berkshire Botanical Garden in nearby Stockbridge. Major annual events that will return in 2021 include the Plant Sale, the Grow Show, the Fête des Fleurs Garden Party, The Harvest Festival, and The Holiday Marketplace.
Franconia, New Hampshire Staycations
We wonder if early-20th century American poet Robert Frost penned any poems about his hometown of Franconia. A most picturesque village in the heart of the White Mountains, the quaint town is one of New Hampshire's hidden wonders.
The mountains make for a stunning backdrop for visitors who wish to swim in the beautiful Echo Lake or hike through the magnificent Flume Gorge in Franconia Notch State Park. Zip up to the top of Cannon Mountain in an aerial tramway, or make a cozy stop to any one of the English-style pubs for a hearty meal and a cold drink. You can pay a tribute to the renowned poet himself at Frost Place — the museum dedicated to the life of Robert Frost — planning on reopening its doors in August. Speaking of a little frost, the town's fall foliage is but one more reason to fall in love with Franconia.
But right around the corner, Lake Winnipesaukee is on for Gunstock Trail Fest 2021 on June 19th and 20th. The 5K to the 80K race is fun for everyone to enjoy and also includes a kids' run.
Quechee, Vermont Staycations
Quechee is a quaint village that needs no filter. In fact, it's the untouched natural beauty of the village that have both locals and visitors returning year after year. Nestled on the eastern Vermont border in the Upper Valley, the village is a nature lover's paradise for more reasons than one. Quechee Gorge, also referred to as Vermont's very own Grand Canyon, is the main attraction in Quechee State Park and Vermont's deepest gorge. Formed by glacial activity approximately 13,000 years ago, visitors can look down at the Ottauquechee River from the Quechee Gorge Bridge — one of Vermont's most historic and breathtaking bridges rising 165 feet over the river.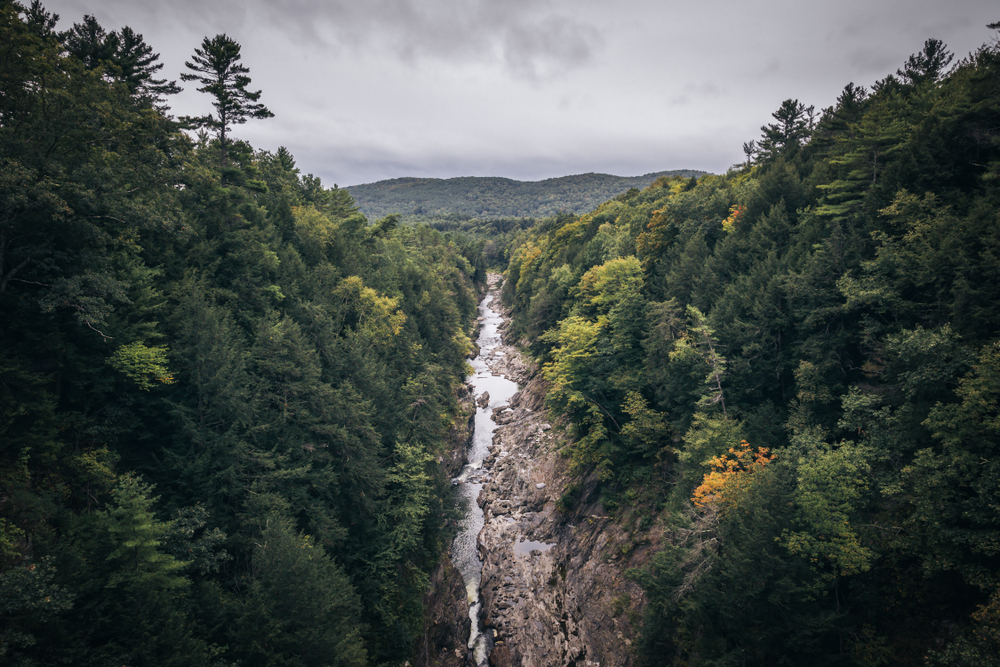 Quechee Balloon Rides is a premier hot air balloon experience that will be a flight to remember. Go on a bird's eye view adventure and float inches above the tree tops and get a completely new perspective of the forest floor below. You can capture no-filter photos of Vermont's picturesque villages, farms, covered bridges, and never-ending rolling green hills. If you happen to go in the fall, the aerial view of the fall foliage is out of this world.
Kennebunkport, Maine Staycations
As Maine's coastal town, Kennebunkport is known for its beaches, including the long, sandy Goose Rocks Beach and the smaller Arundel Beach. You can go kayaking on Kennebunk River, but for a true New England adventure, take The Lobster Boat Cruise. Their most popular tour is recognized as one of the top-rated boat attractions in the region. As the only lobster boat tour in Kennebunkport, it also happens to be hosted on a traditional wooden Downeast-style lobster boat and offers the most exclusive, personal, and educational cruise in Kennebunkport. They sail from the beautiful Kennebunk River waterfront at the historic Nonantum Resort & Marina.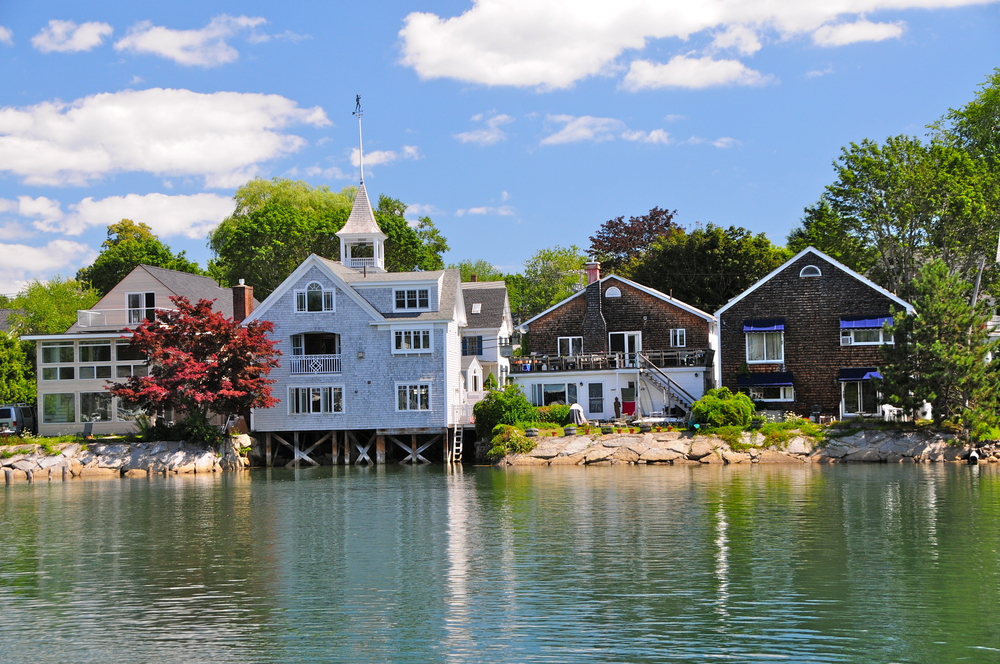 For delectable local eats, The Clam Shack has been serving the freshest fried seafood and locally-caught lobster since 1968 — their lobster roll is all the rage. Then, expand your frozen dessert repertoire at Rococo Artisan Ice Cream. They have the scoop on all the most innovative and decadent combinations of flavors. We highly recommend Chipotle, cheese, or avocado.
At Kennebunkport, we promise your dog won't feel left out! Not only is it a dog-friendly town, but here you'll find the Maine Foodie Tours, a walking tour with treats for both you and your pup.
Mid-Atlantic
The Mid-Atlantic states are home to some of the most celebrated historical sites and largest metropolitan areas on the east coast. This region is defined by a mixture of cultures brought along by people who immigrated to the area from many different parts of the world.
Finger Lakes, New York Staycations
The Finger Lakes region takes the idea of fun very seriously. Some reasons to make the drive: there are plenty of breweries, distilleries, wineries, and cideries in the area for your pleasure. There are also boat cruises, family-friendly attractions, farmers markets, museums, historical sites, shopping, and waterfalls — all of which will easily fill a weekend, or even a full week, at Finger Lakes.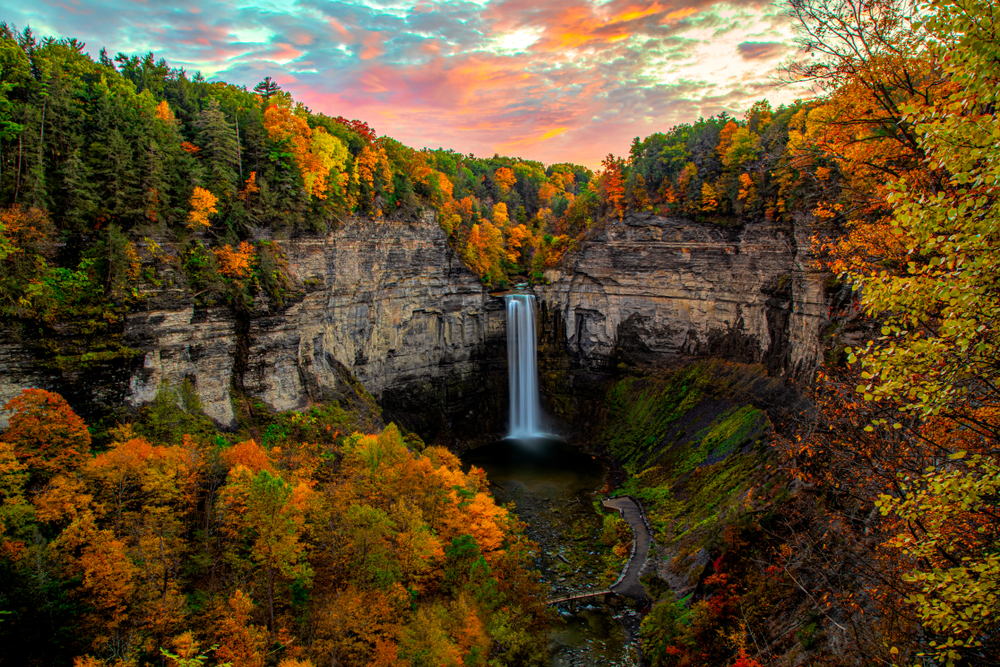 At Cayuga Lake — the longest of the Finger Lakes — you can paddle along the inlet out to the lake or visit one of the wineries along the Cayuga Lake Wine Trail. Also enjoy the sunset either while boating out onto the water or from one of the lake's beach access parks.
A stone's throw away is Buttermilk Falls State Park, which gets its name from the foaming cascade created by Buttermilk Creek as it flows down the steep valley side towards Cayuga Lake. There are hiking trails through the woodlands and along the gorge and rim. You can also have a picnic in the area. The lower park has a campground, natural pool, and playing fields.
It may surprise some to find out how much history there is in the Finger Lakes region. Harriet Tubman, a former slave and who is celebrated for her efforts leading more than 300 slaves to freedom through the Underground Railroad — lived in Finger Lakes. The Harriet Tubman Home can be toured in the nearby community of Auburn.
French Town, New Jersey Staycations
The name might sound French, but visiting Frenchtown will feel like you're in the rolling hills of the British countryside. The beauty of this bucolic town is that you'll actually still be breathing in New Jersey air so really, locals won't have to pay for any airfare.
Frenchtown is a great strolling and shopping town, with numerous small charming boutiques. For a little culture, wine tastings at Beneduce Vineyards are available in both their tasting room or the beautiful stone patio. Main white varieties are Chardonnay, Riesling, and Gewürztraminer; while plantings of red grapes include Pinot Noir, Cabernet Franc, and an Austrian red named Blaufränkisch. Enjoy by glass or by bottle with a selection of artisan cheeses and cured meats.
Be sure to loop in Ringing Rocks County Park into your stay! The park offers a loop trail located near Upper Black Eddy, Pennsylvania that features beautiful wildflowers, suitable for all skill levels. The trail is made for hiking, walking, birding, horses, and road biking from April until October. Dogs are also able to use this trail but must be kept on a leash.
If you're feeling a little more daring, take on tubing at Delaware River Tubing — voted the #1 River Tubing, Rafting, Kayaking & Canoeing Outfitter. They're opening their doors once again for the summer months, so you can enjoy the most scenic tubing stretch that the Delaware River has to offer.
Pocono Pines, Pennsylvania Staycations
The focus is fun in all four corners of the four-county region of Pocono Pines in Pennsylvania. Famous for the Pocono Mountains, majestic resorts, lakes like Lake Wallenpaupack, and historic towns — the region has a mountain of activities for your next in-state vacay.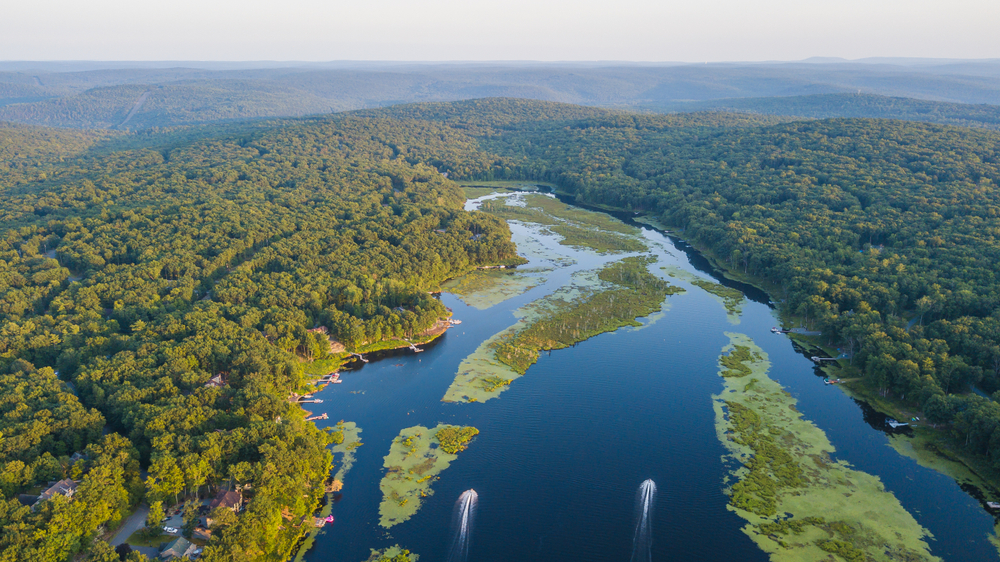 If you want to start at the top, the Pocono Mountains — or Poconos for short — is filled with forested peaks, lakes, and valleys. On the eastern edge is the bird-rich borough Delaware Water Gap which has both river beaches and recreation facilities. Trails and bridges connect the waterfalls at nearby Bushkill Falls. Ski runs and water parks are also scattered across the area.
The Pocono Lake area is engulfed with lakes like Arrowhead Lake and Lake Naomi — both of which offer year-round events and activities located close to three major ski resorts. The resort-feel won't dissipate in the summer when you're teeing off at the 18-home championship mountain Pinecrest Lake Golf & Country Club. The adventurer in you will appreciate Pocono Whitewater Rafting. You can choose your own pace from what they call "mild to wild." Explore over 138 miles of scenic, easy downhill Rail Trail Biking excursions.
Milton, Delaware Staycations
Anyone living in Delaware who's looking to take in curiosities closer to home need not go no further than Milton to indulge in a staycation that promises to be out-of-the-ordinary. Take the Steampunk Tree House, for example. In 2007, artist Sean Orlando supervised the construction of Steampunk Tree House — a cool-looking retro-futurist "house" welded together atop a 40-foot-tall tree trunk made of recycled steel plates. It was a hit at the 2007 Burning Man, a week-long annual event held in the Black Rock Desert in northern Nevada. The tree house was then sold to DogFish Head Craft Brewery, making the cross-country trek to the brewery's front lawn. Visitors can admire it from the ground, but access to the interior of the Tree House is restricted to brewery employees.
Milton also has a curious local tradition. Along a path called "The Governor's Walk" is a life-sized statue of the English poet John Milton, for whom the town was named after. Sitting serenely on a bench, the statue is always dressed in seasonally-appropriate clothing, updated throughout the year by anonymous townspeople.
The biggest curiosity of them all? In nearby Lewes, Delaware you'll see the mysterious Roosevelt Inlet Shipwreck, a wrecked ship dating back to the American Revolution, discovered in 2004 off the Delaware coast. Archeologists believed the dormant ship was most likely a European commercial vessel that had run aground sometime in the 1770s, making it a fascinating relic of colonial America's journey to independence.
Kent Island, Maryland Staycations
Kent Island, Maryland will have you feeling merry just for the distilleries and wineries that the largest island in the Chesapeake Bay has on tap. There's Blackwater Distilling & Tavern, Cascia Vineyards & Winery, White Tiger Distillery, and Cult Classic Brewing if you're counting. Food for thought includes local seafood fare such as Hemingway's and Kentmorr Restaurant. 
You might be feeling a little bloated after all this food and drink, so we suggest walking or biking it off at either Cross Island Trail, Captain John Smith Trail, or Kent Island South Trail. If that's not enough, pack in some paddle boarding at Dragonfly Paddle and Fitness.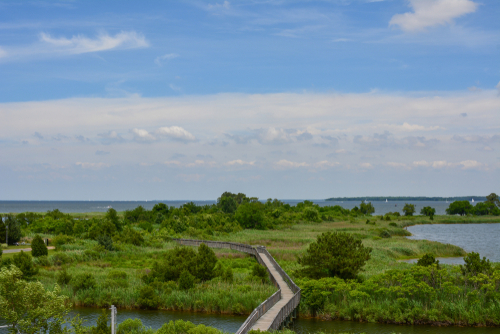 If you get lost at sea, there are a number of charter boats you could try flagging down, including Breezin' Thru Charters, Natural Light Charter, Chasin Tail Charters, Lead Dog Charters, and Prime Time Charters.
Even the most avid adventurer needs a break, so we suggest checking in at Kent Manor Inn so that you can do it all over again the next day. We'll let you drift off dreaming about the Delmarva Balloon Ride you have planned for the next day.
The South
The Southern States — also commonly referred to as "The South" — are made up of Virginia, West Virginia, Arkansas, Kentucky, Louisiana, Mississippi, Tennessee, Alabama, North Carolina, South Carolina, Georgia, and Florida. This part of the country draws people from all over the world for a variety of reasons, including its mouthwatering BBQ, lively music, theme parks, and the great outdoors, to name a few.
Luray, Virginia Staycations
Luray, a town that languishes in Virginia's Shenandoah Valley, is surprisingly a bucket list kind of beauty that you'll want to seek out for an in-state staycation. Its main attraction is the majestic Luray Caverns: a vast underground cave system with walkways, unusual rock formations, and towering caverns. You can also work your way through the cavern's family-friendly garden maze which has 8 foot-tall hedges, tunnels, and a lookout tower.
Explore three Stony Man mountain hikes to spectacular views and beautiful woodlands on the second-highest mountain in Shenandoah National Park, Virginia. The town also has easy access to Skyline Drive — driving down Skyline Drive in Shenandoah National Park has been particularly hailed as a true American bucket list experience.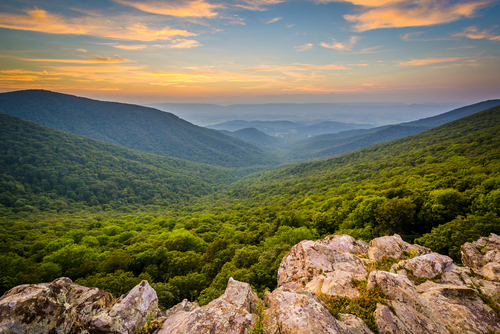 Nearby, the Luray Valley Museum features recreated 19th-century buildings. The Car and Carriage Caravan Museum shows vintage vehicles. For a storybook ending to your trip, take in the views at Massanutten Storybook Trail. As you walk, look for fossils and forest wildlife. The trails are even suitable for strollers and wheelchairs. At the end of the trail, enjoy the scenic overlook of Page Valley and the Blue Ridge Mountains from the observation deck.
Blackwater Falls, West Virginia Staycations
Blackwater Falls is considered one of West Virginia's crowning achievements when it comes to the state park. And when we say park, we really mean 2,358 acres of rugged natural beauty. Breathtaking sights include Elakala Falls, Canaan Valley, the Lindy Point Observation Deck — not to mention horseback riding at Mountain Trail Rides. The North Fork Blackwater River drops over a ledge creating the spectacular 35-foot Douglas Falls. The falls splash down into a unique emerald-colored pool, creating a landscape unlike any other. Many have called the spot, "too stunning to describe."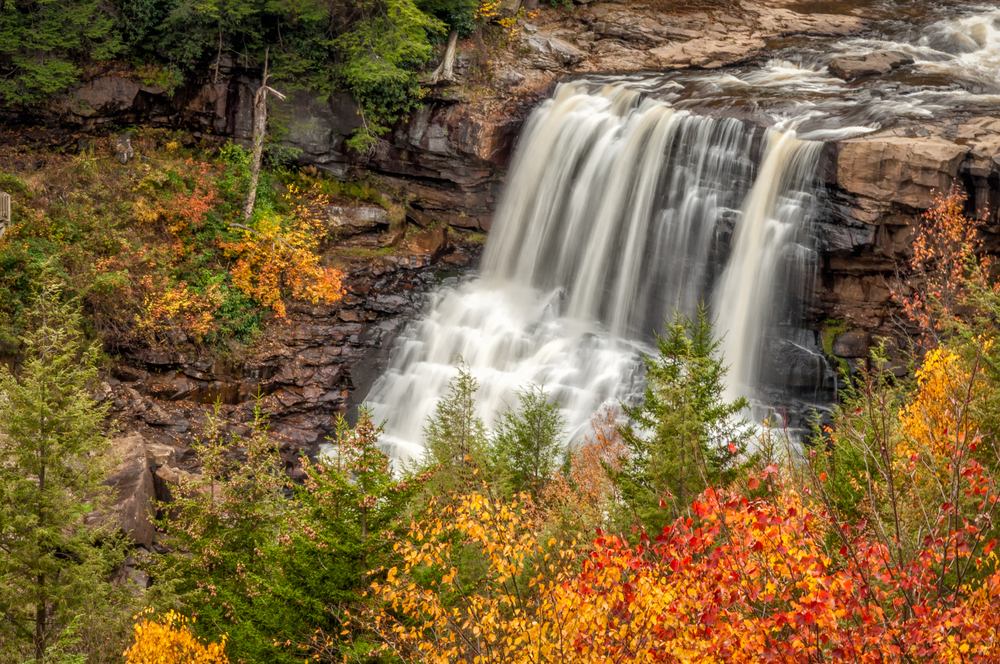 Make the most of your stay by making a stop at Mountain State Brewing Company. The brewery is one of the oldest and largest full-scale distributing microbreweries in the state of West Virginia. Sitting at over 3,000 feet in elevation, it also sits at the top of the watershed, allowing their beer to be brewed with the purest water out there.
Hot Springs, Arkansas Staycations
Who needs to visit a Turkish bathhouse when you have Hot Springs nestled in the Ouachita Mountains in your own home state of Arkansas? The city is known for naturally heated springs, many of which are in Hot Springs National Park to the north. Bathhouse Row has eight bathhouses from the 19th and 20th centuries, including Buckstaff Baths, known for its thermal baths. The ornate stained-glass-and-marble Fordyce Bathhouse has a lobby fountain and houses the park's visitors center and museum.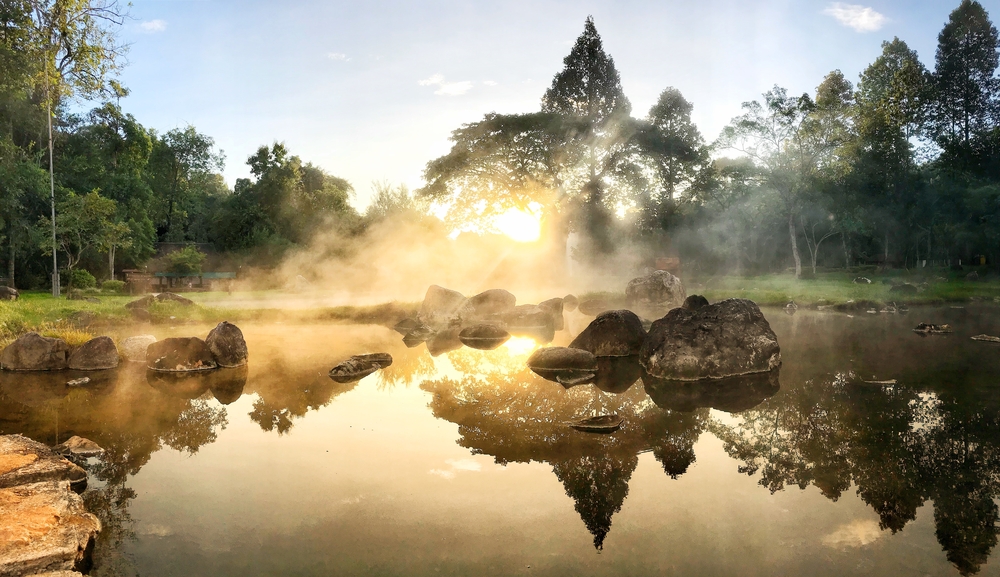 If bathhouses aren't your thing, don't throw out the bath water altogether: Superior Bathhouse Brewery happens to be located in the park — it's the first craft beer brewery located in a U.S. National Park. The brewery uses world-famous Hot Springs thermal spring water to brew unique craft beers. We promise you won't be whining about the wine at Bathhouse Row Winery either.
Just don't leave without taking in the Hot Springs Mountain Tower: the tower elevator will transport you 216 feet to the observation decks where you'll enjoy breathtaking panoramic views of the Ouachita Mountains, Hot Springs Mountain, and Diamond Lakes area — all at 1,256 feet above sea level.
London, Kentucky Staycations
The town of London is known as the cycling capital of Kentucky and is the state's 5th official Trail Town, so there's plenty of space to bike your way around. In fact, you may feel like you're riding around a different country altogether.
Like its name, Kentucky's town of London has a lot in common with England and has many British-themed motifs. Lake Cumberland, named for another UK city, is 1.5 hours away where you can go fishing from a marina pontoon boat. You can also go fly-fishing in the Wolfe Creek Trout Stream. View sunrise or sunsets from your lodge room, cottage, or campsite. Then, unwind in the lodge dining room and enjoy a cocktail or two.
The Creelsboro Natural Arch — also known as "The Rockhouse" — is a historic archway to the Cumberland River and an Indian burial ground on the top. The rugged trail takes you down to the huge arch and guests can walk all the way to the Cumberland River when the water levels are low.
Master Musicians Festival is happening this July, so you'll want to get your hands on limited tickets fast! If you happen to miss out, take your frustrations out on the golf course at Eagle's Nest Country Club, conveniently located right in between London and Lake Cumberland. There's also the Jarfly Brewing Company to help take the edge off.
Baton Rouge, Louisiana Staycations
Louisiana's capital of Baton Rouge has something for in-state travelers of any age. The day-scene can be filled with museum musings galore. There's the LSU Museum of Art, Louisiana State Museum, the Louisiana Art & Science Museum, and the Shaw Center for the Arts.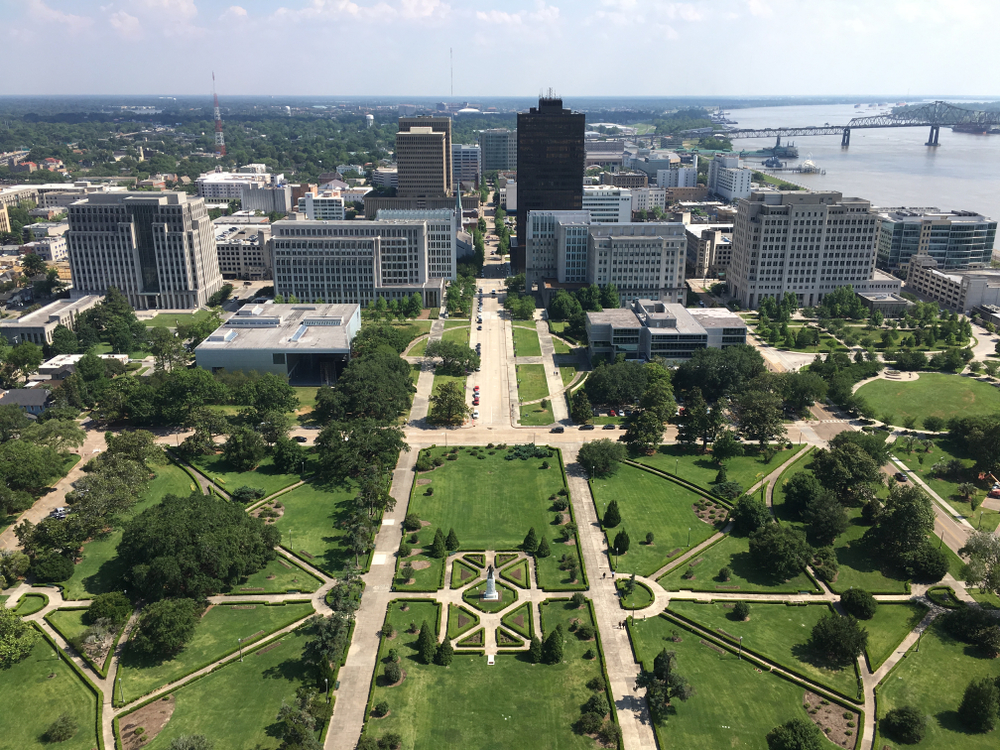 Expanding your mind can make you hungry, so head over to the Red Stick Farmers Market if you're in the mood to throw a meal together. If not, go to any number of lunch cafés on the Main Street Market or feast from a food truck. In fact, the city's food truck scene has been quietly growing during the pandemic!
If you're looking to satisfy your culinary cravings, look no further than Baton Rouge Food Tours, where you can take in a few of Baton Rouge's historical secret locations. These tours showcase Baton Rouge's ever-expanding culinary scene and are filled with dollops of rich cultural history.
When it comes to the city's nightlife, you'll have no problem painting the town red — whether you prefer live music on a patio or the thrill of a night downtown. But at the end of the day, it's all about the food scene: Bistro Byron is just one hot spot that has bistro-inspired dishes done the Southern way — "comfortable yet special, casual yet elegant, and a bit curious and undefined."
Bay Saint Louis, Mississippi Staycations
The town of Bay Saint Louis is known as Mississippi's "Secret Coast."  Located in a prime spot in The Gulf of Mexico, Bay St. Louis has miles of white-sanded beaches that run along South Beach Boulevard.
There are a host of ways to explore hidden gems in this retreat. You can rent a kayak and paddle the "blueways" — also known as water trails — or walk the beachside paths with your pup in tow.
The town is home to a number of piers, but Jimmy Rutherford Fishing Pier is considered to be the best place to cast a line. Speckled trout fishing is also full-on year round.
The restaurants off the coast also happen to be off the charts. Trapani's Eatery features dishes made with trout, flounder, red snapper, and shellfish — all of which are caught locally. Cruz's Oyster Bar & Grill makes an art out of boiling seafood. Crawfish, shrimp, crabs, and oysters-on-the-half-shell are some specialties on the menu! Other items include overstuffed po-boys and slow cooked prime roast. Word to the wise: don't overlook the full service bar that overlooks the bayou.
Pigeon Forge, Tennessee Staycations
Pigeon Forge is a mountain town and vacation area in eastern Tennessee — and the home of country singer Dolly Parton's Appalachian-themed park, Dollywood. The park has rides, an adjoining water park, and a museum of the living legend's costumes and memorabilia. The theme continues at other attractions including country music revues like the Smoky Mountain Opry, and dinner theaters such as Dolly Parton's Dixie Stampede.
Pigeon Forge is also the gateway to Great Smoky Mountains National Park. Stay in a cabin for the weekend and explore the breathtaking views of the Smokies! There are several waterfalls to visit, and one of the most popular among visitors is the Grotto, where visitors can walk behind to watch the cascading water. For those who don't want to hike, a drive through the park is a famous way to enjoy the beauty. In fact, many drivers like to tour Cades Cove, a valley that's popular for wildlife viewing. An 11-mile road surrounds the cove, and the loop takes about two to four hours. To get a view of the highest point in the park, head to the Clingmans Dome Observation Tower at sunrise or sunset.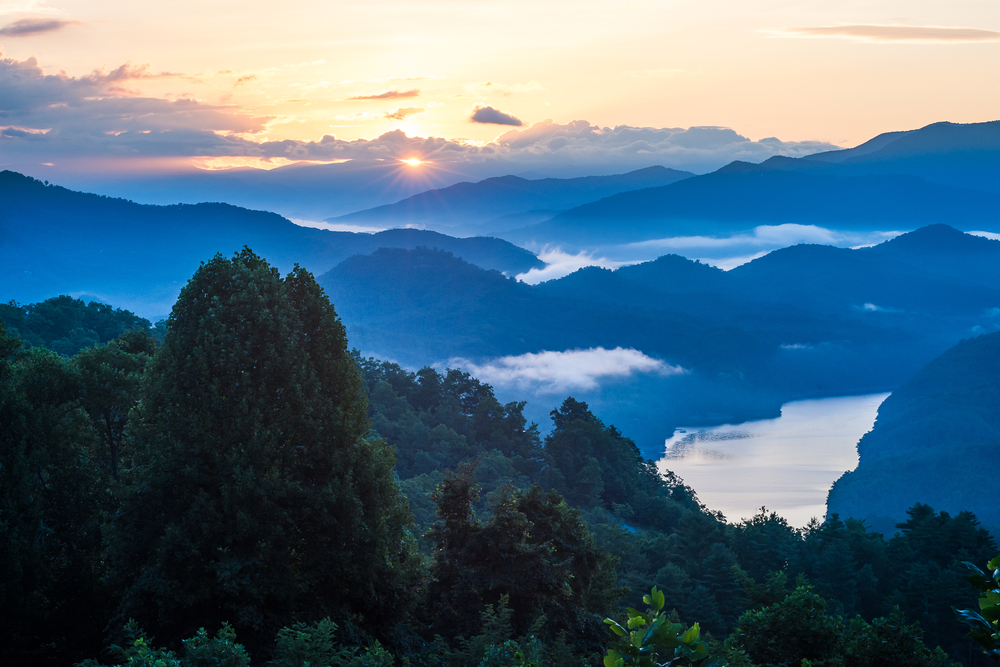 We'll be the first to confess that Pigeon Forge does also have a more infamous side. Alcatraz East Crime Museum has five unique galleries that forge deep into criminal profiles, the penal system, victim's stories, crime prevention, forensic science, law enforcement, and the justice system. The museum is 25,000 square feet, spread over two floors and includes over 100 interactives.
Since you're already in forbidden territory, you may as well visit the Forbidden Caverns. Located in nearby Sevierville, it's one of America's most spectacular caverns. Visitors are taken on an entertaining and educational tour past sparkling formations, towering natural chimneys, numerous grottos, and a crystal clear stream. The trails are well-lit with handrails at all necessary points.
Auburn, Alabama Staycations
Often referred to as "the loveliest village on the plains," the small, yet friendly city of Auburn is nestled within the rolling hills of east-central Alabama — making it an ideal locale for Alabamans to have a picturesque staycation. Once you get there, you'll want to ditch your car for your bike! Auburn boasts quite a few state parks including Chewacla State Park, featuring first-class mountain bike trails, complete with dirt and wooden design features for both intermediate and advanced riders.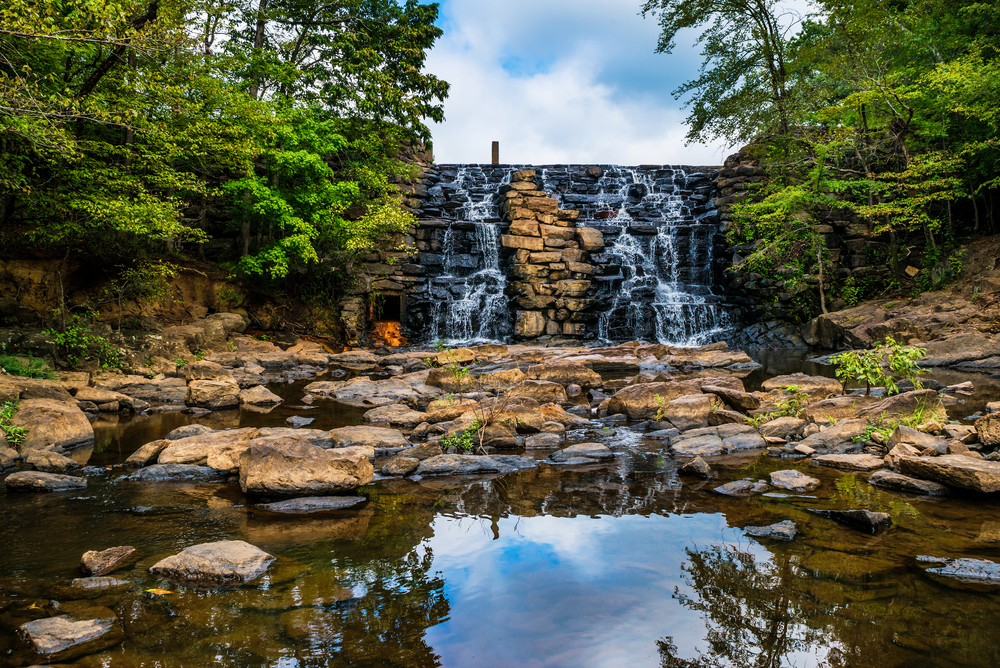 The city also happens to be only 1.5 hours from Providence Canyon State Park in Georgia. Here, there are trails, boat ramps, fishing docks, campsites, cabins, and golf courses that are open for you to swing by. For more of a cultural hit, Jule Collins Museum of Fine Art at Auburn University  — also known as the cultural heart of Alabama's public research institution — devotes itself to the visual arts.
The city is home to some incredible food including the historic Toomer's Corner, named for businessman and former State Senator Sheldon Toomer, who happened to be a halfback for Auburn's first football team. For a local bite, head to Acre, an award-winning restaurant that boasts farm-to-table fare.
Asheville, North Carolina Staycations
The North Carolina mountain city of Asheville, found within the Blue Ridge Mountains, is known for its arts scene and historic architecture, including the dome-topped Basilica of Saint Lawrence. The Downtown Art District has a myriad of museums and galleries for North Carolinians to fill a day.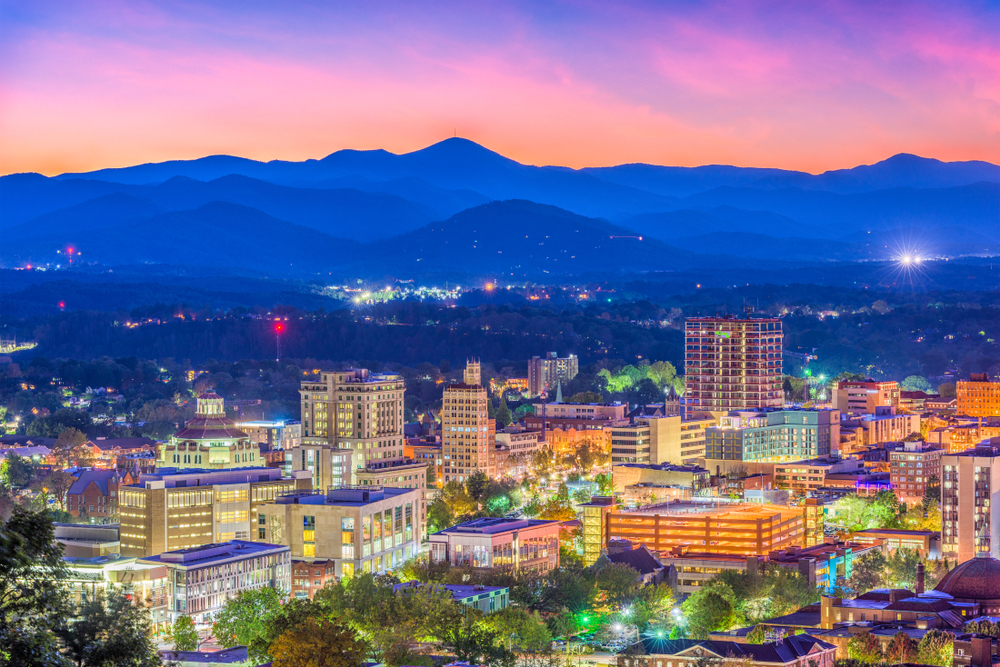 The River Arts District of Asheville has many working studios and galleries of hundreds of artists — from painting to pottery, jewelry, glass, metal, wood, and much more.
If you get inspired by the domestic arts scene, pay a house call to the Vanderbilts. Biltmore House, which sits on the vast 19th-century Biltmore Estate and is recognized as the country's largest home, was the luxurious family home of George and Edith Vanderbilt. The family of Dutch origins gained American prominence starting in the 19th century through shipping, railroad, industry, and philanthropy. You can have a self-guided visit to the museum spanning three floors, and tap into the stories through vintage clothing, accessories, art — including paintings by masters like Renoir — and furniture.
If you find the house a bit stuffy, feel free to kick back with a tour of the area's 30+ local breweries instead. Archetype Brewing specializes in experimental and funky-style craft beers while Hi-Wire Brewing defines their beers as "approachable and balanced." Former President Obama, for one, has a taste for 12 Bones Brewing. The former President says he makes it a point to have a pint any time he's in the area.
Greenville, South Carolina Staycations
South Carolina's sweet southern hospitality can be found in all its glory in Greenville. Food and drink is their specialty: downtown Main Street hosts a number of upstate diners and restaurants. But the fast-growing city also has a bustling art scene, picturesque parks, and lots more.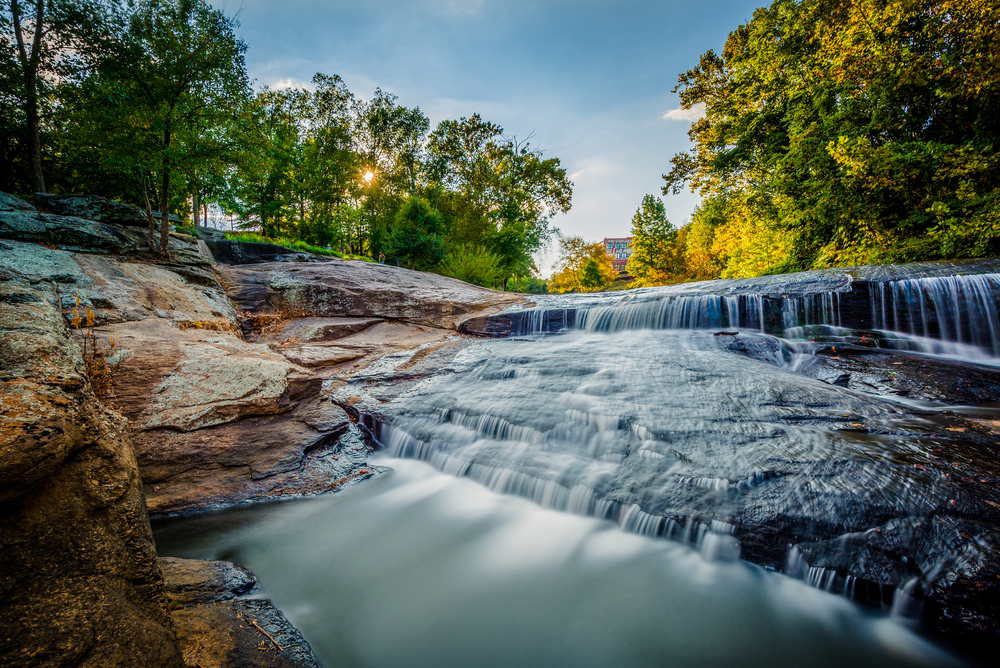 If you're looking for a real challenge to your routine, Treetop Quest Greenville's aerial adventure park will challenge you physically and mentally as you maneuver from tree to tree through obstacles and zip-lines. Once you're equipped, they will teach you how to operate the equipment and you'll be able to swing through each course as many times as you want for a couple of hours.
If the kids are feeling a little left out, Roper Mountain Space Centre is perfect for the whole family to attend, where they offer summer exploration camps and holiday laser shows.
You've heard of London Bridge, but how about Liberty Bridge? The 345 feet long, 12 feet wide bridge has a concrete reinforced deck supported by a single suspension cable. There is literally nothing else like Liberty Bridge in the United States. The bridge spans the Reedy River in Greenville and overlooks the local waterfall and the gardens at Falls Park.
Savannah, Georgia Staycations
Georgians looking to vacation in their home state will find much to broaden their horizons in Savannah. The city has the largest national historic landmark district in the United States and contains more than twenty city squares filled with museums, churches, monuments, and famous forts of the revolutionary and Civil War eras. There is also the first and only American Prohibition Museum, the Old Fort Jackson Historic Site, and the Wormsloe Historic Site, where you can brush up on the founding of your home state.
The city's historic district has hosts of another kind. Ghost City Tours offers four unique and spooky ghost tours to Savannah's most haunted locations. But don't worry: the district is also thankfully alive with art, culture, outdoor cafes, gourmet restaurants, and plenty of Southern hospitality. The Olde Pink House Restaurant, for example, serves classic Southern cuisine in an elegant mansion built in 1771. At the end of an evening, take a stroll down the Savannah Waterfront and take in the beautiful views of the Savannah River.
Destin, Florida Staycations
If you're a Floridian by nature, then you'll fall in love with the town of Destin. Attractions on the famous Crab Island include jet skiing, going on a sunset cruise, or renting a pontoon boat. You could also go on a charter fishing tour, and there are boat and wave runner tours to see the dolphins. Go sailing in a catamaran or paddle board or kayak. The possibilities under the sun are endless!
As one of the area's top summertime destinations, Crab Island has been featured on national networks and shows such as HGTV and Good Morning America, in addition to being published in a number of travel magazines and publications across the globe. If you're feeling weak in the knees from all the jet skiing, there are mobile food boats and smaller floating restaurants that populate the sandbar to take it easy. There is also the Crab Island Adventure Tour, which includes an inflatable water park. Tell us you don't believe in Destin(y), now.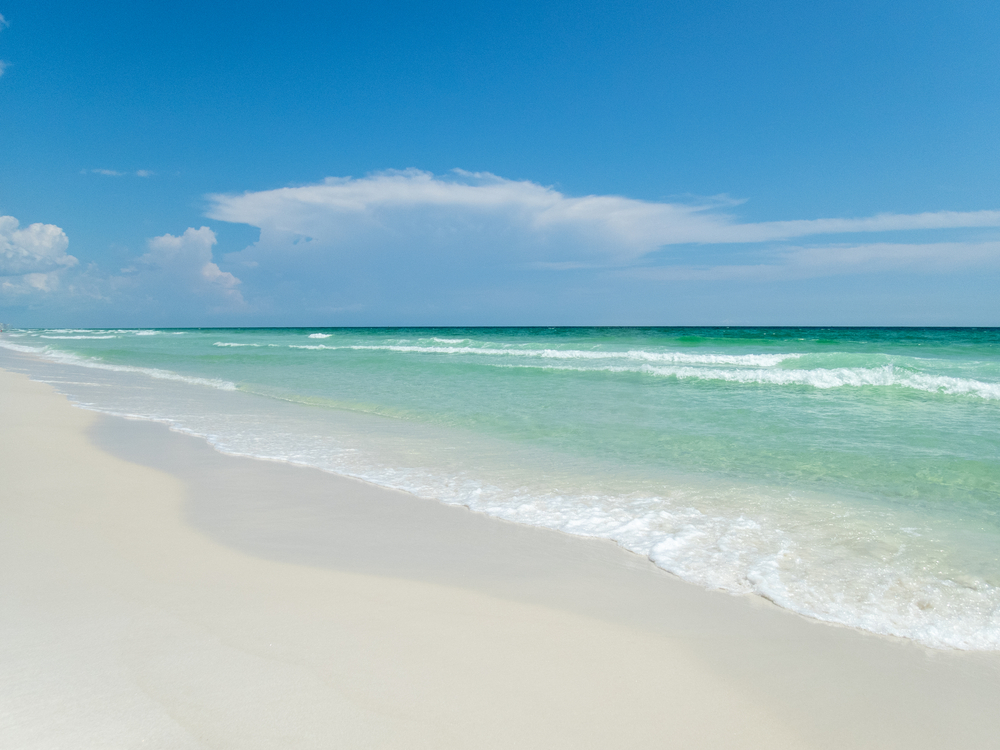 Treat yourself to that well-deserved staycation by booking your dream rental! Whether you're hoping to spend downtime in one of America's island states, want a relaxing weekend by a lake, or an adventure-filled trip to a national park — we've got you covered on a cozy place to rest your head in all 50 states.