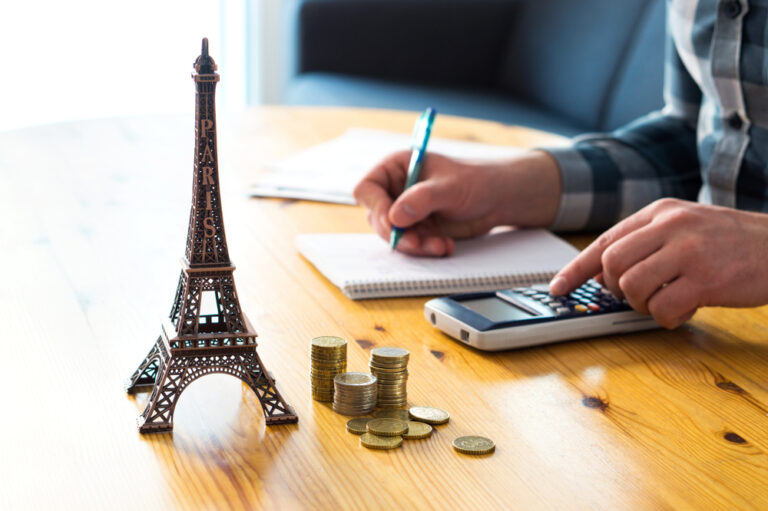 Dust off that suitcase, travel season is upon us! Whether you're newly vaccinated or just plain pandemic-fatigued, most of us are now dreaming big when it comes to vacations. According to our recent survey on post-pandemic travel planning, 87% of adults deem travel a priority and 79% are willing to make sacrifices to make that much-anticipated holiday happen.
So, where are we headed? International destinations like Japan, Australia, and Italy top the list of 1,000 Americans we surveyed, while Hawaii is the big kahuna stateside. According to our survey, ready-to-travel folks have saved up an average of $1,582 for their overdue vacation. Even the cheapest airfare to Oahu (currently, approximately $400 round trip from LAX) takes a chunk out of that budget.
The good news is, with a little planning and cost-saving maneuvers, savoring an amazing getaway can be full of joy and rejuvenation, without racking up credit card debt.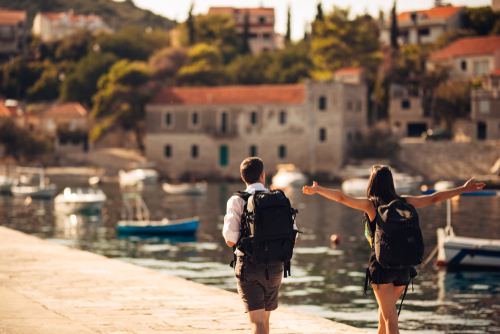 Here are six ways to stretch that travel budget and cut out sneaky-high expenses as you vacation. Side note: we are not suggesting you give up on those bucket list destinations. Given that COVID-19 restrictions currently limit international travel, there's plenty of time to research and plan that overseas jaunt. And, yes, we have cost-saving ideas there, too.   
Tip #1: Combine Lodging & Transportation
Now is the time to give #RVLife a try! Rather than paying for both a hotel and a rental car, book an RV for your holiday. The freedom-filled, budget-savvy upsides of RV travel are plentiful. You have everything you need on board, including a kitchen — which means no unnecessary dining bills — and you can vacation virtually anywhere the road takes you.
Reserve popular sites ahead of time (such as limited, gorgeous National Parks campsites) or venture off the beaten path. To save even more dough while RV vacationing, park your rig for free on National Forest and Bureau of Land Management lands (where dispersed camping is permitted) or check out the following apps for affordable, remote sites: The Dyrt, iOverlander, and Hipcamp.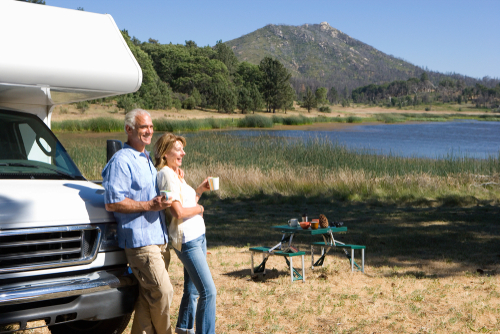 Insider Tip: When travel abroad is safe, we highly recommend renting a camper and cruising the 828-mile Ring Road in Iceland — think waterfalls, Northern Lights, geothermal phenomena, beaches, wildlife, and more!
Tip #2: Walk, Shuttle, Carpool, or Pedal
Transportation can quickly suck up vacation dollars, which could be better spent on a remarkable experience like ziplining, spelunking, skydiving, getting a massage, dining at Café du Monde, and the list goes on. To avoid spendy or unnecessary fares, we recommend the following:
Take advantage of free hotel or town shuttles, and be sure to inquire about airport and shuttle services before arriving.  

Pick walkable destinations. If you can hoof it to the beach, trail, eateries, and shops, you'll save a bundle — and get plenty of exercise. Or, you can self-tour a city by meandering along a historic or iconic walk, such as Boston's Freedom Trail.

Hop a free bus or train. Resort communities, such as

Park City, Utah

and

Monterey, California

, offer free transit systems or trolleys that typically access downtown areas and attractions. Some larger cities also offer free lines within their sprawling transportation systems.

In balmy weather, take advantage of e-powered travel. Across the country — from

Eugene, Oregon

to

Asheville, North Carolina

— cities have adopted bikeshare programs, offering cheap e-bike (or e-scooter) access.

Research flights ahead of time with the help of deal-finders like

Scott's Cheap Flights

and

Skiplagged

.

Check out

The Clymb

for inexpensive package deals (including gear, outdoor excursions — such as sport climbing in Mallorca, Spain — with a professional guide, accommodations and more for $630 per person). You can always extend your package deal stay with a VacationRenter find.
Insider Tip: If you plan to take in the European sites, buy a Eurail ticket in advance and consider Paris-based carpool app BlaBlaCar. If you're traveling the islands, whether domestically in Hawaii, The Caribbean or elsewhere, look for puddle hop (a.k.a. interisland) flight deals.
Tip #3: Get Outside
Whether you're hiking Mount Washington, strolling Central Park, or kayaking Kenai Fjords National Park, Mother Nature offers a veritable smorgasbord of low-cost fun.
Case in point: our own team member logged a four-day hiking getaway in Mammoth Lakes for just over $300. It's important to note that the trip could have been under $300 if it weren't for the drive-thru and dine-in meals on the road. See the full cost breakdown below!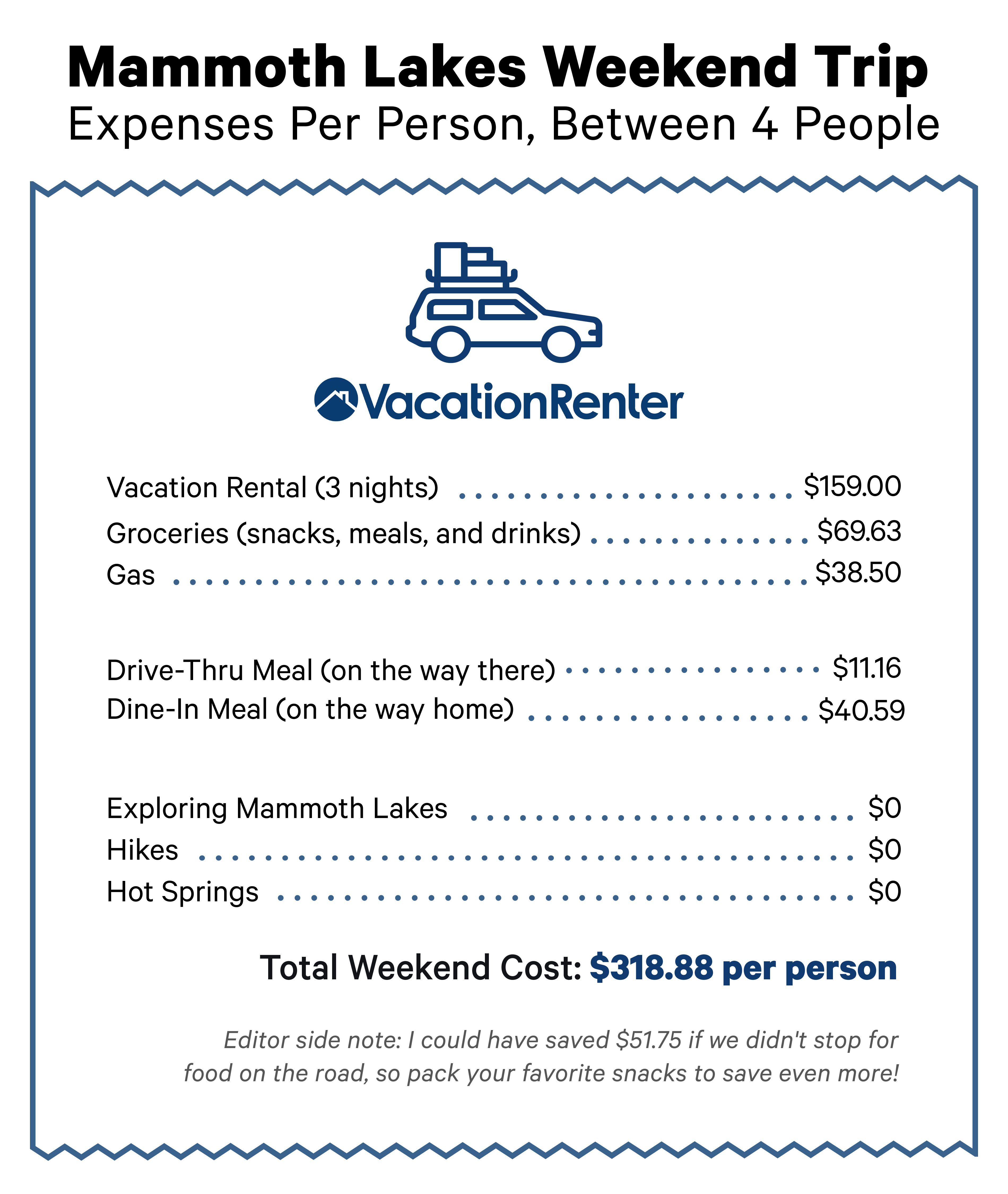 Mountain destinations, such as Sun Valley, Idaho and Virginia's Roanoke Valley typically have extensive trails you can access for hiking or biking, free of charge. To get the most bang for your buck, buy an annual National Park Pass for $80. It will pay for itself if you visit more than two parks within a year, as the entrance fee to one park typically costs $35. If you happen to have a fourth-grade student in your clan, your family can access a Parks Pass for free via the Every Kid Outdoors program. National Forest and State Parks passes can also be an affordable way to roam the wilds. 
Tip #4: Tap Into Freebie Entertainment
Big cities can be mighty expensive, but even in the priciest zip codes, free music, markets, festivals, and more can be found. Here are just a few highlights in the zero-cost, summer 2021 attraction realm:
"To be or not to be…"

Shakespeare in the Park

is planning a return to NYC's Delacorte outdoor theater. Tickets are still free, but distribution, capacity, and other COVID-19 related parameters are TBD.

San Francisco's iconic

Stern Grove Concerts

are back and held weekly on Sundays, celebrating its 84

th

season. Reservations are required.

Chicago's Blues Fest is still on hiatus this summer, but the new

Chicago in Tune

event promises a nod to blues, jazz, and more with free and ticketed musical mayhem from mid-August to mid-September.  

Balloon festivals typically require a ticket. However, if you're in the area, you can always set up a camp chair and simply look skyward from wherever you are. Check out these

Colorado balloon festivals

slated for this summer!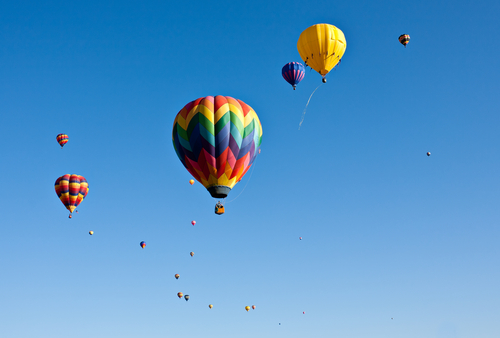 Insider Tip: Wherever you are in the world, check local news sources, social media, and visitors' centers for the latest on free concerts, markets, county fairs, festivals, and more. Incredible homegrown musicians might be strumming at your doorstep, and the most beautiful wares and delicious cherries could be sitting at a farm stand around the next corner.
Tip #5: Savor Inexpensive Eats
Cooking your own meals, packing lunches for day outings, and becoming your own mixologist (and barista) are easy ways to save while vacationing. Of course, in some corners of the globe, the local taco-stand or ramen joint may be cheap, authentic, and delicious. Here are a few ways to save on food and beverages while vacationing:
Book lodging with a kitchen and hit the

grocery store

to save on a few meals.

If you order to-go eats, avoid big-name delivery services. By picking up your order at a local restaurant, you save cash and support a local business. Win-win.

Mix your own cocktails. When you do that grocery run, don't forget to swing by the liquor store for your favorite drinks. (Pack a reusable cup in case you're lucky enough to stay in a place with a firepit or beachside sipping opportunities).

If you're a discerning coffee drinker, consider carefully packing a French press and a bag of those beloved beans for your journey.
Insider Tip: Don't pass up the local Farmer's Market for fresh, scrumptious, and often less pricey produce as well as prepared eats. Plus, you'll get a true taste of local flavor in every sense.
Tip #6: Avoid Peak Season
Most tourist destinations have a costly peak season — say, July 4th in Destin, Florida; President's weekend in Aspen, Colorado; or May in Monaco during Formula 1 season. Choosing the off-season or even the "shoulder" season (peak-adjacent times) can save buckets of money and give you the beach all to yourself.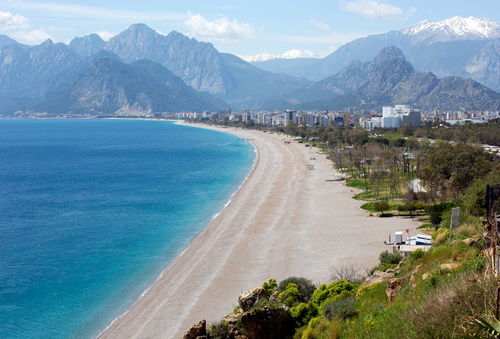 Consider visiting a resort town in its less-known season. Not only will room rates and restaurant tabs be more affordable, but you'll get a better sense of the place, without having to elbow through throngs of fellow tourists. Of course, some destinations have off-seasons for good reason, such as hurricane, wildfire, or mud seasons. Plan accordingly.   
Insider Tip: In general, if your timing is flexible, you can scour the internet for cheap deals on everything from airfare to alpine excursions.
Of course, look no further than VacationRenter for finding the perfect accommodation — whether it's a RV, cabin, villa, hotel, or resort — for your budget. Safe travels!
Mentioned in This Article